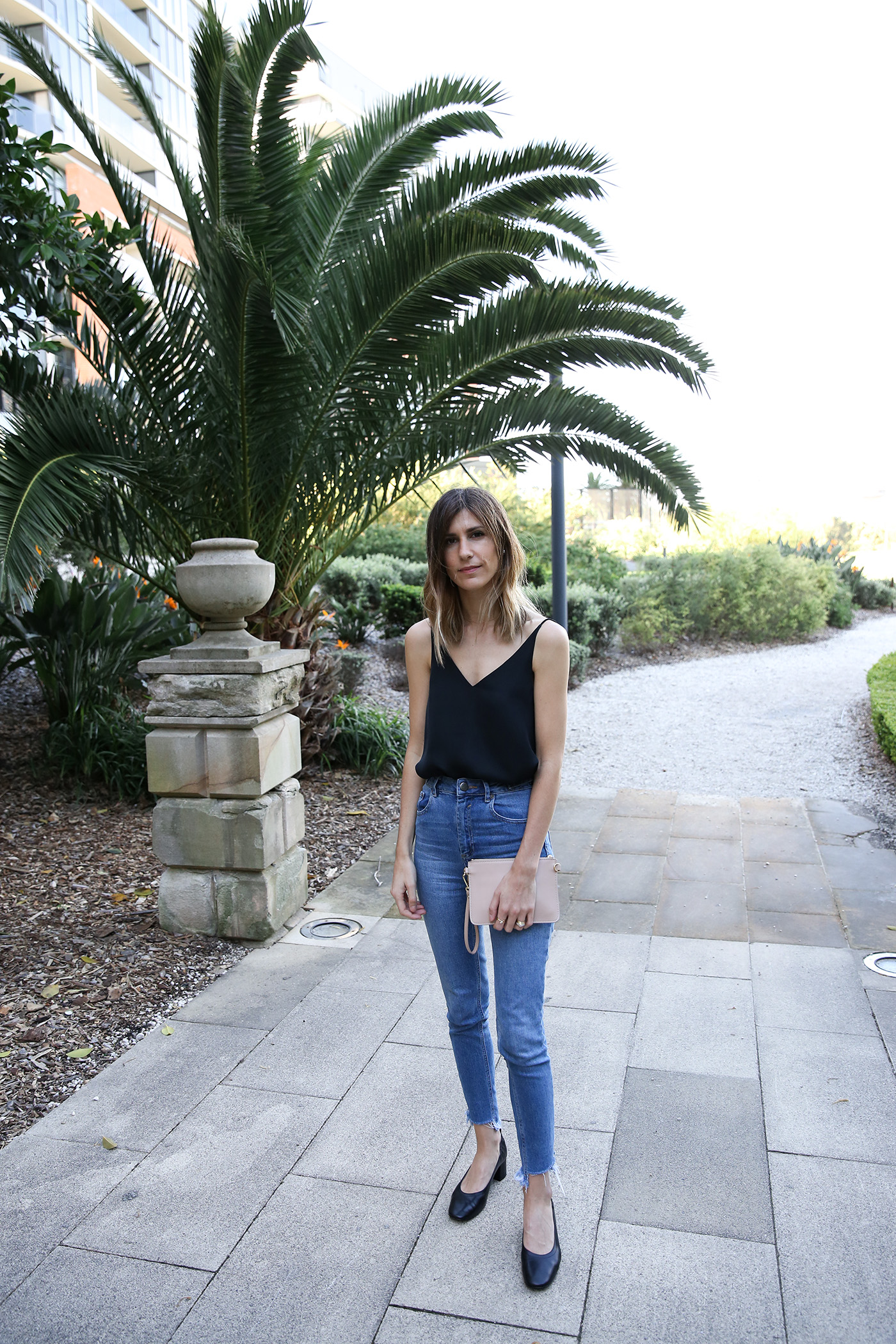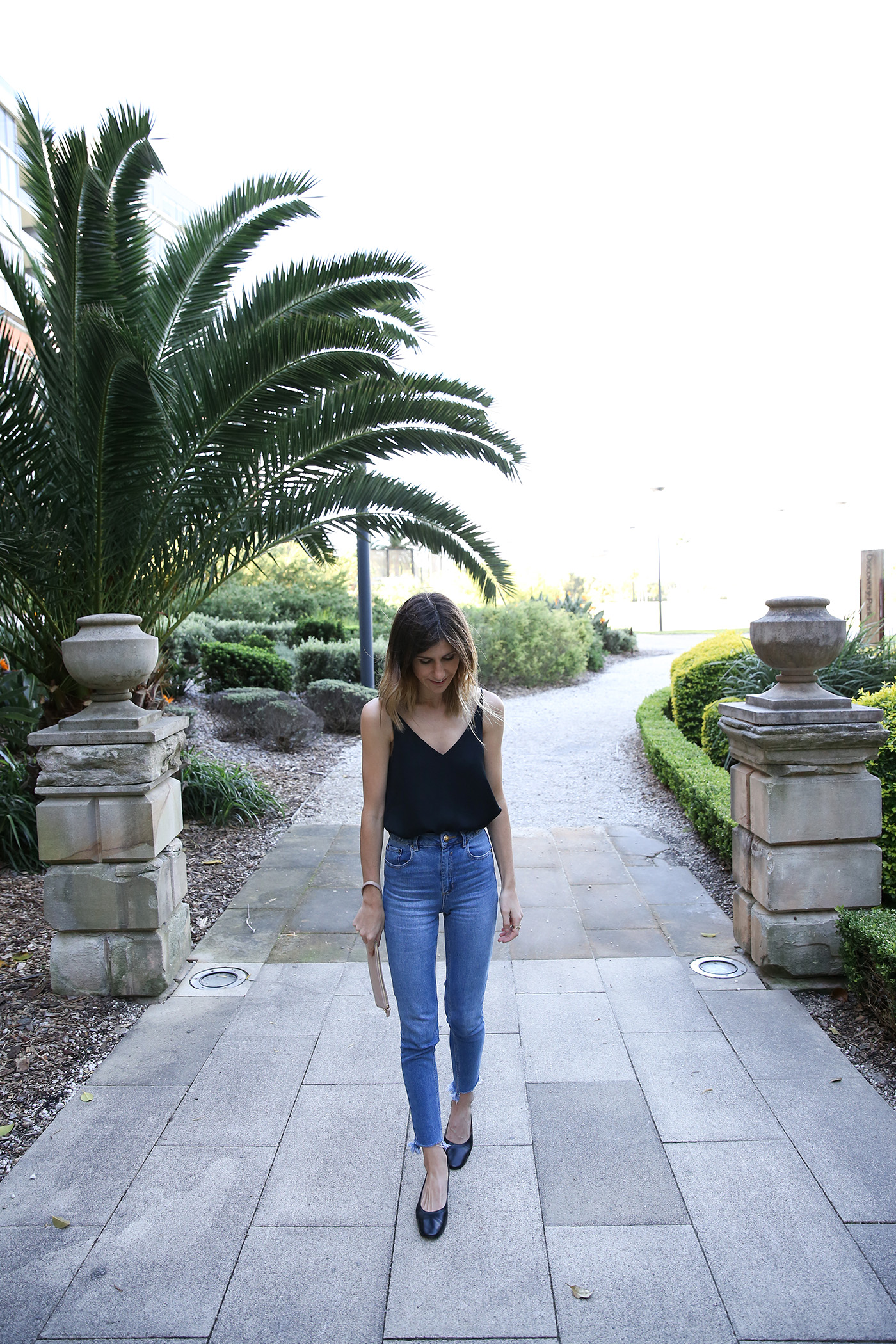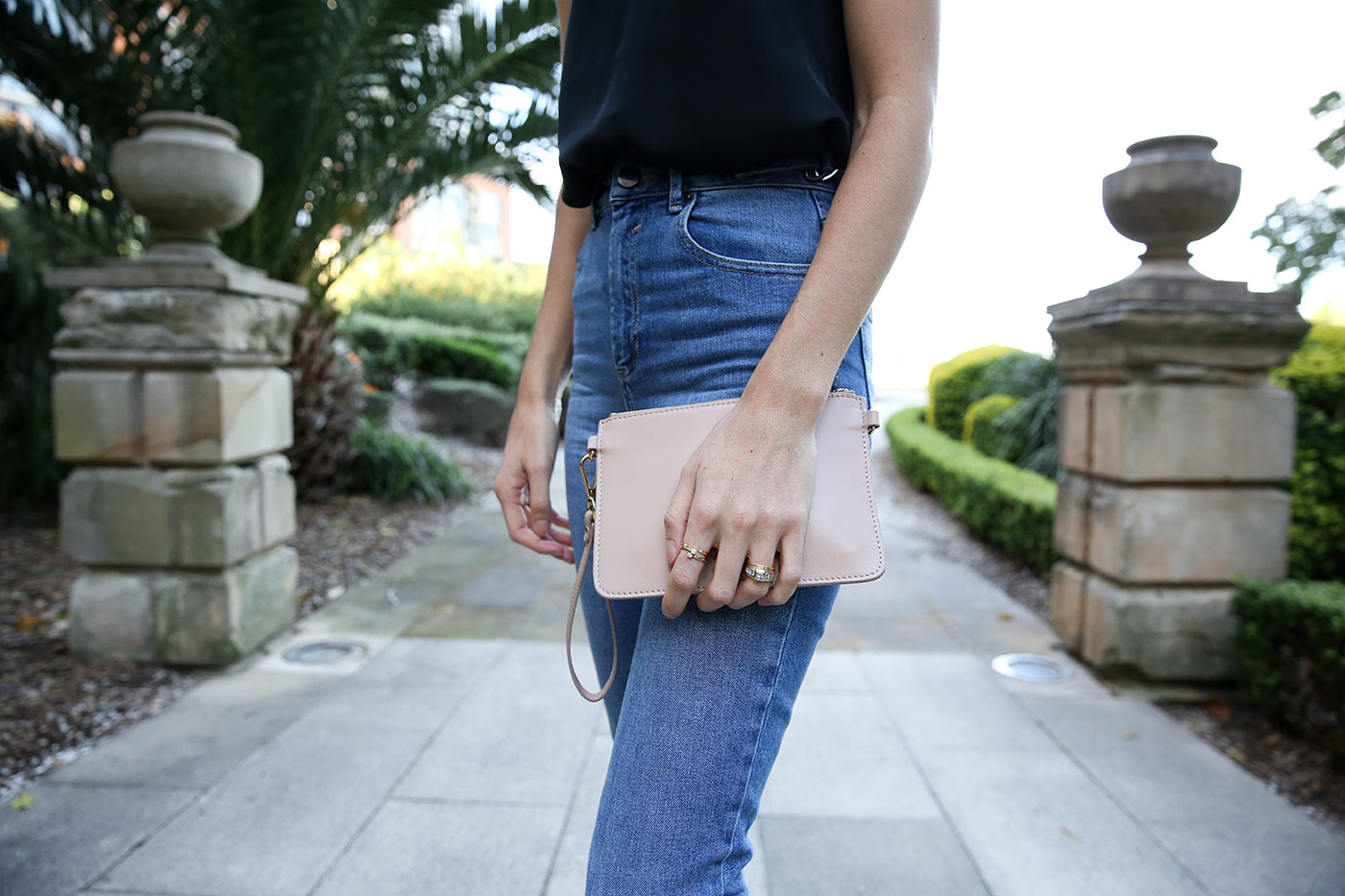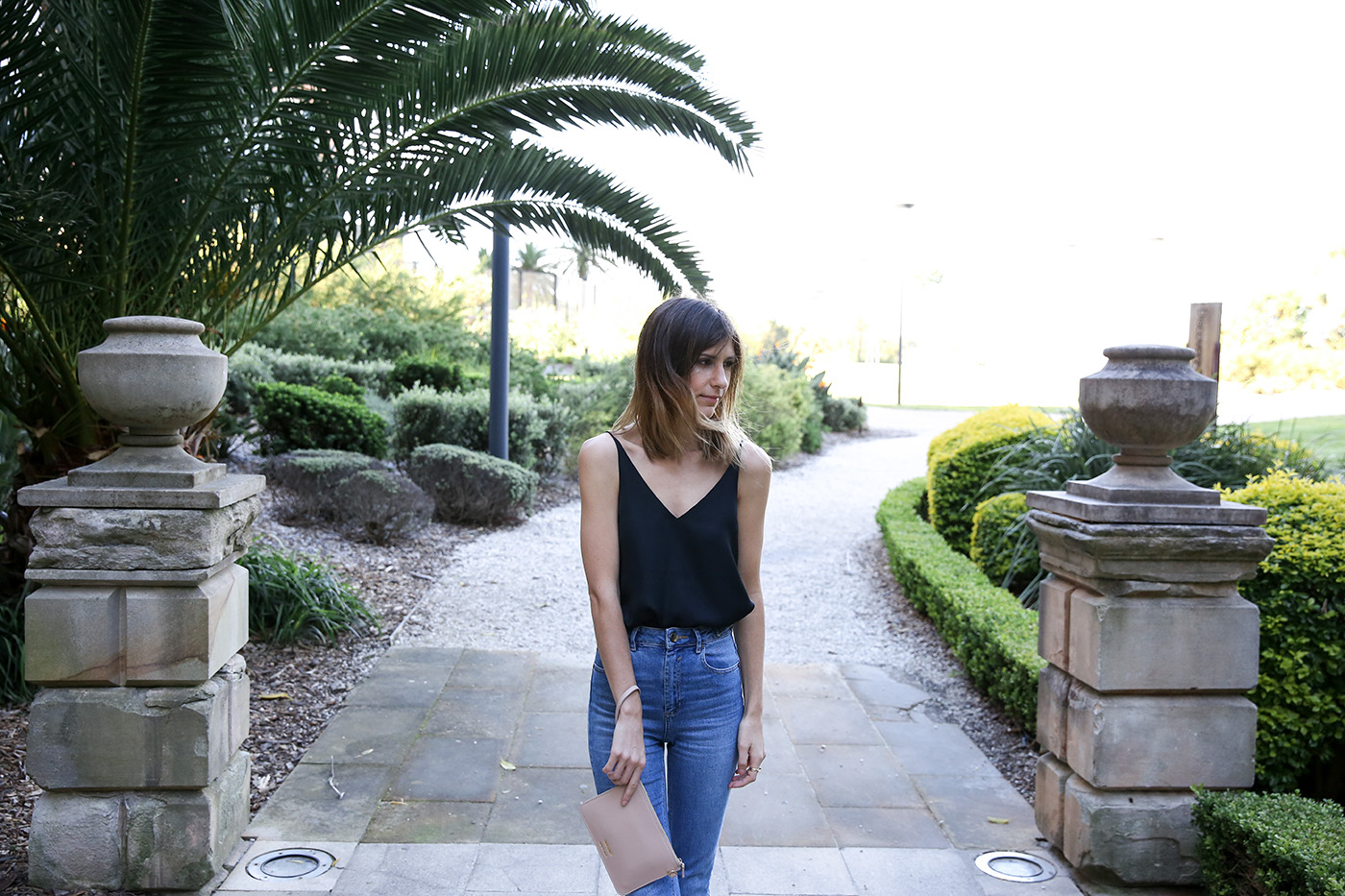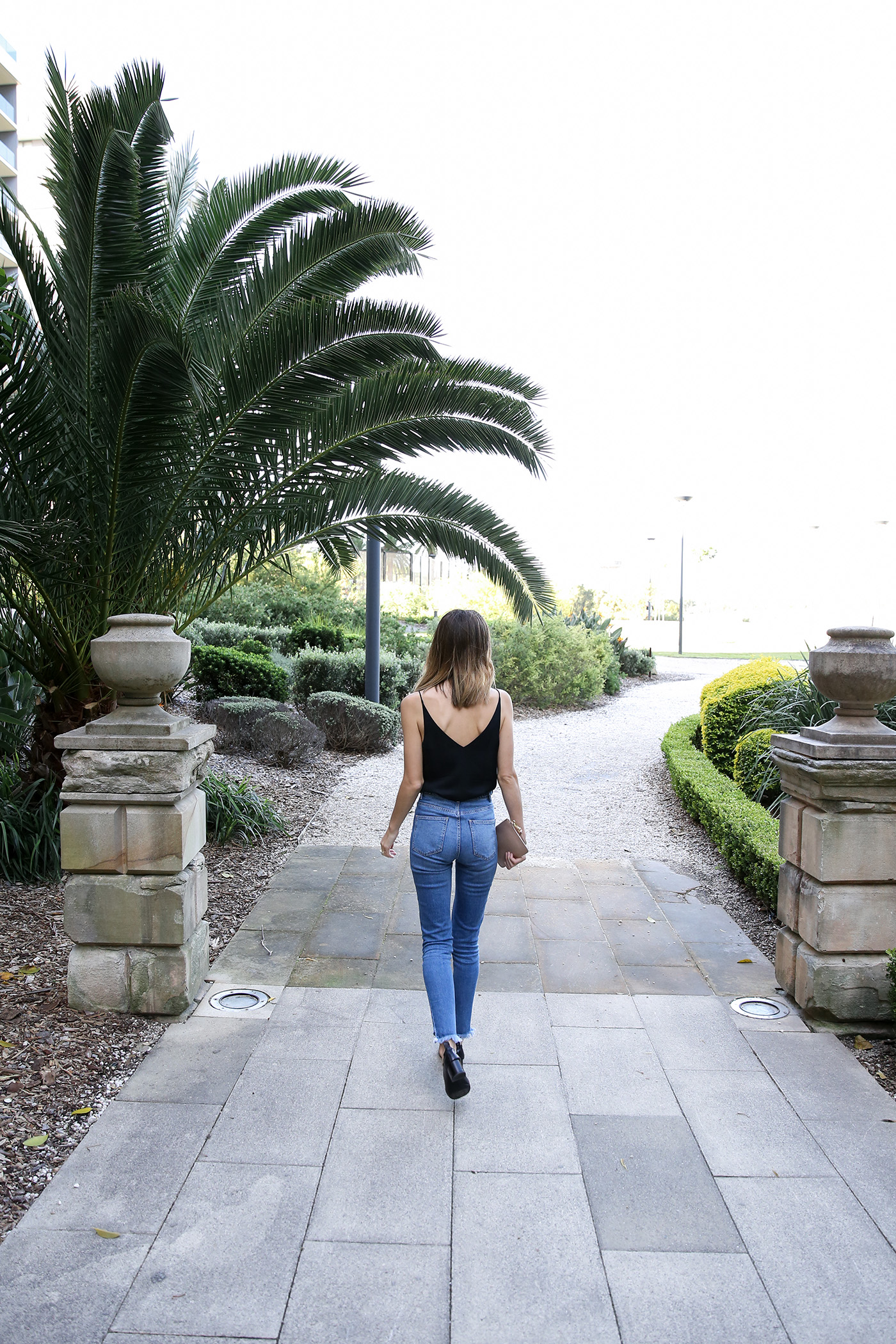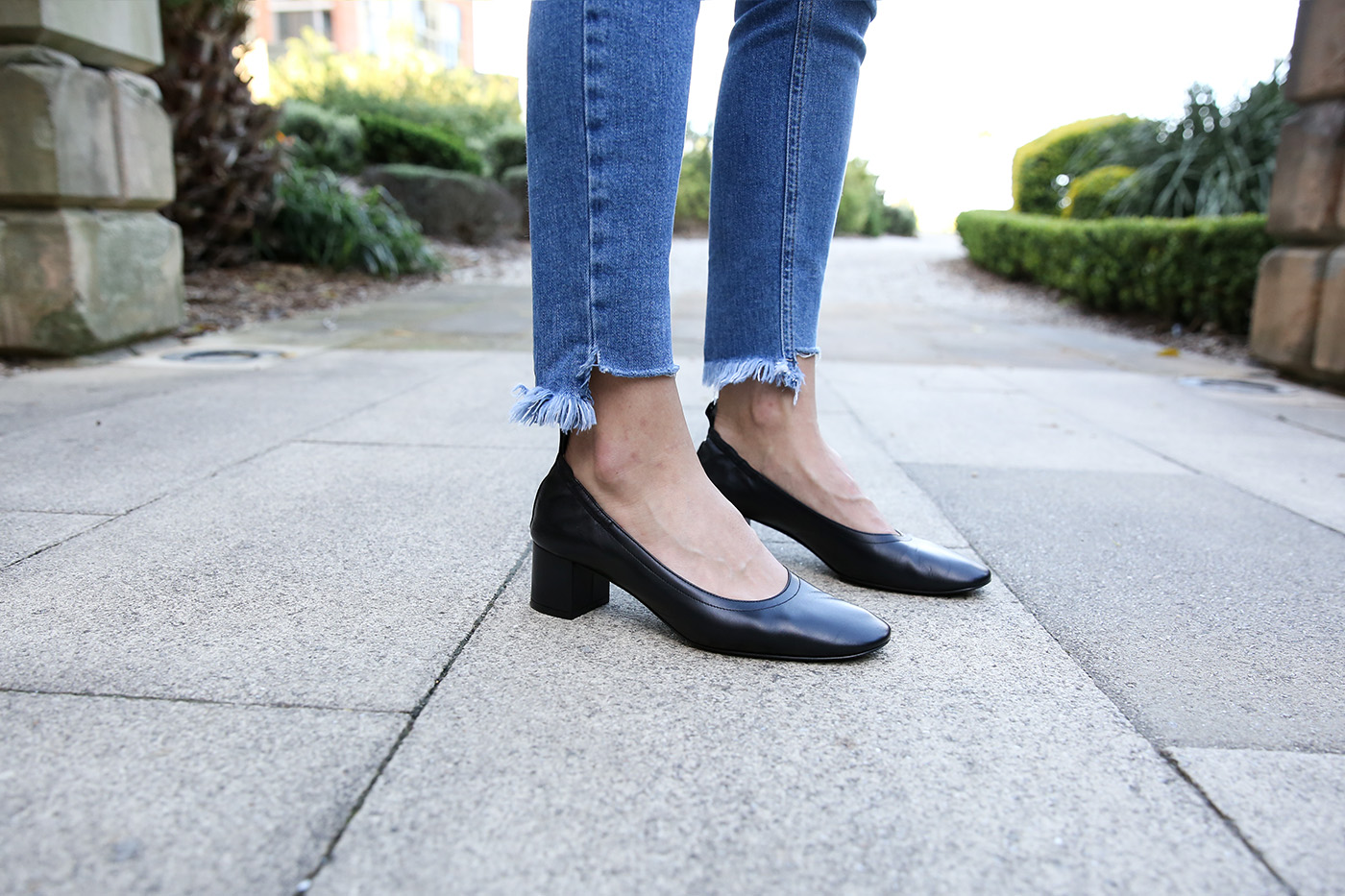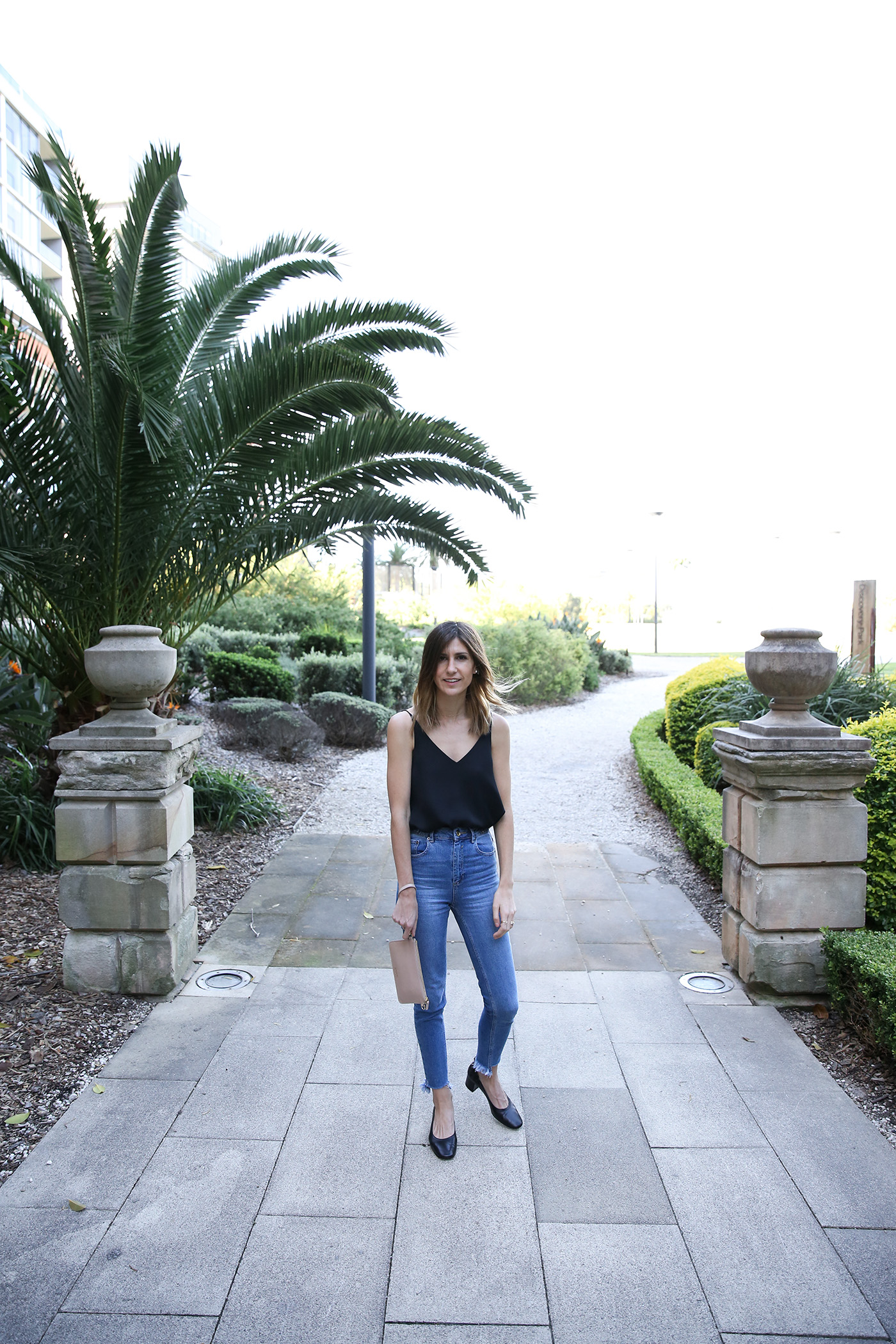 Grana silk cami, ASOS mom jeans, Everlane day heels*, Wilson Trollope x Pedro's Bluff Soiree Pochette, Mejuri choker
It's been a while since I have been this excited about a new pair of shoes. Having been on the lookout for a classic pair of every day mid-heels which could do double duty for work and for play, Everlane's Day Heel fit the bill perfectly. Solid chunky heel? Check. Soft, smooth leather? Check. Minimal design? Check.
I've only had them for the past week, but I've really been putting them to the test; a full day in the office, running casual errands on the weekend, Friday night drinks with friends – when I like something, I really go for it.
I decided to keep things pretty safe – the black pair seemed like a good bet given we are heading into winter, and I thought that they would be the best choice if I wanted to layer up and wear them with some tights, but the tomato red is s-t-u-n-n-i-n-g, as is the milky beige suede option. I know that these are now on backorder (according to Stylecaster there's a 15,000 person wait list), I thought I'd share my two cents, now that I've had a chance to properly break them in.
QUALITY & COMFORT
Over the years, I've amassed my fair share of Everlane shoes; their modern yet minimal take on the classics always draws me in, and I've never been disappointed with the structural quality or wear and tear for any of the pairs I own. But the one thing I wasn't quite prepared for was just how beautifully made the day heel actually is. The leather is like butter, incredibly soft with a lot of give – it's not often I can wear a pair of shoes right out of the box and end the day without a single blister. I've found that the elasticated back doesn't really dig in (after 9 hours of solid wear, these were still comfortable), and the 2 inch heel height is perfect for dashing about in; not too high and not too low. I also loved the added cushioning across the sole – an unexpected touch that makes these even more of a dream to wear.
SIZING
I've typically found that most of Everlane's shoes run on the narrow side, so I'll often size up a half size to accommodate my wide feet. With this launch, they've completely nailed it – they fit true to size and the buttery soft leather just molds to the shape of your foot. For reference, I'm an EU40 and opted for the US9 – I thought that they might be a touch too small when I tried them on but the leather gives pretty quickly and after a week of constant wear, I can safely say I made the right choice. If you're worried about the elasticated back digging in, then you could possibly go up a size but I had a full thumb width of space at the top of the toe box.
If you haven't guessed, this is a total win for me – one of my favourite wardrobe additions for the year so far. I've been so pleased with the black pair that I've already placed an order for a second; while the classic black is the perfect accompaniment for day-to-day, the rose blush leather looks like the perfect nude hue, and when you're on to a good thing, why stop at just one?
PS. If you haven't had a chance to check it out yet, my curated edit is now live on the Everlane site, which you can take a peek at HERE! x