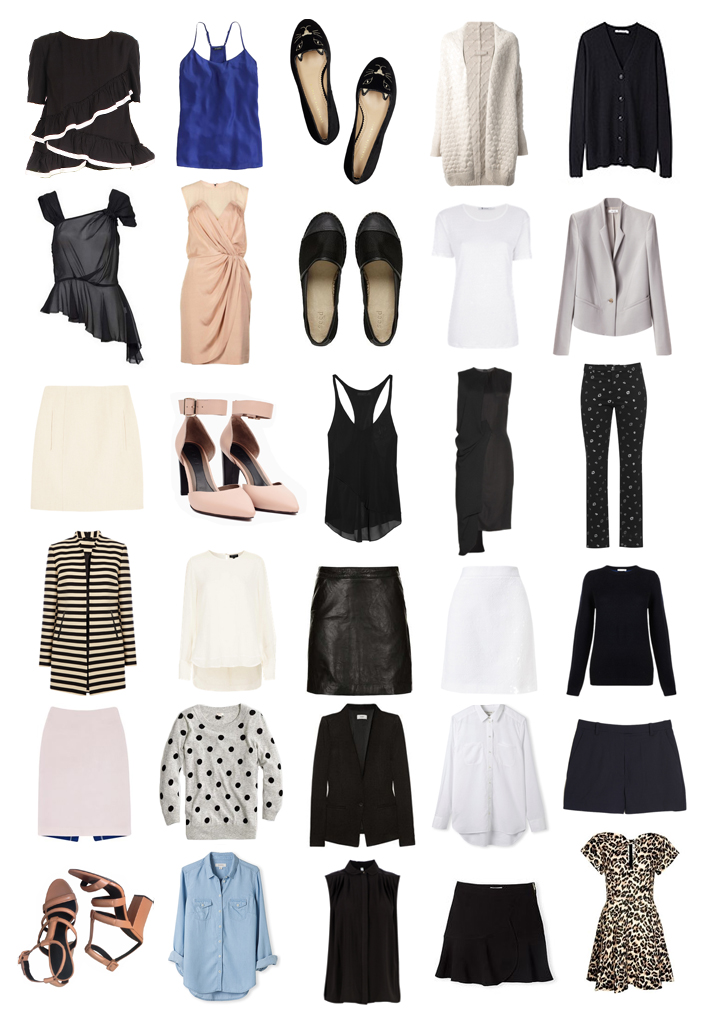 Last year, coinciding with a shopping ban, I decided to embark on a 30×30 challenge, wearing a selection of 30 garments & shoes over a period of 30 days. I found the revelations two-fold; absolutely no one in my office even noticed that I was recycling the same outfits throughout the month, and through careful selection, I had more outfit options that I had initially thought.
In anticipation of the Christmas sales, which I am for once opting out of, there seemed like no better time to fully realise the potential of a select portion of my wardrobe. Or better even still, during a time where it isn't quite hot, nor it is quite cold, giving me plenty of opportunity to 'mix it up'. I have no doubt that there will be days where I long for some additional variety, but sometimes luxury is living with less.
One thing I haven't made an allowance for, is a wedding that I'll be attending at the end of this month. Rather than include one lace dress, which for all other purposes will languish throughout the remaining 29.5 days, I'm giving myself a free pass, as I'd rather have fewer restrictions than impose more on myself.
Like last time, I've chosen a selection mostly comprising of separates, which to me presents itself as the most optimal approach in making the most of this challenge, without tiring of what you're wearing in the process. Below is what made the cut:
Tops
Karen walker slanting frill t-shirt
Equipment black sleeveless blouse
J Crew sapphire blue tank
Kate Sylvester black silk jean bodice
Alexander Wang black chiffon singlet
T by Alexander Wang white linen t-shirt
Karen Walker cream shadow blouse
Country Road white shirt
Country Road chambray shirt
We're coming into summer, but with the horrendous weather that we've had recently, it's difficult to ascertain what the next thirty days will bring. With that in mind, I've opted for a little bit of everything, to keep myself covered. Atypical of my wardrobe, the majority of pieces are in neutral tones, with a pop of blue in there to keep things interesting. Less typical? The glaring absence of stripes.
Knitwear/Jackets/Coats
J Crew 3/4 grey polka dot sweater
Solo black cotton/cashmere jumper
T by Alexander Wang black cardigan
Acne white shore zip up tunic
Helmut Lang black blazer
Karen Walker stone cropped blazer
ASOS ovoid stripe coat
My biggest concern in this area is making sensible choices, which as noted earlier, is difficult to do when facing uncertainty. I've gone for a reserved approach, throwing in a few more jumpers than is necessary, and a coat should the weather decide to turn. Appealing to my more rational self, are the inclusion of two blazers, a staple workhorse during the week.
Dresses
Karen Walker ecru jerkin dress
KJ by Kirrily Johnston black rib drape dress
Lover leopard malibu dress
What used to be my 'saving grace' for getting dressed each morning no longer seems quite as practical, as I prefer to opt for separates over a 'complete' outfit. The three dresses I did choose are fairly multi-seasonal. The Kirrily Johnston dress is made of a lightweight fabric, and with its long sleeves is ideal for adding an additional layer underneath if necessary. The Karen Walker dress by comparison is a mid-weight flannel, and perfect for layering a crisp white shirt underneath. And Lover leopard, well, just because.
Skirts/Shorts/Denim
Country Road black fluted hem skirt
Karen Walker beige simplest skirt
Girl by Band of Outsiders white skirt
Vintage black leather skirt
by Johnny musk/blue pencil skirt
Gillian Tennant navy silk shorts
RUBY charlie animal jeans
It would barely come as a shock that this list is mostly comprised of skirts, as I tend to reach for them over shorts or trousers. Versatility was key here, so I opted mostly for pieces that I could get away with wearing at work – although I should note that the silk shorts were selected solely for weekend purposes.
Shoes
Charlotte Olympia black kitty flats
Seed Heritage black mesh espadrilles
Alexander Wang anjelika heels
Marni blush two-tone heels
Shoes is where I had the least sense. Instead of choosing wisely, I thought it best to choose those which I enjoy wearing the most. Two pairs of flats, and two pairs of heels, keeping in symmetrical in more ways than one.
In addition to learning to once again live with less, my hope is that this challenge will re-align my views on consumerism and spending. Future planning is helping to keep my expenditure in check, as I opt for the occasional meal out or drinks with a friend to the general experience of the online shopping cart (which during the end of season period, becomes increasingly difficult to resist). Expect to see an update, or two, as I find my feet over the next thirty days.