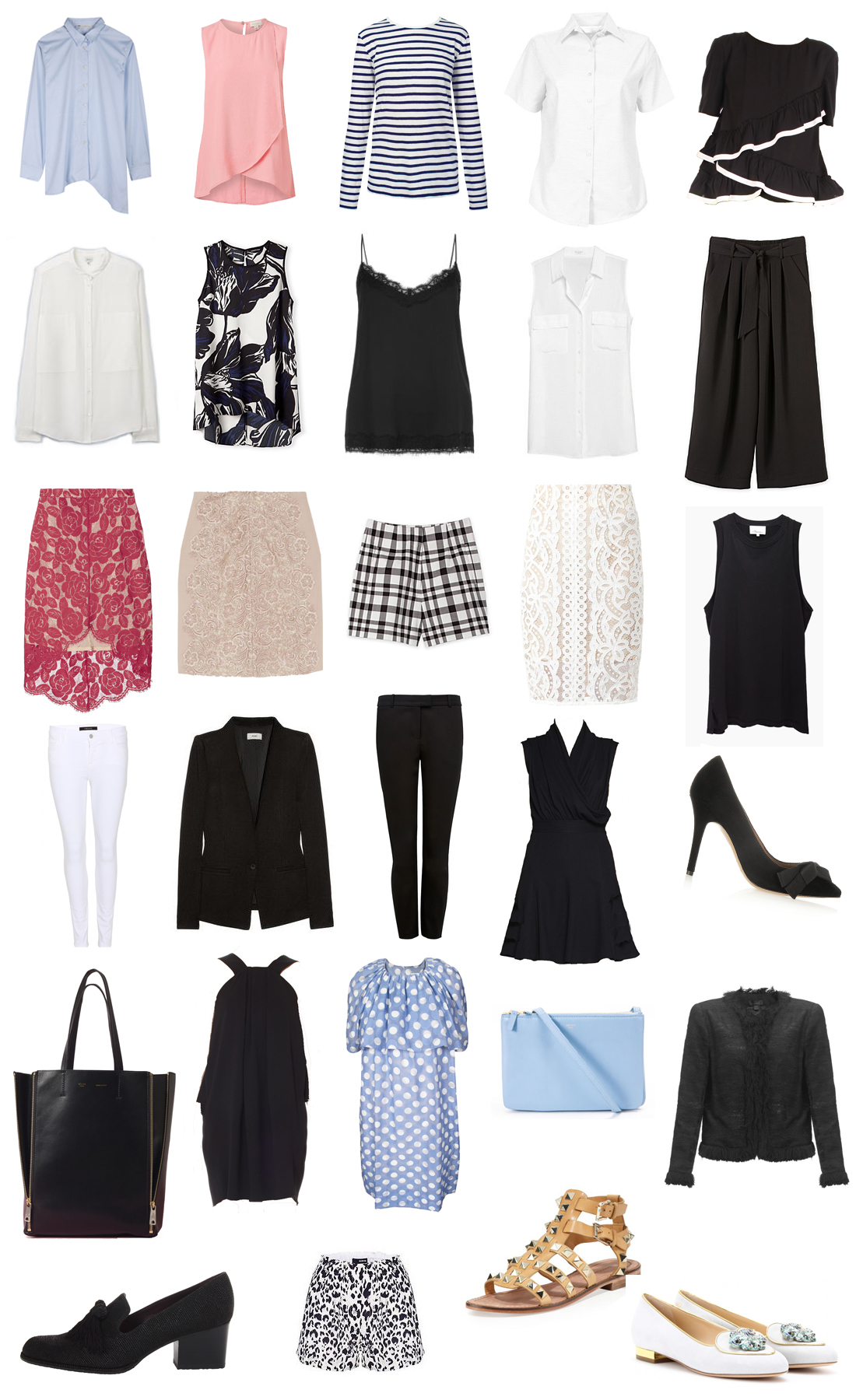 Having gotten a little too caught up in the pursuit of 'forever' bags and shoes, and well… shopping in general, now seemed as good a time as any to embark on a wardrobe challenge. I may not be completely prepared for a summer in Sydney (I mean, what does one wear on 30+ degree days to work?), but using guesswork to fill in the gaps – sometimes unsuccessfully – is not exactly conducive to saving for that holiday I'm planning for early 2015.
So rather than try and add new things to my closet (and there will always be new things), I'm planning to make the most of my existing wardrobe by doing another thirty x thirty wardrobe challenge. For those of you unfamiliar with the concept, essentially you pick thirty items from your wardrobe (including shoes and bags but not including accessories such as scarves or jewellery) to wear exclusively over a thirty day period.
I'm towing the line between a job in a corporate office, and weekends down at the beach, so my selection is mostly a mix of pencil skirts, cotton shirts, silk tanks and tailored shorts with a couple of jackets for the office. I've kept the colour palette fairly neutral for obvious reasons, although I've included a couple of prints and a pair of playful shoes just to keep in interesting. I'm not taking too many liberties this time around, so the pieces I've selected are generally what I would wear on a regular basis; I figured I might as well stick with what I know.
It's only day two, but yesterday gave me a pretty good indication of things to come (36 degrees and sweltering), so I've selected the following 30 items with that in mind…
Tops/Shirts
ASOS black lace trim peplum cami
Country Road tulip floral tank
Witchery petal blush tank
Everlane black silk tank
Glassons black cotton tank
Equipment white sleeveless silk blouse
Dries van Noten white s/s wrap shirt
Karen Walker black slanting frill top
Hope blue cotton shirt
T by Alexander Wang white/black stripe l/s top
Everlane white silk pocket blouse
Blazers/Jackets
Helmut Lang black blazer
Ellery black tweed jacket
Dresses
Karen Walker navy 'faith' dress
Karen Walker blue spot astonished dress
Karen Walker black take change dress
Bottoms
Lover cherry rosebud lace skirt
Lover ivory libra lace skirt
Lover blush guipure lace pencil skirt
Lover cheetah silk shorts
Country Road black check shorts
Forever New black evie 7/8 trousers
Country Road black culottes
J Brand white skinny jeans
Shoes
Urge blush gladiator sandals
Charlotte Olympia powder blue aquarius flats
Isabel Marant black poppy heels
Stuart Weitzman black tasseled loafers
Bags
Celine 'lavender' trio
Celine black leather cabas tote with gusset (similar)
Minimalism may have become the buzz word of the moment (both as a trend and an approach to our wardrobes), but there's something so satisfying about living with less; a reality I experienced when carefully selecting the furniture for our apartment. Four months without much furniture beyond a couch, TV and cabinet, dining table and two chairs made me realise how much I could do without. You can't miss what you don't have, right?
Now I know I promised that there would be more videos around here (and there will be!), so I've decided to do a little recap of the 30×30 challenge once the month is over. Twenty-eight more days to go!