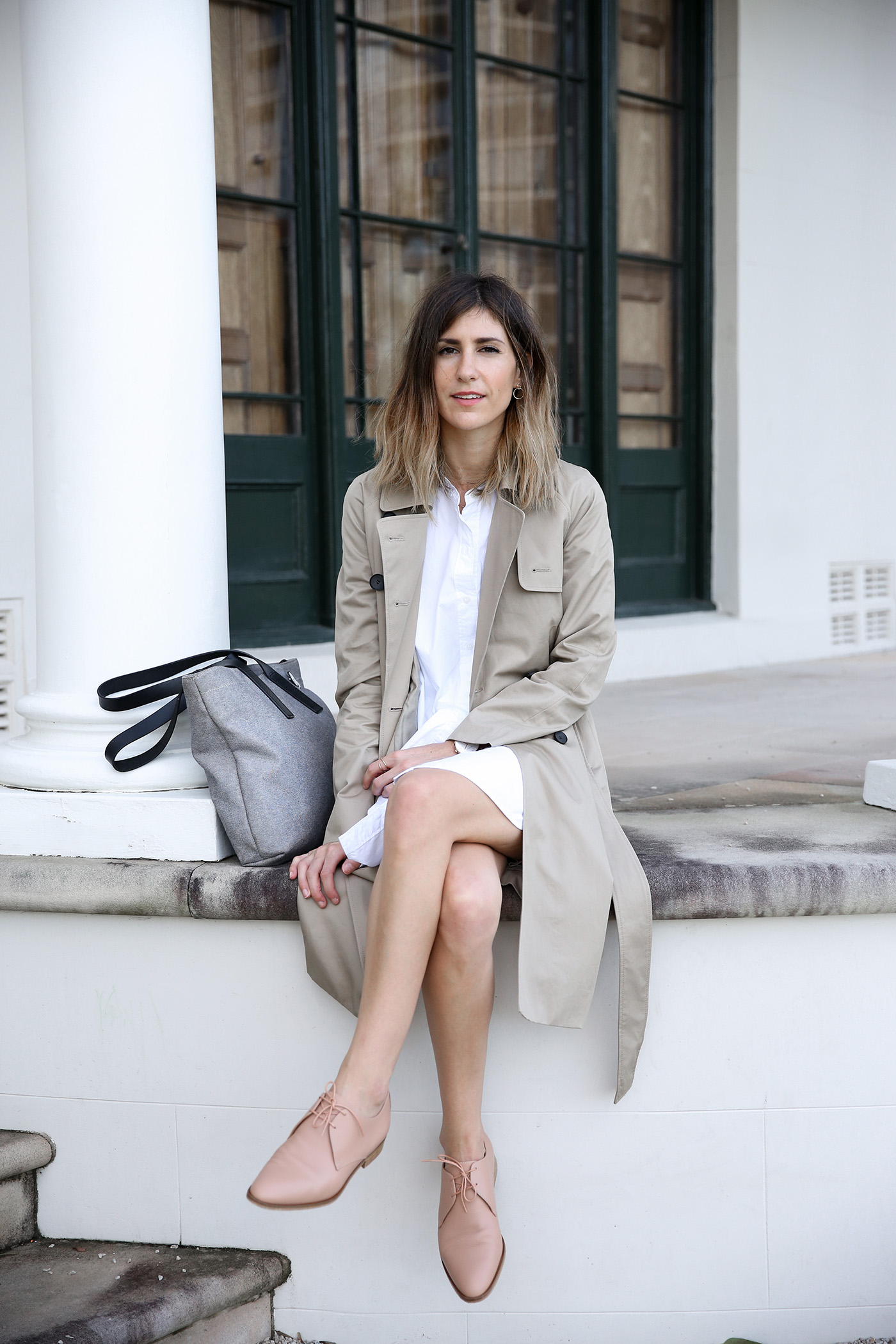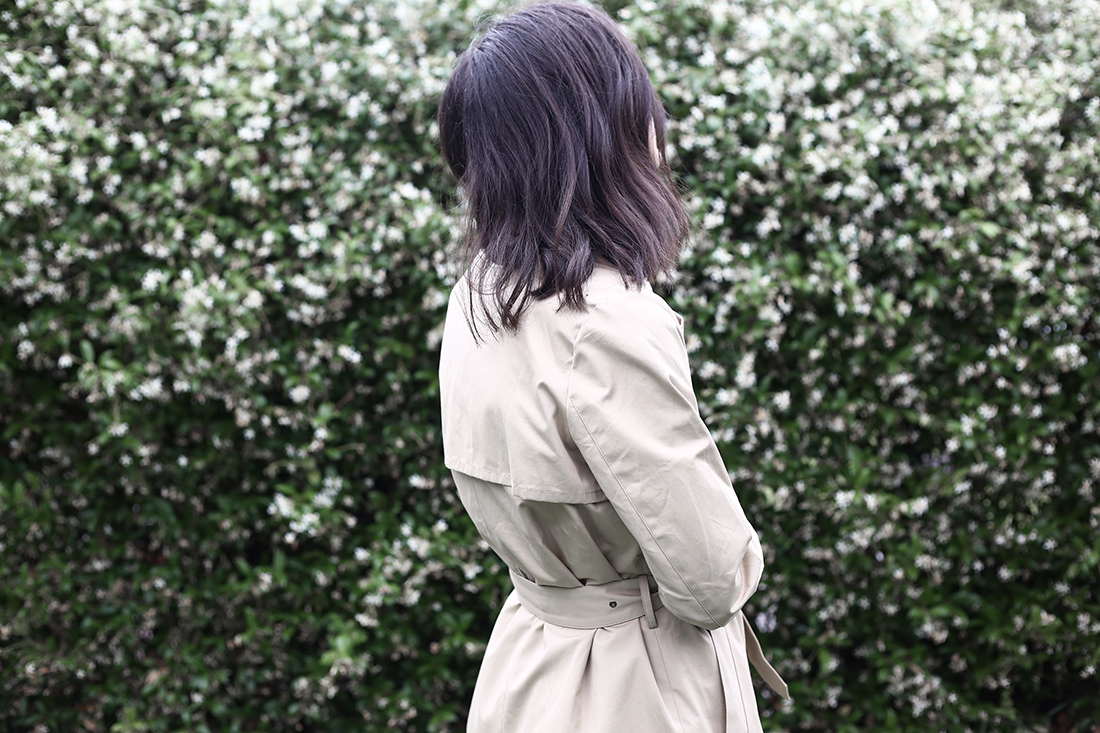 Over the last two and a half years, I've been slowly filling the rails (and shelves) of my wardrobe with Everlane. By nature, I'm a creature of habit; when I find something I like, I tend to stick with it. So today I wanted to share an updated Everlane review; it's been a good two and a half years since my first order, and I've got a fair few more thoughts to share on the sizing, and in particular the wear and tear, of what has literally become the backbone of my wardrobe.
When you scratch the surface, it's kinda hard not to like Everlane. They're basics driven, utterly and completely transparent (their Snapchat is definitely worth tuning into), and the quality is almost always on point. It's this simple combination that has had me going back again and again, to scoop up a new launch, or a repeat of an old favourite. So get ready, 'cos this is going to be a long one.
TOPS
EVERLANE PIMA STRETCH TANK
I'd been on the hunt for a fitted scoop neck tank that I could wear with billowy skirts, and this looked like it would fit the bill. I went for the XS (Everlane does typically run a little large, for the most part) but unfortunately this is still a lot larger than what I was after! The fabric is slightly sheer so if I picked this up again, I'd probably go for black to be on the safe side. The XS measures 39cm underarm to underarm and is 65cm long.
EVERLANE RYAN MUSCLE TEE
My first foray into Everlane's t-shirt range included one of their Ryan Muscle Tees (along with a couple of Ryan Tanks) in the white. Unfortunately, the quality of this didn't quite stand up; after the first wash I got a small hole in the front of the top, and I've since found one at the back of the collar. This is quite sheer, an oversized boxy fit, and perhaps a style that's better for those with broader shoulders as this covers the front of mine, just slightly. I grabbed this in a S, and it measures 52cm across the underarm and is 66cm long.
EVERLANE MUSCLE TANK
Unlike the 'Ryan Muscle Tee', Everlane's Muscle Tank completely lived up to my expectations. For comparison, this is a slightly thicker fabric (making it easier to find appropriate undergarments!), and in a much more traditional cut, in that the fabric doesn't graze the front of the shoulder. This washes really well (no holes – yay!), and is a great, breathable option for summer. I'm planning on picking this up in a couple of other colours – the dusty pink is definitely calling out to me – as it's a great staple piece to have for those warmer months. This is a loose fit yet not as oversized as other styles so this is one that you could pick up in either your normal size, or size down for a closer cut. I picked this up in the XS and it measures 47cm underarm to underarm and is 65cm long.
EVERLANE LINEN TANK
This is probably the launch that I was most anticipating as come summertime, my most worn t-shirt is hands down the linen heather grey wee thing that I picked up from Acne Studios on sale a couple years back. I actually nabbed both the linen tank and one of the long sleeved linen tees (which no longer seems to be on the website at last glance) and couldn't believe how comparable the quality was. These wash really well and are definitely one of the many gems that I've stumbled across in Everlane's new arrivals section. I grabbed this in the heather grey not too long ago – a great all year round staple – with a high neckline and loose fit through the body, I think you can quite easily dress this one up or down. It's a slimmer fit to most of their t-shirt/tank styles, but if you're after a closer cut fit, then size down. I grabbed the XS and it measures 48cm underarm to underarm and is 59cm long.
EVERLANE U NECK T-SHIRT
As much as I adore my Acne linen tee, I'm not the type of girl who'll spend her weekends wearing a loose fitting t-shirt and a pair of jeans. That being said, when I do, I almost always reach for one of Everlane's U Neck tees. These are a medium weight cotton – the black sits on the thicker end of the scale whereas the grey feels almost tissue weight – and boxy throughout the body with a dolman sleeve and a scooped 'u' neckline. If you're the type of girl who is on the busty side, you'll probably get a little bit of cleavage with this. These remain soft after multiple washes and I haven't noticed any pilling – yet – and I've had mine going on over a year now. Given I work in a more relaxed office environment, I'll quite often throw on one of these with a fitted pencil skirt in the summertime as I loved the mixed proportions. This does run large – I have the small, which measures 57cm underarm to underarm and the extra small measures 53cm underarm to underarm. So with this style, sizing down can mean a world of difference!
EVERLANE STRIPED HEAVYWEIGHT TEE
I'm a huge fan of the stripe and this long sleeved mariniere is no exception. It's a nice thick cotton, and feels reminiscent of Petit Bateau's mariniere, at a slightly lower price point. The fit is quite boxy through the body, with small slits at the hem and fitted sleeves. Size down with this one – I grabbed the XS and it measures 48cm underarm to underarm and is 61cm long.
EVERLANE SLEEVELESS SILK TANK
An absolute staple for me, Everlane's sleeveless silk tanks are one of the few pieces which I always made a point of including in my capsule wardrobes. These have a scoop neck, loose flowy fit and the hemline is asymmetrical – it's shorter in the front and longer in the back, a style I find to be universally flattering. Their silk is incredible quality, and can withstand a round in the washing machine (and apparently the dryer too – but I'd avoid making this mistake, if you can!); I have a few of these and they still look incredible after a couple years of wear. I nabbed them in the size S and while they are a loose fit, these don't look big on if you pick them up in your usual size. The small measures 44.5cm underarm to underarm, is 58cm long in the front and 74cm long in the back.
EVERLANE SILK CAMI
It tends to heat up quite a bit in Sydney during the summertime (35 deg C every day on average) so I alternate a lot between wearing Everlane's sleeveless silk tanks, and their silk cami's. I love that these have thin adjustable straps, and are double lined across the bust, with split/slit detail at the hem. I'll wear these loose with a pair of jeans or trousers, or tucked into a skirt, and I love the look either way (so much so that I actually have this in three !! colours). This runs a little large so do size down – I made the mistake of going for the S when I should've grabbed the XS, so mine gape a little under the arms. Measures for the S are as follows; 49cm underarm to underarm and 62cm long.
EVERLANE JAPANESE GOWEAVE HIGH NECK TANK
This was a top that I was really excited about, as the cut and shape looked stunning on the model on the site. Unfortunately I found that this fell a little flat in real life. The fabric is quite stiff so doesn't have a lot of movement, which meant that when tucked into skirts and trousers, it could look a little boxy. I sized down and went for a US2, which was the perfect slightly loose fit.
EVERLANE BOXY SQUARE SILK BLOUSE
Arguably one of the more 'fashion-forward' styles that Everlane offers, this blouse is nothing short of beautiful. The silk is supple yet sturdy, and the shape of the blouse incredibly endearing – a boxy fit through the body with dropped shoulders and a block silk panel across the bottom of the shirt. I picked this up in the pink, and unfortunately I found that it was quite sheer through the body which makes finding something to layer underneath quite difficult, unless you have a pretty lace bra that you don't mind having on show. This also comes in a cotton poplin which I suspect would be a little stiffer but just as nice, alternatively you could just play it safe and grab the black or the navy. Pick this up in your usual size – it's a narrower fit through the outer shoulder. Measurements are 63cm underarm to underarm and 60cm long.
EVERLANE SILK ROUNDED COLLAR BLOUSE
The blouse that really started it all; Everlane's rounded collar silk blouse. Touted as an affordable alternative to Equipments silk pocket blouses, it really seemed like a bit of a no brainer. My silk blouse has become a real workhorse in my wardrobe; something I reach for often in the winter and a piece that has worn so well over the years. It's machine washable and still looks great. This is slightly loose fit, but definitely fits true to size. I grabbed this in the size small and it's the perfect fit; it measures 49cm underarm to underarm and is 64cm long.
EVERLANE RELAXED POPLIN SHIRT
I'd been on the hunt for a simple cotton poplin shirt which was lightweight, but that also had a bit of structure, and this ticked all those boxes. As with numerous other items from Everlane, I found that this does fit on the larger side of the spectrum. I went down a size for the US2, and this was still pretty oversized and loose fitting on me – I think had I gone any larger, it would've swamped my frame. A really great pick if you're after an easy, well constructed shirt for day to day in the office, or for weekend wear. It's easy to care for, and I think bar the vanity sizing, it's a really lovely cut.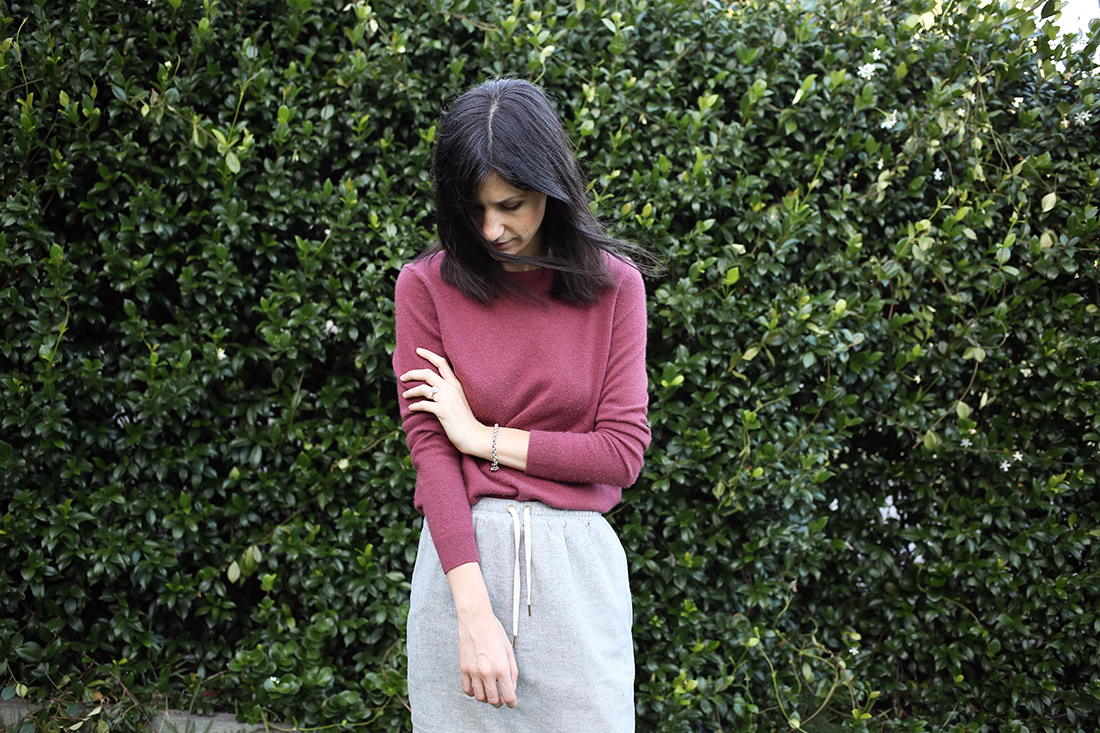 KNITS & SWEATERS
EVERLANE CROPPED CASHMERE SWEATER
You really can't go wrong with Everlane's cashmere. Their cropped cashmere sweater has fitted sleeves and a boxy fit through the body with a rounded hemline (slightly longer in the back) which is best worn loose over anything high waisted. I actually haven't had an opportunity to wear it yet (I thought it'd look good tucked in to things but tucking doesn't really work with this style) so jury's still out on this one. I sized down and am glad I did as this does run on the larger end of the scale. The XS measures 51cm underarm to underarm and is 55cm long.
EVERLANE CASHMERE SWEATER
I couldn't do an Everlane review and not mention their cashmere sweater. It's hands down the best purchase I've made from Everlane so far. The quality is unparalleled for the price. The cashmere feels incredibly soft to the touch (invest in this over UNIQLO's cheaper option – you'll thank me later!), and the wear and tear is negligible – do expect some minor pilling after the first few wears but this can easily be removed by a fabric shaver. Personally, I tend to opt for my usual size but it is a slightly loose fit, so if you want something closer cut to the body, I'd recommend sizing down – so if you're typically a small, grab the extra-small and so on. The style is a loose fit through the body with slim fitting sleeves; for reference, the size small measures 46cm underarm to underarm and is 63cm long.
EVERLANE CHUNKY KNIT COTTON CREW
This does what it says on the tin. It's an oversized, chunky knit crew neck sweater in a soft cotton. I found that this fit true to size for that lived in, slouchy look, and looking back, I think I almost wish I'd gone up a size to make it a little snugglier. My only gripe with this is that the hem tapers in at the hip, as a result of the side slits – my hips are my widest point so I find it's not something I really want to draw attention to, so that's worth keeping in mind if you're pear shaped like me.
EVERLANE LUXE WOOL MOCKNECK
What struck me most about this sweater when it arrived was just how sheer it is on; on the model, you can't really see the same effect. I opted for the navy (however in hindsight, the black probably would've been better!), which I wear with a black bra and while you can see my bra through the fabric, I don't feel it looks obscene (and I'm sure to wear a nice bra!). The fabric is really soft against the skin, and it's held up against repeated cold cycles in the washing machine, so it's incredibly easy to care for. Like usual I opted to size down and got an XS. This isn't skin tight on me but has a nice fit that skims the body.
EVERLANE RIBBED WOOL MID SLEEVE
Made from a superfine merino wool, this is luxuriously soft, and a real dream to wear. I was after something quite fitted so opted for the smallest size, however I find that even sizing down, you'll still have a bit of additional stretch; it's the nature of the item I think. This is very long in the body and does tend to stretch down a little when washed (cold hand wash and then lay flat to dry). I love the mid sleeve length on this top and I think it's a great layering piece come autumn and winter.
EVERLANE BOYFRIEND SWEATSHIRT
I picked up two of these sweatshirts along with one of my first orders, as I was after the perfect loose-but-not-too-loose boyfriend sweater. This definitely fit the bill, and I love the fact that these are terry toweling lined as opposed to fleece as I feel that terry toweling tends to fare better over time. These are definitely susceptible to pilling and unfortunately I found it too be quite visible on the grey though barely noticeable on the black. I don't typically tend to wear this style of top anymore, so mine's been relegated to pajama status, but I do think that it's cut really well otherwise. I grabbed these in the XS and they measure 49cm underarm to underarm and 50cm long.
EVERLANE CHUNKY WOOL KNIT COATIGAN
Now this has unfortunately been one of the few pieces which hasn't quite lived up to my expectations. The cut of the coatigan is spot-on perfect; slim fitting through the sleeves, not too oversized, a good length for someone my height (I'm 5'8" for reference), and the material is incredibly thick – on paper, this is the perfect coatigan to keep you toasty all winter long. One thing I have found though is that it fluffed up considerably after a couple days of wear, which softened the rib detail effect of the knit. I've popped mine through the wash since and I think it's definitely helped to revive it a little (plus using a fabric shaver can help!) though typically I'll wear this one more around the house. It's still a great buy if you're looking for something cosy though. I opted to pick this up in the XS and I'm glad I did size down as it's the perfect fit. It measures 53cm underarm to underarm and is 103cm long. The knit has a bit of stretch to it too!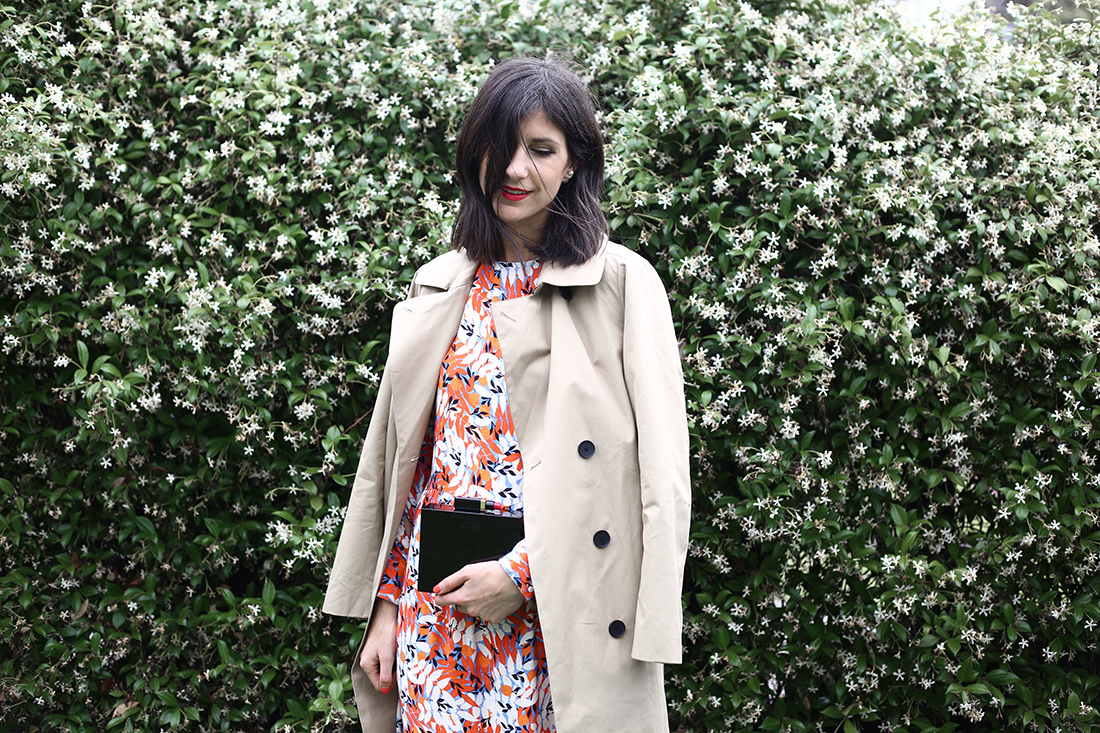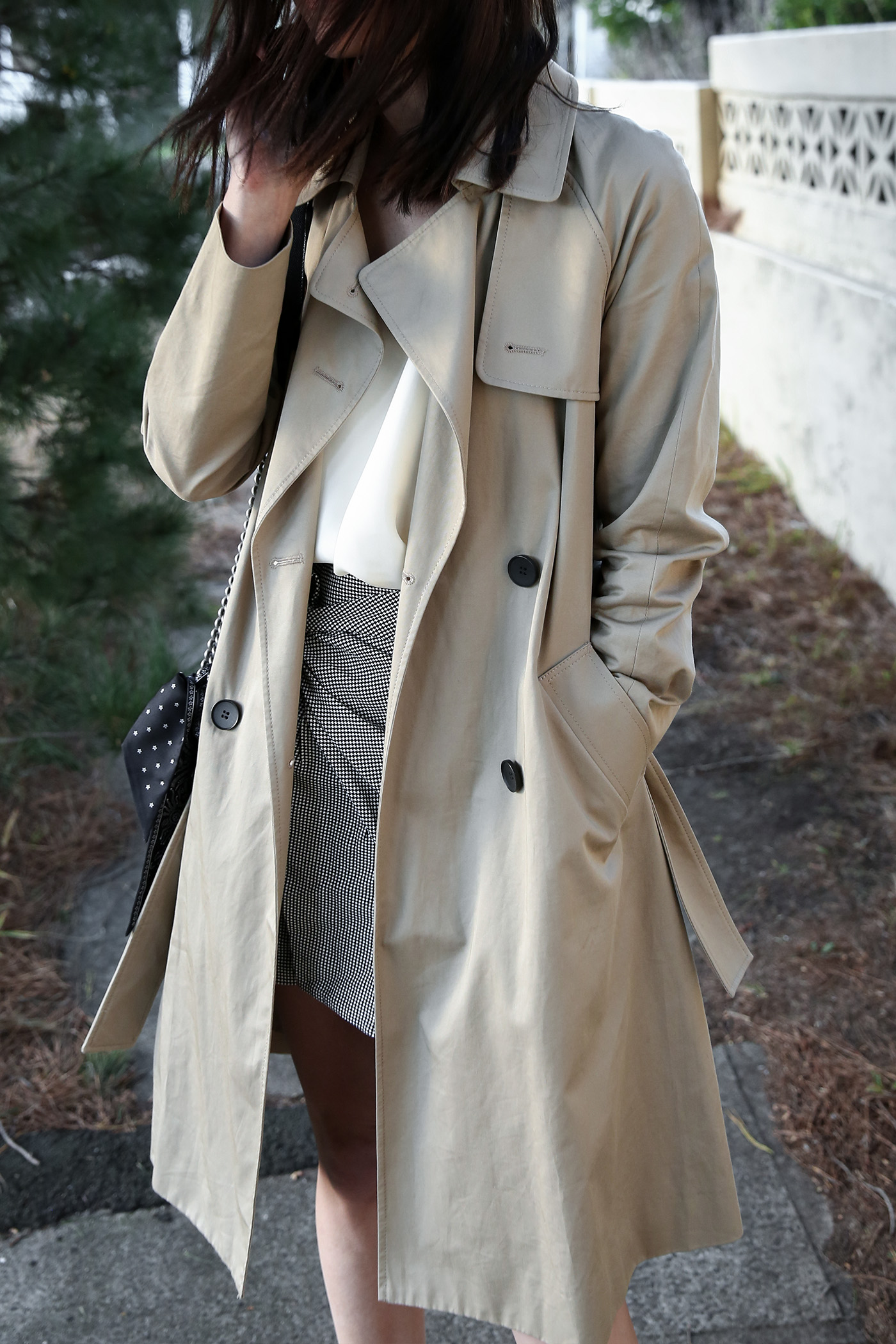 JACKETS
EVERLANE DRAPE TRENCH COAT
I'm definitely in the camp that every girl should have a crisp trench coat tucked away in their closet –aside from being extremely practical for those in-between seasons, they finish off an outfit and look incredibly sharp. Everlane's trench really appealed to me; Burberry-esque in look, it has huge round buttons, a clip to tighten the collar around the neck and did I mention that it's waterproof? Tried and tested! I love wearing this with the lapels folded over, tied with a bow at the waist. The drape trench coat is an update on their previous trench offering, and I love the fact that this time around, it's fully lined . This fits extremely large so size down one size. I grabbed the S (my mistake!) and it measures 55cm underarm to underarm and is 90cm long.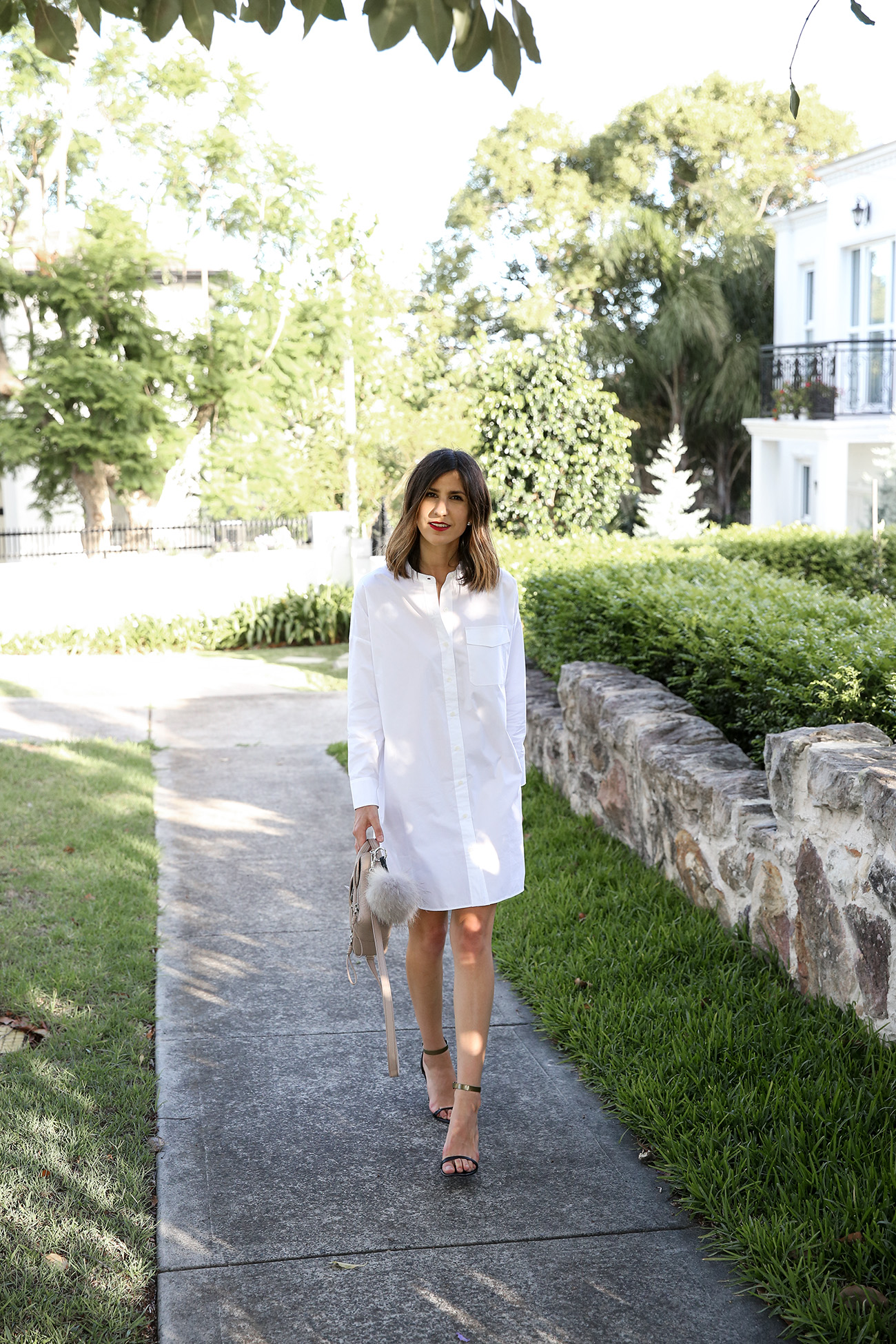 DRESSES
EVERLANE LINEN DOLMAN SLEEVE DRESS
If you've read this far, then you're probably already aware that I'm a fan of Everlane's linen range, and the linen t-shirt dress seemed like an easy throw on casual piece. This is definitely much more of a beach cover up than something you'd wear to run errands as the fabric is a little on the sheer side. The quality is excellent, thick and sturdy without being scratchy, with a nice loose fit through the body. This one's a little bit on the shorter side for me so I'm giving this to a very petite girlfriend of mine. I picked this up in the XS though I think given it is a dress, you're best to stick with your usual size. The XS measures 57cm underarm to underarm and is 86cm long.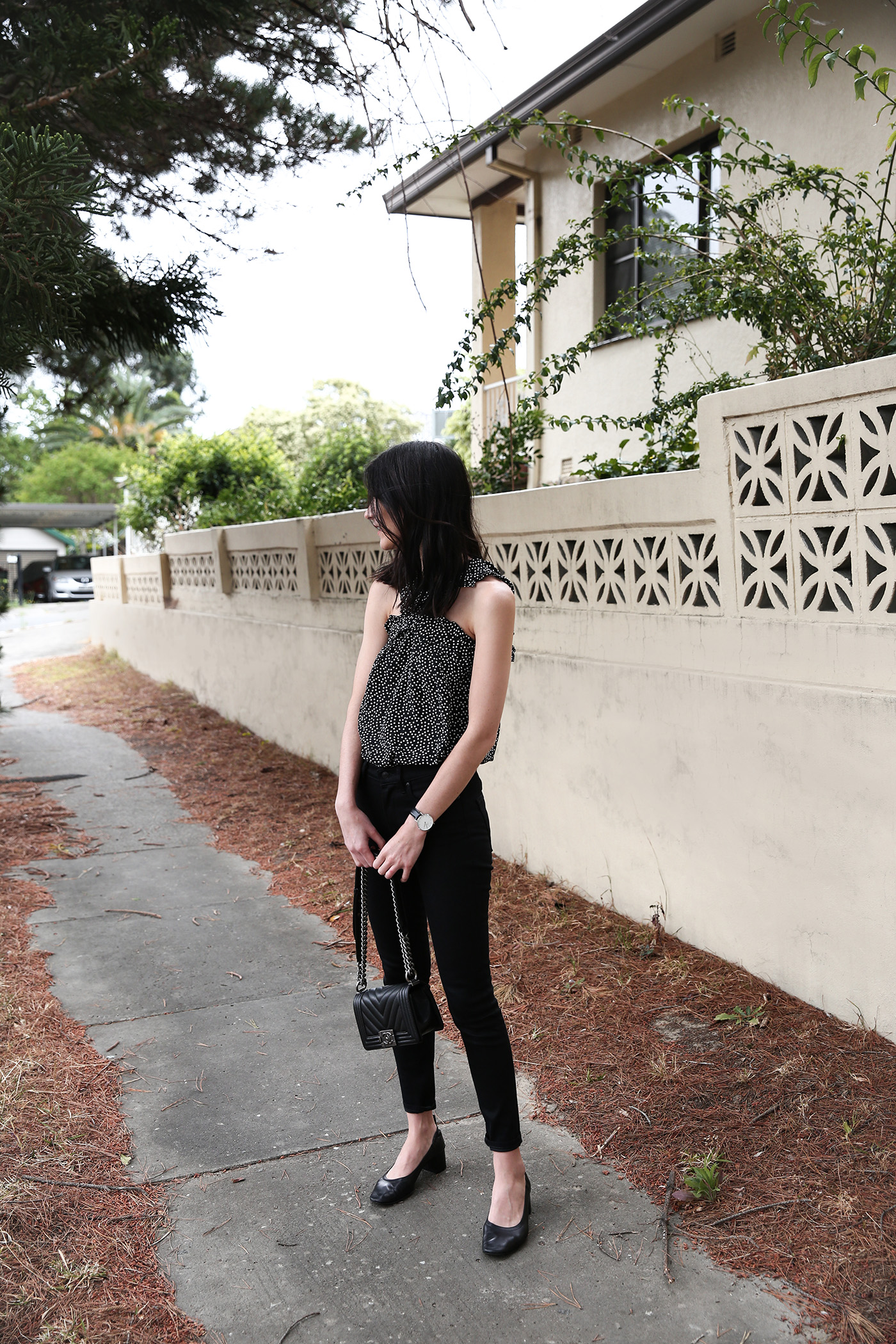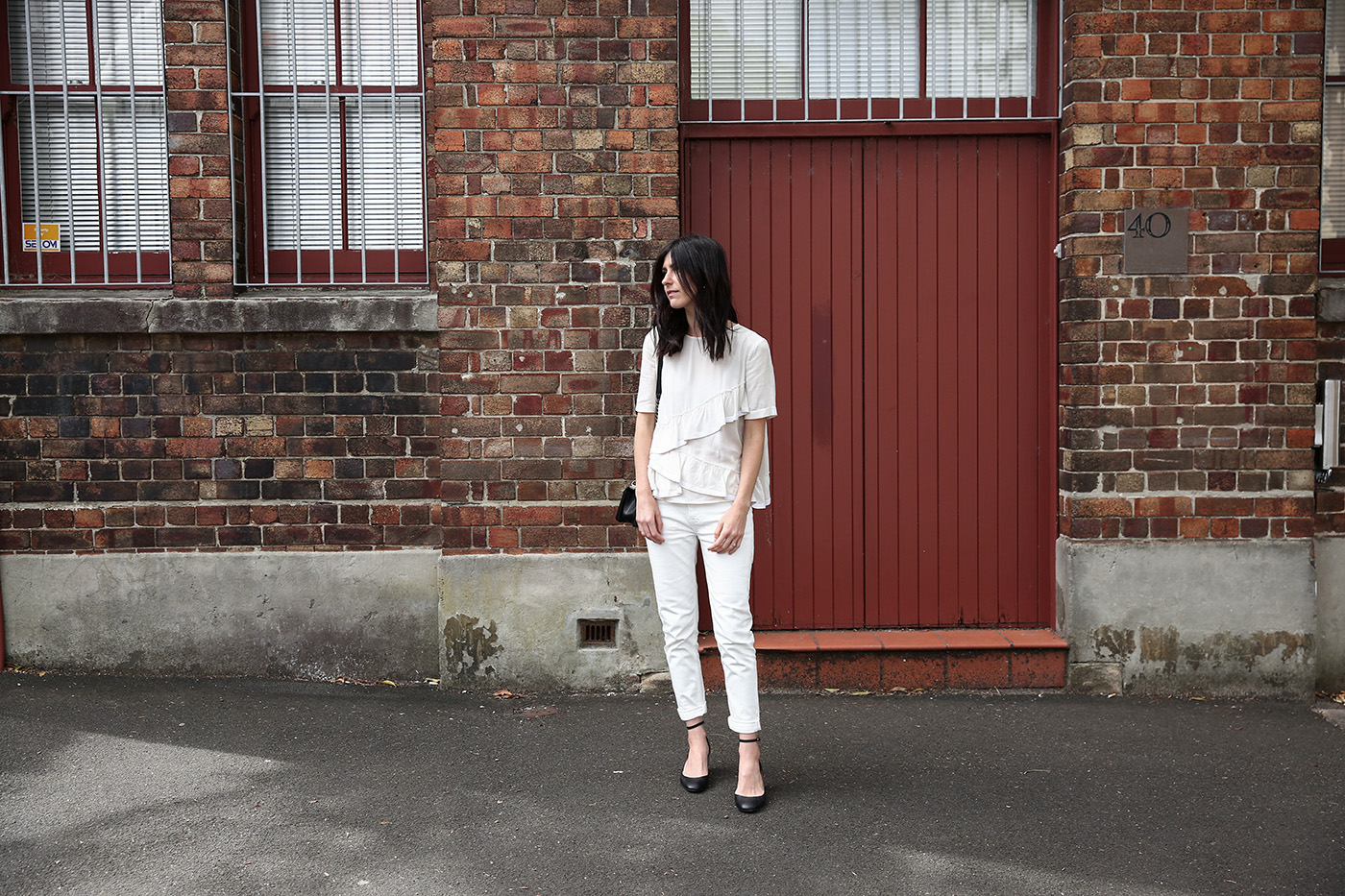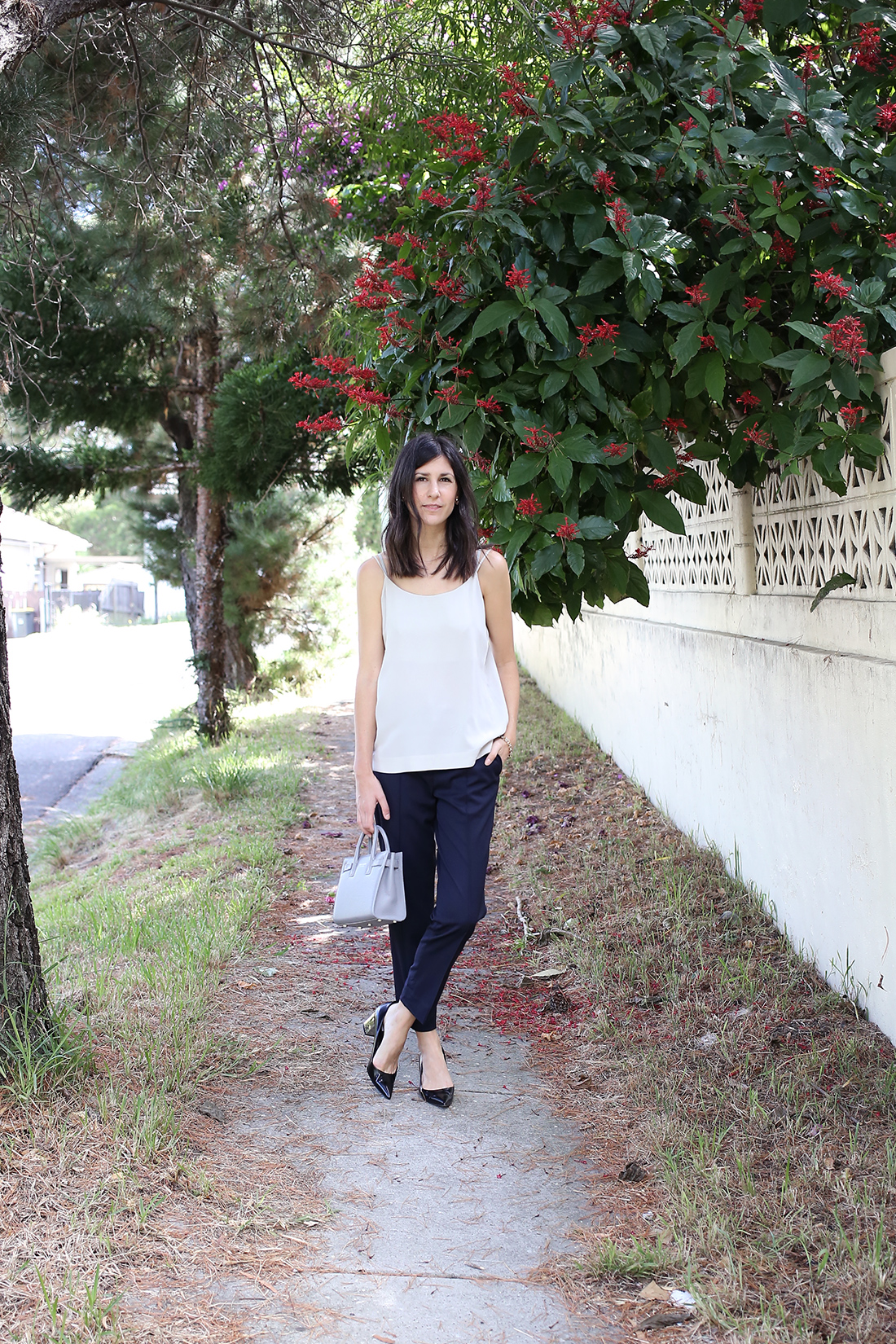 TROUSERS, SKIRTS & DENIM
EVERLANE MID RISE SKINNY JEAN (ANKLE)
Everlane's denim launch has probably been their most anticipated launch of the year, kicking off with three key styles in four colour options, with various rise and leg lengths. The mid rise skinny was the one that most appealed to me, so I opted for the 'stay black'. One thing to note is that each wash of denim has a different level of stretch to them. 'Stay black' is a very rigid cotton denim, that doesn't have much stretch at all. It's very thick and can seem a little bit restrictive, but I think overall they look incredible on (see above). I got the ankle length which comes up just over my foot, so I prefer to wear these rolled once at the ankle, which I find much more flattering as it accentuates your ankles. I grabbed my usual size (sz 25), which felt very snug at first, but relaxed after about an hour or two of wear. I've done a full review on these jeans, which you can read more of HERE.
EVERLANE MODERN BOYFRIEND JEAN
The second pair of jeans from Everlane that I put to the test were their modern boyfriend jean. This time, I opted for the 'bone', which is a slightly off-white hue. Unlike 'stay black', the 'bone' denim is incredibly soft and has a lot of stretch to it. Again, I went for my usual size, a size 25, which is the perfect boyfriend fit, on me. There's a looseness through the leg, and these are fitted but not tight at the waistband, with some room around the hip and bum area. I don't love these worn straight, so I've rolled them up a couple of times to achieve a more flattering length and look. You can read more about my thoughts on these HERE.
EVERLANE GOWEAVE CROPPED TROUSERS
While I no longer work in a corporate office, I do make a point of wearing something that looks smart, and a pair of straight leg or skinny trousers are one of my go-to's for every day. Everlane launched the GoWeave fabrication a little earlier this year, designed to be wrinkle resistant (don't go throwing this crumpled into a suitcase as you're gonna end up with wrinkle problems!) making them a great every day option as well as the perfect pair of work trousers to travel with. I'm not sure if it was just the pair I bought, but these run EXTREMELY large! I went for the size 4 (I'm usually a 25 in jeans) and these were a good two sizes too big. I took some snaps wearing them and actually had to pin them in the back! That being said, these are a beautiful trouser, and definitely one worth taking a second look at.
EVERLANE WIDE LEG CROP PANT
It's taken me a good six months (if not more) to finally get my hands on a pair of Everlane's wide leg crop trousers. Like a lot of their new launches, these sold out in days, and had me wondering, was I right to hesitate on snapping up a pair? After a few restocks, I was finally able to snag myself a pair, and I have a few thoughts I wanted to share about these. Like everything else from the brand, these run extremely large. I'm typically a waist size 25 in most denim brands, and I decided to pick these up in the size 0, which thankfully, fit like a dream the first time I tried them on. These are a high-waisted fit, and if you carry a lot of your height in your torso like I do, then you might find that these are quite long. For reference, I'm 5'8″ and these fall to about an inch above my ankle. The 'bone' colour does have a slight sheerness to the fabric, so just note that you will need to wear them with nude undergarments! The website describes these as being 'garment-dyed', which is what gives them that very soft, worn in feel – be warned though, it does stretch. After wearing them in for a couple hours, I noticed that the waistband had given a bit, though if anything it just makes them a lot more comfortable to wear. Perhaps my favourite thing about the trousers though? They make your booty pop!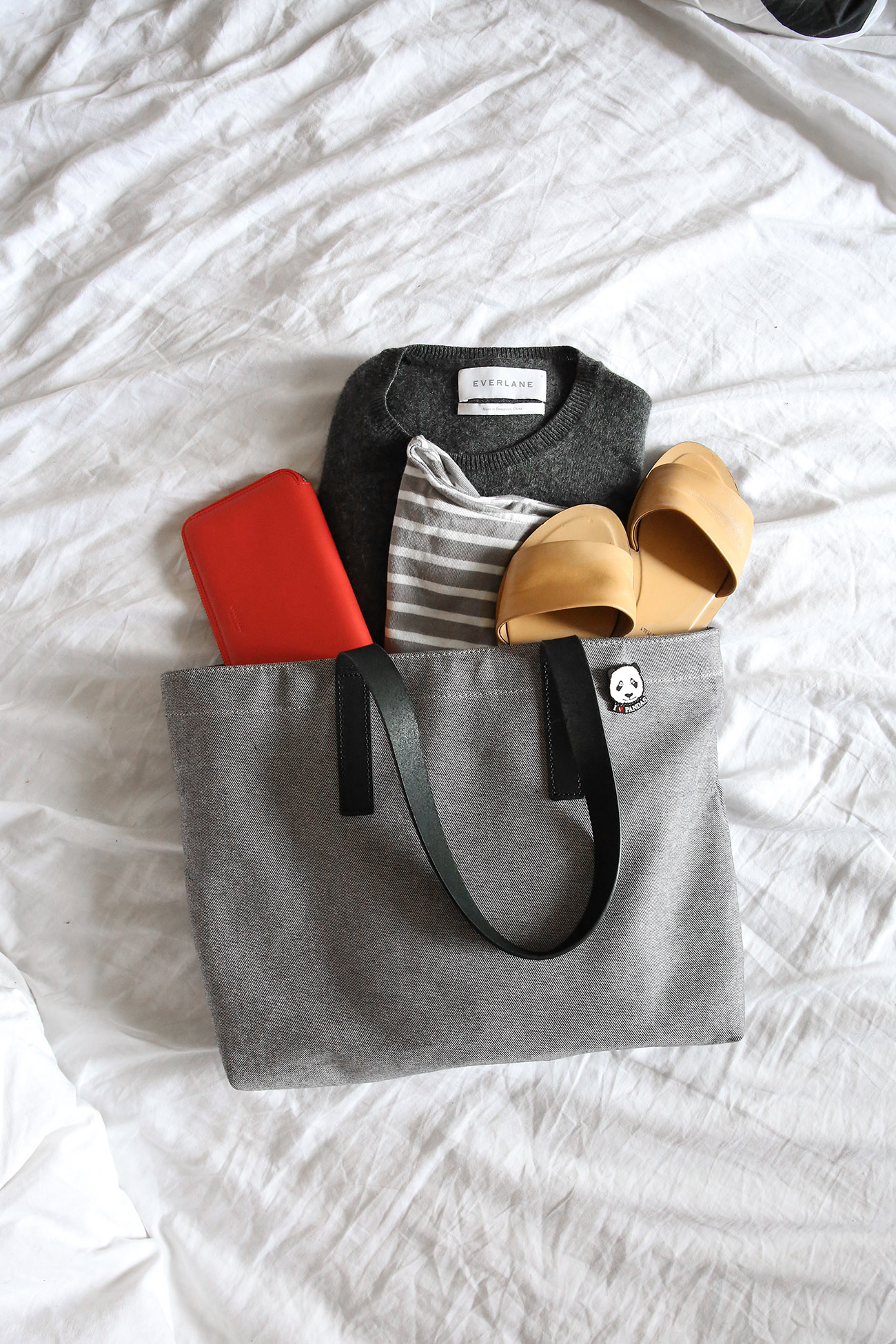 BAGS & ACCESSORIES
EVERLANE TWILL ZIPPER TOTE
My Cuyana leather tote has long since been my staple every day bag, but after eying this up for some time, I finally decided to pull the trigger and go for it. I love the fact that while it is a tote, it has a zip up closure meaning that all your belongings are secure. I went for the reverse denim with black leather (the black on black also looks lovely) which is a pretty neutral option and goes with most outfits. The fabric has softened up beautifully since I picked it up. The bag has a very minimal interior; one large open pocket and a smaller slip pocket on the side (which isn't my favourite – I wish it had a zipper!). The style is quite slim and tucks in nice and close to the body. Personally, if I had my time over, I'd opt for the black as the grey does tend to pick up and show dirt, and due to the leather strap, you can't throw this in the wash.
EVERLANE MODERN SNAP BACKPACK
I picked this up for Luke ahead of our recent holiday, as a bit of an everyday adventure backpack and carry-on bag. He also went for the reverse denim option, and just like the twill zipper tote, the fabric softens up after about a week of wear. The quality is great, particularly having those little black leather touches on the snaps and zipper tab pulls, and the laptop section allows a bit of separation of your belongings too. Do keep in mind that this particular style is spot clean only – due to the leather – so not the best idea to throw into the washing machine if you get a few grass marks on it…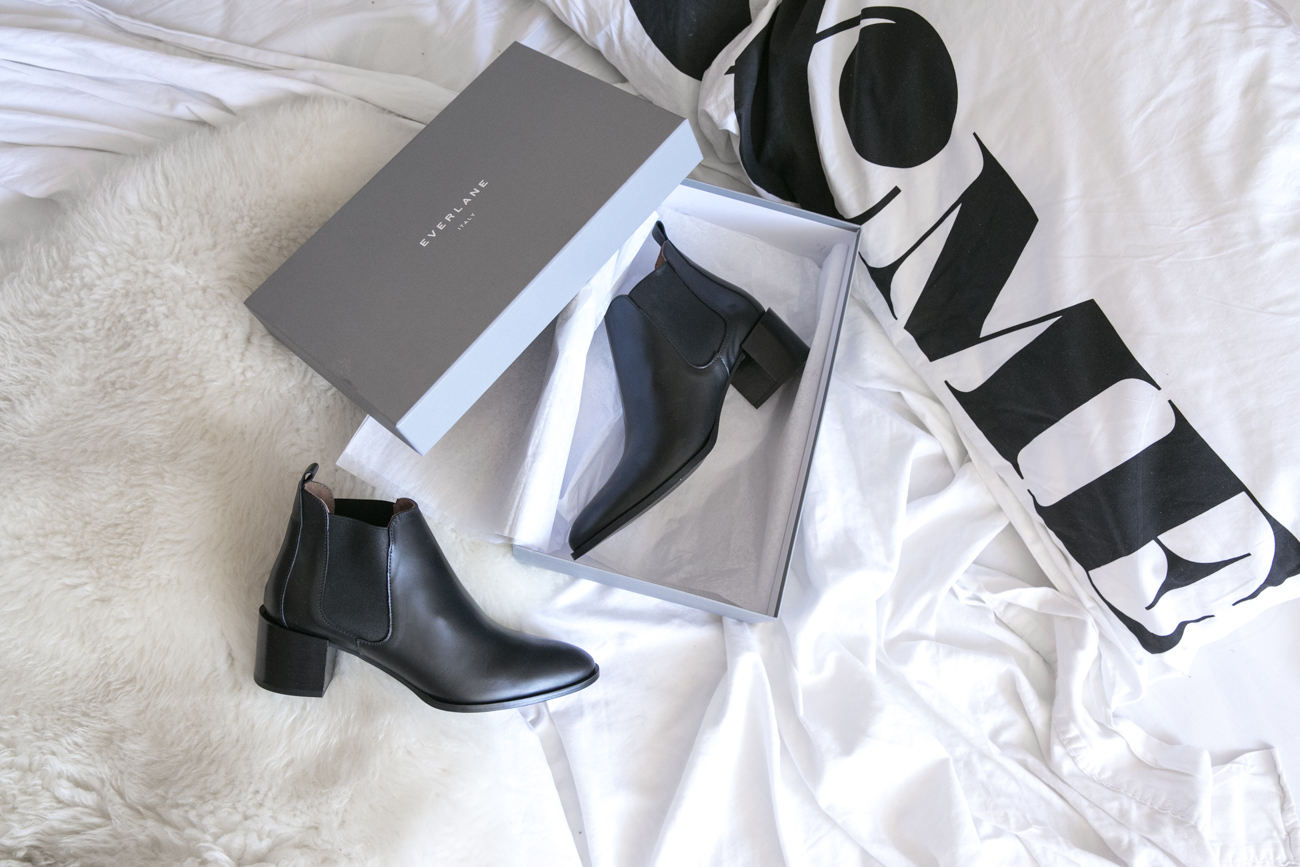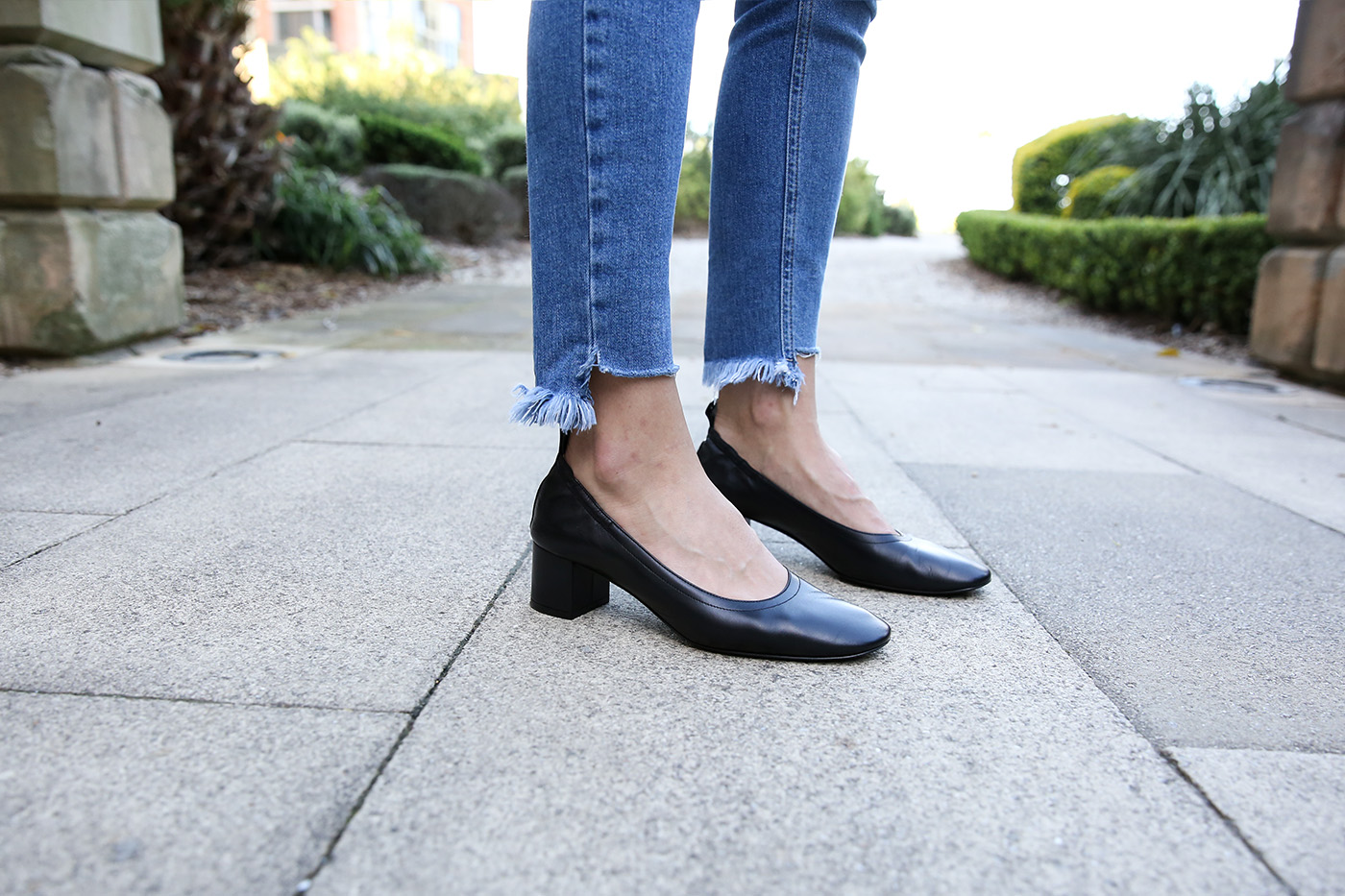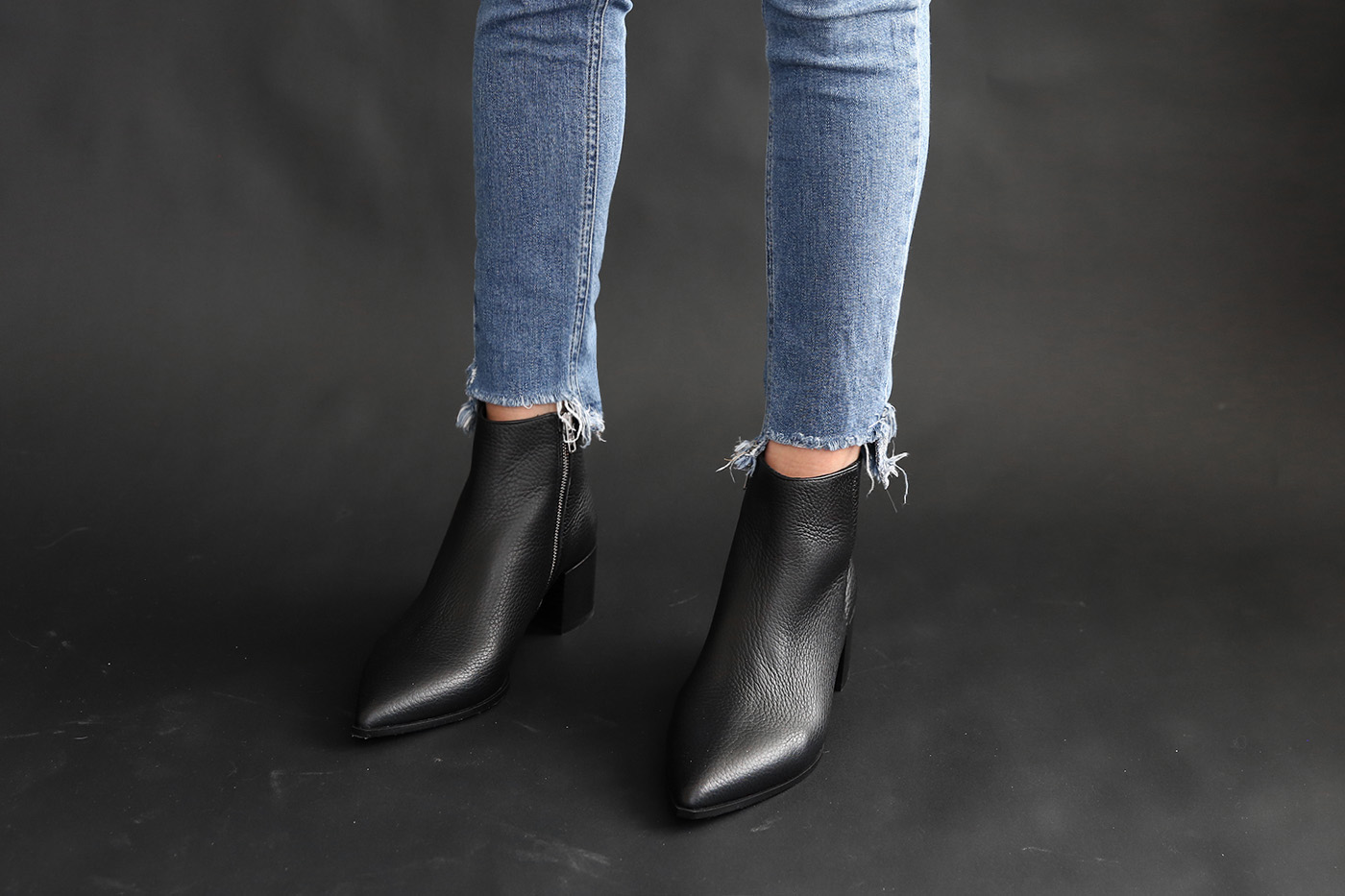 SHOES
EVERLANE SLIDE SANDAL
Perhaps one of the most aesthetically pleasing pairs of shoes Everlane has in stock, I knew the moment I saw these that they would be right up my street. 100% Italian leather, with a low heel and thick wide strap across the foot. Two months on, I'm still trying to break these in, though they're getting there! As a girl with wide feet, I've found in my experience that these are on the narrow side, so I've definitely had my fair share of blisters when trying to wear these for extended periods of time. The quality of the leather is excellent, something that I've found to be true of all of Everlane's shoes, though in this instance, very stiff at first. I'm still hopeful that they're going to soften over time so crossing fingers that I can report back sometime in the future with a positive result. These fit true to size, I went for the US9 and I'm typically always an EU40.
EVERLANE STREET SANDAL
In complete contrast are the street sandals, which are comfortable straight off the bat – I wouldn't doubt that you could buy these and spend a day walking around the city with no blisters. The design is a little more unusual, at least of any sandal I've seen, with a pointed toe, two straps across the foot and an elasticated strap around the heel. They have a contrasting white foamy sole which feels little bit like stepping on marshmallows. The leather on these does seem to be a little more delicate and scratch a little more easily than the other styles I own. These fit true to size – I opted for the US9.
EVERLANE STREET SHOE
This is basically a luxurious take on the slip on sneaker, but with the modern update of a pointed toe. Like the street sandal, these have that same contrasting sole which I think works really well with this style. These are super comfortable again, though they run on the narrow side so do size up half a size. I grabbed the US9 though should have opted for the US9.5.
EVERLANE MODERN LOAFER
Six years ago, I used to be the girl who wore heels everywhere; flats just weren't part of my footwear arsenal and at the time, that didn't seem to bother me. That was, until, I bought a pair of loafers. For me, the loafer is such a wardrobe staple and one which I think can so easily be dressed up or down. I took the plunge and picked these up last year when Everlane offered international shipping, as I wanted to have the option of returning them in case the sizing was completely off. I grabbed the US9, though these are a narrow fit and I highly recommend sizing up half a size as trust me when I say you'll be doing your feet a huge favour. That being said, it took about six wears for the leather to soften up to the point that they've molded to the shape of my feet. The leather is thick, durable, and of high quality, though one thing you will notice is that you'll get some creasing across the toe with wear. I've been eyeing these up in the blush and chestnut variations for a bit more of a feminine vibe.
EVERLANE MODERN BABO
When it comes to functionality, I think the modern babo takes the cake; the back panel of the shoe can be worn up, like an ankle boot, or tucked under the heel, like a slip on shoe. Honestly, I wasn't expecting to like these anywhere near as much as I do though these have stepped into play as one of my everyday shoes on regular rotation for the cooler months. The leather is extremely supple, perhaps the softest of all six pairs, making these a comfortable wear straight from the box. Again, like the loafer, you can expect to get a bit of creasing across the toe though I think with most shoes of this style, that's pretty normal. These are a very near dupe for Acne's amina flats, though at a much more affordable price point.
EVERLANE DAY HEEL
I was heavily anticipating the launch of Everlane's first pair of heels, and I wasn't disappointed. These are made of the softest leather, they fit like a glove, and have an extremely walkable 2 inch block heel – I walk the 45 minutes each way to and from work in these, without skipping a beat. Over time, the leather on these shoes will soften up even more, and mould to the shape of your foot, so you will see these lose the integrity of their shape at the toe (especially if you have wide feet, or bunions like me!). These fit true to size – if you're an EU40 like me, I'd highly recommend going for the US9.5.
EVERLANE EDITOR HEEL
I might work in a more relaxed office environment, but I still prefer a pointed toe heel over a rounded toe any day, so I got pretty excited when I saw that Everlane were launching the 'editor heels'. The marketing team very kindly gifted me a pair – I went with 'taupe', which is much more of a rich caramel beige hue, and a brilliant alternative to my usual black heels of choice. These are a suede so will require a little more care than a leather shoe, they have a reasonable 2 inch heel, and a squared off detail at the toe box (something a little unusual that I really like). I went for my usual size, a US9.5, and while these fit well, they are snug in the toe box. I haven't worn these enough to say whether they will stretch out a little more around the toe, though I'd be hesitant to suggest sizing up in a shoe like this as your foot might be prone to slipping out. All in all however, a really lovely shoe.
EVERLANE BOSS BOOTS
Aside from the day heels, if there's one pair of shoes I'd recommend getting your hands on, it's the boss boots. I'm the kind of girl who wears a pair of boots practically all winter long, so finding a high quality pair that doesn't break the bank is usually at the top of my a/w winter wardrobe agenda. These tick all those boxes; they're less than half the price of the famed Acne Studios jensen boots, and personally, I think that these are much more worth it. There's some obvious style differences; these have a silver zipper where the Acne boots have an elasticated panel, and the heel is slightly higher, but these are pretty negligible for a boot that's essentially going to give you the same look, and is on par quality wise. These fit true to size (I got the US 9.5), and are comfortable right off the bat. The leather is grained, and much softer than the leather on Everlane's other boot offerings I have tried. At this stage I haven't had the opportunity to wear them loads (it's spring time in Sydney), but they're softening up well! You can read my full review HERE.
EVERLANE HEEL BOOT
In my early twenties, a heeled chelsea boot was practically the only pair of shoes that I wore. All. Year. Round. So, these felt like a pretty natural fit to add into my wardrobe. Aesthetically, these are a really beautiful boot; they have a rounded almond toe, elasticated panels on each side which stretch the boot out for you to slip your foot in, and a nice chunky block heel. I mistakenly got these half a size small (went for the US9 instead of the US9.5) and found these an absolute mission to break in. The leather is very stiff, a little like the modern loafer, so it requires repeated wear to get it to give a little. The other point worth noting is that I've found that these do run quite narrow. I tend to find these relatively comfortable now, but after a full day on my feet, these tend to pinch at the sides a little. If you have narrow feet, these are absolutely worth going for – they are incredibly sturdy and well made, and even after repeated wear, still look really good – the only noticeable 'wear' is some creasing where the leather hits the ankle.
EVERLANE E1 ANKLE BOOT
Aside from how obviously aesthetically pleasing these are to look at, these are such a practical and comfortable boot. There's the curved detail of the heel, a rounded toe, zip up closure on the inner side of the leg and the supple grain leather. Of the entire E1 capsule collection, the boots stuck out to me the most, and I haven't once regretted adding these to my shoe-drobe. These run true to size – I went with the US9.5 but in hindsight definitely should have picked up the US9!
So, there you have it. Going on almost three years worth of purchases – sight unseen I might add – and the majority of what I've picked up has turned out to be a winner, which again, is a huge part of the reason why I keep going back to Everlane.
If you're interested in seeing how these pieces translate in real life, I've done a full review video on my YouTube which you can check out here, though I'll warn you now, it's a long one.
I'm currently eying up their new poplin dresses, which look right up my street for Spring, and I'd also love to get my hands on more than a few things currently in their 'coming soon' section. I hope that you've found this Everlane review helpful, and if there's anything else that you think is worth a second look, please do let me know in the comments below! x