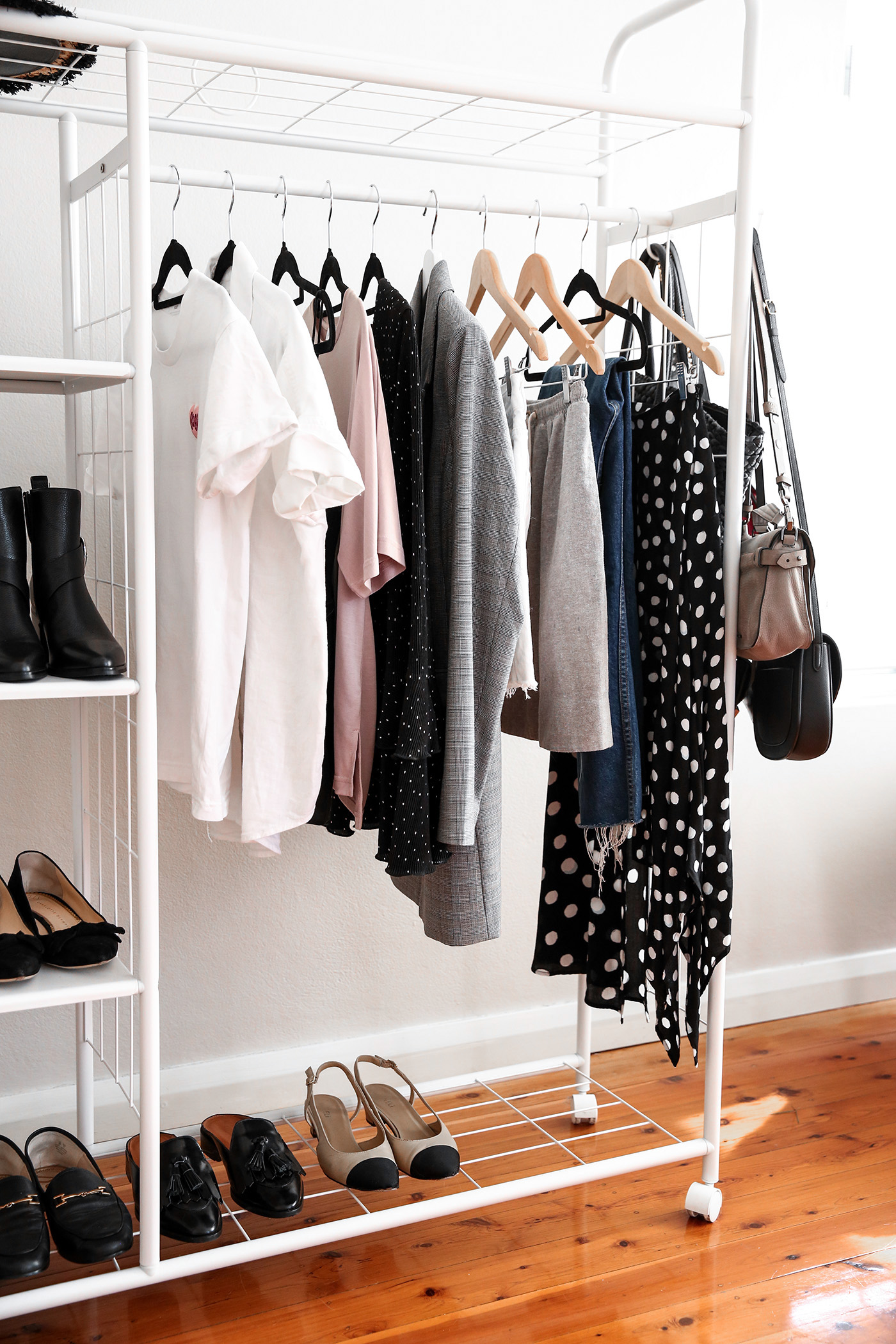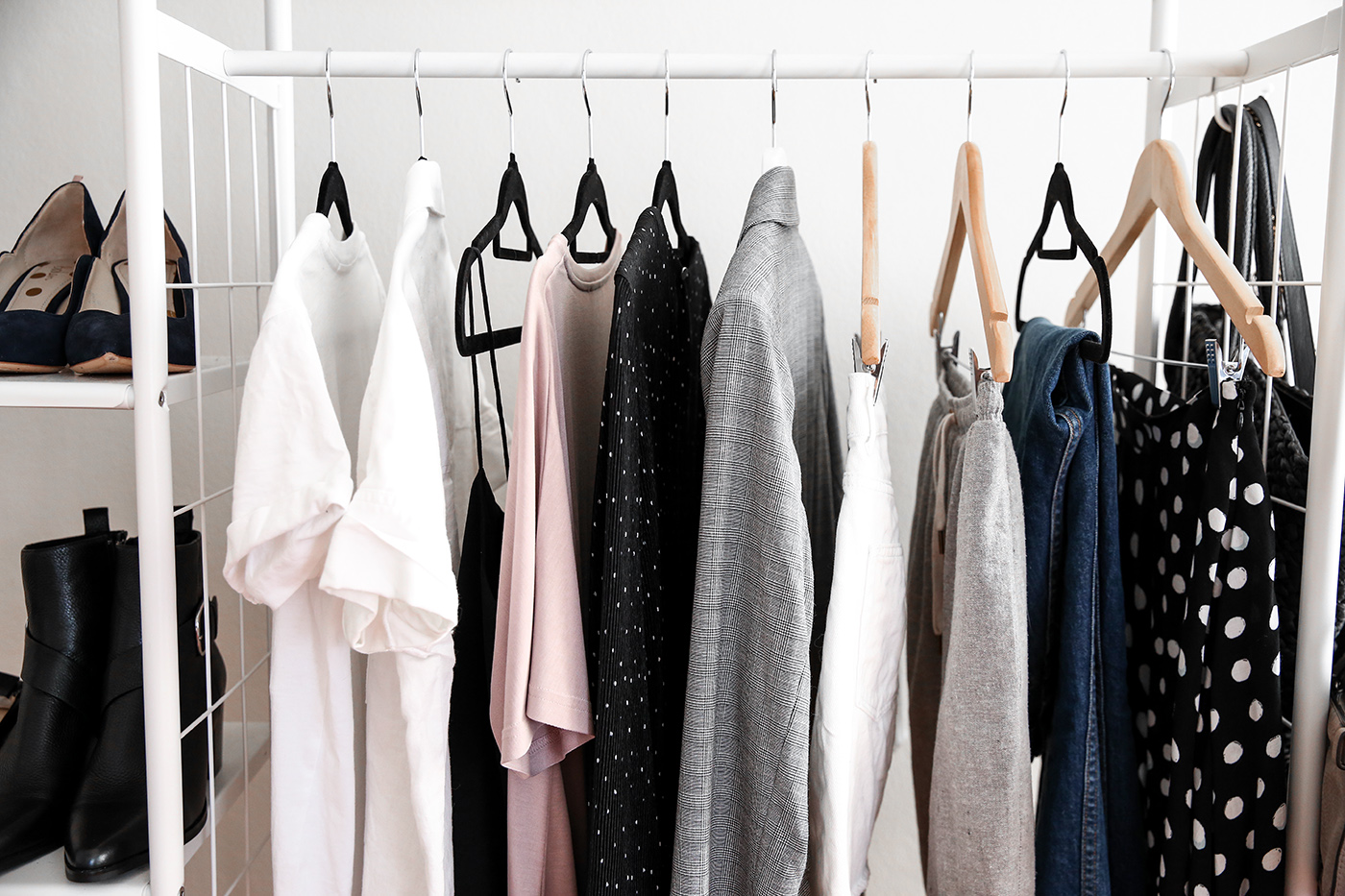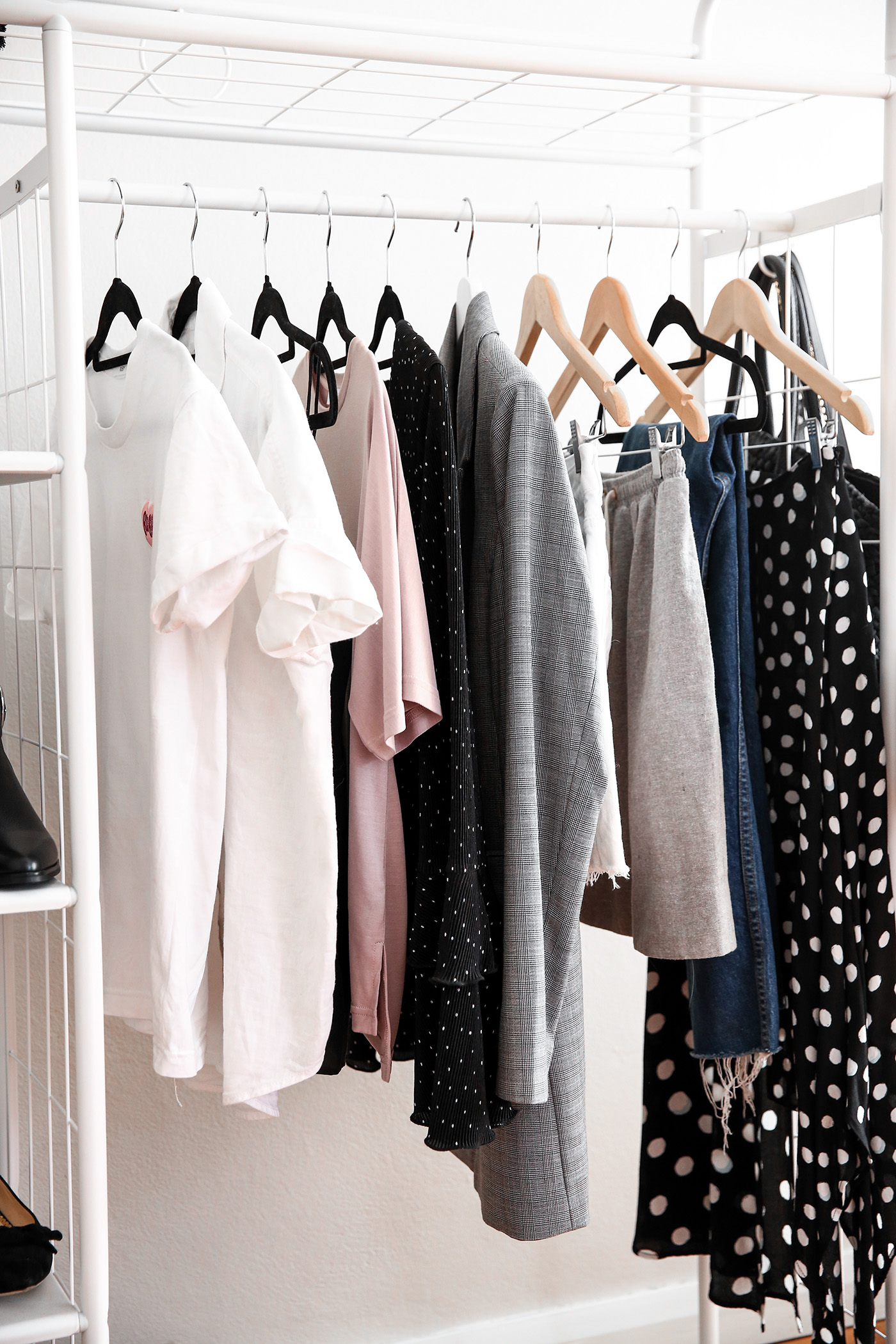 When I reflect back on my style over the last year, 2017 definitely represented a bump in my style journey. I felt a little lost, and found myself adding items to my wardrobe that just weren't me. Part of that is down to the fact that we are constantly evolving, and part of it was due to a classic wardrobe mistake: emotional shopping. That being said, my closet has been under 'construction' recently, so when I saw that Lee of Style Bee and Caroline from Un-Fancy were teaming up for a Spring 10X10 Wardrobe Challenge, it seemed like the perfect opportunity to really test the boundaries of a couple new wardrobe additions, and some old favourites.
I think the thing I liked the most about participating in this challenge – aside from the sense of community – is that it really tested me to think beyond the surface of my outfits for ten days, and come up with some surprising outfit combinations which I actually really liked both in principle and in practice.
What is a 10X10 Wardrobe?
It's pretty simple; ten items for ten days. Rather than have set rules, Lee's developed some pretty basic guidelines that you can use to create your own 10X10 wardrobe. The entire exercise is supposed to be one that not only challenges you to test the boundaries of your style and see your wardrobe in a different light, but should also be something that you enjoy over the course of the ten days – whether you split that up across weekends, weekdays only, or consecutively.
The basic premise of the 10X10 wardrobe is that it challenges you to select ten items from your closet, including tops, bottoms, dresses and shoes, that you can remix into varying outfits across the ten days. Items like loungewear, outerwear, bags, jewellery and accessories, pyjamas and gym gear aren't included. For the sake of simplicity (and for the sake of those around me), I opted to omit shoes from my ten items – if you've ever dealt with the humidity in Sydney, then you'll understand why. The forecast for the ten days ahead of me was constant sunshine, with temperatures hovering around the 30 deg C mark (around 86 deg F for those of you in the northern hemisphere). Given that I loathe doing washing for the sake of it, it made sense to have two other clothing options to choose from, which I would have otherwise allocated for shoes.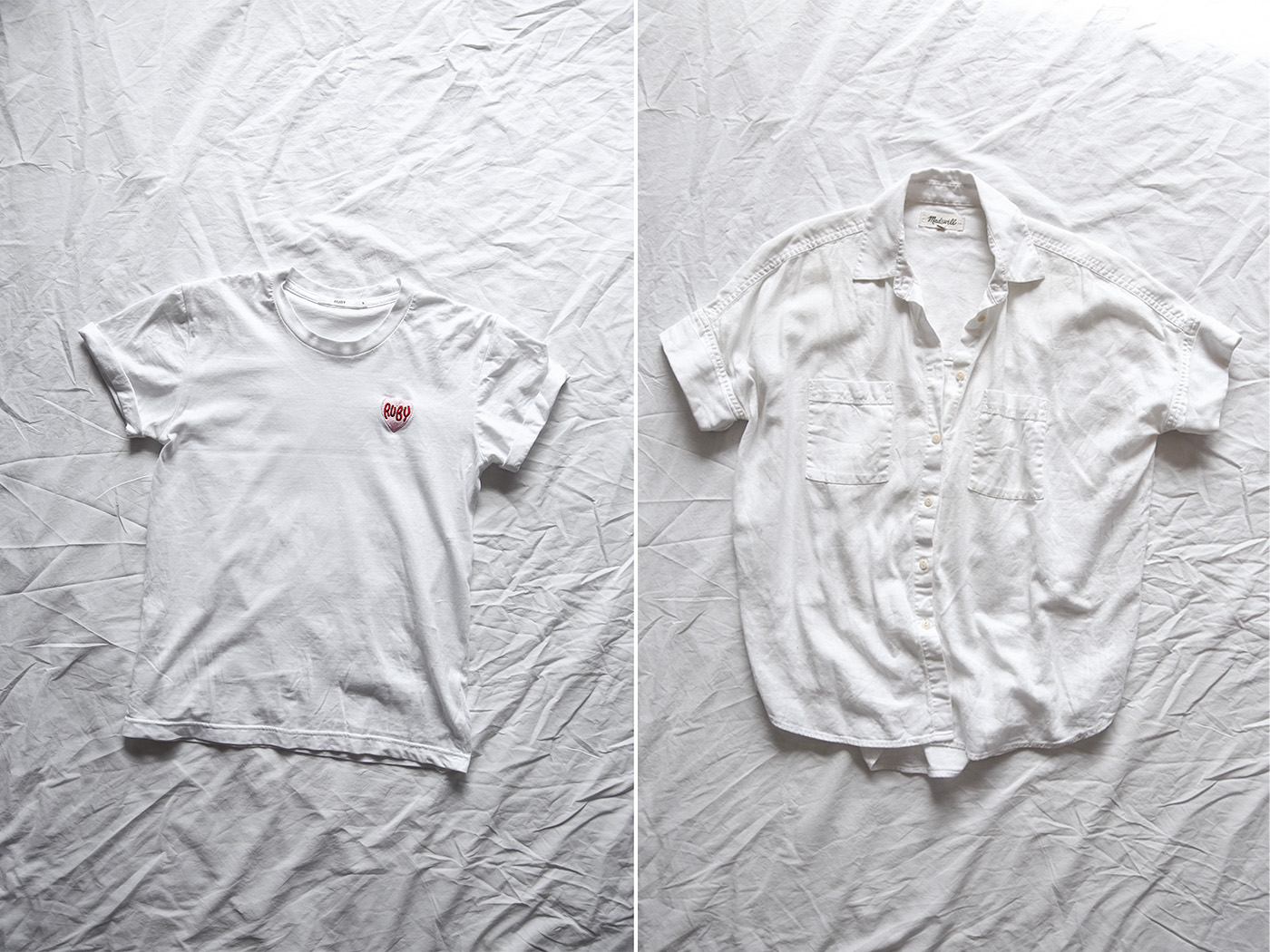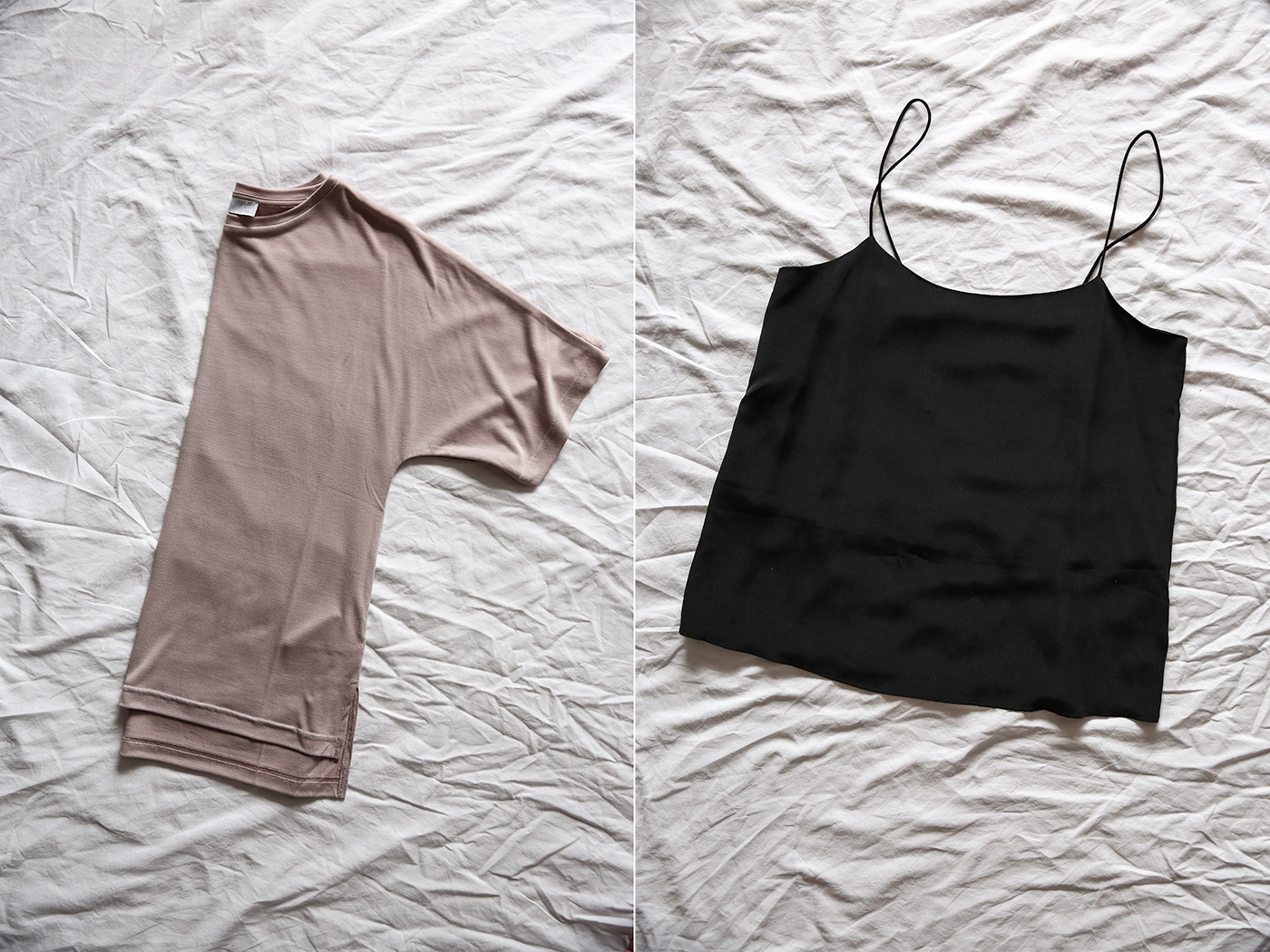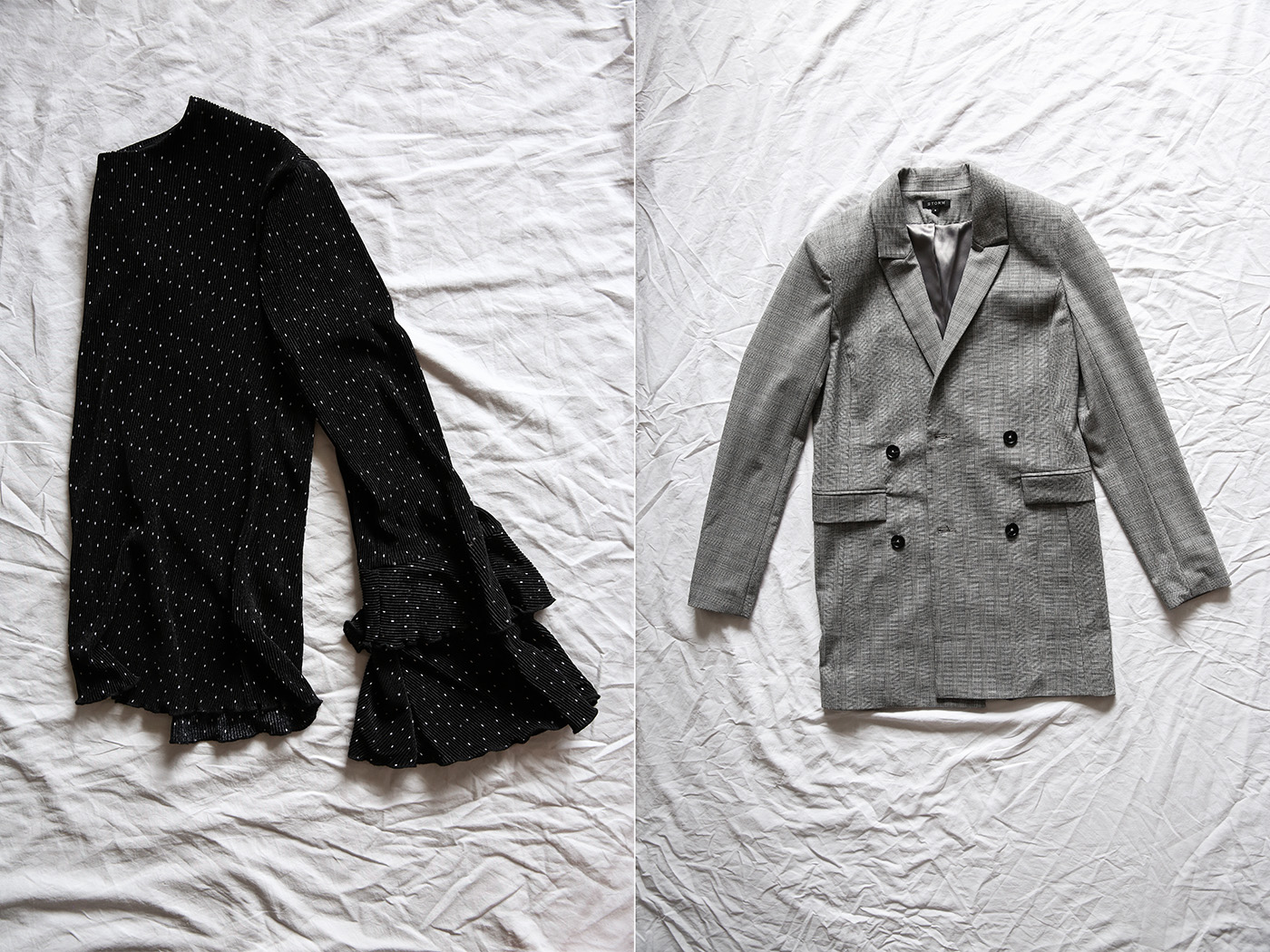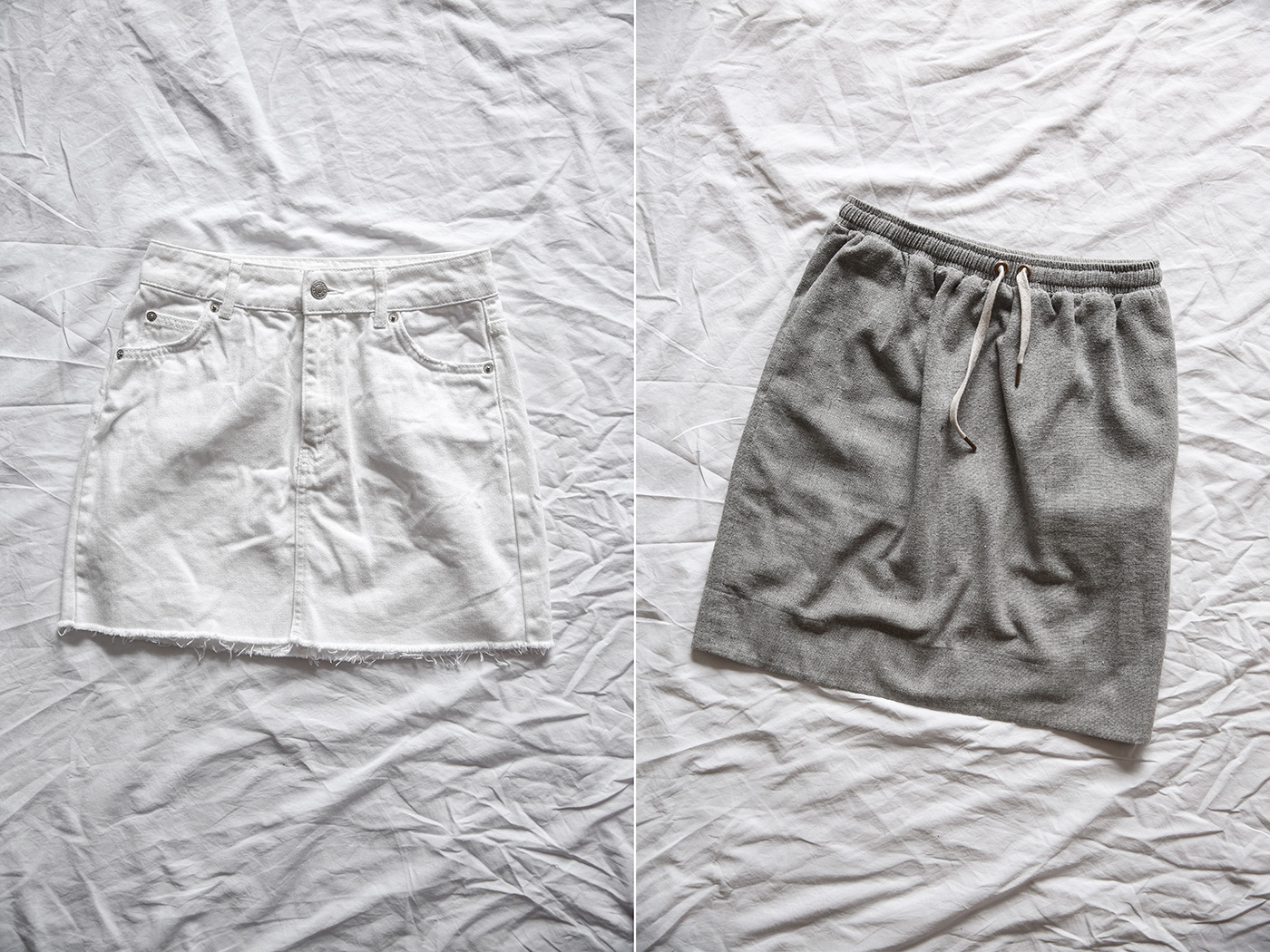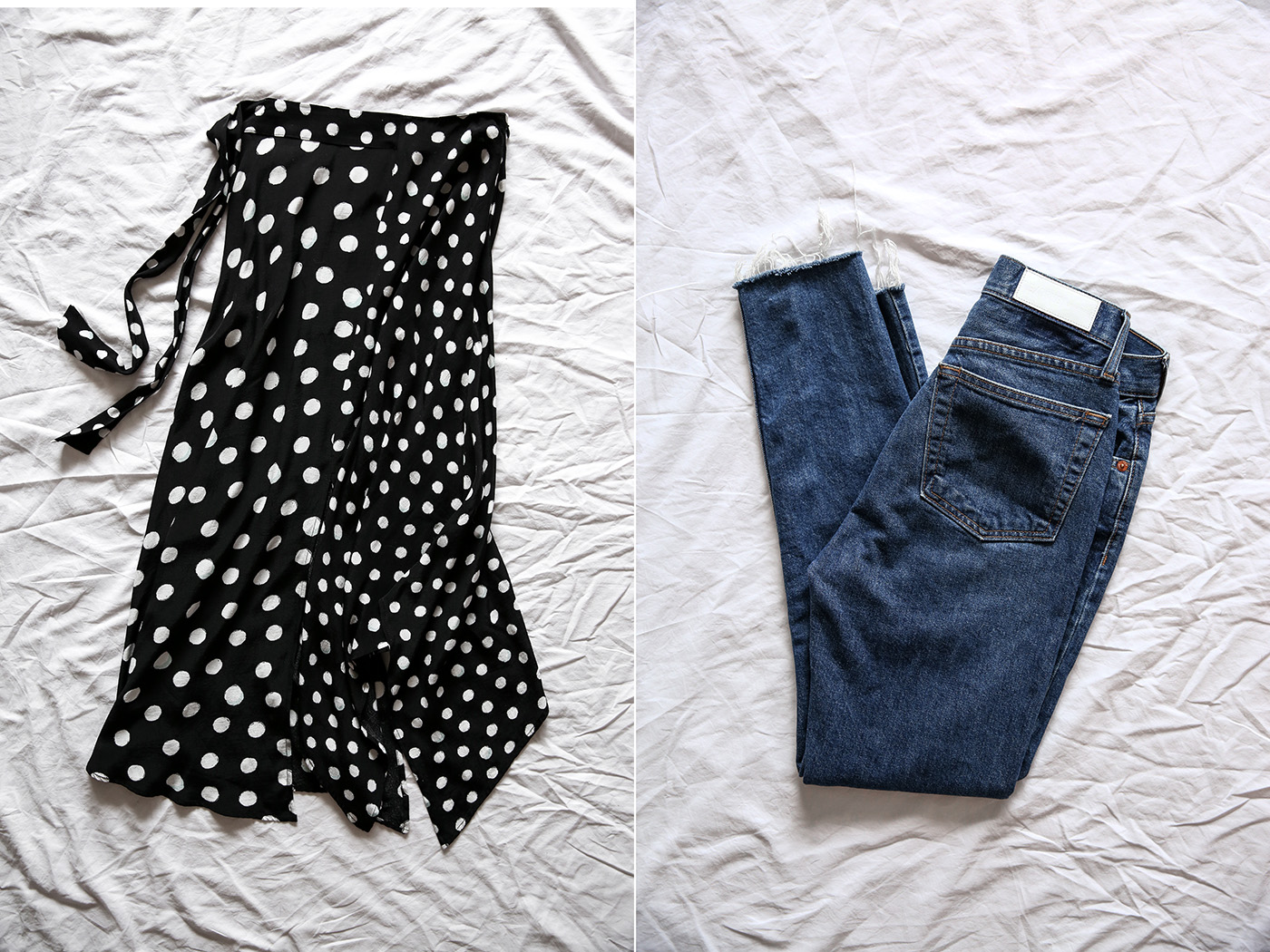 My Ten Items
Keeping in mind that the weather was going to be unseasonably warm for this time of year, I opted for some of my summer classics. A good denim skirt, a slinky silk cami, and a cotton short sleeved shirt, mixed in with a smattering of polka dots for good measure – because what's a capsule wardrobe without a little bit of print in there?
The colour palette was fairly neutral; the only real 'pop' of colour coming from a mauve toned modal tee from Grana, and the blue wash of my denim. I'm fairly fortunate that working in television, the dress code is relaxed, meaning that at a pinch I can get away with denim on a day-to-day basis. Keeping that in mind, I decided to go for a selection of items that swing a little more casual in nature, especially given that six of the ten days were going to be spent at home, thanks to Easter break.
01 | RUBY white cotton tee (similar)
Cotton tees have become a huge part of my style repertoire since Luke and I travelled to the US in 2016. What I love about this tee, is that the cotton is rather weighty and has some structure to it, and I like the way the roll up sleeves sit on my arms. The sweet embroidered love heart is a nice touch, and it keeps it from being just another white t-shirt.
02 | Madewell white cotton short sleeved shirt (also here)
This was one of those surprising summer purchases that has become an indispensable wardrobe hero. It has slight bat-winged sleeves, and an incredibly loose fit throughout the body, which works well when tying this at the waist (as you'll see in my outfits below). I'm huge on basics, and this is one of those great staples that works interchangeably between my work wardrobe, and my weekend wardrobe incredibly well.
03 | Grana mauve modal oversized tee
I like to keep my colour palette pretty minimal when it comes to any kind of 'capsule wardrobe', but this mauve coloured tee is close enough to a neutral, that I figured it would work as part of my 10X10 wardrobe, regardless of which other items I selected. Perhaps unsurprisingly, it's turned out to be the only real pop of colour I actually chose in the end. What I like about this is that it's a bit of a dressed up tee – again one of those items that I can wear for work and for play, and I really like the boxy silhouette it has.
04 | Grana black silk cami (similar)
I've made no secret that this is a real winner in my wardrobe – I love the straight cut across the bust, and the super skinny spaghetti straps, plus it's double lined. This is one of those wardrobe workhorses that I know I can always rely on, and it's easily dressed up or down. Kind of a no brainer to include this one.
05 | Sportsgirl black & white polka dot frill sleeve top (old but similar here)
Polka dots seem to be one of my ultimate weaknesses. With this top, I was trying to find something that was perhaps a little more seasonally appropriate, but that also injected a bit of playfulness into my 10X10 wardrobe. Probably goes without saying that this item pairs well with practically everything, the only challenge was finding the right weather conditions to actually wear this one.
06 | Storm check long line blazer (similar)
Blazers have been making a real come back in my wardrobe, and this check blazer from Storm has made a serious impact on how I put together an outfit in the morning. This has a lot less structure than some of the other blazers I own, which I really like – it lends itself well to all situations, and the faint check print is inoffensive enough that you can pair this back with another printed item. If it weren't for the heat I probably would have reached for this piece every, single, day.
07 | J Crew white denim skirt
If you had to ask me what my ten favourite wardrobe items were, this skirt from J Crew would without a doubt make that list. I picked this up during my trip to Dallas last year, and I haven't stopped wearing it since – it goes with e-v-e-r-y-t-h-i-n-g. This is one of my favourites to wear to the office, as the style is pretty classic, and I can pair it easily with a silk blouse and heels.
08 | Karen Walker grey pencil skirt (old but similar here)
I still find it hard to believe that I snapped this skirt up for less than $20 pre-loved all those years ago. This has been one of my best finds, and it's really come in handy as a great work wear staple over the years, and I also love reaching for this on weekends too. Again, it's one of those go-with-everything-items, and one I knew would be a great all-rounder for my 10X10 wardrobe.
09 | Topshop polka dot hanky hem skirt
Aside from my check blazer obsession, this hanky hem skirt from Topshop is one of the other recent additions to my wardrobe which I haven't been able to get enough of. It sits high up on the waist, and has a floaty asymmetrical hemline and contrasting polka dot print, which is incredibly flattering. I've found myself wearing this on the weekend with a simple tee, with a turtleneck for the office, or with a silk cami and heels for drinks with the girls.
10 | RE/Done skinny jeans
Rounding out my ten items are a pair of classic blue wash skinny jeans from RE/Done, with a raw edged hem. These are a great wardrobe staple and one that I've found myself reaching for over and over again – essentially, I'm just really excited about wearing them, which is a huge reason why I decided to select them as one of my 10 items.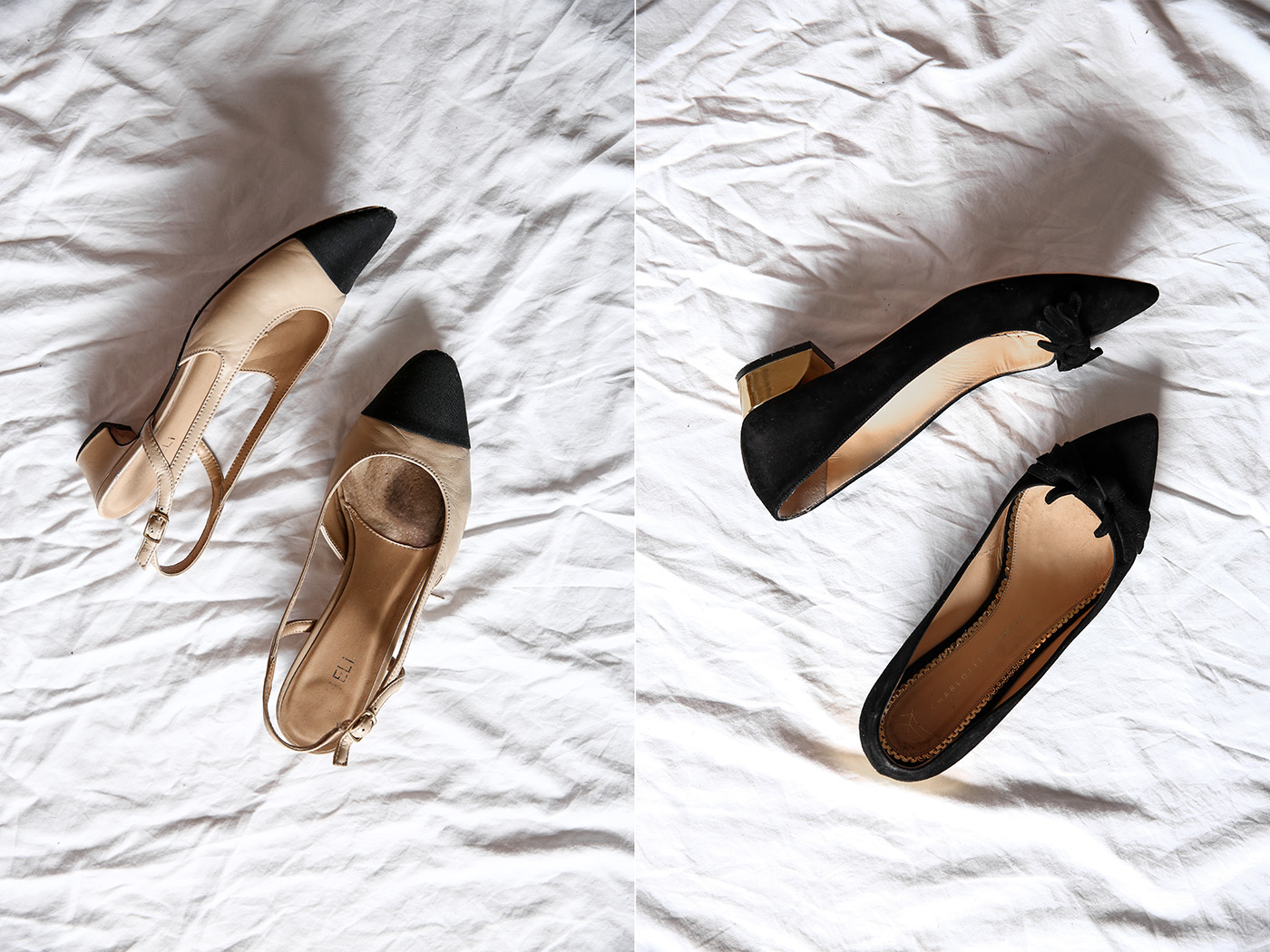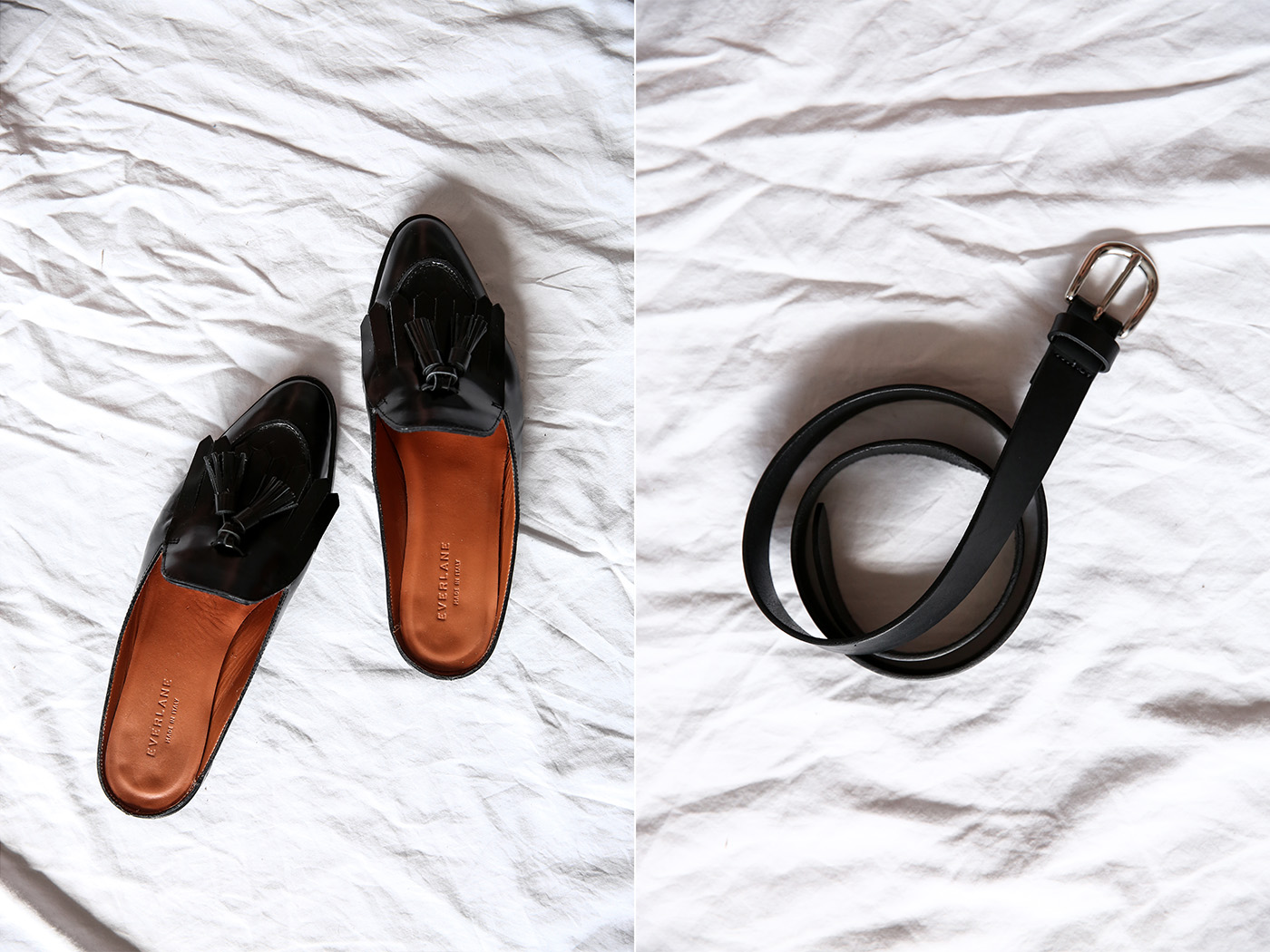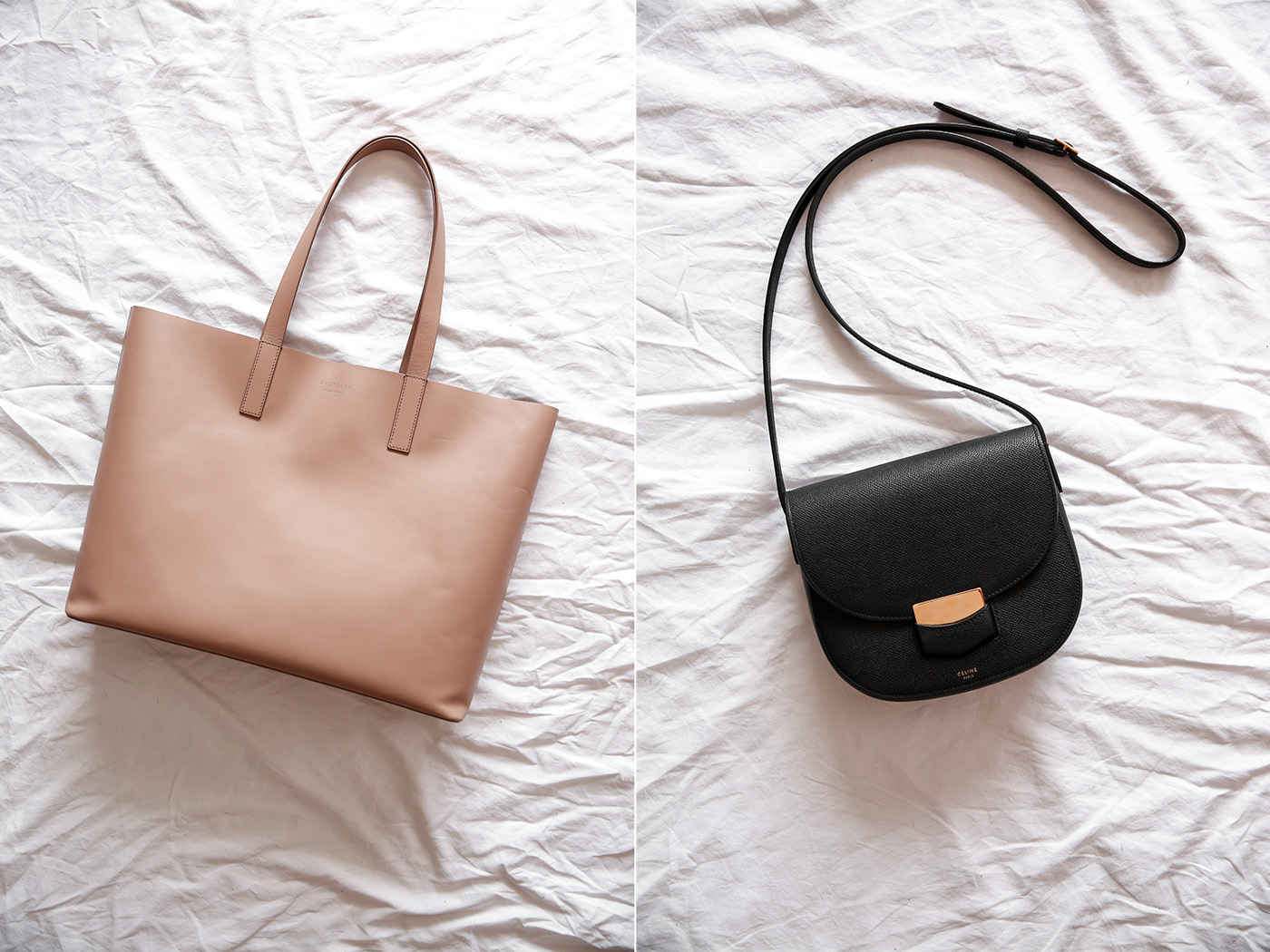 The Accessories
As mentioned, I decided to focus my ten items on clothing pieces, just due to how hot the weather has been in Sydney recently. I decided to centre my accessories around a few key items that I knew would work well with the 'wardrobe' I'd selected.
I walk the 45 minutes each way to and from work, so it's always important for me to have shoes which not only look chic, but that are comfortable to wear too, so I kept this to some of my tried and tested favourites. The suede bow flats from Country Road probably got the most mileage, but I also enjoyed adding in my Vaneli two tone pumps, my loafer mules from Everlane, and my Charlotte Olympia ballerinas into the mix too. For our one beach day, I found myself reaching for my Sportscraft sandals, which with its neutral toned colour palette, have been a great addition to my spring/summer wardrobe.
For bags, I relied heavily on my Celine trotteur bag (affordable option here) for the weekend, and my Everlane market tote for through the week, the latter of which I've been putting to the test so I can share a full review soon. This set me up well for most occasions, though I did opt for my oversized straw bag during our beach day, and I loved my little circle bag which added a little bit of interest towards the end of the challenge.
Finally, I also found myself wearing a couple of belts throughout the course of the ten days; my black leather belt from Isabel Marant, and a tan leather belt from Sportscraft.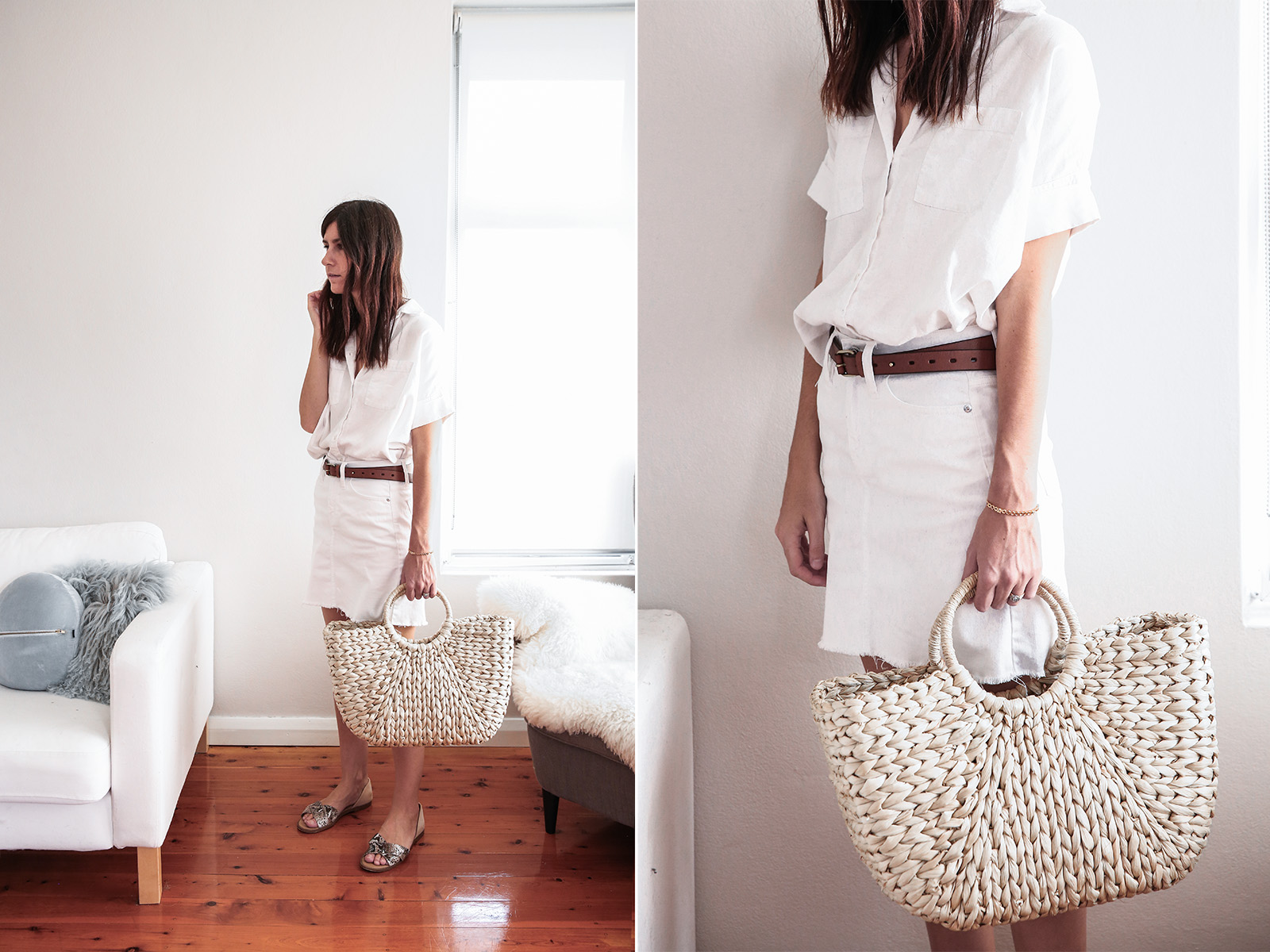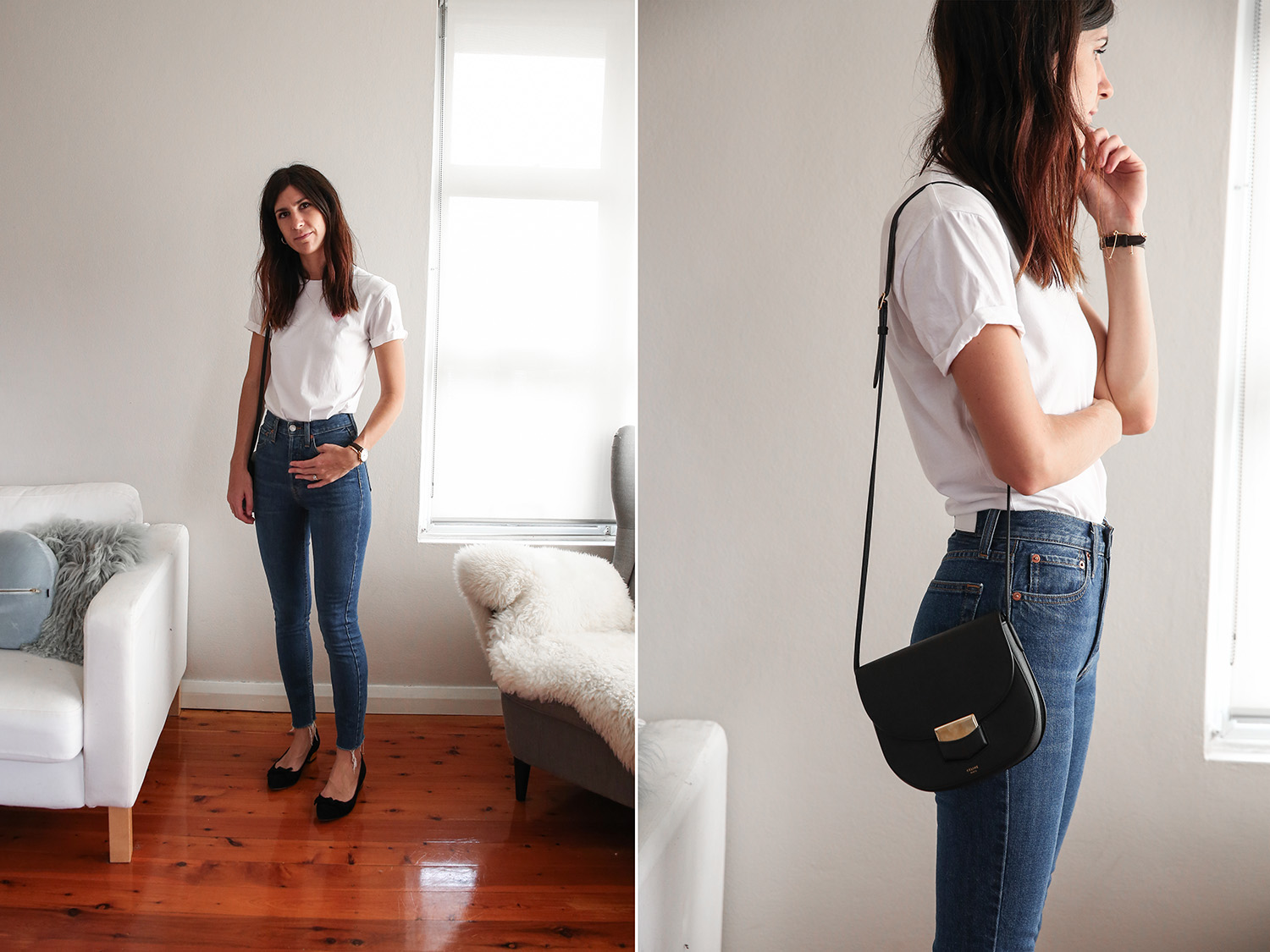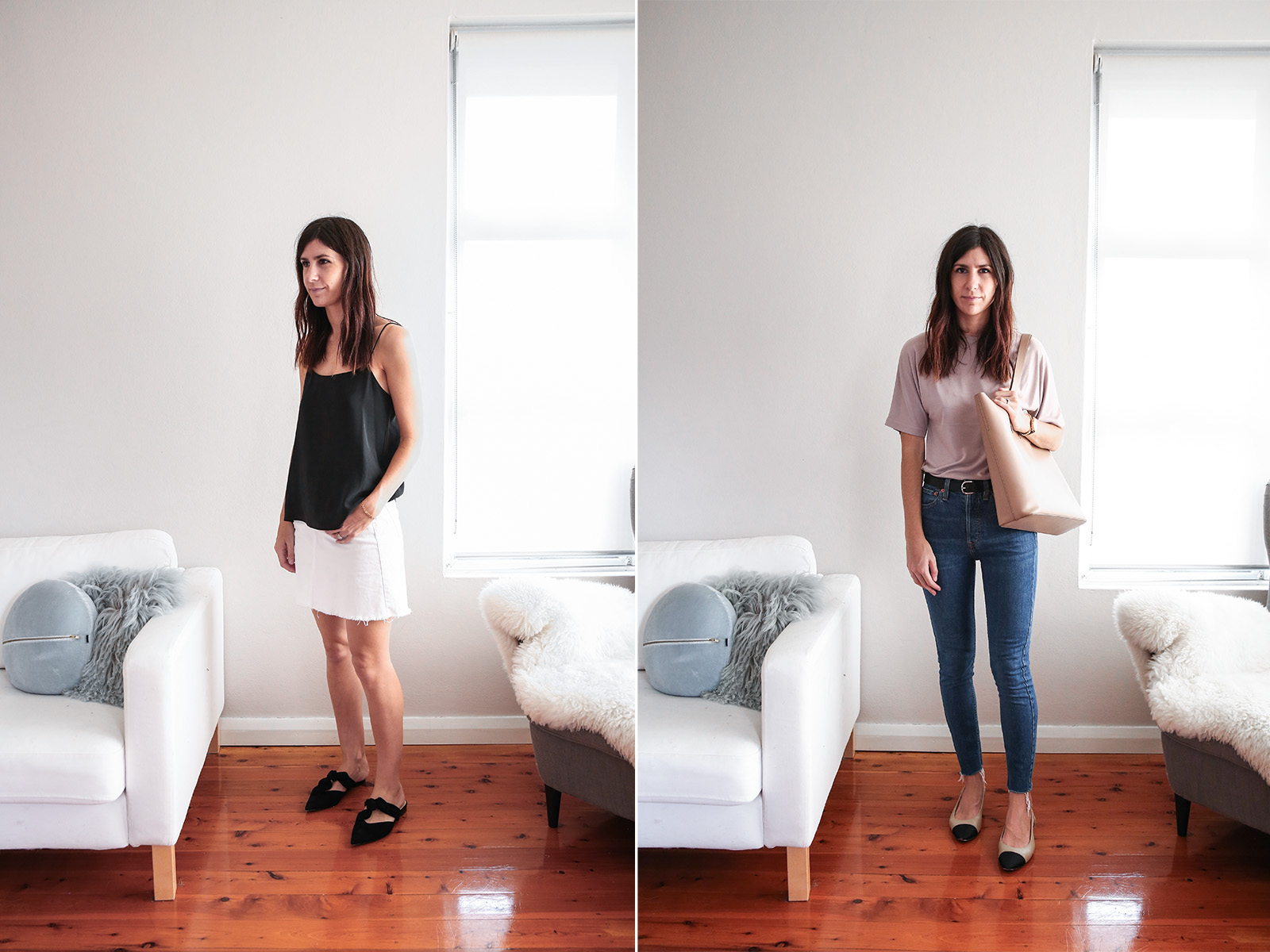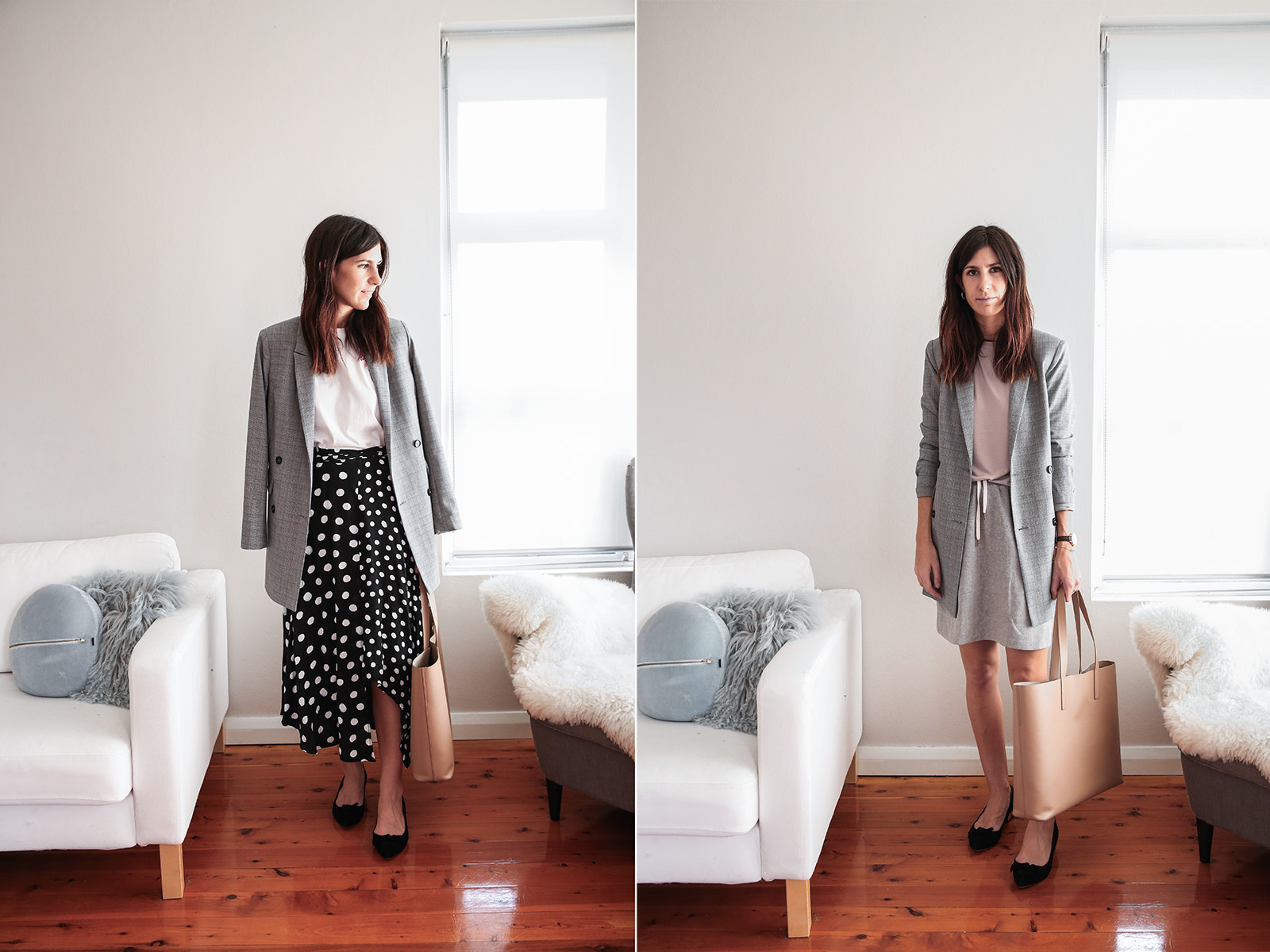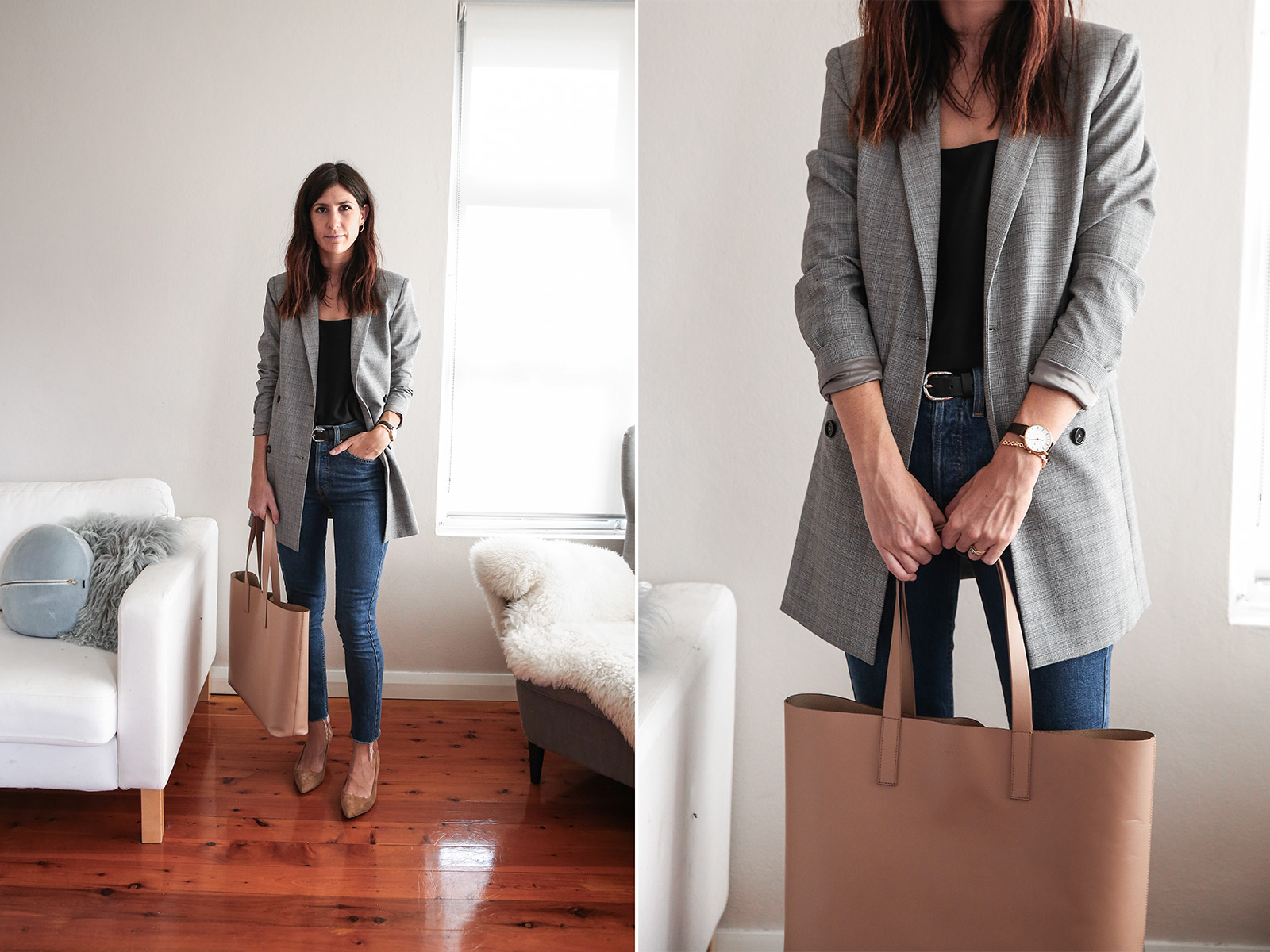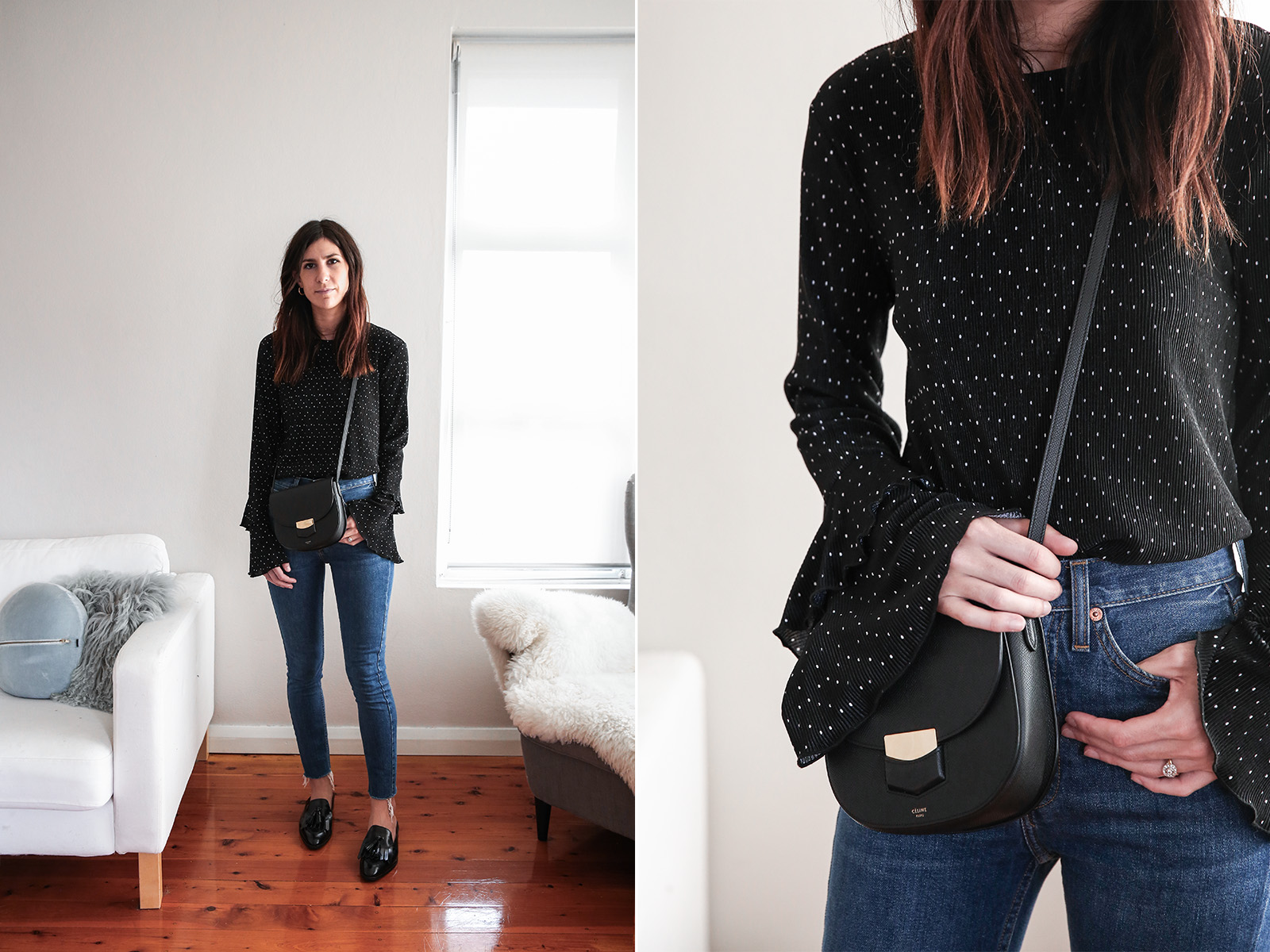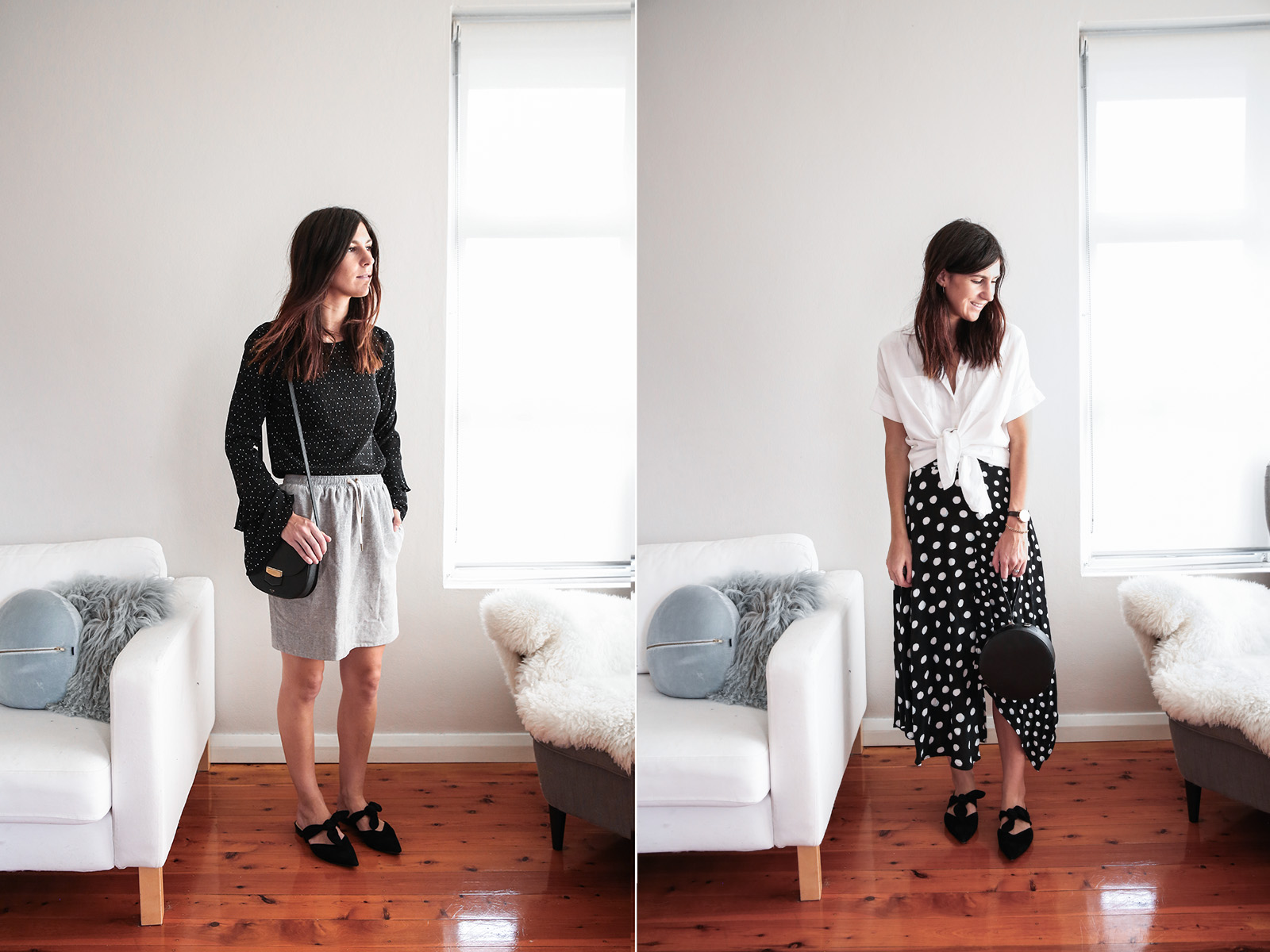 The Outfits
01 | white shirt + white denim skirt
I wore this for day one of the 10X10 Wardrobe Challenge. Luke and I headed up to Palm beach, and spent the afternoon hanging out by the ocean and soaking up some sun. Safe to say, this was a winner.
02 | white tee + blue jeans
Out of habit, I've found myself reaching for a simple t-shirt and denim combo on the weekend, and this Saturday really seemed no different. To dress it up a little, I wore my Charlotte Olympia ballerinas, and my Celine trotteur – it might just be the gold hardware on my accessories, but I felt like they elevated my outfit a notch.
03 | black silk cami + white denim skirt
If memory serves me, Easter Sunday was pretty hot, and we didn't do too much beyond chill out at home. I went for a top that I knew would hang loose away from my body, and my denim mini which would be comfortable enough during the heat.
04 | mauve tee + blue jeans
You can probably see, there's a bit of a trend when it comes to my weekend outfits. I'm a creature of habit and am pretty happy to wear my favourites over and over. Of all ten outfits, this was probably the one I liked the least, however I do think that the choice of accessories saved it.
05 | white tee + polka dot skirt + check blazer
Back to the office with this outfit, and I really loved the way the check blazer paired unexpectedly well with the polka dot skirt. This combo is pretty elegant, and the pointed toe of the ballerina really accentuated that.
06 | mauve tee + grey skirt + check blazer
I think this was one of my favourite looks; the colour palette was a pretty near perfect match, and I liked that the skirt and blazer looked like a mismatched suit combo. This is the kind of thing that I like wearing to the office, and definitely an outfit I will be reaching for again.
07 | black silk cami + blue jeans + check blazer
I had a real love affair with this blazer, as it's kinda the perfect accompaniment to any work outfit, especially given the more relaxed nature of my 10X10 wardrobe. I wore a belt with this look, which created a nice separation between my top and the jeans – I have to say it always strikes me as surprising how much a simple accessory like a belt can truly take an outfit to the next level.
08 | black spot frill top + blue jeans
It's probably pretty obvious how much I came to rely on my blue jeans throughout this challenge, which pretty easily could have been switched out for any of the skirts I also included. I love each element of this outfit individually, and together, it's kinda one of my ideal relaxed outfit combos.
09 | black spot frill top + grey skirt
Weekends are typically pretty casual, and this weekend was no different. It might have been warm, but this was a great outfit for a day spent at home working on a few projects (thank god for air conditioning!). I'm not sure I loved how the waistband of the skirt sat over the top, but it looked cute nonetheless.
10 | white short sleeve shirt + polka dot skirt
It seems only fitting that I would end my 10X10 wardrobe as I started it, with a simple short sleeved shirt. To make things a little interesting, I left the last few buttons of the shirt open and tied it at the waist. I felt a little like I was on vacation mode with this pairing, especially with the addition of the circle bag to the look.
Did you take part in the Autumn (or Spring) 10X10 Wardrobe Challenge? x