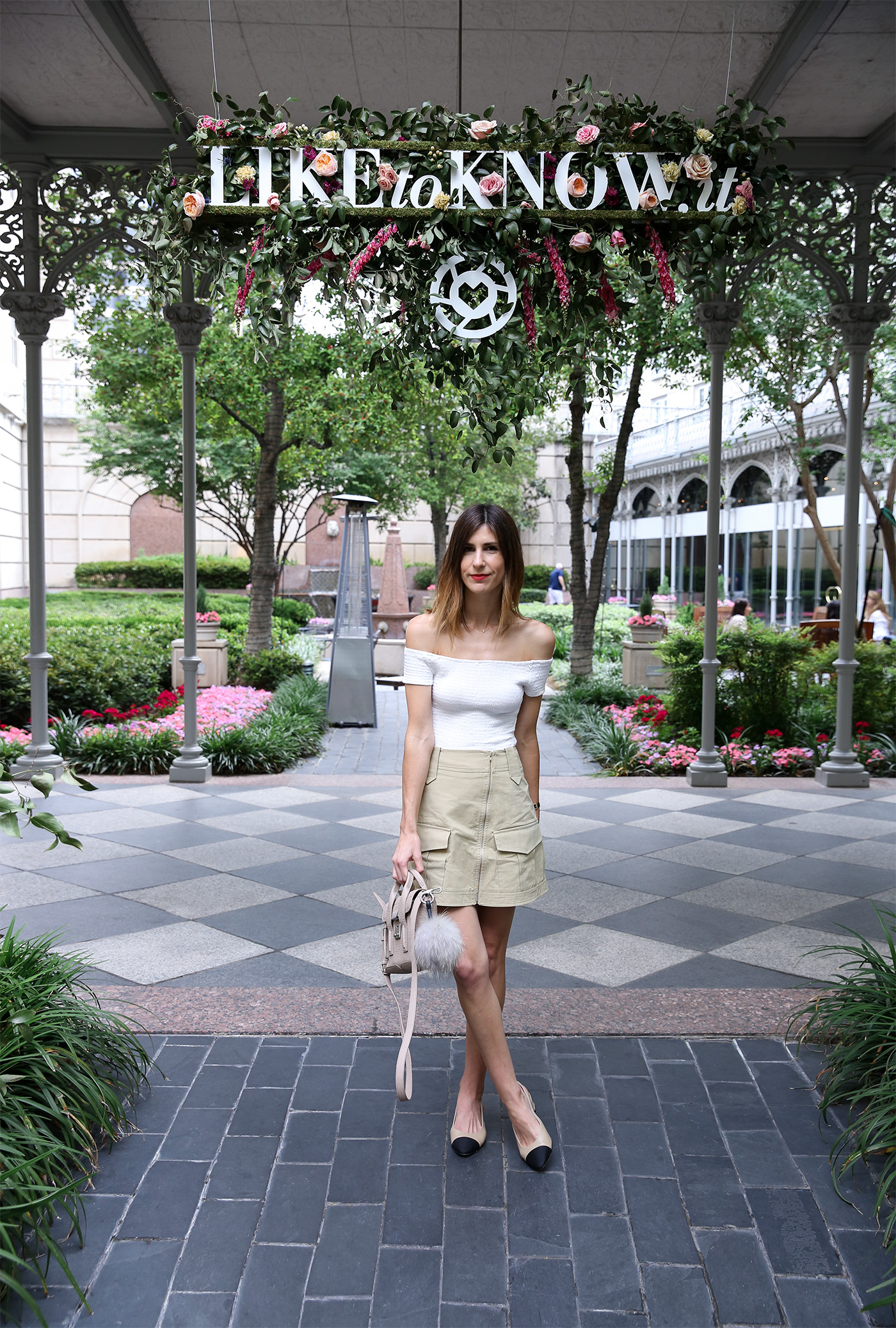 After a 25-plus hours in transit, I've finally returned home from my whirlwind trip to the US, and I couldn't wait to share some of the things to see and do in Dallas. I was in Dallas for a few days to attend the annual RewardStyle conference, and given that my days were packed with conference sessions, meetings and events, I took every single opportunity I could find to get out and explore the city, even if it meant waking up and 6.00am in search of a good coffee spot.
Wearing Brandy Melville off the shoulder top (sold out but similar here), RUBY skirt (this one is also cute), Vaneli heels, 3.1 by Phillip Lim bag & Mejuri earrings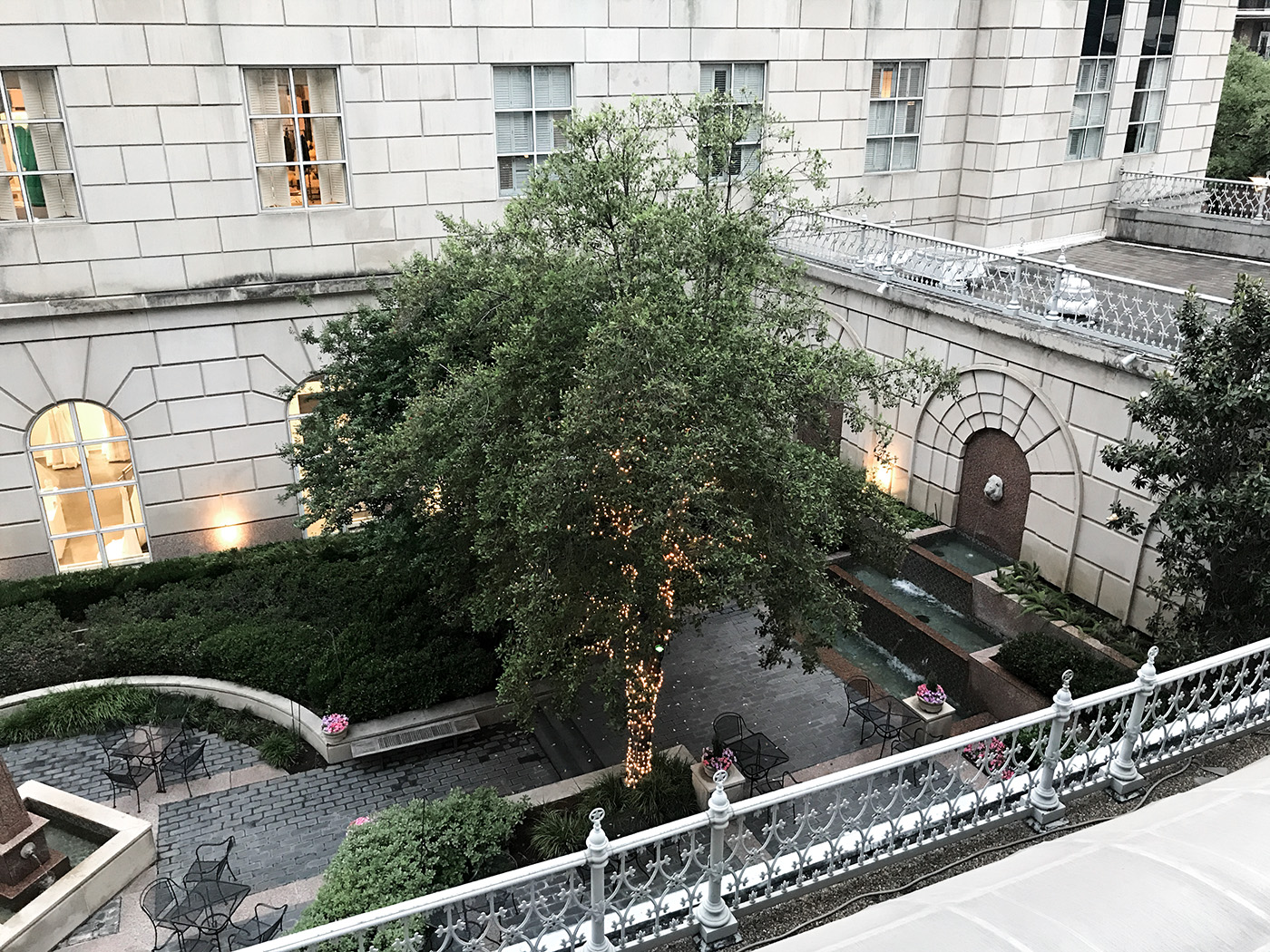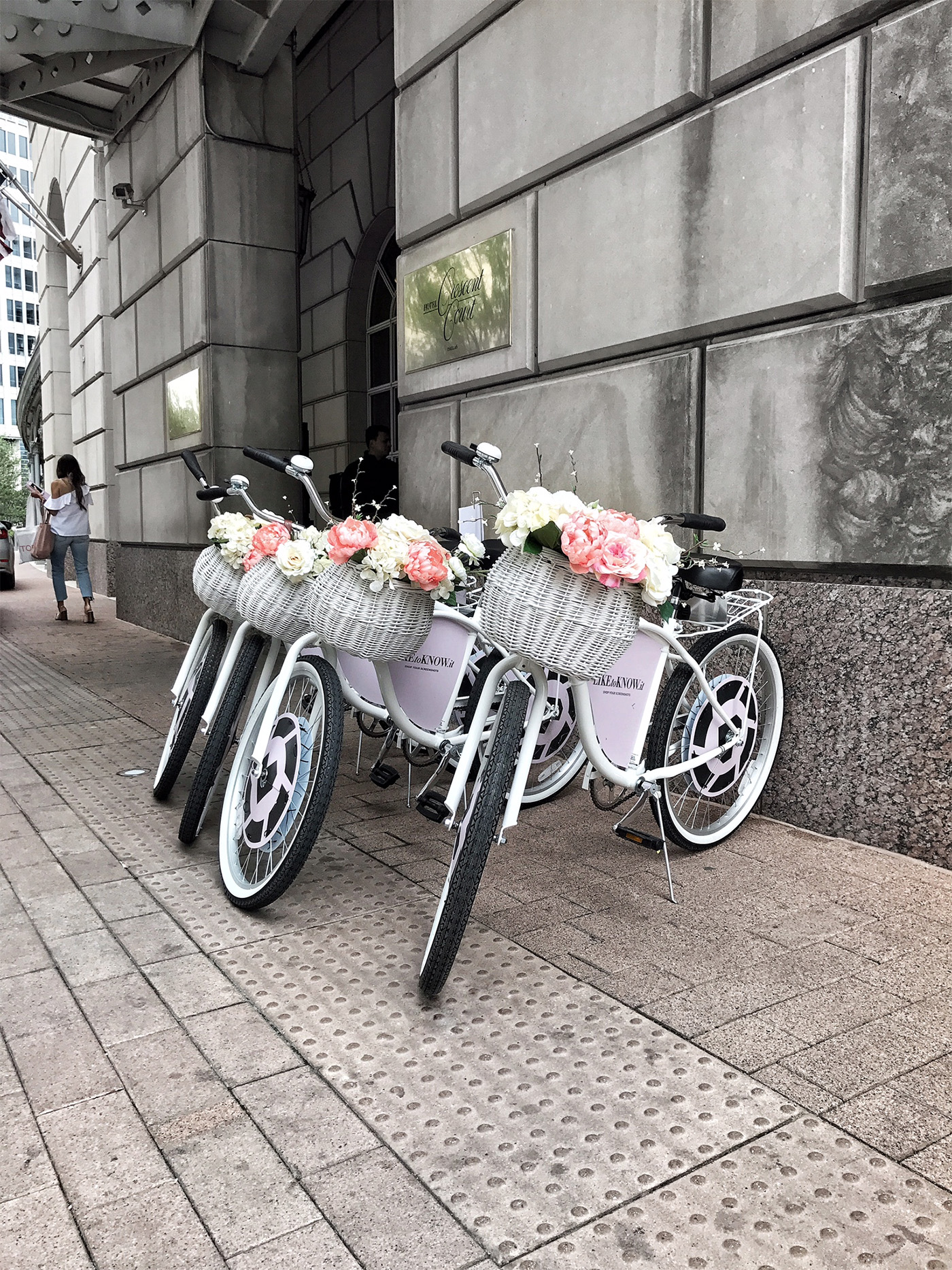 STAY
I spent my trip to Dallas staying at the Hotel Crescent Court, a beautiful modern hotel based Uptown. Given I didn't have a car and was travelling either by Uber or walking to destinations, I found that this was actually a pretty good base to start from (plus, it was where the conference I attended was being held). I will say, that the price point is a little higher that some of the other hotels within the area, so I'd also recommend taking a look at The Fairmont (where I had originally booked), The Joule Hotel, or alternatively there are some incredible (and spacious) AirBnB's – something that I'll always look at as an option when travelling.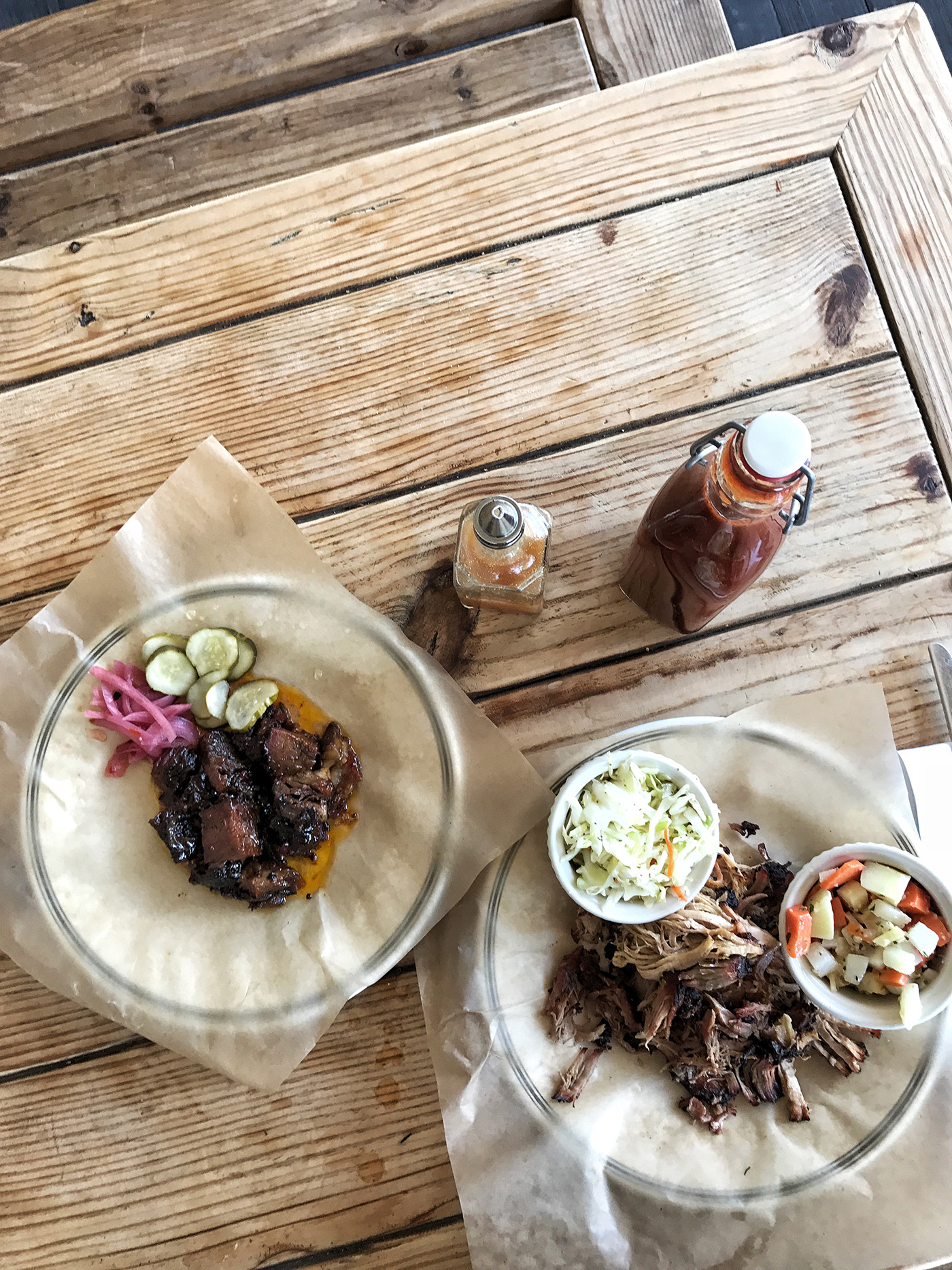 EAT & DRINK
18th and Vine – 4100 Maple Ave; if there was one thing that I knew I just had to do while in Dallas, it was to eat some authentic Texan BBQ – I mean, when in Rome, right? I dropped into 18th and Vine on my first night in Dallas with Josie and Charlie, and was absolutely blown away. They serve all their BBQ by the half pound, or pound, so I'd recommend heading there with friends and ordering a heap from the menu. The pulled pork and burnt ends were definitely a stand out for me (the ribs were the only let down), and be sure to try some of their home made BBQ sauce with your meal.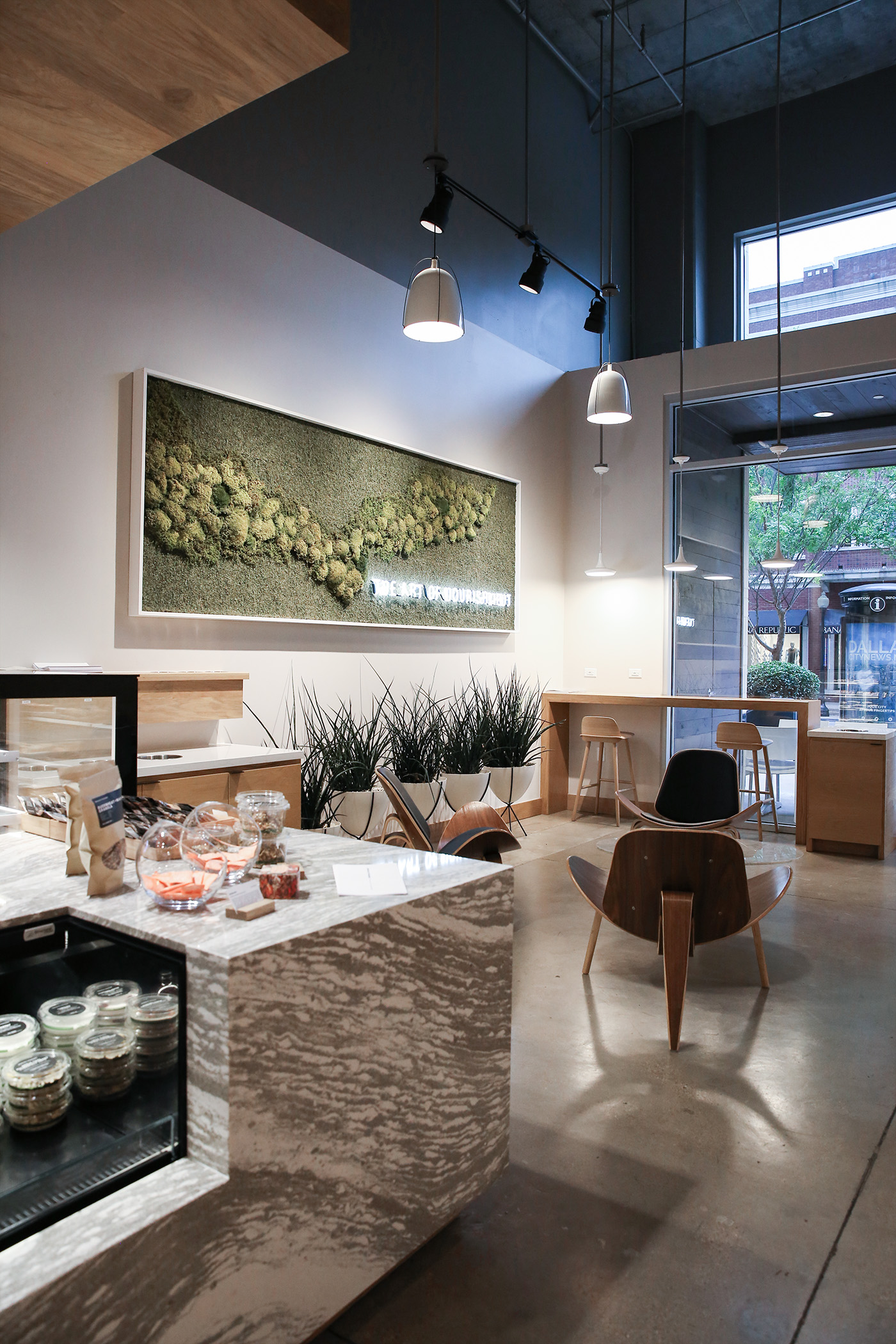 Brewed + Pressed – West Village, 3700 McKinney Ave; I stumbled across Brewed + Pressed my first morning in Dallas – and while I have a sneaking suspicion that it was the industrial yet minimal interiors that sold me on this place, it turned out to be one of my favourite finds from the trip. Everything that they serve is fully vegan, perfect if you're lactose intolerant like I am. Personally I'm not a fan of almond milk coffees like cappuccinos or lattes, but their almond milk iced coffee on the other hand was literally life-changing (never mind the fact that I was surviving on three hours sleep on my third day of 'travel'). They also have a great selection of pressed juices (I opted for the spicy immunity booster), and their chocolate walnut truffles are to die for (plus, J. Crew is basically next door!).
Pecan Lodge – 2702 Main Street; I asked quite a few people where to go to get good BBQ, and every single one of the recommended Pecan Lodge. The queue is quite literally out the door, and obviously there's a reason why. I didn't get a chance to fit this in on this trip but from what I can tell, it's a must-do.
Twisted Root Burger Co – 2615 Commerce St; touted as the place where all the locals go, when I chatted to a couple of girls sitting outside that had just finished their meal, they raved about how incredible the food there is. Just walking past the burger joint, you're met with an incredible smokey aroma – the kind that makes you instantly know a place is going to be good.
Dot's Hop House & Cocktail Courtyard – 2645 Commerce Street; also located in Deep Ellum, Dots is an industrial-looking beer garden, the sort I'd expect to find at home in Sydney. I dropped in around 4.30pm on Saturday and the place was already packed, so you can only imagine how busy it gets at night. Definitely worth dropping in to have a casual drink if you're planning on visiting Deep Ellum.
The Whippersnapper – 1806 McMillan Ave; to be completely honest, I haven't been clubbing in years. But, on a whim (or maybe too many cocktails…) I decided to head to Whippersnapper for the after party on my final night in Dallas. If you're in the mood to head out for a boogie then this is definitely the spot – it even has a spinning disco ball!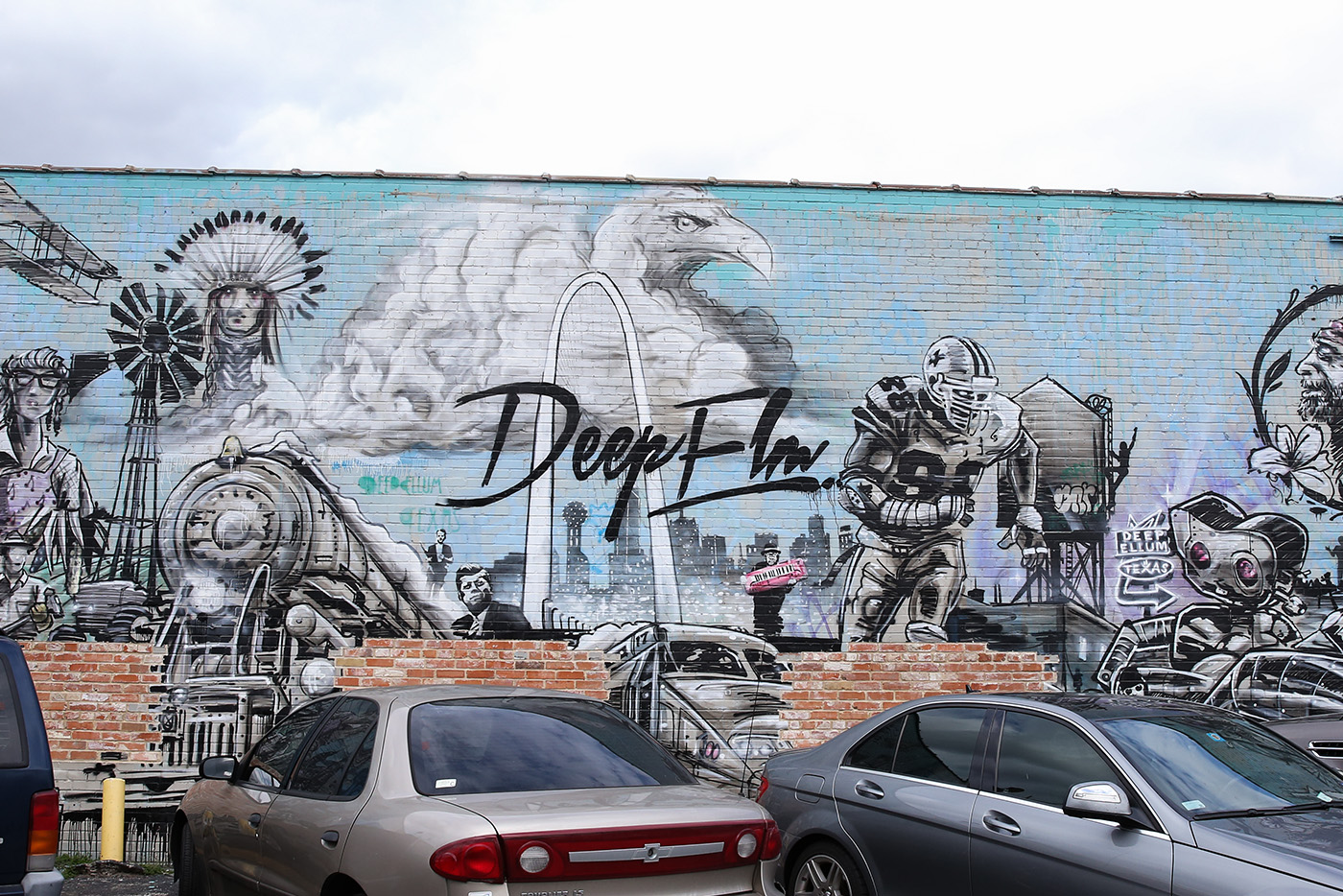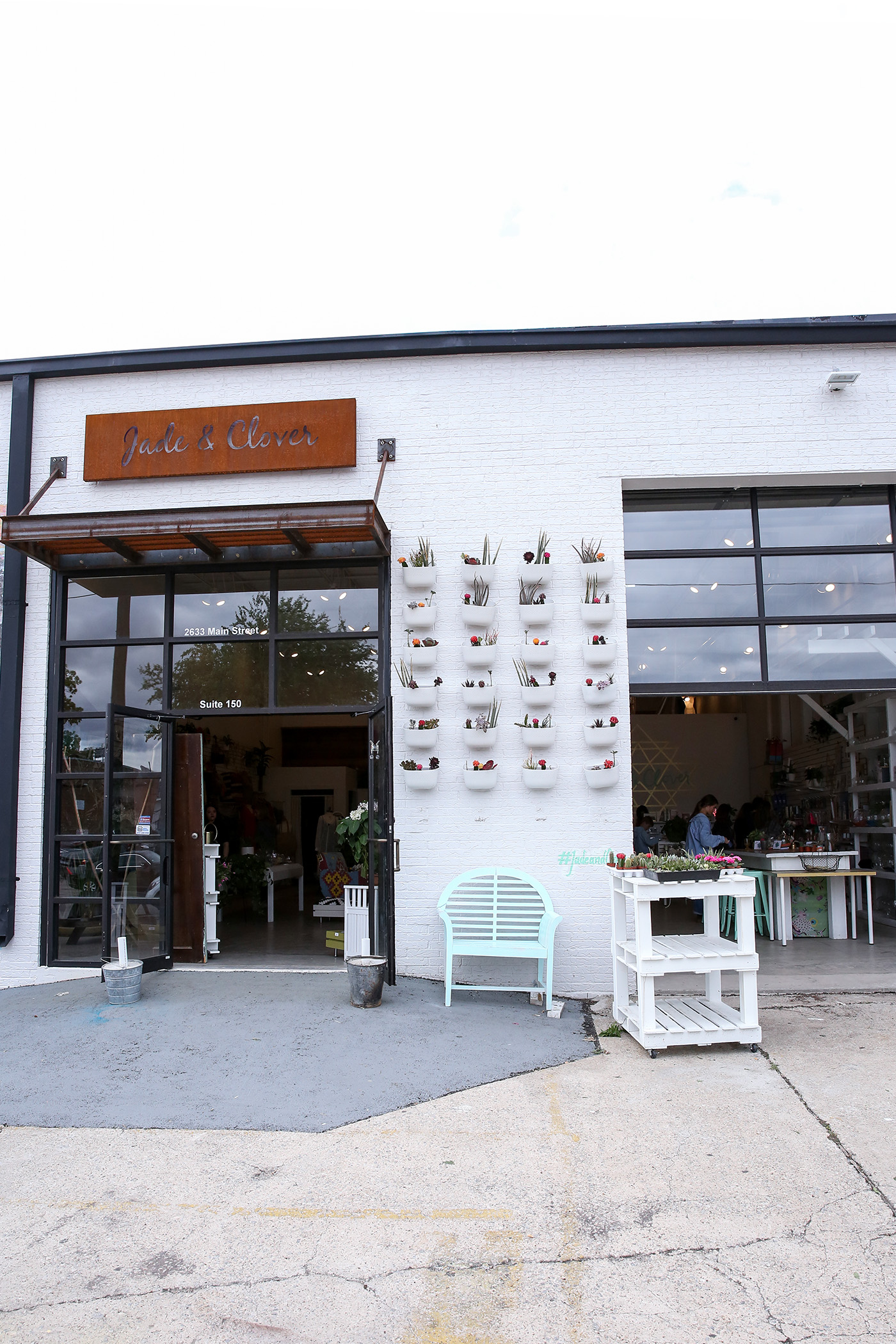 SEE
Deep Ellum; I did a bit of a call out on my Instagram for things to do in Dallas and a couple people recommended that I visit Deep Ellum. This is a really cool part of town, where you'll find incredible murals lining the walls, not to mention some great bars and restaurants.
If you're getting an Uber there, opt to get dropped off at either Commerce Street or Main Street, which run parallel to each other, which is where most of the action is. There aren't too many shops in the area, though I did find myself visiting the retro lolly shop on Main, and I think it's also worth popping into Jade and Clover just for their succulent bar alone.
Dallas Arboretum & Botanical Gardens; situated not far from Downtown Dallas, the Dallas Arboretum & Botanical Gardens span across 66 acres of enchanting beauty – and the best time of year to visit just so happens to be in the Spring. I didn't have a chance to snap any photos but all you have to do is take one quick look through Google Images to know exactly what I'm walking about.
Dallas Museum of Art; unfortunately this is one of the few sights I didn't have a chance to see, but from what I heard from other conference attendees, it is well worth the visit. Perhaps most intriguing (to me) is one of their current exhibitions, Mexico 1900-1950, which highlights the narratives in Mexico's modern art industry, and features work by Diego Rivera, Frida Kahlo, Jose Clemente Orozco, among others. If that's not enough of a reason to go, it's worth noting that general admission is free, so there's really no excuse if you can spare the time!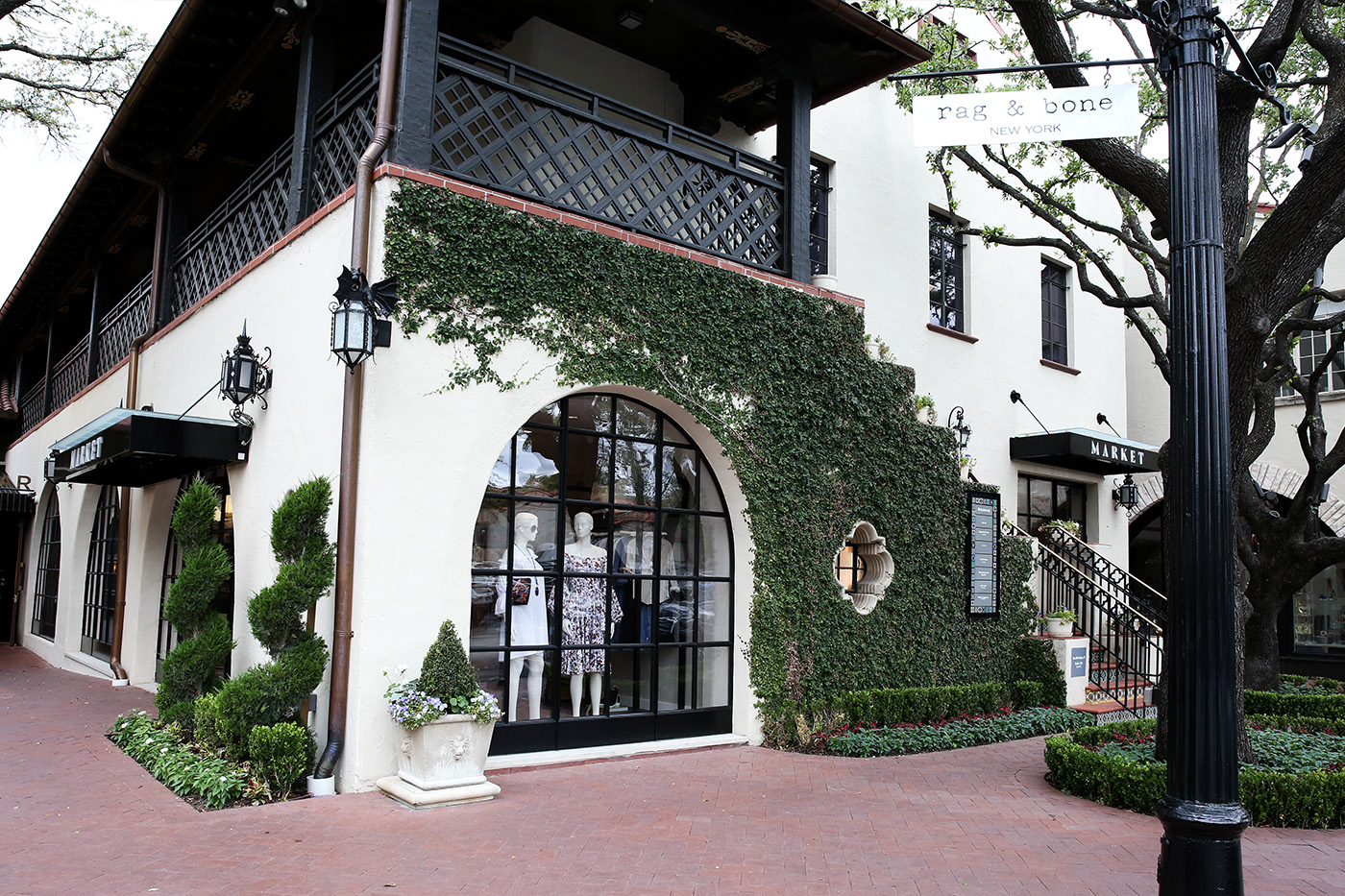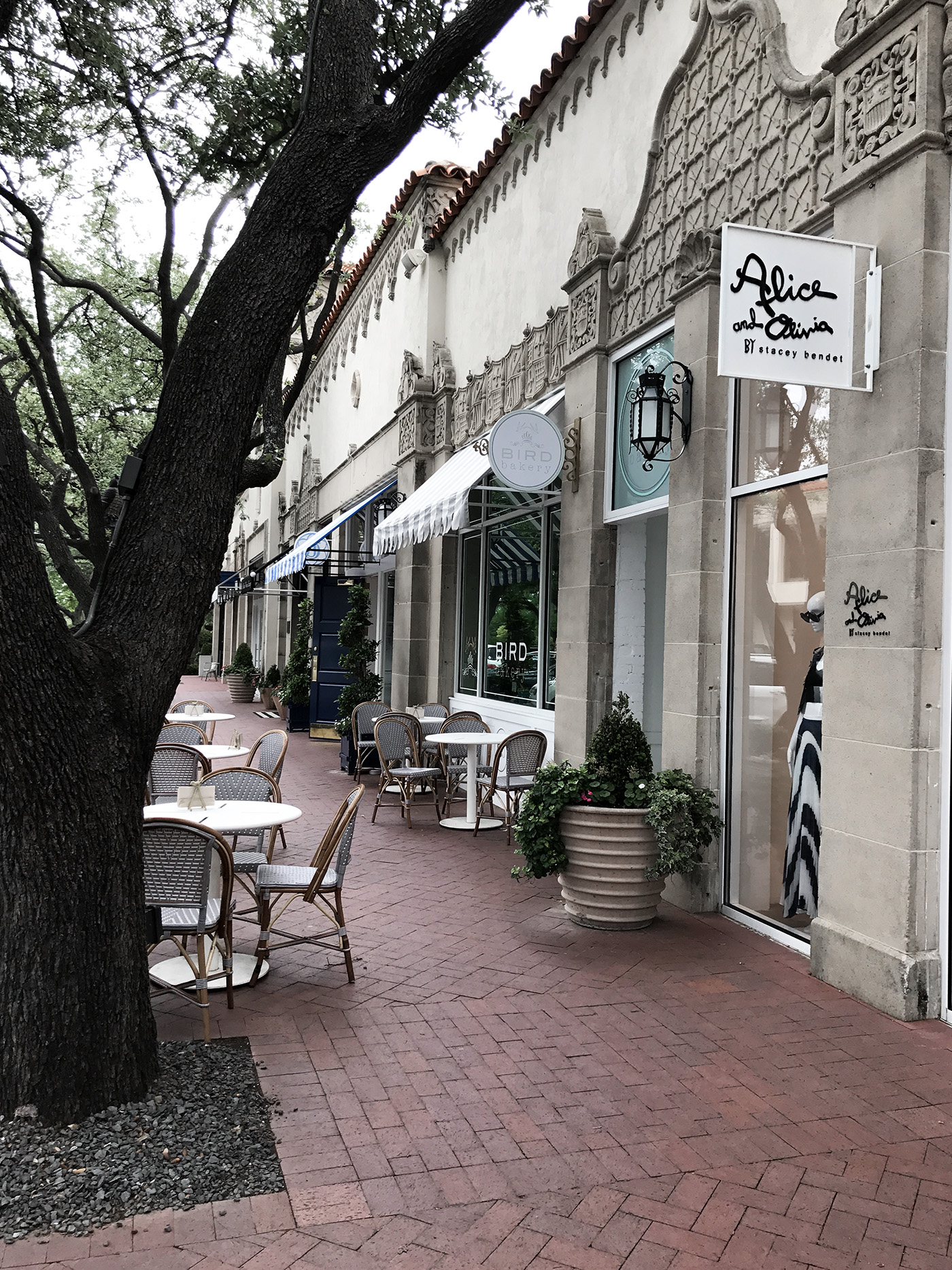 SHOP
Highland Park Village; if you're feeling a little spendy, then it's absolutely worth a visit to Highland Park Village. It's a beautiful collection of shops including Anthropologie (I popped in just to get this), Rag & Bone, Celine, Fendi, Stella McCartney – I think you get where I'm going with this. There's also a couple of cute cafes including Bird Bakery which sells delicious cupcakes, and Royal Blue Bakery, an incredible grocer situated right at the entrance. Even if you're not in a position to splurge, I think it's worth visiting Highland Park just to get a peek at some of the stately houses that line the streets.
NorthPark Shopping Centre; now this place has e-v-e-r-y-t-h-i-n-g. Name a shop you want to visit and it's probably going to be here. Truth be told, I didn't have a chance to visit this mall at all – shopping wasn't high on my agenda – but if it was, I think this would have been at the top of my hit list, if only to drop by Nordstrom!
The Shops at Park Lane; if you're after a bargain, then this is definitely the place to go. With outlet stores for some of the biggest department stores (as well as a Whole Foods Market – yes please!), this is a good spot to nab a few investment pieces for your wardrobe at a fraction of the price.
I feel like I've barely scraped the barrel on the things to do in the beautiful city of Dallas, so if you're a Texan native and know the city well, I'd love to hear your thoughts in the comments below on other places worth visiting! x