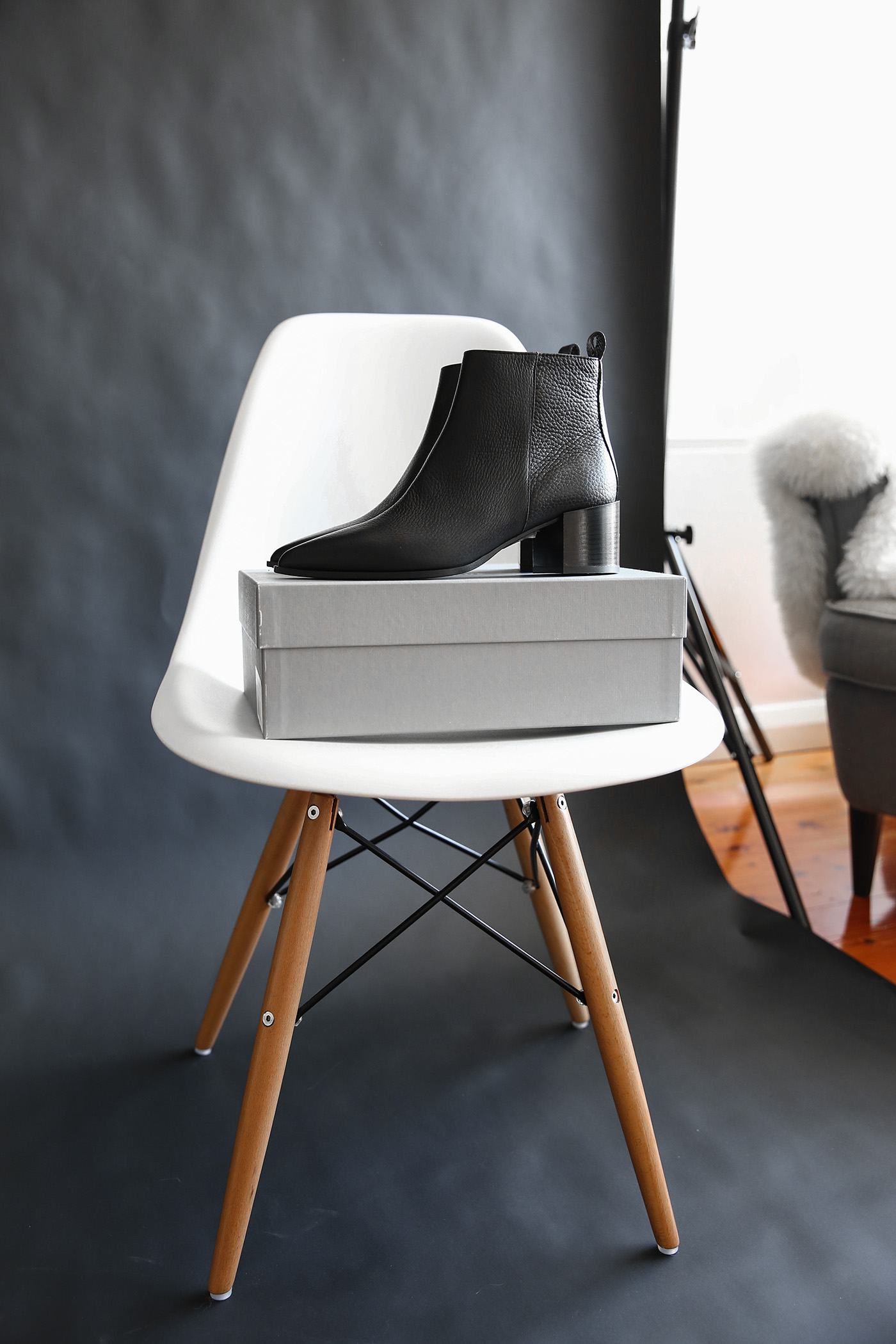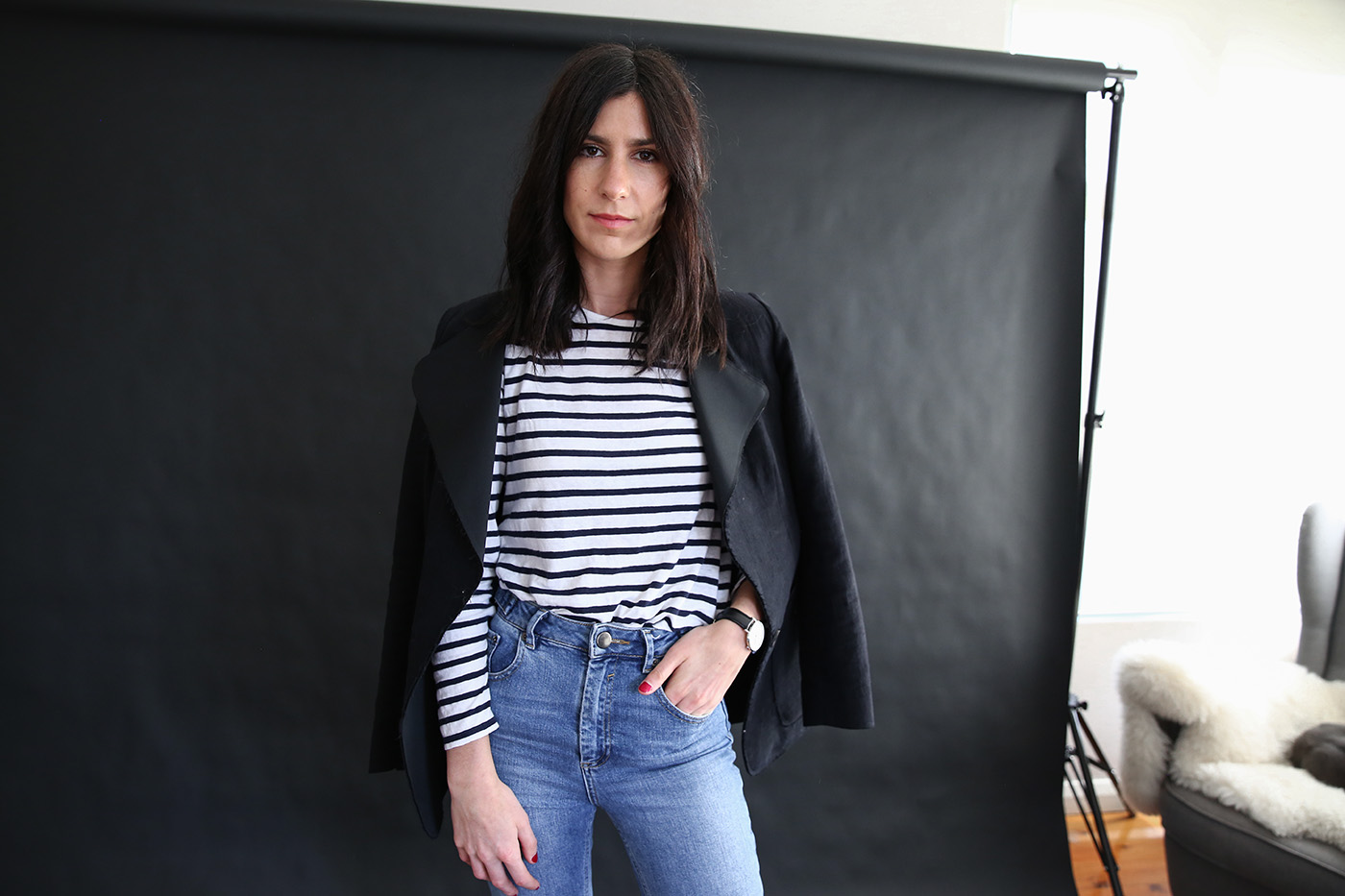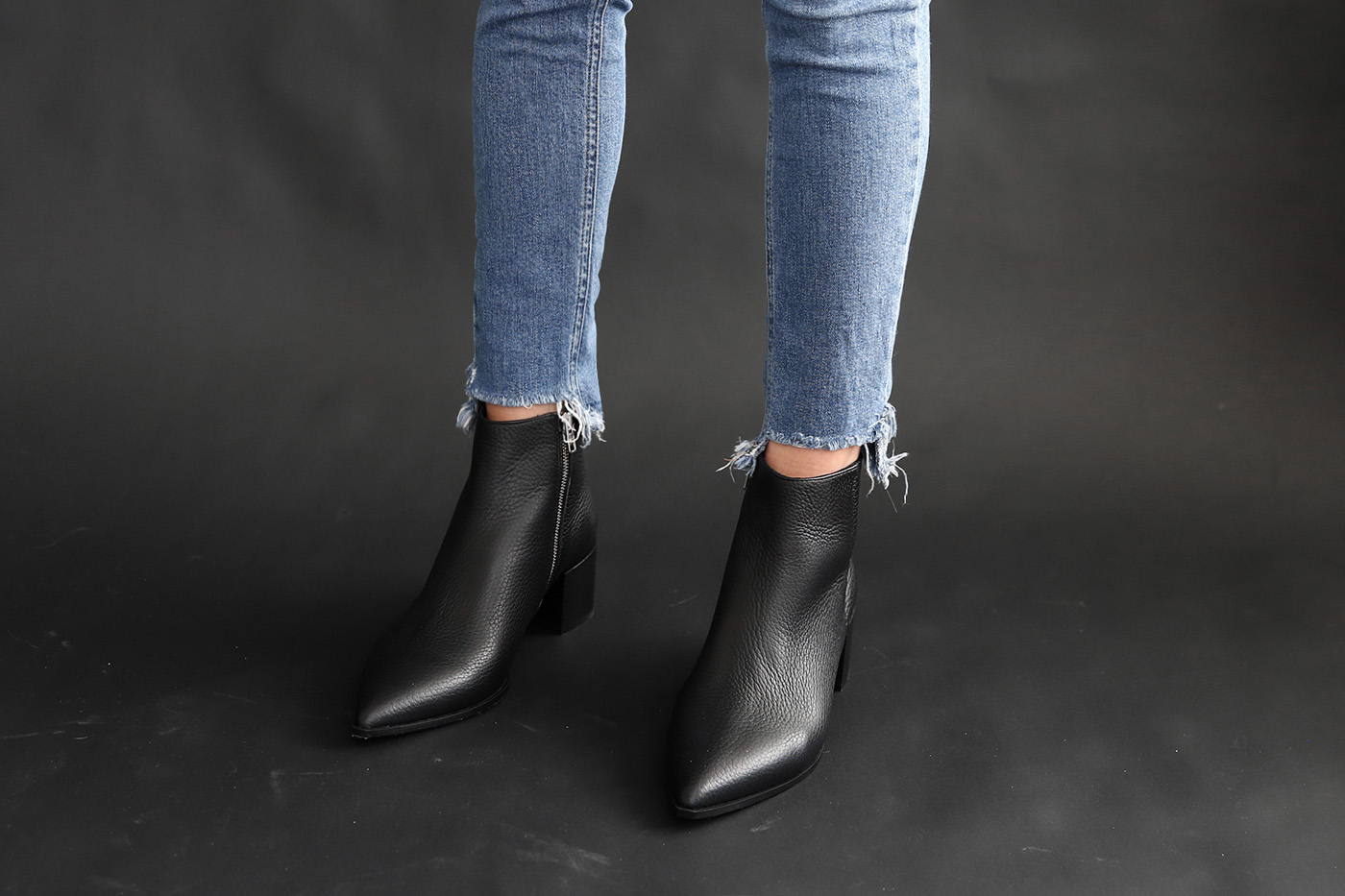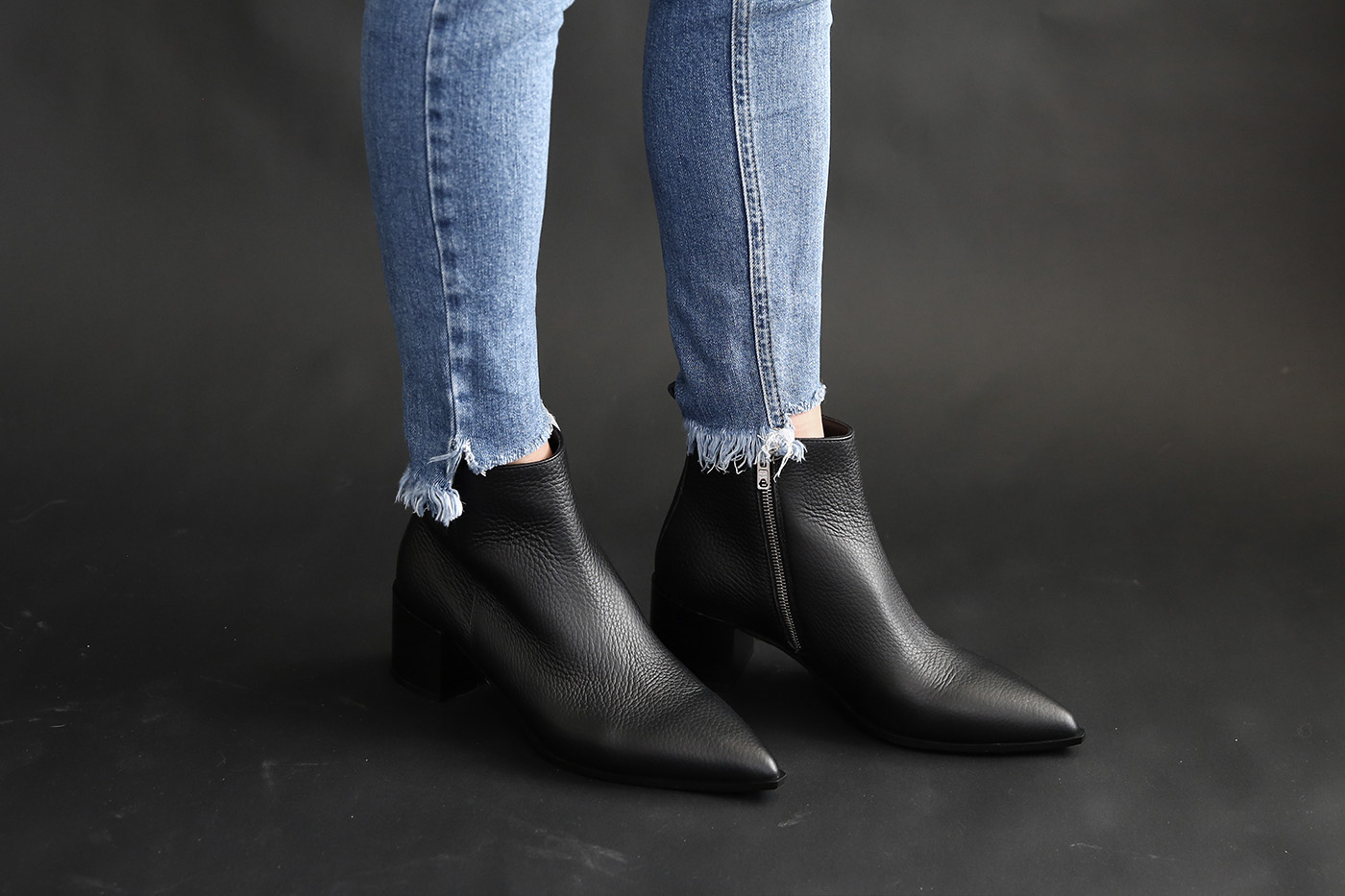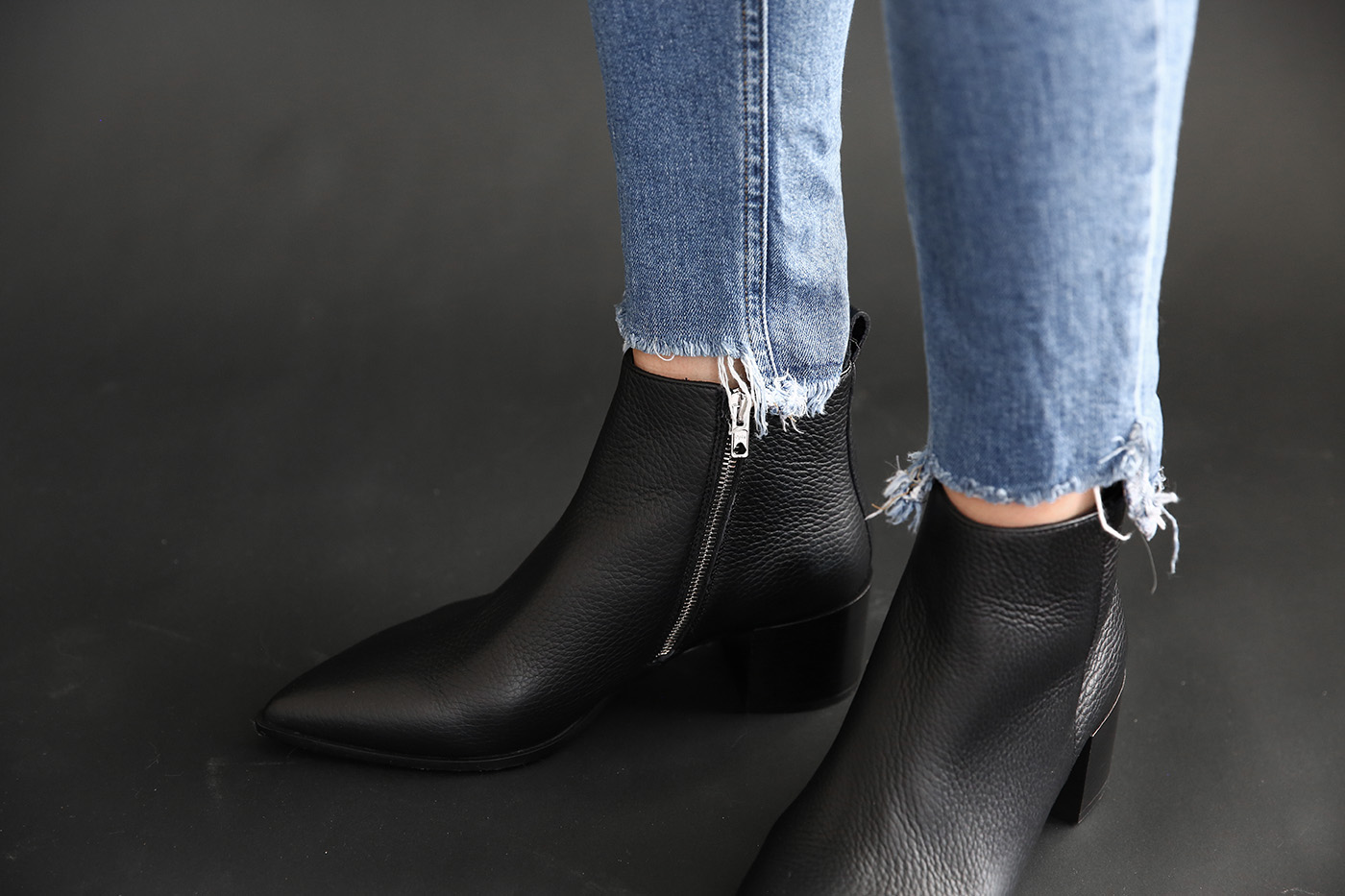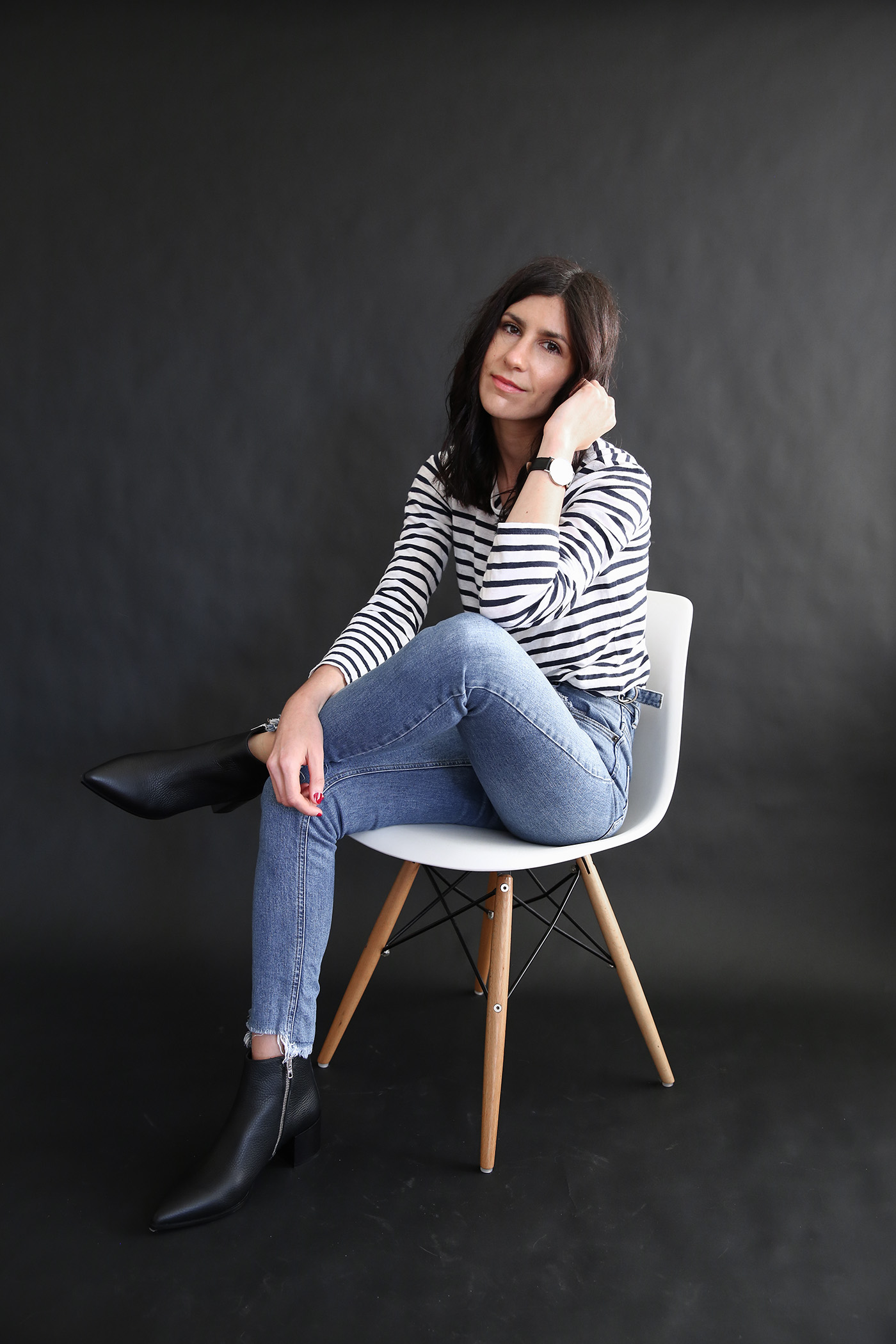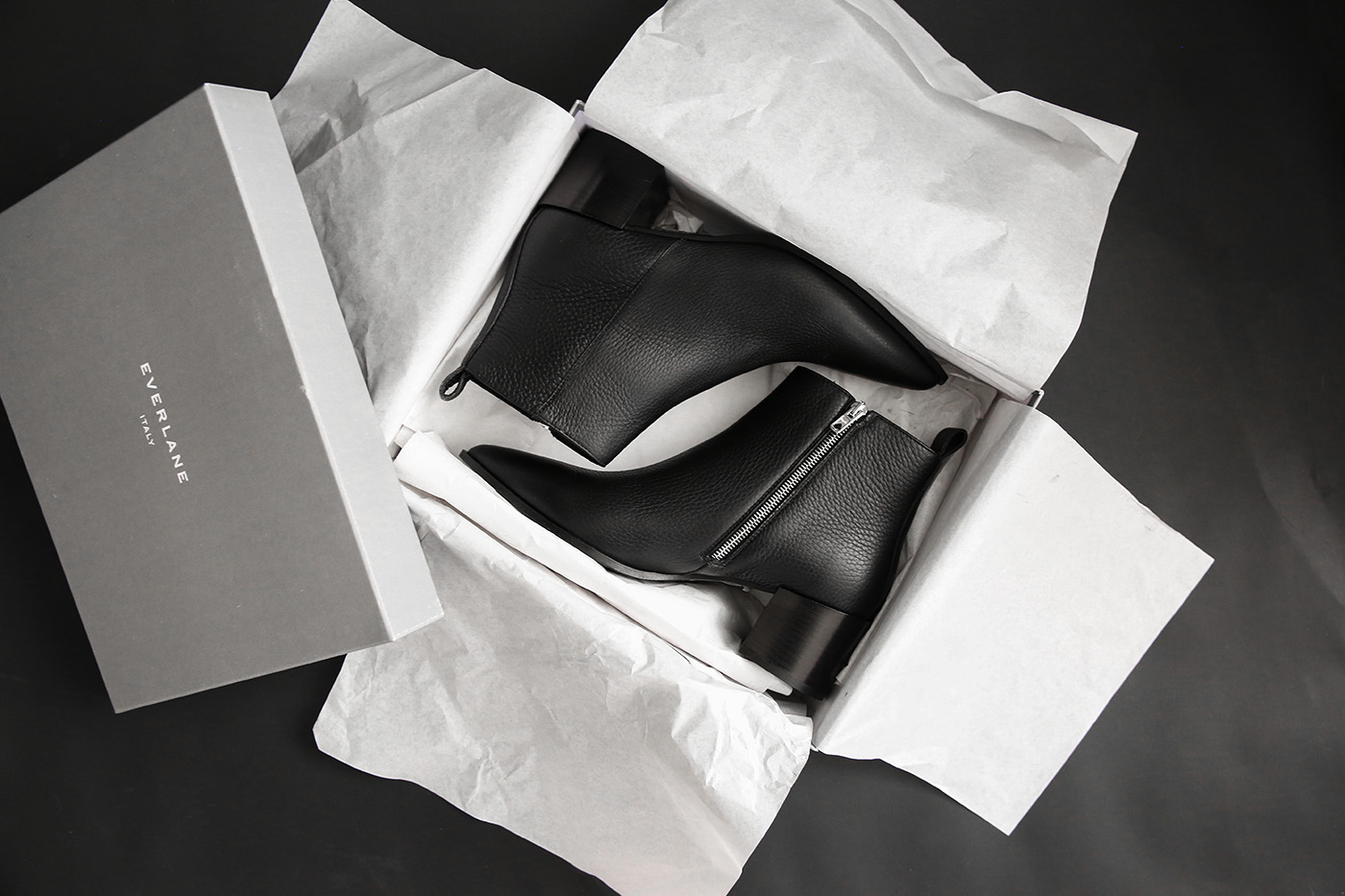 T by Alexander Wang stripe top, ASOS mom jeans, Isabel Marant blazer (also here), Everlane boss boot in black pebbled leather, Daniel Wellington watch (or also here)
From the get go, I knew the launch for the Everlane boss boot was one that I wasn't going to miss – even if boot season in Australia is almost over for the next six months. I'm always on the hunt for high quality wardrobe classics that pack a punch but don't necessarily break the bank, and on first impressions, these boots hit the nail on the head with their simple yet strong design, right down to the pointed toe, classic silver zipper pull and block heel in a lush pebbled leather. Safe to say, I was pretty quick to pull the trigger… I mean, to quote Everlane directly, 'it's a boot that means business', and boy does it mean business.
Since getting my hands on these boots, I've been putting them to the test, and I thought I'd share some of my thoughts on the quality, comfort, and fit, in addition to a comparison between the Everlane boss boot and the Acne Studios jensen boot, for those curious on how they fare in terms of quality and design to their more expensive counterpart.
QUALITY
When it comes to quality footwear, Everlane always seem to come to the party. I tend to play favourites a lot when it comes to my shoes, and Everlane generally tends to come out on top (I'm a sucker for their day heels), and this latest launch looks to be no exception. Crafted from 100% Italian leather, the Everlane boss boot is made in a Florentine factory that has a long history of manufacturing high quality leather shoes. And boy, are these lovely. The leather has a nice pebbled grain to it, and while malleable, has a decent structure to it, which I can only imagine will soften and age beautifully over time. The zipper has a stiffness to it which narrows in at the ankle, and the 2 inch block heel adds a decent amount of height, while still remaining comfortable to run around in all day. There's also a little pull tab at the back of the shoe to help with pulling the boots onto your foot. The sole is thick enough that it should last at least a full autumn/winter season or two before needing to be resoled, and perhaps the only major element of wear that I can foresee is a bit of creasing across the toe, and around the opening at the ankle.
COMFORT & FIT
There's no hiding the fact that it's summer in Sydney, so it's not exactly boot weather, but I've taken to wearing these at every opportunity to break them in. As mentioned earlier, the leather does have a sturdiness to it, however it's not as stiff as the leather on Everlane's modern loafer or chelsea boot; two pairs of shoes which require a little bit of patience to break in (thought it's totally worth it when you do!). If I had to put the 'suppleness' of the leather on a scale, I'd put it somewhere right in between the day heel and the chelsea boot; it has a little bit of a Goldilocks element… the suppleness of the leather is just right.
When it comes to sizing, these are true to size; I'm almost always an EU40 in designer or European-crafted shoes, which translates to a US9.5 in Everlane footwear (and the size I opted for). Fresh out the box these fit snug across the foot, with room at the toe. It's worth noting that I do have quite a wide foot and I don't experience any pinching when wearing the boss boot.
EVERLANE'S BOSS BOOT VS. ACNE STUDIOS' JENSEN BOOT
I've had a lot of questions in the past asking me to compare Everlane's heeled chelsea boot with the jensen boot from Acne Studios, but honestly, I've always felt like there were more differences than similarities. But the Everlane Boss Boot? A serious contender and a much more affordable option, if the silhouette and style of the Acne jensens are up your alley.
I've said this a few times now in many of my videos, but after owning the Acne jensen boots for a couple of years, I'm not quite convinced that you need to spend $550+ on a pair of classic black boot. When it comes to my wardrobe, I tackle new purchases in pursuit of quality, and as I've occasionally come to find, sometimes it isn't always worth throwing money at a designer piece, particularly when you can get the same or similar look for much less (like these).
So back to the Boss Boots; how do they stack up against the jensens? I've had my Acne jensen boots for two years now and in that time, I've had them resoled twice as the heel has worn down and the sole at the toe split as a result of repeated wear. There are scuff marks on the inner side of the shoe where I've knocked my feet together a little to aggressively, and the boot has lost a considerable amount of structure. The elastic on each side has retained its integrity – they can be a bit of a stretch to pull on. Safe to say, they feel and look worn, yet they're probably one of the most comfortable pairs of shoes that I own.
While I'd want to be able to wear these for at least a full winter season before making a final conclusion, I have a few initial impressions that I want to share – and I will try to update this as time goes on. The leather on the Everlane boss boot has a little more structure to it, which makes me conclude that these are more likely to hold their shape over time (though they might never feel like wearing a pair of slippers on the daily, like the jensens do!). The heel is slightly more substantial, which should be taken into consideration if that's a deal breaker for you (I find it to be pretty comfortable though). The one key difference between the two pairs of boots is the silver zipper closure on the Everlane boss boot; this is something that I absolutely adore – it adds an edgy feel and I'm sucker for silver hardware – and I think it's again a detail that will help the boot to retain the integrity of its shape over time, even after the leather has moulded to the shape of your foot.
FINAL THOUGHTS?
The Everlane boss boot is a strong new addition to the brand's growing footwear range, and one that is certainly worth taking a second look at if you're in need of a pair of winter boots. While I do think that some lines of shoes from Everlane tend to run on the narrower side, these boots not only seem to cater for girls with wider feet, but the mildly structured leather is a welcome reprieve. Excellent quality, brilliant design, and a pretty reasonable price point – there's not much more a girl could ask for!