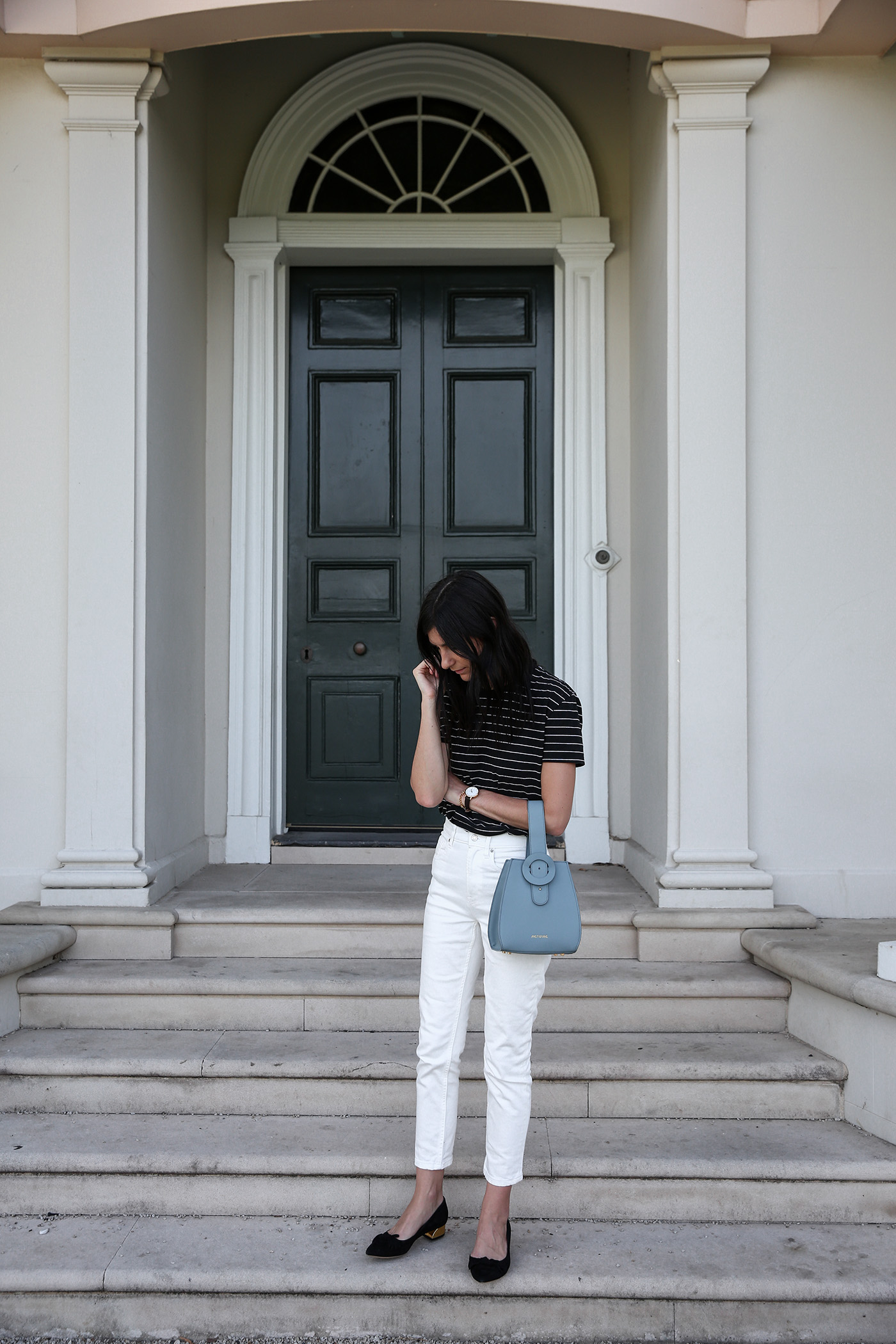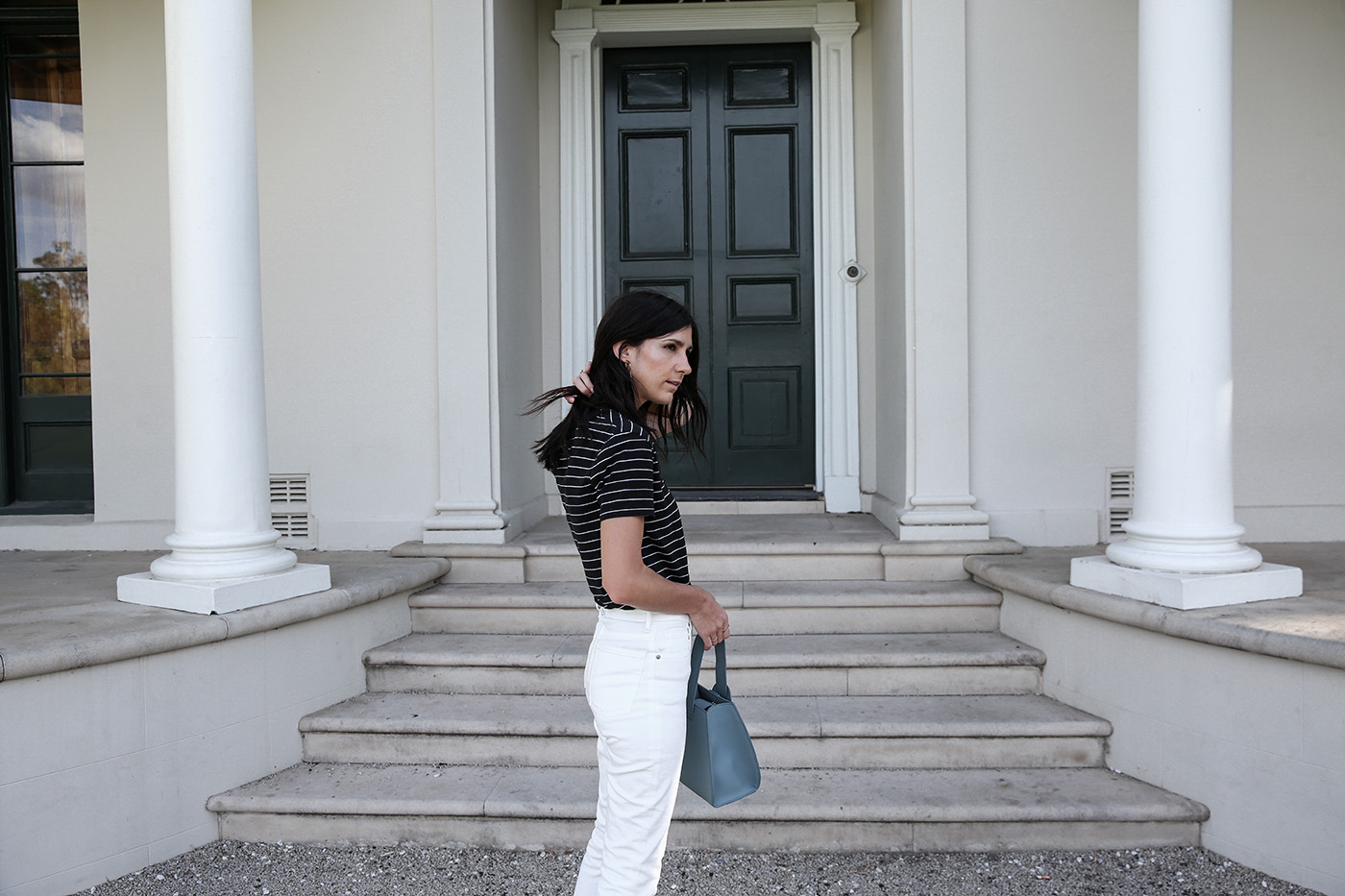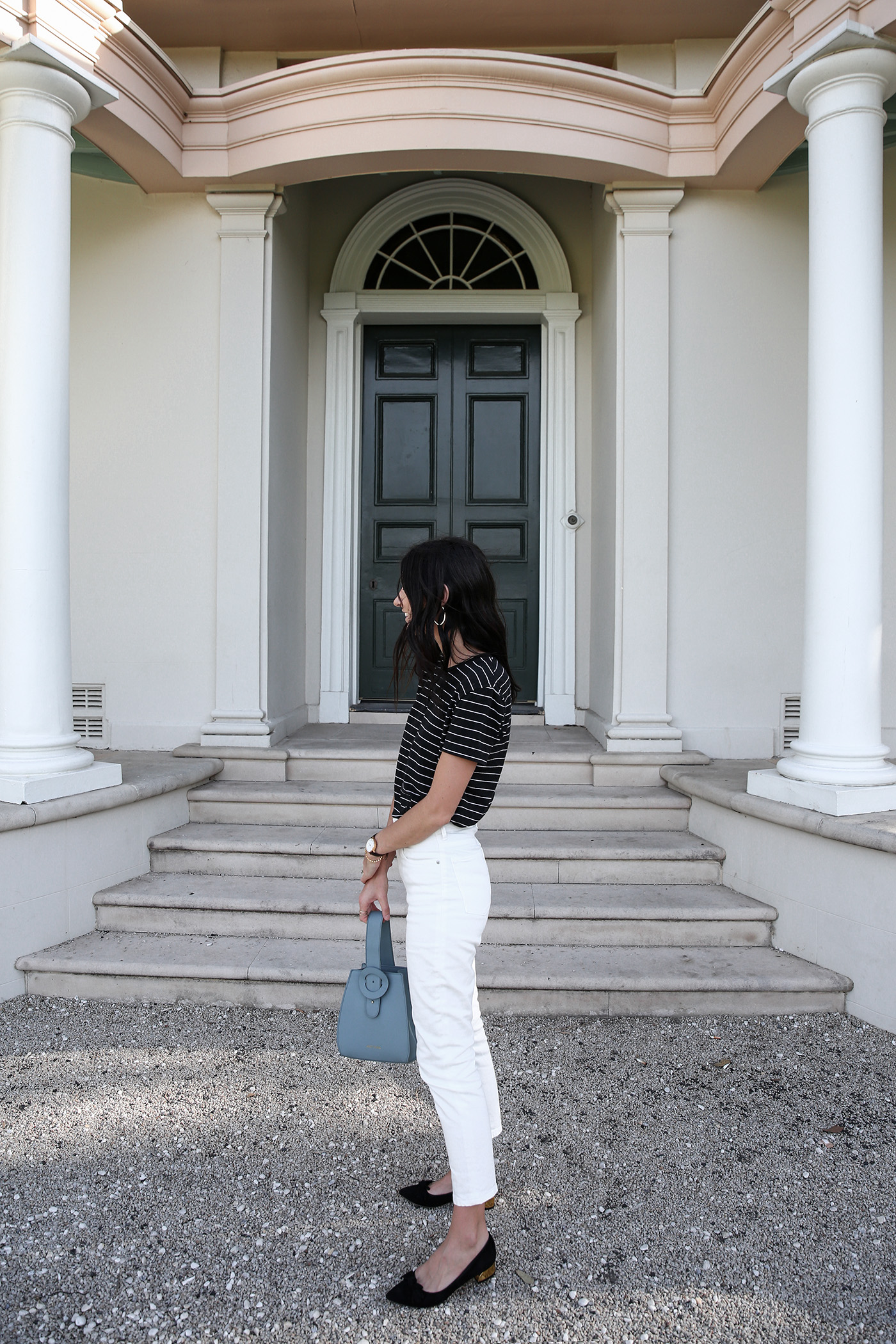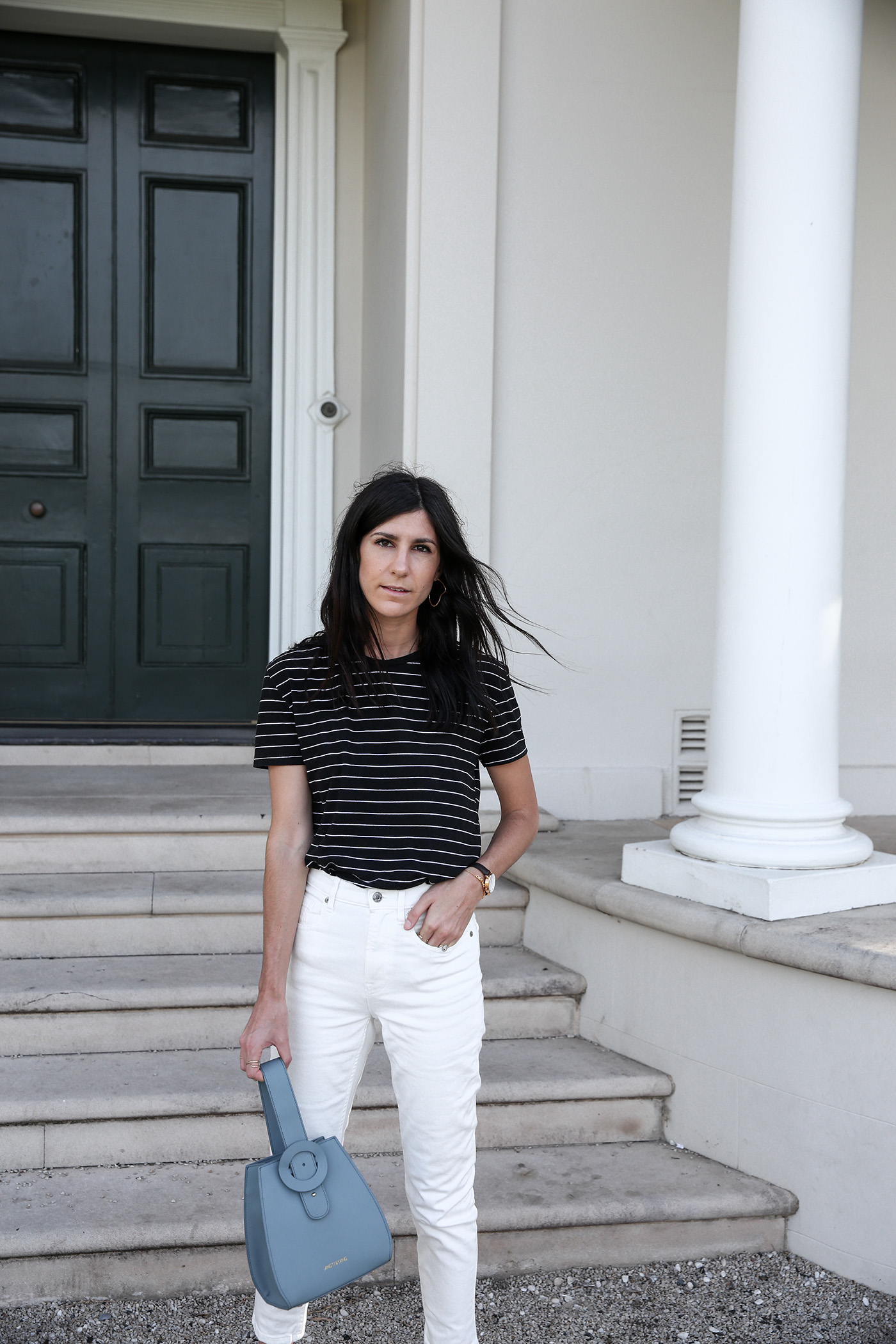 My denim drawer has practically exploded over the last few months, as I've really made good on my resolution to try out more denim and experiment a little more with silhouettes in 2018. The latest addition of which is the Everlane Cheeky Straight Leg Jean, and you can bet that I absolutely jumped at the opportunity when the team at Everlane kindly reached out and asked if I'd like to give these a road test.
Wearing Brandy Melville stripe tee (old but this is a great alternative, and I love this one too), Everlane cheeky straight leg jean in bone, Charlotte Olympia shoes (similar more affordable style), Angti&Yang cycle bag (10% off with code 'Jamie10'), Linjer watch, Pandora bracelet
The one thing that my wardrobe has been missing has been a good straight leg jean which is actually flattering, so I was pretty curious to see how these would stack up, given I've been looking for something quite specific. So, let's get into the details….
QUICK FACTS
Price: $68USD
Available in four colours: Bone, Sky Blue, Faded Indigo Wash and Black
Made in: Bien Hoa, Vietnam
Fabric: 98% cotton and 2% elastane; premium 11oz Japanese denim
Care: Machine wash cold, tumble dry low
SIZE & FIT
SIZE: I've got a few pairs of jeans from Everlane now, so I feel like I have the sizing pretty much nailed down. For the cheeky straight leg jean, I stuck to my usual size of '25', and I'm glad I did. These have a slightly more generous fit than their skinny jean style; I've got a bit of room around the waistband which makes these pretty comfortable to wear (they don't dig in at all), and I think I'd probably be pushing it if I were to try and size down to a '24'. I opted for the 'ankle' length style, which comes up a couple of inches above my ankle – I find this is the most flattering length for my body shape, but if you wanted something a little longer (or you have a bit of height on me – I'm 5'8" for reference!), then they also come in a 'regular' leg length.
FIT: Everlane describes these as their 'cheeky' jean, and you know what, they'd be right. The placement of the pockets over the bum are slightly higher than on a standard pair of jeans, which has a lifting effect that is incredibly flattering – take my word for it. The jeans nip in at the waist, with a straight cut through the hip, and a naturally tapered line down to the ankle. Given the subtle tapered nature of the silhouette, these aren't your traditional take on the straight leg jean – I've only got to take a look at the Levi's Wedgie Jeans that I bought a couple months ago to see the difference. Aside from being fitted at the waist, these are slightly loose around the leg, though not so much that it feels like you're wearing your boyfriend's jeans.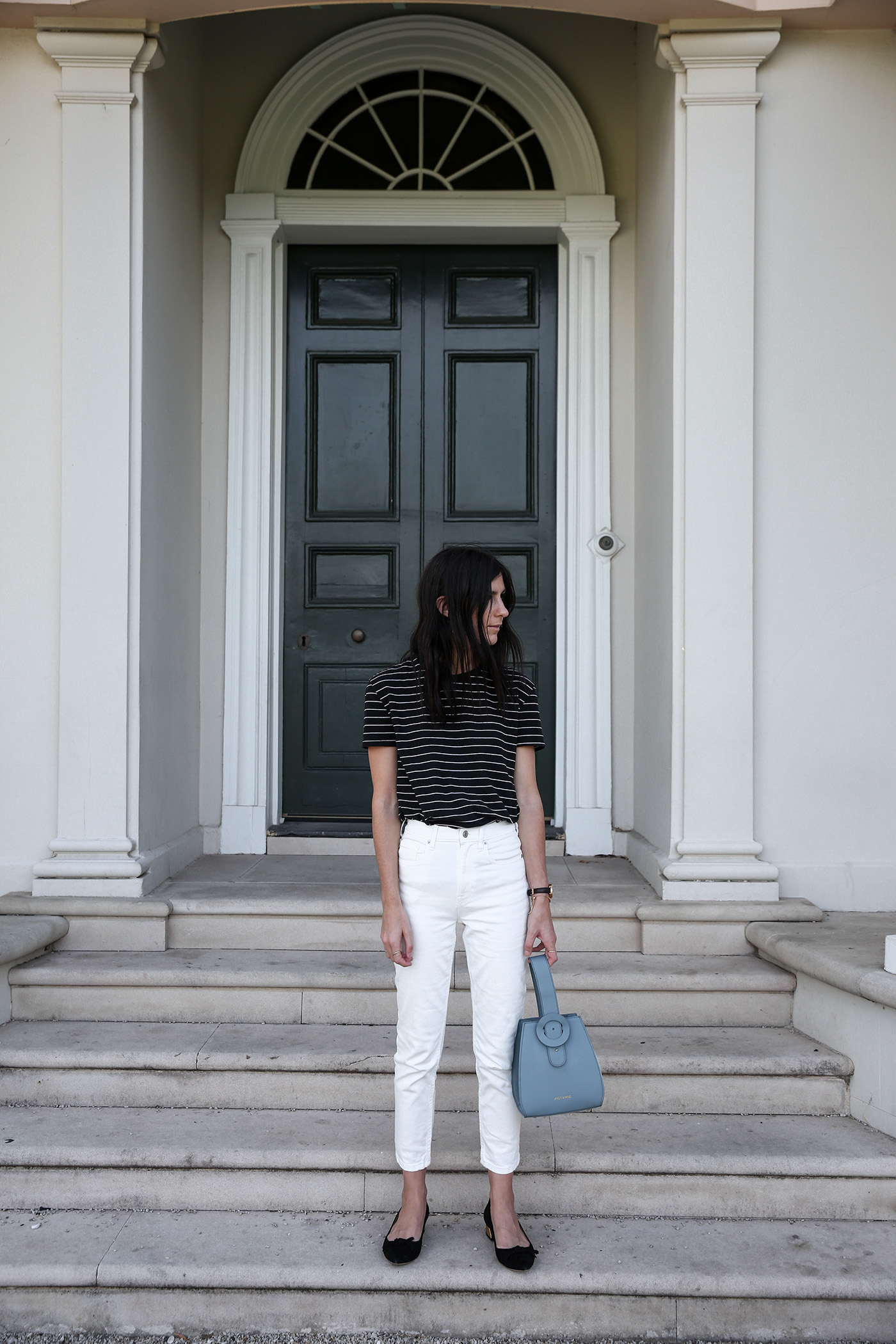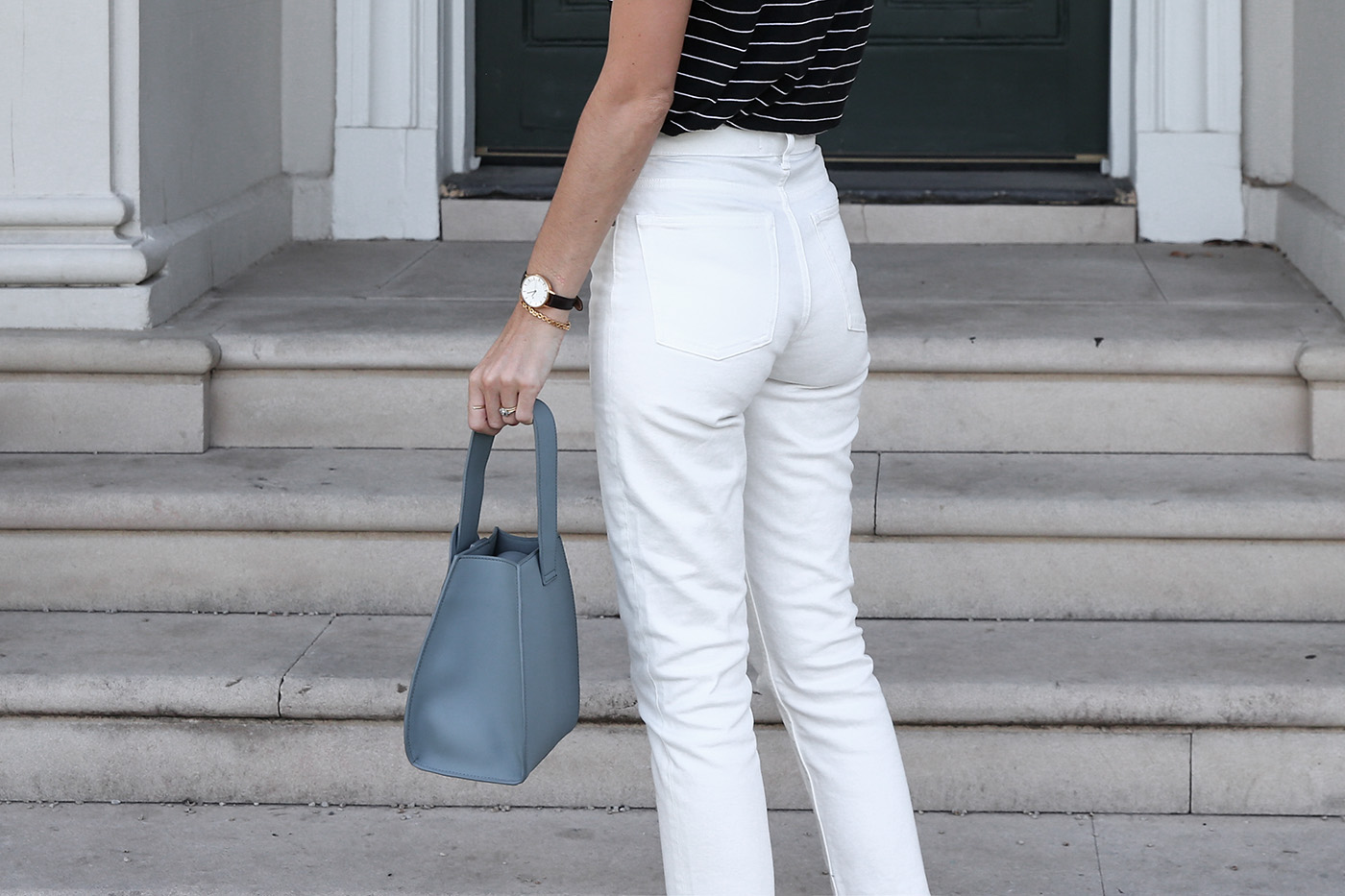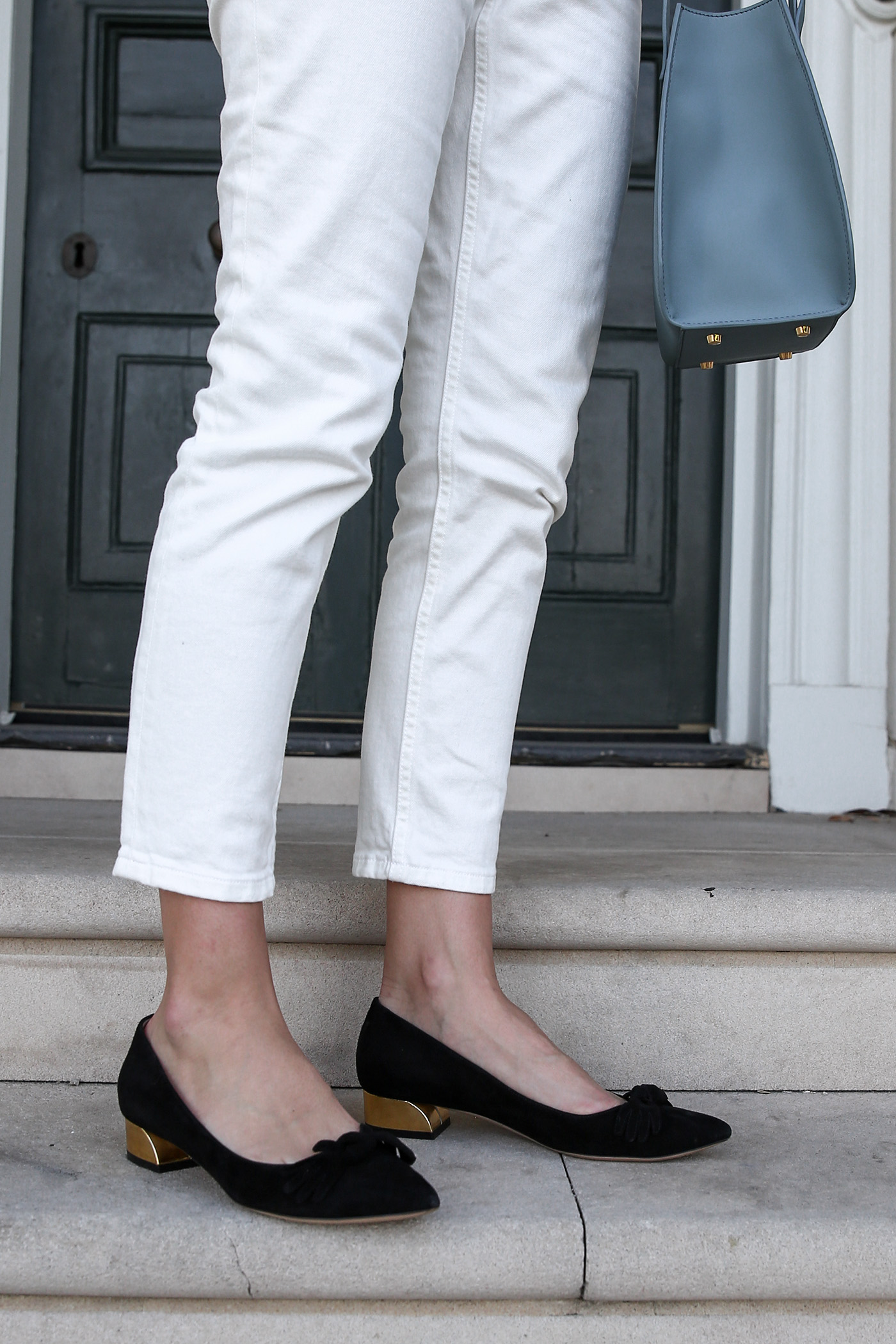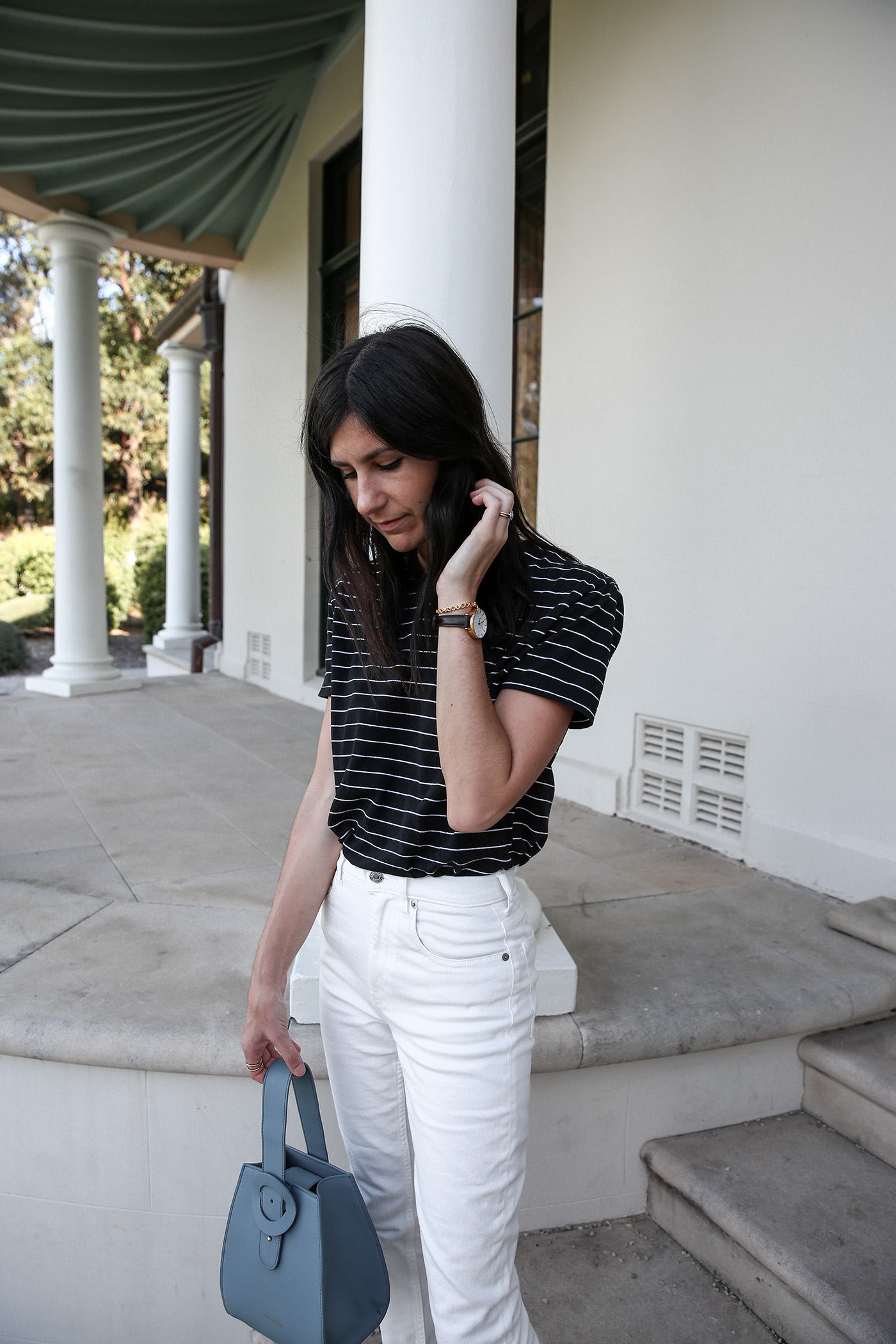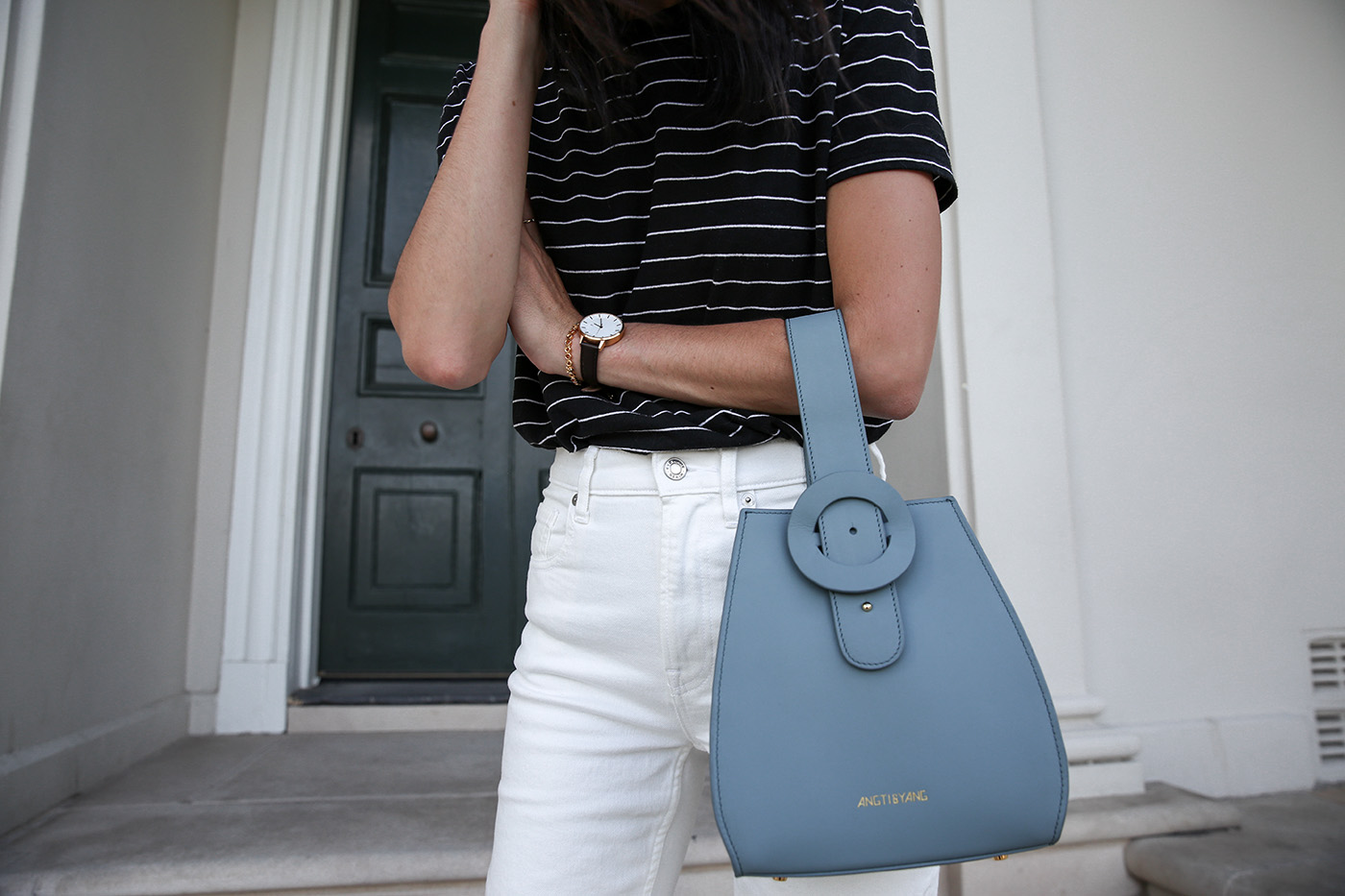 QUALITY
FABRIC COMPOSITION: I find that Everlane denim  is incredibly consistent. The fabric of the Everlane Cheeky Straight Leg Jean feels just the same as the denim of my modern boyfriend jean, which I appreciate as I like being able to anticipate how my jeans are going to fit and feel. As per previous styles, the fabric is made up of 98% cotton and 2% elastane, which gives it a little bit of stretch.
DETAILS: The denim has a nice weight to it – great for transitional seasons like spring and autumn, and would also work well if you lived in a moderate climate with mild winter or summer weather. Initially, I've found that Everlane Denim starts off with a stiff quality to fabric which softens up and gives a little after a few hours of wear. I'm yet to try the indigo denim, but in my experience the mid-blue and bone washes are much more forgiving than the black denim, which seems to have a bit less elasticity to it.
In contrast to the kick crop jean, I like that the hem is 'finished', rather than being frayed (though that would be a nice option…). I find that it makes the jean feel a little bit more polished, something that I was looking for in this particular silhouette.
One thing I have noticed with the 'bone' wash, is that the fabric has a tendency to pick up pet hairs; the same goes for Everlane's jet black denim, so it's worth keeping in mind if you have a few pets at home, like we do – with a ragdoll, I have a hard time finding clothing that his fur doesn't cling to. I also noticed when pulling this outfit together that the fabric isn't completely opaque; you probably won't be able to see from these pics, but the pairing of my black tee tucked into these jeans does show through – just – at the waistband. It's not a deal breaker for me, but it is worth being mindful of.
STYLING TIPS
01 | Basic is best: One of my favourite wardrobe essentials of late has been the humble tee – it's a styling item that you really can't go wrong with, as it literally pairs well with everything. I wanted this outfit to be pretty minimal, so this black and white striped tee was the perfect accompaniment. It has a loose fit through the body, which creates a little bit of shape at the waist, where the jeans nip in.
02 | Dressed up with a heel: Basically my favourite styling tip when wanting to elevate a pair of jeans is a pointed toe heel. I wanted to create a little bit of contrast with this outfit, so I've worn a black suede pair from Charlotte Olympia, which have a gold low block heel. These are incredibly ladylike, and I think they work well with the more boyish silhouette of the straight leg jean.
03 | A statement bag: My final styling tip is a statement bag. Because I did keep all the other elements of my outfit so pared back, I felt like it was the perfect blank canvas to pair with this petrol blue bag from Angti&Yang (10% off with code 'Jamie10'). This structural bucket bag makes a statement all on its own – from the rich colour, to the unique handle which works best when slung over your arm. Paired with a white and black outfit, the colour of this little cutie really pops!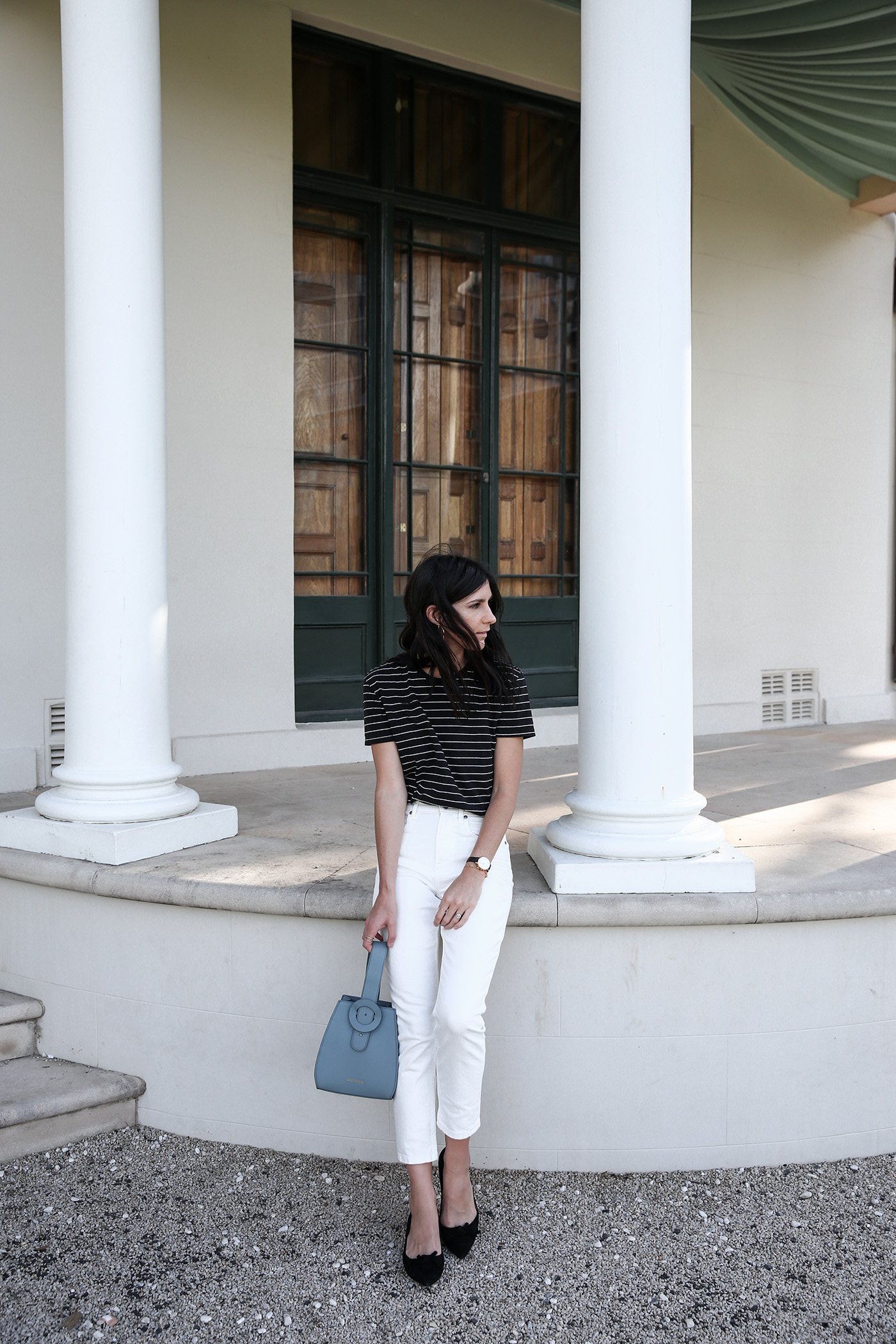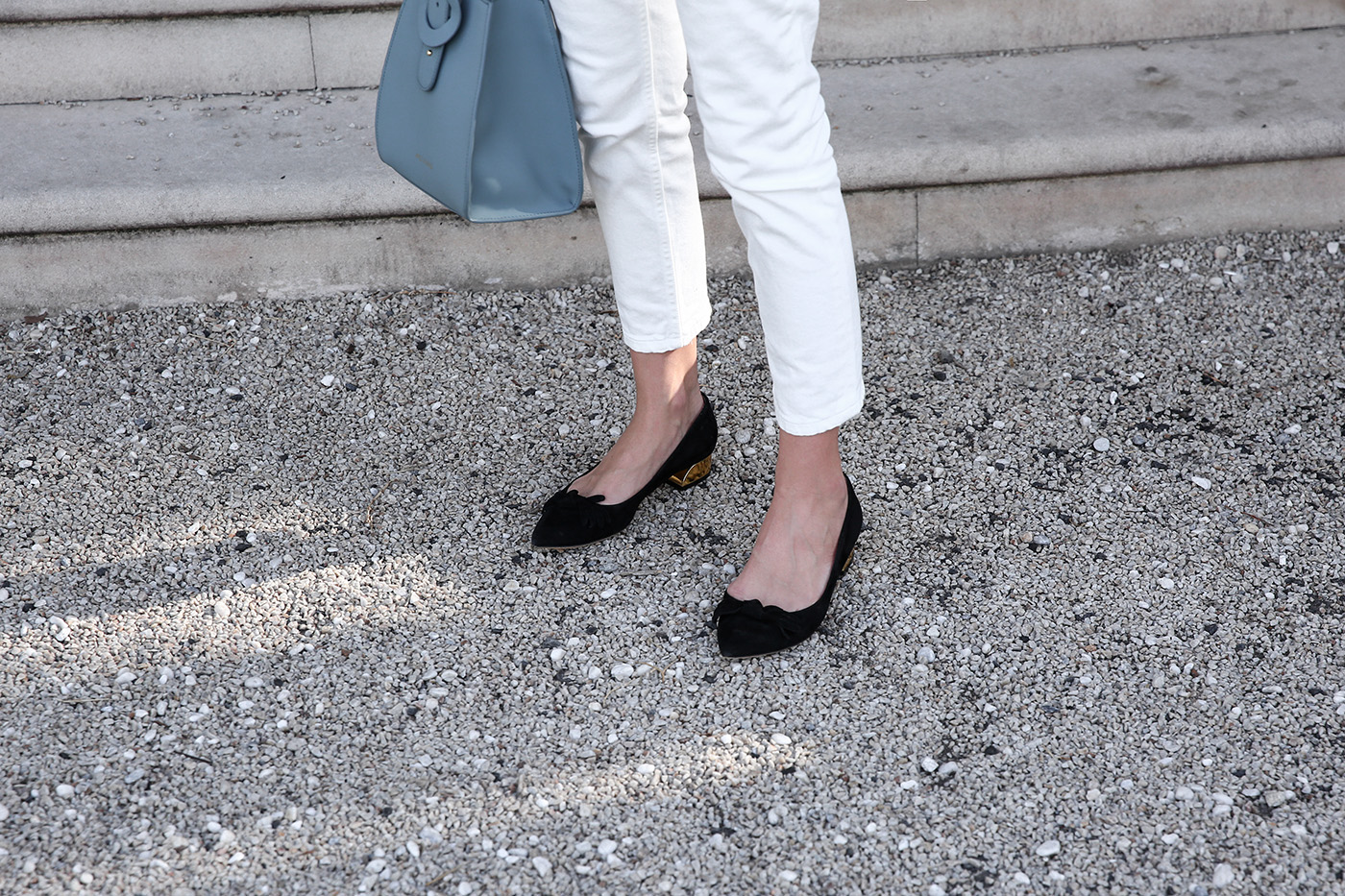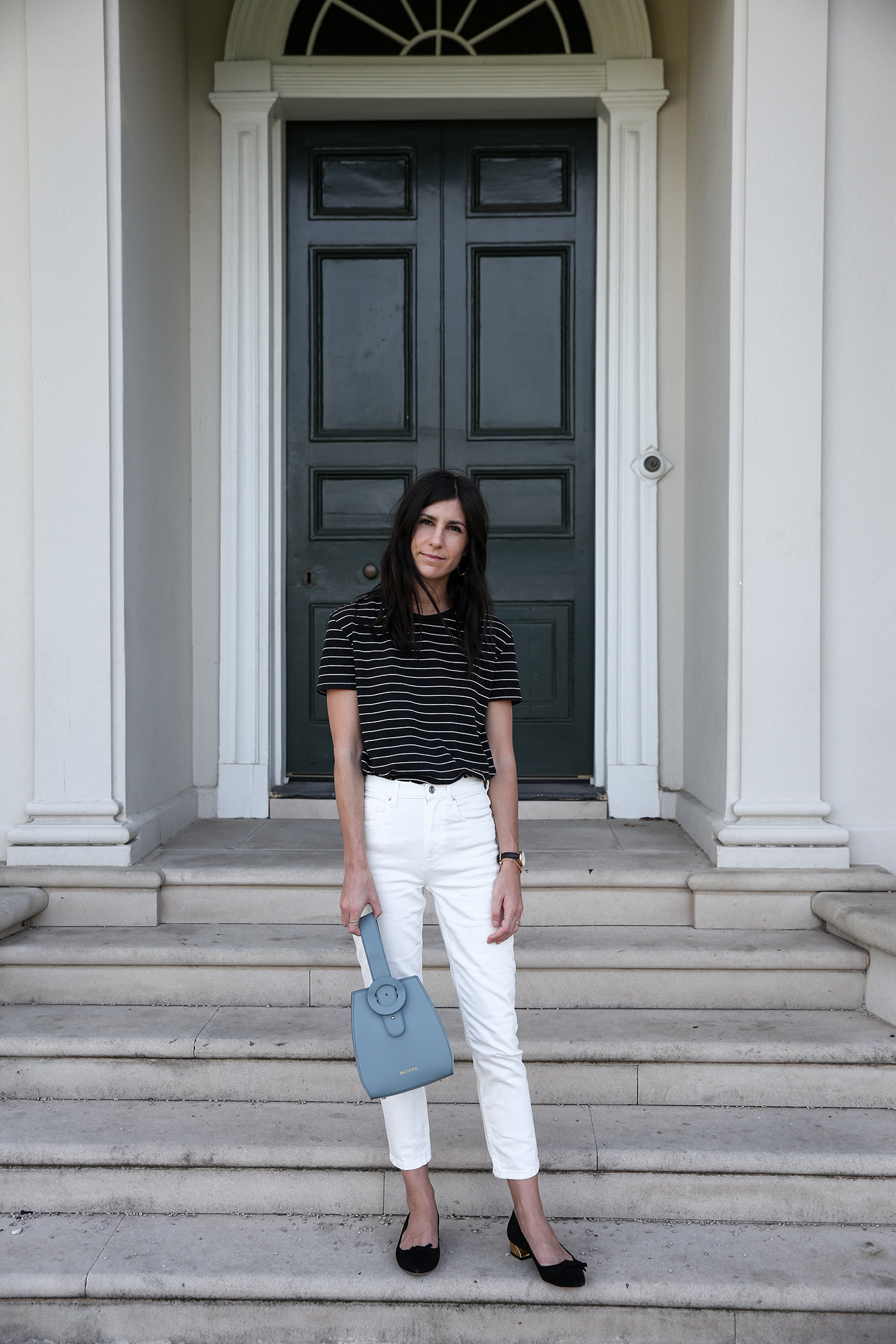 FINAL VERDICT
So this is the fourth pair of jeans that I've owned from Everlane, and if I had to pick a favourite, it'd definitely be these every single time. I've been on the lookout for a really well cut straight leg jean; it's something I've found a little difficult as most pairs I've tried have either run a little too long in the leg or just haven't quite flattered me in all the right places, and alterations haven't necessarily been an option.
I don't really have too many complaints about these jeans; the placement of the pockets at the back is incredibly flattering, I'm really happy with the length, and they just feel like an easy pair of jeans to throw on. However, the 'bone' wash isn't completely opaque which means they don't team as well with darker tops as I'd like, and I did notice that the fabric loosened quite a bit in the legs and across the knee area with wear.
I'm still waiting for Everlane to come out with a medium-wash denim (something a little deeper and more neutral-toned than their classic blue wash), but I'm already thinking about snapping these up in the indigo wash as I think they'd make a good addition to my autumn wardrobe (not that I need anymore jeans right now…).
I'd love to know if you're considering adding the Everlane Cheeky Straight Leg Jean to your wardrobe, and if you are, how you'd style them. Let me know in the comments section below! x