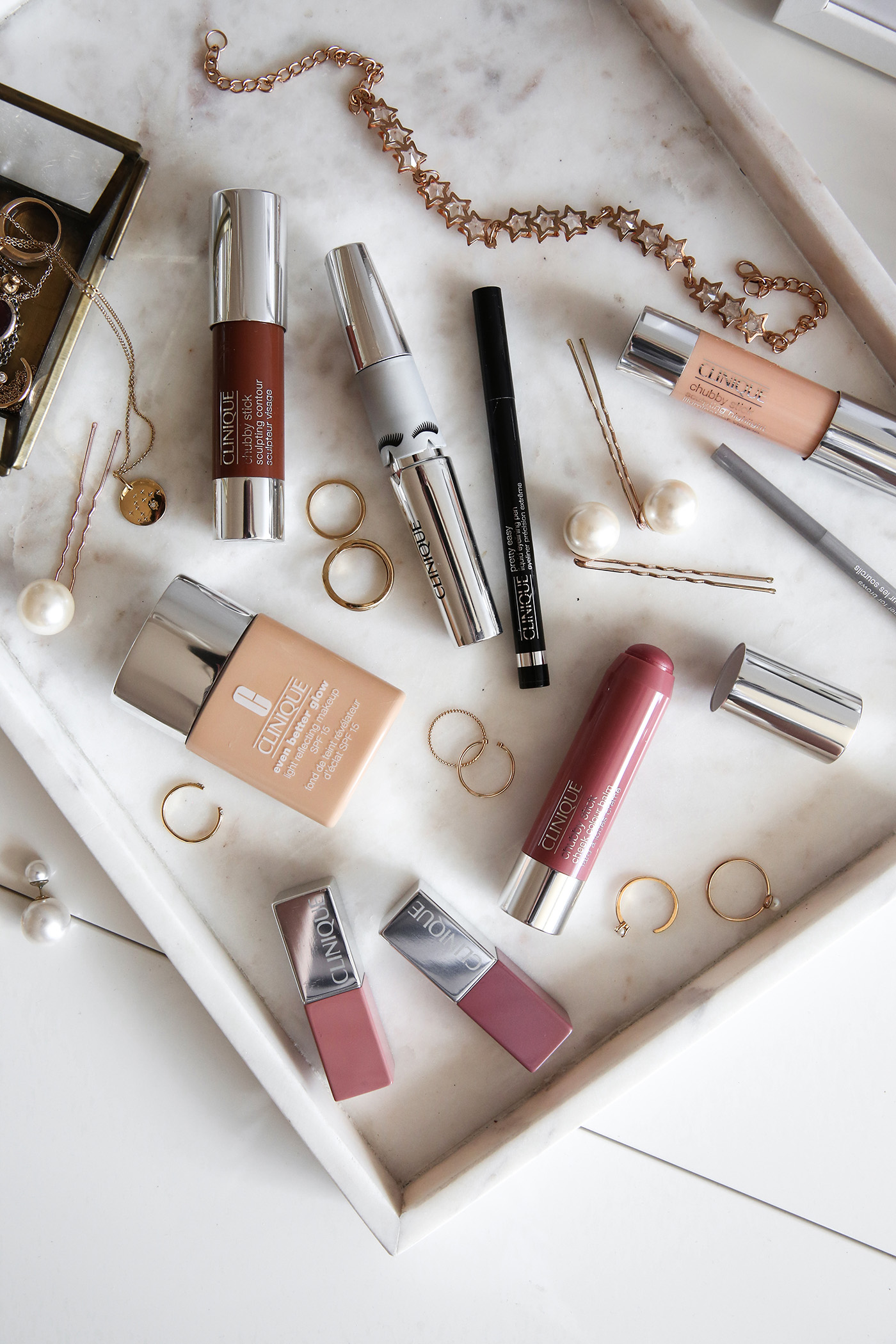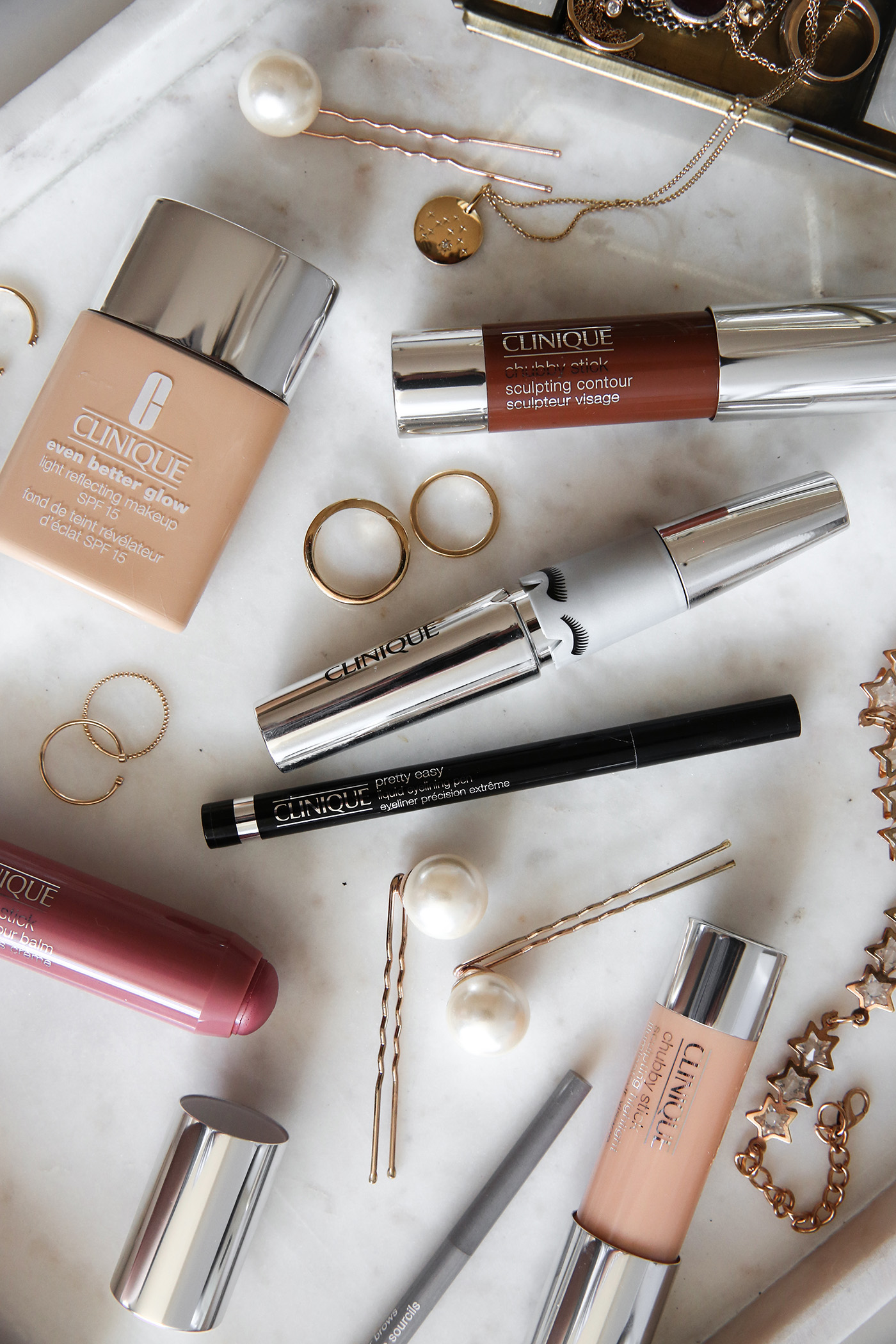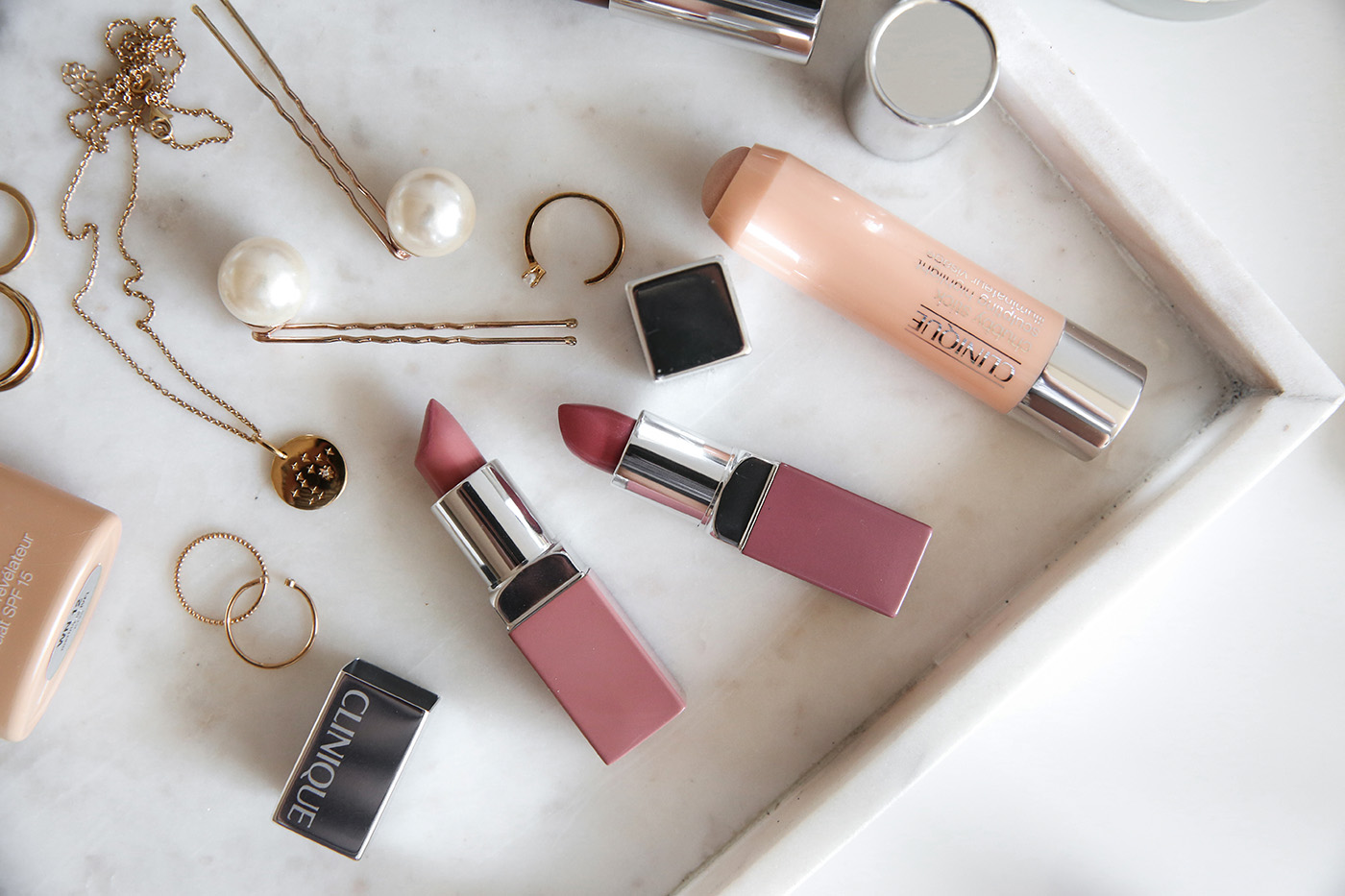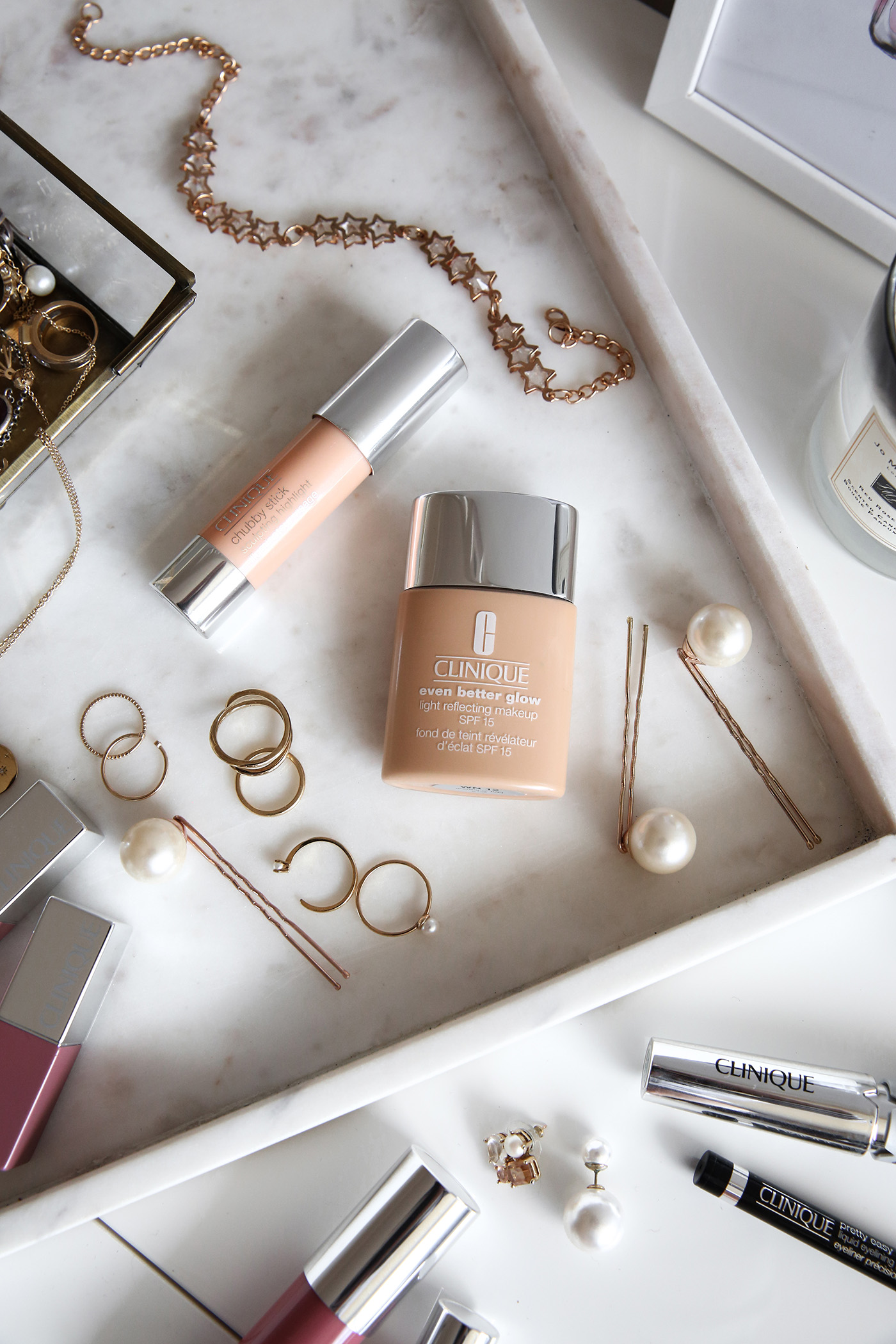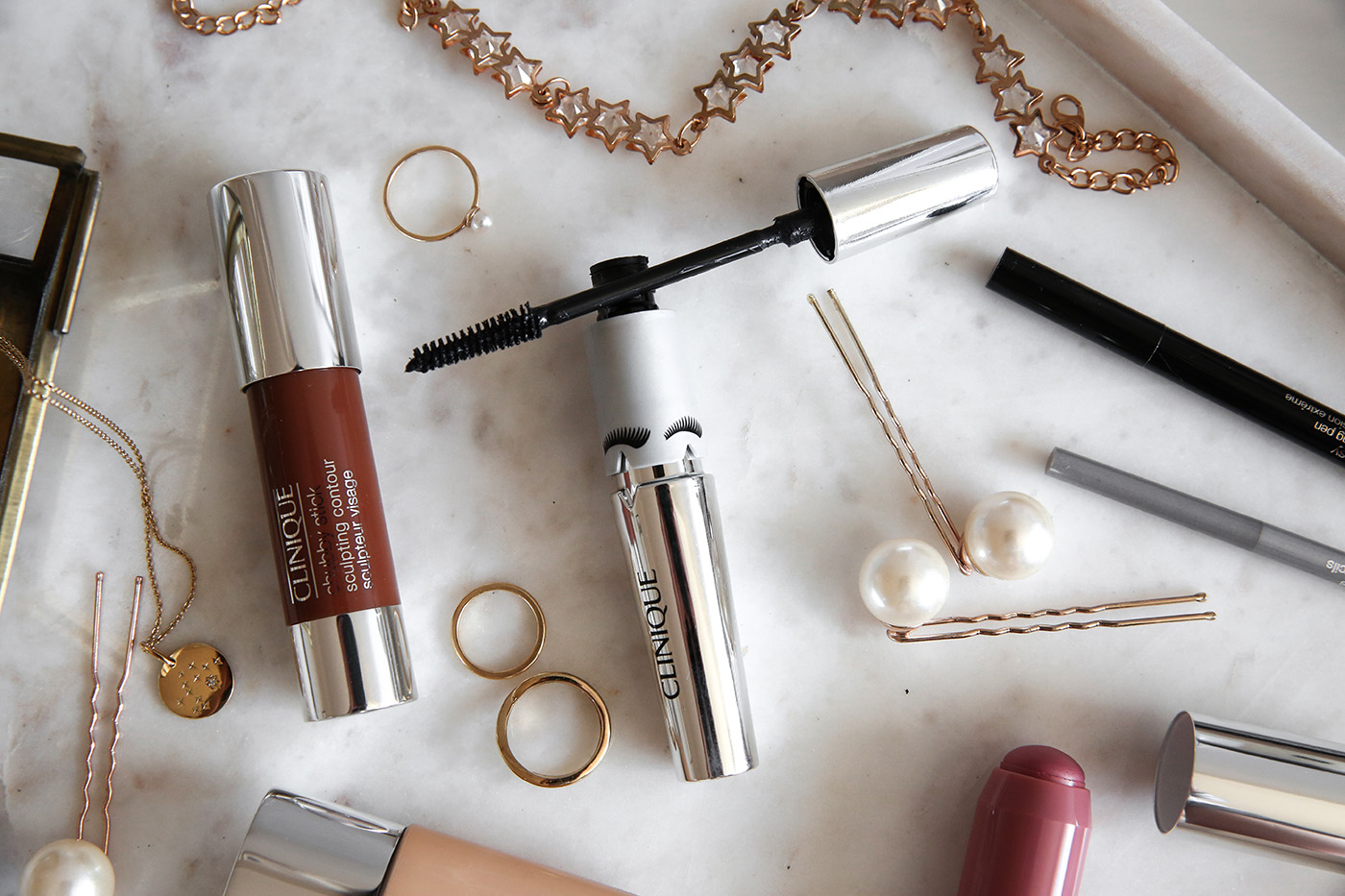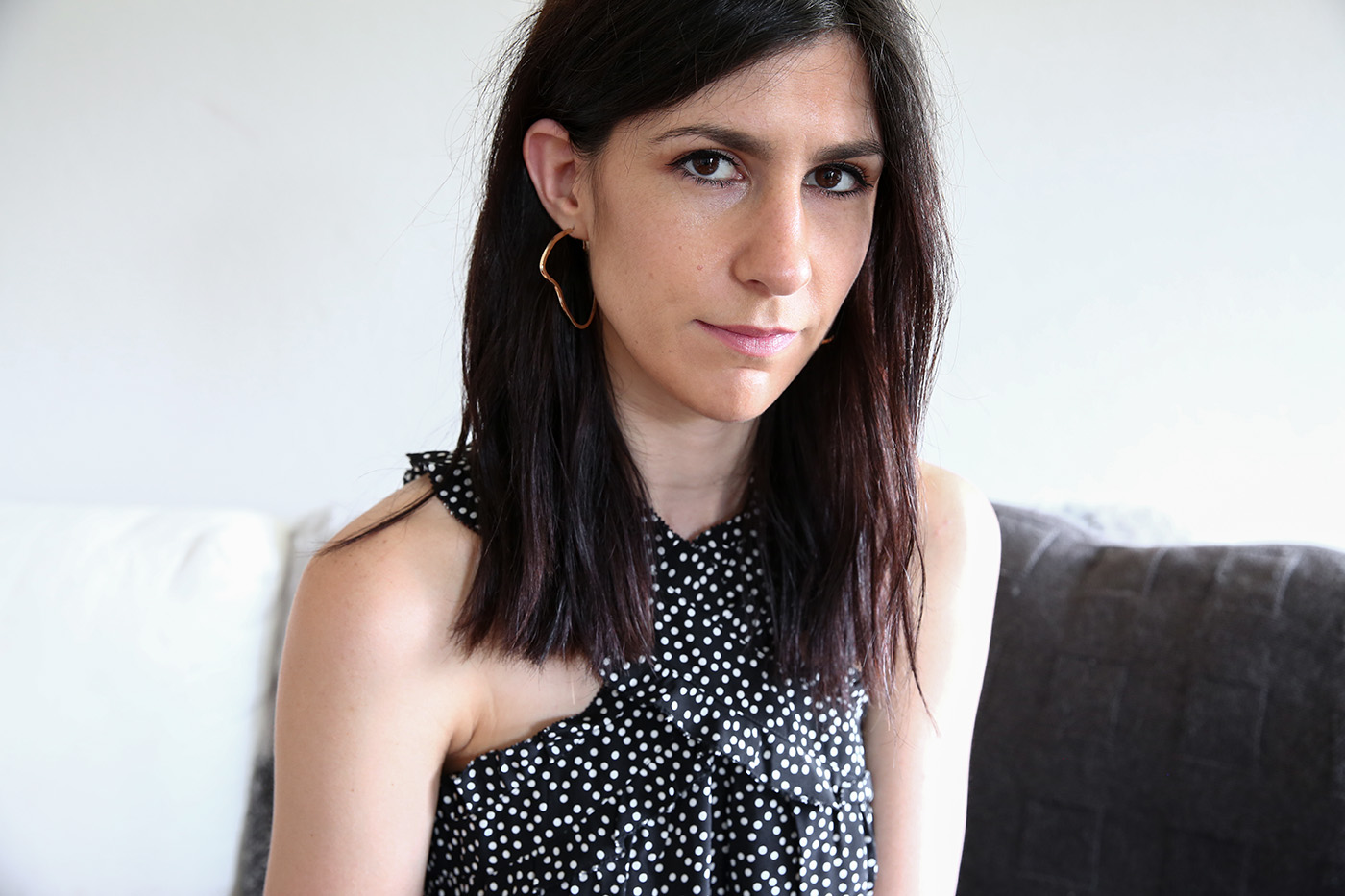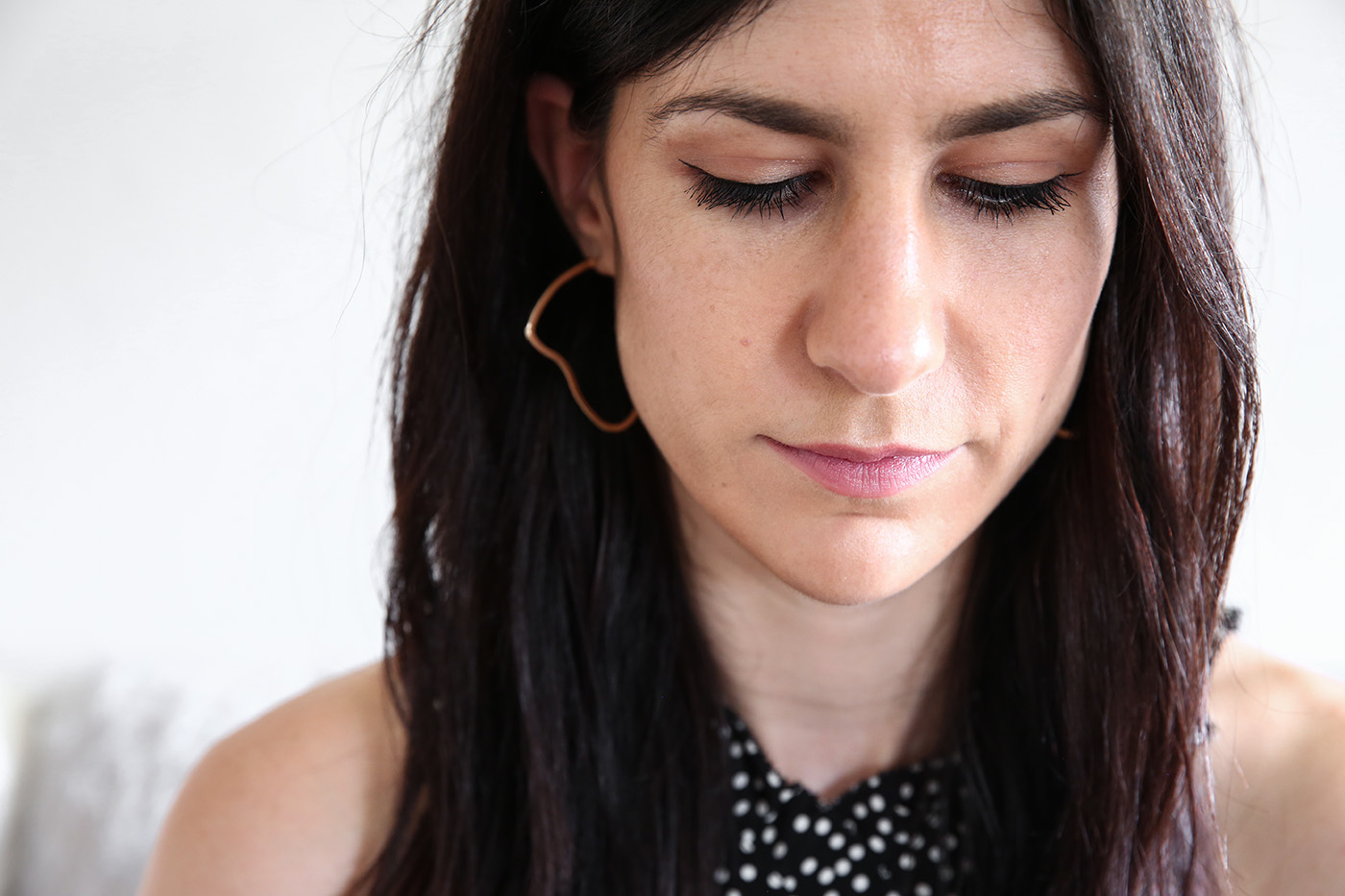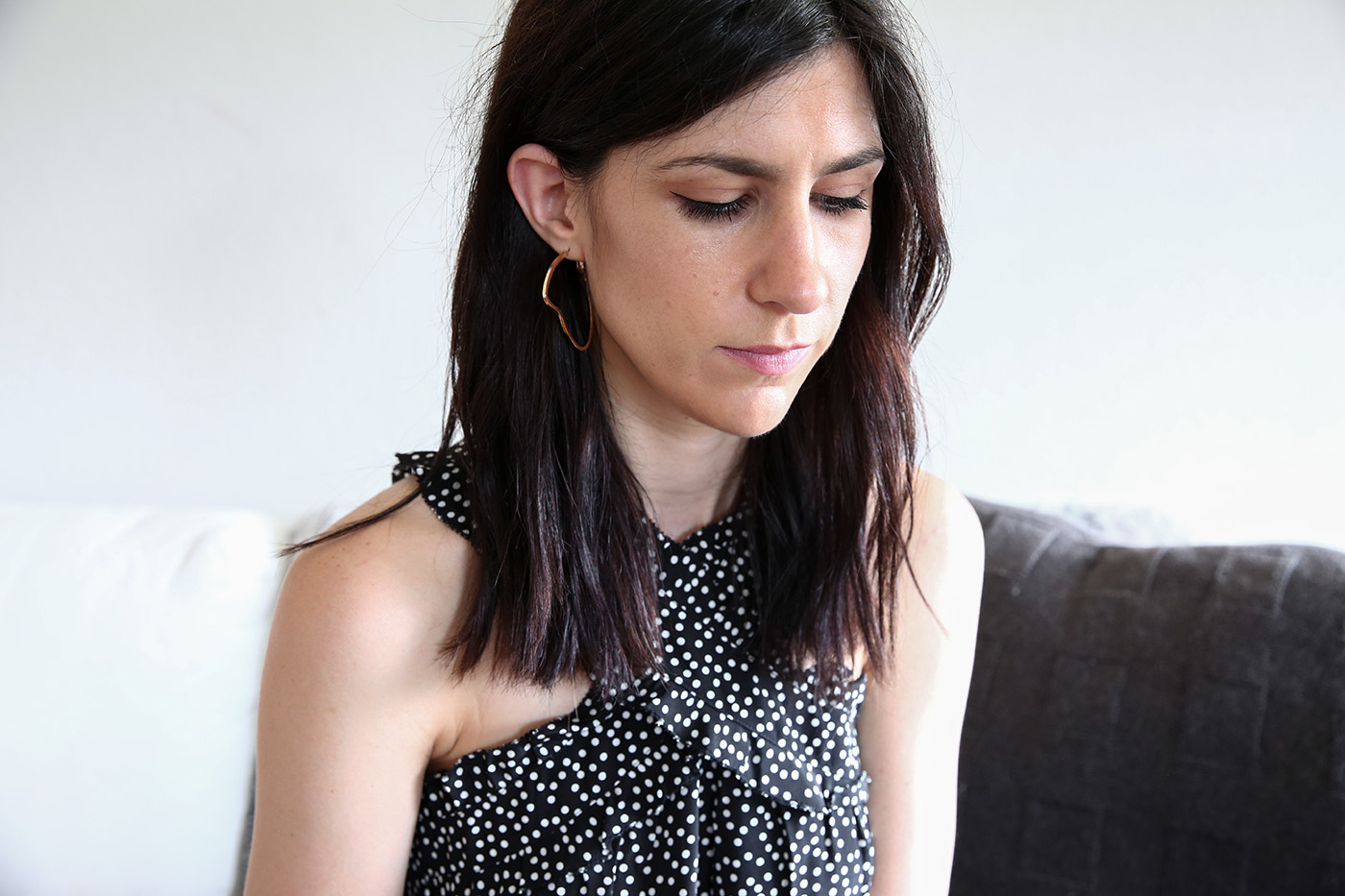 When it comes to summer, I am all about fresh, dewy looking skin – the two just seem to go hand in hand, especially when you have a sun kissed glow (one of my favourite souvenirs of summer). But, sometimes, you have to fake it until you make it, which is where a few key beauty products come in.
Wearing J Crew polka dot top and RUBY earrings (similar here)
I was fortunate enough to be gifted with a very generous selection of staple beauty products from Clinique as part of the launch of their new Even Better Glow Foundation, so I did what any girl would, I applied it all to my face to see what I liked, what I loved, and what I probably won't be reaching for much at all. I've been playing around with these products for a good six weeks now, so I've got a pretty good handle on the best way to apply them, and what's going to work for me long-term. The results are fresh, dewy looking skin that work to enhance your natural beauty rather than conceal it, so read on to find out which products have come out on top.
BASE
I was lucky enough to get to attend a Master Class led by makeup artist Casey Gore, to celebrate the launch of Clinique's newest foundation, the Even Better Glow Foundation. I was colour matched on site – something I'd highly recommend doing at a Clinique concession – to shade 12 (meringue). I've been putting this foundation to the test over the last 4-6 weeks, and not only is it the perfect match for my skin tone, but I've also been incredibly impressed with the foundation.
Unlike other foundations that I've tried, the Even Better Glow Foundation is loaded with Salicylic Acid and Vitamin C, two ingredients that work to improve the texture and appearance of your skin, and at the Master Class, we were challenged to use the foundation over 30 days, to see the effect that it had on our complexion.
Having sensitive skin by nature, I'm prone to rashes and eczema break outs if I'm not careful with what I'm applying to my face, so most days, I'm happy enough going foundation free, with a little blush or bronzer to add some (often much needed) warmth. So, I was pleasantly surprised to find that not only did this foundation not cause any eczema breakouts, but I found my skin looked more luminous at the end of the 30 days, where usually such prolonged use of a foundation would have a more detrimental impact.
For application, I prefer to use either my fingers or a damp beauty sponge, as I find that these two methods result in natural looking skin, whereas applying the foundation with a brush can look a little 'cakey' – at least in my experience. The foundation provides sheer to medium coverage, and can be layered for a more flawless looking appearance, and with a fresh and dewy finish. Aside from the fact that this also has a bit of SPF in it – something that's a great addition to any foundation – I love the glow that this gives me, and that feeling of being 'lit from within'. The one thing worth noting though, is that you really need to ensure that you have your skin prepped before applying this – if you have dry skin, the foundation will pick that up over the course of the day, and cling to any dry patches – but it's nothing a healthy dose of moisturiser can't fix.
BRONZE, BLUSH & HIGHLIGHT
I've been a big fan of Clinique's Chubby Sticks from way back; for many years the lip balms formed the base of my beauty stash, so it's safe to say I've got a bit of a soft spot for them. But, I hadn't really experimented when it came to the other Chubby Sticks on offer, namely the Cheek Colour Balm, the Sculpting Contour, and the Sculpting Highlight, though as I love a good cream beauty product, I was pretty excited to put these to the test. The premise of these is pretty simple, it's a twist up tube style packaging that you can either apply directly to you skin, with your fingers, or with a brush.
So, let's start with the Cheek Colour Balm, which I have in the shade 01 Amp'd Up Apple. This is oil-free, and feels really light on the skin. The colour is a very natural looking pink, that applies quite opaque on the skin but once blended out leaves a sheer wash of colour that adds a healthy looking glow to the cheeks. I've been applying three small dashes of this onto the apples of my cheeks and then blending up and towards my cheekbones with a stippling brush. It's pretty subtle, though I think if you wanted a bit more colour you can really layer this up.
Next up is the Sculpting Contour, which I have in the shade 01 Curvy Contour. I will admit, when I first saw this, I was pretty intimidated by the colour. I've been using the Shade & Illuminate Duo from Tom Ford for years, but this is several notches darker, which can look a little intense when you first apply it to the skin. This doesn't blend out quite as smoothly as the Cheek Colour Balm, as the product has a lot more pigment to it, so you do have to work at it with a fluffy brush to get a natural looking effect. Personally, I find that this is a little too warm to use as a contour, so instead I apply it like a cream bronzer, of which I adore the effect. It's incredibly creamy, which makes it a dream to apply to the skin (I draw a line around my temples and at the tops of my cheekbones).
Perhaps the product I was most disappointed with (of the bunch, to be fair), is the Sculpting Highlight, which I have in the shade 02 Super Starlight. This is a champagne-toned highlight, which should suit most skin tones, and has that same creamy texture as the Sculpting Contour, whereas the Cheek Chubby Stick is a little more balmy. Where this falls short for me is the glitter; I've never been a fan of glittery highlights, so naturally this isn't a product I'd gravitate towards since I prefer something that looks glossy on the cheekbones.
EYES & BROWS
Since I didn't have an eyeshadow on hand, I applied some of the Sculpting Contour to my eyes for a wash of colour on the lids. Then I dove in with what's actually become one of my current favourite products, the Clinique Pretty Easy Liquid Eyelining Pen. This has a really fine point which is perfect for creating a really sharp wing, and it also doesn't budge or smudge at all over the course of the day – pretty much all the things I look for in a liquid eyeliner.
For my lashes, I applied the Lash Power Flutter-to-Full Mascara in 01 Black Onyx. This is a mascara that really surprised me. I've owned a few mascaras from Clinique in the past and I've always liked them, but this one really takes the cake. It coats the lashes with an almost fibrous substance, which makes them appear thicker and longer, and it's seriously smudge proof. This has a twist up dial that you can adjust depending on how much you want to go 'all out' with your lashes. This is definitely worth picking up.
My brows have been getting a lot of attention this year, so the Superfine Liner for Brows (which I have in the shade Soft Brown), was right up my street. At the Master Class, Casey talked about how for natural looking brows, you really need to go with something that's a little softer, and it's advice I really took on board. I might have really dark brow hairs, but I don't think I'd go any darker than Soft Brown in the product to get those fluffy, "my brows but better". The nib on the twist up pencil is incredibly fine which makes it easy to draw fine hairs into any areas where your brows are looking a little sparse. I then use a spooly to soften the appearance of the product. Another thumbs up from me.
LIPS
Now I wouldn't usually opt for a three step approach to my lips – a swipe of my favourite lip colour is usually enough – but with a lip liner, a lipstick and a gloss up my sleeve, I figured… why not?
I started with the Quickliner for Lips Intense in the shade 07 Intense Blush, which is a mid-toned pink with brown undertones. This is really creamy and incredibly easy to apply, and I think it'd look nice worn on the lips by itself as unlike the other two lip products, it has a more matte finish to it.
The lipstick I reached for is the Clinique Lip Colour & Primer in the shade 01 Nude Pop. I actually wore a lipstick from Clinique on my wedding day from this particular range, so I already knew I was a fan of the formula. It's rich and creamy, applies smoothly to the lips without dragging, and wears off evenly – which for a nude or pink hued lipstick, isn't really of much consequence plus it's really easy to re-apply. Nude Pop has slightly mauve-y undertones whereas the shade I wore on my wedding day – Beige Pop – is slightly more of a true blush pink. All in all, it's a nice lipstick with a velvet finish that is comfortable and moisturising on the lips.
Finally, the last product in this round up is the Chubby Plump & Shine Liquid Lip Plumping Gloss in 01 'Normous Nude. Now, quick caveat, I've mostly avoided gloss since I was an early teen, which if you grew up in Wellington like I did, it'll be pretty obvious why (wind + gloss don't mix). Additionaly, I don't love having sticky feeling lips, yet consequently that's something that comes hand in hand with lip gloss products in general. The applicator on this is a little unusual, it's the same 'Chubby Stick' appearance, but it has a plastic applicator that disperses the product by twisting it out. I don't love this method, and I found it was pretty difficult to judge how much product to disperse. The gloss itself has a milky-type appearance to it, and it adds a shine to the lips. Unfortunately, this just wasn't right for me.
What is your secret to fresh, dewy looking skin? Is there anything else from Clinique that you would recommend I try?