One thing I seem to be drawn to without fail, are shoes. Unlike girls who can't stop buying handbags, or excessive amounts of beauty products, my achilles ironically seems to be exactly that, shoes, shoes and more shoes. Over the years I've managed to accumulate what I consider to be a rather modest shoe collection, kept in check as I cast aside and cull the pairs which were uncomfortable, too high, or in retrospect something I never should have purchased in the first place. While I would one day like to aspire to own a more minimal wardrobe, the one place I seem to struggle to cut down is in my 'shoedrobe', even though rational thinking tells me I could make do with just four pairs – ballet flats or loafers, flat ankle boots, heeled boots and a court shoe.
But.. with only four pairs there is less chance for variety, less opportunity for novelty, and perhaps most concerning for me, less shoes. And while my 20-or-so pairs pales in comparison to the numbers of shoes some girls accumulate in their closets, regarding that number as modest sums up my refusal to acknowledge it as anything more. Unfortunately I've found that the only way to avoid adding more shoes to my 'shoedrobe', is to attempt to avoid the kryptonite-laced temptations altogether – something that during sale time seems to be more difficult that at any other point.
The last year I've been blessed to finally come into possession of a number of my 'holy grail' shoes, including the Charlotte Olympia kitty flats, Celine black buckled heels, Valentino rockstuds, Chloe studded susanna boots and Alexander Wang kori oxfords (a couple of which I have rather unfortunately since parted with). Past experience has taught me not to skimp over quality, especially when it comes to your feet, a lesson which is constantly at the forefront of my mind when shoe shopping.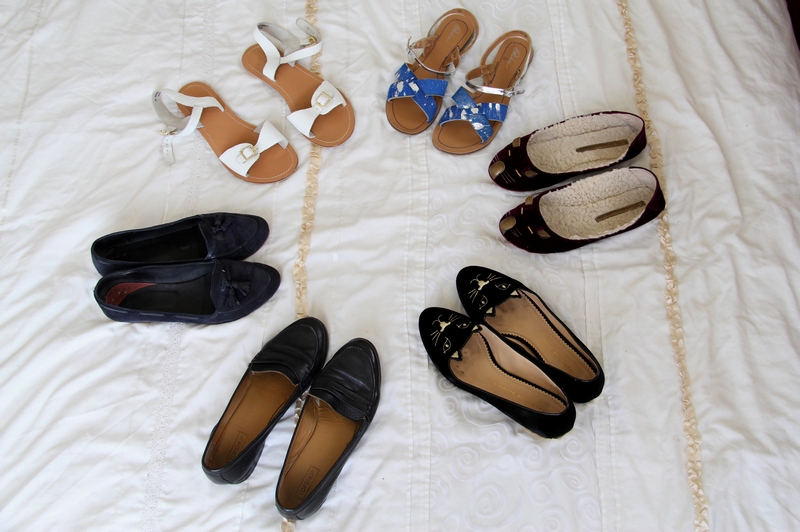 Clockwise from L: Pointer x Karen Walker navy suede loafers, Topshop white sandals, Park Lane blue strappy sandals, Marc by Marc Jacobs velvet mouse slippers, Charlotte Olympia kitty flats, Topshop black loafers (similar), Beau Coops x Karen Walker cream&mint loafers (not pictured)
Flats
This is probably the one area that has truly expanded over the last year and a half. After realising that heels were doing more damage to my body than I thought, I found myself reaching for shoes that had up until that moment, been seldom seen on my feet. While I'm still not sure I'm quite delicate enough for ballet slippers, the discovery of a pair of navy loafers I had lying around in my wardrobe ignited a passion for these shoes which I found myself quickly multiplying. These to me are a complete necessity for day-to-day wear all year round, and from experience I've found a pair of hard wearing leather loafers to be the perfect travel companion (aside from the ones you love of course!) in addition to a sweet pair of sandals.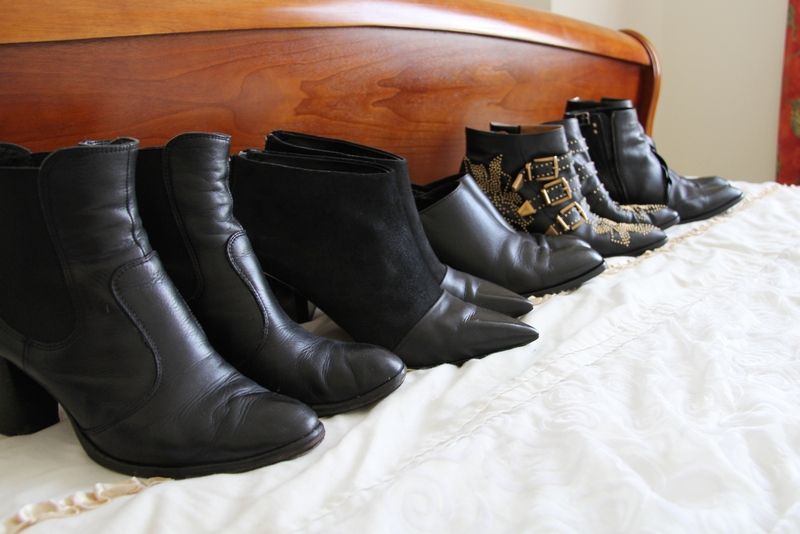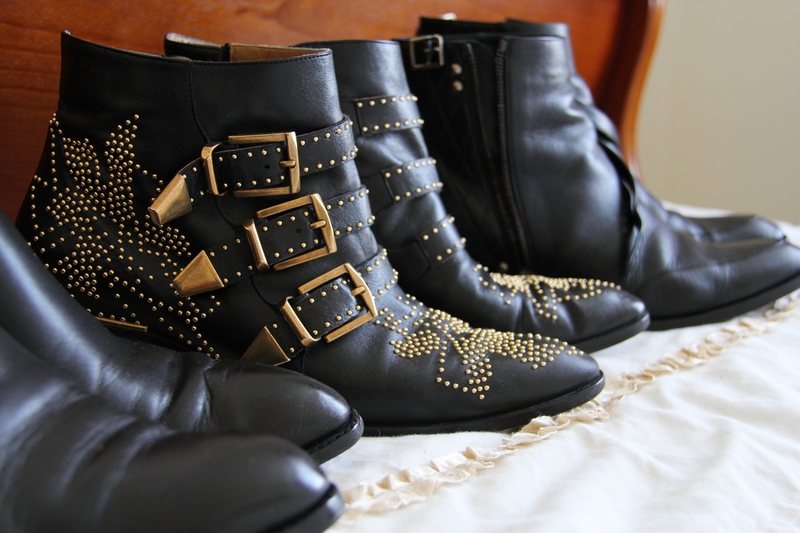 Vintage black heeled chelsea boots (similar), See by Chloe black heeled ankle boots, Alexander Wang black kori oxford boots, Chloe black studded susanna ankle boots, Chloe black susan quilted ankle booties
Boots
Boots essentially become like overstayers on my feet during the winter months, once the desire to show off even a little bit of skin has passed. Surprisingly practical, if you can forgive the cut out heel, excessive studs and additional yet somewhat unnecessary ankle strap – all details that in my mind, give the shoe a point of difference. Sadly missing, are the taupe Isabel Marant dicker boots I had purchased while NYC, as I had mixed feelings about wearing them in a city where it rains frequently – choosing to put practicality over wardrobe desires. My only problem, come winter, will be actually rotating through my boots, as being a creature of habit, I tend to find myself in the same things over and over.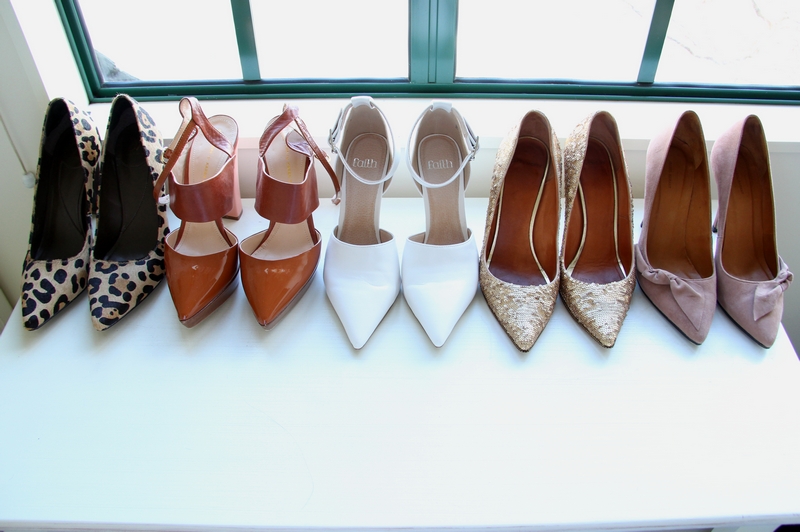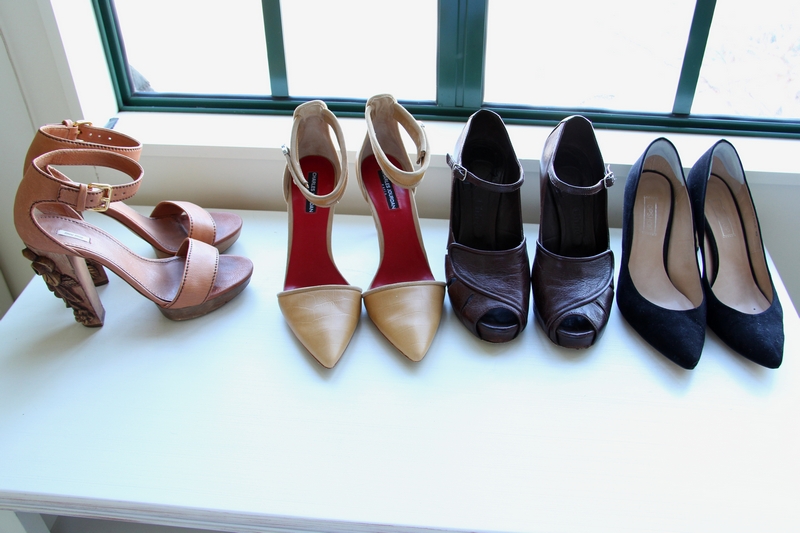 L to R 1:Diane von Furstenberg leopard pony fur heels, Beau Coops x Karen Walker tan& mimus heels, Faith 'chanell' white heels, Givenchy gold sequinned heels, Isabel Marant rose poppy heels
L to R 2: Miu Miu nude floral heeled sandals, Charles Jourdan hunter croc heels, Chloe chocolate mary-janes, Topshop black court shoes
Heels
While my heels aren't worn on the same frequency, or even wavelength as my boots or flats, a combination of court shoes, strappy sandals and statement heels, the broad-ranging variety makes it hard for me to imagine parting with even one pair. I've never been satisfied with just a plain black almond toed pump, and often found myself drawn to subtle, interesting or even obscure details, and a preference of the pointed toe. I'm lucky enough that it makes little difference to me if I wear heels on a daily basis, given that my height, just under 5'8″, is enough on its own. Probably the one section which is still a work-in-progress, missing a staple pair of low heeled thick strap sandals and a pair of nude pumps.
While not all these shoes are worn as frequently as I would like, I try and make an effort to cycle through the shoes that I have. More often that not you're likely to see me wearing my Alexander Wang kori oxfords, Topshop black court shoes, See by Chloe ankle boots or a simple pair of black loafers. I mean, it is winter after all. What do you have in your 'shoedrobe'?