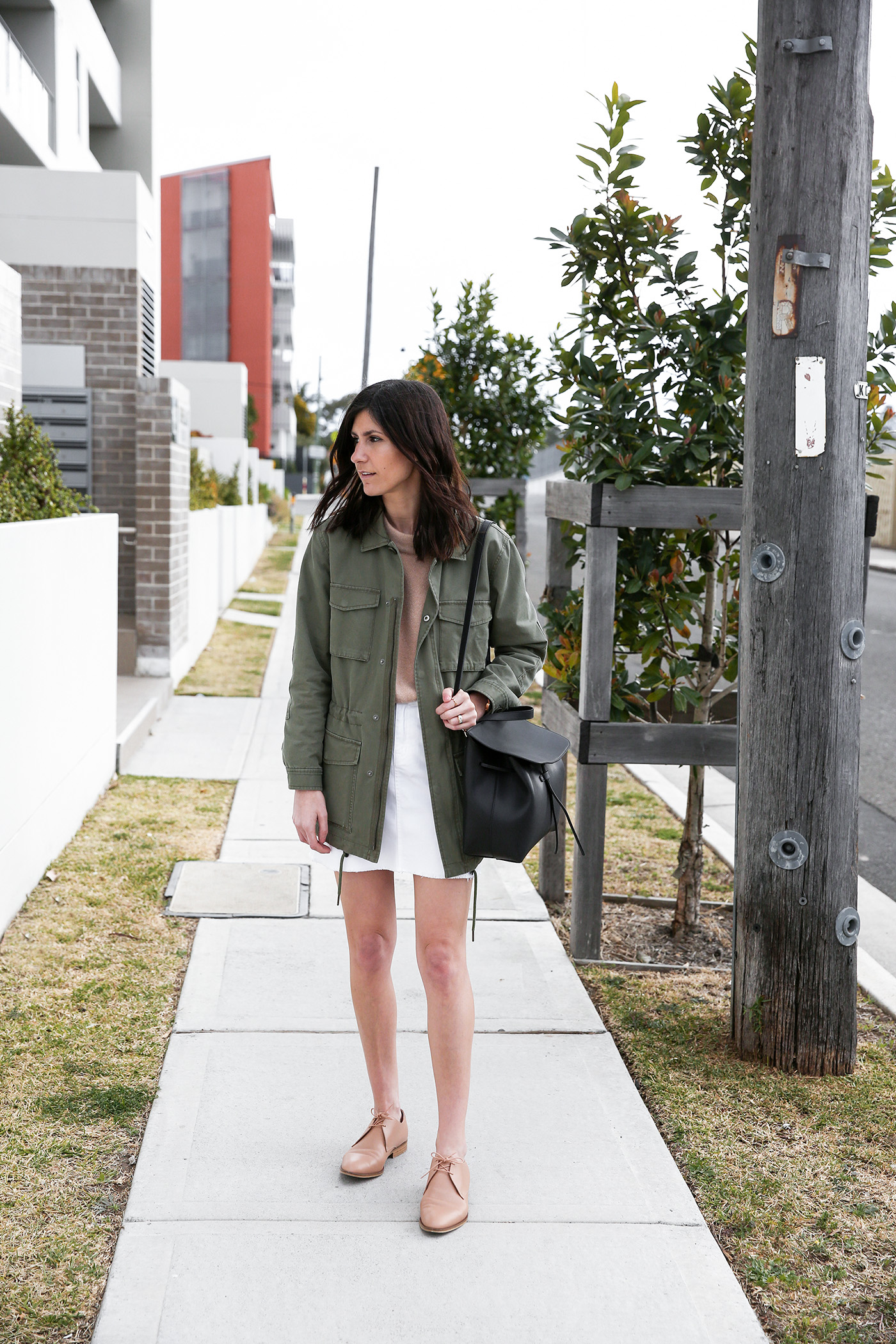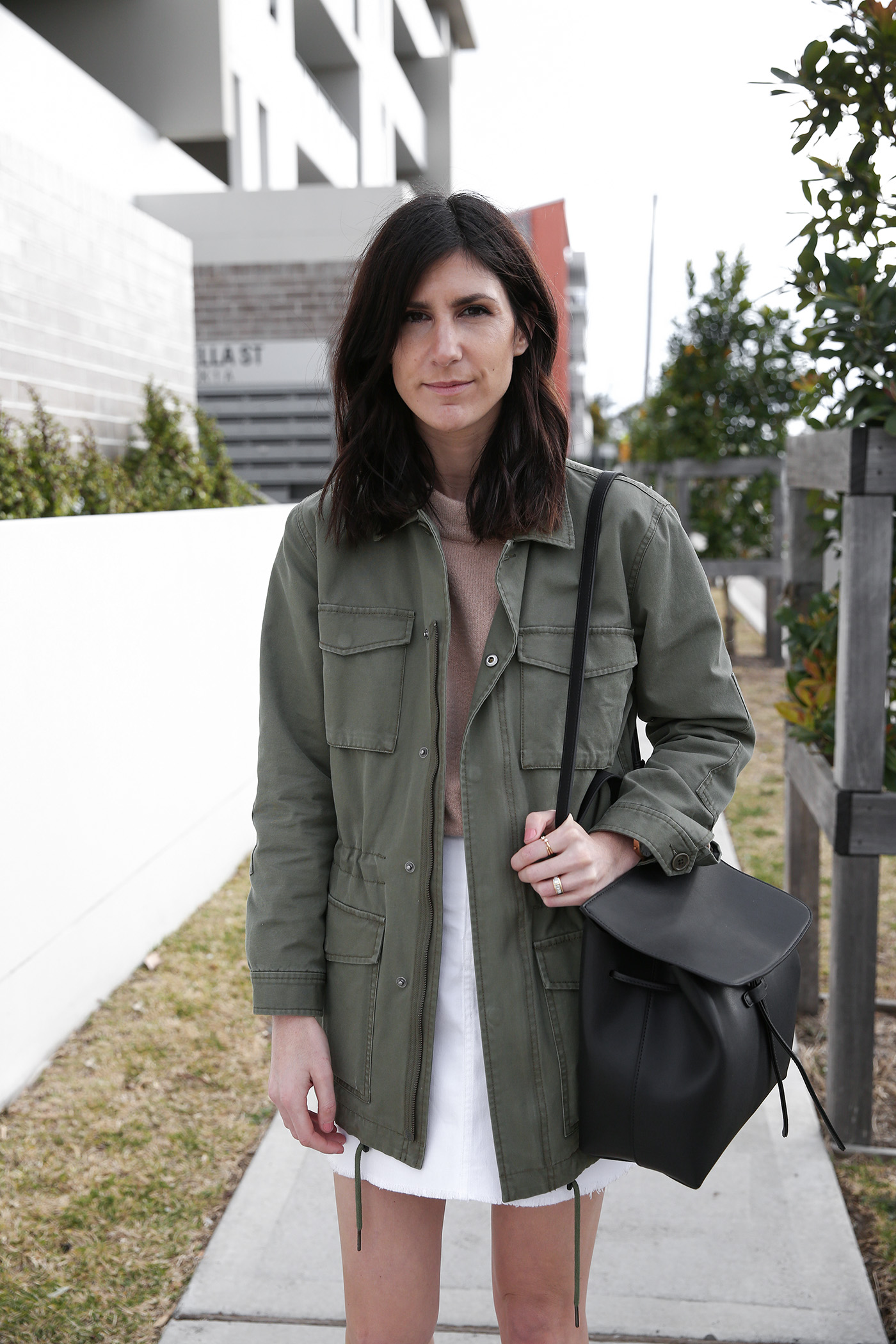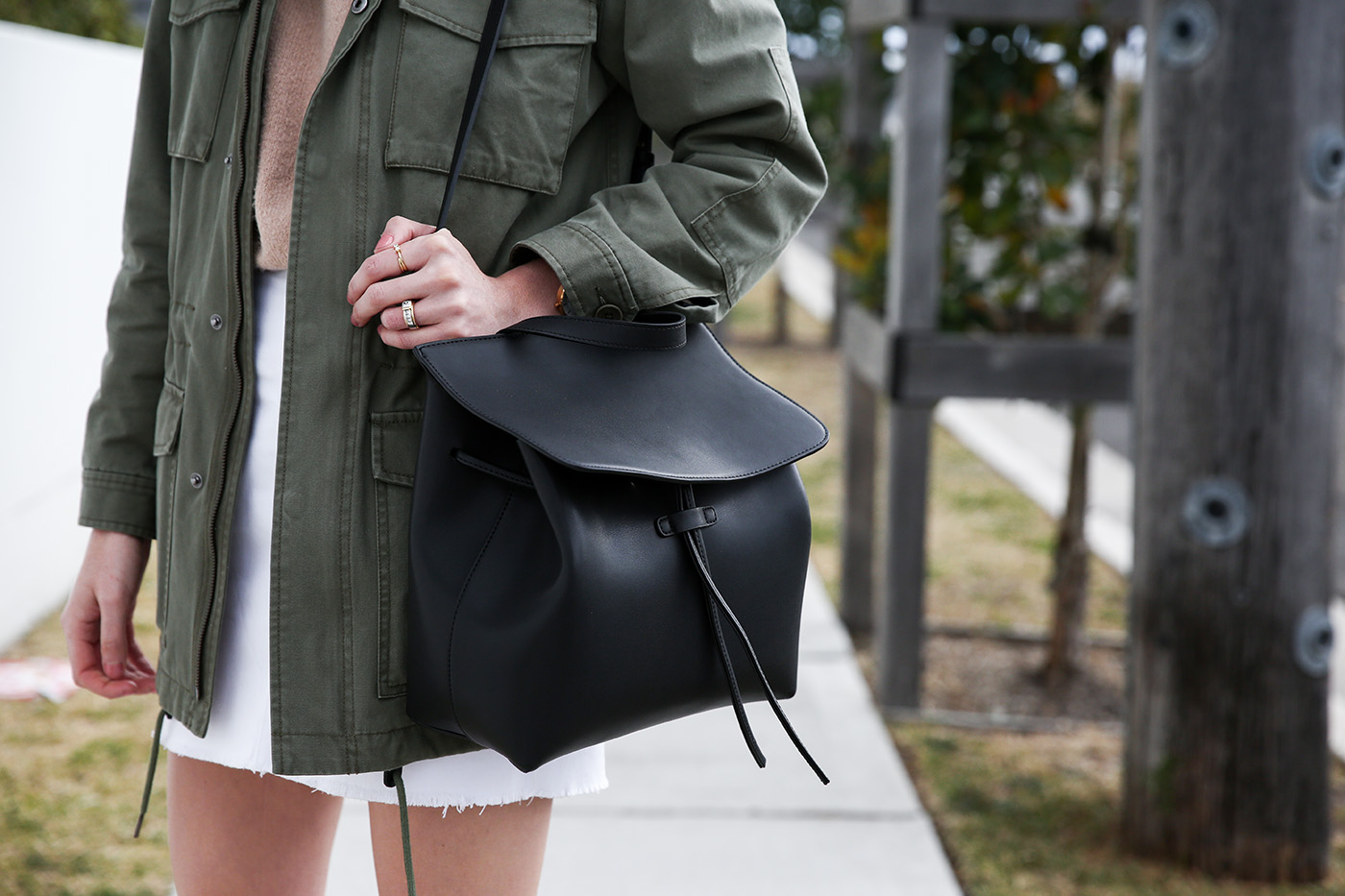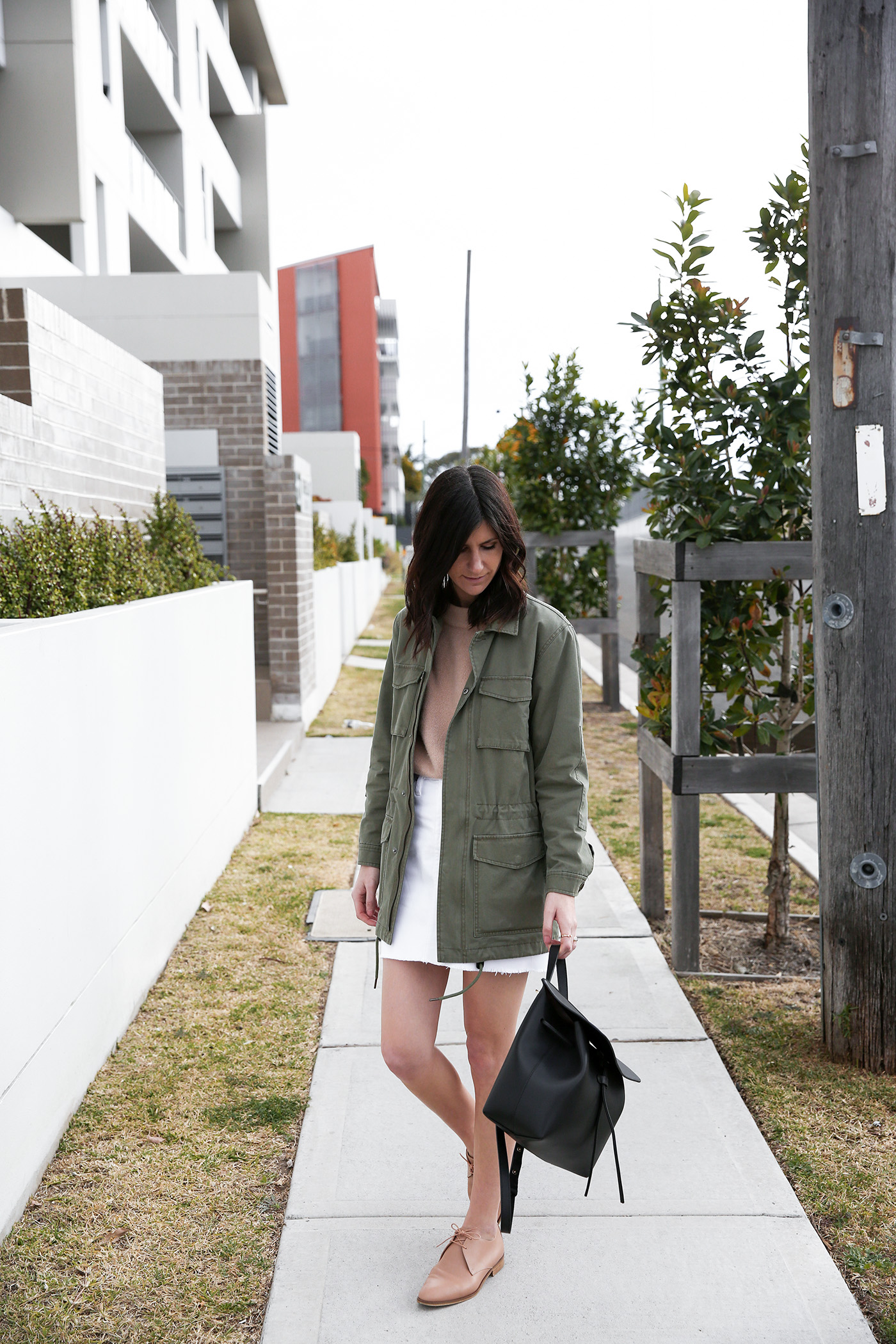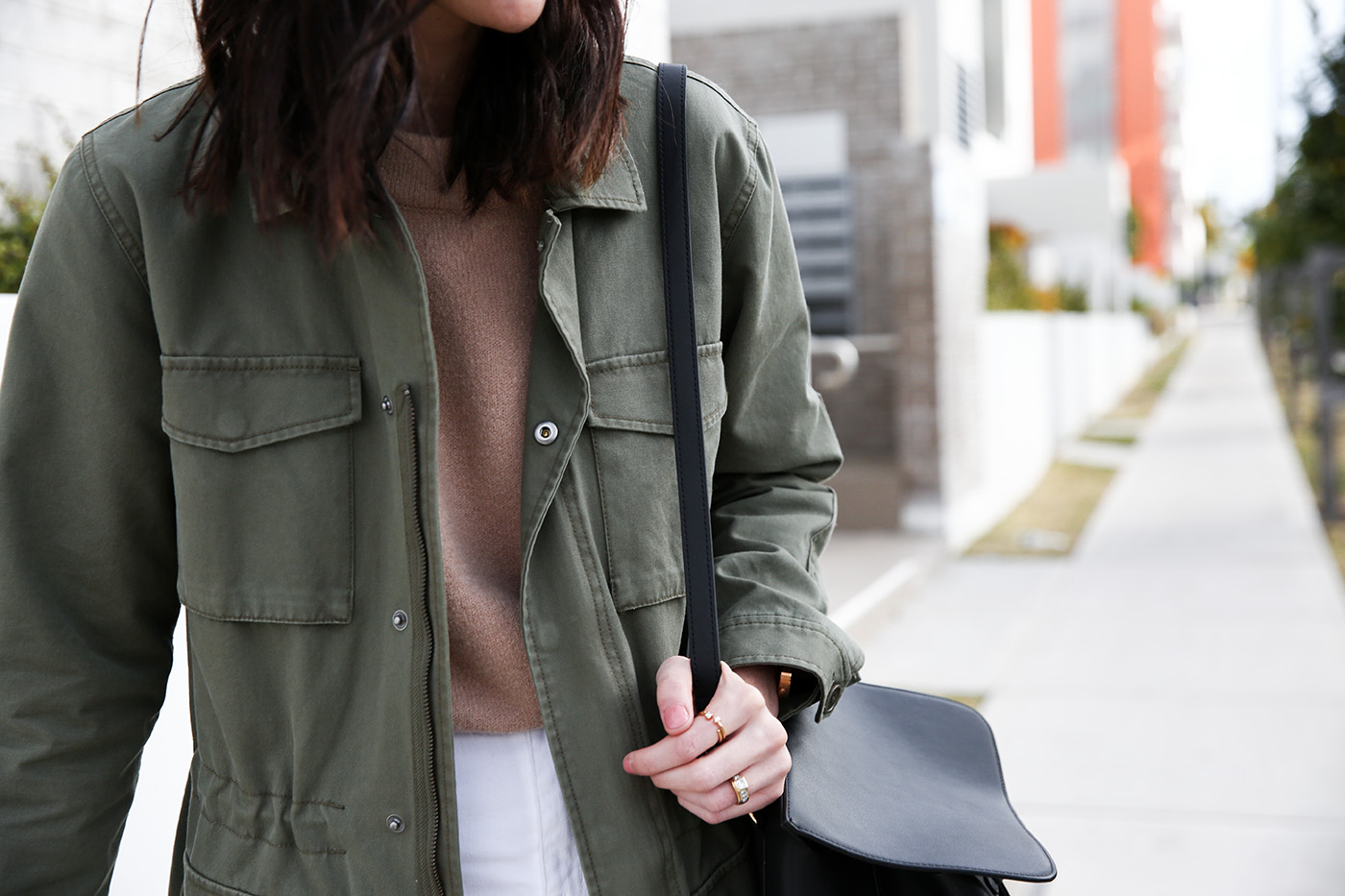 Assembly Label sweater (similar option here), J Crew denim skirt (also love this one), Workshop jacket in camo (more affordable here), Everlane oxfords, HiEleven bag
The transition from winter to summer is always one of my favourites, as I love the opportunity to bare some leg, while still being able to comfortably throw on a few layering pieces. It's the perfect time to not only trial out a few new silhouettes or layering techniques, and have a bit of fun with your style staples.
Leaning more towards what I'd consider to be classic 'Parisian' silhouettes, one of the key additions to my signature 'style recipe' has been a transitional jacket for spring an autumn – generally something that can see me through both seasons, as well as acting as a layering piece under a coat during winter (if I need it!).
As eager as I am to break out my slip dresses, and off the shoulder tops paired with denim shorts, I don't quite attack my style with the same climate insensitivity I had as a teen, when a little cami and denim skirt would pass as an 'outfit', even in the winter months. Instead, I've been enhancing my outfit with a layering piece, whether it's the army jacket I'm wearing above, a trench coat (this one from Everlane is my favourite), or a biker style leather jacket. Given my wardrobe colour palette leans fairly neutral as it is, it's been a great way for me to add in some complementary earthy tones, and dip my toes outside of my comfort zone (both style and colour-wise).
While I want to talk about my style recipes in greater detail, perhaps the simplest combination that I've been reaching for, as we've transitioned into spring is: jumper + skirt + transitional jacket + mid-heels. It's an equation that works, no matter what each individual item looks like – in part down to years of refining my wardrobe – and I love the simplicity that defining a set of style values for a season provides.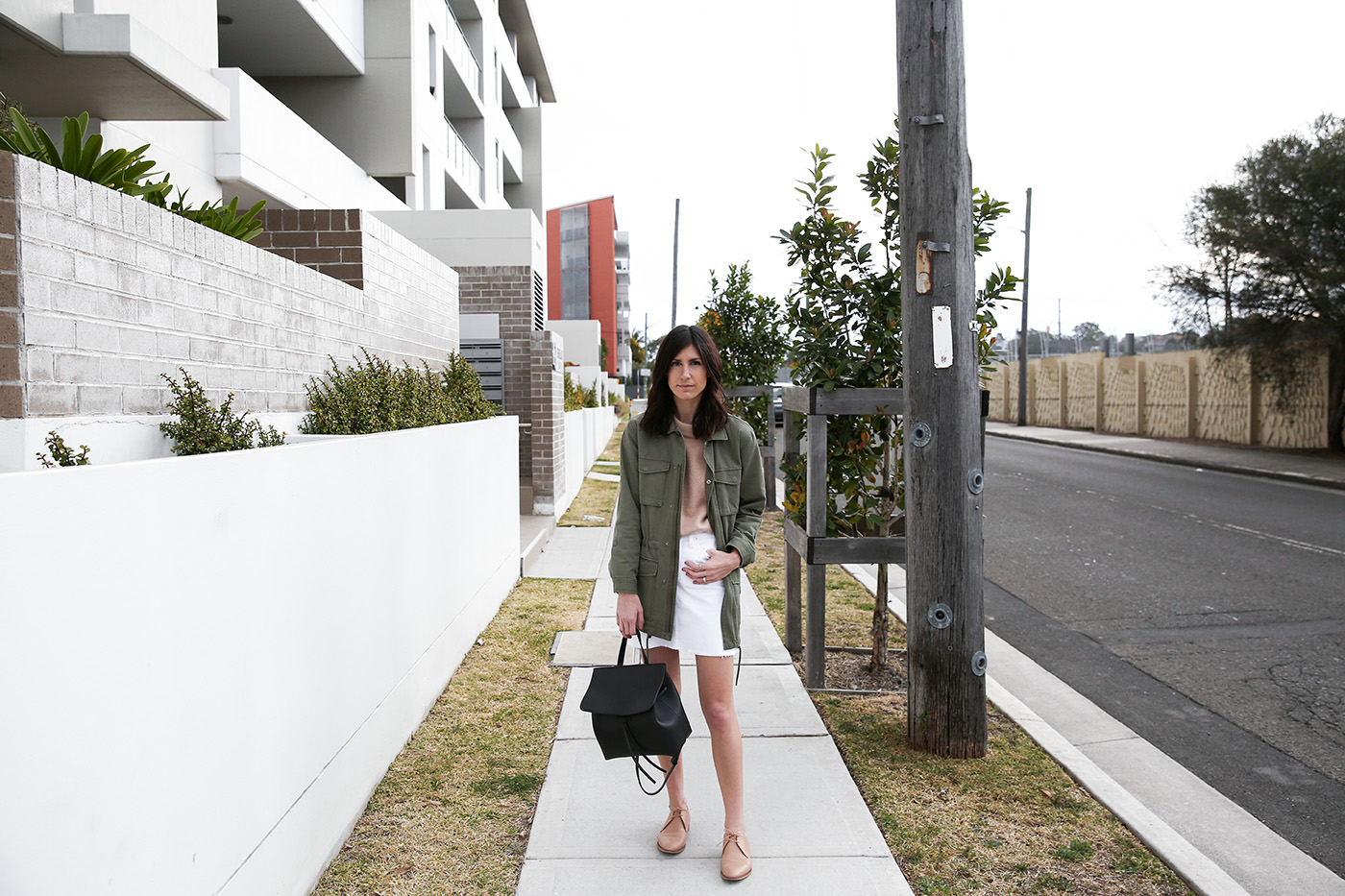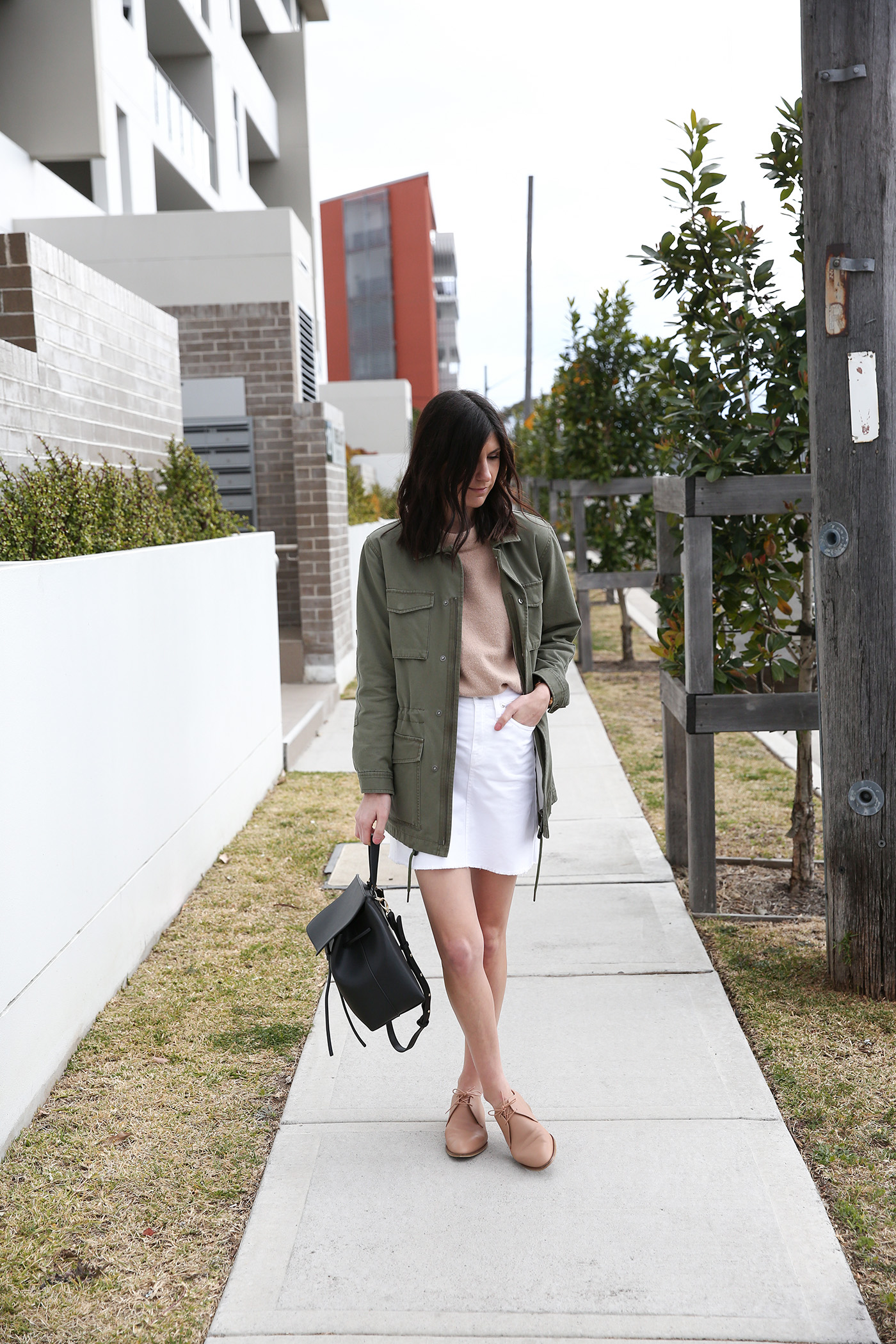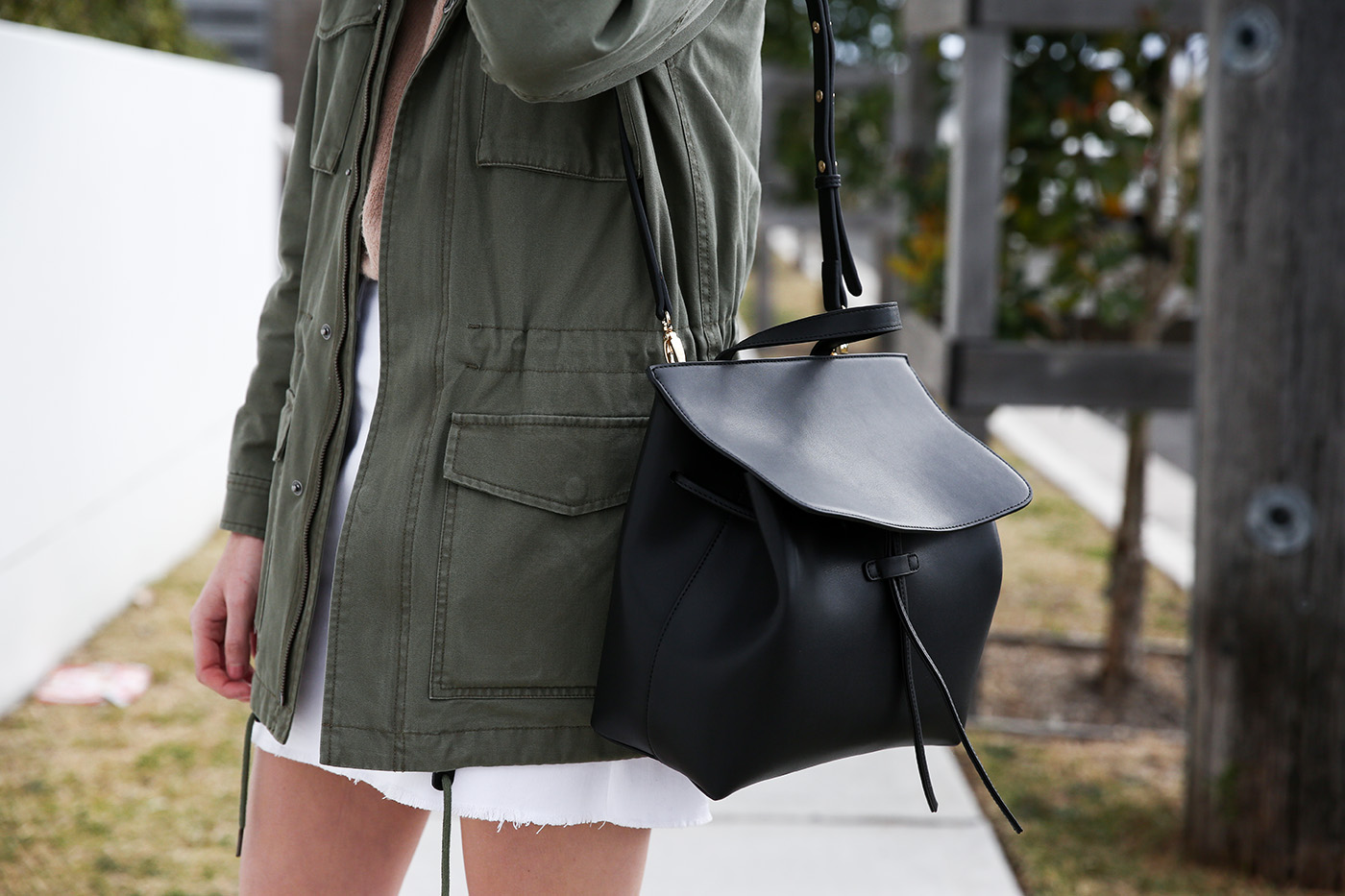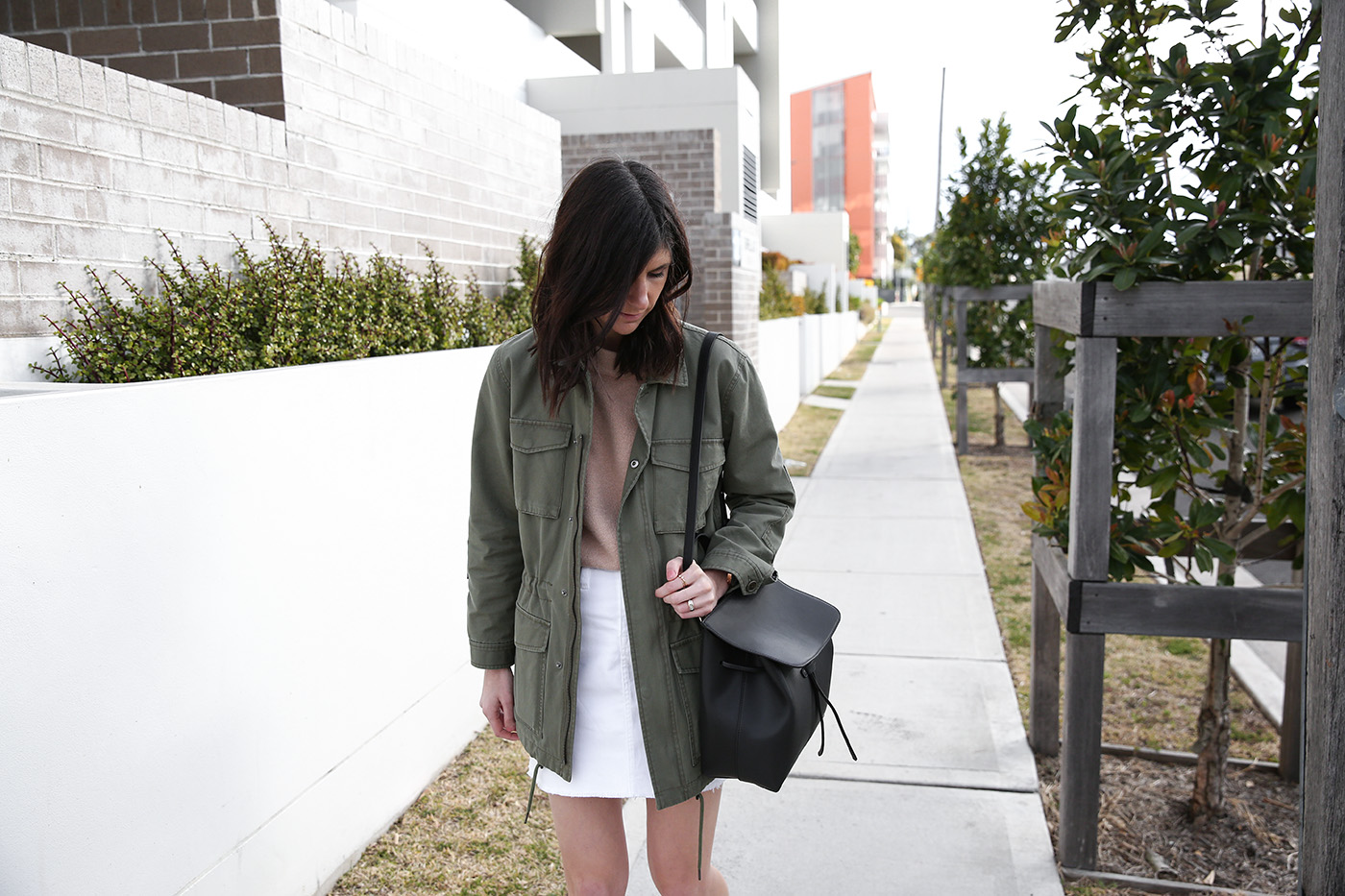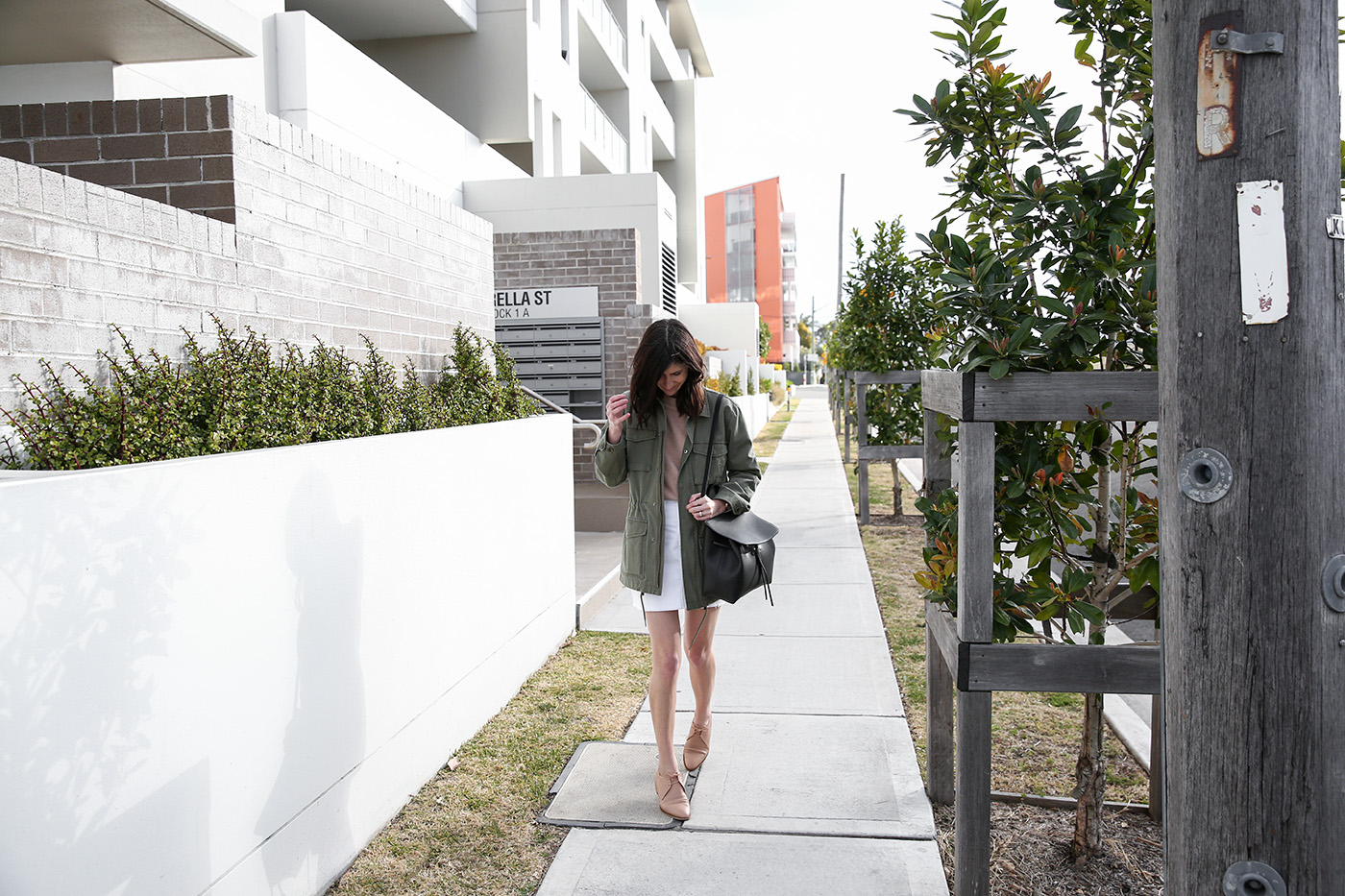 So in the last couple months, to prepare for spring and round out my closet, I've been investing in a few transitional jackets that are classic enough to continue wearing for years to come. First up is this army-inspired (unisex) field jacket, which has been a wardrobe favourite since I managed to nab it on sale a couple of months ago. It's quite a loose silhouette, but I love the fact that you can breathe new life into it by rolling up the sleeves, or using the ties to cinch in the waist for a more refined fit.
Second up, is this denim jacket from Topshop. The perfect shade of mid-wash blue, it filled a gap I'd had in my closet for an oversized and easy throw on option for the weekend. Again, it's been one of those items that I can't stop wearing on repeat (always the sign of a good purchase!), and it's big enough to carry me through autumn and the start of winter for 2018.
Finally, I've been on the lookout for a replacement leather jacket after parting with my black Acne Studios mape leather jacket last year. But trying to find a leather jacket that ticked all the boxes without breaking the bank has proven to be pretty impossible, especially when you've set your gold standard at Balenciaga… After deciding to set my sights on a faux leather option instead as a bit of a compromise to my wallet, I stumbled on this lovely option from MVN.
Are you in favour of the transitional jacket?