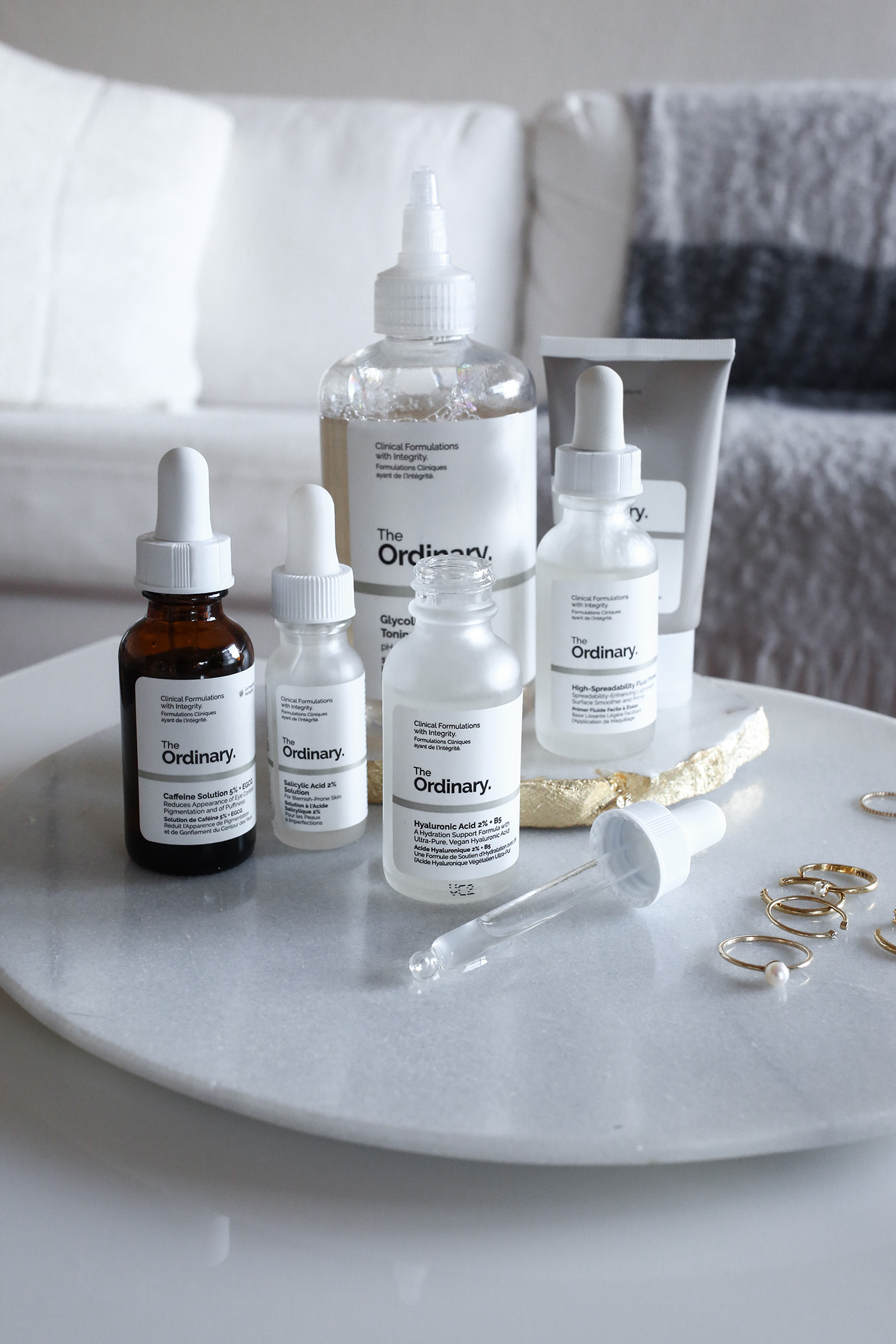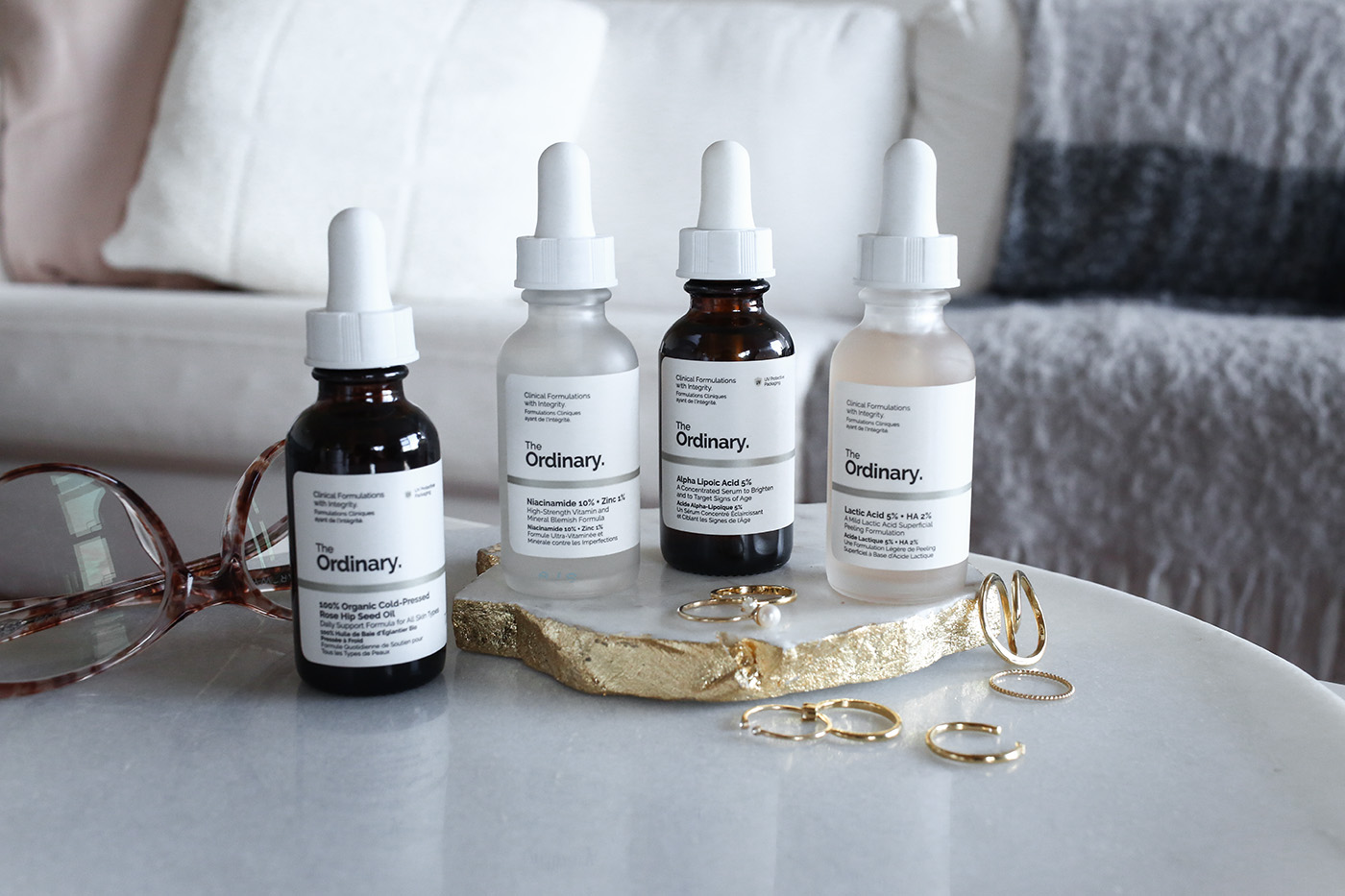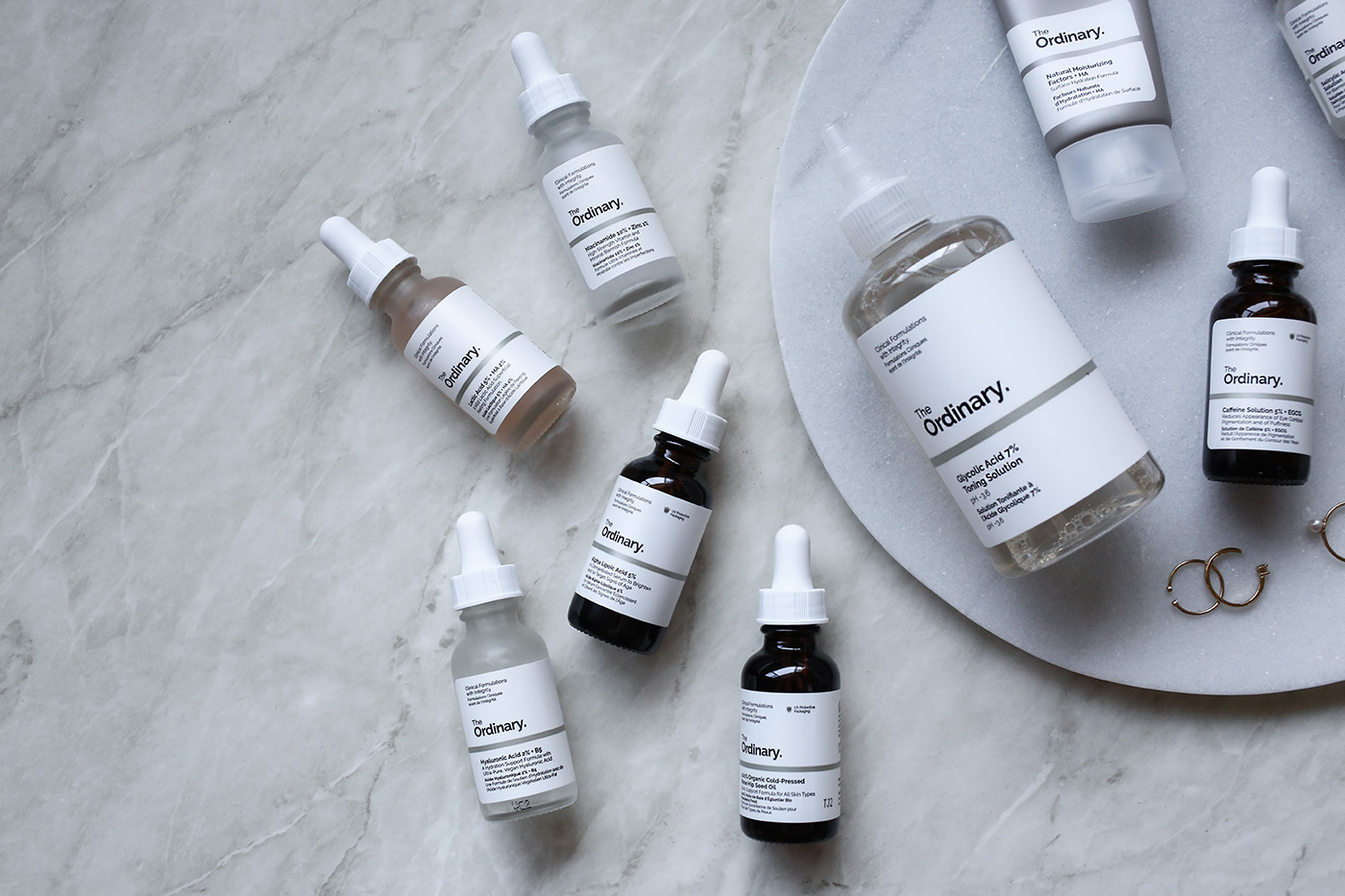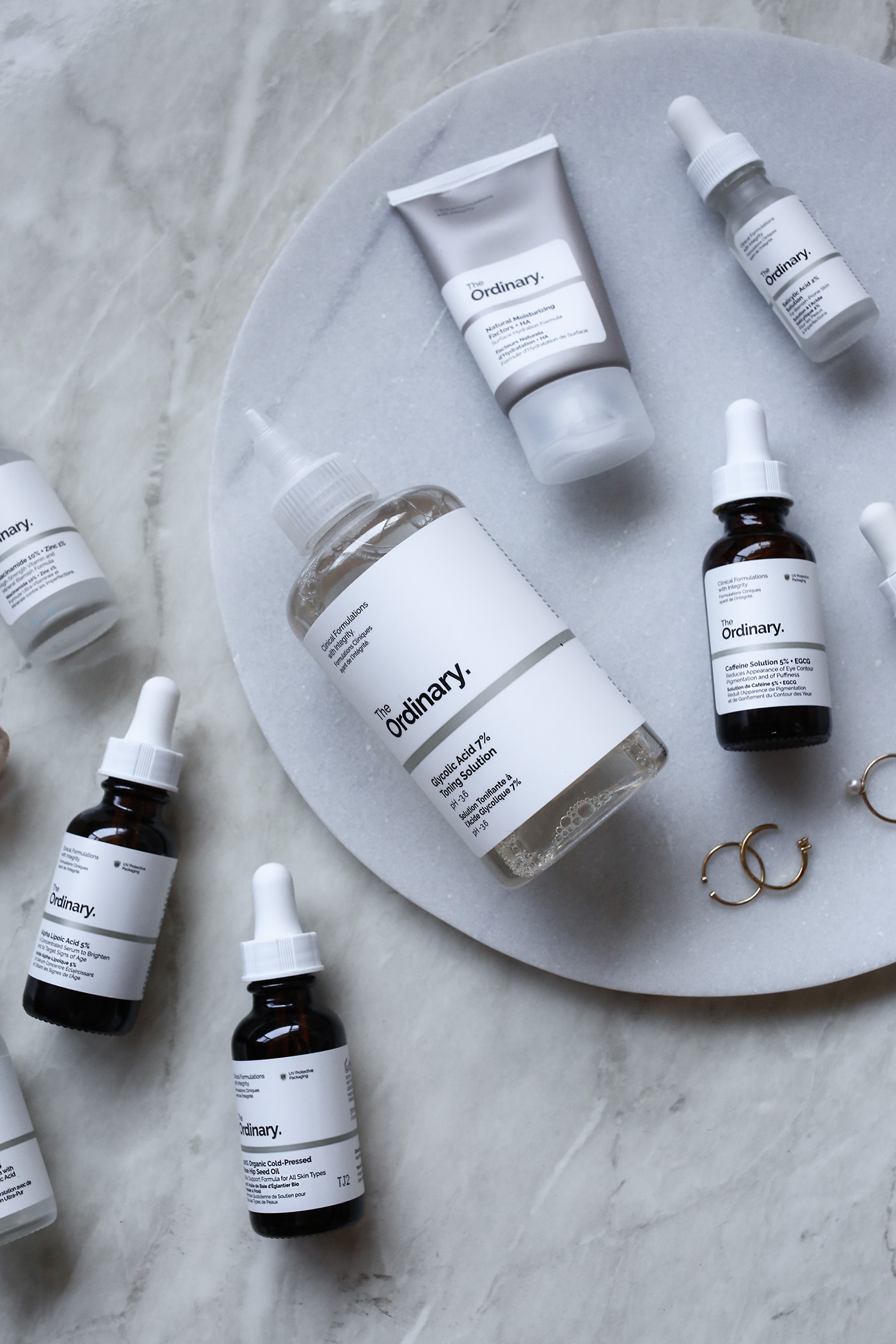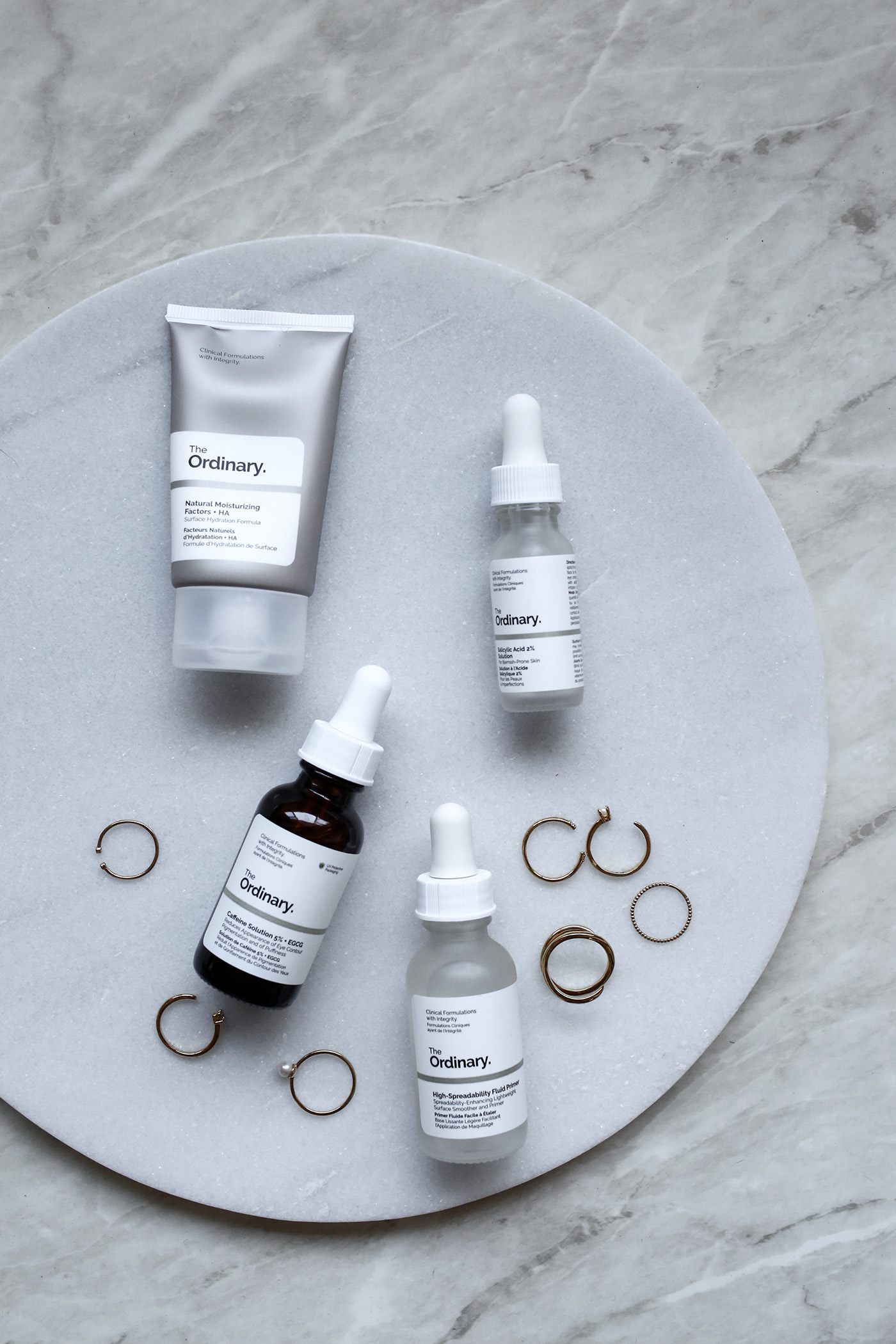 With this year inching me ever so much closer to the big '3-0', perhaps my biggest focus when it comes to beauty has been finding incredible – yet affordable – skincare that can not only give me a bright and fresh looking complexion, but help to combat those initial signs of aging. So when a girlfriend gave me the heads up about The Ordinary, I was pretty intrigued. Hardworking and concentrated skincare at a fraction of the price of their counterparts? Sign me up.
With each product ranging between $8.80-$24.90, it was a little too easy to go overboard. There aren't many brands out there like The Ordinary that offer such targeted skincare at such accessible price points, and there's no denying that Deciem have really hit the nail on the head when it comes to developing this fuss-free and affordable skincare range.
After putting what feels like the bulk of their products on rotation (ten in total), I wanted to share how they've fared, and if The Ordinary is really worth the hype.
Unlike most other skincare brands, The Ordinary has a much more stripped back approach. Each product is named solely for ingredients it contains, without much explanation for what it will do for your skin – so unless you're a real science nerd or aren't willing to put the research in, then this probably isn't the skincare range for you. With each product in the line containing one or two key ingredients, this is well suited towards those who like to take a customized approach to their skincare regime.
The packaging is equally as minimal as the products themselves. Each serum comes in a 30ml dropper (except for the Salicylic Acid which comes in a 15ml dropper), in frosted bottles with clean, simple labeling. Personally, I prefer a dropper over a pump dispenser for products like this as it gives me greater control over how much product is dispensed, though it's worth noting that if you're not careful, the serums can drop down the sides and cake up (especially around the opening of the bottle). Conversely the toner comes in a large clear plastic bottle with a twist top – again allowing you to control how much you use with each application, and the moisturiser comes in a handy squeeze tube.
THE GREAT
What is it? a caffeine-based serum that reduces the appears of dark circles and puffiness in the eye contour. This has two simple ingredients; caffeine, which firms, tightens and brightens, and a antioxidant ingredient found in green tea leaves called ECGC or 'Epigallocatechin Gallatyl Glucoside' (imagine trying to say that ten times fast).
How do I use it? This serum can be applied morning and night, as part of your evening skincare routine following toner but before moisturiser. Drop a small amount onto your fingertips and sweep across the eye contour.
My thoughts? Of all the products I tried, this – surprisingly – turned out to be one of my favourites. I've never suffered too badly from darkness underneath my eyes but I have more recently noticed a slight purple tinge in my inner eye area, and a puffiness on the outer edges of my eye contour, which I attribute to a combination of aging and lack of sleep. I have been applying this religiously both morning and night and noticed a visible difference; my under eye area appears brighter and puffiness is far less pronounced. Basically I look a lot less tired than I did a month ago.
What is it? Salicylic Acid is a beta-hydroxy acid which penetrates the skin to fight against clogged pores and clear congestion. Basically it's an exfoliating serum that works well for those who have acne or blemish-prone skin.
How do I use it? Depending on your skincare needs this can be applied topically to any blemishes, or on areas that are prone to breakouts. You can use this morning and night, but it's best not to apply if you have sensitive or peeling skin. I tend to use this for both purposes; if my skin feels like it's breaking out, I will apply this generally across my cheeks, nose, and the outer edges of my face, alternatively I've also reached for this as a bit of a spot treatment to help calm down any visible blemishes.
My thoughts? Again, this is another really strong product, and one that not only I, but my husband have both enjoyed using. It's a lot more concentrated that any cleansers with salicylic acid as an ingredient, and from my experience I've found it to be quite effective, particularly when used in combination with a glycolic toner to clear up any break outs. Unlike the other serums I picked up, the Salicylic Acid comes in a 15ml dropper, so this isn't something that's going to be hanging around on your beauty shelf for too long. Thankfully The Ordinary is reasonably priced – a replacement bottle will set you back less than the price of two morning coffees. Safe to say I already have a back up bottle stashed away in my cupboard…
What is it? Hyaluronic Acid is an incredibl molecule that can attract up to 1000 times its weight in water. Essentially, it acts as a conduit to amplify the hydration of your skin, replenishing moisture and plumping your complexion.
How do I use it? You can either apply this directly to your skin (before all serums and moisturisers), or add a few drops into your moisturiser as a final step, both morning and night.
My thoughts? Again this is another really strong product in the lineup, and one that I surprisingly really fell in love with. I've always found my complexion to be on the conbination/oily side, however during winter, I tend to ramp up my skincare to incorporate some added hydration – it's something that my skin drinks right up. This was a really great addition to that routine, which I primarly used in combination with the Face Hero from Go-To Skincare. After a week, my skin looked fresher, plumper, and more hydrated than it had in months. Safe to say this one will be a regular in my skincare lineup.
What is it? A Glycol Acid based toner which gently exfoliates the surface of the skin. The Tasmanian Pepperberry reduces the irritation that use of acids such as this can cause, and the addition of Aloe Vera and Ginseng have soothing properties.
How do I use it? Use this only in the evening, after cleansing your skin – the alpha hydroxy acid can increase your skin's sensitivity to the sun, so it's best to avoid this in the morning, and even better, make sure you're wearing sunscreen during the day. Saturate a cotton pad and then sweep this across your face (I also like to bring it down my neck where I occasionally have breakouts); while it goes without saying, don't use this around your eye area.
My thoughts? As a toner, I really have enjoyed using this. It's no Pixi Glow Tonic (which always seems so horrendously difficult to track down!), but it's a really strong contender and even though it contains Glycolic Acid, I've found this to work harmoniously with my sensitive skin. Not to mention the huge amount of product that you get, and the excellent nozzle closure, which not only means that you can use up every last drop of this product, but that you can very easily control the amount that you disperse onto a cotton pad.
What is it? Despite it's much more technical name, this is essentially a lightweight and non-greasy moisturiser. This has the added benefit of Hyaluronic Acid, which helps to boost your skin's ability to absorb and retain moisture.
How do I use it? This one is pretty straightforward… all over your face morning and night.
My thoughts? Even though I have combination skin, I absolutely love this moisturiser. Given how intensely hydrating this is both due to the natural factors and hyaluronic acid, it's surprisingly lightweight, and has a non-greasy texture, leaving my complexion feeling soft (and hydrated!). Living in a city which typically tends to become quite humid in the summer months, I feel like this would be a great option as once applied, it literally feels like there is nothing on your skin. It absorbs very quickly. A little does go a long way – and I suspect that this would be great for those who suffer from dry skin, but prefer not to use anything to heavy to take in that moisture.
THE BAD (FOR MY SKIN TYPE)
What is it? A water-based serum that promises to reduce the appearance of blemishes, redness, enlarged pores and oily skin. The active ingredient, Niacinamide, is a vitamin that actively reducing congestion and is has blemish-fighting properties.
How do I use it? This is best used morning and night before all other skin treatments and serums, however it's advised that you should avoid using this at the same time as any products containing vitamin C (ie retinoids and products with asorbic acid).
My thoughts? This is one of the products I was most excited about. Since moving to Australia, I've noticed that my skin tone is no longer even, and as a sufferer of dermatitis, I'd hoped that this might help to combat some redness I'd been experiencing around the centre of my face. Unfortunately, this one of the of products that broke me out. Terribly. After a lot of research, I came to the conclusion that this wasn't 'purging' (if that is really a thing), but more my skin adversely reacting to the product. The break outs were focused predominantly across the centre of my face, across my cheeks and a little on my forehead. As someone who has never had acne on her cheeks – aside from the minor blemish – this just didn't seem right to me. And I don't think I'm the only one – a number of only forums and reviews all pointed towards the same result, so this is one product I know I'll be steering clear of, and would advise using with caution. This is clearly a care of this not being right for my skin type, as I've also read many reviews which hail praises to the efficacy of this serum (I just wish it had worked for me!).
What is it? This is a hyper-concentrated acid which acts to improve skin tone and texture. The key ingredient, Alpha Lipoic Acid, is an antioxidant which renews the appearance of your complexion and also has anti-aging properties.
How do I use it? Given how concentrated this one is, it's recommended that you use this up to two times per week. Apply this after toning, by dispersing a couple drops to your skin and sweeping the product across your face (avoiding the eye contour).
My thoughts? The warnings suggest that this shouldn't be used on irritated or sensitive skin should have been a pretty strong indicator that this wasn't going to be one for me. Unlike many of the other products, I only tried this a couple times; I suffer from eczema on my face and tend to have more sensitive skin, which typically makes me wary against using products which contain very strong active ingredients. I found that this had a burning sensation which took a considerable amount of time to dissipate. In terms of its effect, I didn't notice any change in my complexion but clearly I haven't tested this long enough to be able to share my feedback on its efficacy.
What is it? Simply speaking, this is a chemical exfoliator. Lactic Acid is a alpha-hydroxy acid which is meant to be less irritating than glycolic acid, and a great option for those prone to hyper pigmentation. The active ingredients resurface the skin and promote the renewal of new cells, for a brighter, and more even complexion.
How do I use it? Use this one at night before applying oils and moisturisers; pop a couple drops onto your fingertips and sweep across your face. This takes a few minutes to absorb so let it work its magic before continuing with your skincare routine.
My thoughts? Clearly, I went pretty hard on the exfoliating acids with this order, and surprisingly, I found that this had an adverse effect on my skin. Lactic Acid is generally milder than Glycolic Acids, however similarly to the Niacinamide, this broke me out. Not one I would repurchase, but clearly, I don't have the right skin type for it.
THE ORDINARY
What is it? A natural moisturising and non-greasy facial oil, which has properties that can reduce the signs of sun damage and restore skin ton.
How do I use it? Typically, oils are best used at night. Apply this after toner and either before or as a replacement for moisturiser.
My thoughts? Loaded with beneficial fatty acids, Rosehip oil is great for those with dry, and sensitive skin. Given my skin is on the oily side, I find this can be a little bit rich for my complexion (and the scent isn't my favourite…) but it definitely does the job. This is on par with many other cold-pressed Rosehip Oils on the market, and at a reasonable price point so a good option if you want to try incorporating this into your skincare routine, and want a more affordable option.
What is it? A silicone-based primer which promises to help makeup spread evenly, while also acting as a surface hydrator for your skin.
How do I use it? After applying moisturiser but before applying makeup. This acts as a base for all your beauty products.
My thoughts? This reminds me a lot of silicone-based primers from brands like Benefit and Smashbox. The texture is very silky and smooth, however I did find that it can be a little tricky to apply; the formula is very runny and often drips off the dropper, and once smoothed across your skin, that slippy texture takes hold on your fingertips (making it nearly impossible to open any makeup products!). This is a take it or leave it kind of product for me – I don't wear primer often, but if you do for longevity or just to enhance your makeup application, then this is a good option, not only due to the price. One thing worth mentioning is that this primer does need time to set. If you apply product too quickly over the top, it will ball up leaving an undesireable texture on your skin.
FINAL THOUGHTS
As you can see, I've had a lot more *hits* than misses, and overall, I'm really impressed with The Ordinary. While this probably goes without saying, I'd never expect every product from a skincare brand to work magic on my skin – we all have different needs, and one of the things that I've loved about trying out their products, is how this gave me so much flexibility and freedom to take a more customised approach to my skincare routine. I'm yet to see any other brands on the market which offer such effective products for even close to the same price, and its accessibility makes it worth trying out a couple of products for curiosity's sake (which might even become skincare staples on regular use). All products in their line up are vegan and cruelty free, which in itself are reason enough to give The Ordinary a second look.
Simply put, The Ordinary is skincare that is far from ordinary, and while a few products won't be making their way back in my beauty cabinet, there's a few heroes from the bunch that have cemented themselves in my daily skincare routine.