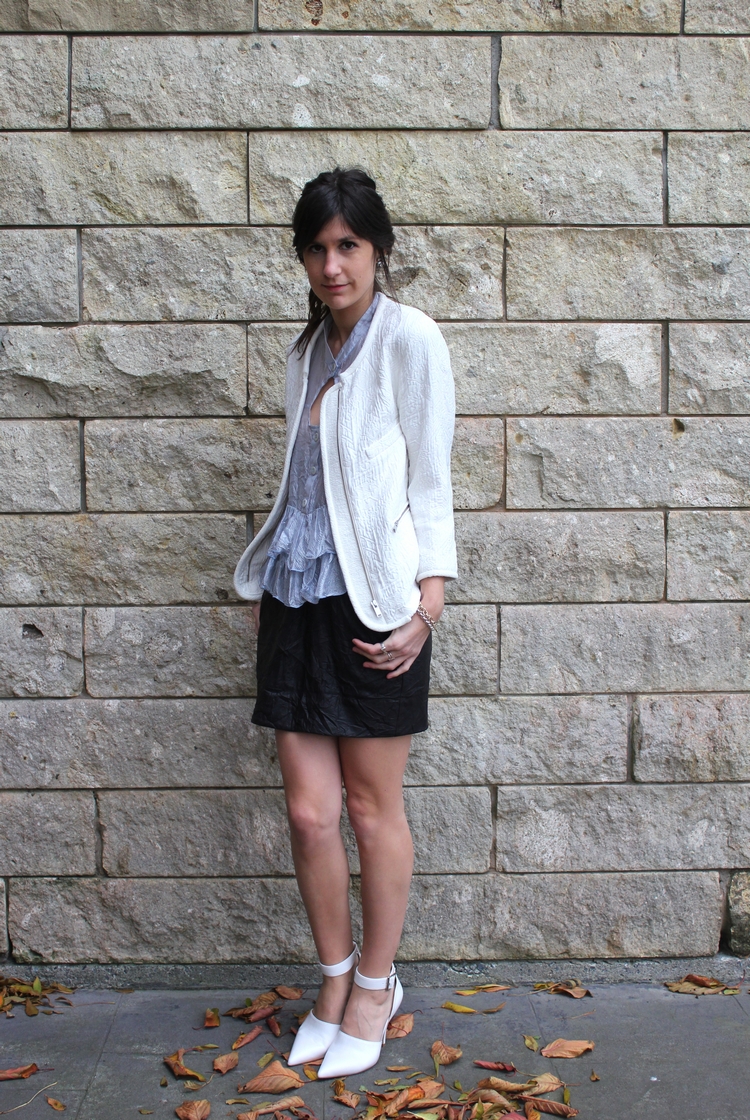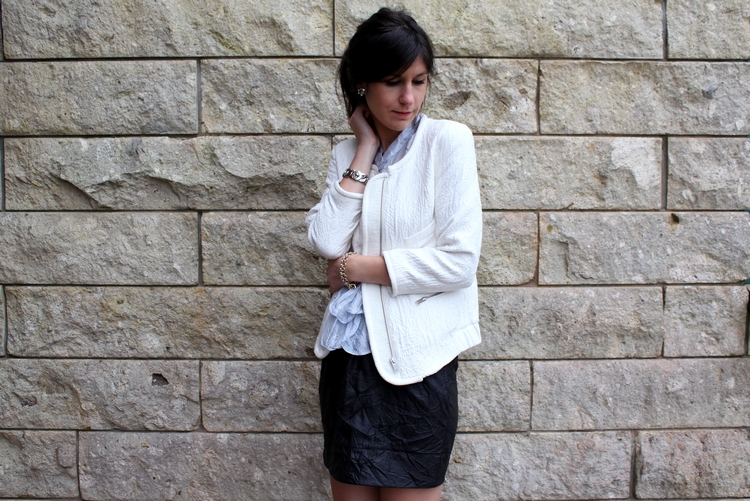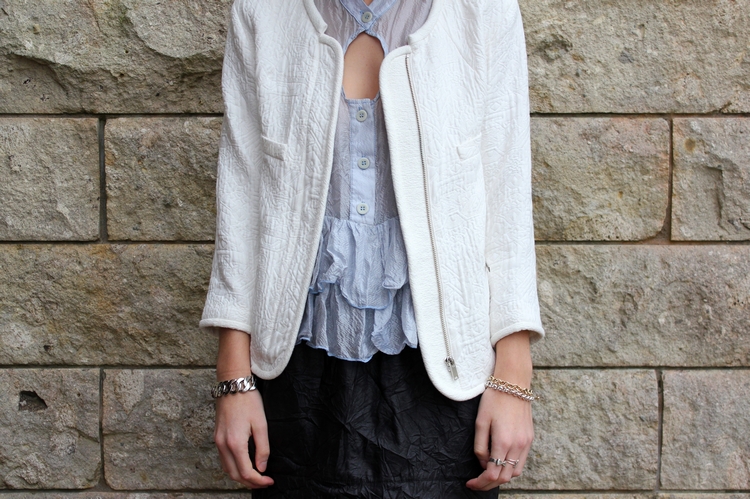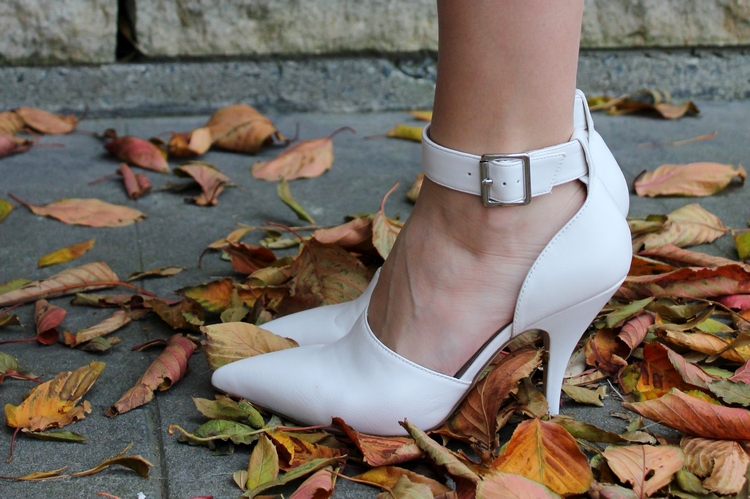 Karen Walker keyhole frill blouse & leatherette skirt (similar), Zara white jacket (similar), Faith 'chanell' heels, J. Crew earrings, Marc by Marc Jacobs katie bracelet, SGC & KW rings
I'm not sure I've ever been one of those people who has always needed to have something new. I get somewhat attached to the tried and tested, the daily rituals, the same foods, pieces of clothing and designers. As much as I'm open to trying new things, sometimes habit just seems to take over, a hidden reluctance in the form of a general glancing over anything which doesn't seem familiar. While I'm not mentally taking note of what's happening, I feel for the most part that it's my subconscious playing into my brand loyalties, of which I have a few. Having easy access to a designer or a certain store allows you to quickly learn whether or not their styles will tend to suit you, and give you a fair idea as to sizing.
Taking a peek throughout my own closet, it's pretty clear to see that my own loyalties seem to lie with brands like Karen Walker, Lover, Equipment, Alexander Wang, J Brand and RUBY. While I try to branch out to labels whose aesthetic I admire or the quality of which is second to none, I always seem to find myself going back to those few; which is never more noticeable than sale time, which I often choose to search by designer owing to the huge variety of options available.
My affinity to the Karen Walker label started while I was still in college, my first ever 'designer' purchase a t-shirt from her Wellington store which I no longer seem to have in my possession. From there, it grew. To skirts, silk dresses, blazers, coats, jewellery and shoes – which is my no means an exhaustive list. Lover came after, a discovery during Good as Gold's first days, and has been one which has just stuck. The others, well they're ones which I've found I've liked along the way, due to quality, cut, fit and fabric, with price tag playing little importance in the overall appeal.
With shoes, my habits tend to be the same, as comfort is so important if you happen to spend a large amount of time on your feet. Rather thankfully, these new Faith 'chanell' heels I picked up off ASOS required very little breaking in, and seem to have similar qualities to those Alexander Wang heels I had so craved, at a fraction of the cost. While I'm in no particular rush to buy any more shoes, I can say with some certainty that I would consider the label 'Faith' in future.
By no means an exhaustive discussion on the subject, I'm interested to know your thoughts. Do you stick to the same labels or do you like to shop around?