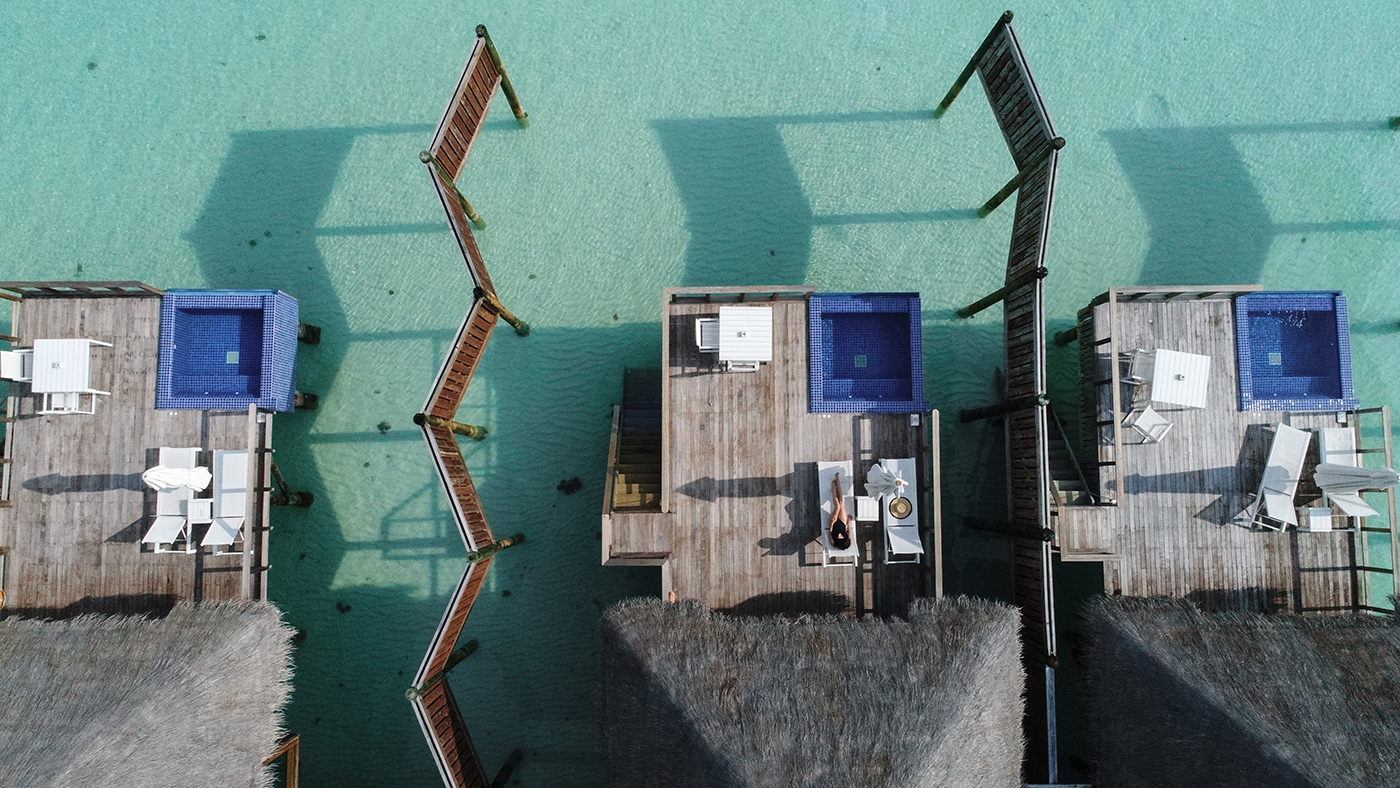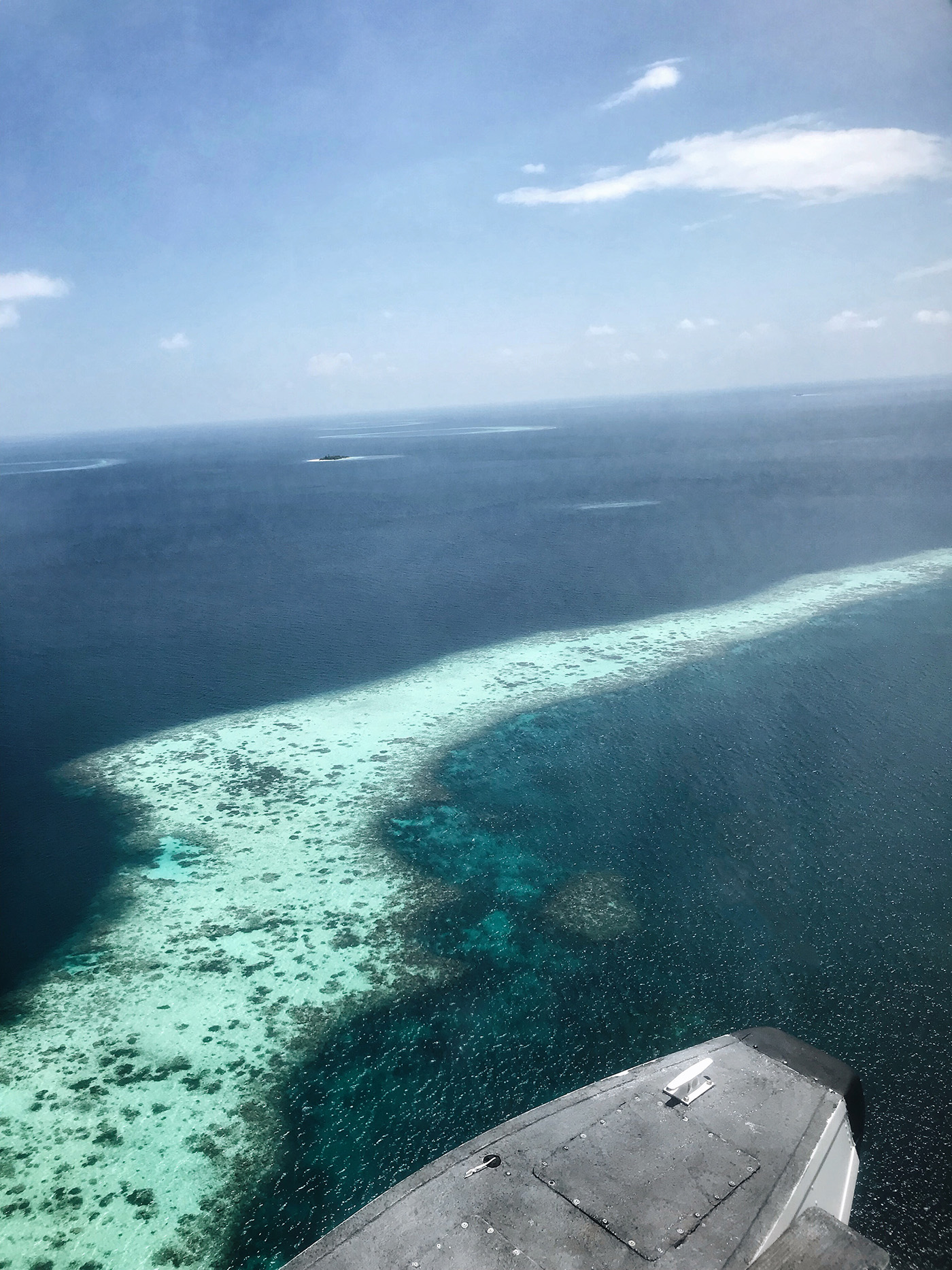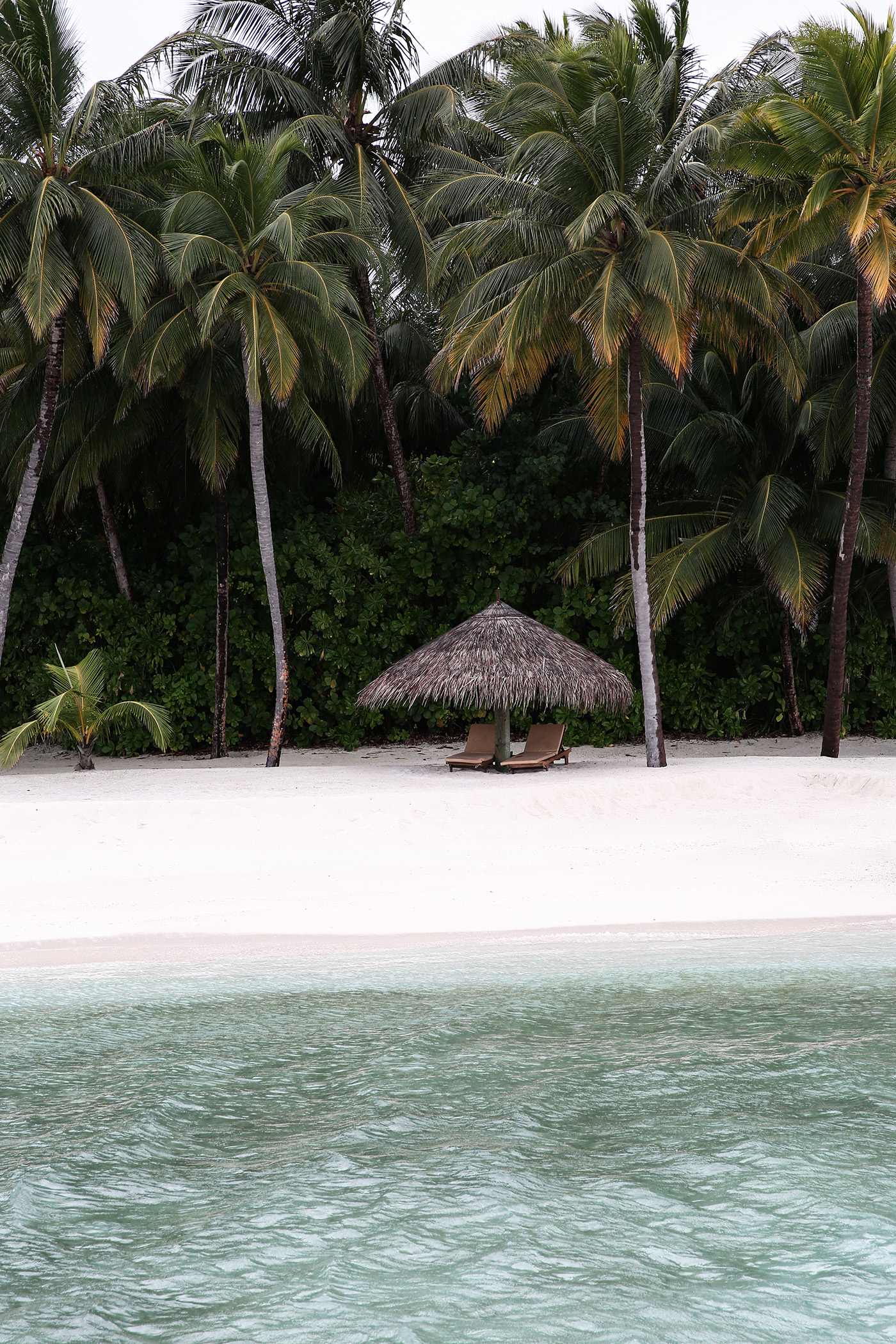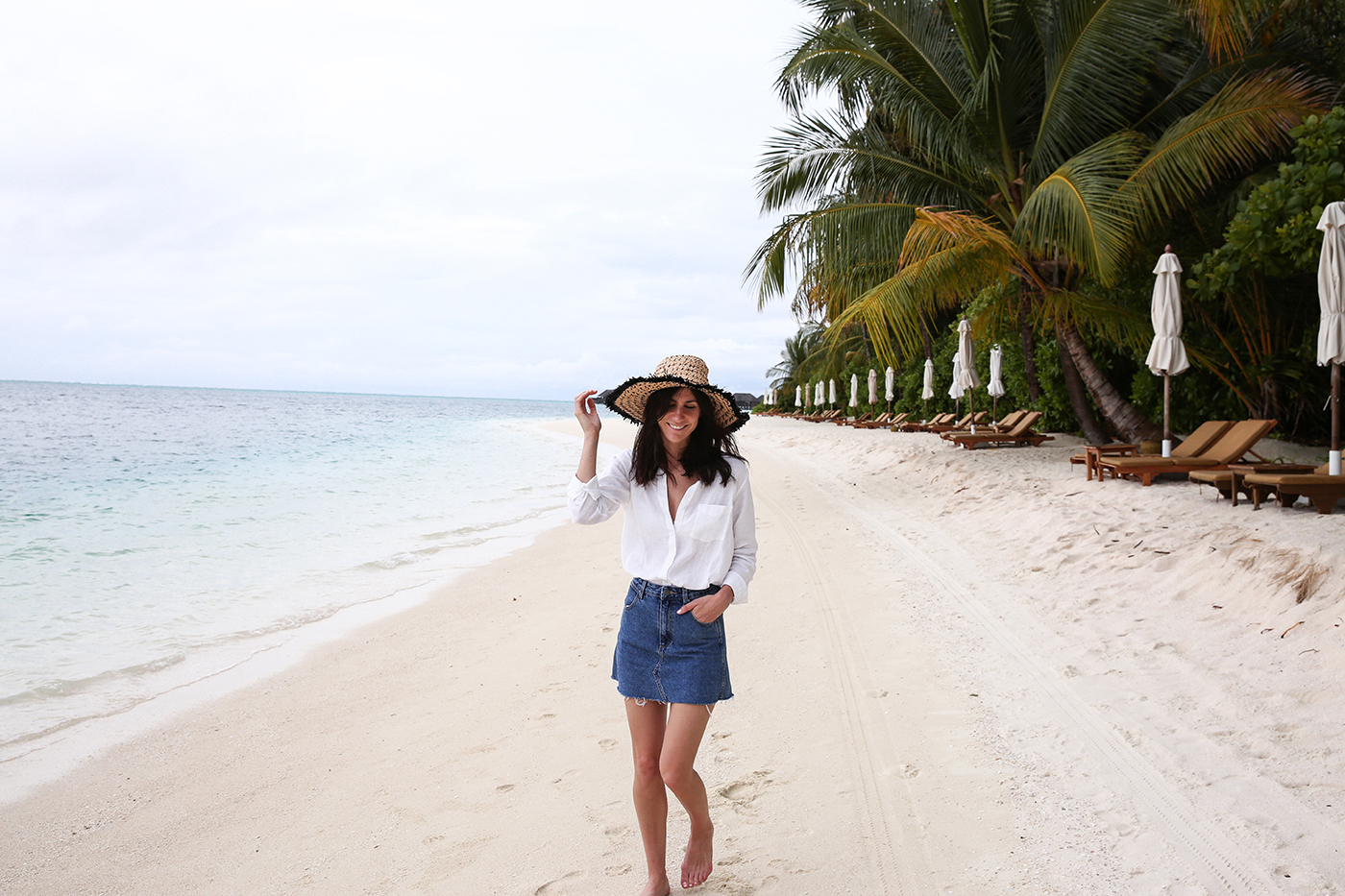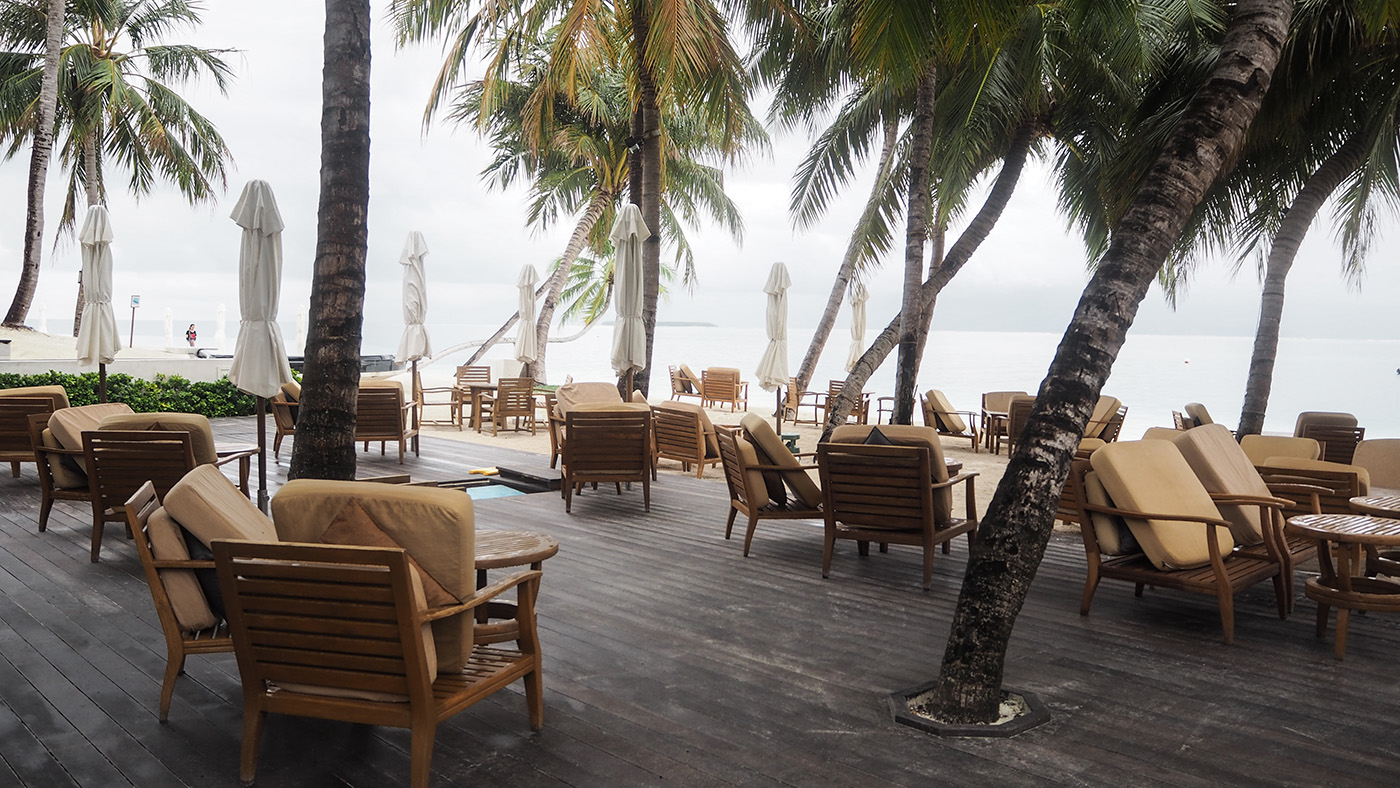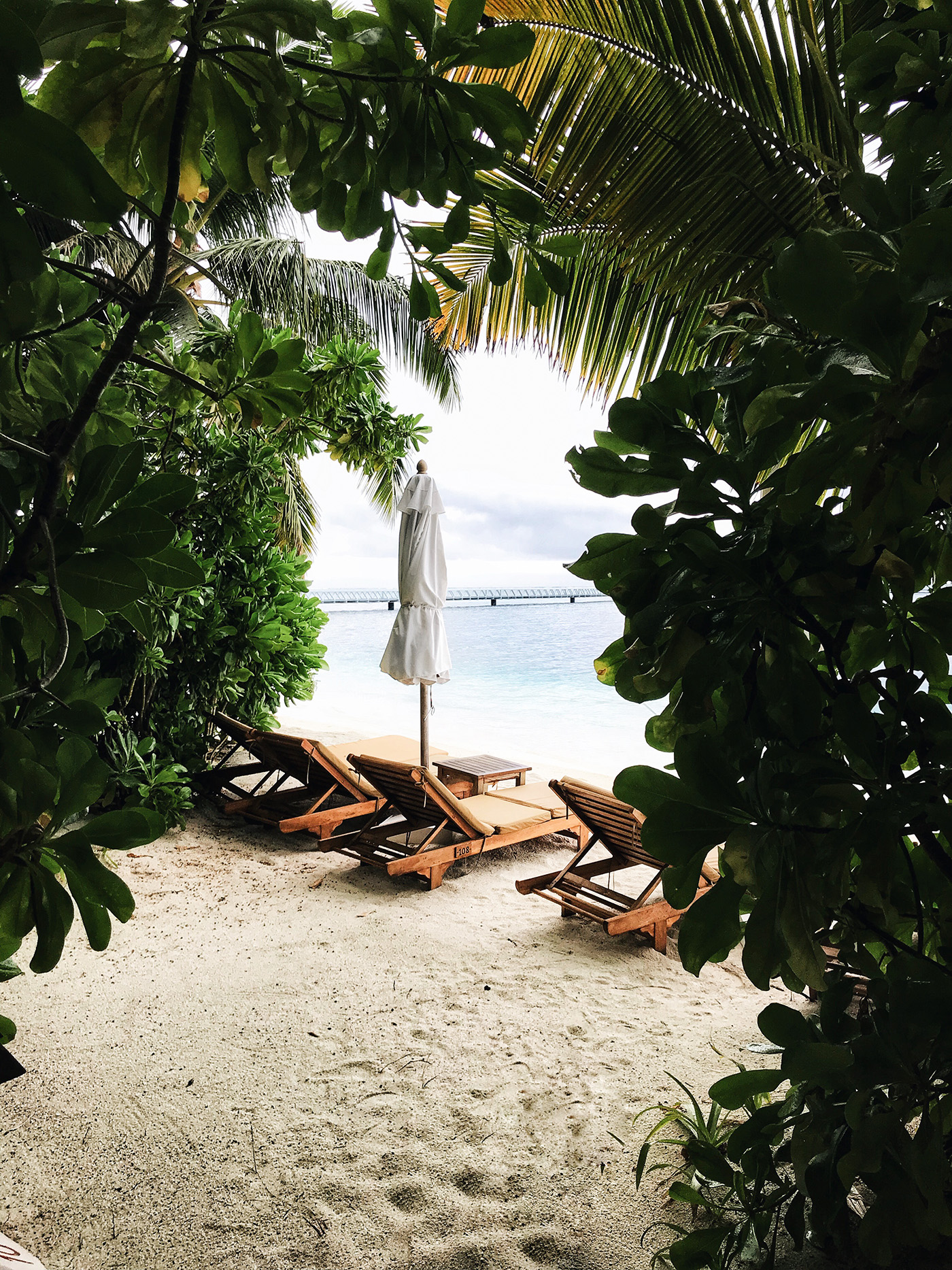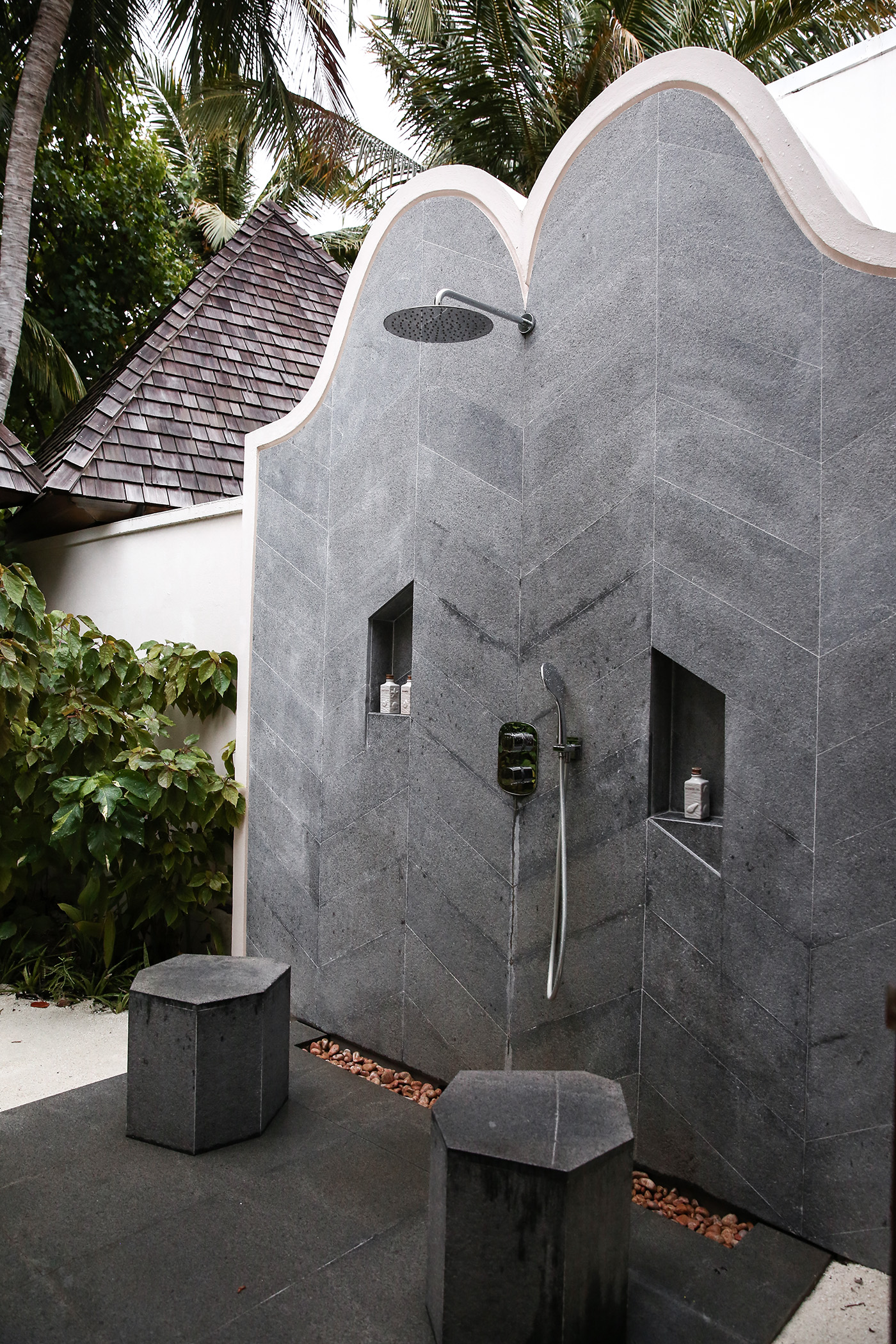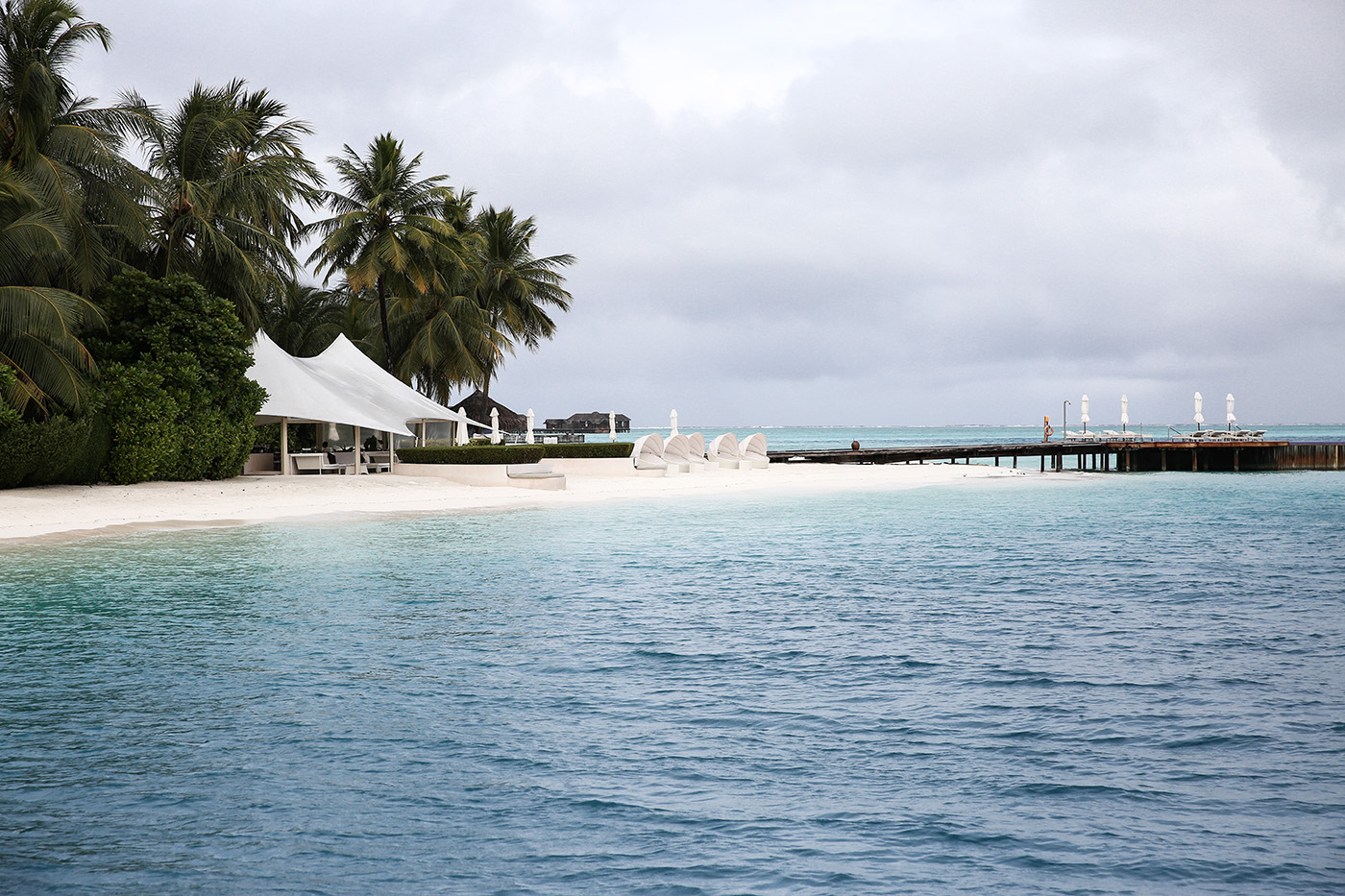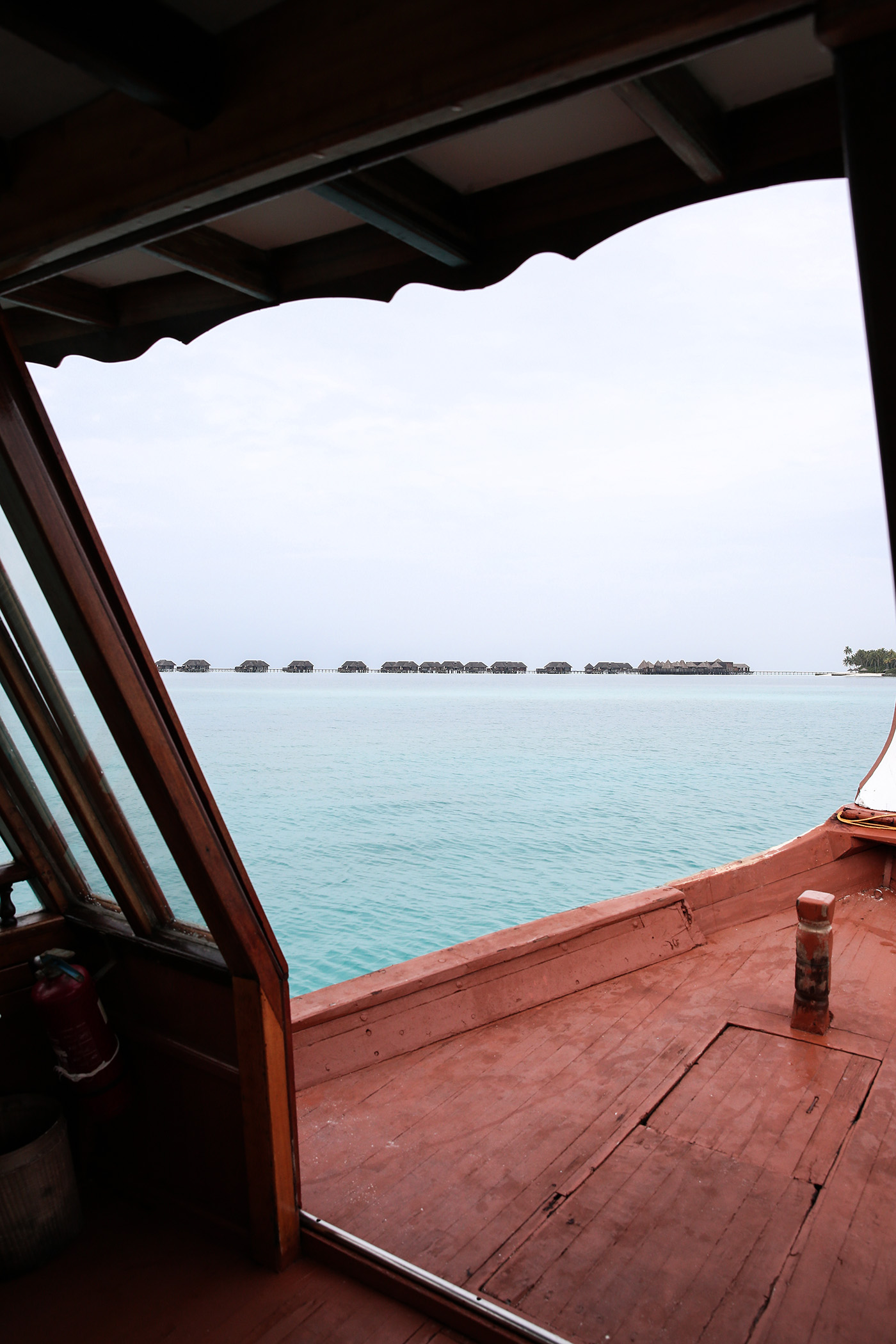 I've made little secret over my excitement to head on our recent trip to the Maldives – a cluster of approximately 1,100 islands in the Indian Ocean, south of Sri Lanka. It's been high on my wishlist for many years, and when Luke and I made the leap to finally tie the knot, we couldn't think of a more idyllic location to spend some time in for our honeymoon.
above wearing Grana white linen shirt (10% off with JAMIExGRANA – I also like this option), Wrangler denim mini skirt (I also love this one), Sportscraft straw hat (old but this is a lovely alternative, as is this option)
WHERE WE STAYED
After doing a bit of research online, we decided to book our stay at the Conrad Rangali Island Resort. It's safe to say that the location, and the accommodations are nothing short of spectacular. Rangali Island is located a short 35 minute seaplane ride from the Maldivian capital of Male, in the South Ari Atoll. When you arrive, you're greeted at the jetty and treated to a refreshing drink, before being checked in and taken to your room.
Split across two islands which are connected by a 500 metre bridge, the Conrad has a mix of overwater villas sitting on stilts over the ocean, and beach villas nestled in foliage, with direct access to the beach. We spent our first three nights staying in one of their beach villas (which had the most gorgeous lush entryway to the beachfront), and our final three nights in an overwater villa, with an infinity view out to the Indian Ocean. Both were absolutely beautiful in their own right; the beach villa is generously sized, with two lounge areas, a unique outdoor shower and bath (thankfully it never gets cold in the Maldives!), and a covered verandah at the rear – perfect for lounging on during the rain. The water villas delivered that iconic experience of staying in such a beautiful location as the Maldives; each morning you wake up to the sound of the waves lapping the shore beneath you, and not only does the deck offer unparalled views of the crystal clear waters of the Indian Ocean, but you can head for a quick dip by taking the staircase which leads straight into the water.
I try not to play favourites but staying in the picture perfect overwater villa was all kinds of magical (true Aquarian and water baby at heart!), and if there's one thing you can't beat, it's the undeniably stunning location.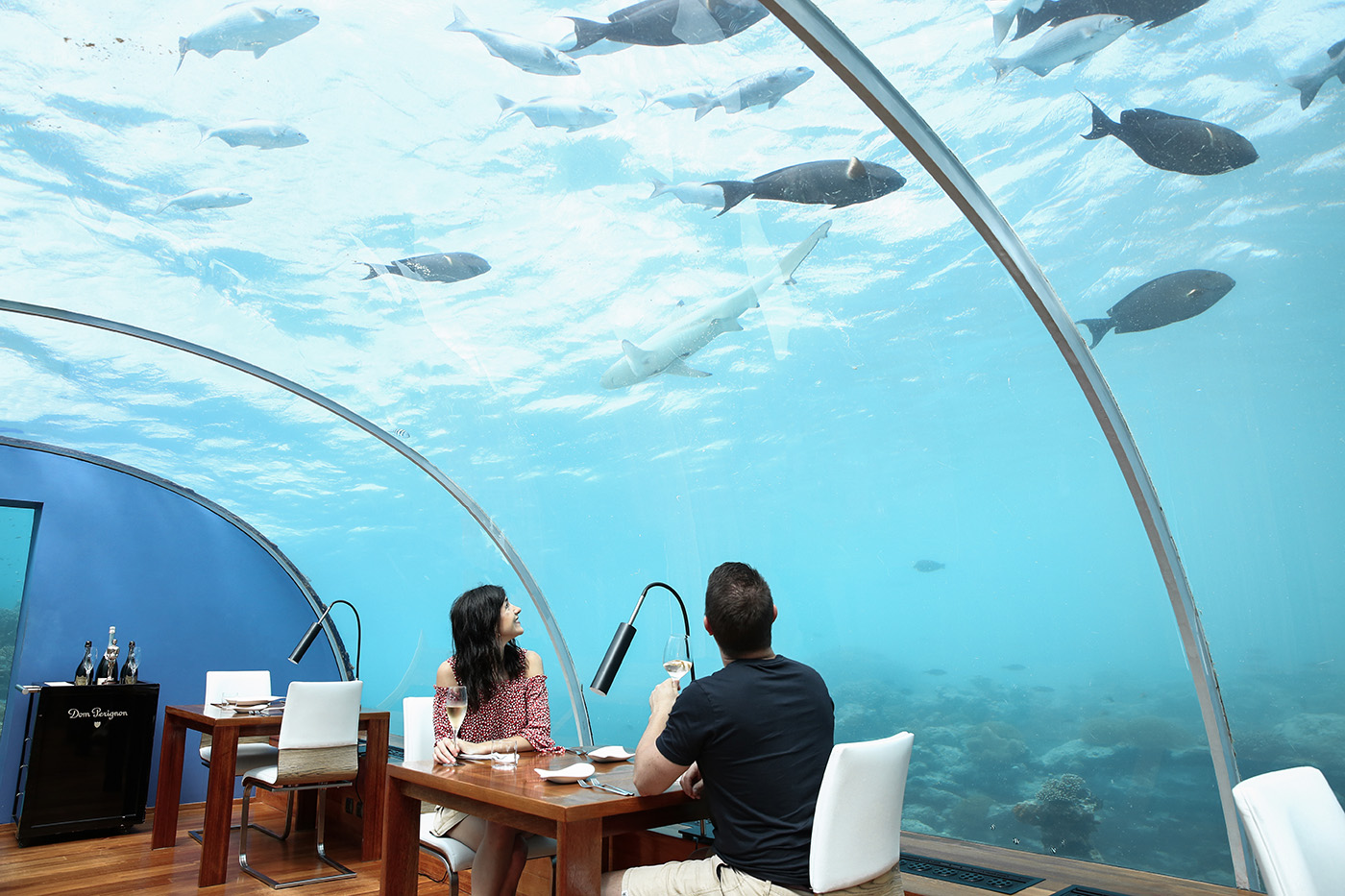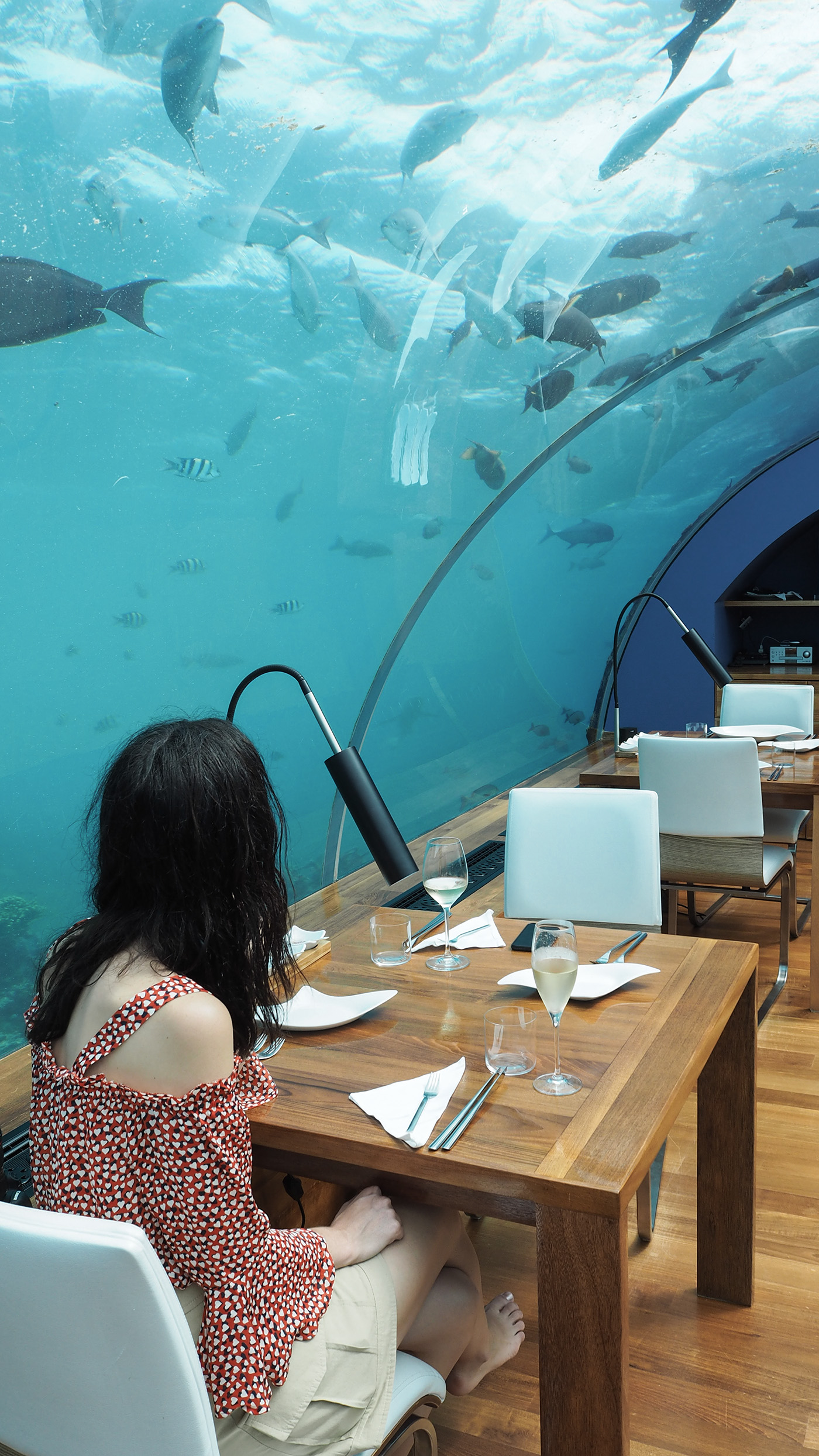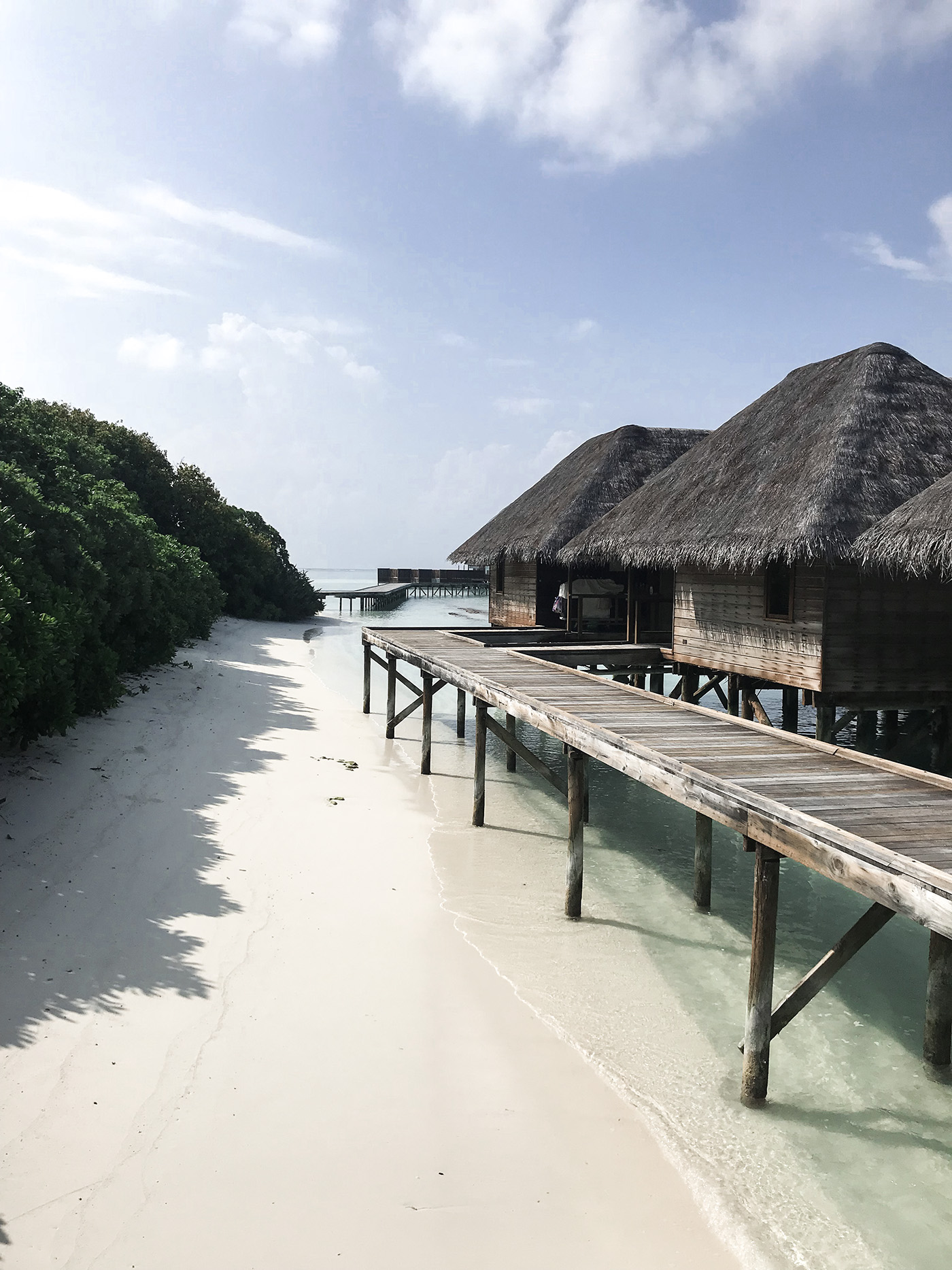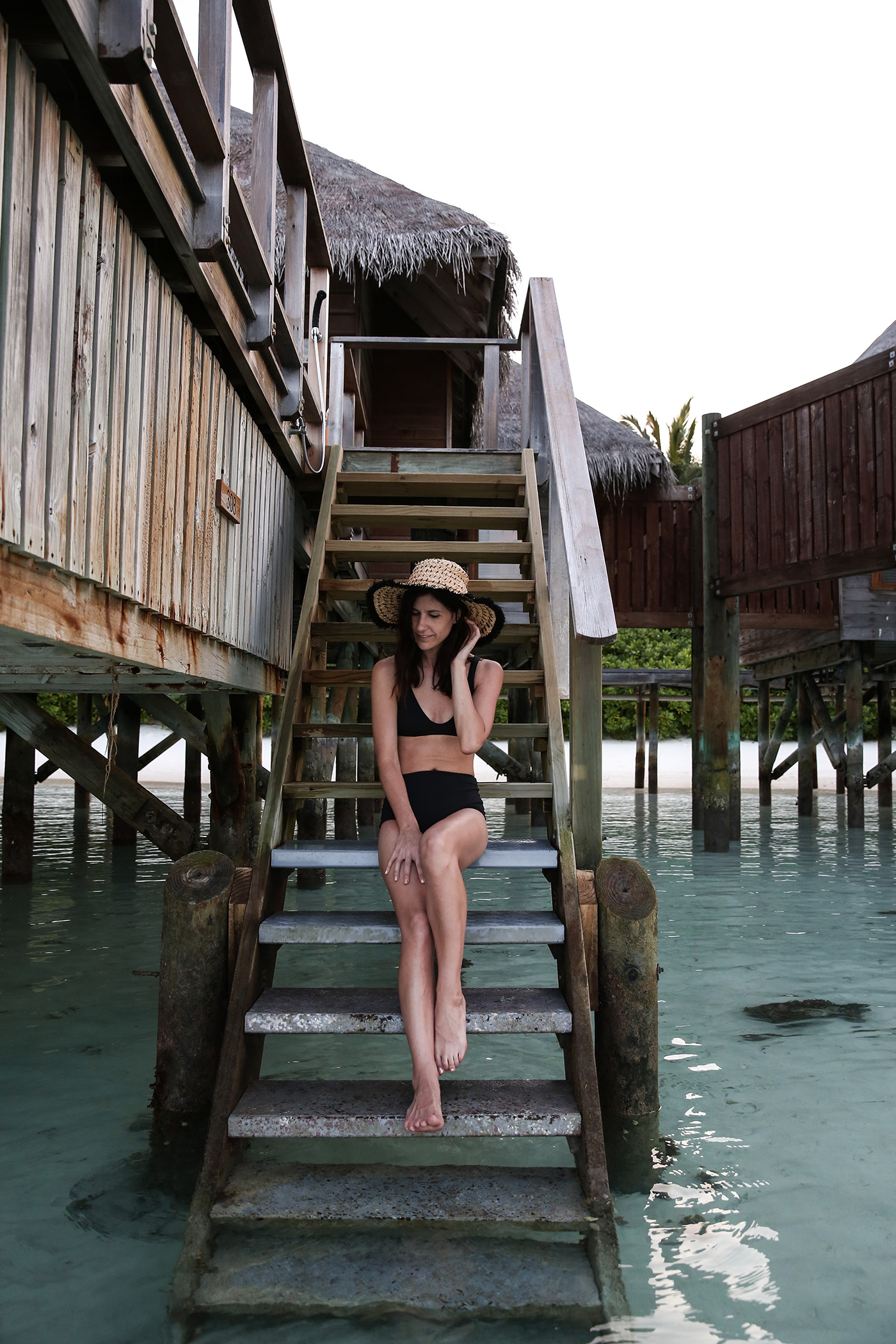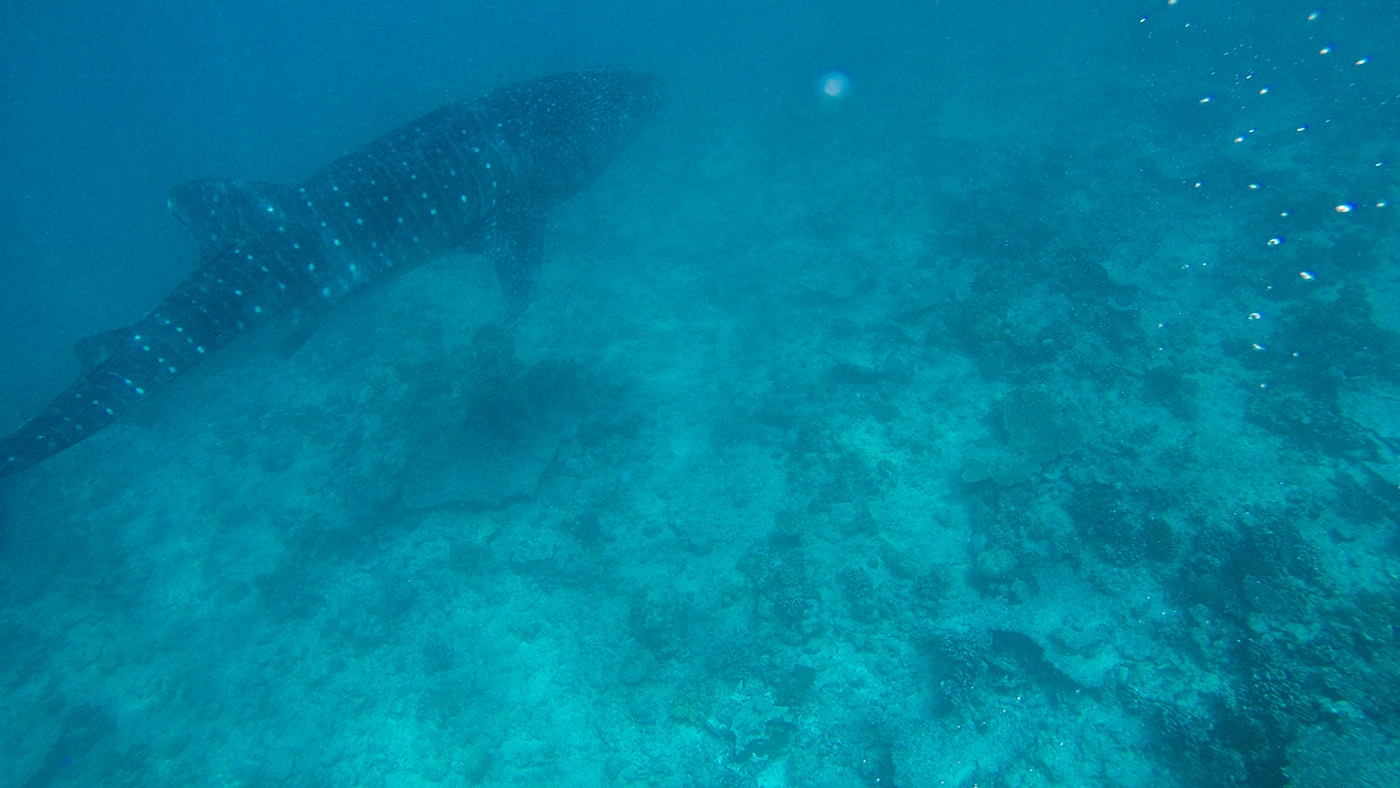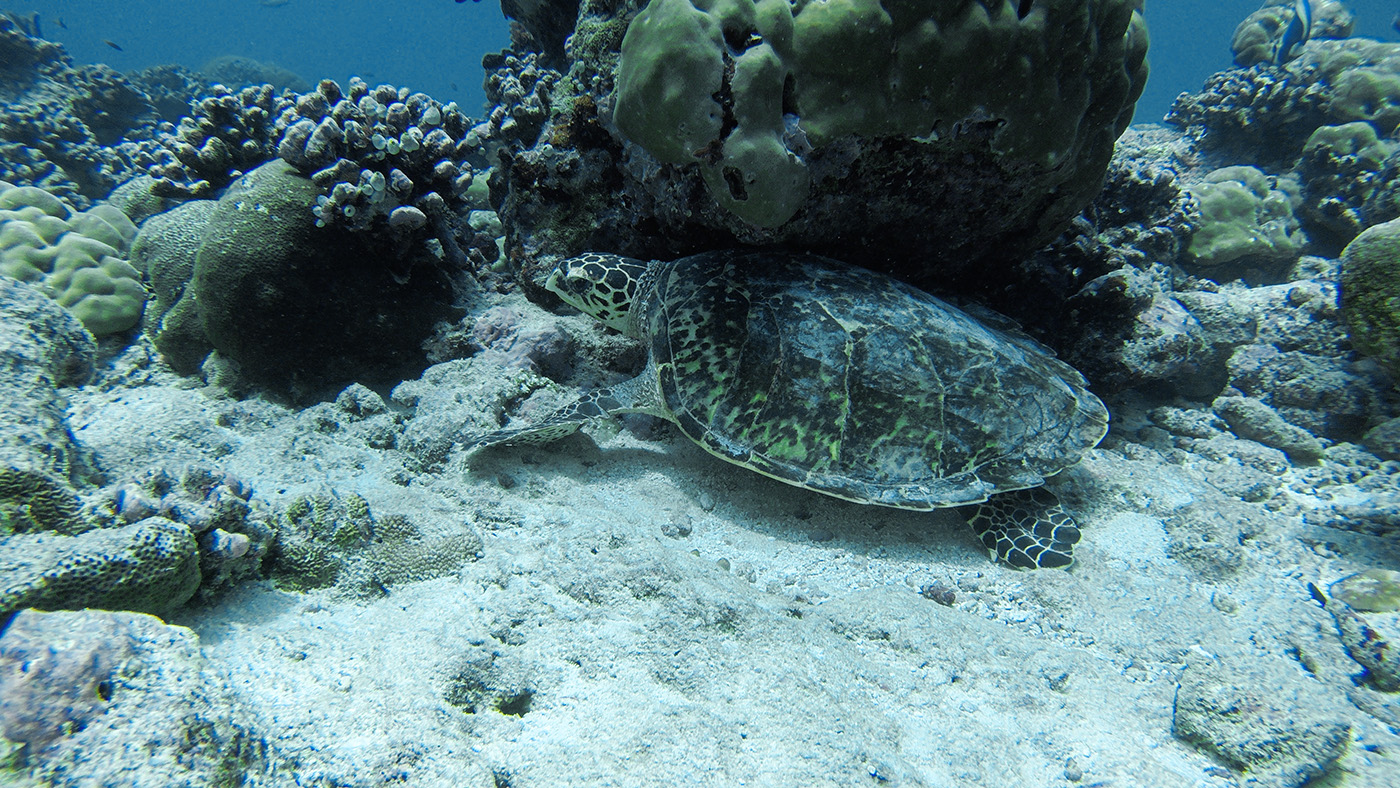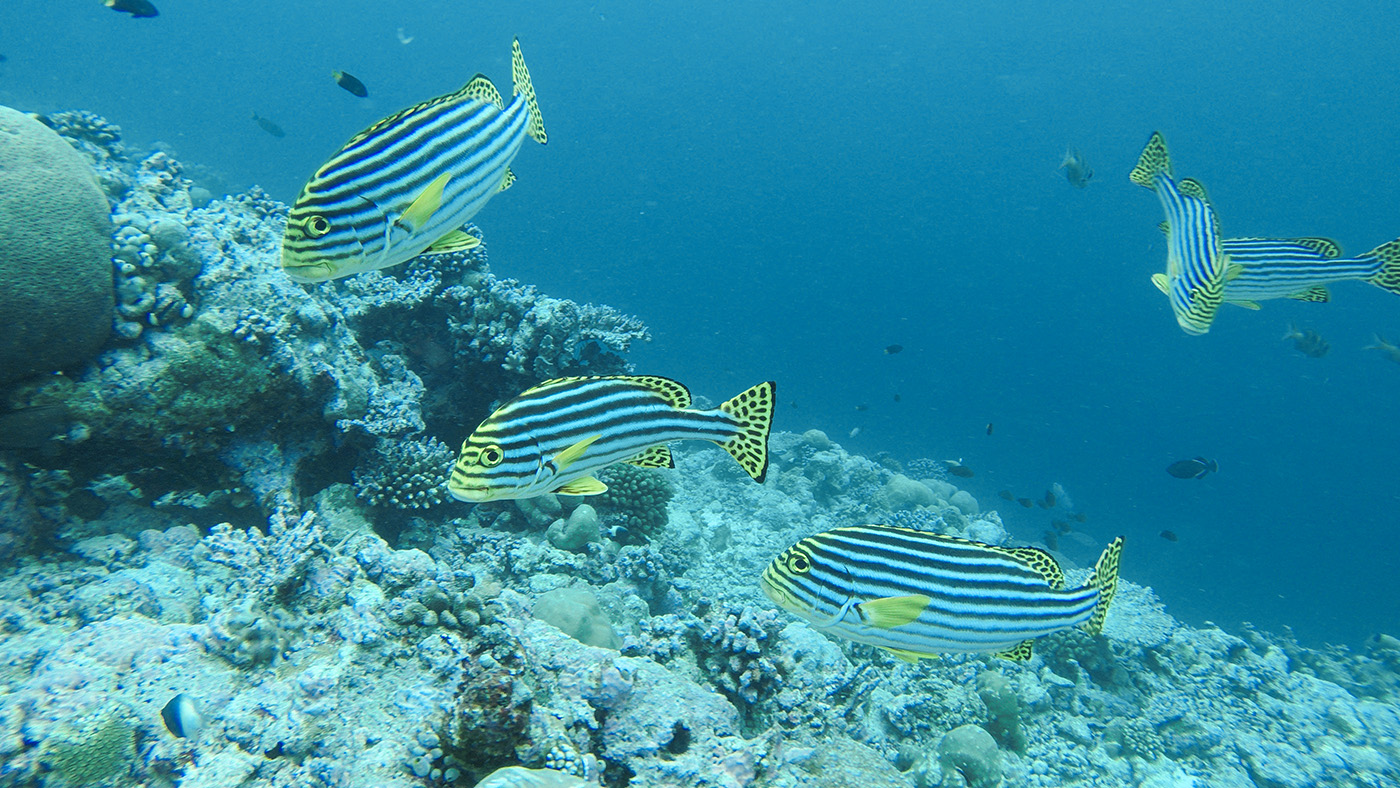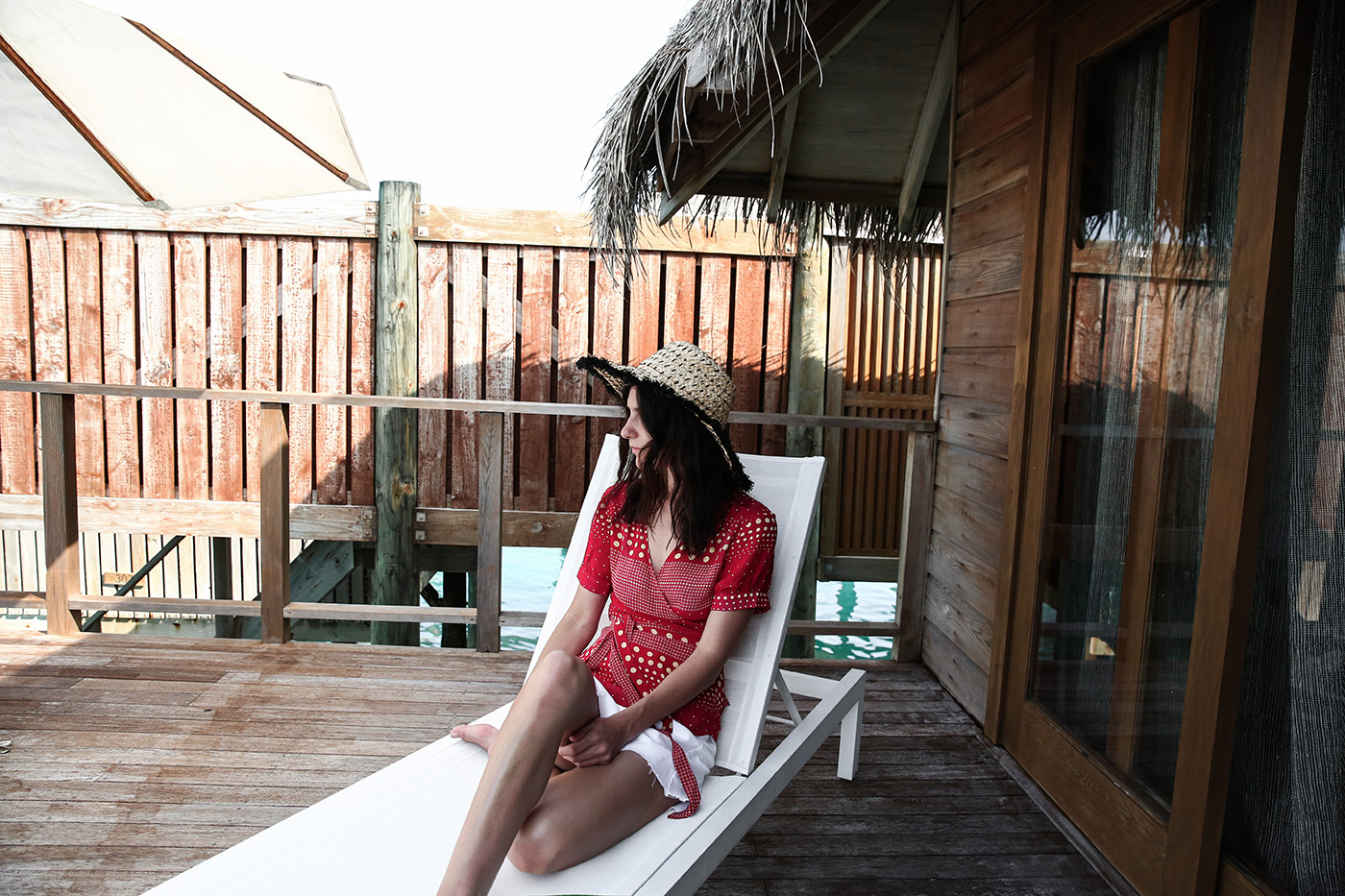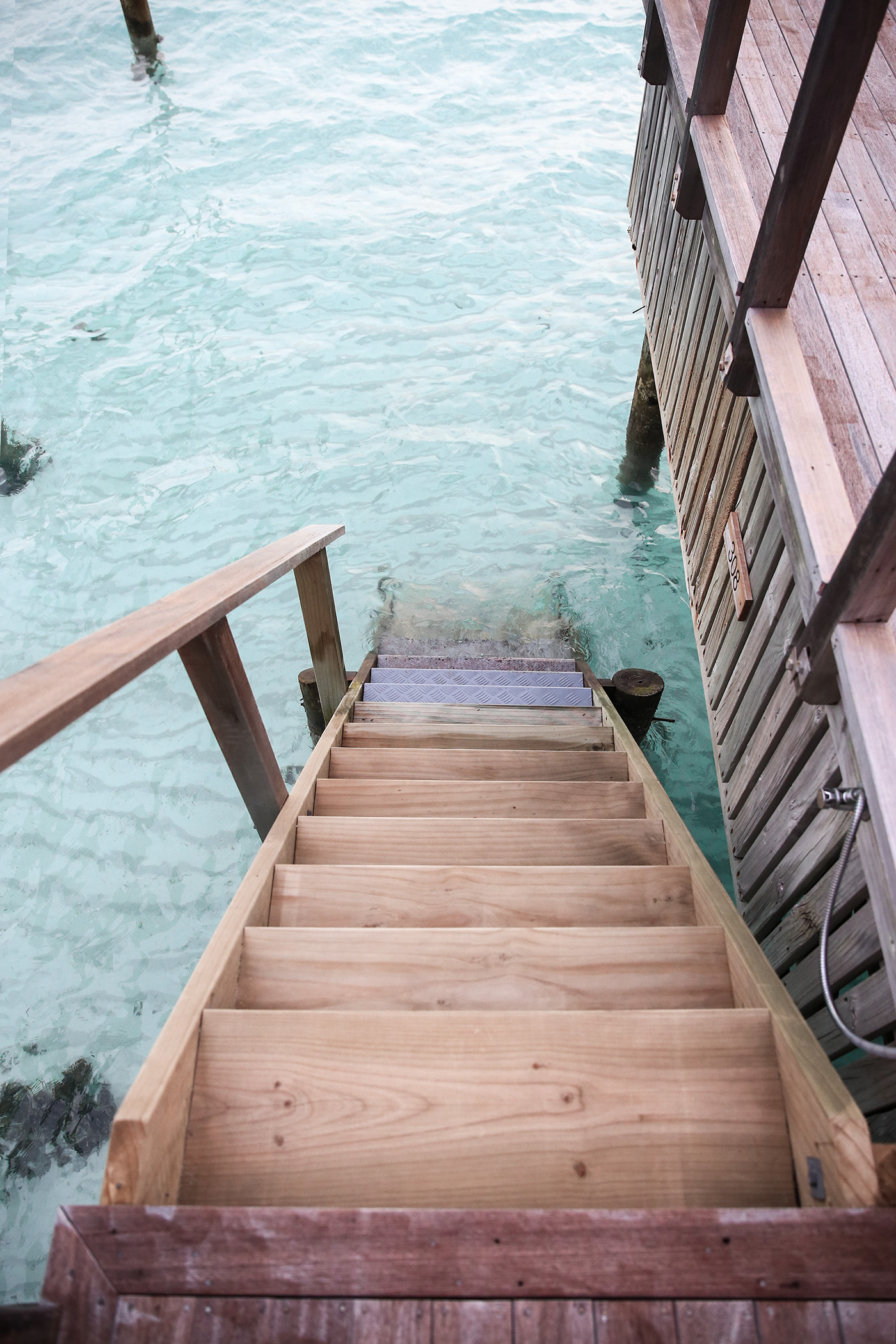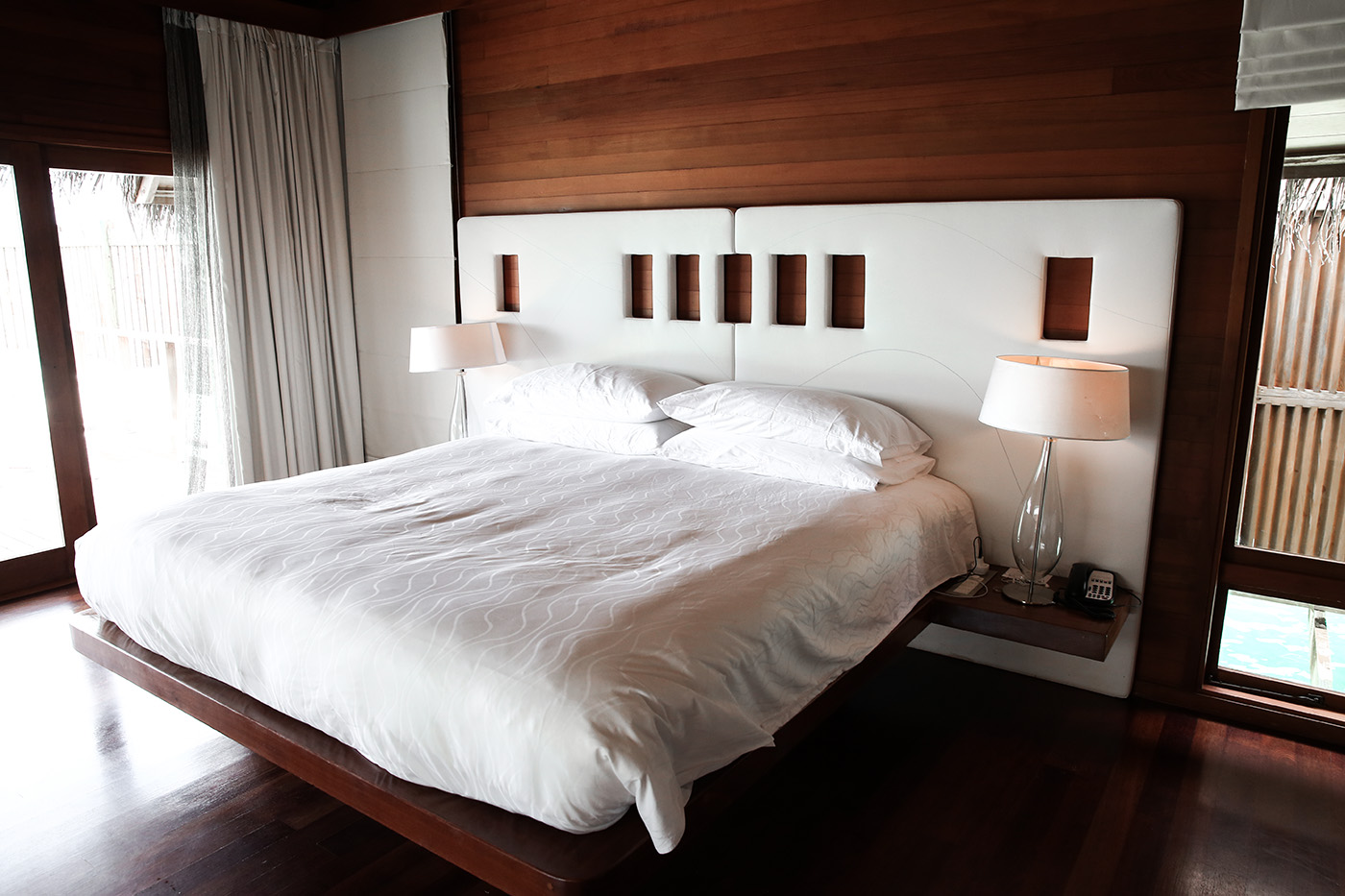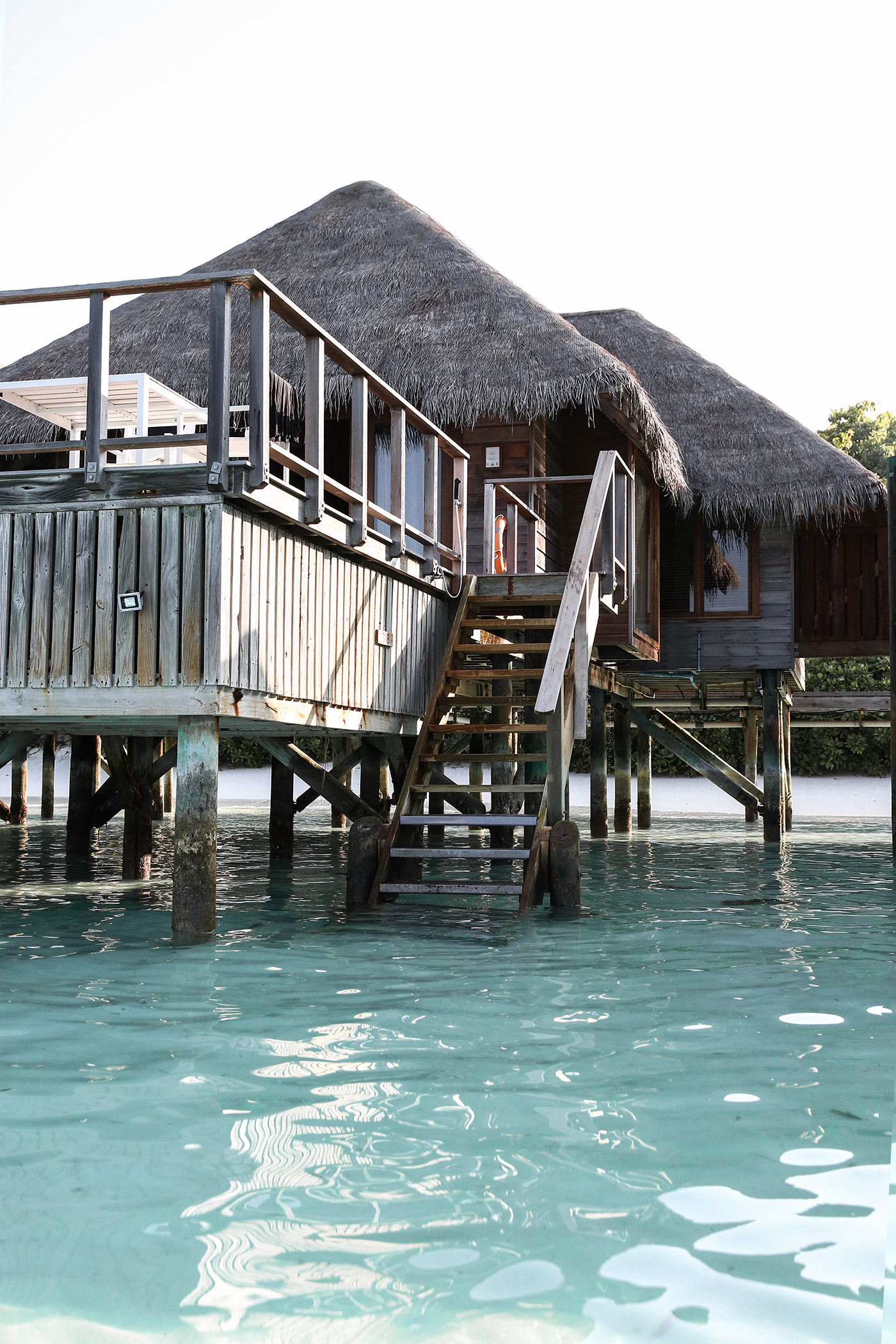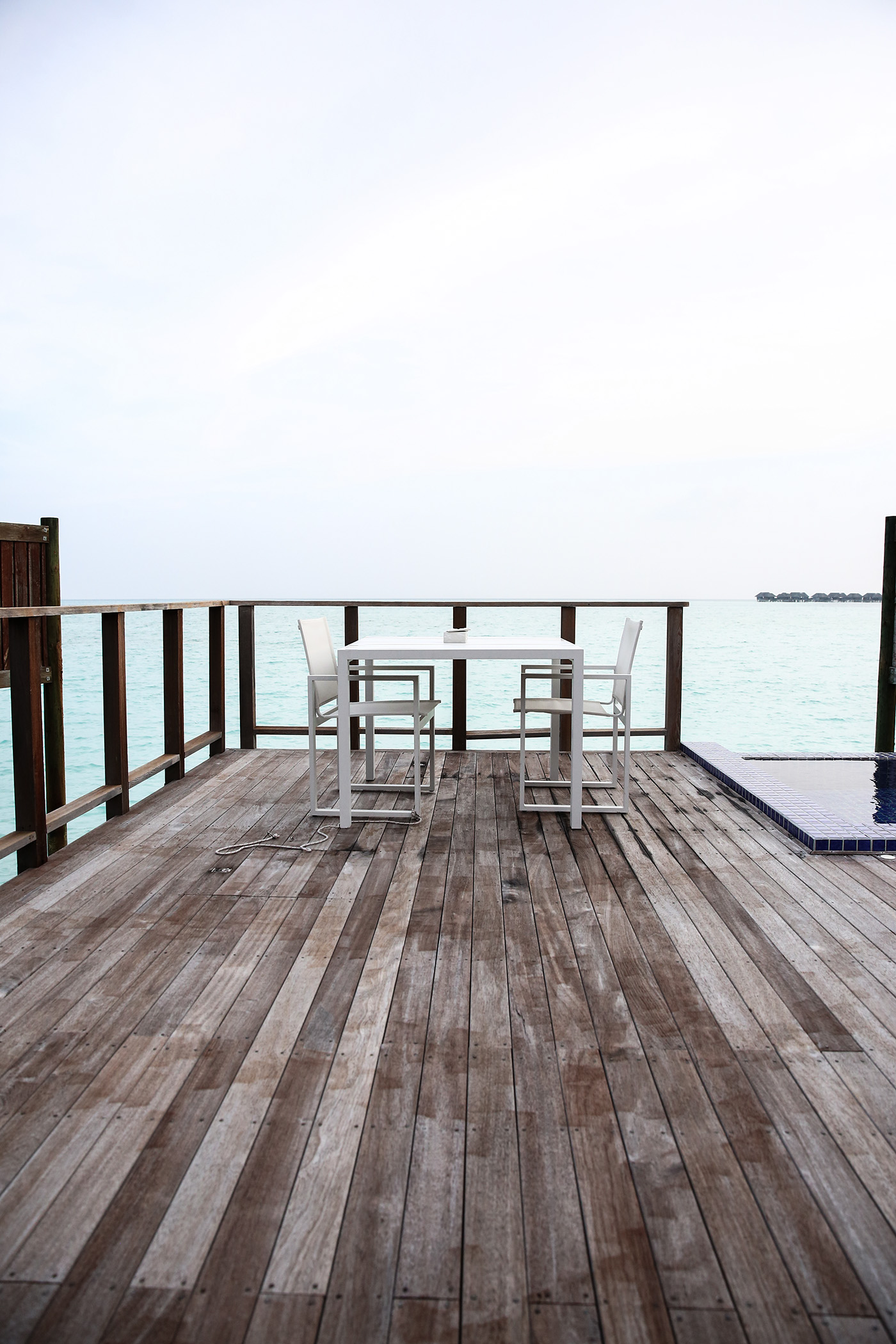 WHAT WE DID
Perhaps the thing that made our vacation truly special, were the activities that puncutated our stay. I've never been the type of person who knows how to just sit still, and as much as I enjoy laying in the sunshine listening to a podcast or flipping through the pages of my next good read, when it comes to a holiday, I crave activity, and there was no shortage of things to do at the Conrad.
I don't typically go out of my way to exercise too much when we're on vacation, but I did make use of the gym facilities on-site, which were modern and fully-equipped with everything you would need for an intensive workout (though I opted to keep to the treadmill and the mats for a bit of ab-work). There's also a water sports centre located right on the beachfront, where you can hire jet-skis, kayaks, paddleboards and the like; the island is also home to a full tennis court, and there's a generous array of exercise classes which you can participate in, including my personal favourite: yoga (in addition to private yoga sessions!).
The Conrad also offers a huge range of excursions – a few of which we went on, more below – including a number of snorkelling trips, a trip to the Conrad's private island for a secluded picnic on the beach, island hopping to nearby local villages, dolphin or sunset cruises, big game fishing trips, diving trips and a cruise on the hotel's glass-bottomed boat, to experience the reefs and sea life from a totally different perspective.
Snorkelling with Whale Sharks
Without a doubt, this had to be one of the biggest highlights of the entire trip. I hate to sound cliche, but this has always been on my bucket list, and the excursion was something that Luke and I were both really looking forward to, and it didn't disappoint. We were out on the boat for a little over three hours (pack lots of sunscreen and be sure to reapply – trust me on this!), and during that time we had two underwater encounters with whale sharks; the first was 7 metres long, and the second was 10 metres long. It might look like they are moving pretty slowly but you really do have to paddle furiously to keep up! Following our snorkel with the whale sharks, we were taken to a nearby reef, which had an abundance of marine life – from octopi to reef sharks, sea turtles and countless fish species, the entire experience was a really special one.
Dining in an undersea restaurant
Another remarkable experience is dining at Ithaa, the world's first undersea restaurant, which sits 5 metres under the water, just off the main island. Of all the incredible dining options available, I'd consider this to be the most unique, and if you're only planning to visit the Maldives once, it's definitely one of those once-in-a-lifetime opportunities that cannot be missed. We visited the restaurant for champagne and canapes, and spent the majority of our time under the sea in complete awe of our prime position under the sea. Reef sharks, clownfish, oriental sweetlips, parrotfish and triggerfish (among many others) swam beside us and above our heads, while we sipped on champagne – safe to say it's something that I'll never forget.
A sunset dolphin cruise
One of the other excursions that we were looking forward to was the Luxury Lucky Dolphin Cruise, which heads out into the Indian Ocean onboard the Conrad's luxury yacht, to try and spot a pod of the playful spinner dolphins who call this beautiful part of the world home. It was pretty special to get to see them swim under the bow of the yacht, and we delighted in watching them flip and spin as they leapt out of the water.
A cooking class at Ufaa
Luke's the main cook in our household, but that didn't stop us from both being excited about a cooking class in Jereme Leung's award-winning Chinese restaurant. We spent approximately 30 minutes in the kitchen with one of the restaurants chefs, learning how to pack dumplings, make dim sum (which looks easier than it actually is!), and the secret to the restaurant's signature handmade pulled noodles noodles. Afterwards, we enjoyed the fruits of our labour as we feasted on the food that we had learned how to prepare. We've taken away a copy of the recipe so I have a feeling now that we're home, it's only going to be a matter of time before we become pro at making dumplings!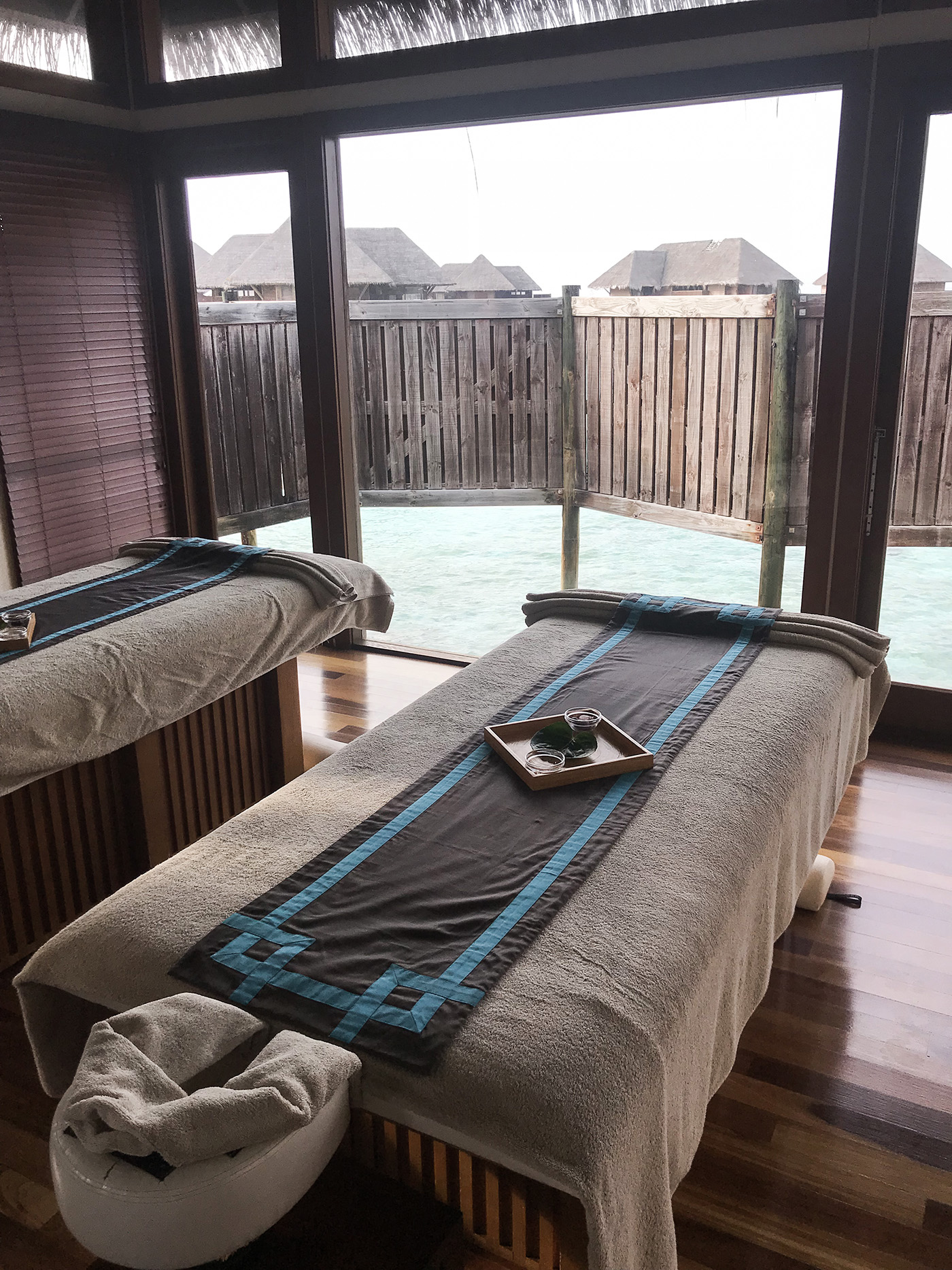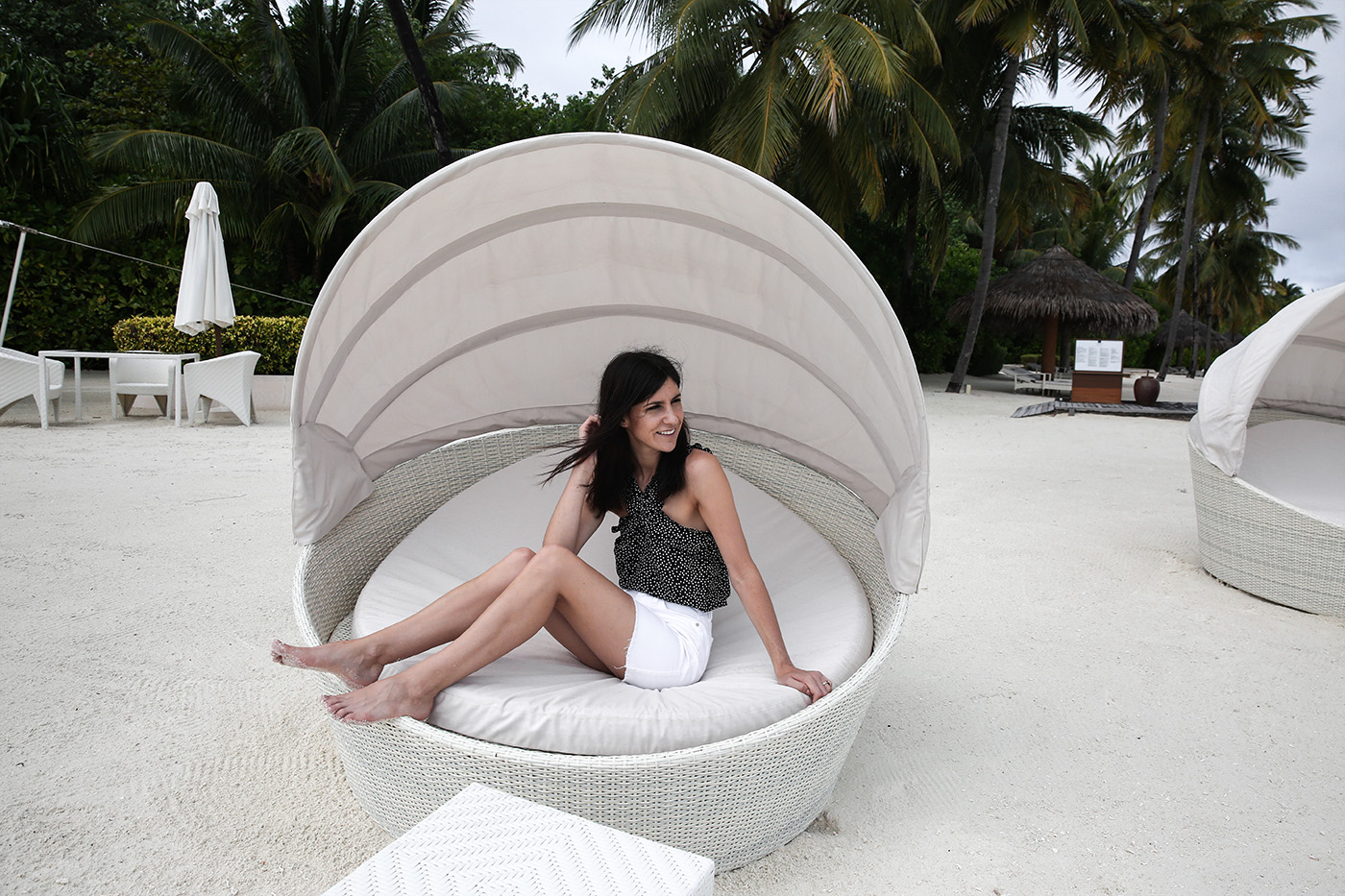 wearing J Crew spot wrap tank (similar option here), J crew denim skirt (old but similar here)
R&R
There really is no place like the Maldives for some much needed R&R, and as someone who literally doesn't know how to stop, it was the perfect spot to relax, live in the moment, and catch my breath. But for those who want to take relaxing to the next level, the Conrad Rangali Island has two beautiful overwater spas on-site. Luke and I booked in a couple of treatments at The Spa Retreat, which is situated at the far end of the main island, with the most stunning views of the Indian Ocean.
I knew I'd be in for a treat when I learned that the spa uses Elemis products, so I was sure to also get a facial while there (and pick up a couple of new beauty treats to take home with me…). I opted for the 60 minute Tri-Enzyme Dynamic Resurfacing Facial; 60 minutes of pure bliss that left my skin feeling fresh, glowing and bright. I also visited the spa for two massages; a 90 minute Indigenous Maldivian Massage which involved a full body coconut scrub, massage using heated coconut sticks, and a scalp massage with coconut oil treatment (let me just tell you, this was heavenly!); the second massage treatment I had was a 60 minute Aromatherapy Massage, which again was incredibly relaxing!
I tend to suffer from a lot of tightness in my upper back (in addition to a sustained injury in my left hip), but I don't think I've ever felt such total relaxation as I did during our time in the Spa Retreat – and if we have the opportunity to visit Conrad Rangali Island again in the future, a spa treatment will be at the very top of my itinerary.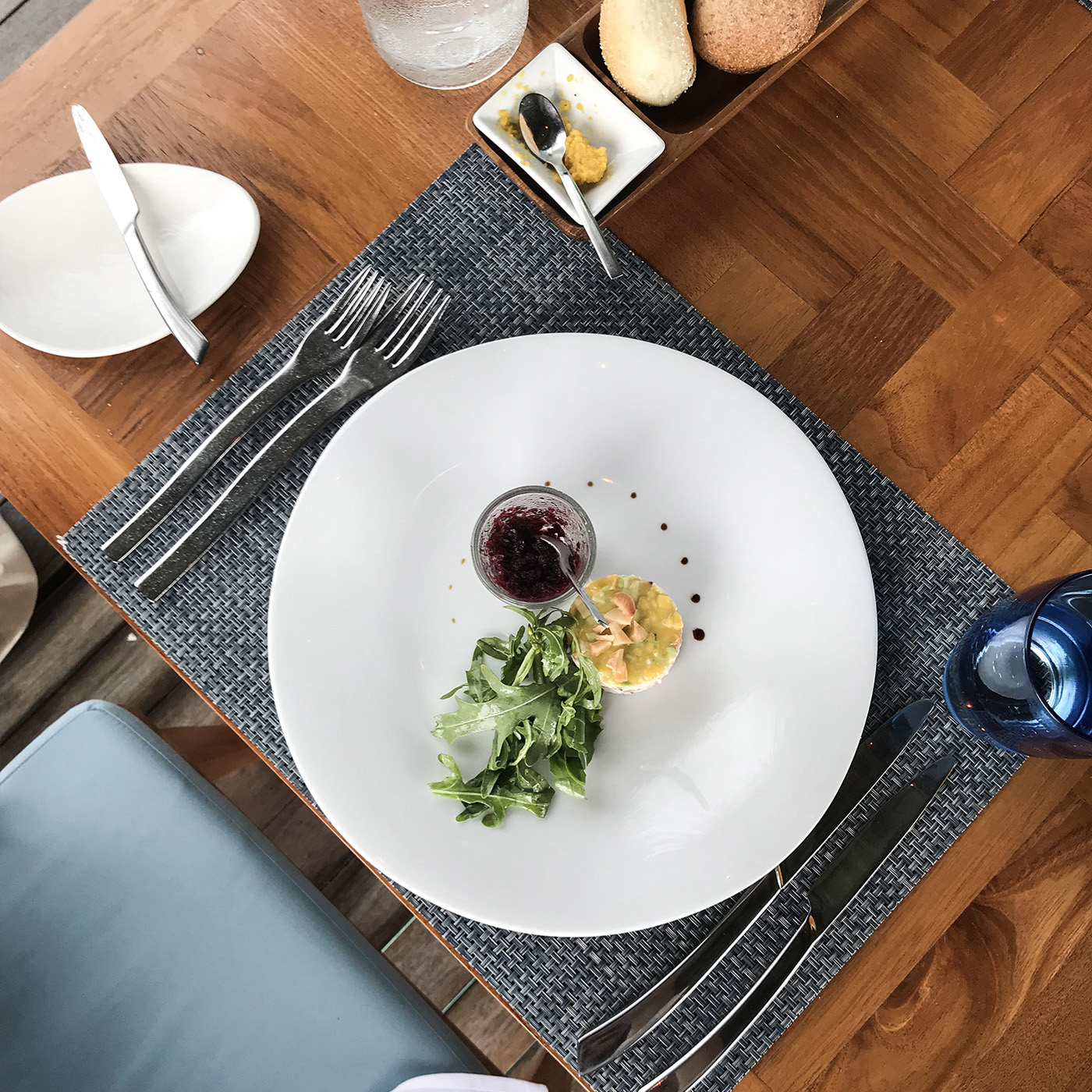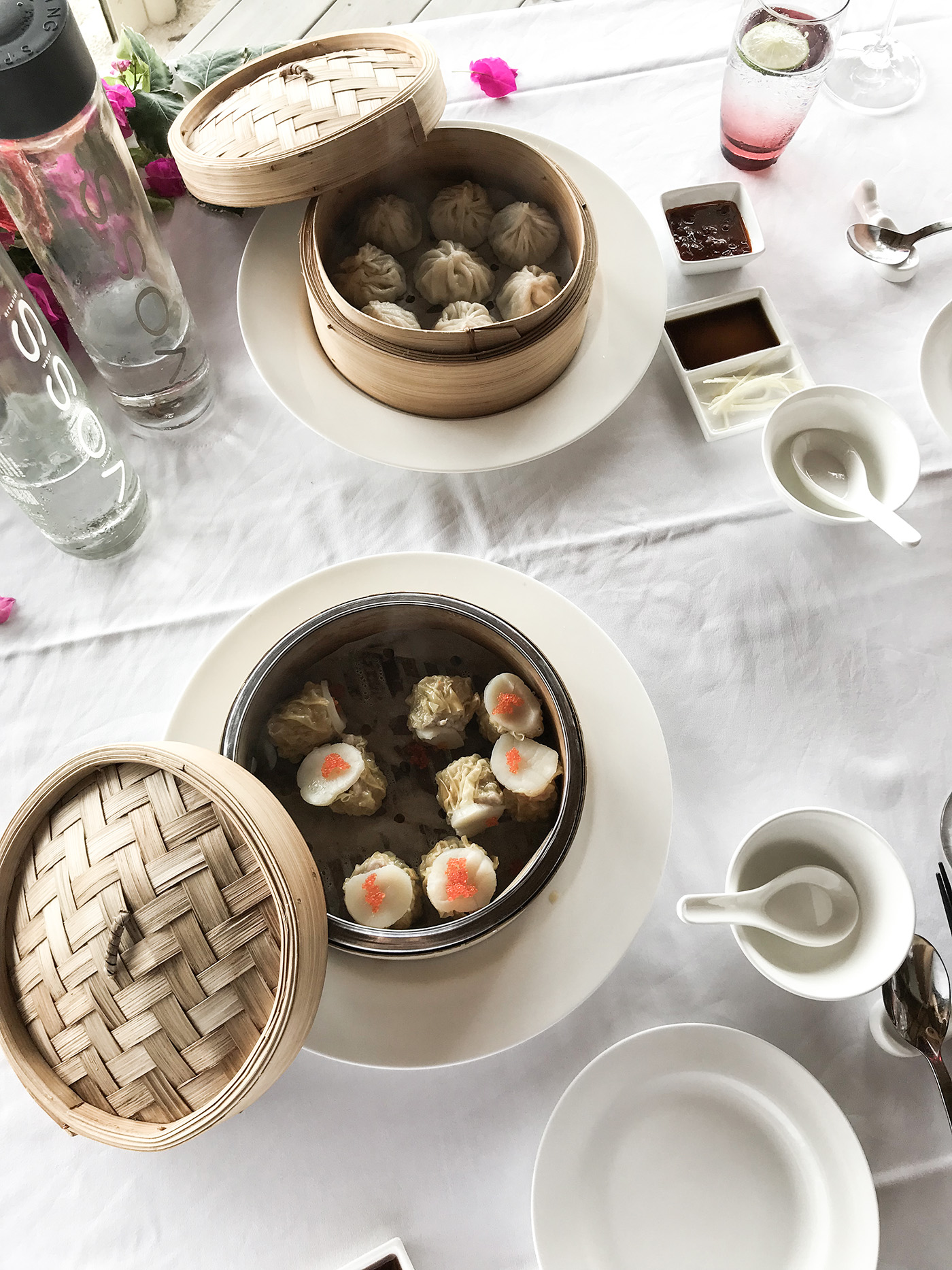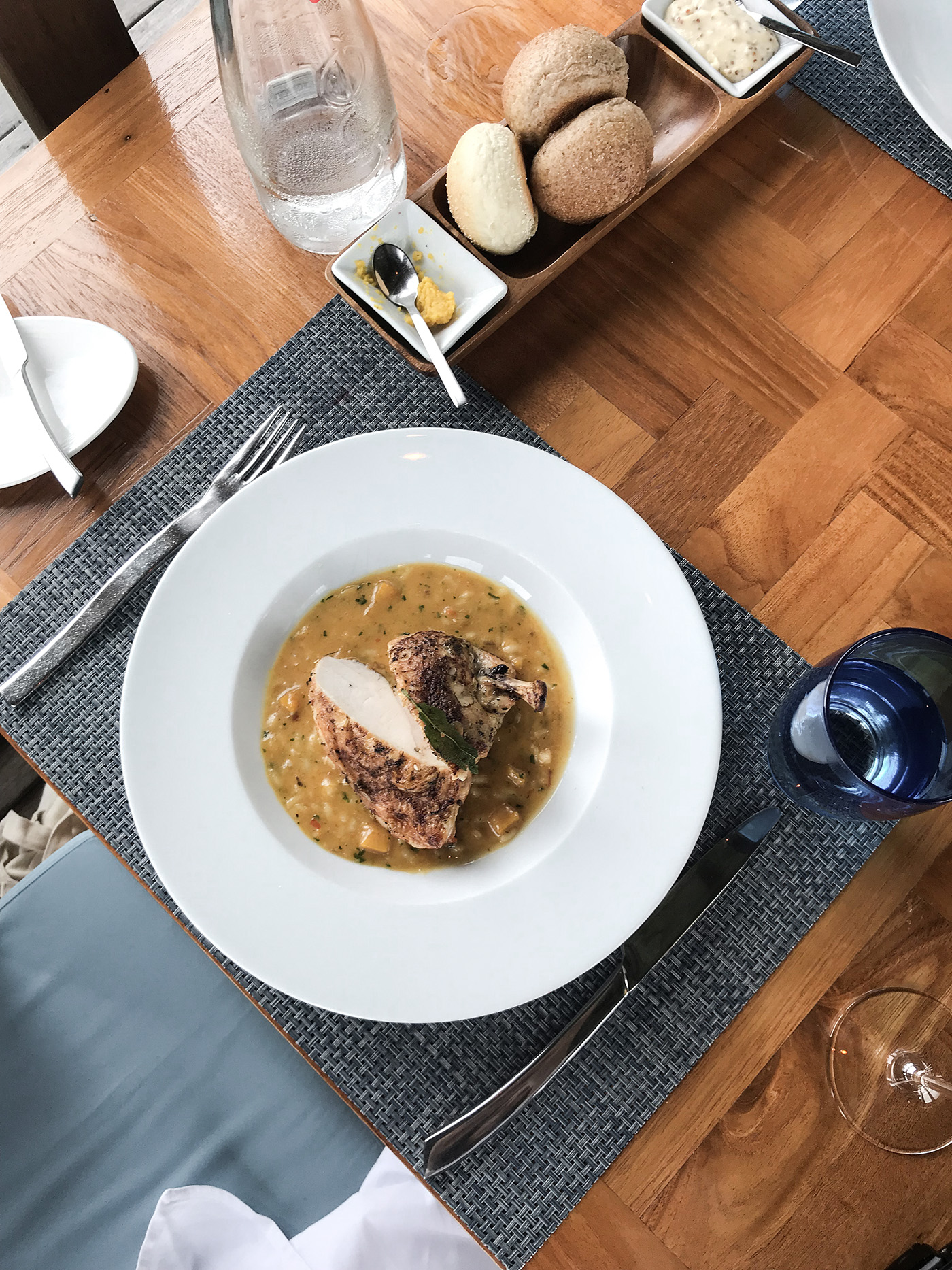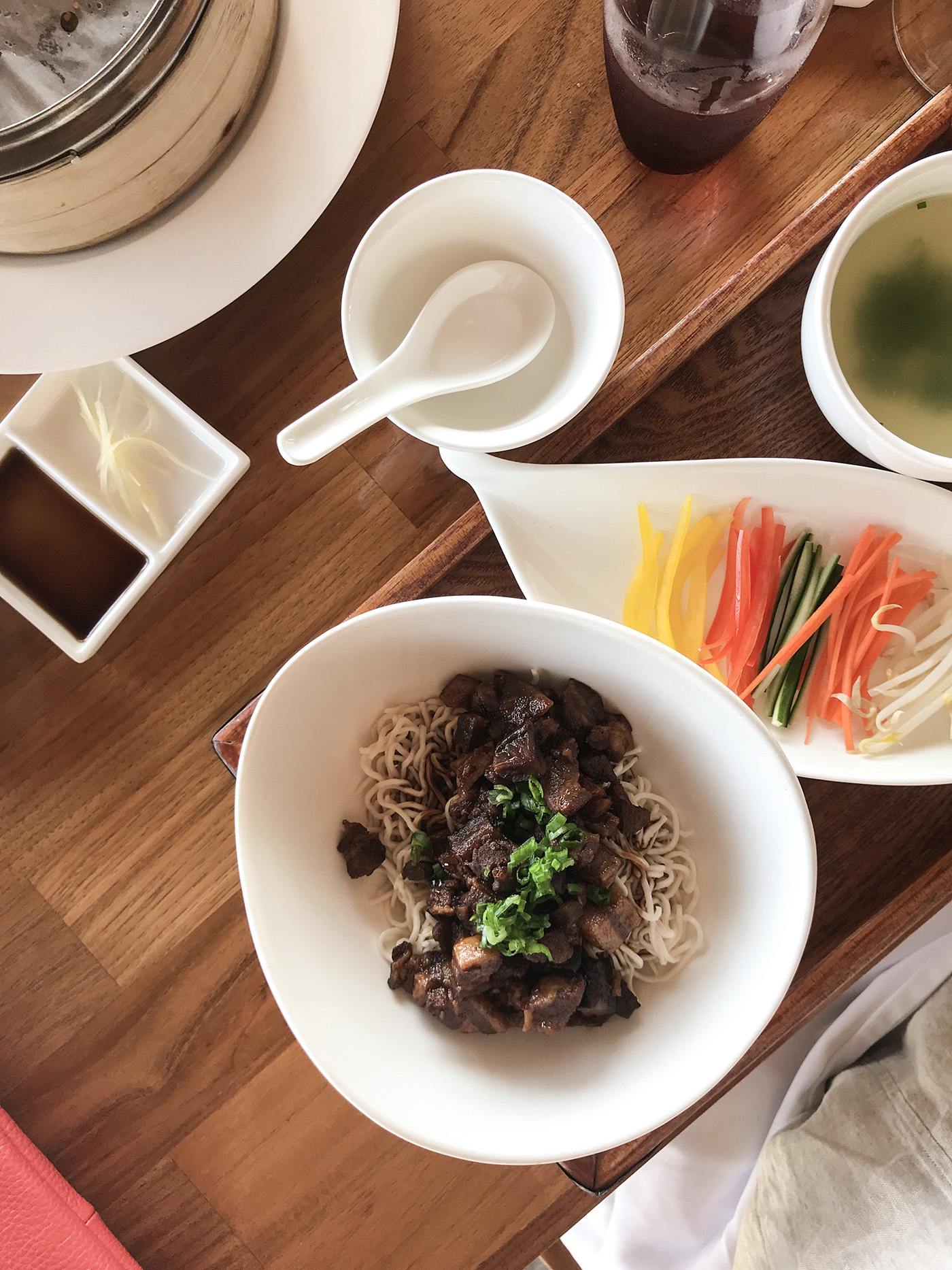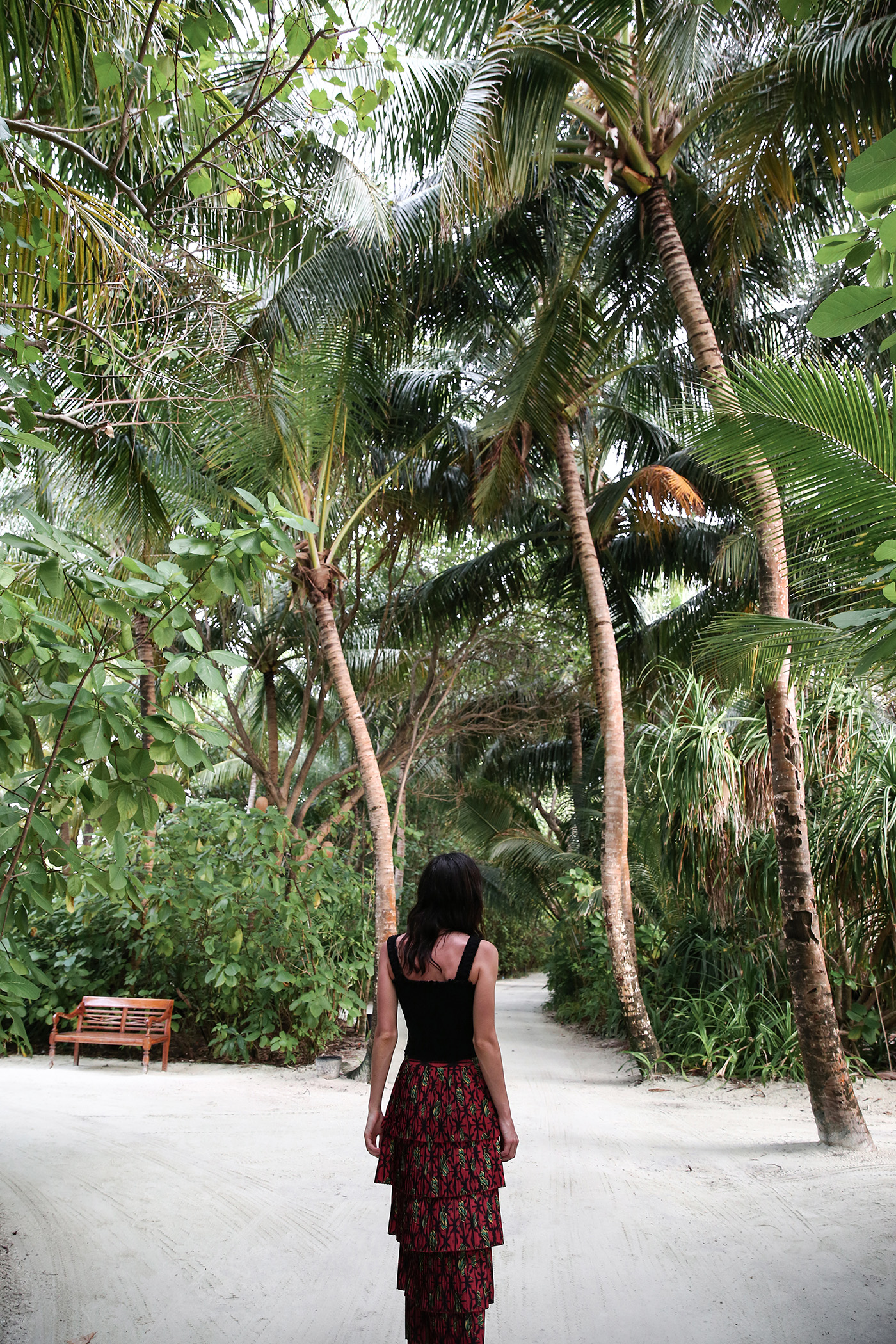 wearing Brandy Melville shirred tank (similar tank here in white), Stella Jean tiered pleated skirt, Spurr black mules (similar option here)
THE DINING EXPERIENCE
Finally, I wanted to talk about the food. As massive foodies at heart, Luke and I both have pretty high standard when it comes to what we eat, and we weren't disappointed during our stay at the Conrad Rangali Island. The Conrad offers up 12 sensational dining options, from the undersea restaurant I mentioned earlier, to an al fresco nine-course Japanese meal, and restaurants sitting above the water, overlooking the coral reefs below.
Our first night at the Conrad, we were immersed into the Maldivian culture during a Maldivian dinner on the beach. As someone who wasn't previously familiar with Maldivian cuisine, this was an incredible opportunity to try dishes prepared by local women from neighbouring islands, while listening to traditional Bodu Beru music against the backdrop of the glittering Indian Ocean.
Another special experience was lunch at Mandhoo restaurant, which is set on stilts above the lagoon, 100 metres out from shore. The food here is simply divine and focuses on the five basic elements of air, earth, fire, water and plant. We dined on a delectable crabmeat salad with avocado, which was superbly paired with a blueberry granita, and for my main, I selected the sage marinated spatchcock which rested on a bed of pumpkin risotto. What added to the special lunchtime meal was that at 1.30pm, you can catch a pretty good glimpse of the reef sharks that swim along the shores of the island which visit Mandhoo for their own daily lunchtime feed.
Our other favourite spot, which we didn't really discover until about halfway through our trip was The Quiet Zone Lounge Bar. A tented beach lounge which has the beautiful aspect of looking out across the water, cocktails here were positively dreamy, and we found ourselves stopping in every afternoon and night (for a night cap, of course!) to enjoy the atmosphere.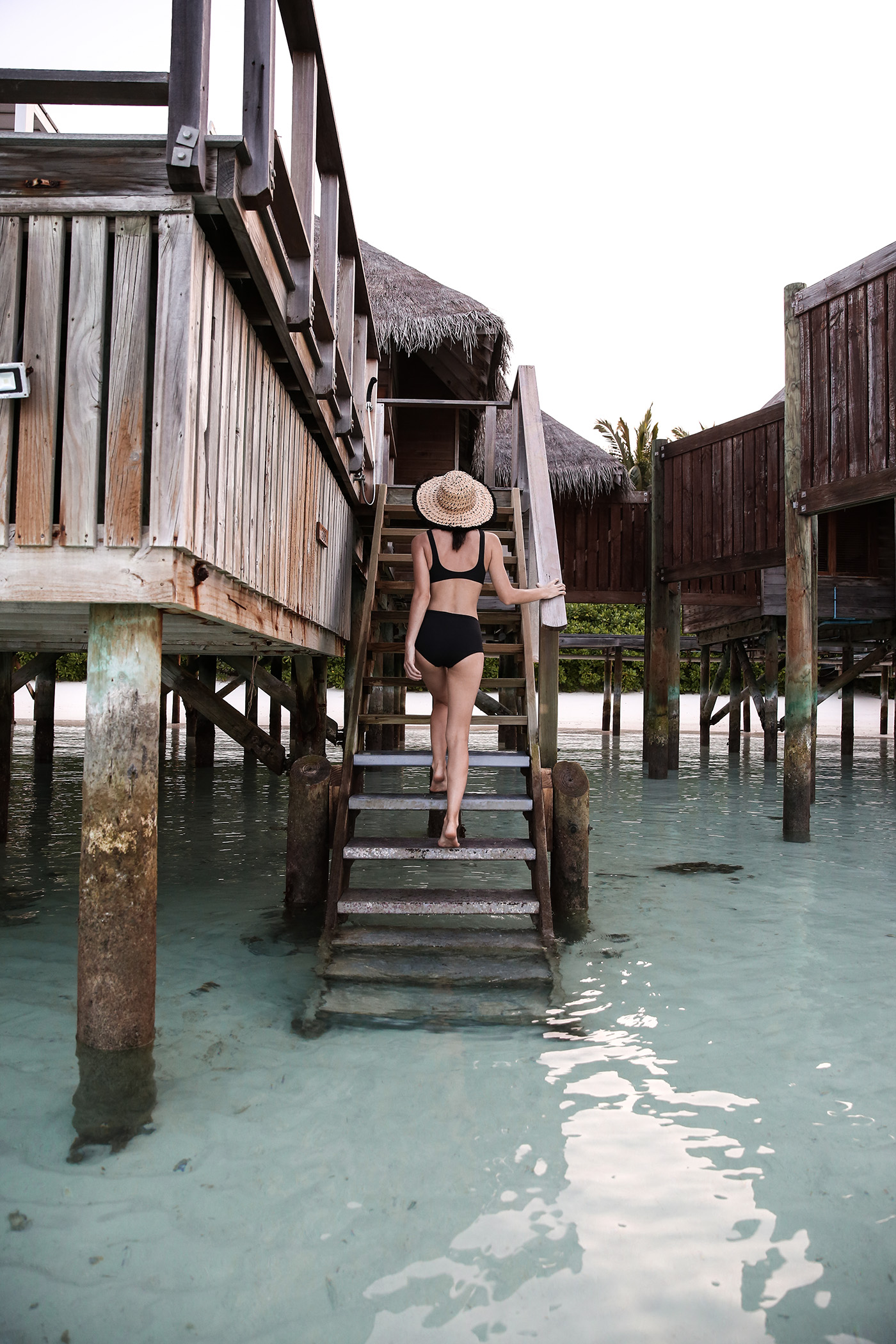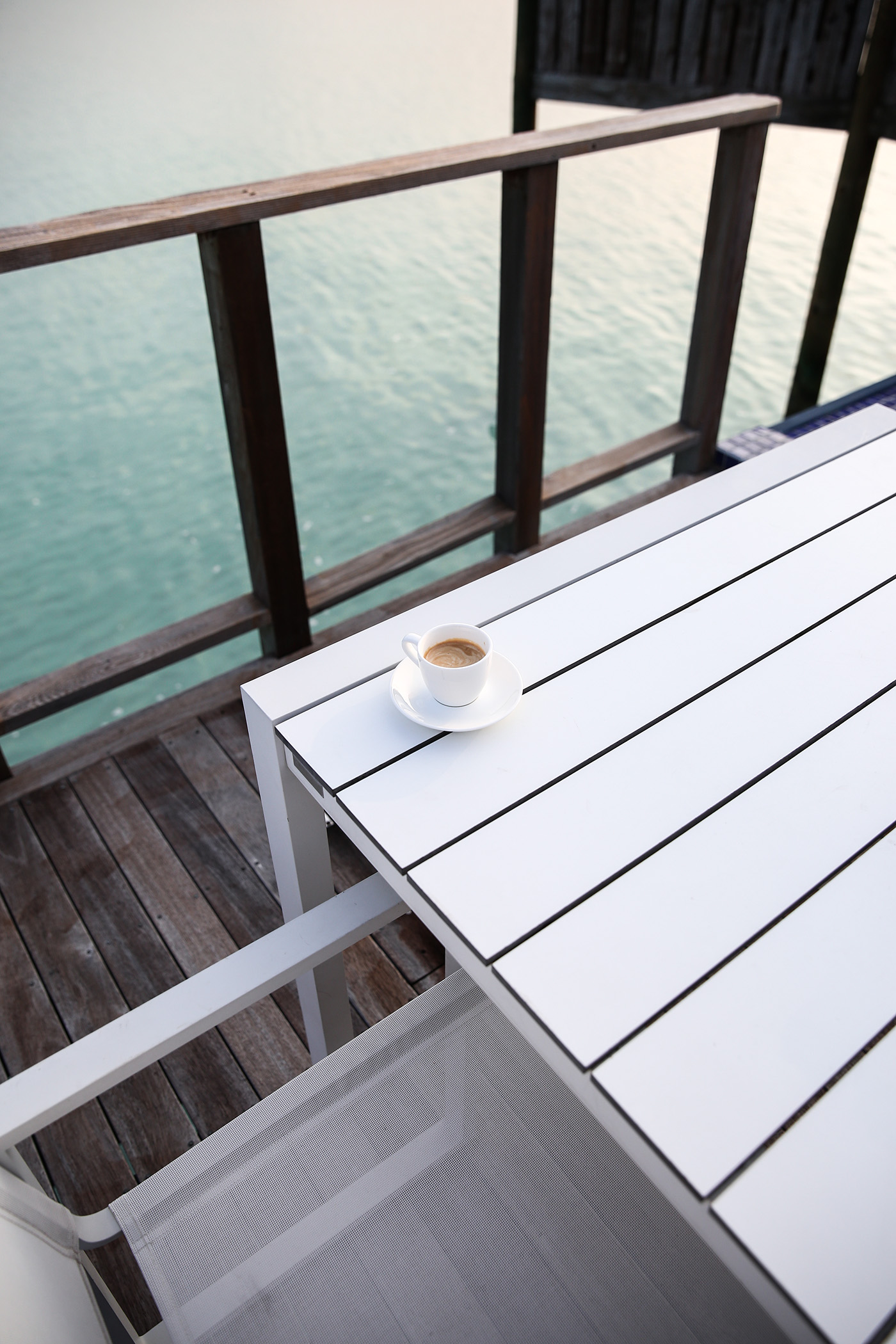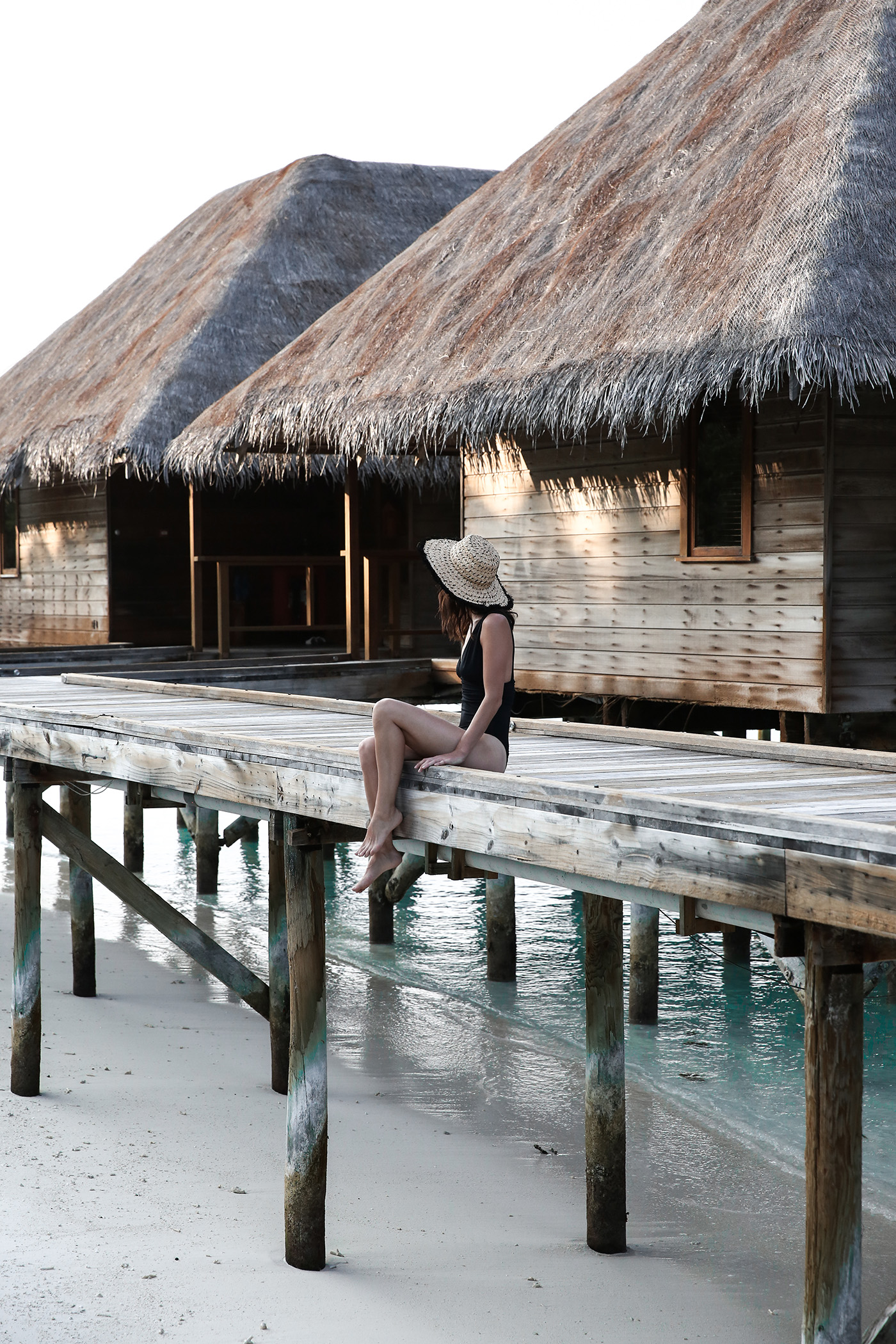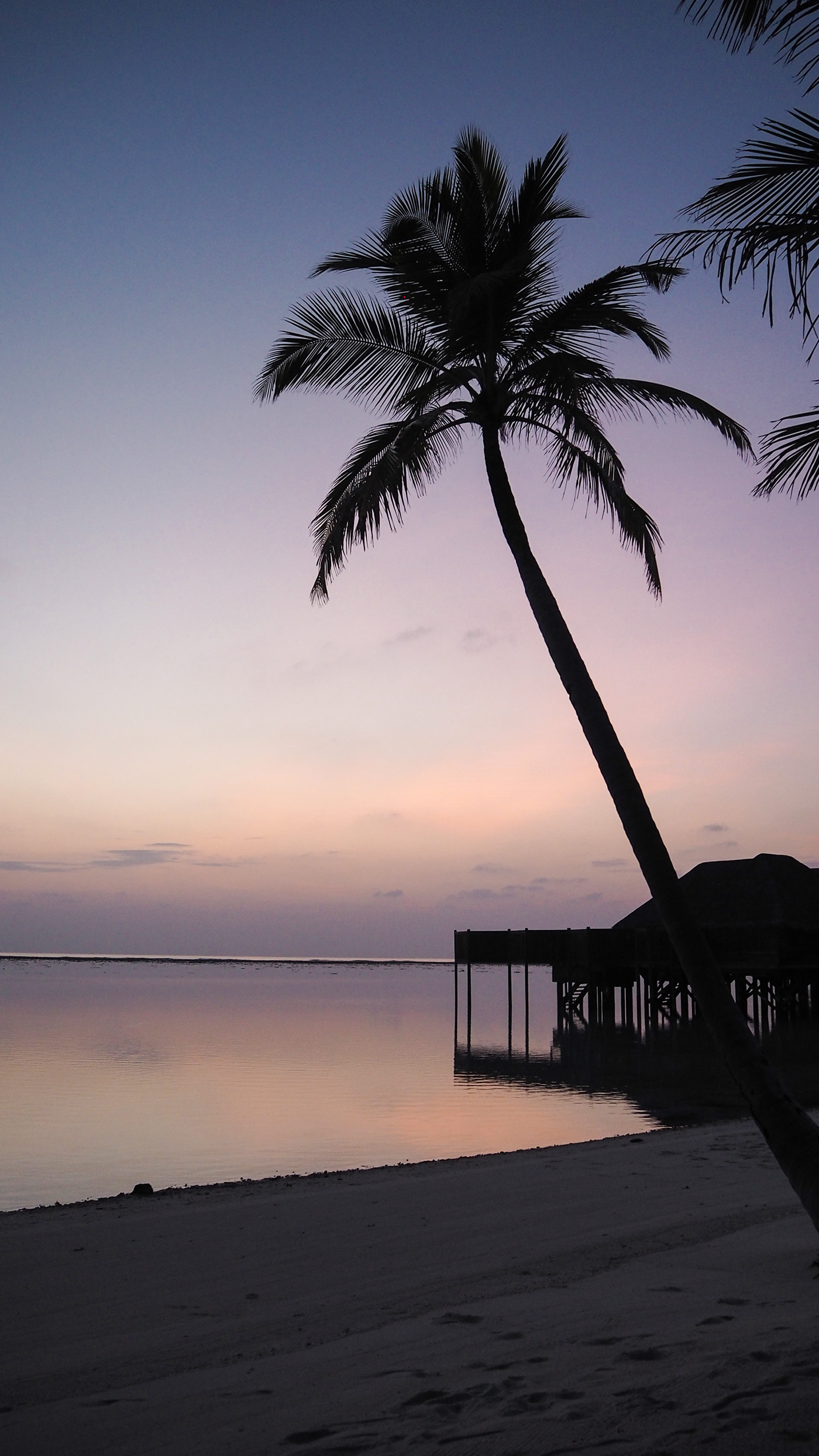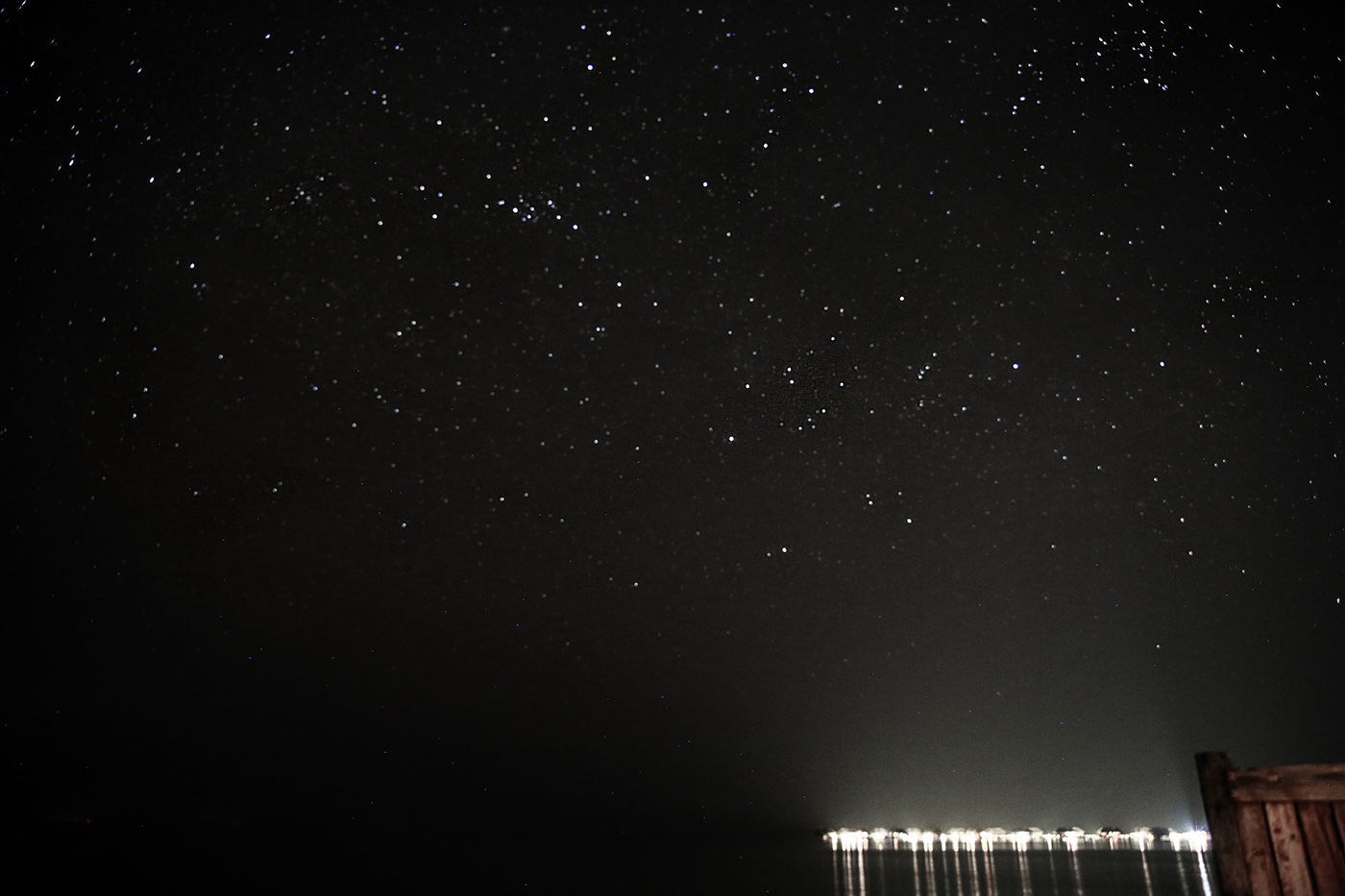 Our stay at the Conrad Rangali in the Maldives was nothing short of spectacular, and it's safe to say that we've already started thinking about how we can find ourselves getting back here in the (hopefully) not-too-distant future. It was a little slice of luxury in what I can only surmise as being absolute paradise; a holiday that Luke and I will never forget. If you'd like to get to see a little more of our trip, then please do be sure to have a watch of the video below! x