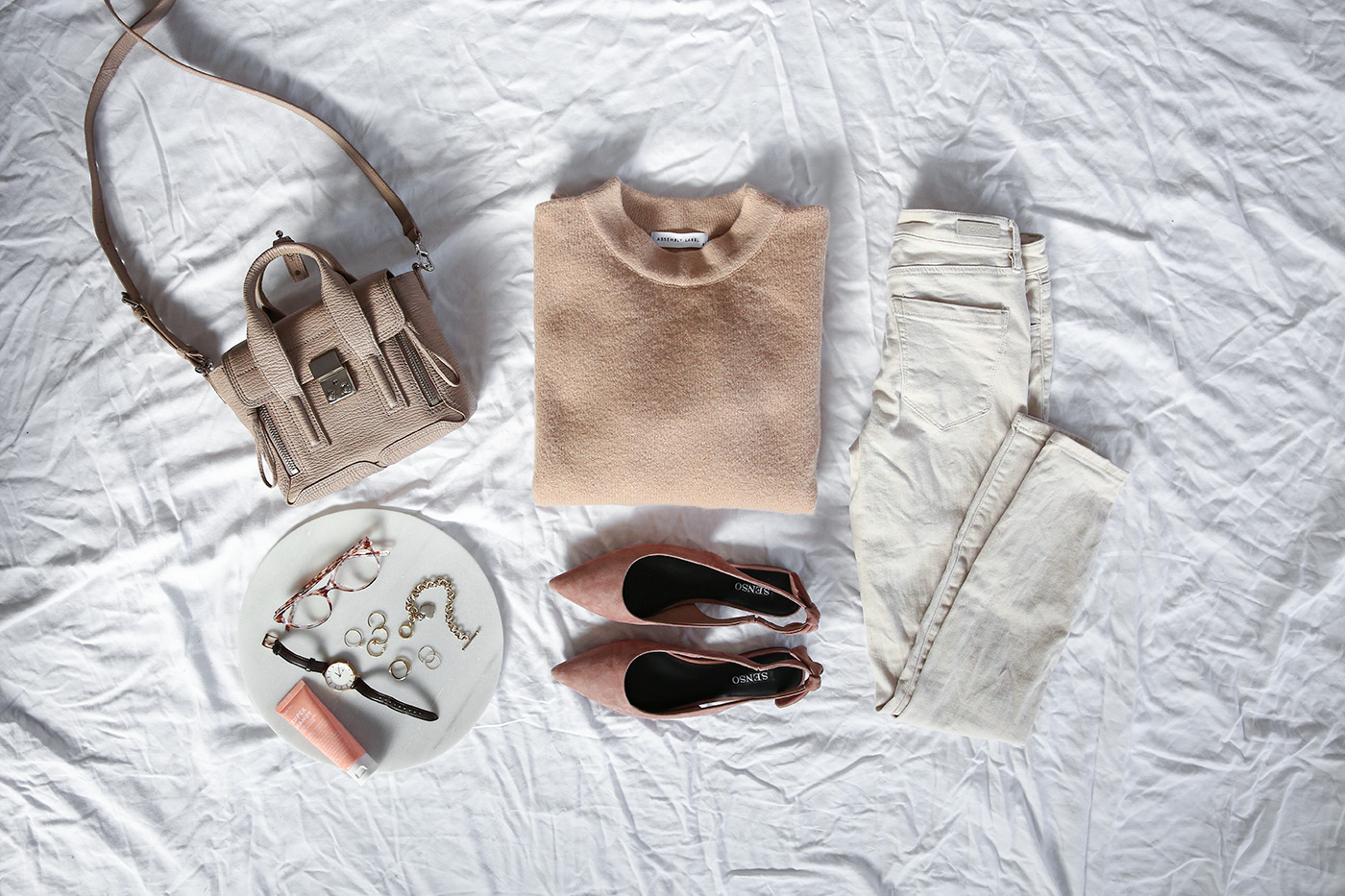 Assembly Label sweater (it also comes in black), Blank NYC skinny jeans (also available here), Senso flats (they also come in black), 3.1 by Phillip Lim mini pashli bag (also here), Linjer watch, Astrid & Miyu zodiac rings, Go-To Skincare Super Handy hand cream
I shared a quick round up of some of my winter favourites a few weeks back; equally as simple but at the other end of the colour wheel, is this peachy and milky-toned outfit. Again, I'm all about anything easy, and during the weekend, a sweater with a great pair of jeans is generally the first thing that I'll reach for.
I've absolutely fallen in love with these skinny jeans from Blank NYC; the denim is thick and has incredibly stretch, making them an absolute dream to wear, plus the lace up fastening is so unlike anything else that I already own.
What really makes this whole outfit is the dusky apricot 'form' knit sweater from Assembly Label. At least 99% of the outfits I tend to share are monochromatic or have a little bit of denim, and I feel like this helps to break up the – perceived – monotony somewhat, plus it looks cute tucked into a pair of high waisted jeans.
And then there are the shoes… I bought them on a total whim in a bid to have a muted yet dressed up pair of flats that would work for both weekends, and for the office, and these completely fit the bill. The elastic at the heel does take a little bit of breaking in but I love the way that these look with denim and with calf grazing midi skirts. They also come in classic black; it probably goes without saying that these are incredibly tempting, and I think they would be perfect paired with a cocktail dress for an understated elegance a la Grace Kelly.