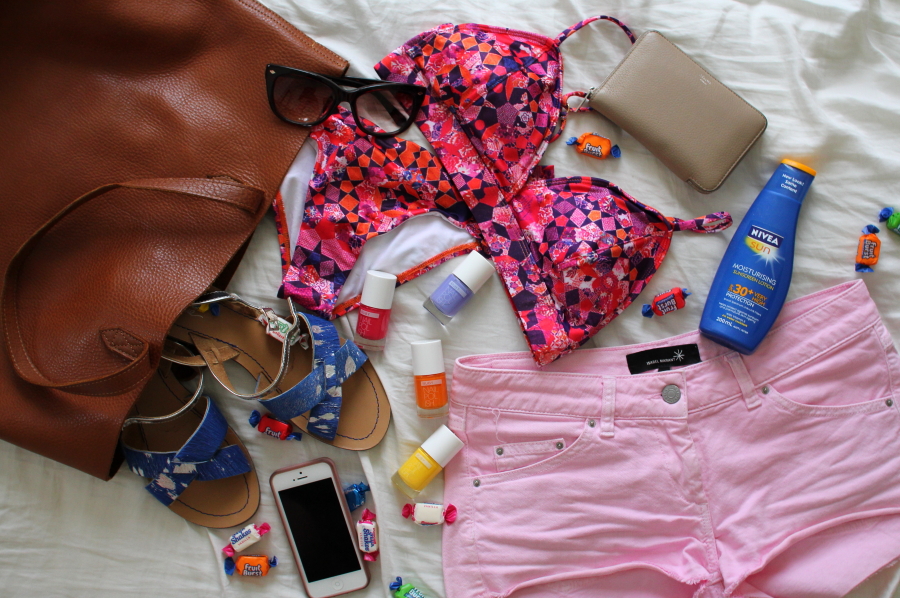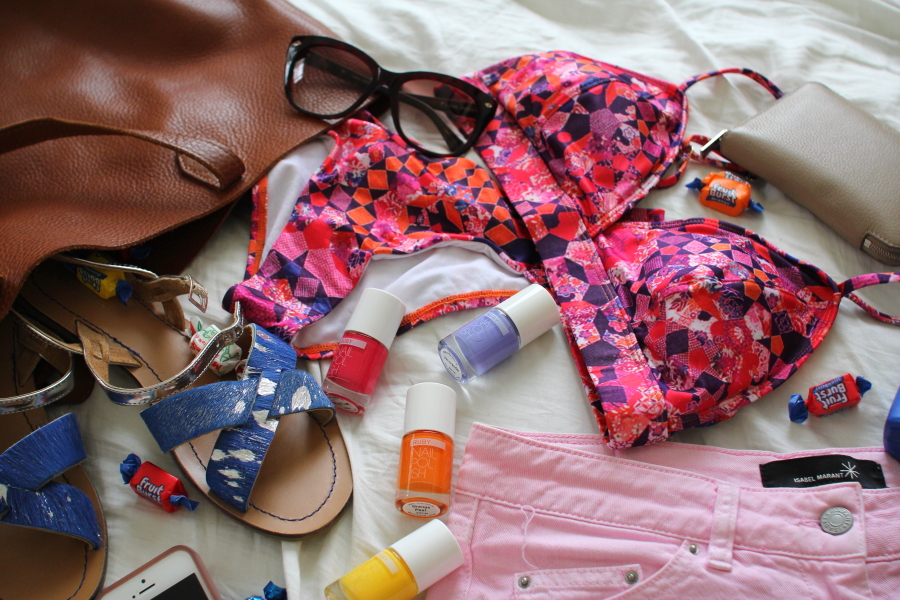 Cuyana leather tote bag (similar), Karen Walker sunglasses, Surface too Deep bikini (also available at RUBY), Park Lane sandals (love these Ancient Greek ones), RUBY nail polishes (in Flamingo, Orange peel, Yellow bus and Jacaranda), Celine wallet, and Isabel Marant denim shorts (similar)
It's official, summer is finally here, or so my calendar tells me. Having spent the past week waking up to grey skies and a constant stream of drizzle cascading from the sky, you could forgive me for thinking otherwise. But, in anticipation of crystal clear skies, and a beach getaway which is closely approaching, I've put together a few of my summer essentials that will be hitting the sand with me – colourful, and in a bit of a jumble, surmising my general approach during those precious few days of summer break.
//a large tote bag – Perfect for throwing a beach towel, a couple of good books and some snacks in before lazily strolling down to the beach for a bit of sun, sand, and dips in the deliciously cool water. I prefer leather, like the Cuyana one above or Madewell's transport tote, alternatively and perhaps more appropriately would be a simple canvas tote, more adept at weathering the elements.

//swimsuit or bikini – This one is a given, and while I haven't found the perfect one piece yet, I seem to have no shortage of printed bikinis, especially since uncovering a treasure trove of sets which have gone unworn, while rifling through some of my old things. Surface too Deep killed it at MBFWA earlier this year, their kaleidoscopic print bikinis the perfect pairing with a golden summer tan.

//sunglasses – A daily neccesity while the sun is shining, and one which barely needs any explanation. Given that my pair above were so unceremoniously snatched while I was up in Auckland, a new pair of cat eye sunglasses are first and foremost on my wishlist. I'm considering keeping it 'kiwi' with a pair of Karen Walker's 'northern lights' sunglasses.
//nail polish – My beauty regime often gets thrown to the wayside during these beach side getaways, but I like to inject a little bit of fun with some summer hued nail polishes. I've been loving RUBY's selection of bright coloured polishes; a veritable candy bar of sherbert toned polishes.
//small purse – In the summertime, less seems to be more, so rather than lug around a bag (or aforementioned tote), I go without, slotting my necessary items into a medium sized purse, for those all too frequent ice block runs.
//denim shorts – No summer is complete without a pair of distressed denim shorts. A little out of the ordinary for me, my own go-to is a highlighter pink pair from Isabel Marant.
I'm the type of person who is organised by nature, but in my rush to get to the beach, I will inevitably end up forgetting a thing or two. By no means complete, you'll also find some sandals, a couple of good books, a stash of lollies, and a sun hat floating around in my bag. Bring on summer!