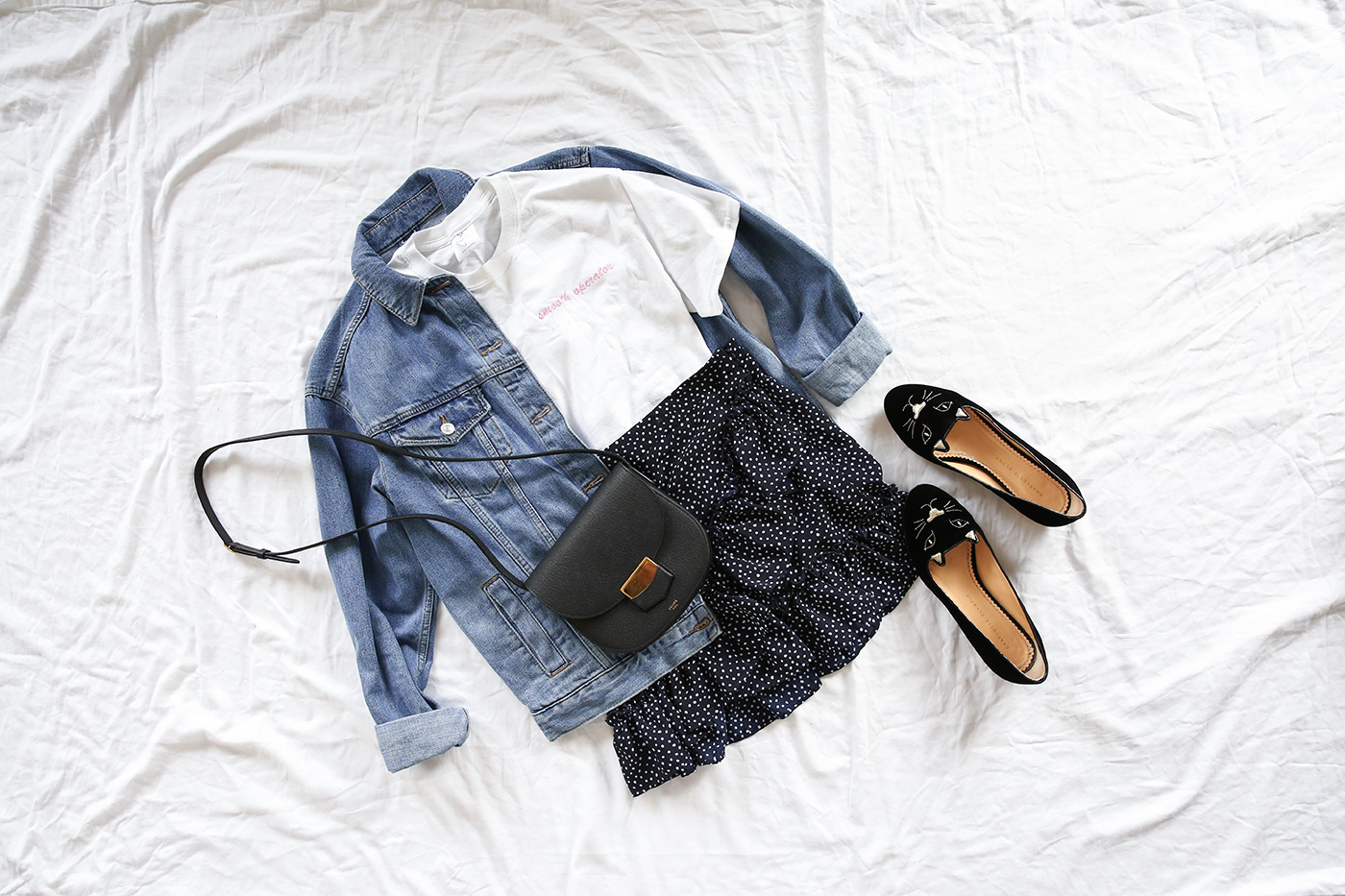 Double Trouble t-shirt (similar), Topshop ruffle skirt (very similar option here and I also really like this one), Topshop denim jacket (this is also lovely!), Charlotte Olympia kitty flats (affordable option here), Celine trotteur bag (similar affordable here)
There's two things that I can't seem to get enough of lately; a basic slogan tee and this oversized denim jacket from Topshop. This past year, there's been a gradual shift in my weekend wardrobe, from pleated skirts and slinky cami's to mom-style denim and oversized knit sweaters, and hey, I'm not complaining. After giving my wardrobe an enormous overhaul back in May, one thing I've realised is that my lifestyle is a lot more relaxed than it has been previously, and more than anything, I'd love it if my closet reflected that of a nonchalant French girl (who always wears a bold red lip).
Surprisingly, it's also seen my closet move into a more youthful direction; I'm less focused on wearing crisp tailoring, and more in tune with wearing flippy little mini skirts and my kitty flats with everything, especially as we transition into spring.
My fixation on the slogan tee has been reinvigorated in recent months – the one above from Double Trouble was a lovely gift from a meeting with Hop and Cotton (a skincare brand I'll be talking about in an upcoming post…), and I just adore the subtlety of the petal pink embroidery on an all-white tee. It has a little bit of that 90s throwback, and being a kid of that era, it brings back all the best kinds of nostalgia (along with singing Spice Girls in my bedroom, and eating chocolate cake for breakfast).
The one thing you won't see me switching up too much? The core colour palette of my wardrobe. While there might be the odd smattering of pink and blue, in addition to some more muted earthy tones such as khaki, there's nothing I love more than my standard staple diet of black, white and grey.
Are there any style favourites that you haven't been able to get enough of lately? x