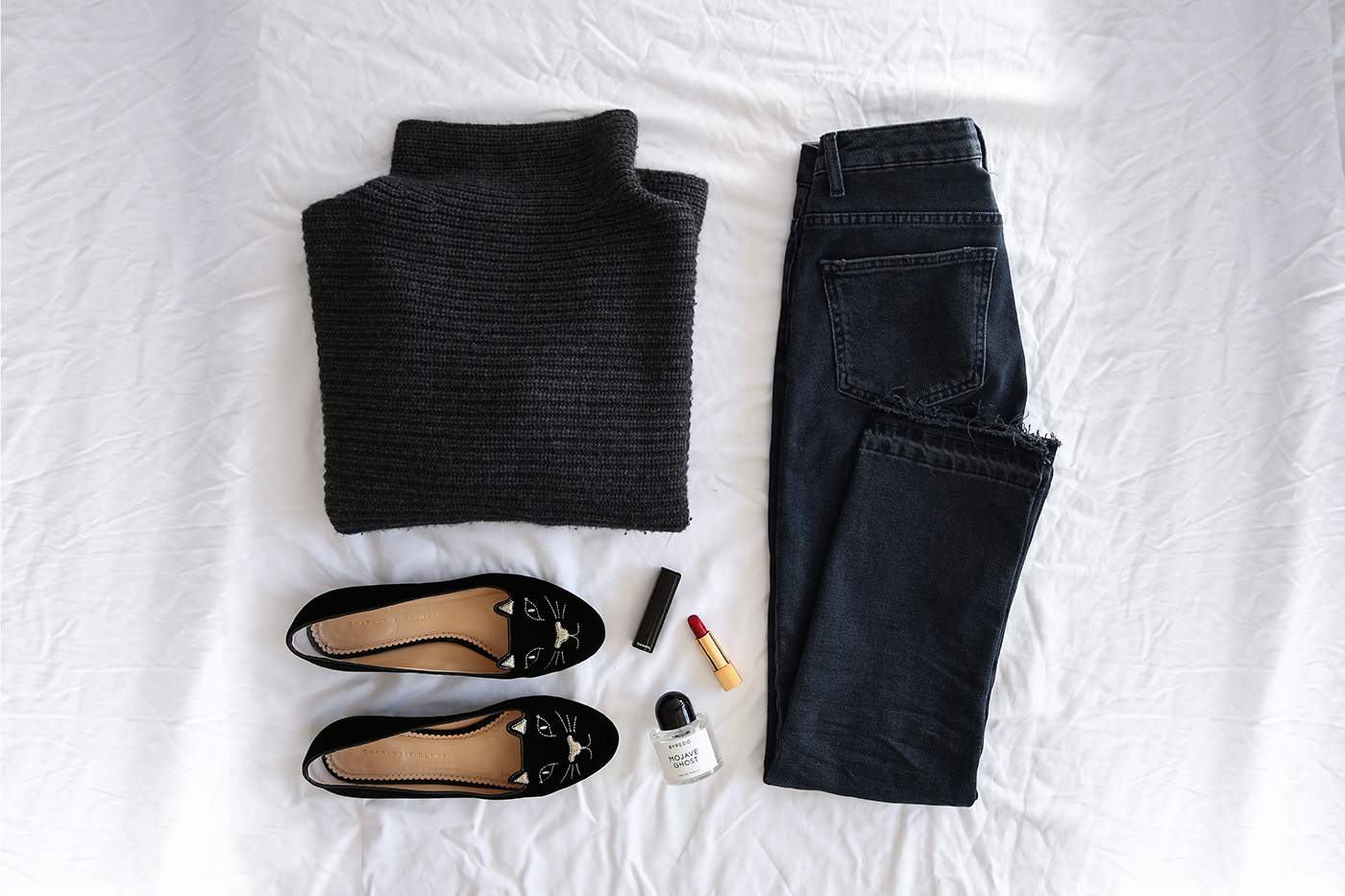 Country Road sweater (I also like this one), Topshop jeans (these are a great alternative), Charlotte Olympia kitty flats (affordable alternative), Byredo Mojave Ghost (or here), Chanel Rouge Allure in Coromandel
This is a little round up of some of my current winter staples, and one of my favourite (and simplest!) winter uniforms. An oversized sweater, a pair of 'mom'-style jeans with a frayed hem, flats with a little bit of pizazz, and a nice red lip.
It's fair to say that this isn't anything groundbreaking, all it takes it finding the right sweater that you want to spend all winter wearing, the right pair of jeans that give you that peachy behind, and the right pair of shoes which make you feel ever so light on your feet. If there's ever a way to keep looking chic, it's to know what outfits work best for you – which is where my winter uniform comes into play. Think stripes, tapered trousers which nip in at the ankle, cotton shirts, and an a-line leather skirt so good I just had to get a back up.
If I go back through my archives, this is the kind of simple winter uniform that I've gravitated towards for the longest time, even if the specifics change in an ever so subtle way. The fit of the jeans, the type of top I'm reaching for, the shoes I'm favouring – it's always to recreate this one simple look which is always, always elevated with a punchy red lip.
I have a few other looks which have undeniably been go-to outfits for me this winter, though they're a lot more boxy, and a lot less focused on what would traditionally work for my body shape than I'm used to. I've been building some new style principles which have formed the foundation of these looks (based on my style overhaul from a couple of months back), but there are always those creature comforts that I can't help but keep coming back to!