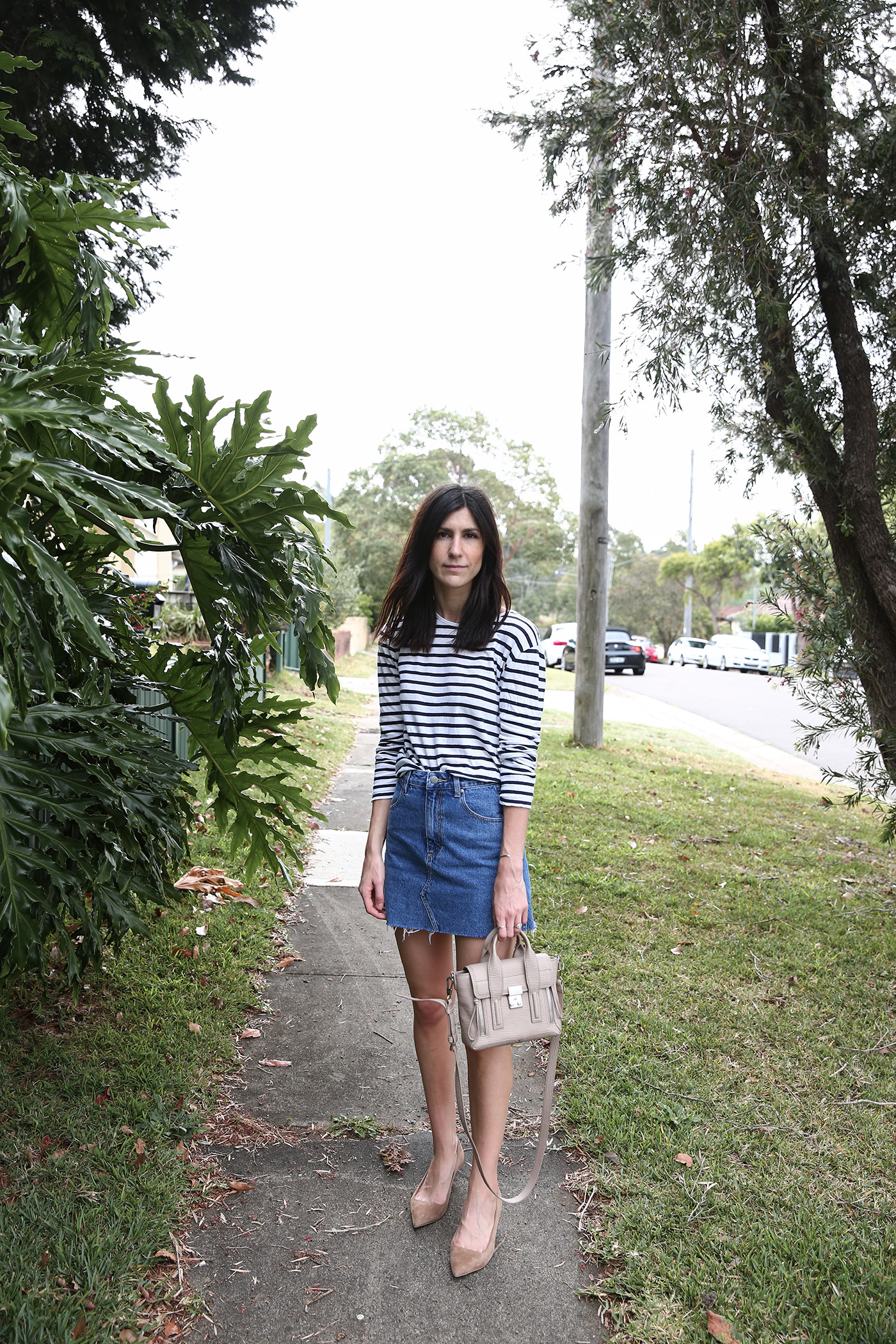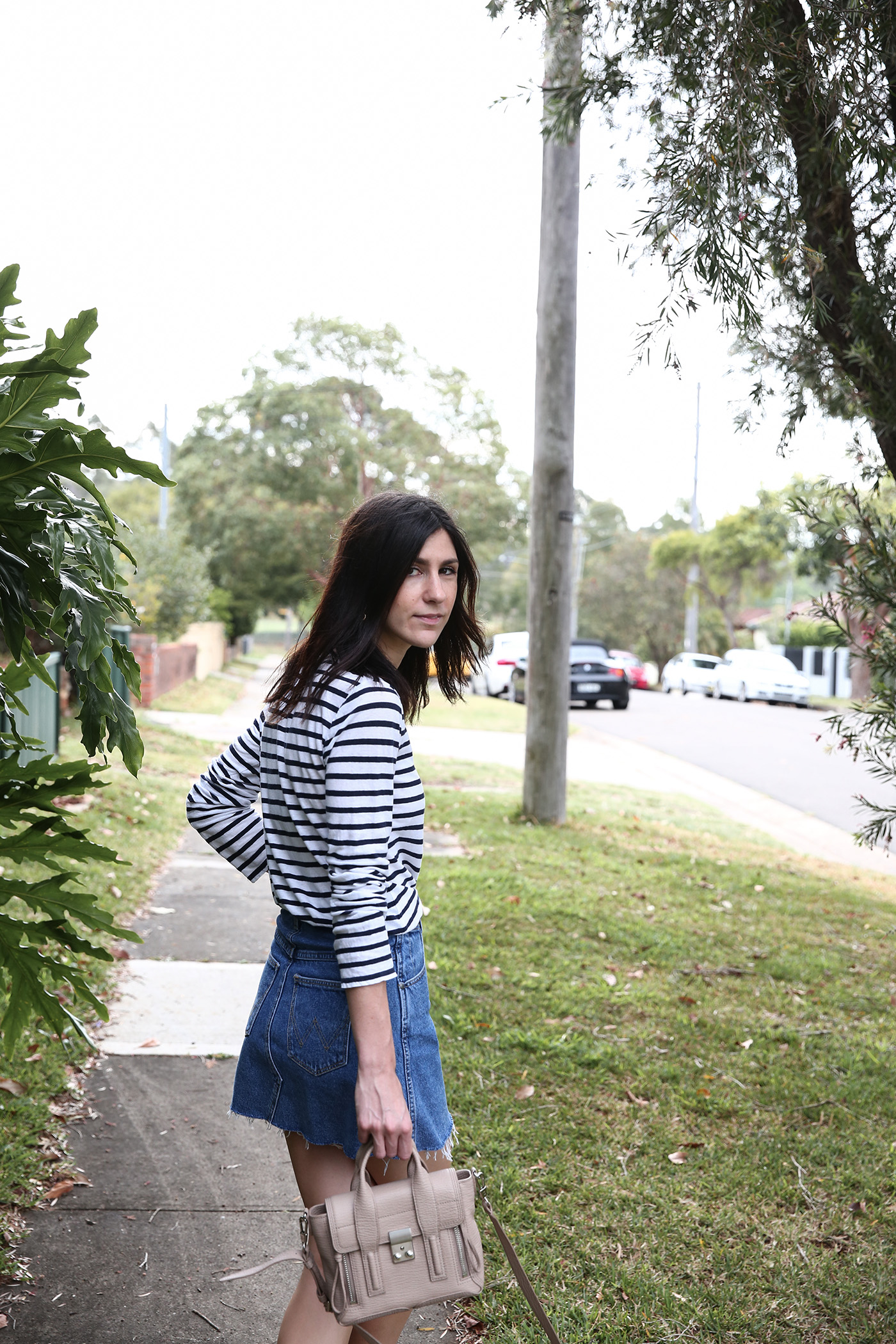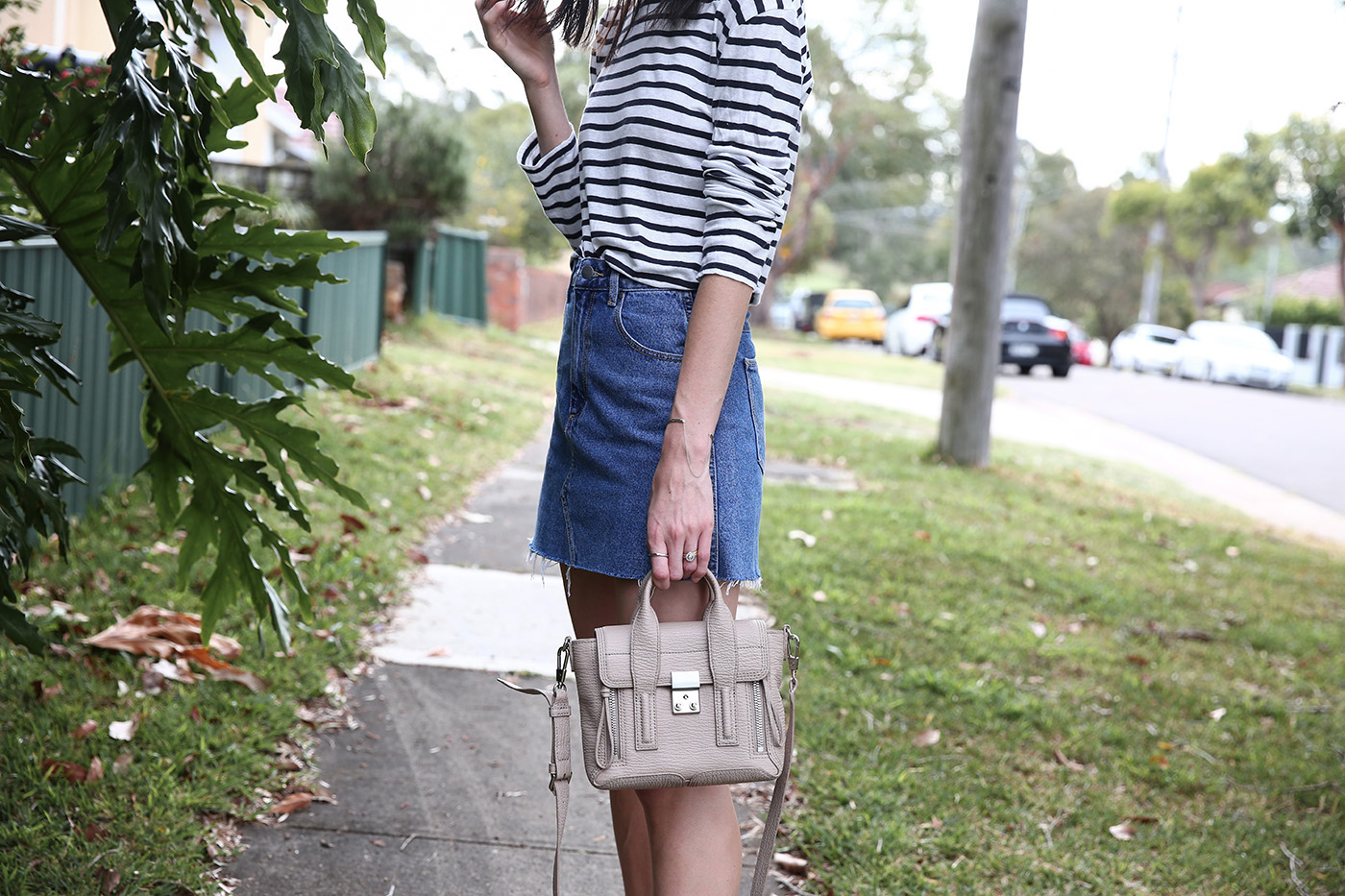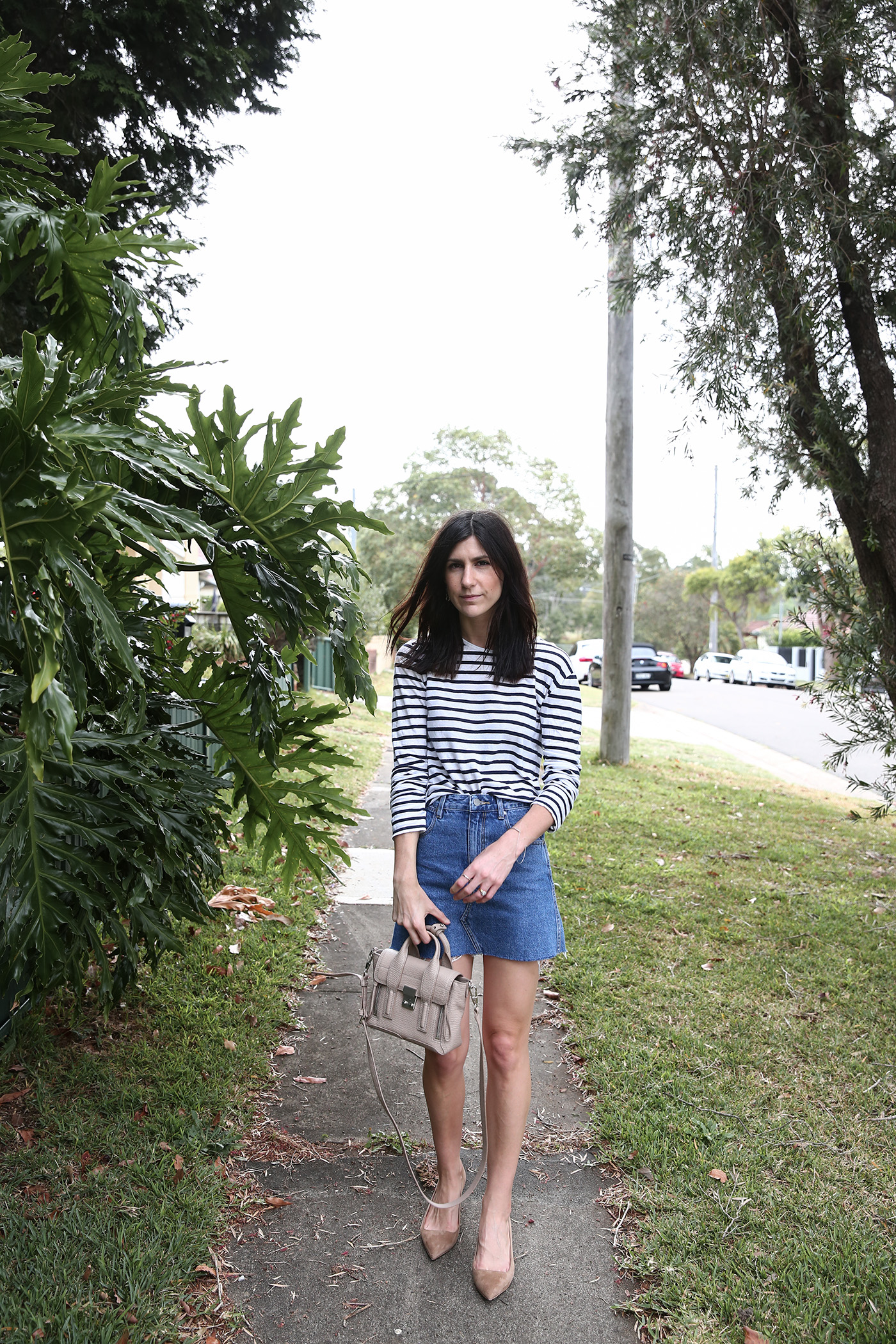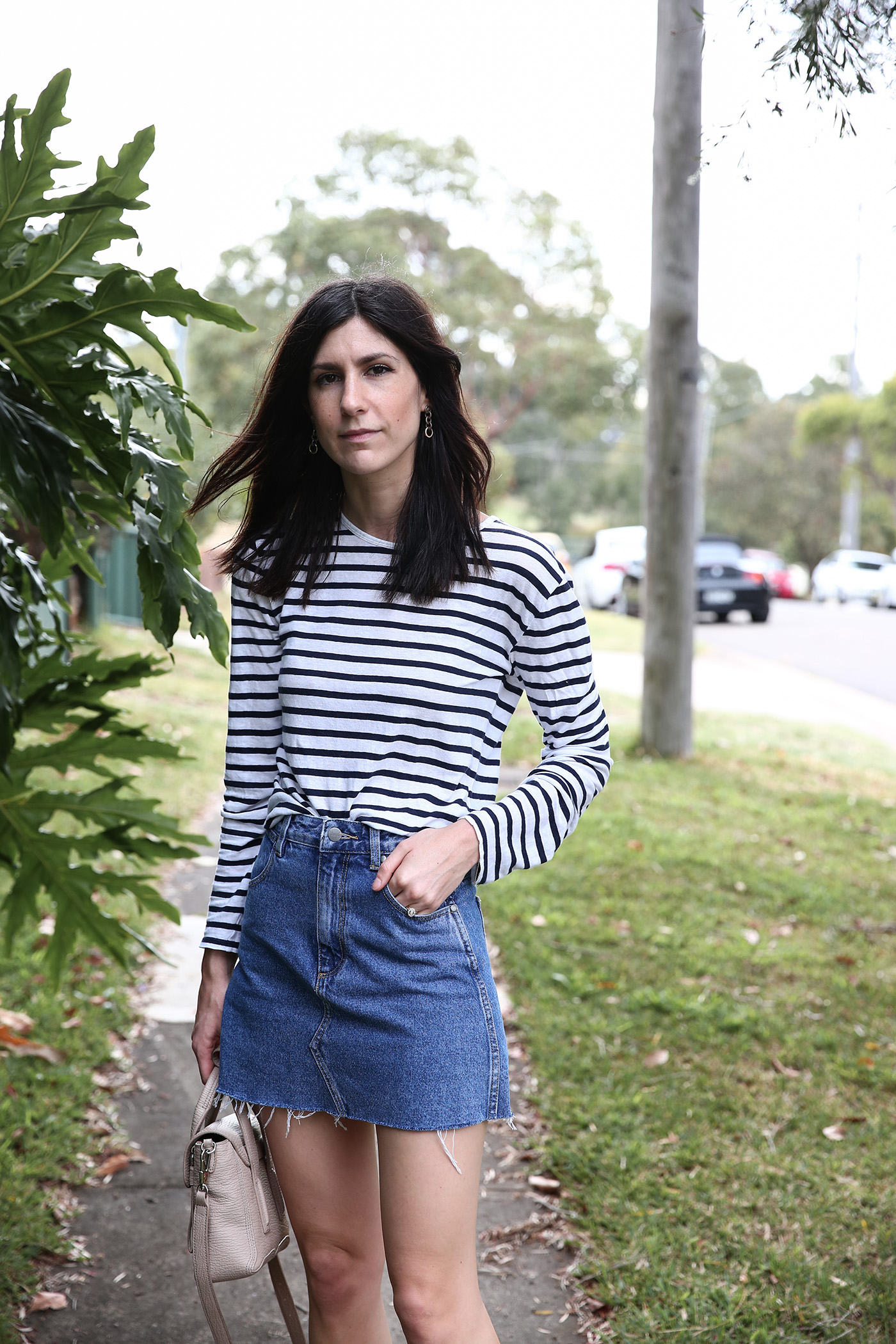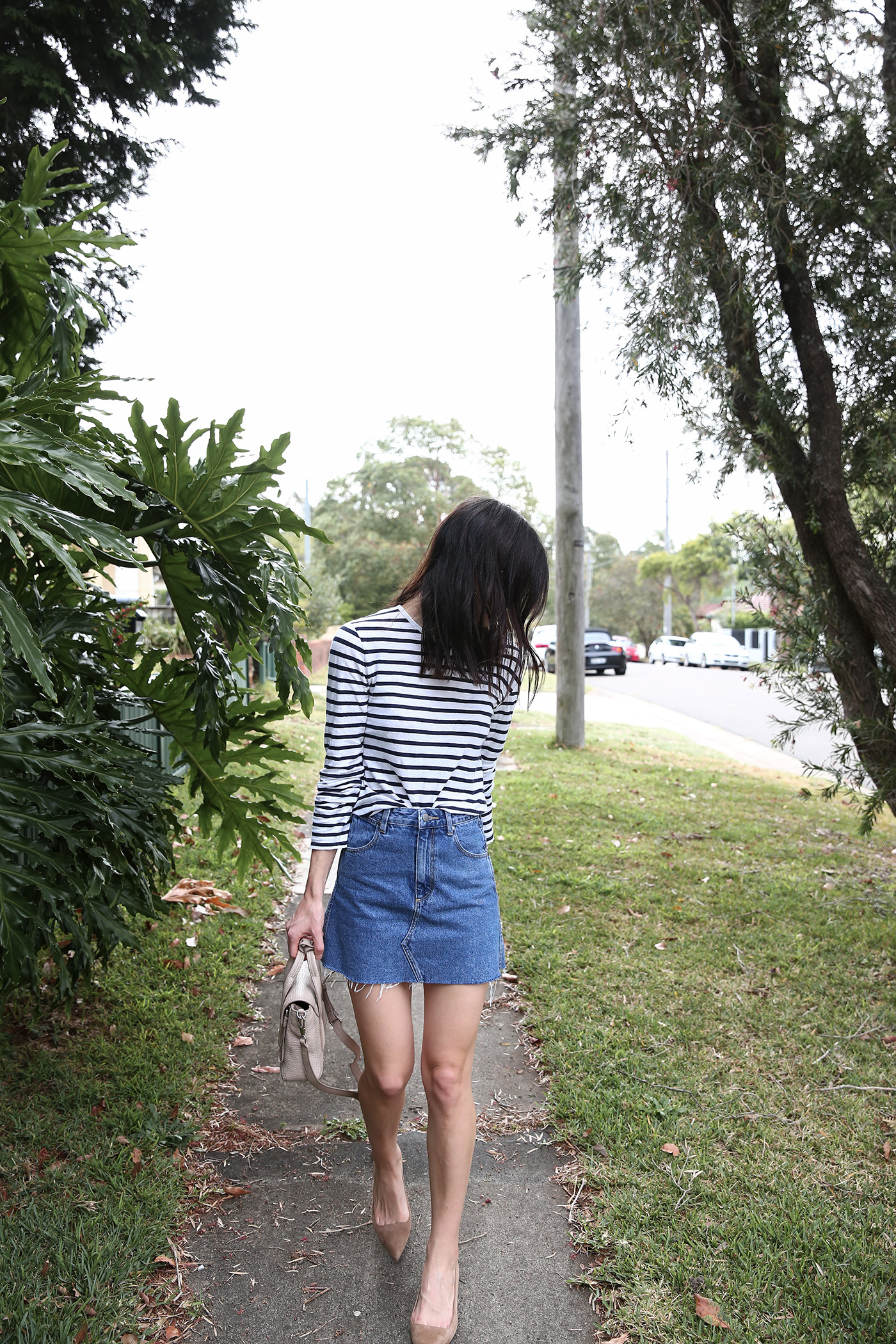 T by Alexander Wang stripe top, Wrangler denim mini skirt (similar), Everlane editor heels* (similar here), Phillip Lim pashli bag, Astrid & Miyu bracelet
Whether you're a regular here on my blog, or familiar with my what I wore this week videos on YouTube, then you'll know that my style tends to be pretty relaxed these days. It's a far cry from the heels and button down shirts I used to wear daily, which marked my initial foray into experimenting with fashion and my determination to project a timeless, classic style (even at the age of 18!).
The shift in my day-to-day style has been punctuated heavily with the addition of denim (and lots of it), low blocked heels, loose silk camis and a-line leather skirts; essentially, four of the key basic pieces in my wardrobe that I reach for almost daily. It's this shift in style that has forced me to look at my wardrobe a little differently, and think about how I can elevate these more relaxed outfits to work for the office, or for a night out. So, I wanted to share four quick and easy tips that I apply to my outfits, to elevate an otherwise simple or casual look.
K.I.S.S; Keep it simple, stupid. This has pretty much been my motto when it comes to building my outfits. Coco Chanel once said that as you walk out the door, you should look in the mirror and take one thing off, and I ascribe to that daily – there's an elegance to simplicity that can't be matched. As much as I love the idea of wearing something that's a little 'extra', a simple striped tee, a frayed denim mini, and a pair of heels can look just as good.
Wear a pair of heels; It's about as simple as it's going to get, but I find adding a pair of heels to a simple – and casual – outfit instantly adds a bit of lift and elevates your entire outfit in one swift step. The team at Everlane kindly sent me a pair of their new launch, the editor heel, which I've been pairing with more simple outfits such as the one above. I adore the combination of the pointed toe and delicate kitten heel, and the squared off cut at the foot. I decided to jump on the 'taupe' pair, which come off as a warm chestnut-hued tan shade in person, in my usual size – US 9.5/EU40. I haven't had a chance to properly break these in yet, but I do find them quite snug in the toe box, though I'm not sure going up a size would be quite the right solution as they'd probably slip off your feet. It's nothing too uncomfortable, but worth taking into consideration if you're planning on picking up a pair.
Throw some fine jewellery into the mix; Playing on that mantra that it's all in the details, the addition of some fine delicate jewellery to the mix provides a subtle elegance where costume jewellery might come off as a little gauche. Dainty little rings, fine chain necklaces and minimal bar bracelets are a good place to start.
Opt for a structured bag; My final tip is to opt for a structured bag. Adding another layer of refinement to a casual outfit, a bag can make a bit of an impact on how your overall look is perceived, which is perhaps one of the reasons why I tend to favour a structured bag over a slouchy one (especially with how relaxed my outfits are these days!).
How do you like to elevate a simple outfit?