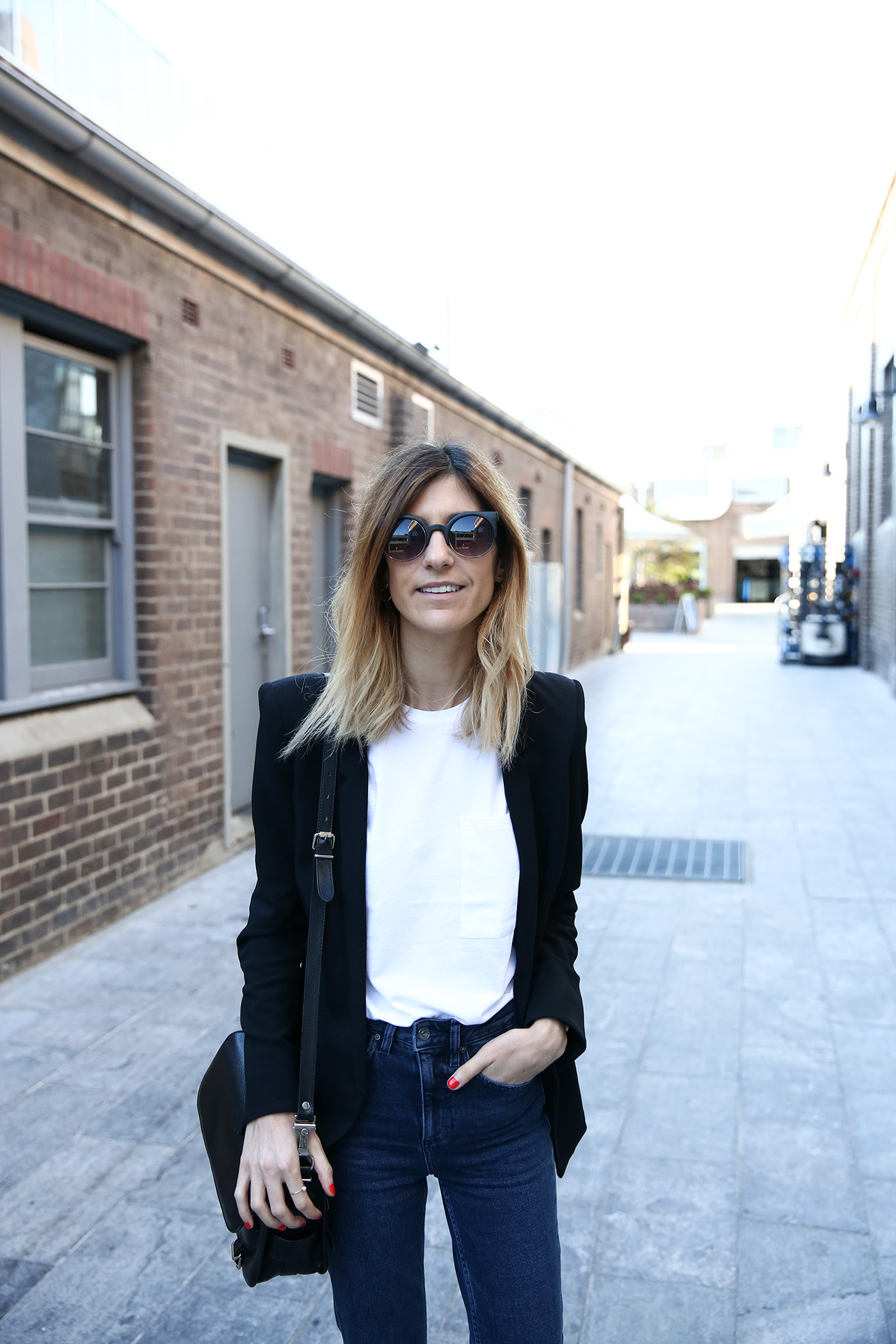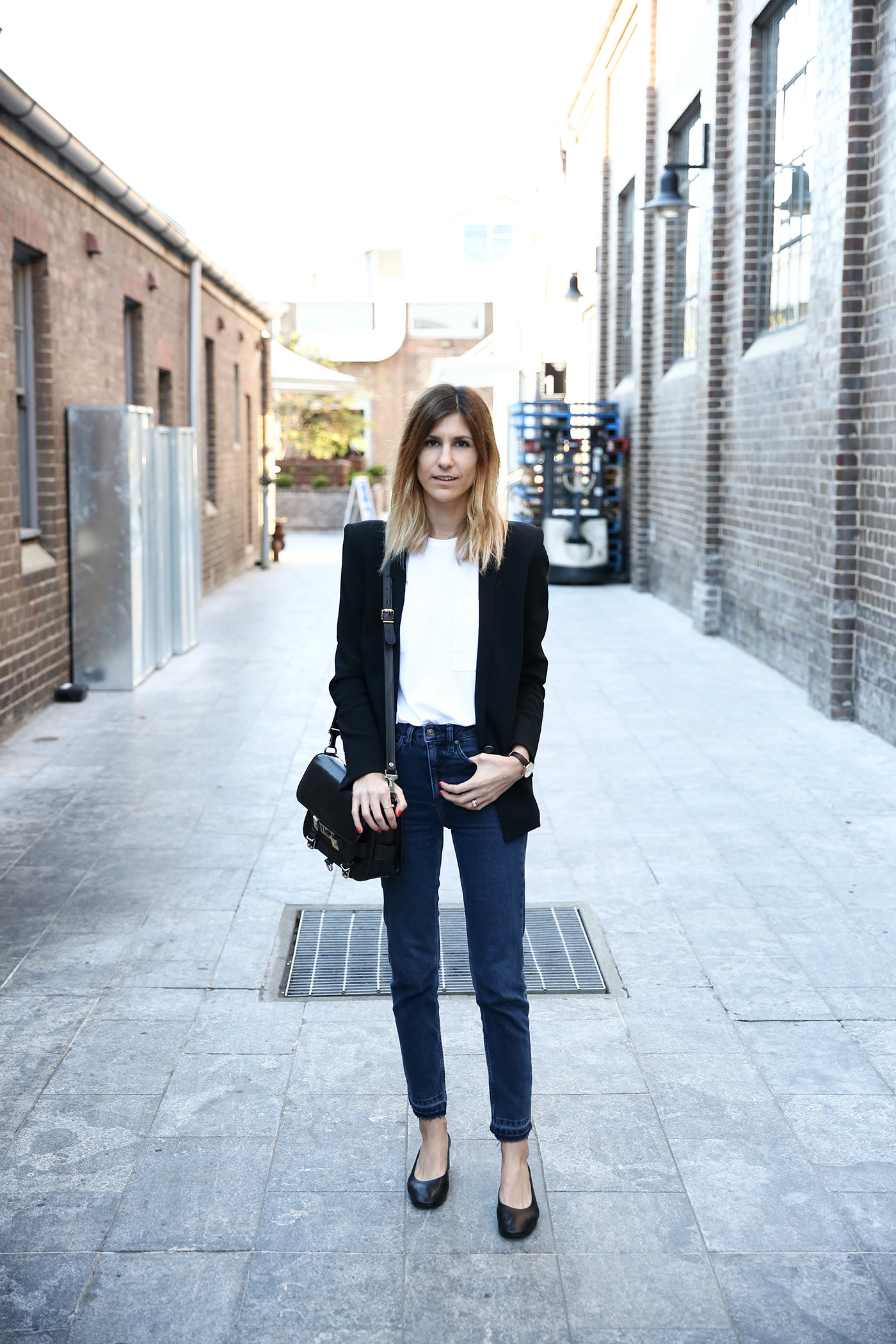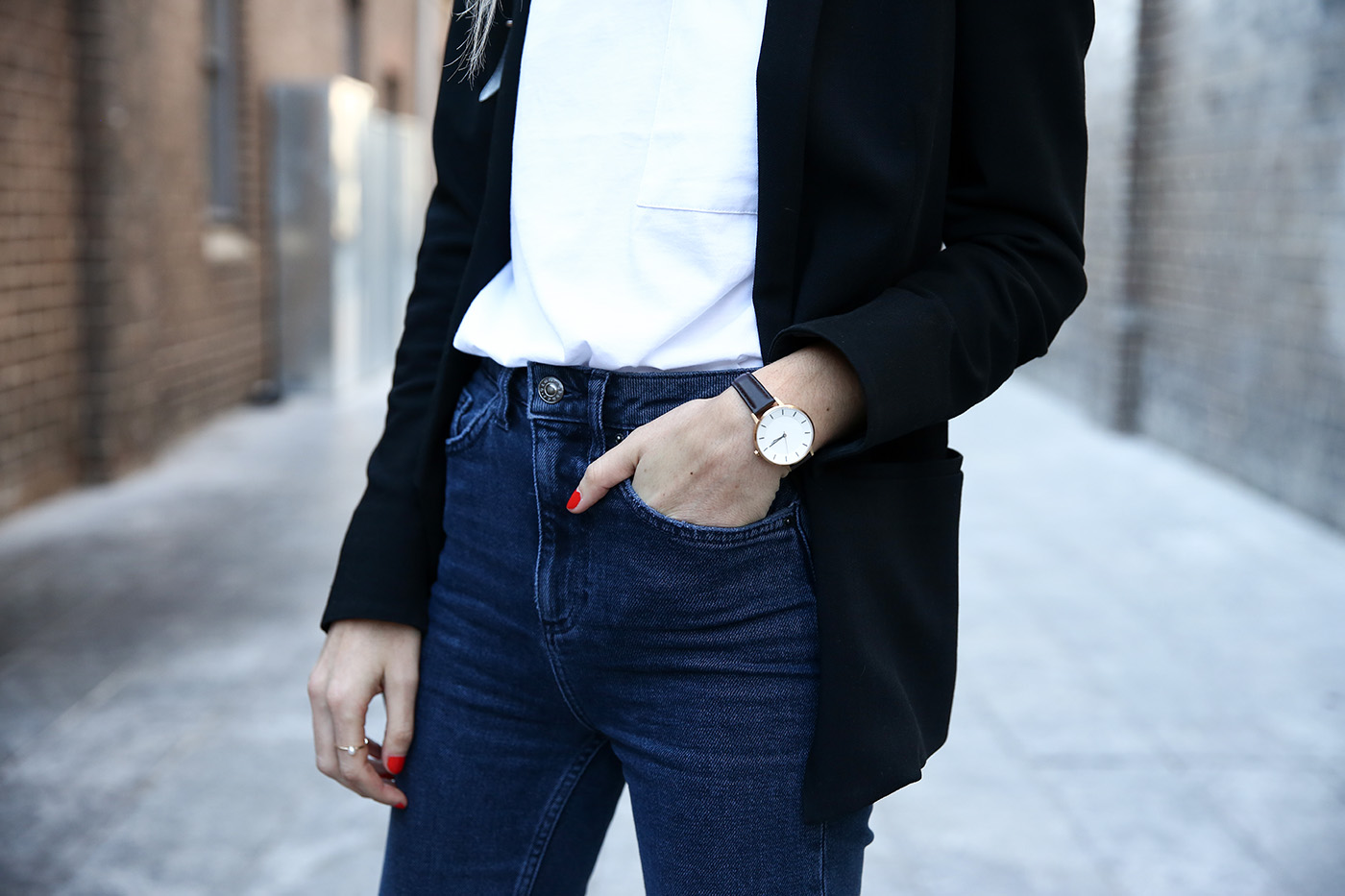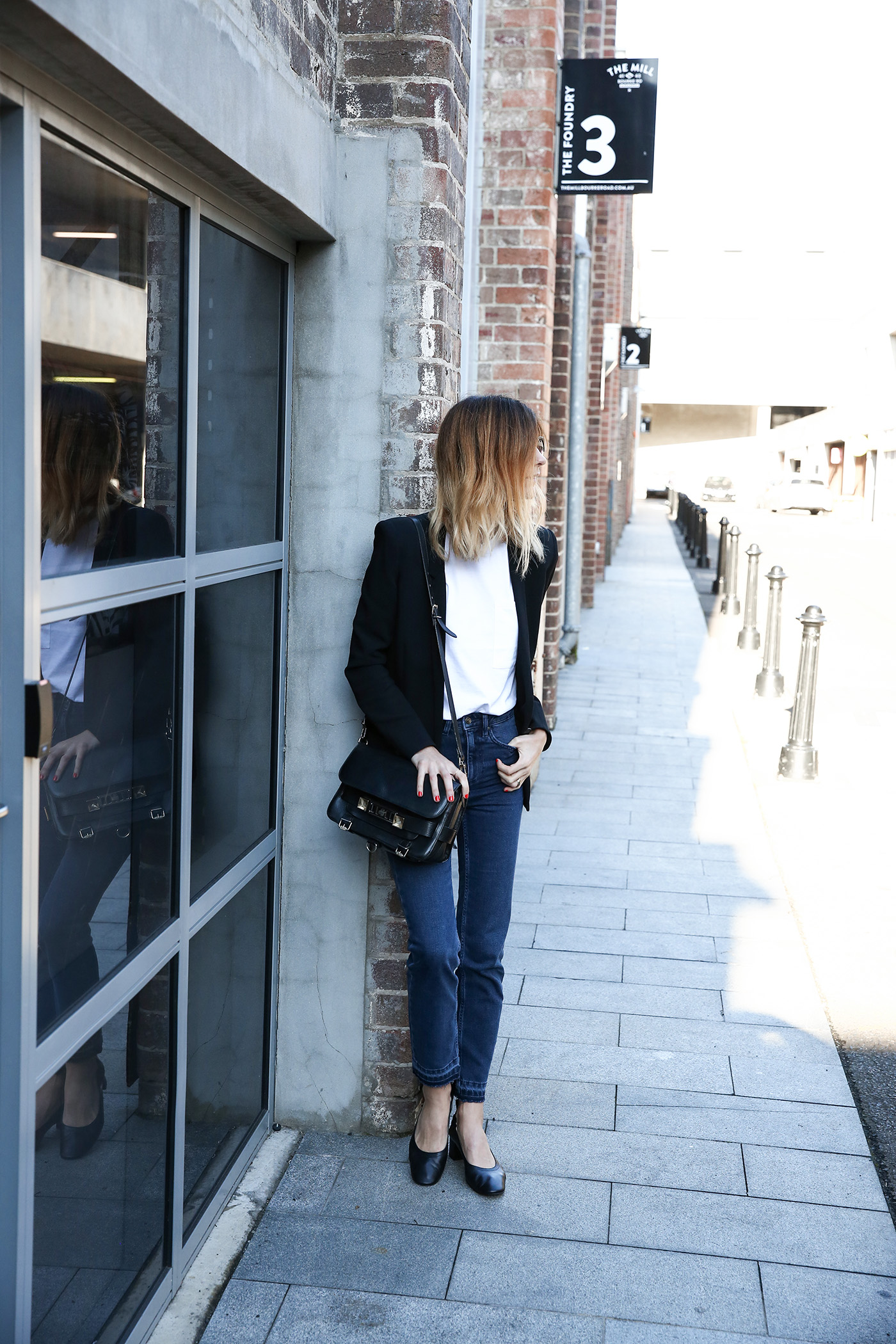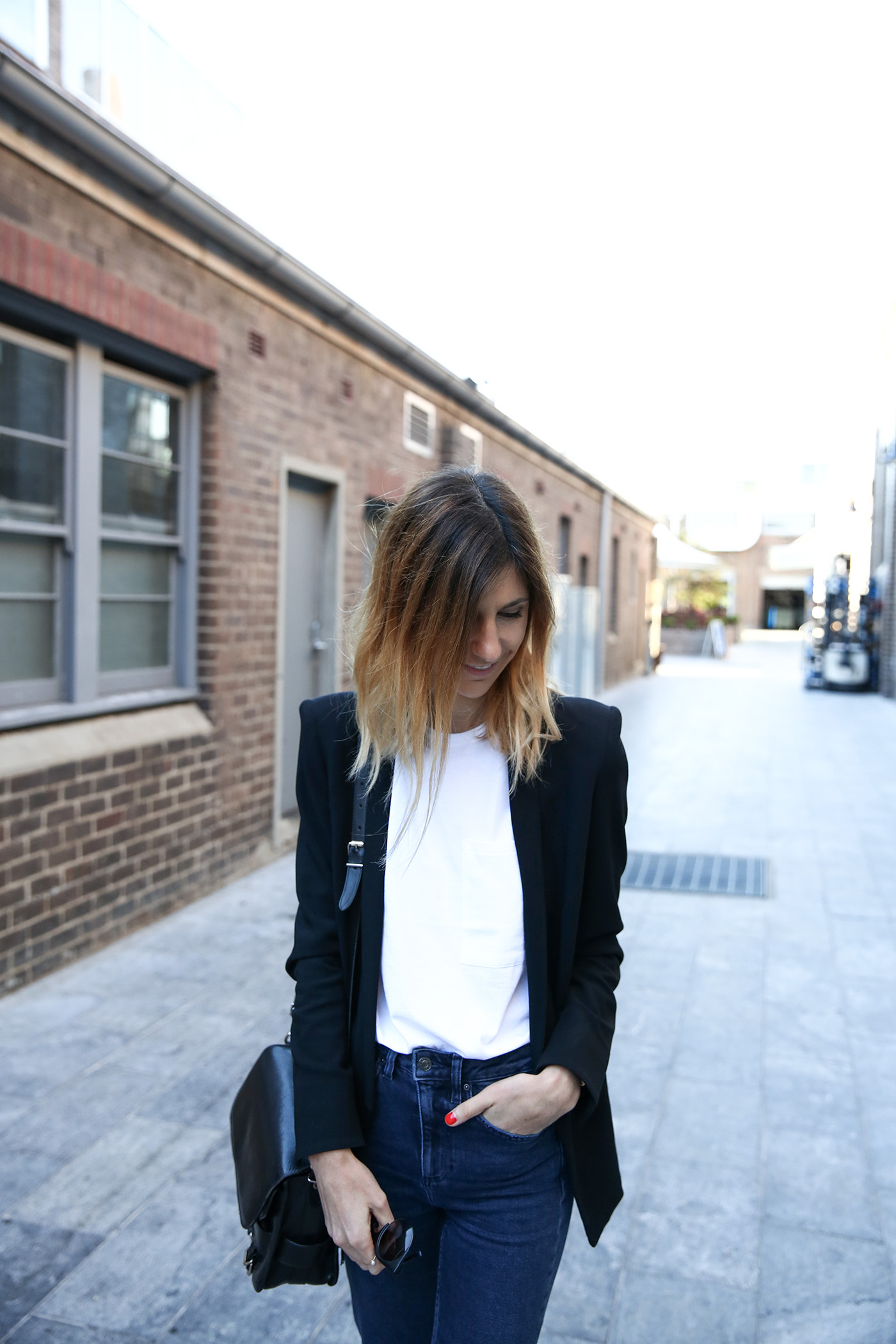 Grana boxy t-shirt, Topshop straight leg jeans, Helmut Lang blazer (I also love this option), Everlane day heels (more affordable here), ASOS sunglasses, Proenza Schouler PS11 satchel
If you take a quick look at my Pinterest boards, one thing is achingly clear; I'm heavy into everything norm core with a healthy dose of Parisian styling. Since giving my closet a much needed declutter, and taking the time to sit down and really define what it is that I want my wardrobe to look like, I've found my outfit options have started to lean more masculine, and more relaxed, in that nonchalant, just-rolled-out-of-bed-and-threw-this-on kind of way.
Tailoring is back – long live the classic black blazer – and now that the weather has finally cooled down a notch, I've been incorporating a bit of suiting to help dress up a pair of distressed denim, or add a casual elegance to an oversized sweater (these trousers from Uniqlo have become a fast favourite!).
Perhaps the biggest change for me, in terms of aesthetic and styling, has been the addition of these straight leg jeans from Topshop, with a raw edged hem. Rather than a full slim fit through the body, these have a looser silhouette through the leg, with plenty of breathing room around the ankle, and while I'm still getting used to figuring out how to pair them with the rest of my wardrobe in a flattering way, I love how they look with a mid-heel and a simple while tee tucked in. It's the kind of styling that I would have shied away from this time last year, but a little Parisian style tunnel vision never hurt anyone.
I've been building up my wardrobe with some core basics that I think are going to see me through the winter season, and then some, and I can't wait to share with you all a full post on my new wardrobe heroes, that may be rooted in my core style, yet still feel like a bit of a step outside the box of my usual every day outfits. If you're keen to get a little bit of a sneak peek of what I'm wearing lately, I'd highly suggest checking out my Instagram, as I'll be sure to be sharing some of my current winter looks during my upcoming trip to New Zealand! x