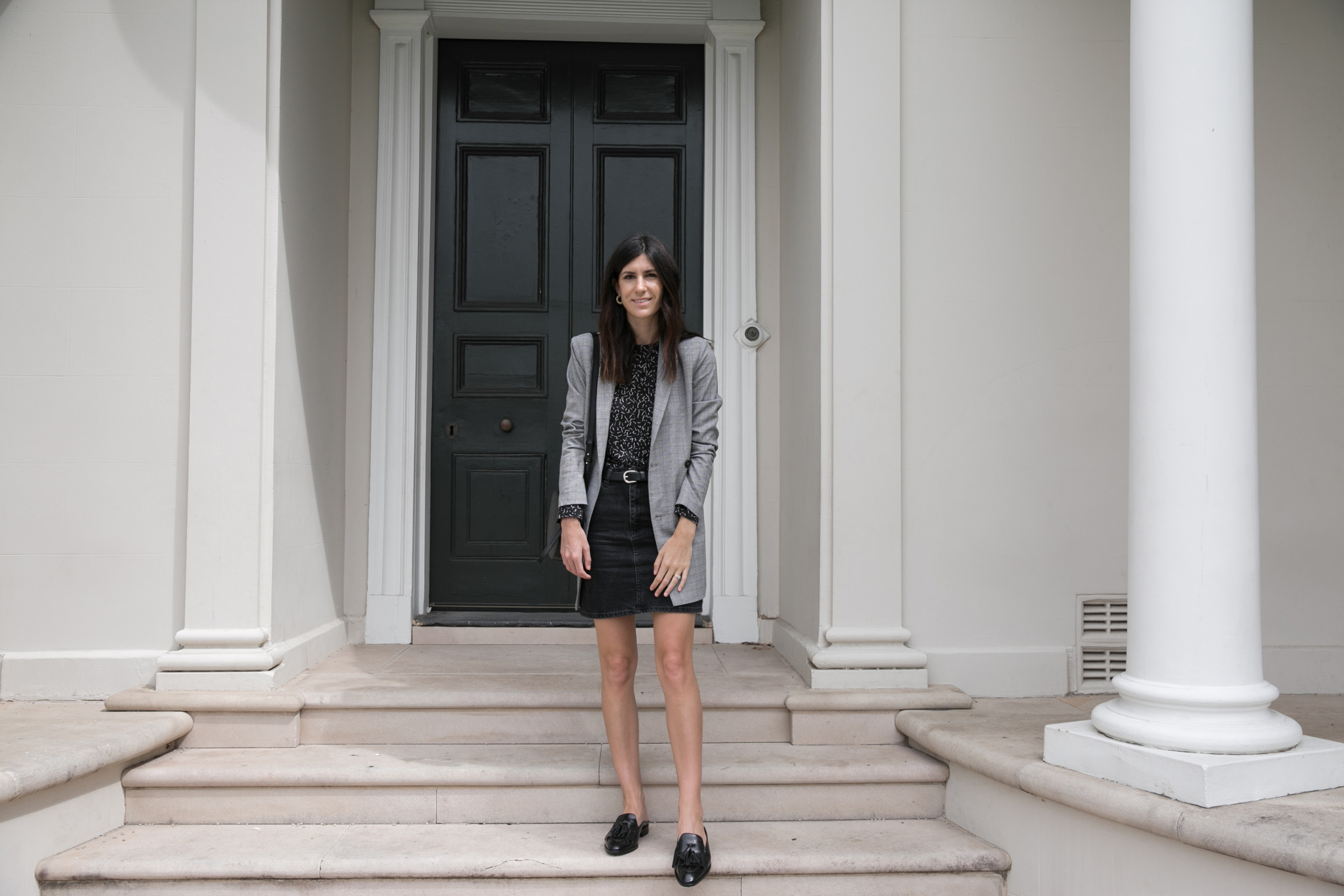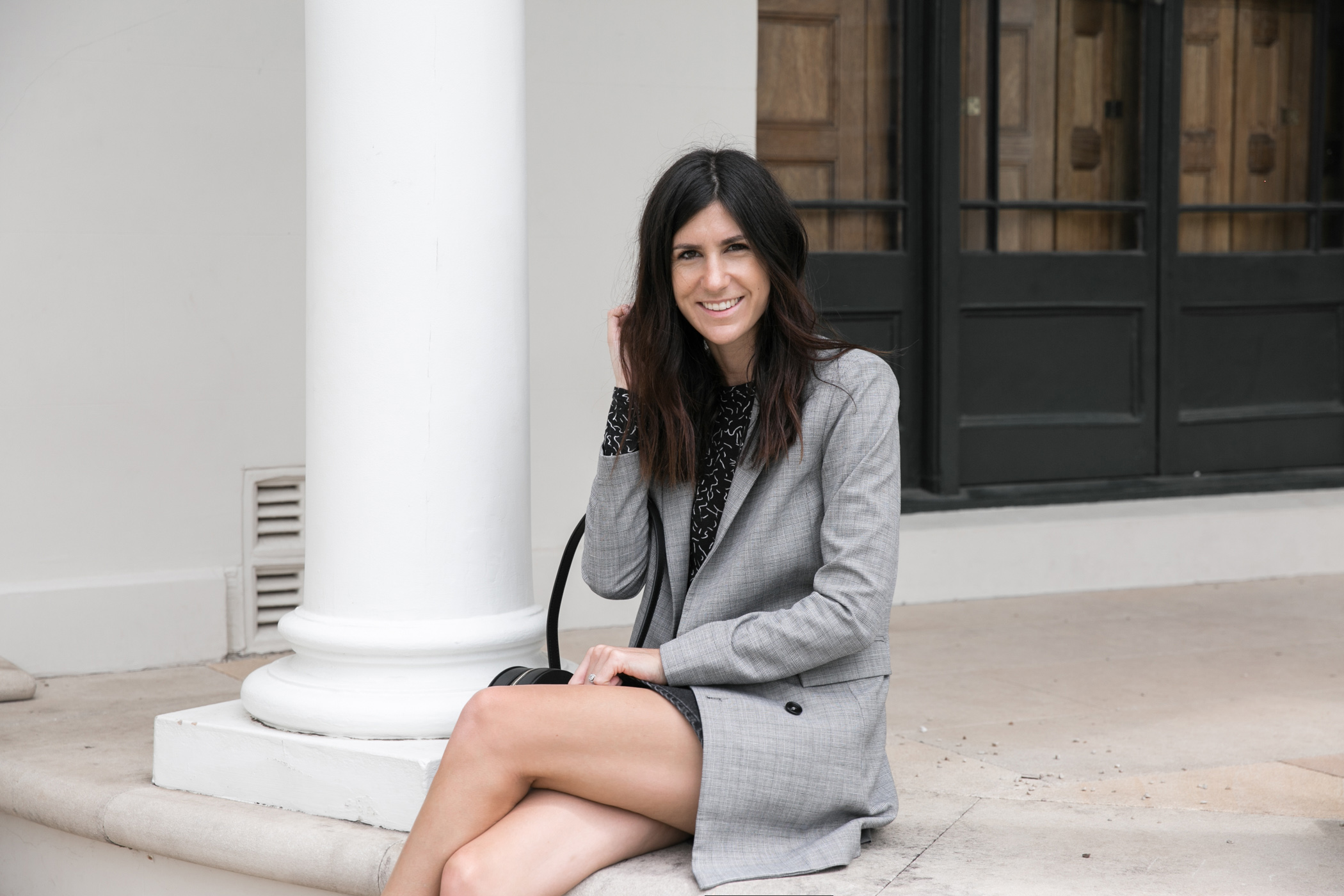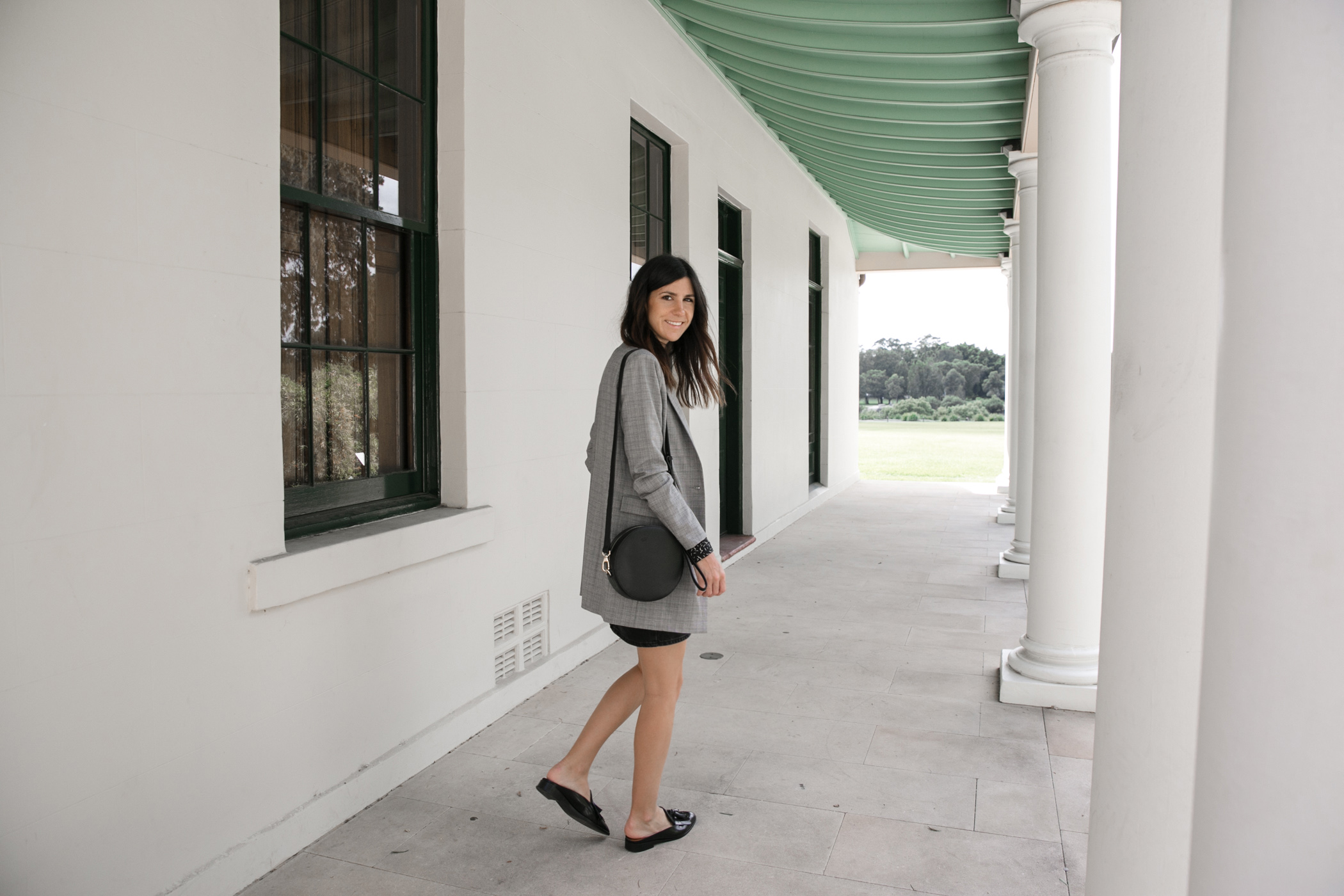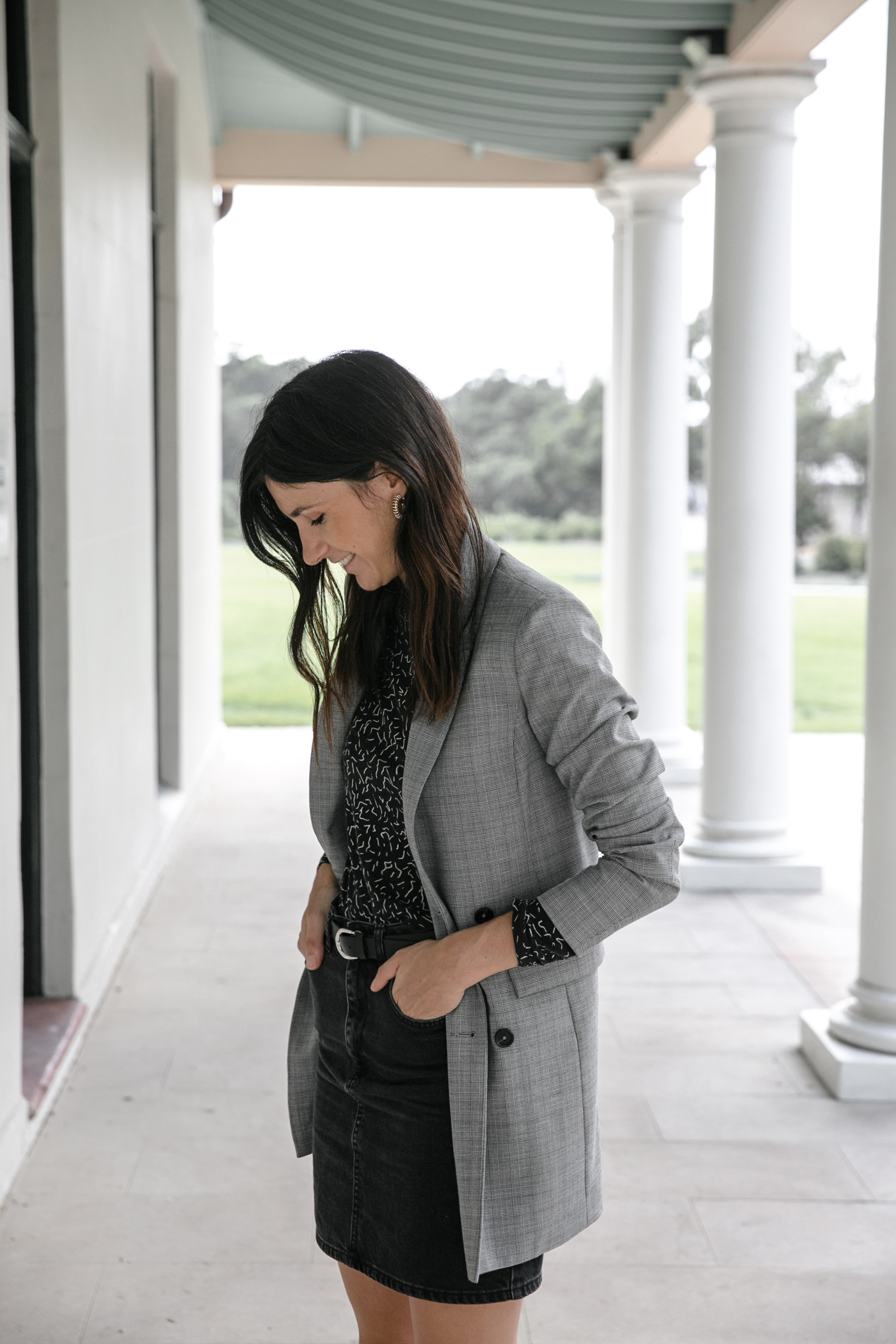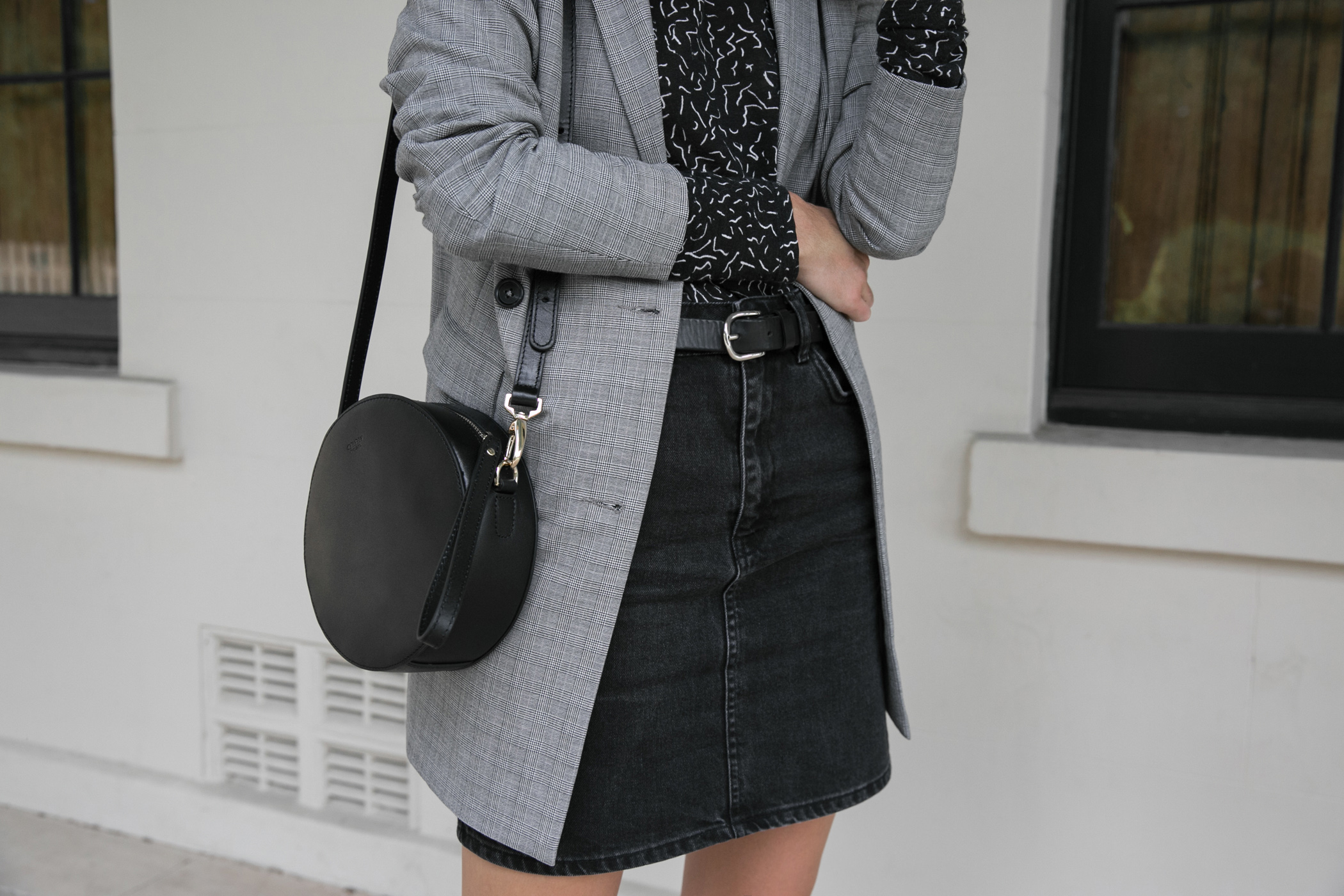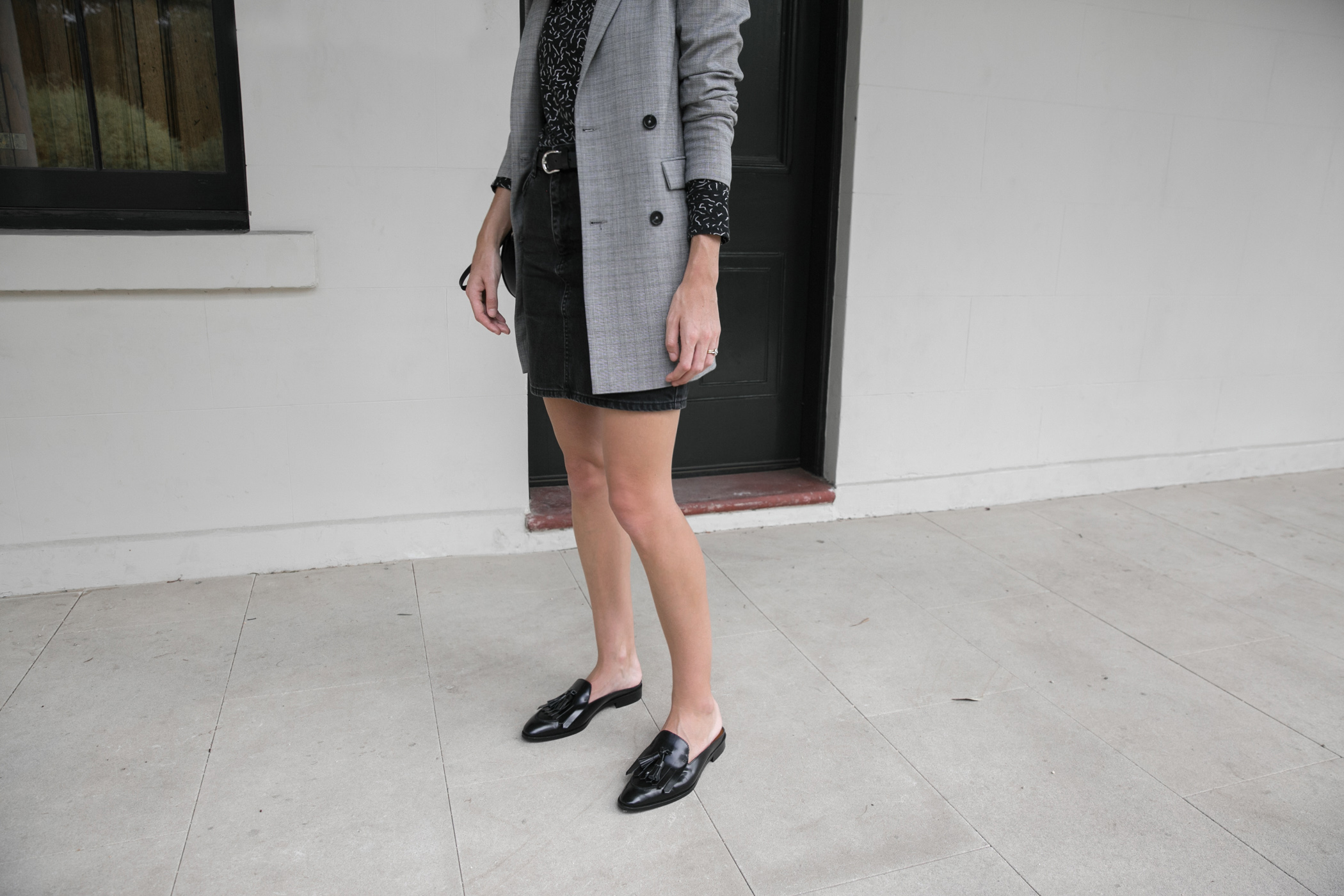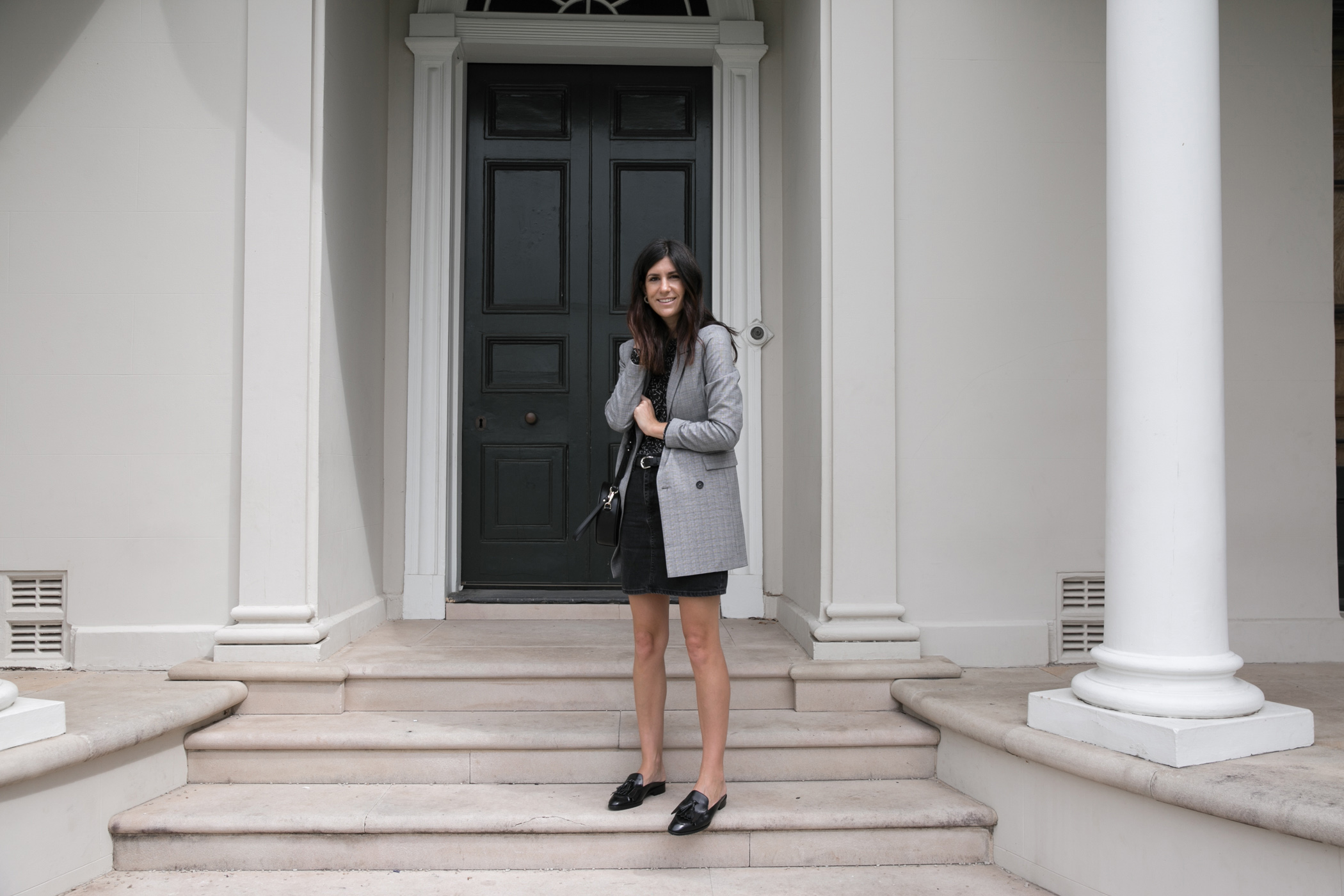 When it comes to adding anything new to my wardrobe, there's two key things that I look for; something that will mix and match easily with my existing wardrobe, and ideally something I can see myself wearing at least 12 months from now. While it doesn't always work out that way for me, it's the classics that invariably find a permanent spot in my wardrobe. One of the latest additions to my closet has been this check blazer from Storm; double breasted, a soft lapel, lightweight and cut to halfway down the thigh, it's pretty quickly cemented its spot as a key player in my autumn wardrobe.
Wearing Proenza Schouler top, Storm check blazer (love this one too, and this is another great alternative), ASOS denim skirt (a white one would look gorgeous as well), Everlane loafer mules (similar), Isabel Marant belt (this is an affordable option), Celery black leather circle bag (this one is also cute), Reliquia earrings
I don't tend to jump onto trends too quickly – or too often – but one item that I've seen popping up everywhere the last six months is the check blazer. It's the kind of simple style item that you didn't realise your wardrobe needed, and they don't seem to be going anywhere any time soon.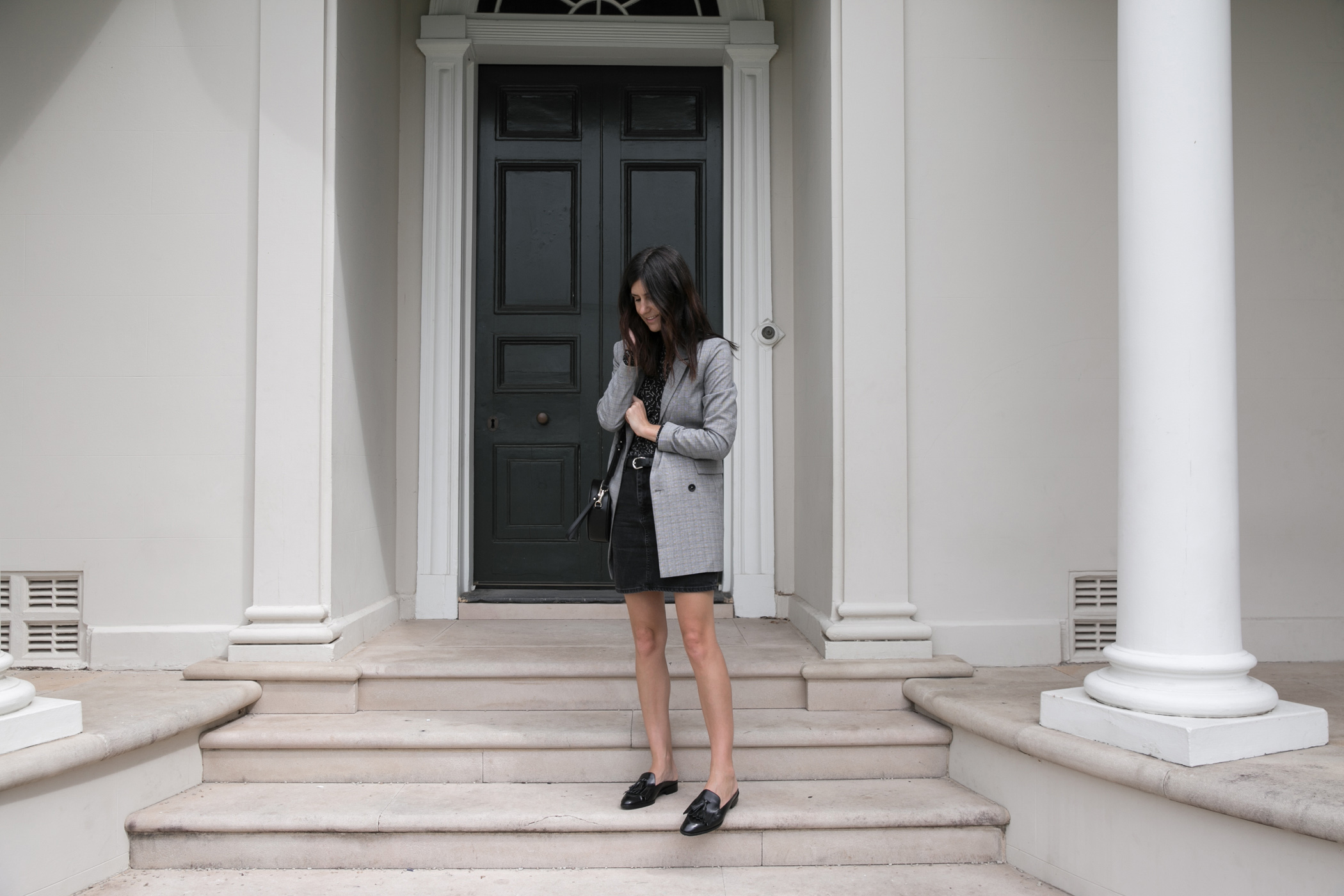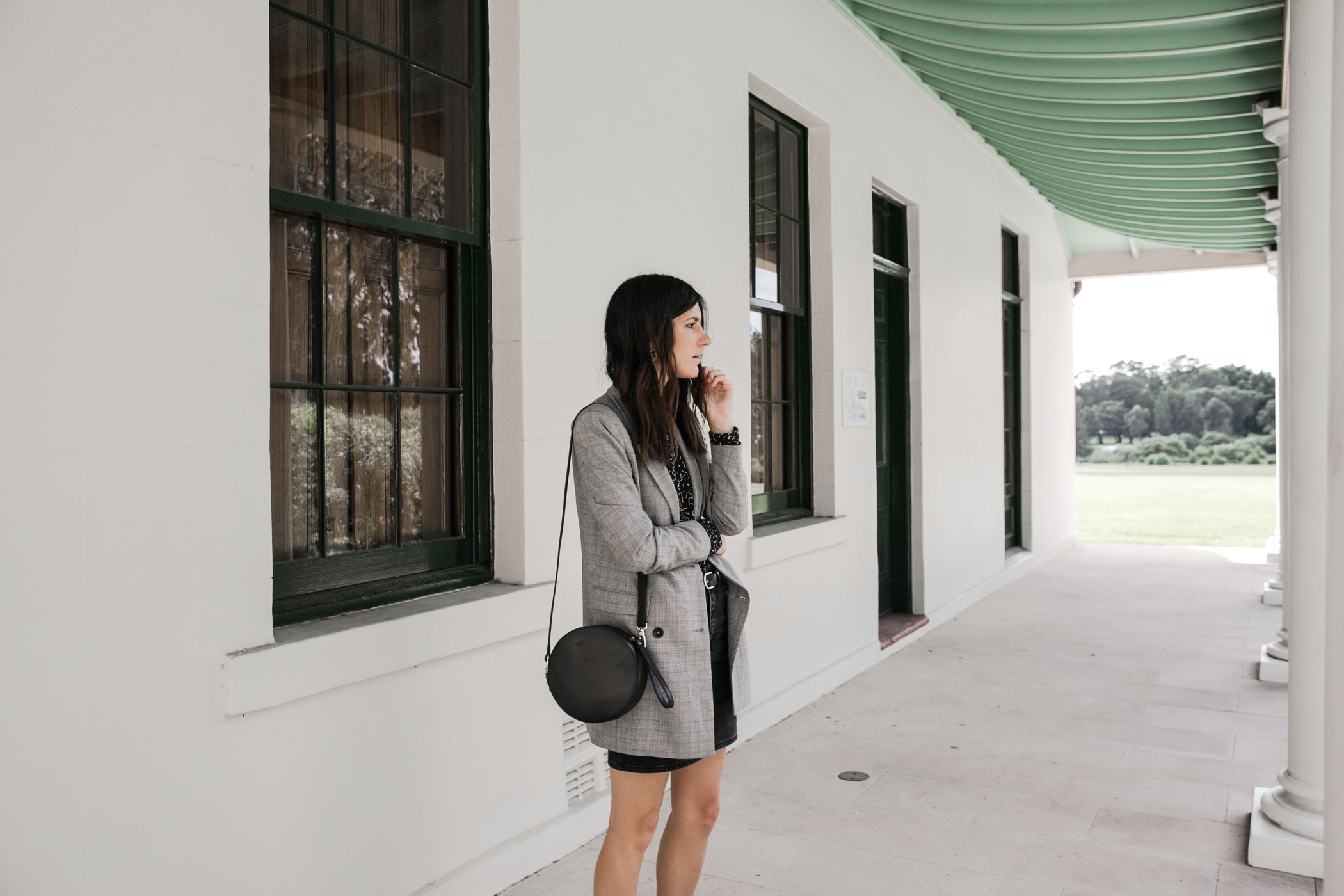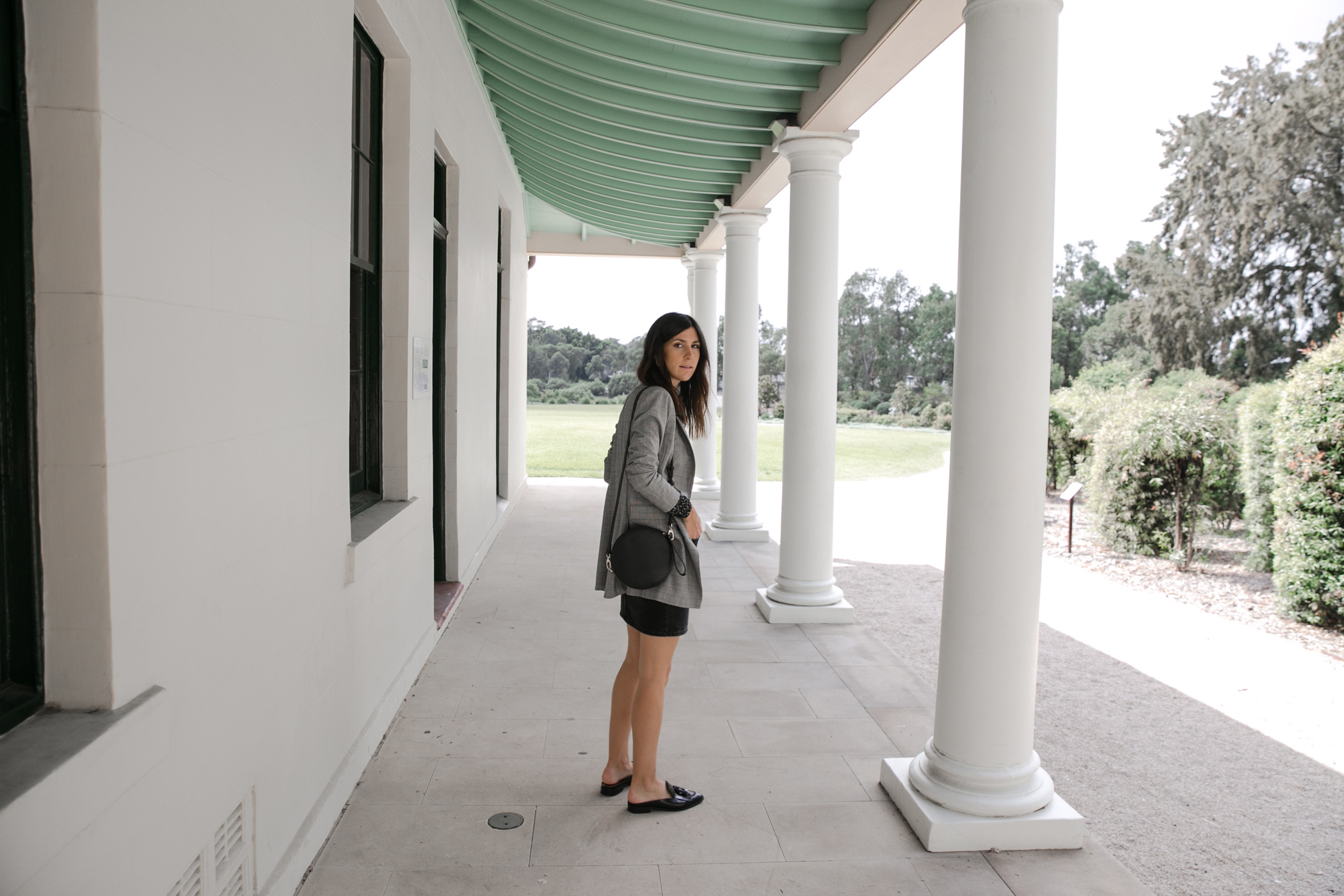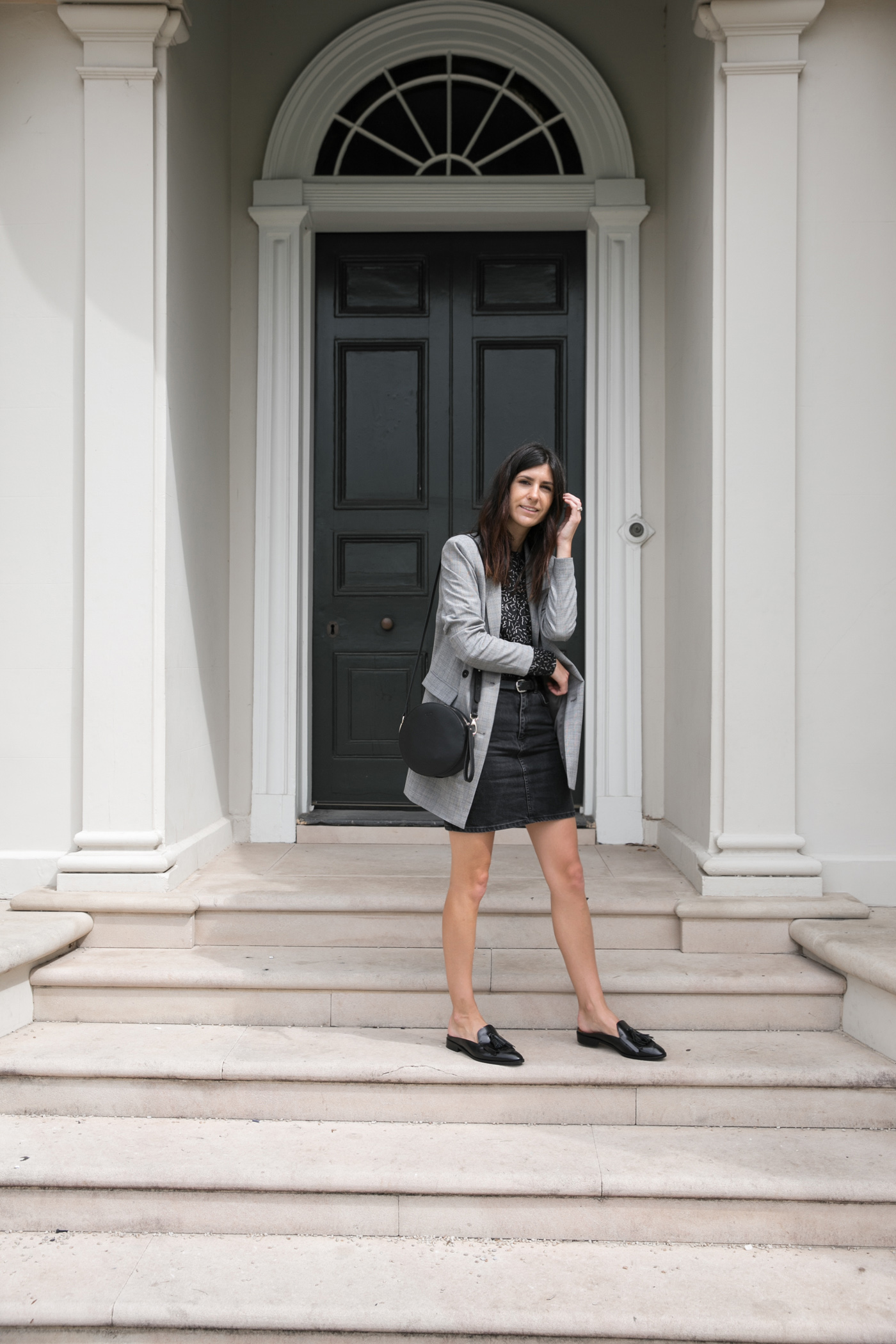 Going back through my outfit archives, it doesn't take long to quickly spot that a good quality blazer has long been a wardrobe hero of mine, and one which I've found has been a great accompaniment to the more relaxed outfits that I've been reaching for lately. What I really like about this one from Storm is that it doesn't have too much structure. It still fits well in all the right places, but has a really beautiful, yet relaxed drape to it. It's a bit of a sophisticate in the way that it easily lends itself to both more corporate looks, as well as more casual ones like the way I'm wearing it above.
I've added a few blazers to my wardrobe recently, but couldn't go past a check one as the classic pattern elevates a simple t-shirt and denim combo, but it's also versatile enough to take you from work to the weekend. It's the kind of wardrobe staple that you can wear with everything and for autumn, I'll be pairing my check blazer with slip dresses, silk blouses and a pair of skinny jeans, cami tops and tailored trousers, and over chunky knit sweaters.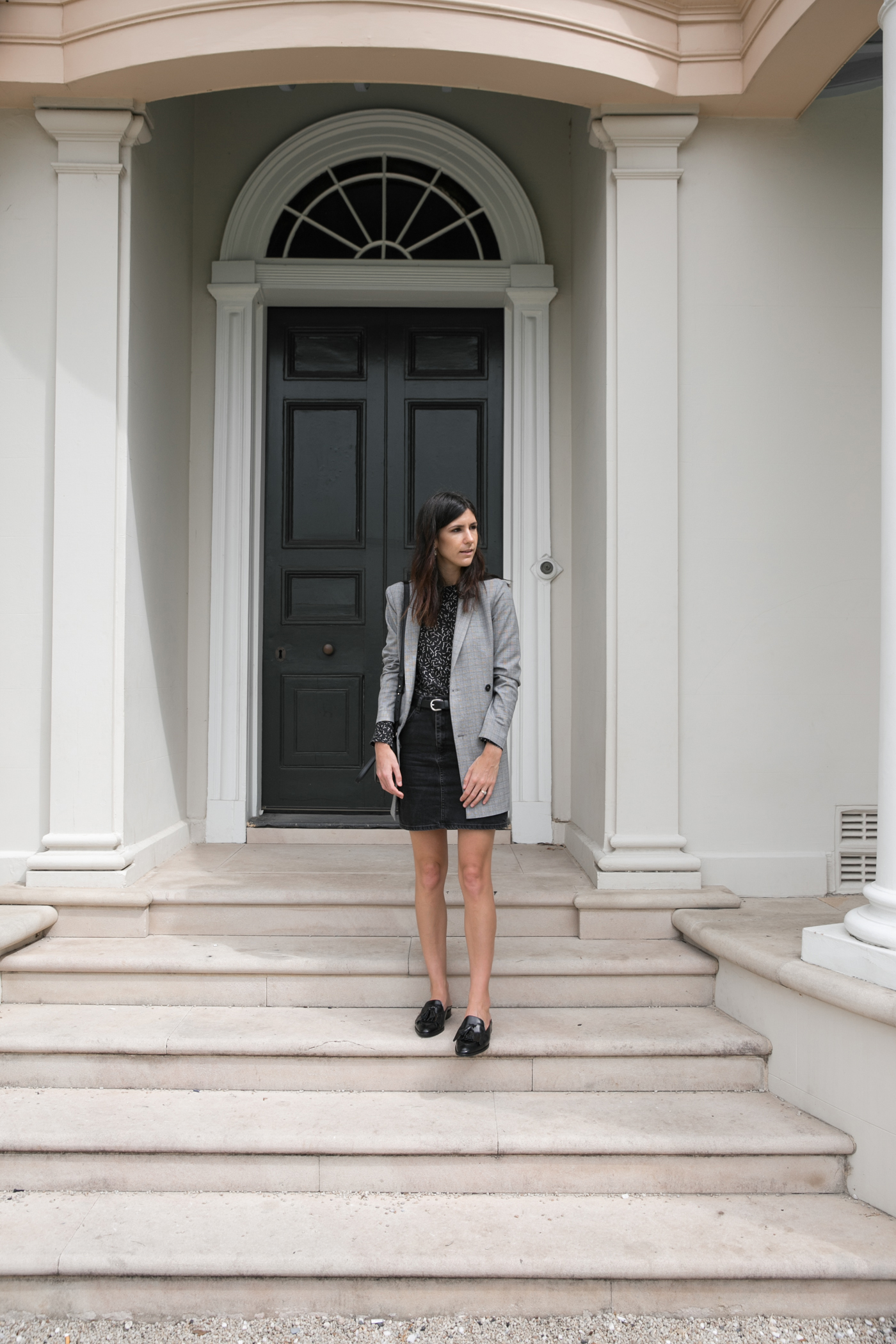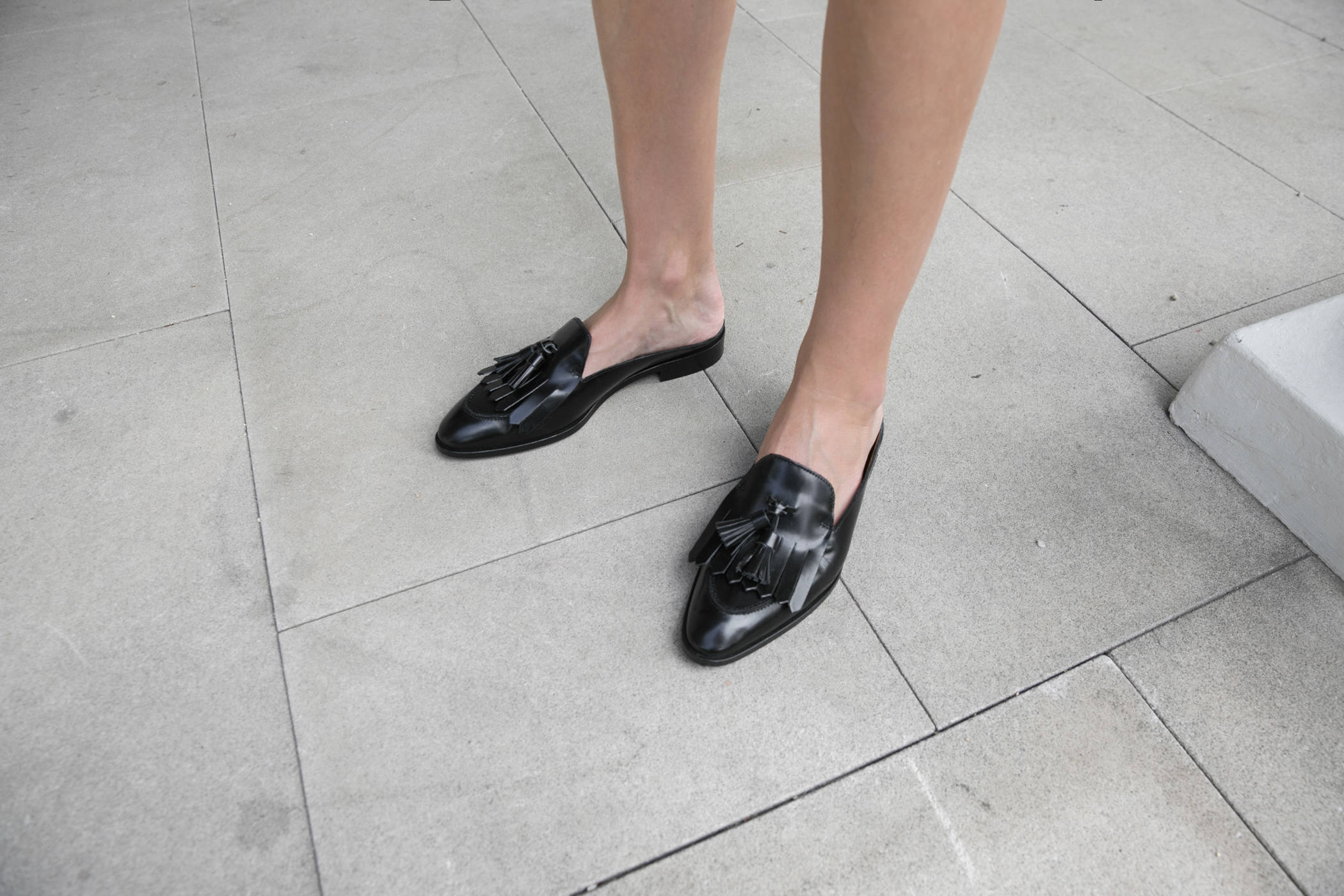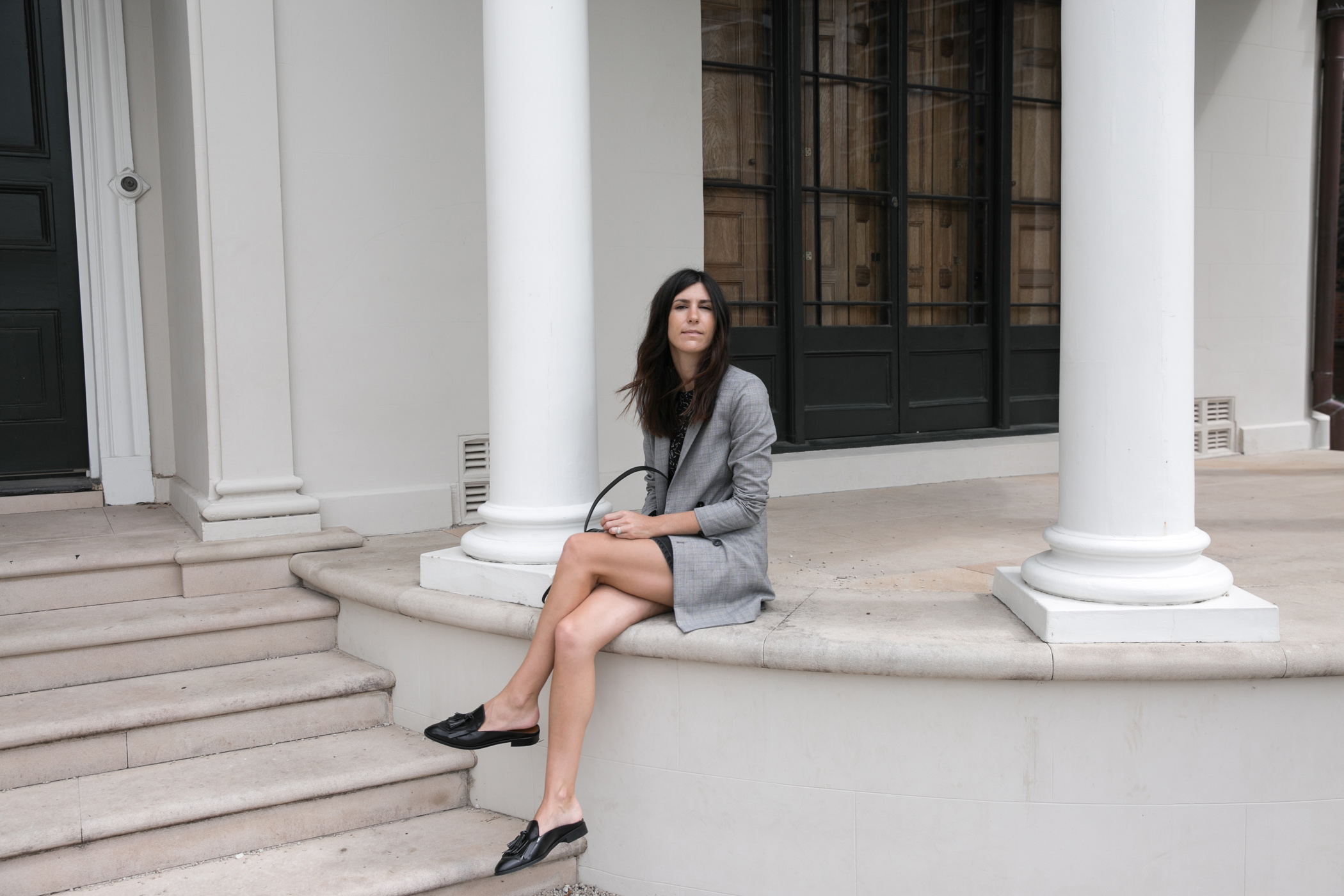 Styling Notes
Minimal colour palette: Okay, it's not often that I inject a lot of colour into my outfits (but I am trying…!), but I do really love how the more minimal colour palette works with this relaxed outfit. I extended this to the accessories, to keep the focus on the individual pieces of the look instead, like my check blazer.
Print on print: The abstract graphic print on my tee really helps to play up the check print of the blazer, and rather than distract from it, I find it enhances the overall outfit (plus makes it the look much more interesting!). I've scrunched up the sleeves on the blazer a bit so that the sleeves of my top peek out at the wrists, which adds a little element of surprise and creates a nice contrast.
Circle bag: Circle bags seem to be a huge trend at the moment – for both autumn and spring – and I couldn't go past this gorgeous black leather option from Celery the Label, which adds a playful touch to the look. The bag has a lot of structure to it, and you can actually remove the shoulder strap and wear it as a wristlet, something I think I'll be doing when wearing it for an evening out.
Shop the look below: