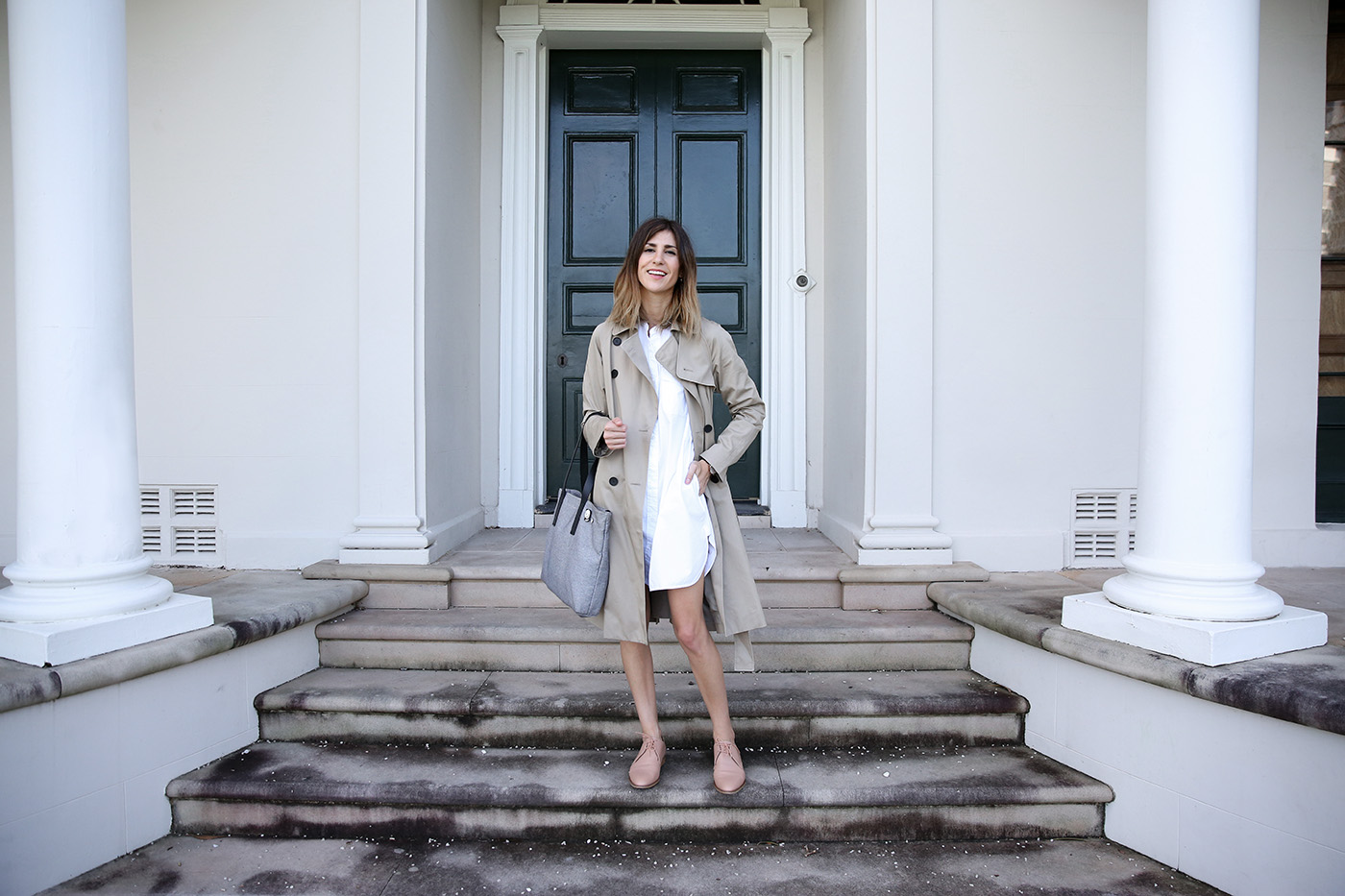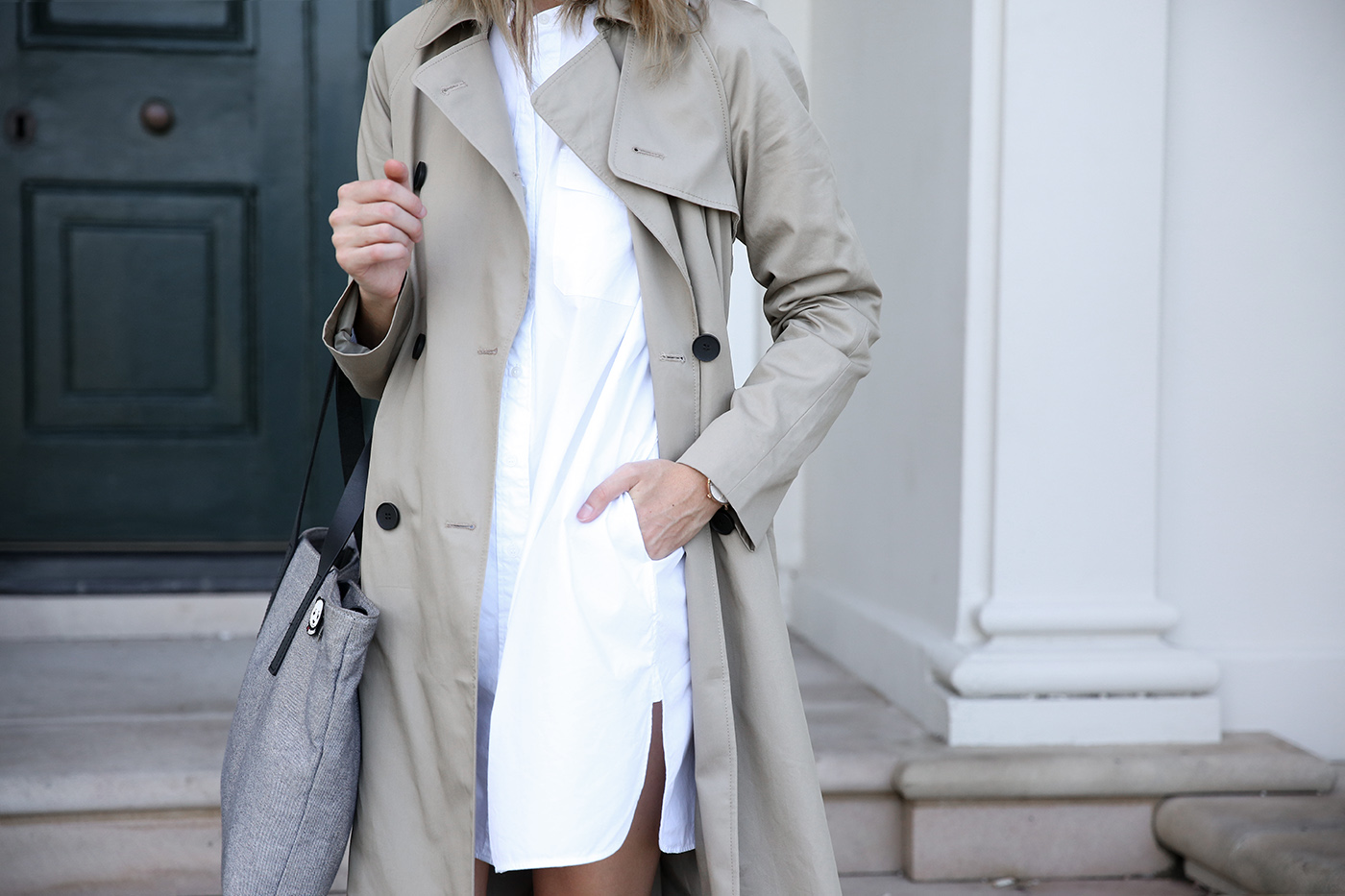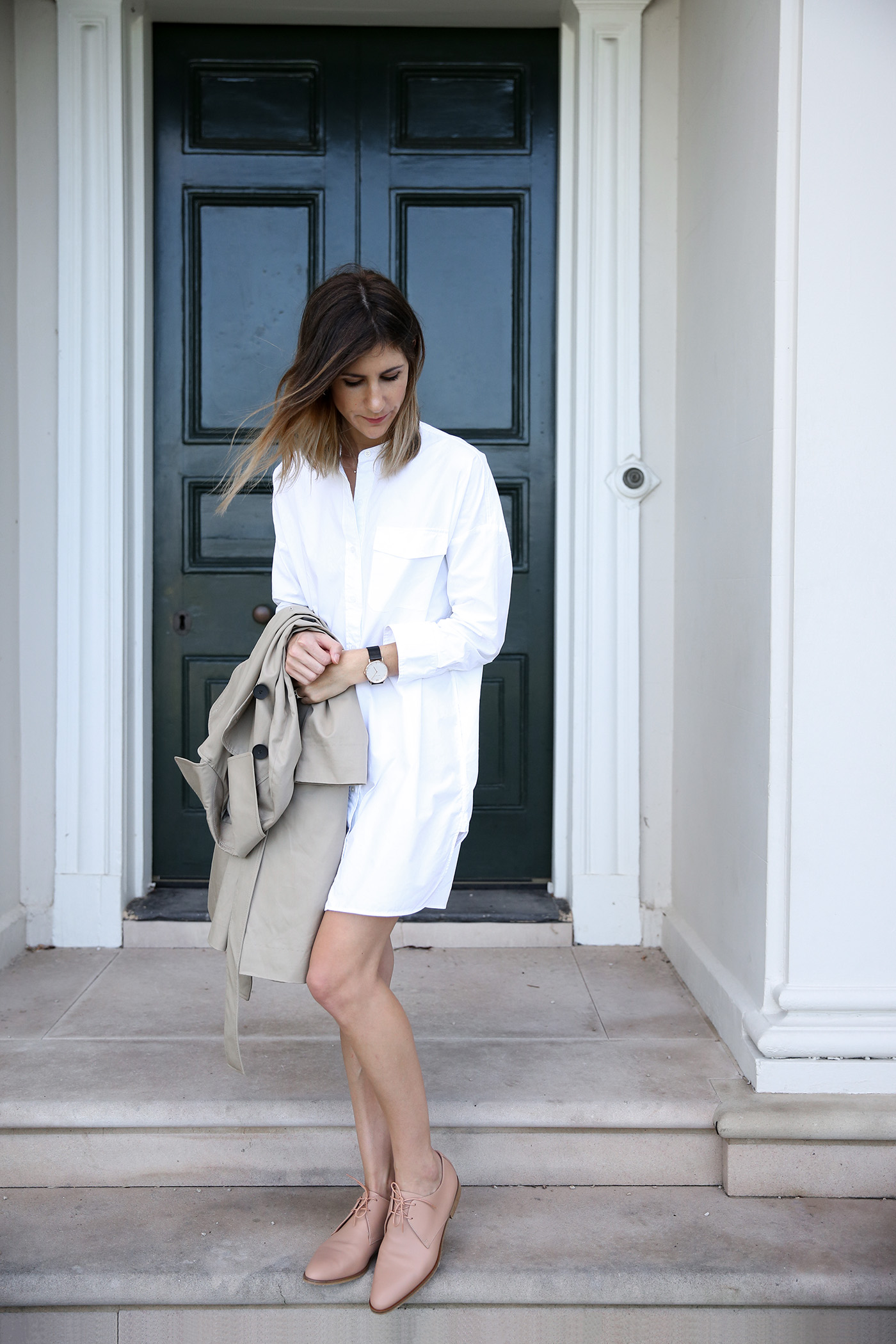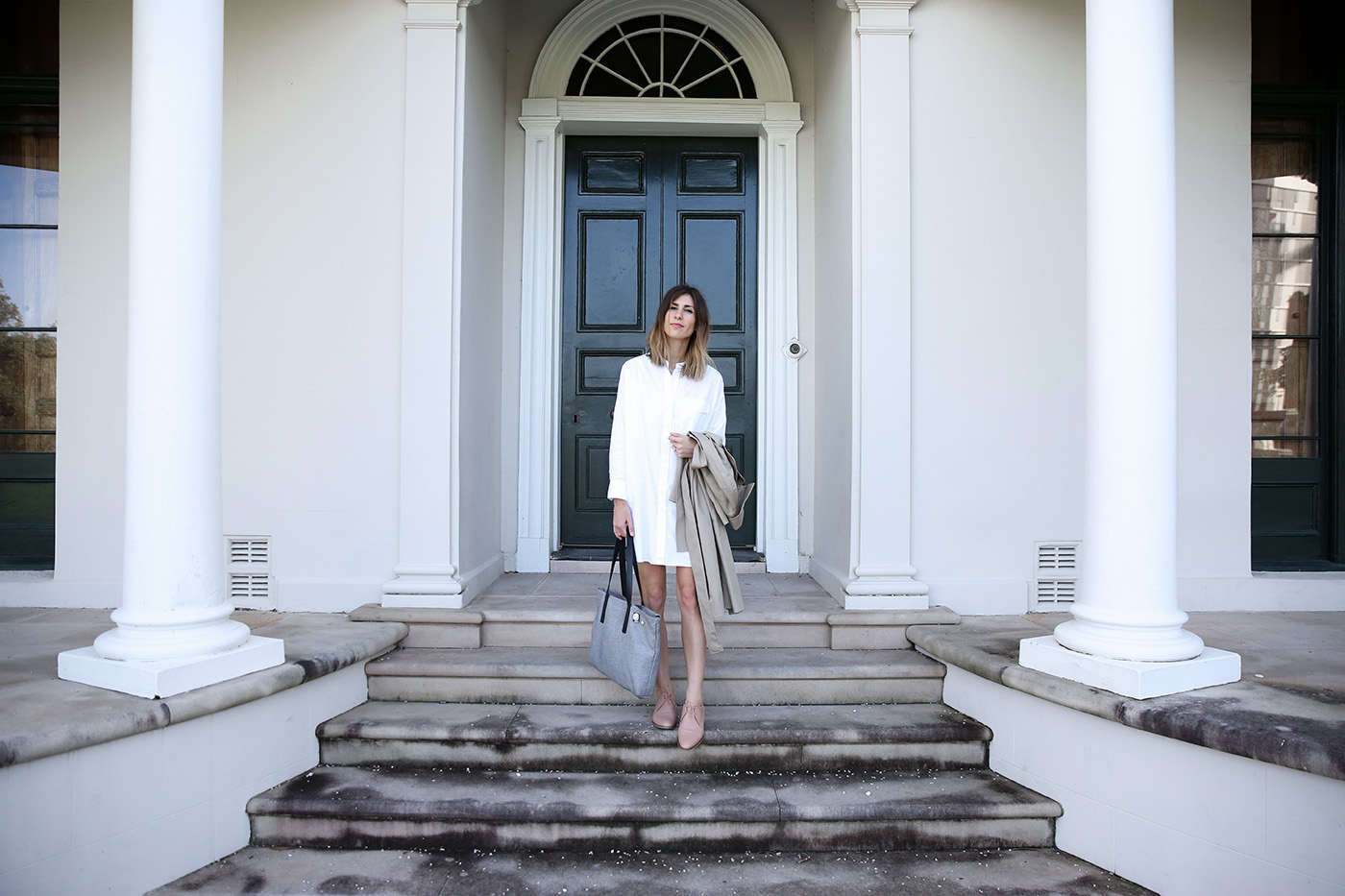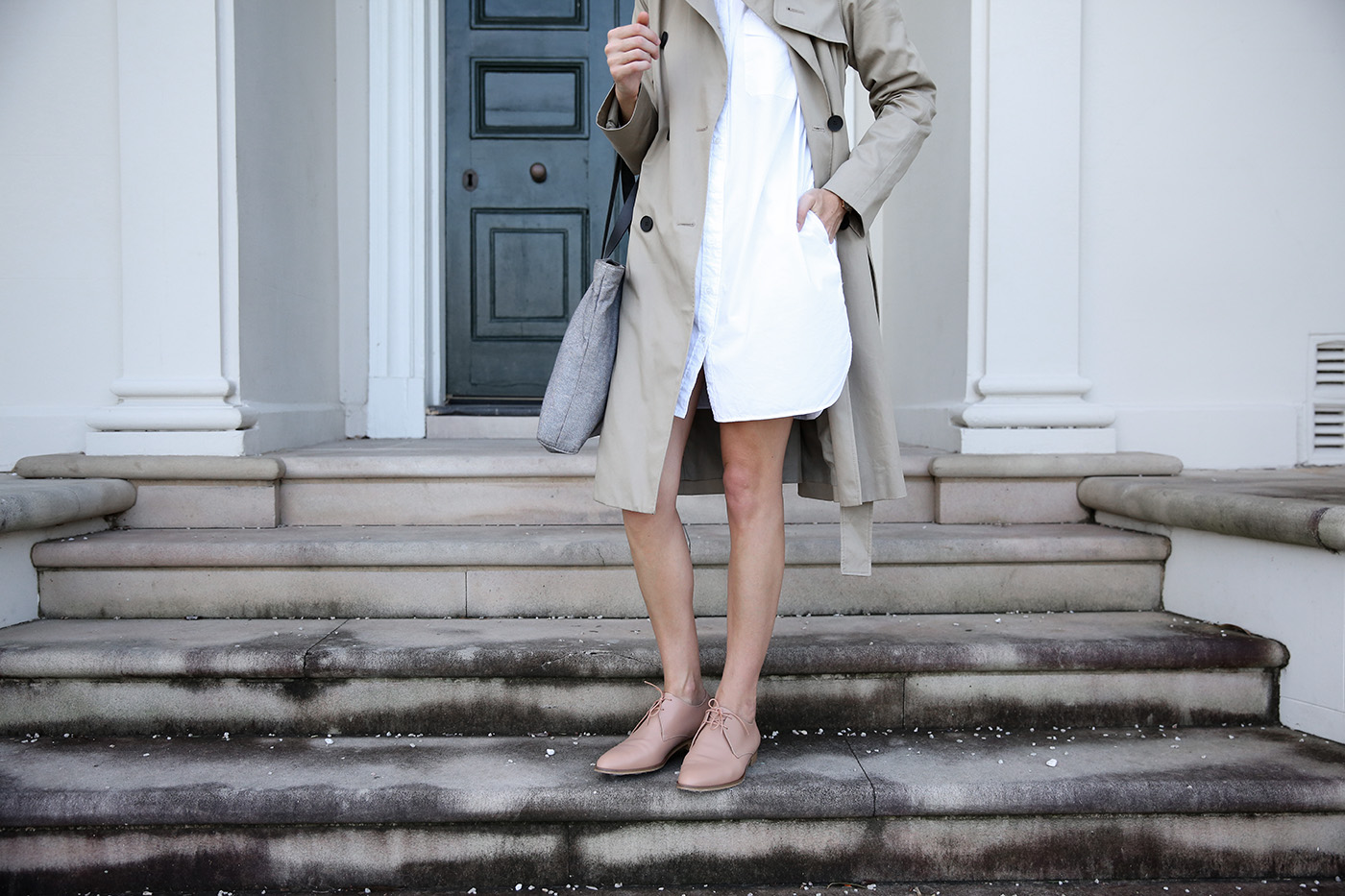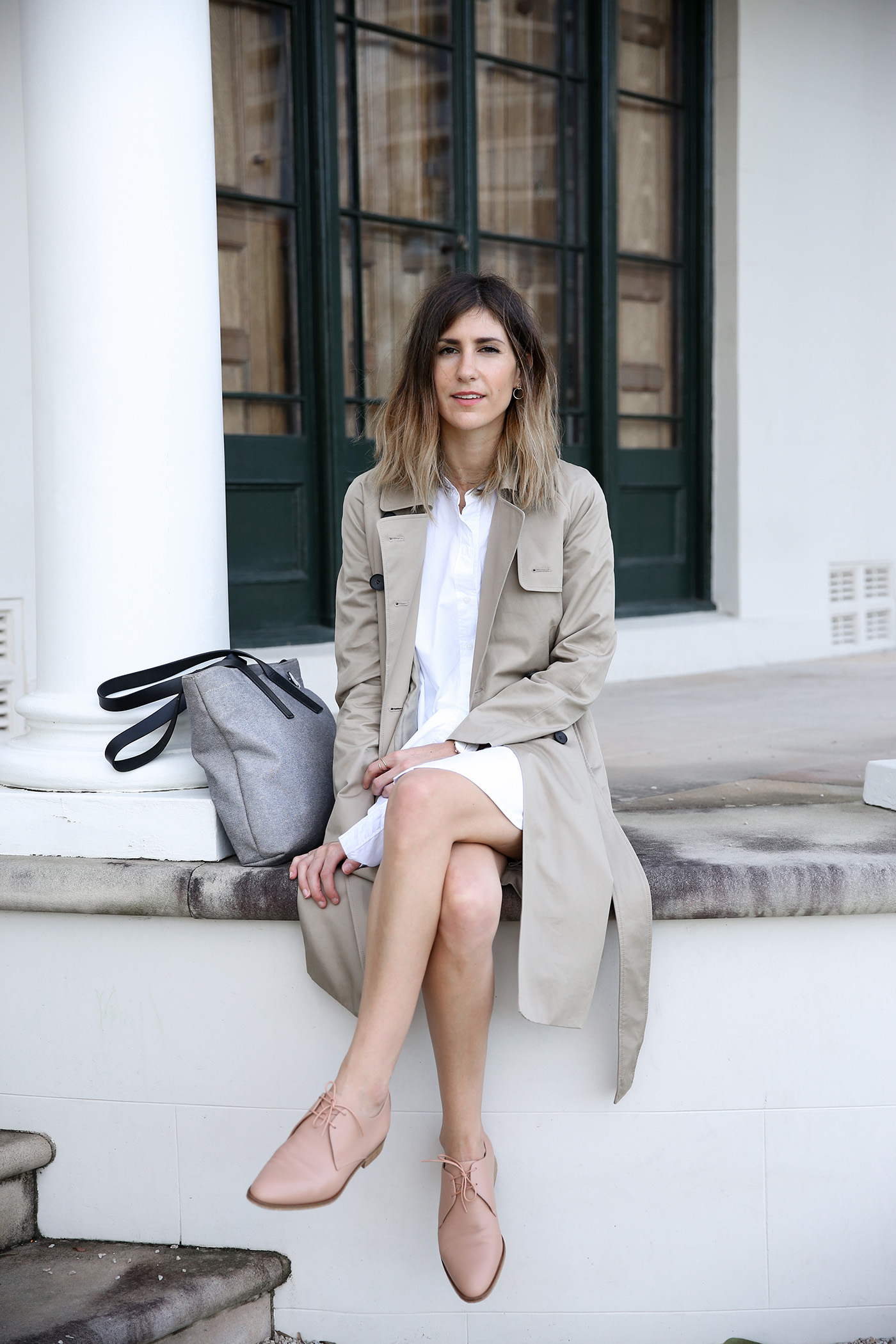 Everlane cotton poplin dress, Everlane trench coat, Everlane tote bag, Everlane oxfords, Paul Hewitt watch
It's no secret that I've got a lot of love for Everlane; I've practically written a love letter to the brand within my blog archives, and my wardrobe staples are comprised almost solely of Everlane basics. The outfit above, is a pretty good example; and there's a reason why I can so easily step out the door head to toe in the brand. And this is why I'm pretty excited to share my Everlane edit with you; a carefully curated selection of some of my favourite Everlane pieces (as well as a couple things that are currently on my wishlist…). I've gone into a little more detail on some of my favourites down below, but if you're after a more extensive review across the brand, I talk a lot about their basic tees, knitwear and shoes here.
I've currently got my eye on their latest launch – the day heel – which I may or may not have placed an order for already.. (along with a couple of the air tees for Luke), and honestly the toughest decision was deciding whether to go for the suede or blush leather. Oh, and did I mention that there's international shipping this week?
the slim silk shirt
I initially stumbled across Everlane after hearing the hype about their simple silk shirts. Like Equipment, but a slimmer fit and a much more palatable price point. The hype wasn't wrong; the washed silk is a little more lightweight than the Equipment version, but aside from that – and the missing pockets – it's an excellent dupe and one that I've actually come to favour over the years. I tend to throw mine in the washing machine on a cold delicate cycle, and they come out looking perfect every. single. time.
the silk shell
One of my more recent additions to my wardrobe, I picked up the silk shell top in the black and white stripe as it looked like a perfect everyday top for the office. I wasn't disappointed; this is a really thick and sturdy silk (a very different feel to the button up blouses), which I think makes this a great transitional piece as the heavier weight of the fabric certainly lends itself well to those cooler days. This is definitely a must if you're working in a more corporate office!
the cashmere crew
Everlane's cashmere had me hooked from day one; of everything that I own from the brand (and that's a lot), it's the one piece that I tend to recommend that most people start with. For the price point, it's one of the more luxurious cashmere knits that I've come across, and I've found that after three years, my charcoal sweater is even softer than the day I received it. These are a loose fit so I think it's best to go with your regular size, and these pair well with most things; be it a leather skirt, a pair of skinny jeans or a wide leg culotte.
the drape trench coat
This is Everlane's fresh new take on their classic trench coat, and it's become my go to for those cooler autumn days when I want to dress like a Parisian. Unlike the original, this version is fully lined – a massive upgrade – and I've gotten so many compliments on the cut. The belt is also a little different; it's missing the attachment to the back of the coat (a shame as I thought this was genius) and instead of a belt buckle it simply ties at the waist, which I think gives the jacket much more of an effortless and minimal vibe. What I love most about this trench – aside from how it makes me feel like I've managed to bottle a little of that French girl je nais se quoi – is that it's as functional as it is aesthetically pleasing. The cotton drill is waterproof, so this typically tends to be the jacket I reach for if I think that I might end up getting caught in the rain.
the wide leg crop pant
These might not have made their way into my wardrobe (… yet), but I've heard enough good things to know that these should be on your wishlist, whether you think you need them, or not. I'm currently waiting for these to restock in my size in the bone colour, which I'm planning to pair with one of Everlane's luxe knit sweaters and the day heel. I've been trying to incorporate a couple of different silhouettes into my wardrobe and these fit the bill perfectly; fitted at the waist with a wide leg and cropped just above the ankle.
the modern oxford
Of all the shoes I've accumulated from Everlane, their modern oxford has to be one of my favourites – a feminine take on a more masculine style, I love the slightly pointed almond toe, and the sandy-hued contrasting heel against the blush leather. The quality on these is superb and they're definitely on par with their modern loafer. If you decide to invest in these, I highly highly recommend going up a half size, particularly if you have a wide foot. I am usually an EU40/US9 and opted to get these in the US9.5 and have had no regrets. Like with most Everlane shoes, the leather is on the stiffer side which does warm up and soften after a few wears, so if you're planning on wearing these for a marathon day of walking straight from the get go, you probably want to arm your handbag with a couple of plasters just in case.
the shine pouch
Like a magpie, I'm drawn to just about anything and everything shiny, and I remember just pouncing on this leather pouch the day that it launched because I didn't want to miss out. The style is very reminiscent of the Comme des Garcons pouches, with the contrast zipper with tab pull, and raw leather interior. I've been reaching for mine mostly for special occasions, and while the leather on this version can be pretty delicate (mine has a few marks on it), I feel like this is one of those pieces that only gets better with age.
You can shop the Everlane edit here x