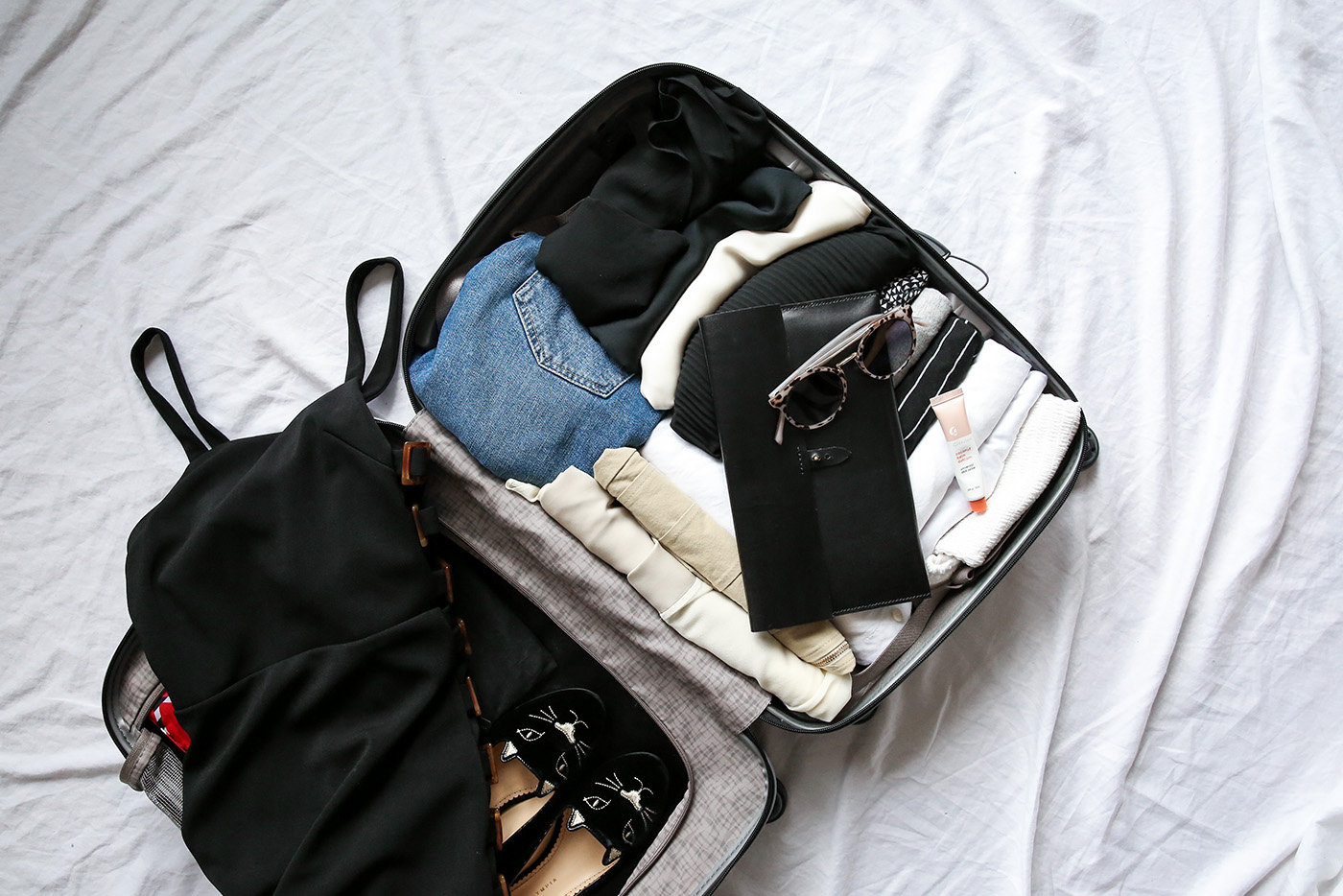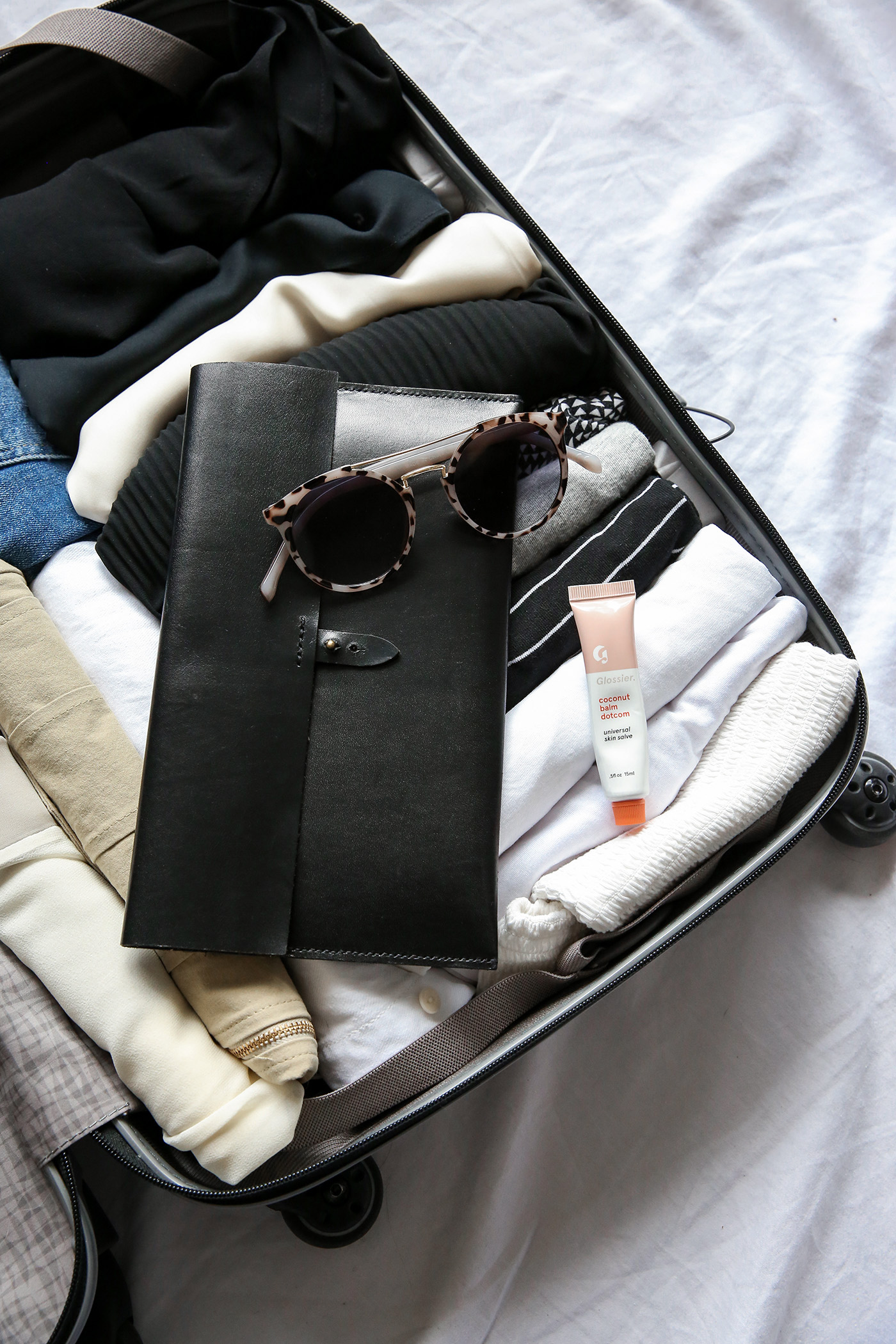 It's been a good eight years since my last major solo international trip. I was 21, fresh out of uni, and on a mission to see as much of Europe as possible – with luggage to match. And instead of packing what I wanted to wear, I packed what I thought I should wear; so rather than a closet full of clothes with nothing to wear, I had a suitcase full of clothes I wish I'd left at home.
These days, I'm all about traveling light, even if it's just to leave a teeny tiny bit of space in my suitcase for the odd souvenir… And with just a few hours until I jet off to Dallas for a whirlwind four-day trip (and the first overseas trip on my own since my early twenties), I though I'd share what I'm planning to take with me, all of which fits neatly into my carry-on suitcase!
– TOPS & JACKETS –
Everlane black silk cami
Grana white silk cami
Everlane white cotton tank
Brandy Melville black/white stripe tee (old but similar here)
All About Eve white distressed 'cherry' tee
Brandy Melville white 'it's lit' tee
Hansen & Gretel pleated cami
Madewell Courier shirt
Gorman quilted cotton jacket (old but similar here)
– DRESSES –
Bec & Bridge black pencil dress (also comes in white)
Acne Studios paloma silk dress
Tobi black maxi slip dress
– SKIRTS & TROUSERS –
RUBY khaki a-line skirt
Willow a-line leather skirt (old but similar here)
ASOS farleigh mom jeans
Grana denim chambray trousers (also love these)
– SHOES, BAGS & ACCESSORIES –
Lover black crochet swimsuit (old but similar here)
J Crew peach paisley bandana
Charlotte Olympia kitty flats
Vaneli slingback pumps
Maje black strappy sandals (similar here)
Charlotte Olympia blush feline pouch
3.1 by Phillip Lim beige mini pashli
Kate of Arcadia black leather pouch (old but similar here)
I – unsurprisingly – decided to play it safe and keep my colour palette as neutral as possible; even though I'm only away for a few days, if you're a girl who likes to have options, then this is definitely the way to go.
Aside from the casual trousers from Grana that I'll be wearing on the plane, I'm taking a couple skirts and a pair of jeans with me, opting rather to mix it up with some tees, camis and a punchy bandana so I can get the biggest bang for my buck.
I'll be heading to a couple of evening events so I've packed three dress options, which range from more relaxed to formal cocktail attire. Realistically, I'll probably only find myself wearing two of the three dresses, the maxi from Tobi and the Acne Studios Paloma dress both pack down small so I reasoned that it would be silly not to, right?
I typically always struggle with narrowing down my shoe options (I think I took SIX pairs with me to Europe last year), but given the lack of space, I've cut it back to three pairs, which I figure will see me through any situation I find myself in. There's the dressed up kitty flat, for getting lost in central Dallas in, a low heeled two-tone pump which are perfect for dressing up some distressed denim, and a strappy black sandal for evening events and cocktail parties.
See you in Dallas!! x