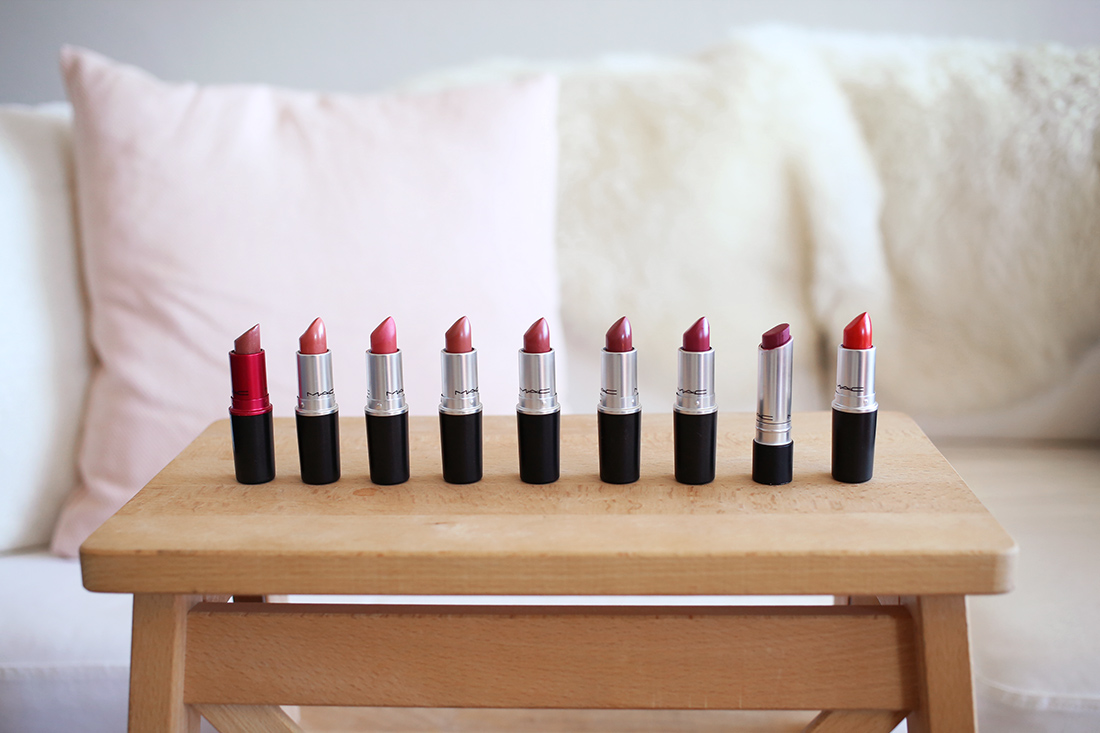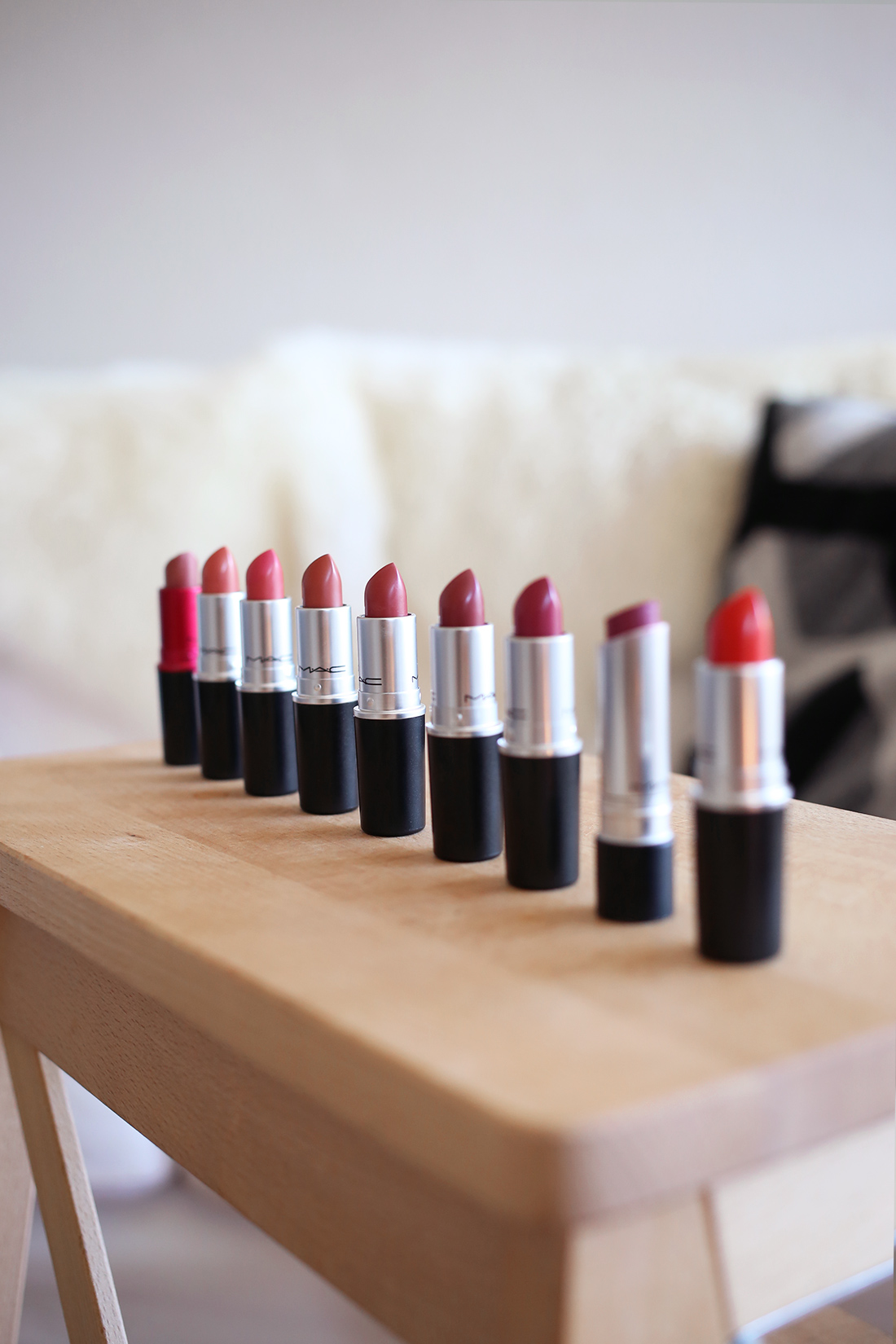 From l to r: Viva Glam (L), Shanghai Spice (C), Runway Hit (RM), Velvet Teddy (M), Cosmo (A), Twig (S), Craving (A), Positively Dashing (PLL), Dozen Carnations (C)
I've become quite the makeup junkie as of late, and while I try to whittle down my wardrobe – as much as humanly possible! – my makeup collection just seems to keep growing; apparently my love of lipsticks knows no bounds.
I think we can all agree, my love affair with anything beauty-related has been short and sweet so far, but my foray into the real world of makeup began years ago when I picked up my first lipstick ever, from MAC (a Viva Glam nude, if you were wondering). While it's no longer a lipstick that I reach for, I've definitely fallen down the MAC rabbit hole and picked up more than my fair share in the last couple of years.
It's a pretty tightly edited collection – for now – of nude, mauve, and berry tones; the perfect year-round lipstick wardrobe if you ask me. Ultimately, it's the quality and the shade selection that keeps me coming back, and while I have plans to add a few more shades to my collection (the entire Charlotte Olympia collaboration included), I thought I'd give you a quick peek into which MAC lipsticks are currently sitting pride of place on my vanity.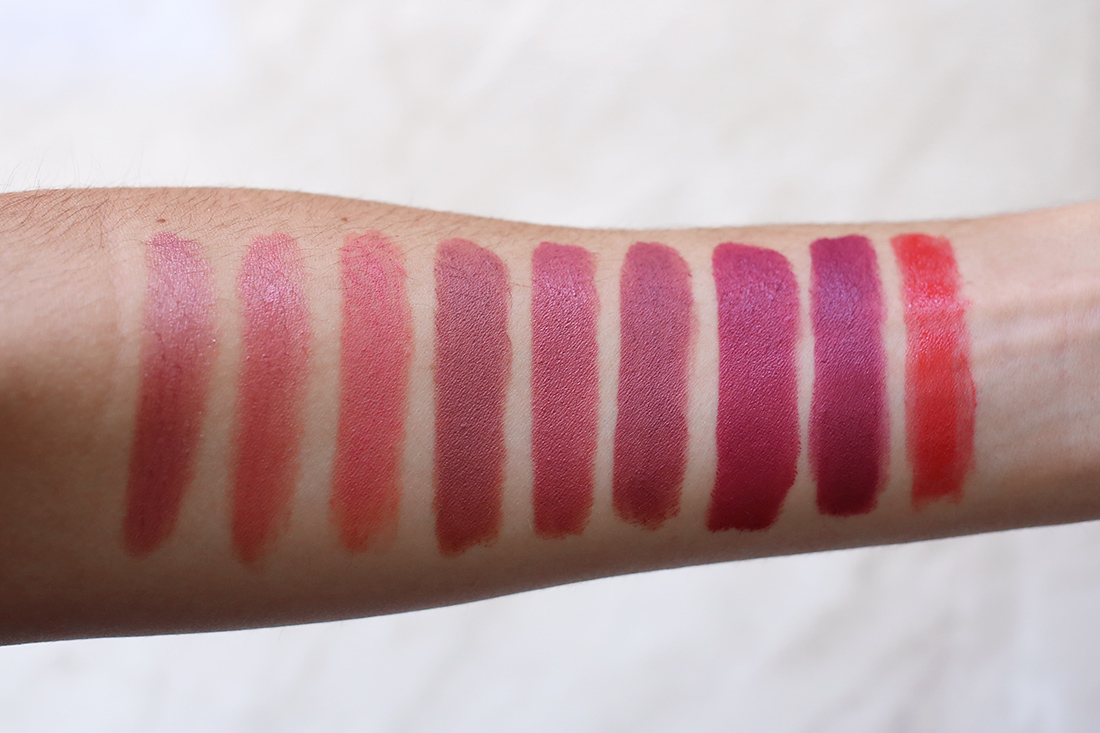 From l to r: Viva Glam (L), Shanghai Spice (C), Runway Hit (RM), Velvet Teddy (M), Cosmo (A), Twig (S), Craving (A), Positively Dashing (PLL), Dozen Carnations (C)
Starting from lightest to darkest….
VIVA GLAM | Lustre
Viva Glam is one of the first makeup products I ever purchased, and for that reason alone I just can't bear to part with it. I'd best describe it as a 'no-lipstick' lipstick; it's very subtle, adds a slight shimmery sheen to the lips, and can be applied without a mirror (the best kind of lipstick if you ask me…!).
SHANGHAI SPICE | Cremesheen
My first cremesheen purchase and one of my absolute favourite shades. It's a pretty peach colour with tiny gold flecks that don't seem to translate on the lips. Incredibly easy to wear and a moisturizing formula that is a dream to wear on the lips.
RUNWAY HIT | Retro Matte
While I'm not afraid to admit that the retro matte formulas are my least favourite (they come off chalky on me and are difficult to apply), I l-o-v-e the shade of this. It's a subtle peach toned pink; I like it best applied over a thin layer of the Nuxe Reve de Miel lip balm for a creamy finish.
VELVET TEDDY | Matte
Perfect if you're after a brown-toned nude matte lipstick; although admittedly I was completely drawn in by the hype surrounding this shade. MAC's matte formula is pretty comfortable on the lips, and has a creamy texture which dries down over time.
COSMO | Amplified
Of all the reviews I've read online, Cosmo is pretty much always referred to as a my-lips-but-better shade, and it's not hard to see why. It's slightly brown toned, with a pink base, making it a perfect go-to every day shade. Not to mention the fact that the amplified formula is beautifully creamy and rich, and opaque when applied.
TWIG | Satin
Twig is definitely a firm favourite for me, and sits dangerously close in shade to Cosmo, albeit leans a little more mauve on me. If you're yet to try one of the lipsticks with a satin finish, it applies creamy and dries down to matte, and has pretty good lasting power too.
CRAVING | Amplified
I picked up Craving in October last year, and having been waiting for it to cool down so I can start wearing this one. It's a plummy toned pink which looks absolutely gorgeous on, fitting nicely at the lower spectrum of the berry family.
POSITIVELY DASHING | Pro Longwear Lipcreme
A muted raspberry pink with cool undertones, this is a winter staple for me. While I find that the pro longwear lipcreme formula doesn't have the best lasting power if you're drinking tea all day like I tend to do, it does stain the lips and makes re-applying throughout the day really easy.
DOZEN CARNATIONS | Cremesheen
The latest addition to my collection, and one of my current go-tos, this to me is the perfect Spring/Summer shade. It's a punchy orange-toned red, with a gold shimmer running through it, that can be layered up for a glossy, bold lip, or worn as
If you're keen to get a peek at what these look like on the lips, I recently collaborated with Doris from LookMazing, to share our MAC Collection's on YouTube. You can check out my full collection and swatch video here.
We might be well into autumn here in Australia, I've been reaching for Shanghai Spice and Dozen Carnations, as the cremesheen formula is so light on the lips, and I love that that they add a subtle wash of colour (not to mention are easy to maintain!). And as far as I'm concerned, a good nude and a punchy red are all the lipstick essentials a girl really needs… What are your MAC lipstick must-haves?