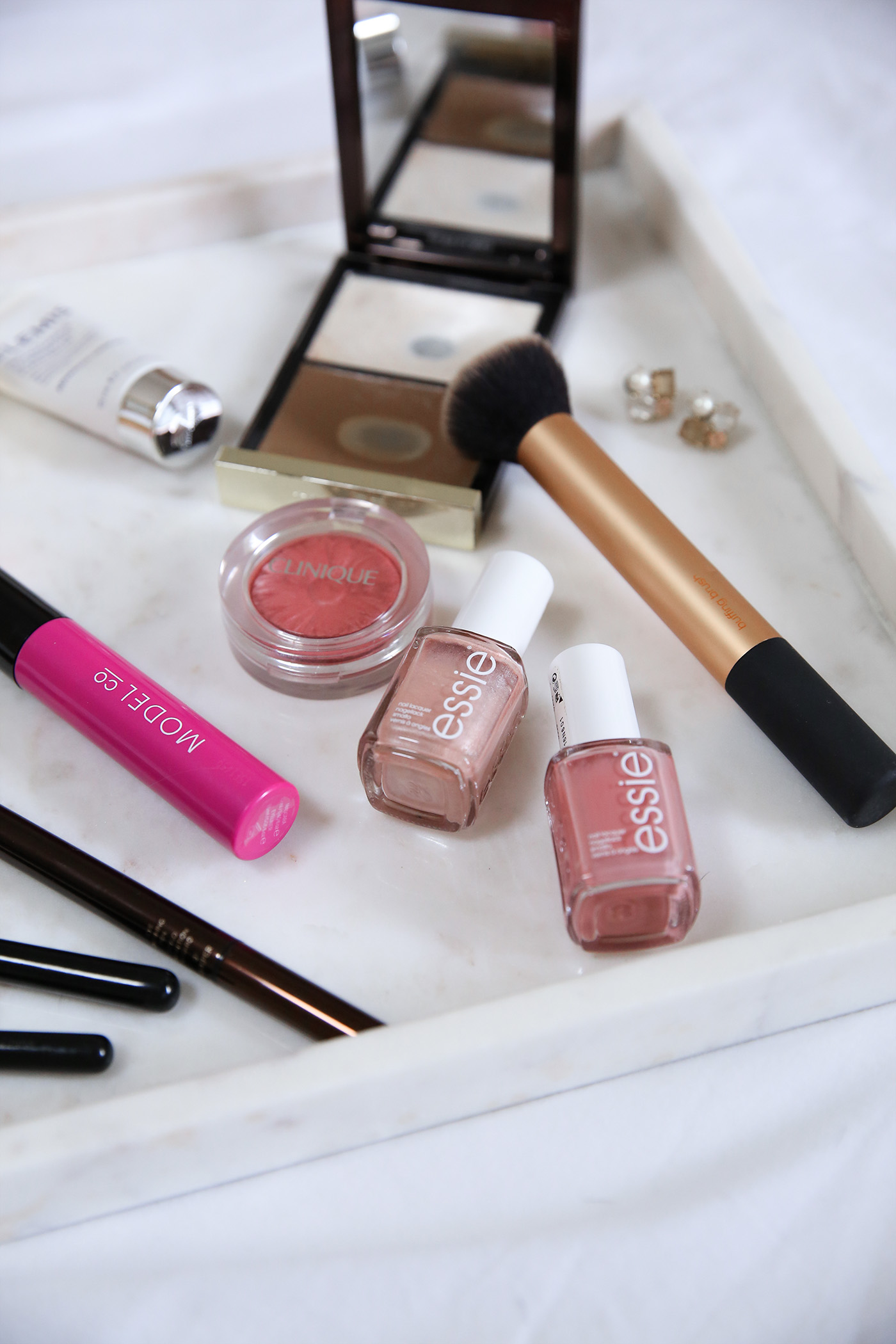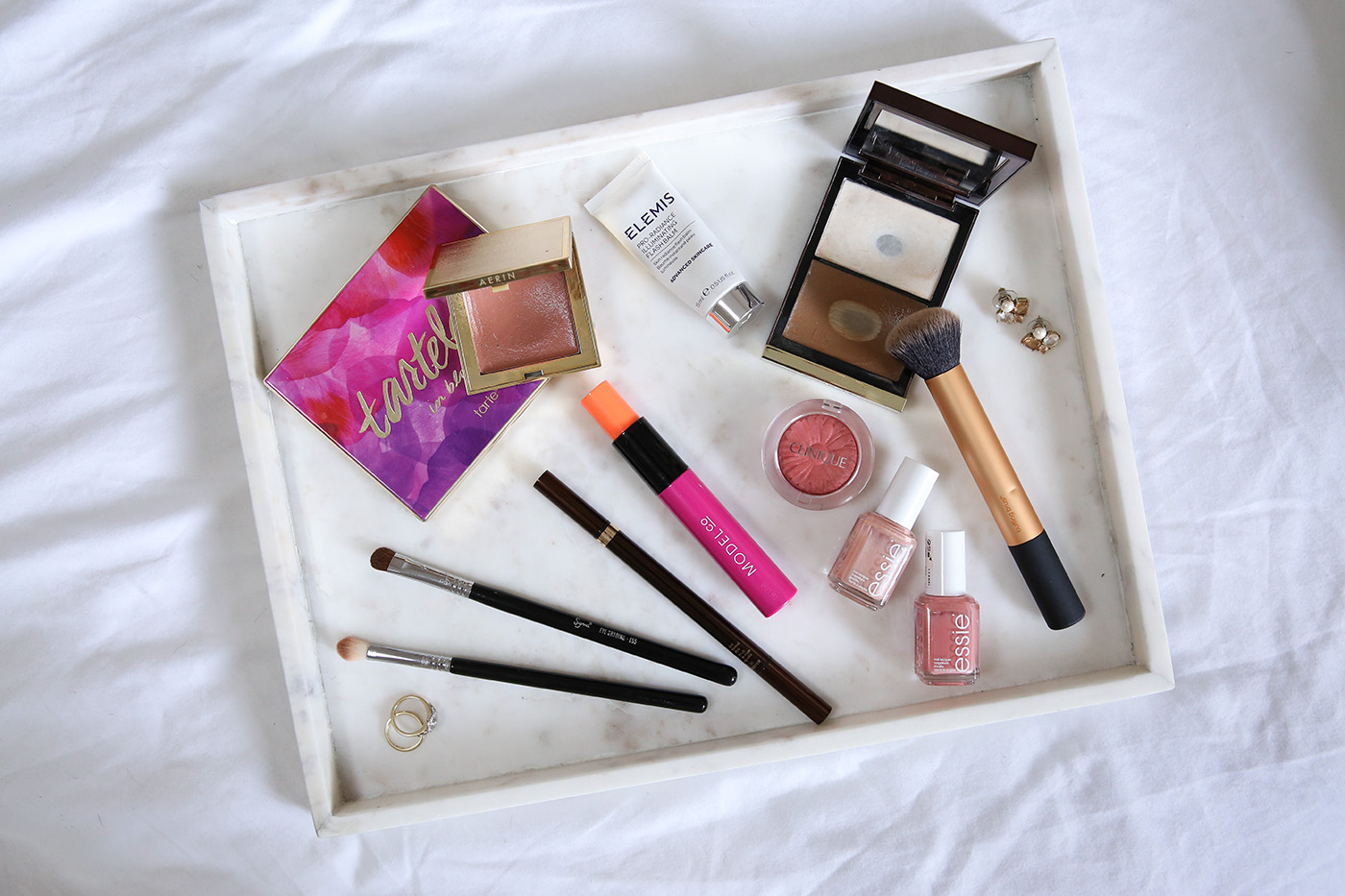 It's finally starting to cool down, and with the change in season has come a bit of a shift in my daily beauty routine. I'm still loving really fresh, dewy looking skin, so a good moisturiser is key. I've been kicking off my base with either the Vitamin E Face Moisturiser from Malin and Goetz, or reaching for a sample of the Pro Radiance Illuminating Flash Balm from Elemis (which has fast become a favourite!).
I've been reserving foundations and tinted moisturisers for special occasions, as I've found that my skin tone tends to be fairly even for the most part, so instead what I'll do is warm up the skin a little bit around the frame of my face and on my nose – basically where the sun would typically hit my face. My go-to for this is the Tom Ford Shade & Illuminate; it's a cream product, which I love as I feel like during the cooler months my skin can use all the moisture it can get, plus it blends out really easily and just adds a natural looking bronze to the face. Later in my routine I'll reach for this again just for the highlighter – this is hands down the best I've ever come across – it's not overly intense and adds such a beautiful glow to the cheekbones.
I really am a creature of habit, and when it comes to blush the Multicolour for Lips and Cheeks from Aerin (shade 01) wins out every time. Again, this is another cream product; I like to swirl my finger in the pan, and then dab it onto my cheeks, blending it out with a stippling brush from Sigma for a really natural flush. I also love a good berry hued blush come autumn-time, so when I feel like mixing things up a little, I'll reach for Clinique's Cheek Pop Blush in Ginger Pop.
My eye look practically never changes; it's almost always a champagne shadow swept across the lid with a darker taupe through the crease. For my eyes, I've been reaching for one of two palettes; either the Golden Goddess quad from Charlotte Tilbury – which I love for its rich colours, smoothness and blendability – or the Tarte Tartelette in Bloom Eyeshadow Palette, the latter of which I've been faithfully using on a regular basis since purchasing it last year. I don't usually leave the house without my signature cat eye flick, which some days, is admittedly more 'on point' than others. While it's not my favourite eyeliner (this title goes to the Maybelline Hypersharp Wing Liner), I've been using the Tom Ford Eye Defining Pen that I got ahead of our wedding most days. This little slice of luxury is an eye-watering $89 (AUD) a pop, and while I still haven't nailed the fine flick with this particular pen, it does do the trick of staying put all day. For mascara, I recently picked up another tube of the Lash & Line Mascara from ModelCo. I haven't come across a more effective mascara – yet – but I love how this volumises and extends my lashes, and it's one of the few mascaras that doesn't smudge along my brow bone over the course of the day.
Speaking of brows, I've added a new product into the fold which I have been absolutely loving; Rimmel's Brow this Way with Argan Oil. They recently reformulated the product, and it is definitely a step up from the original. I've been using this in the shade Dark Brown, which is the perfect colour match for my brows. What I love about this is that it cuts down the time it takes me to fill in my brows by more than half, as the spooly dispenses a really generous amount of product. You do have to be careful not to over-do it (which I didn't get the memo for, this morning…) but once it's on, it stays all day and doesn't smudge or move an inch.
Then finally for lips, I'm an all or nothing kind of girl. I try to avoid wearing lipsticks daily as my skin is sensitive, but when I'm after a nude I'll reach for Clinique's Lip Pop in Beige Pop. The formula is creamy and moisturising, it has great pigmentation, and wears off evenly.
Lastly, while it's not a huge part of my daily beauty routine, I've found myself reaching for the same nail polish shade over and over: Eternal Optimist and Tea & Crumpets from Essie. The brand has become my polish of choice this last year, and their incredible range of creamy pinks have just completely won me over.
Are there any beauty heroes you've been reaching for? x