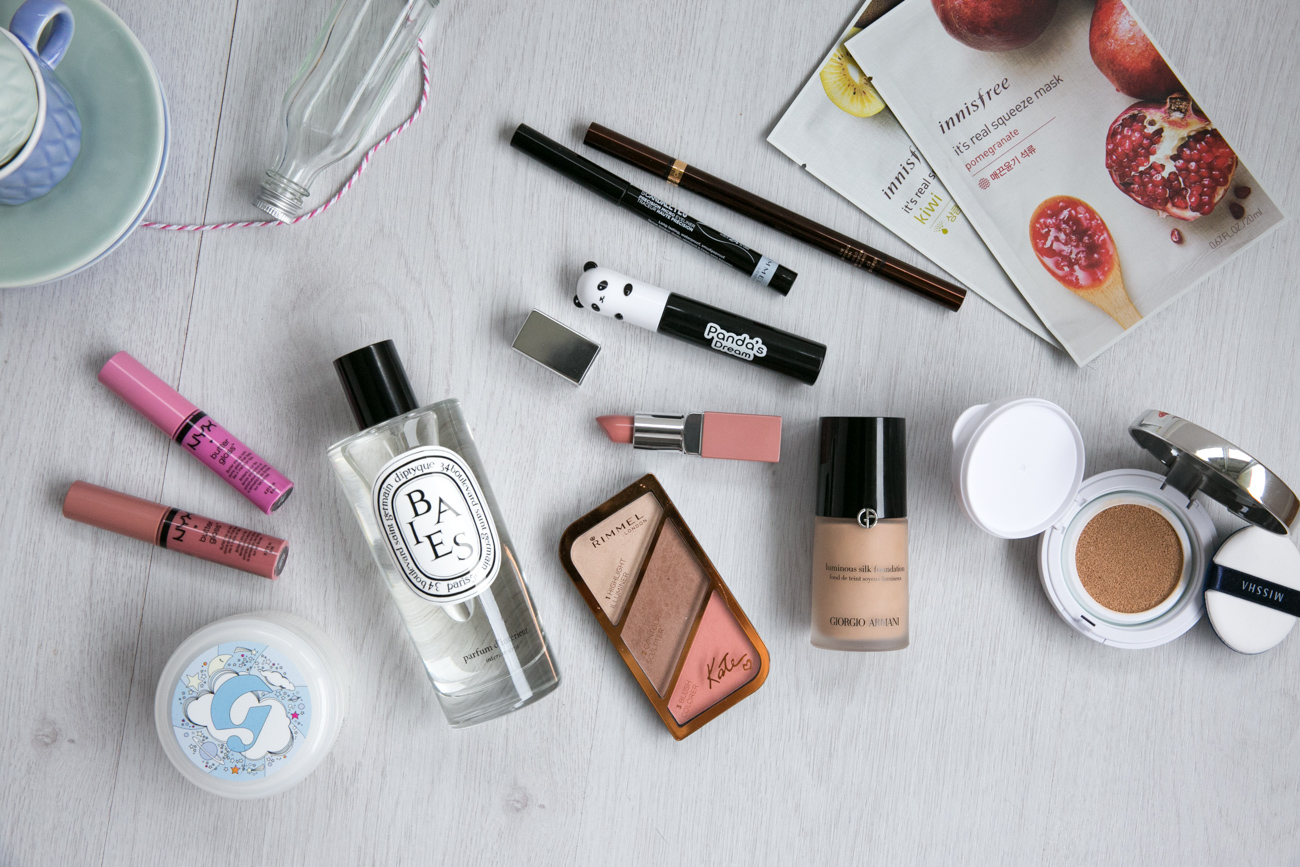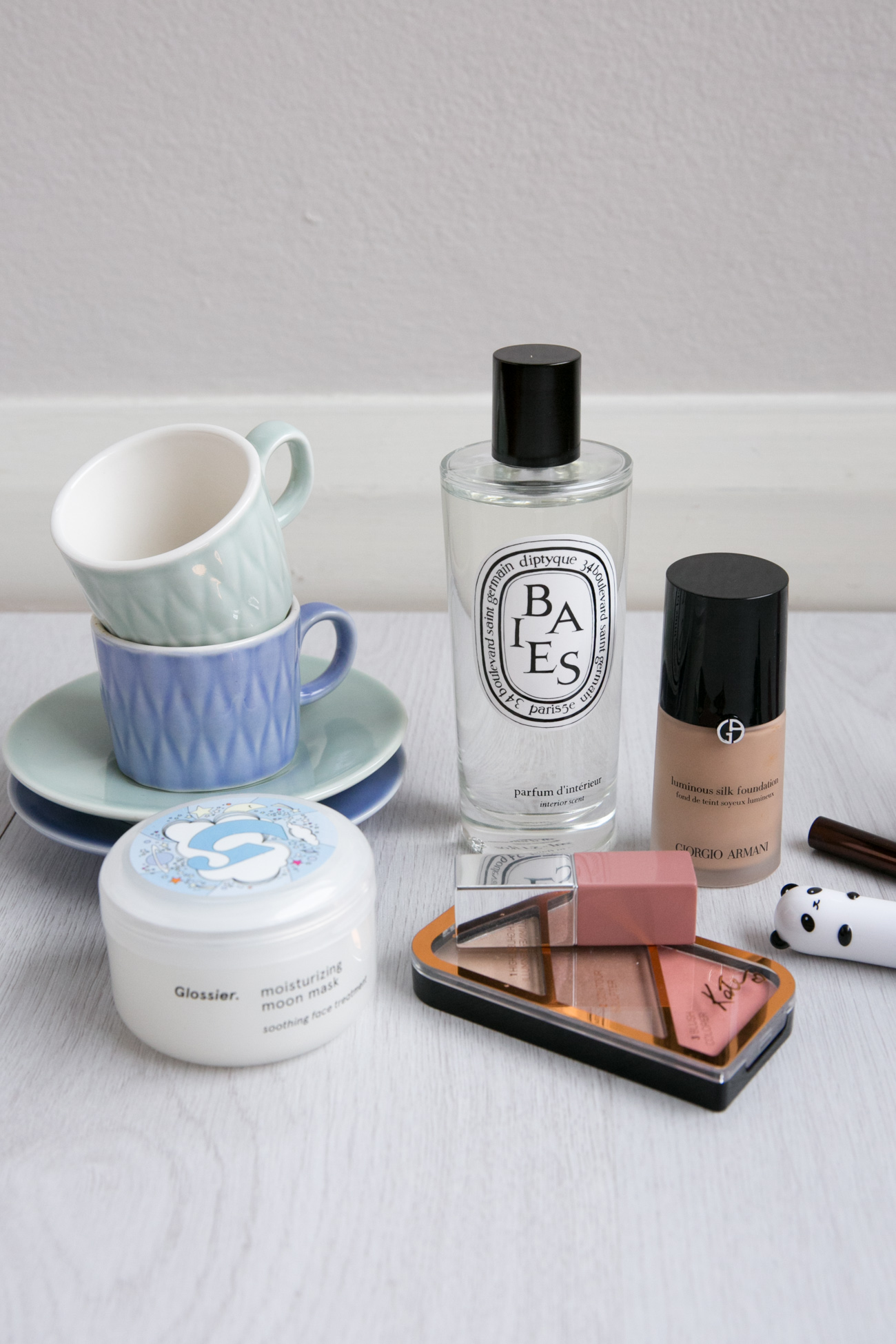 It's been a while since I talked beauty around here, so I wanted to some of the new bits and pieces that I've picked up lately. Before we dive right into it I wanted to quickly mention that Everlane is shipping internationally for an entire month! I'm eying up a couple pieces from their new cashmere range, and a poplin dress that'll be perfect for the weather we've been having lately. Also worth mentioning is that Shopbop currently have a surprise sale with 40% off selected ranges. This top has my name written all over it!
Giorgio Armani Luminous Silk Foundation; I've been eying this up for the longest time, ever since I first started watching Viviannadoesmakeup on YouTube, and I finally decided to take the plunge when picking out my wedding day makeup. This has been everything I'd hoped, and then some. On me, I find it to be a light to medium coverage, that builds well and looks flawless on the skin. It's definitely on the pricey side but probably one of my favourite new beauty purchases I've made this year.
Clinique Lip Pop in Beige Pop; this was another wedding-related purchase, and one that I've been so chuffed with that I'm tempted to hightail it back to the Clinique counter and pick up the rest of the shades in the range. It's a 'my lips but better' kind of shade, with a smooth creamy texture that feels moisturizing on the lips. I also couldn't go past the packaging – it's just so cute!
Tom Ford Eye Defining Pen; I feel like I've heard the beauty world rave about this liquid eyeliner, so I bit the bullet and splurged just to see what all the fuss is about. I wear liquid liner daily, so I'm always on the hunt for the perfect liquid liner – my HG – and this just isn't it. The packaging is sleek and luxurious looking, the dual ends is genius, and it's very easy to use, but the formula doesn't last all day on my lids and that's a deal breaker for me. Safe to say this won't be a repurchase but given the hefty price tag, I'll definitely be using this one up.
Glossier Moisturising Moon Mask; I have been dying to get my hands on the Glossier range all year, and I was treated to this moisturizing mask by one of my girlfriends, Rena (she has a great beauty blog here that you should check out!). I've only used this a couple of times so far so the jury is still out but I like the thick and emollient texture, and I've found my skin feels baby soft after I've washed this off.
Diptyque Baies Interior Spray; I really don't think that there's anything more luxurious to scent your home with than an interior spray from Diptyque. This was an incredibly generous wedding gift (again, from Rena – she has great taste!) and one that I've been loving using! One spray is all you need for a regular sized room and the scent hangs in the air for hours after.
NYX Butter Gloss in Tiramisu & Merengue; I'm a huge fan of NYX lip products (I do love their soft matte lip creams!) so when I spotted these at Priceline, I wanted to pick up a couple more. These have a slightly sticky formula but nothing too offensive, they're semi sheer, and smell like cake batter.
Kate Moss for Rimmel Contour Kit; This has been out for the longest time, but I'd put off getting it as swatched on the back of my hand, I found the formula far too glittery for my liking. Turns out I was pretty quick to judge, as it blends beautifully into the skin with little to no detectable glitter. This isn't as pigmented as other contour kits I've used which I actually like as it allows you to build up the colour to the level that you like, rather than being surprised. The blush, contour and highlight all work for me, and I love the convenience of having all three in one little compact.
Rimmel Scandaleyes Precision Micro Eyeliner; as I mentioned earlier, I'm always in hunt of a decent eyeliner and for something that'll set you back less than a week's worth of coffee, this is pretty good. It's very black, stays put for most of the day, and the stiff felt tip applicator is perfect for creating that sharp winged eyeliner look.
Tony Moly Panda's Dream Mascara; I picked this up on a whim from Style Korean and it's turned out to be one of the best, and most surprising new beauty additions to my vanity this year. I have oily eyelids and long lashes so for the most part, I find that mascaras tend to smudge along my brow bone. With this mascara, I get none of that. I grabbed the volume version and this adds a lot of fibres which latch on to your lashes, and make them look a lot fuller, and given it didn't budge even a millimeter on wedding day, I think I'm on to a winner with this one.
Missa Magic Cushion SPF50; Cushion foundations have truly been having a moment so again, while browsing Style Korean, I figured this was affordable enough that it was worth trying. I managing to get lucky on the shade selection, and I have to say I quite like the application of this (I use a sponge of my own), and it's a nice alternative to some of my other foundations. Oh and did I mention it's SPF 50?
Innisfree Squeeze Masks in Pomegranate and Kiwi; Finally, I've been trying to take better care of my skin and what better way to do that than with a sheet mask? Luke always has a bit of a laugh whenever he spies me with one of these draped over my face, but I feel like it's such an intensive moisturising treatment, and one that I like to do at least once a week.