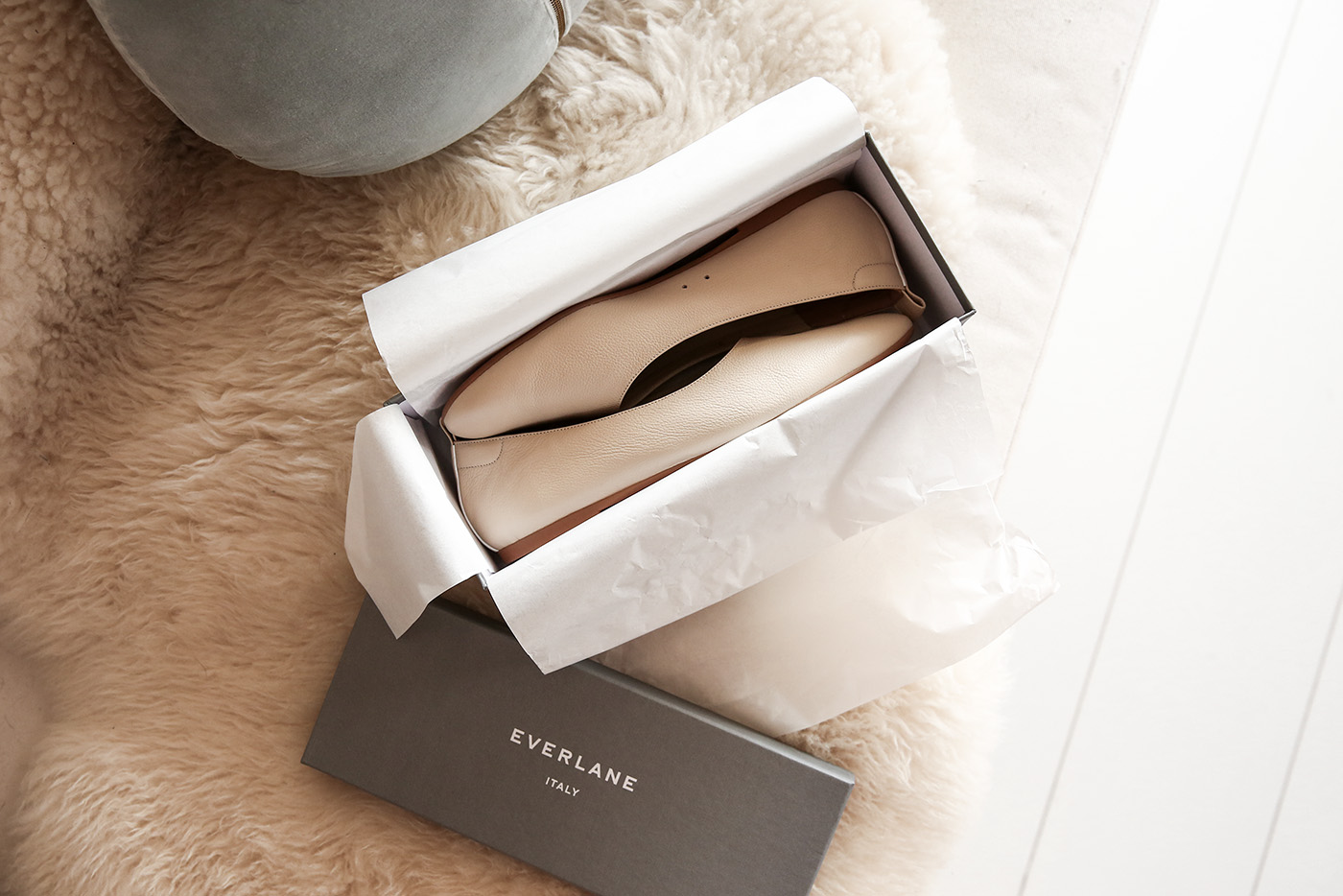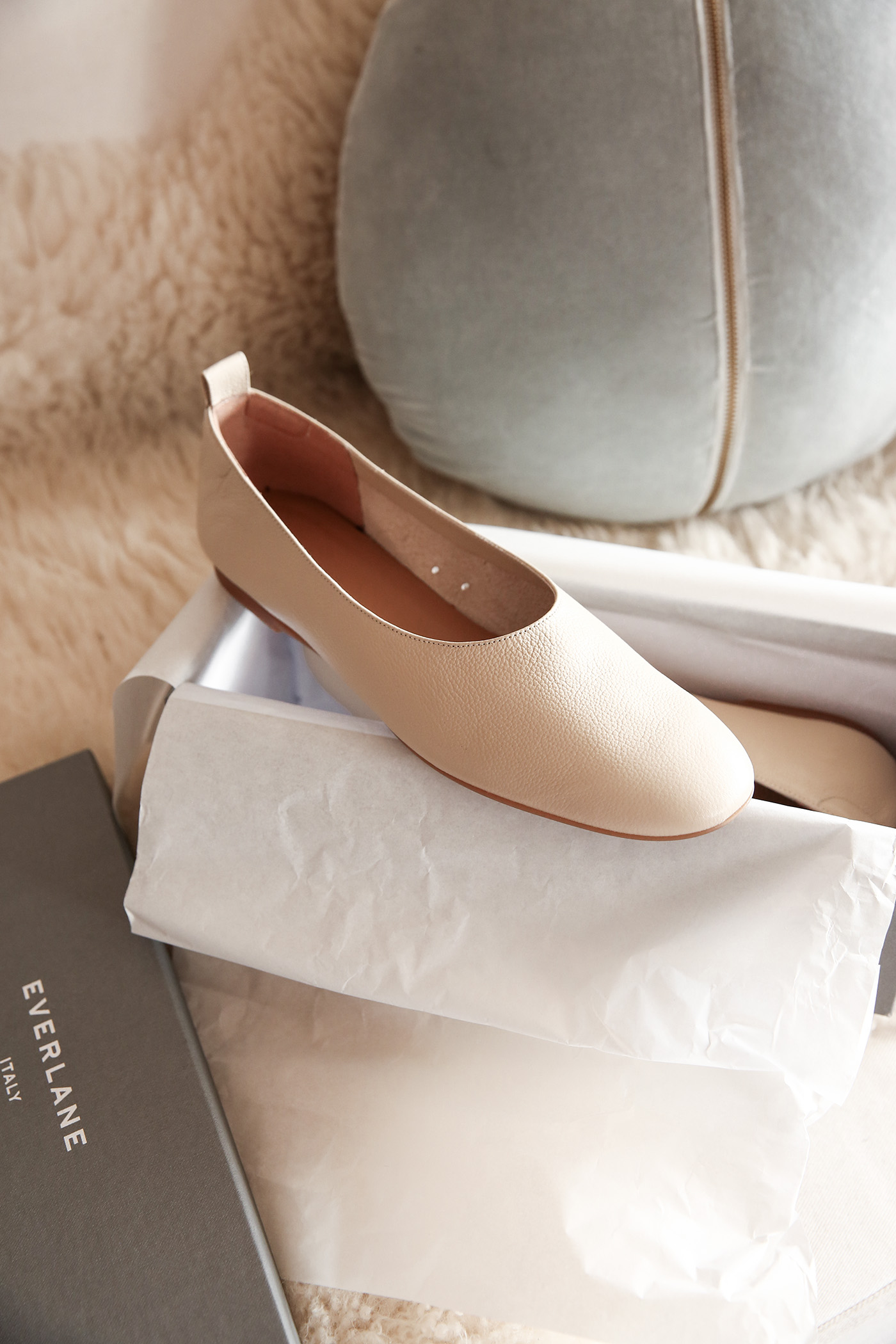 I walk a lot. And I mean, quite a lot. It's not uncommon for me to rack up over 14,000 steps in a day, so when Everlane reached out and asked if I'd like to try out the new Everlane Day Glove, I couldn't resist putting them to the test.
The concept behind the Everlane Day Glove is that these are the kind of shoe that combines style and comfort; they're designed to be worn from sunrise to sunset, are comfortable enough to run in, while still looking modern, chic and sleek. Because of how much walking I do, comfort is a huge factor when it comes to deciding which shoes I'm going to wear for the day, and I tend to find myself reaching for the same favourites over and over. So, how do they stack up?
QUICK FACTS
Price: $110USD
Available in six colours: Black, White, Rose, Cream, Blue and Mocha
Made in: Santa Maria a Monte in Italy
Fabric: 100% Italian leather
Care: Treat with protectant, and spot clean with a cloth.
SIZE & FIT
SIZE: I went for my usual size in Everlane shoes, which is a US9.5 – the equivalent of an EU40. These have a snug 'glove-like' fit, which mould to the shape of your foot.
FIT: These fit true to size, however as with most shoes from brand, I found that the Everlane Day Glove was a little narrow for my wide feet. The fit was very snug when first putting them on, and while the leather has softened up considerably after some vigorous wear, I did feel a bit of pressure across the top of my foot after running around in these all day. The vamp on the shoe is cut quite high, cocooning your feet within the shoe, which is great as this means the shoe isn't prone to slipping off, though it is a design detail that could be divisive. Personally, I love a little bit of a toe cleavage, but the high vamp was an interesting design element which set these apart from any other ballet flat I've tried.
QUALITY
FABRIC COMPOSITION: The shoes are crafted from 100% Italian leather, and have a grippy non-slip sole. The leather has a smooth pebbled effect, but is incredibly lightweight and flexible – there's no stiffness to the leather at all. These are the kind of shoes that would pack up nicely for a trip overseas.
DETAILS: Unlike the Day Flats which are elasticated at the heel, the Everlane Day Glove has an easy pull back tab, which doesn't dig in and makes putting the shoes on a breeze. There are two small holes on the inner side of each shoe for extra ventilation (which is welcome, because your feet can get pretty warm after running around all day), and the shoes feature a super cushioned insole. The have a rounded almond toe, and the vamp cuts high on the foot giving that glove-like fit.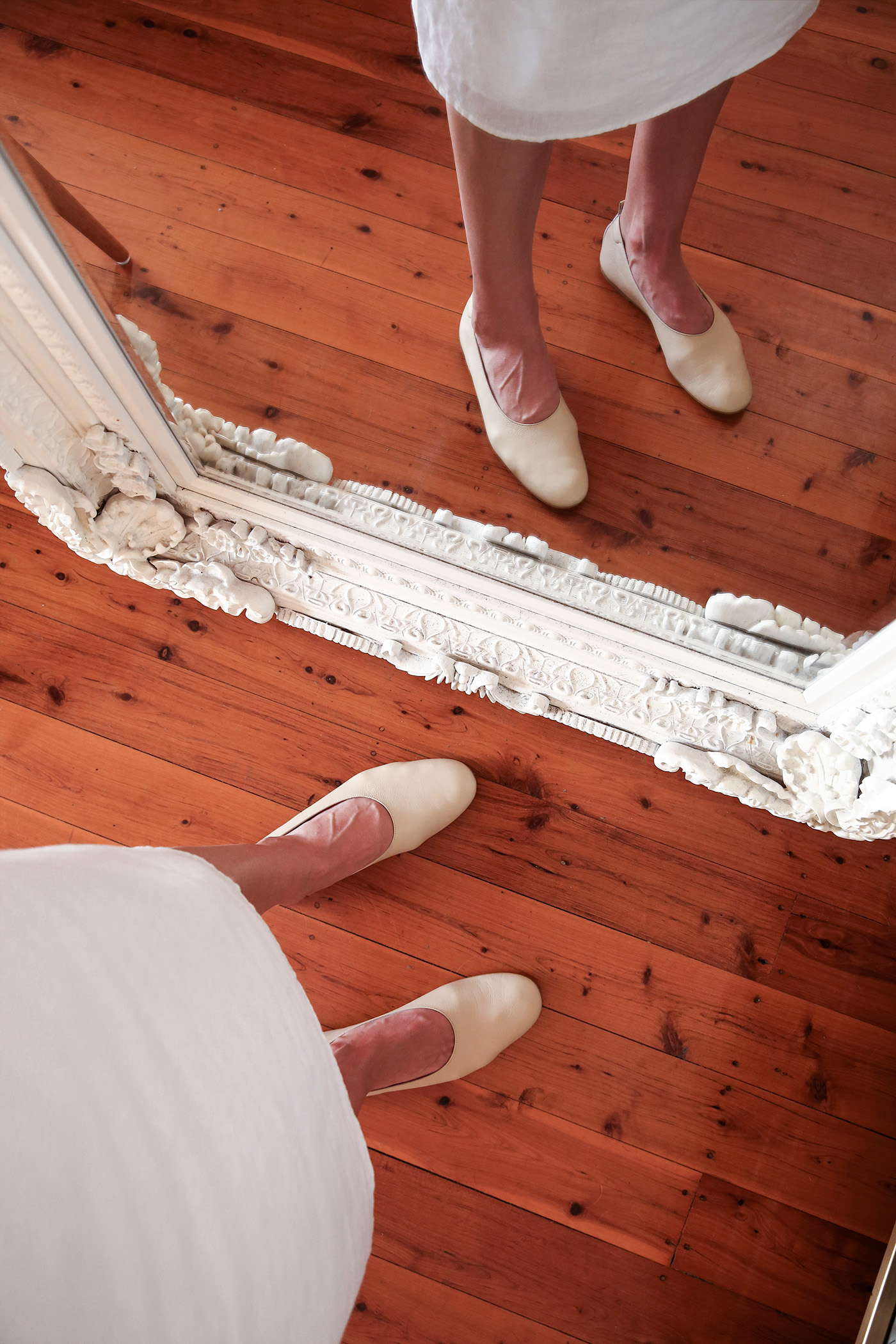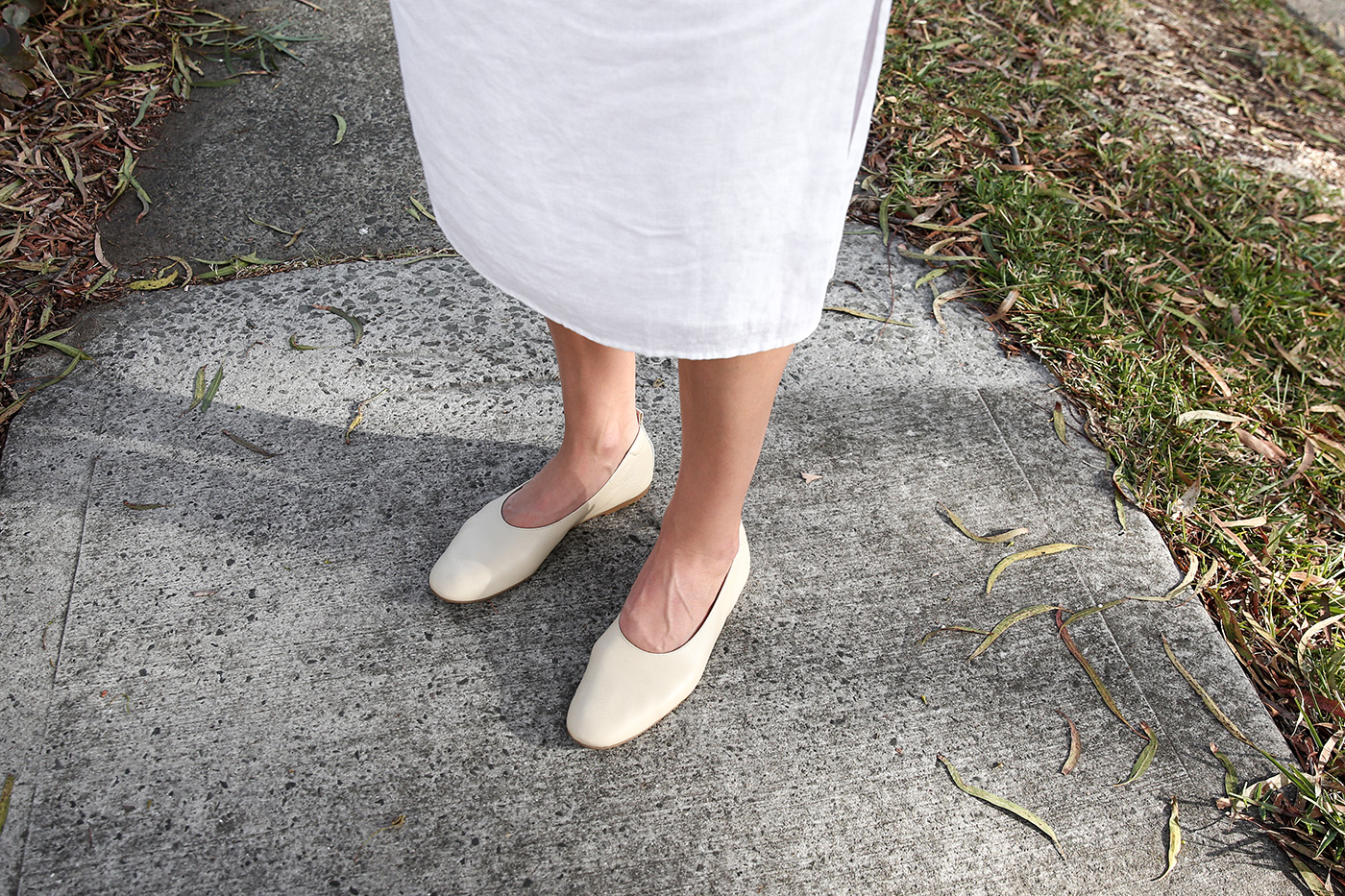 FINAL VERDICT
Everlane weren't lying when they said these were their most comfortable shoe yet. I put these to the test, running in them, spending all day walking in them, and long story short, while I can conclude that they're pretty darn comfortable, if you have wide feet like mine you may find that the leather across the vamp of the shoe might dig in a little after 6+ hours of wear (at least, they did for me!).
Often, I think we're resigned to the fact that most pairs of shoes we buy will require some breaking in, and I loved the fact that the Everlane Day Glove didn't give me a single blister, no matter how hard I pushed them.
The shoe itself is lightweight, which is in part due to the thin mouldable leather and in part due to the grippy and flexible rubber sole. This makes them a great option for stashing them in your carry on when travelling, or in your work tote if you need a back up shoe for when your feet start to ache from running around in heels. The leather is easy to maintain; I got a rather large smudge of dirt across the toe of mine while out walking the dog, which I was able to mostly brush away, and then spot clean the rest using a damp cloth when I got home.
Perhaps the only thing that I don't love about the shoes, is the fact that they mould to your feet; I have a bunion on my left foot, and it's not exactly cute, and if I can, I like to avoid highlighting the fact that it's there. These don't do a good job of disguising it at all, and as with the day heel, all of the contours of your feet are visible through the leather.
I have a pretty long commute to and from work each day – 45 minutes each way on foot – and it's hard to find a shoe that looks chic with my outfit, can be packed away easily, but is also comfortable enough to walk long distances. While I don't think that these are 100% perfect for me (#widefeetproblems), I already know that these are the shoes I'm going to be reaching for in the morning to head into the office. There's a pretty wide colour selection straight off the bat, which I think is great because there's something for everyone. I opted for the beige in the Everlane Day Glove, and in hindsight, I do wish I'd gone for the more classic option of black, just as it's a colour that I tend to find is a bit more versatile (especially as we head towards winter in Sydney). When it comes down to it, these are an excellent and chic alternative to sneakers which don't scrimp on style, and I like the fact that these can take you from day to night.
Are the Everlane Day Glove flats on your radar?
PS. Everlane is currently offering international shipping, so if you've been thinking of snapping something up, now's your chance. You'll also get free shipping on your first order, and on orders over $150 USD. I've done an extensive review of a number of items from the brand which you can check out HERE.