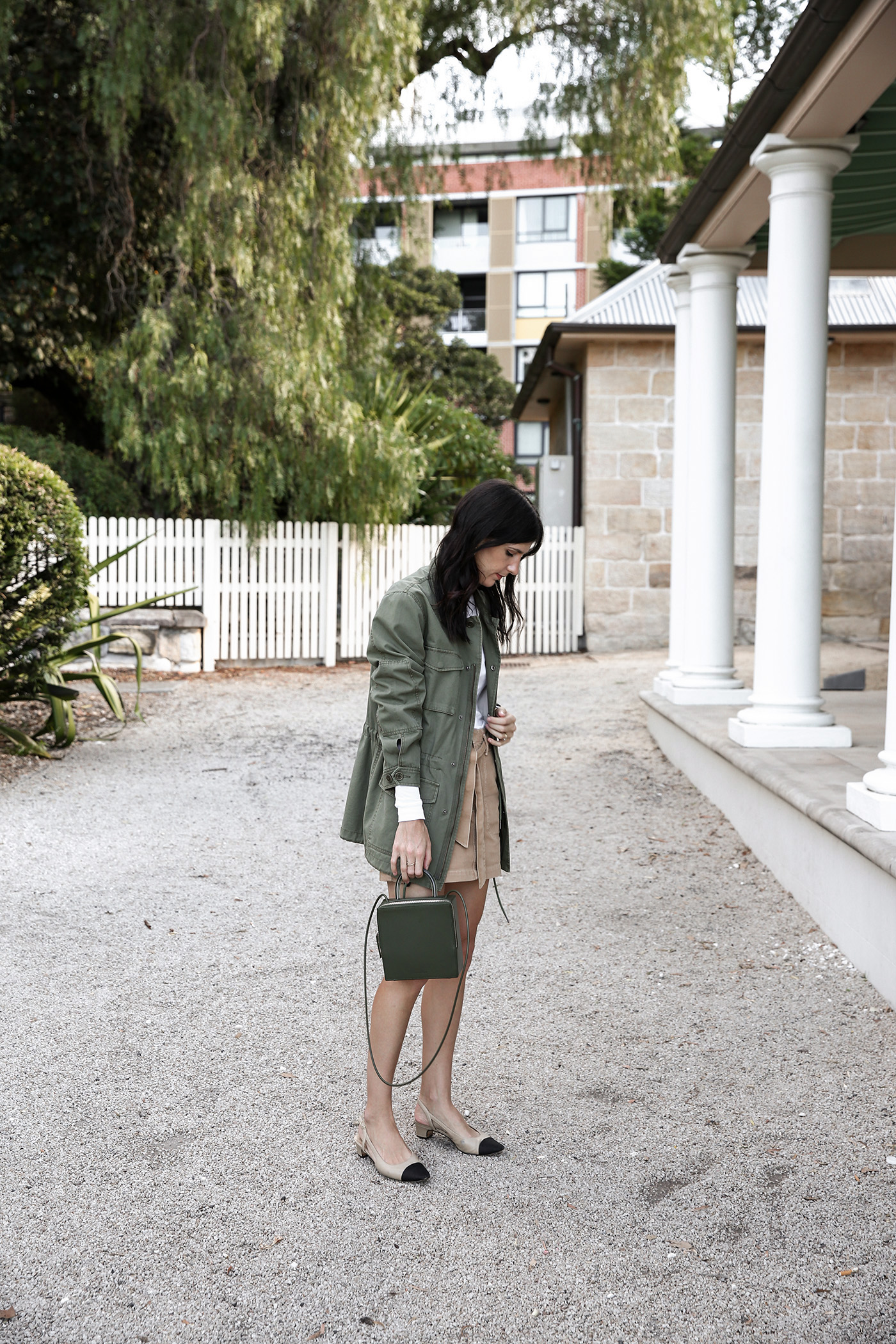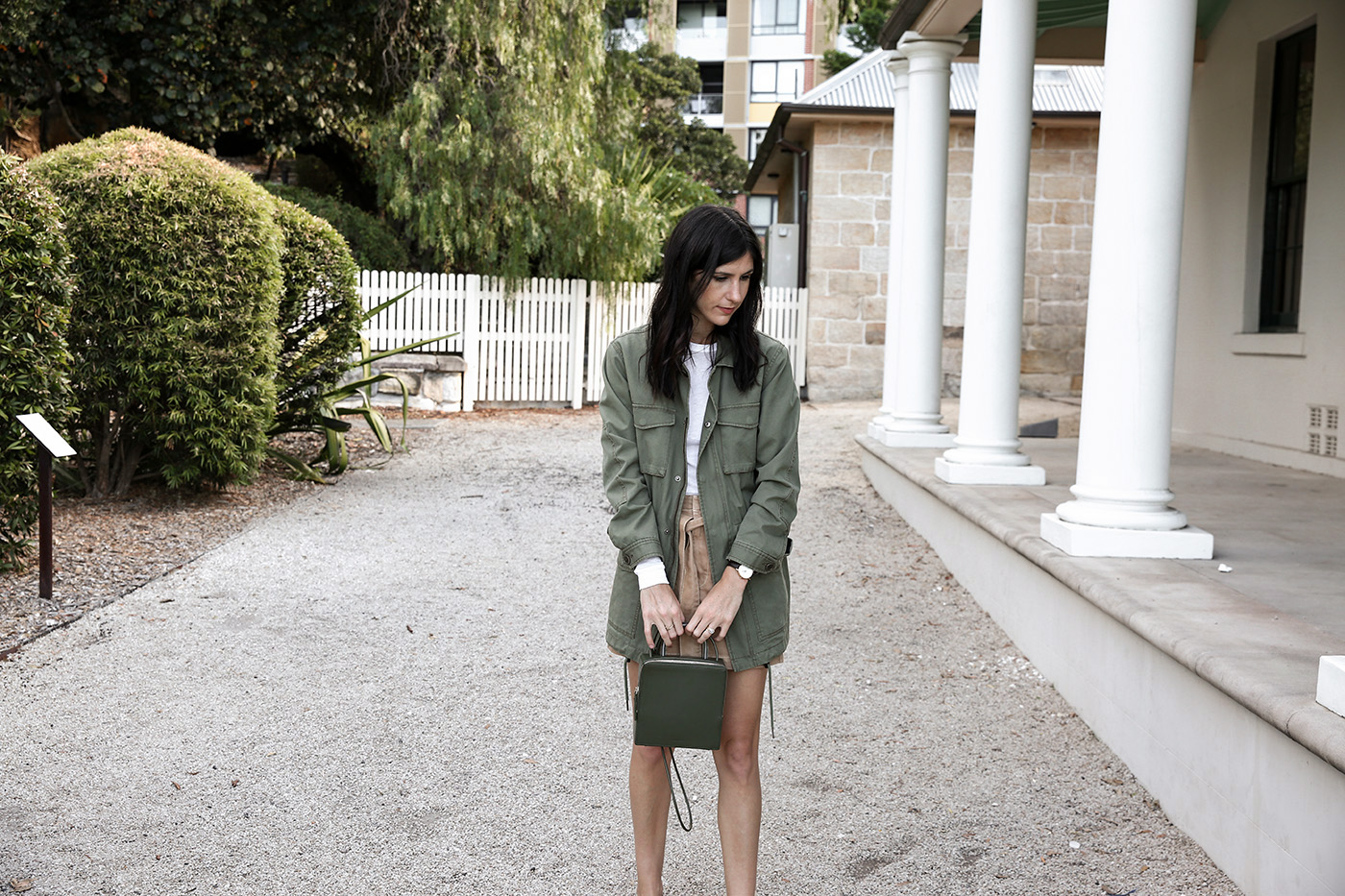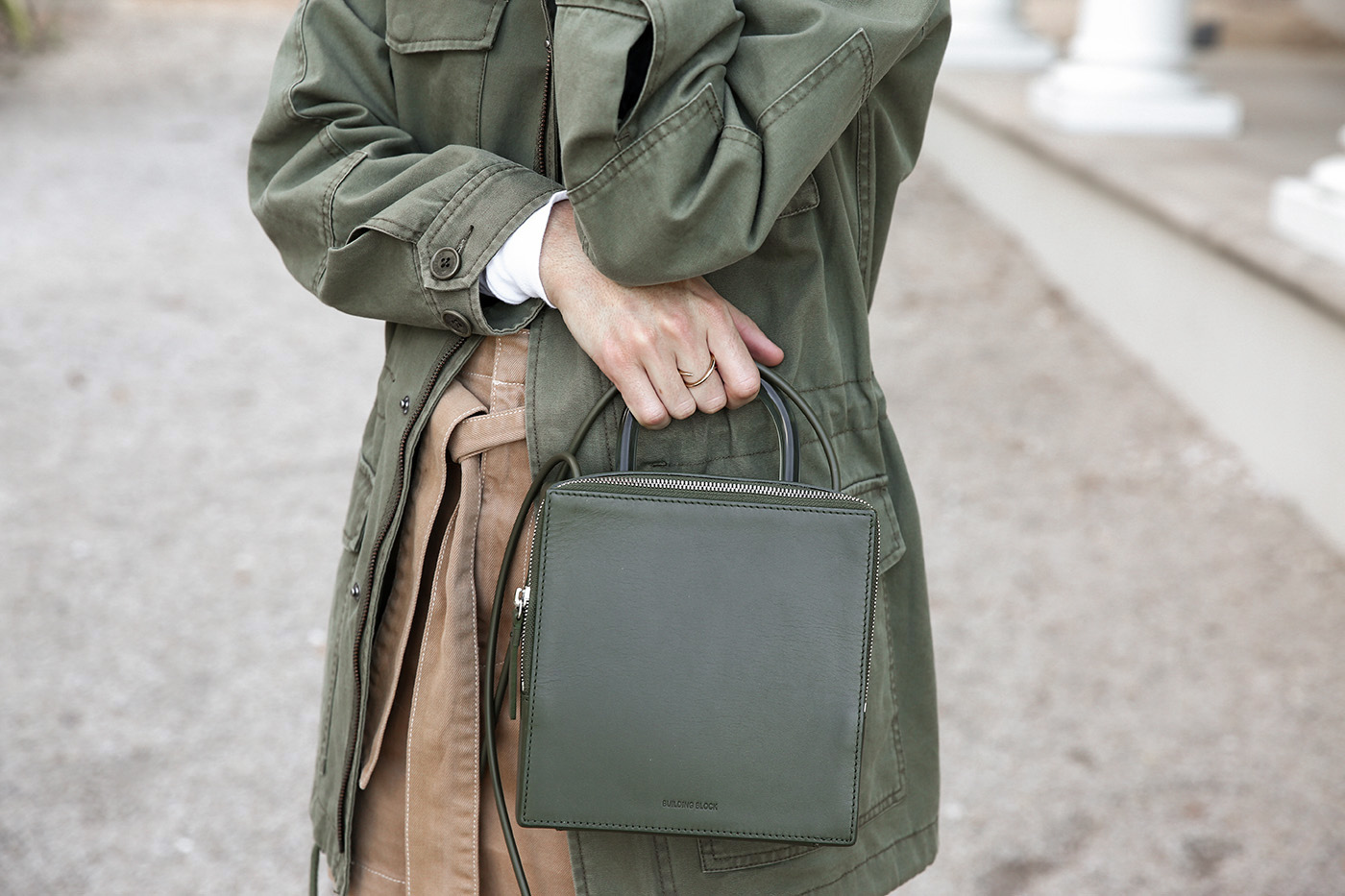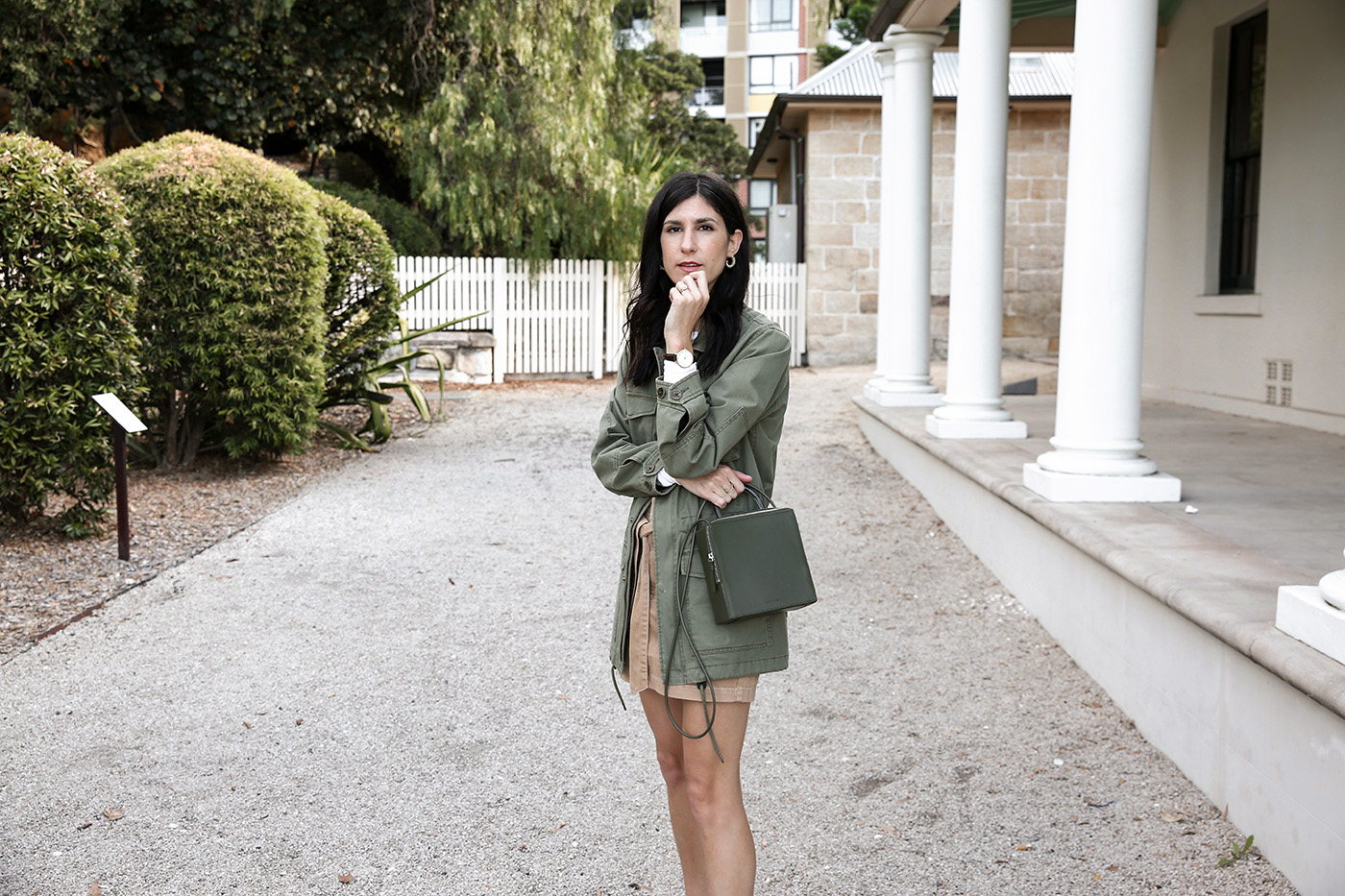 Prior to our move to Sydney, I overhauled my wardrobe, nailed down my personal style, and set what I felt was a pretty clear direction for my closet to take. Capsule wardrobes helped with that, as they curbed my impulse to spend on garments which fit outside my style profile, and focus only on the items which count. But, new year, new me, and at the start of 2018, I felt a little like turning some of those pillars of my personal style upside down, and taking a style risk or two. The style risk that's been having the most impact on my wardrobe, has been the introduction of a bit of colour (finally!).
Wearing Enza Costa white long sleeve top (similar option), Topshop tan belted skirt (also here and I like this one), Workshop utility jacket (old but similar here and this one is also cute), Vaneli two-tone pumps (flats version), Building Block olive bag, Reliquia spiral earrings (I love these! and this is a more affordable option), Linjer watch (this is also a classic), Mejuri cross ring
You've probably started to notice that colour has been creeping into my regular looks that I've been sharing on the blog (see examples here, here and here) – and this shift to embrace a broader colour palette seems to show no signs of slowing down. As much as I love my classic wardrobe staples – many of which are major workhorses in my day-to-day style – there's been something refreshing about adding a pop of colour to my outfits. I'm pretty excited to see where this style risk takes my wardrobe; instead of being jam-packed with iterations of style staples I already own, my wardrobe wish lists are bursting with colour.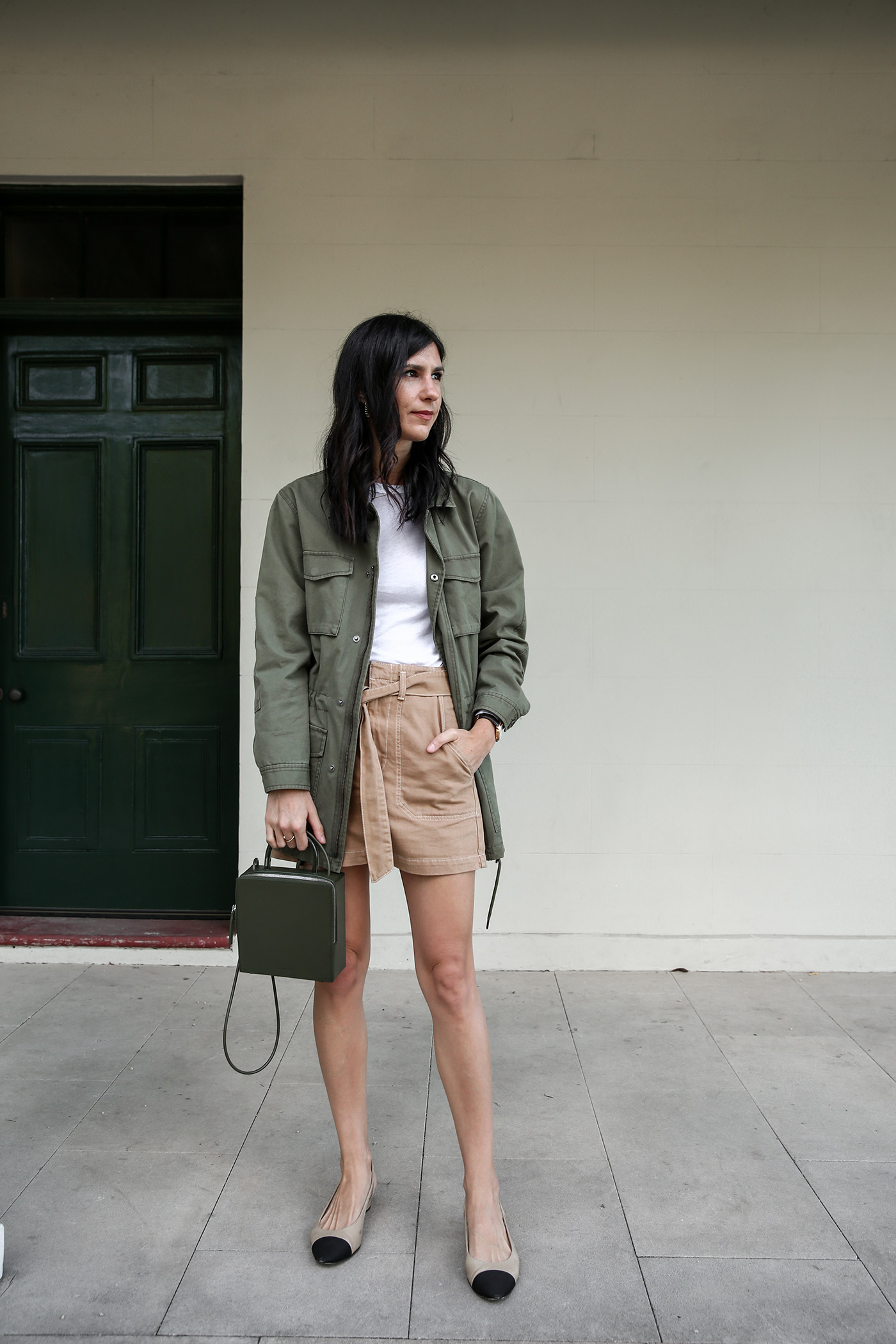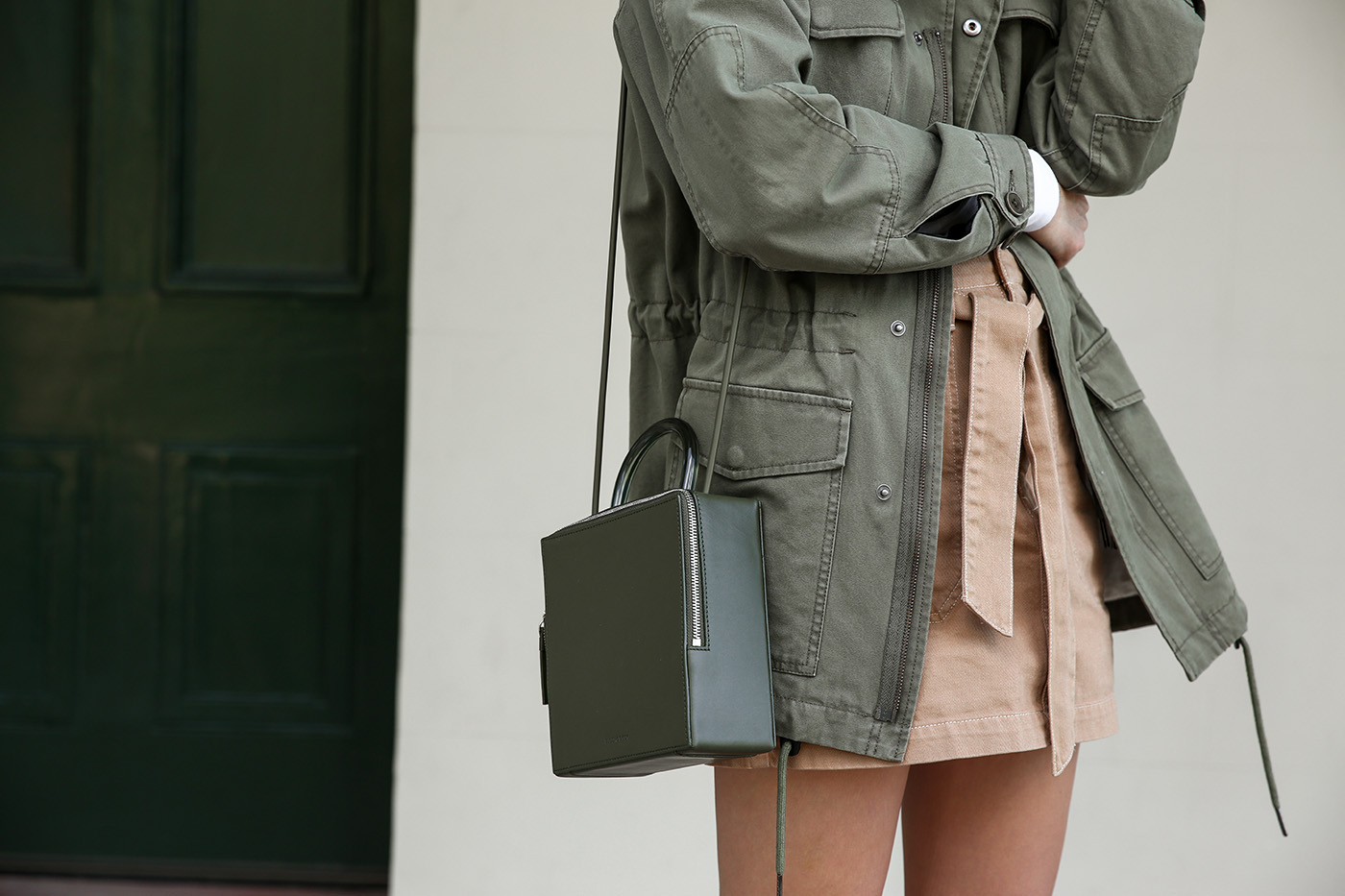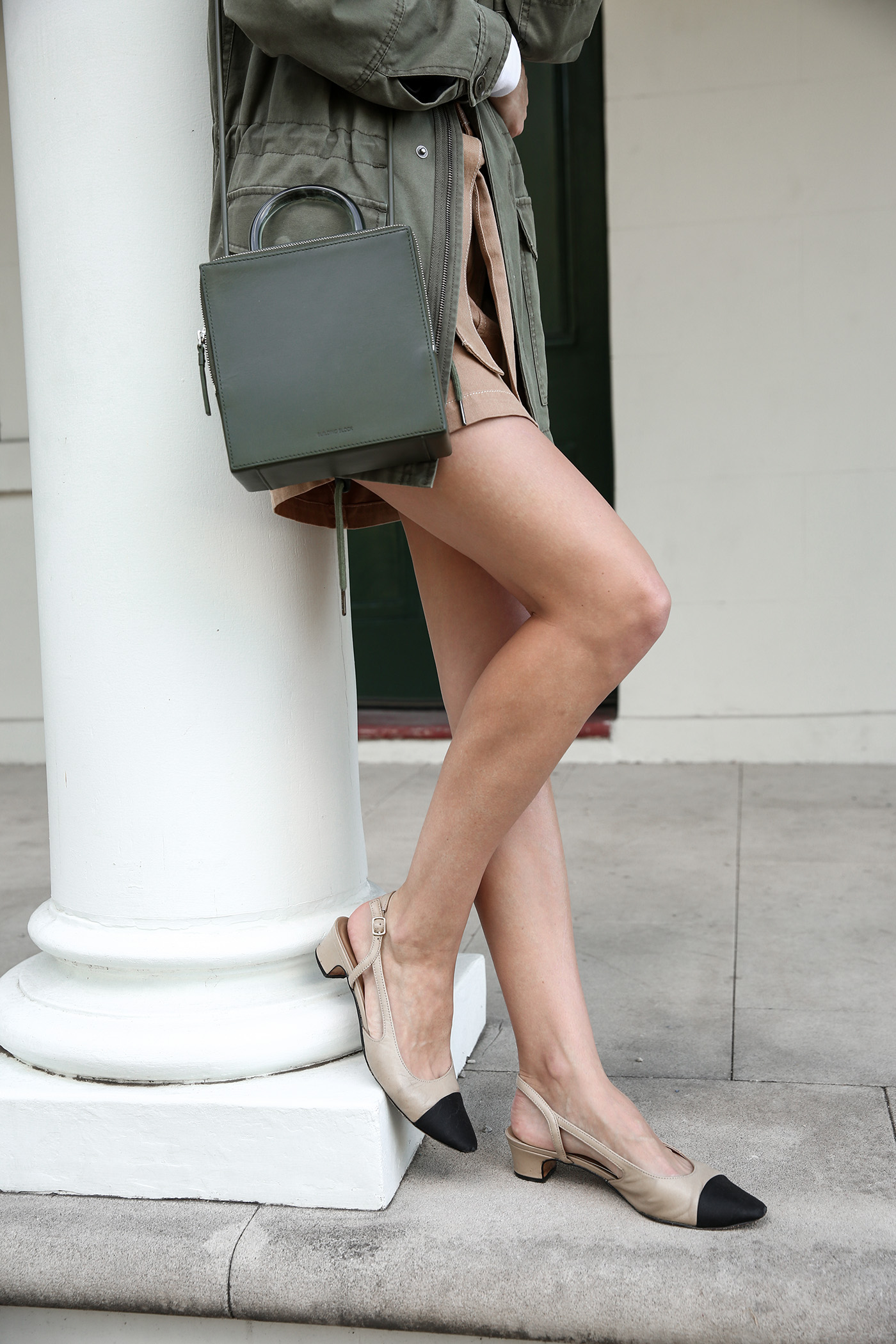 OUR PERSONAL STYLE IS ALWAYS EVOLVING
As we grow, our tastes and preferences evolve over time, and this isn't limited to the kind of music we tend to lean towards, the movies we find ourselves flicking to first, or the way we choose to spend our free time. I've found from experience that this is manifested most in our personal style – the way that we outwardly choose to express ourselves. Aside from the smatterings of pink and red hanging in my wardrobe, I've found myself gravitating towards earthy tones, like the outfit above. What I love is how effortless it is to combine a few 'colourful' pieces, yet still feel like the outfit is grounded in your personal style.
IT ALL STARTS WITH ONE PIECE
My wardrobe has been jam-packed with the essentials for years, and while I firmly believe that it's those classic essential pieces that will truly stand the test of time style-wise, having one or two fun colourful pieces can be a simple way to inject a bit of life or a major dose of personality to your outfits. I've found that I've been most inclined to take the style risk of adding in a bit of colour to my wardrobe after feeling inspired by an outfit I've seen – whether it's someone on the street, or someone whose style I admire on Instagram. An oversized ivory sweater paired with a green midi skirt, or a simple black slip dress worn with a camel blazer: you don't need to buy a whole new wardrobe to have a little bit of fun with colour.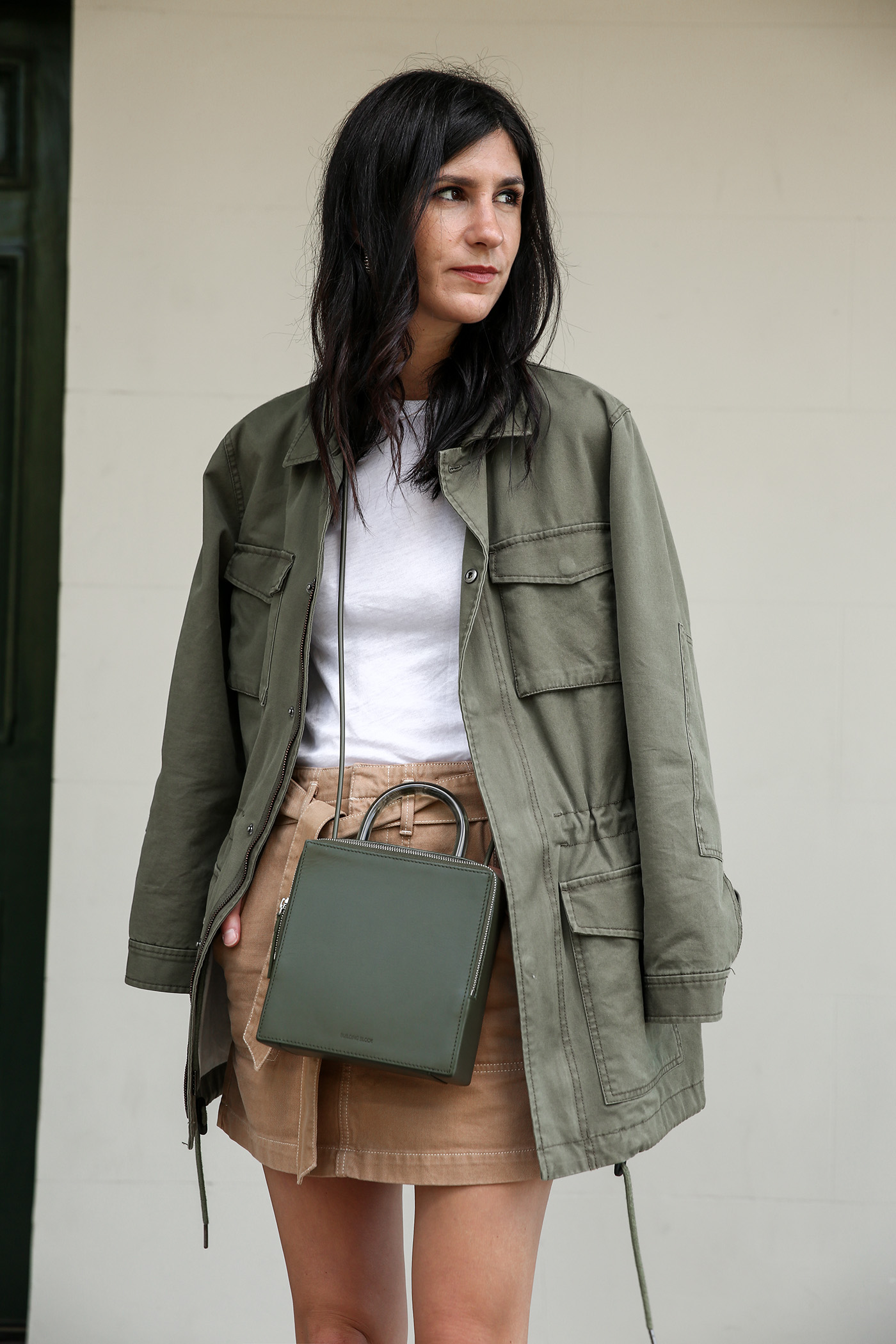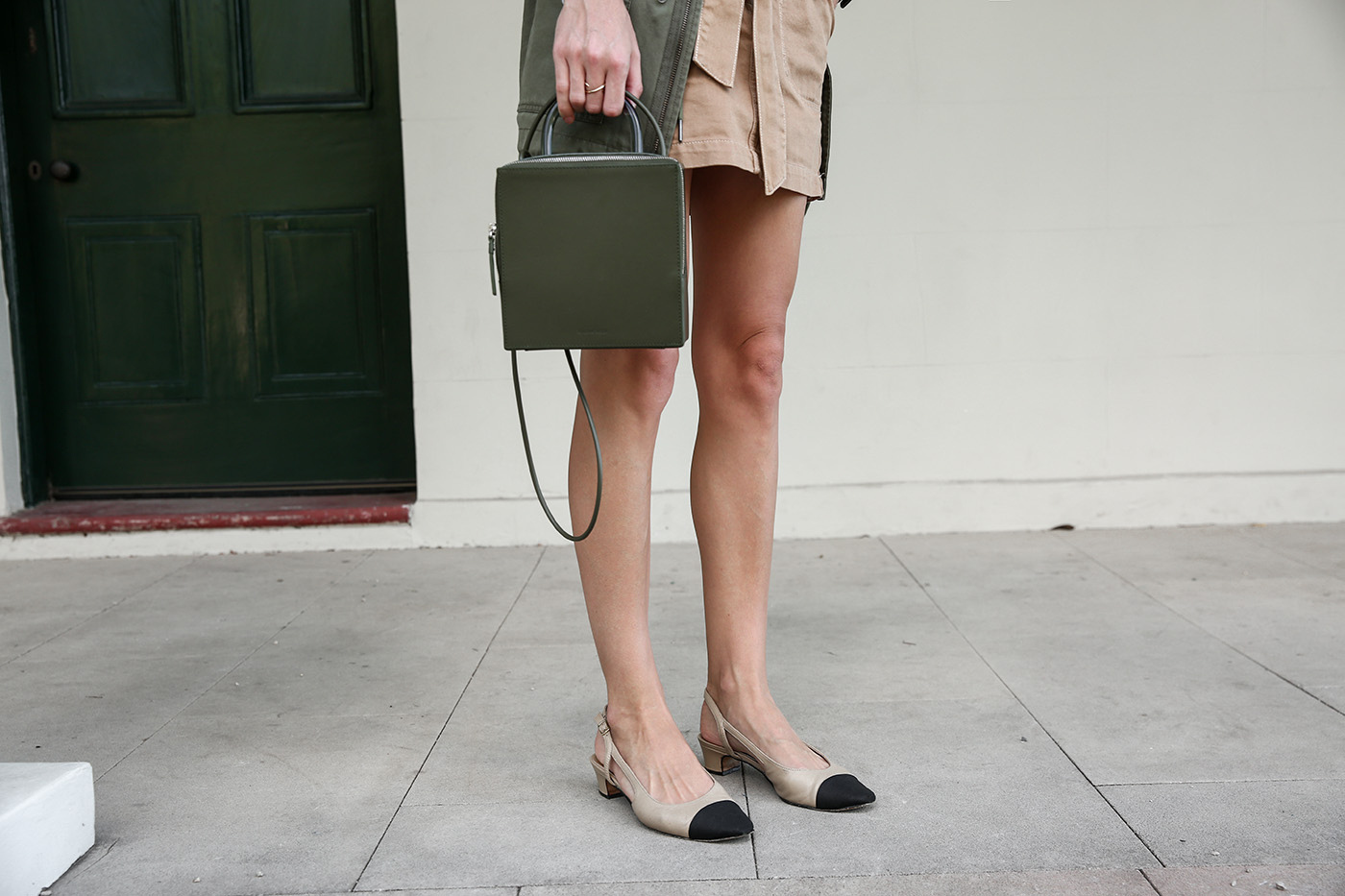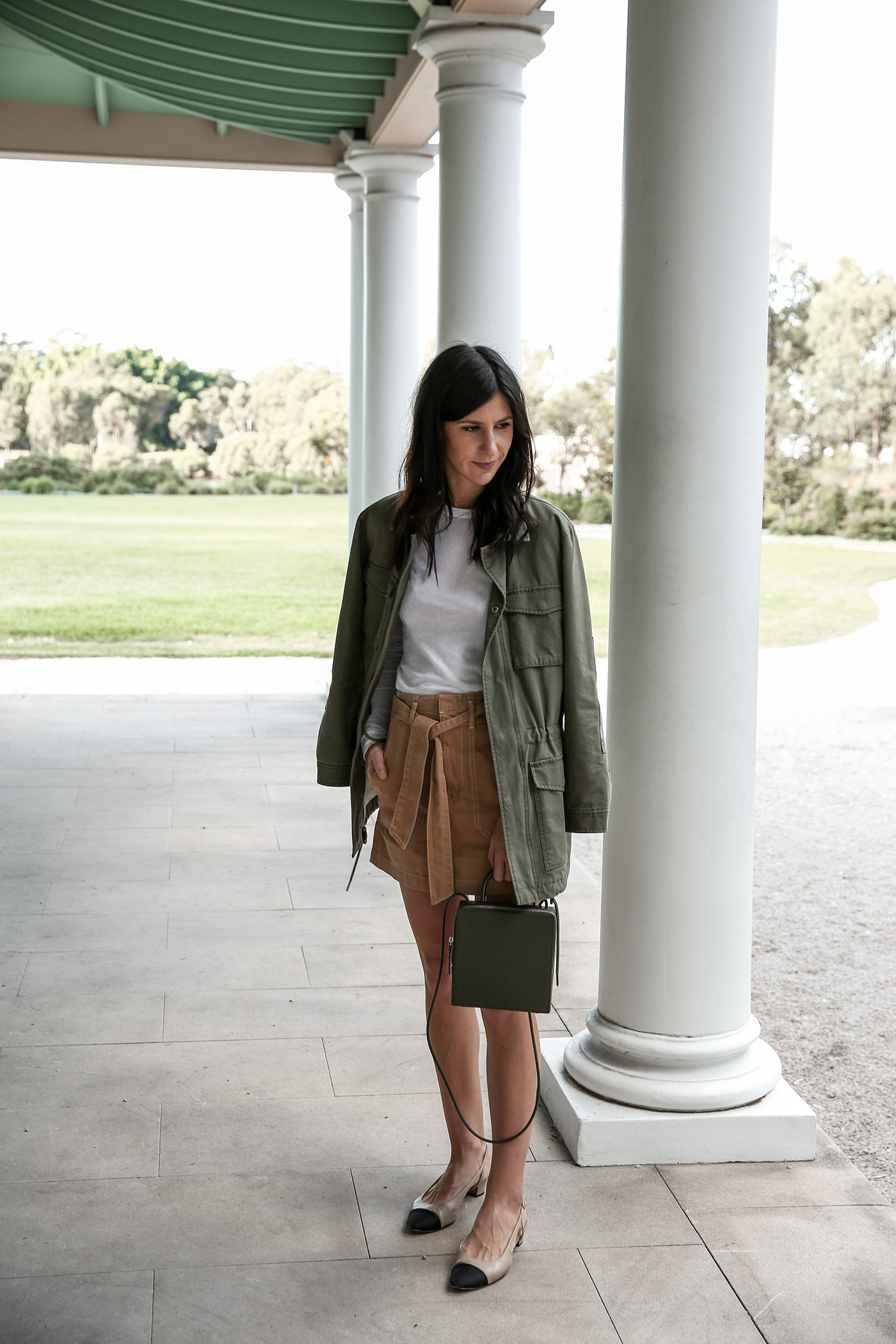 MAKE YOUR ACCESSORIES COUNT
I've been enjoying seeing the way that an accessory can really make a simple or minimal outfit pop. Instead of being sidelined as just a complementary piece for your look, a colourful bag or a punchy pair of shoes can become the focal point of your outfit, without pushing you too far out of your comfort zone. Take this minimal outfit for example; the petrol blue bag added a bit of life into an otherwise basic look. For the outfit above, I've gone for a more tonal outfit, complementing the khaki hue of my jacket with a rich olive green bag from Building Block.
YOU SHOULDN'T FEEL RESTRICTED BY YOUR PERSONAL STYLE
I'm pretty adamant that fashion is all about having fun. As much as I love my closet (mostly) full of neutrals, from time to time things can start to feel a little stale, and the injection of a fun new piece – whether it's colourful or not – is usually enough to breathe new life into the items that I already own. The start of a new year always has that 'clean slate' feeling, so it's a good opportunity to take a style risk, even if it doesn't stick.
Have you taken a style risk this year? x

PS. In case you've missed the news, Everlane is offering international shipping from now until April 30. If you're planning on making an order, I'd highly recommend getting a jump start as items tend to sell out pretty quickly. If you need some help decided what to buy, check out this blog post which shares my thoughts on every single item I've owned from the brand.