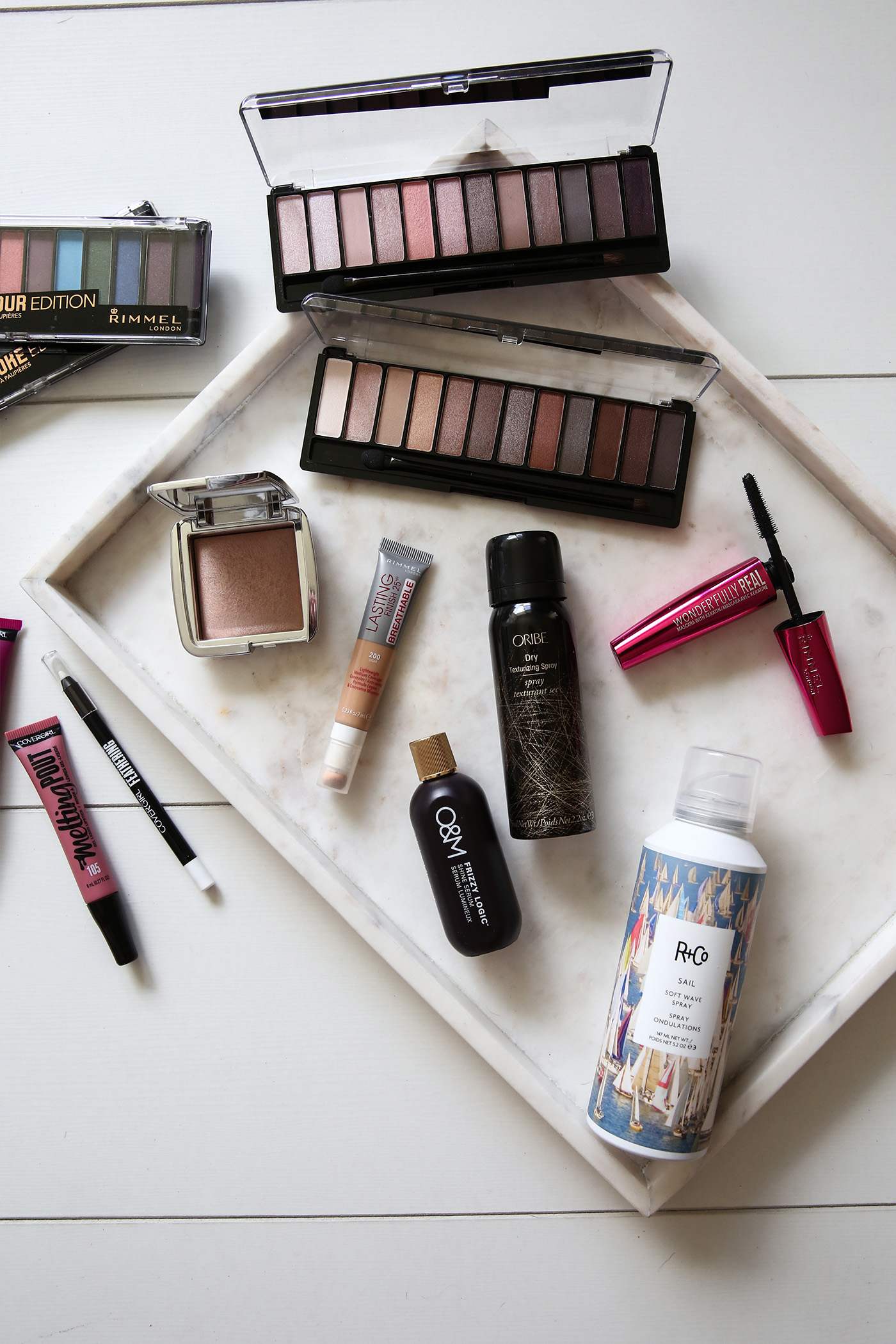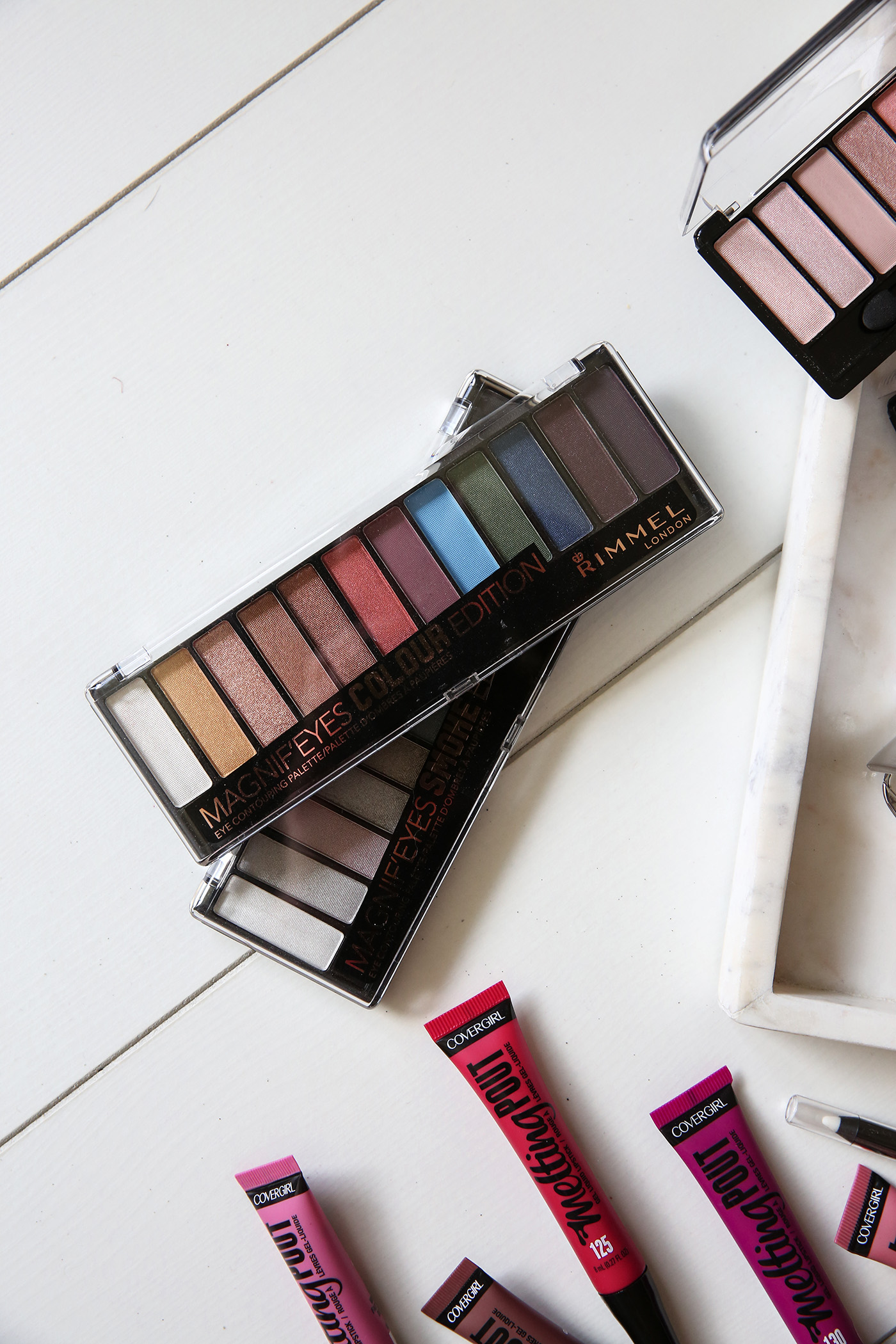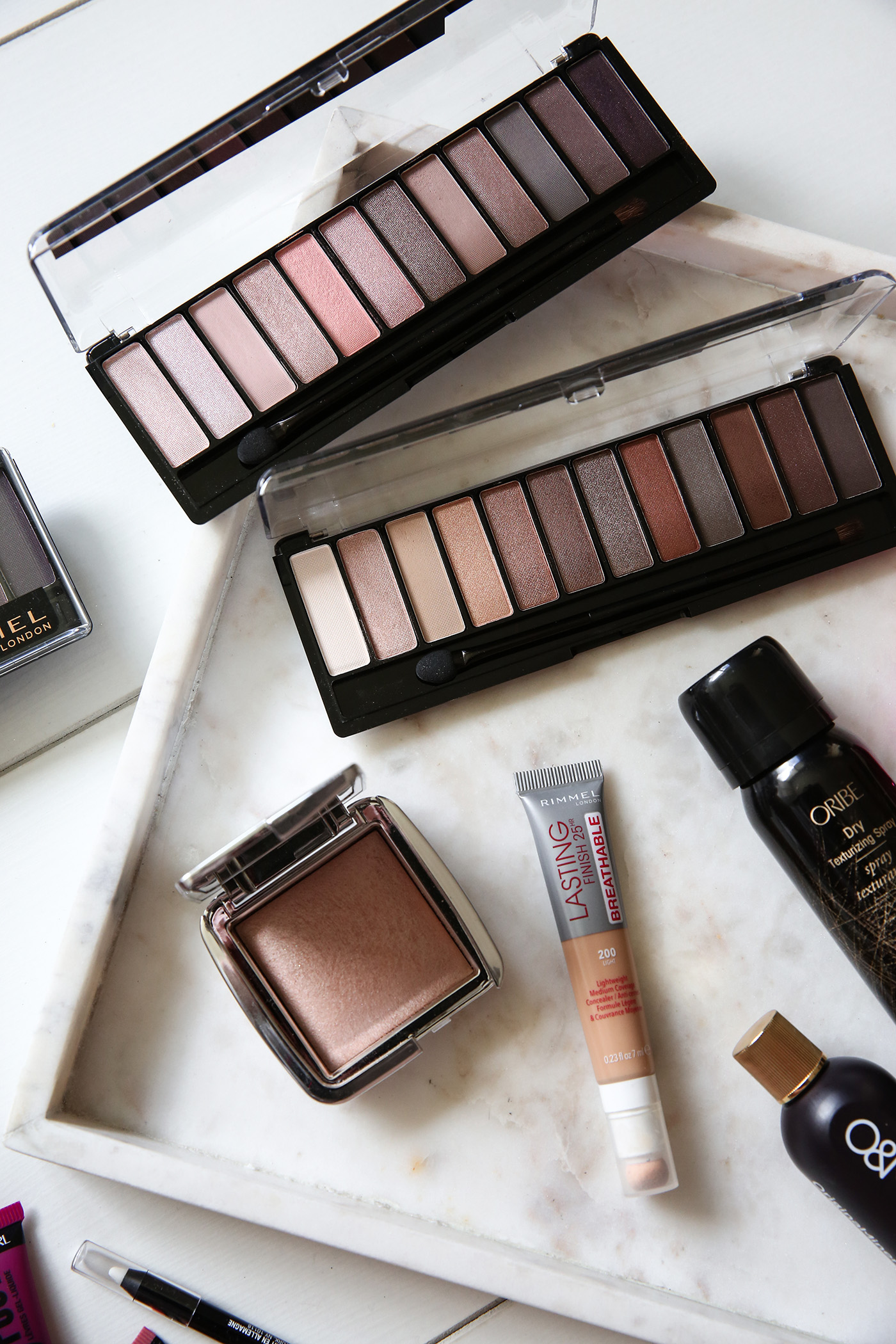 It's been a little while since I've chatted about new in beauty on my blog, so I thought I'd run through some new releases that I've been putting to the test recently, in addition to a couple of much-lauded beauty and hair care products that have been on my radar. Starting with the….
Rimmel Magnif'Eyes Eyeshadow Palettes
Of all the products here, this new eyeshadow launch from Rimmel was one of the ones that I was most excited by. These are marked as 'eye contouring palettes', and each palette has 12 eyeshadows ranging from light to dark, with a primary focus on shimmers over mattes. Perhaps the thing that excited me most was that the Nude, Blush and Smoke palettes all felt a little like affordable dupes for the Urban Decay NAKED Eyeshadow palettes, which ring in at more than double the price, plus I loved the inclusion of the 'Colour' edition palette, which was designed specifically for those with darker skin tones in mind. Above, I've swatched the 'Nude' Palette, to give a sense of the scope of the colours included, which are pretty broad. Of the four, I'd say this is probably my favourite, as it has all your bases covered if you like a golden or brown toned eye look (my absolute go-to). The darker colours tend to have a bit more pigment over the lighter ones, and they are slightly chalky, although for the price, I'm not complaining. I took a couple of these palettes with me during a recent stay-cation and they were the perfect companion for creating a lovely evening eye look. Definitely worth checking out if one of the NAKED palettes isn't in your price range.
Rimmel Wonder'Fully Real Mascara
Of all the beauty products I use on a daily basis, a good mascara that doesn't smudge all over my brow bone is usually pretty tricky. I have a few tried and tested that I usually go back to, but I do love the opportunity to find a new mascara to add into rotation. Truthfully, I wasn't sure quite what to expect with this mascara; it has a pretty thick synthetic brush, and a very wet formula that initially can my quite clumpy when applying it to your lashes. But, trust me when I say that this is one worth persevering for. It gives really full and thick looking lashes, that don't smudge.
Rimmel Lasting Finish Lightweight Concealer
I don't tend to use concealer or even foundation for that matter too often, as I generally like to let my skin breathe, but I thought I would give this a go, as Rimmel is usually my go to when it comes to affordable base products. What really got me curious was the unusual sponge applicator – it's unlike anything I've personally come across, and I wanted to get a feel for how this would work. A light to medium coverage concealer, this promises up to 25 hours of wear, and while I haven't quite made it that long, I did find this to be really long-wearing. But, and this is a pretty big but, I found the application really clumsy. The product was really hard to squeeze out, and when I tried to use the cushion applicator to blend the product out under my eyes, it dispersed more product onto my skin. Essentially, I just found this a little fussy – while in theory, it's a great idea, I'd probably look to apply this using my finger straight from the tube, and then blend out with a beauty blender.
Hourglass Ambient Strobe Lighting Powder in 'Euphoric Light'
Admittedly, I tend to make a point of avoiding powder highlight. My preferred go to beauty routine, whether it's for day or for evening is always based on amplifying my features, and keeping things as natural as possible – something I don't think can be achieved with a powder highlight. But, given Hourglass is always hailed as being at the top of the highlighting game (along with Becca), I thought it was worth a go, just to see what all the fuss was about. I opted for the 'Euphoric' Strobe Lighting Powder, which is a silvery pink toned highlight, something I thought would work well against my complexion, which tends to sit on the fairer end of the spectrum if I hadn't had much sun. The product itself is very finely milled, and applies really smoothly, but as with most powder highlights, I do find that while the flecks of glitter pick up the light quite beautifully, they're also not what I would refer to as subtle. Given this was a bit of beauty splurge, I've been trying to make the most of it, by using it to highlight the inner corner of my eye, or on top of a glossy cream highlight, to really make my highlight pop (perfect for our current Maldivian getaway). So, final thoughts? It's a beautiful highlight but it doesn't give that same natural glow as a cream highlight.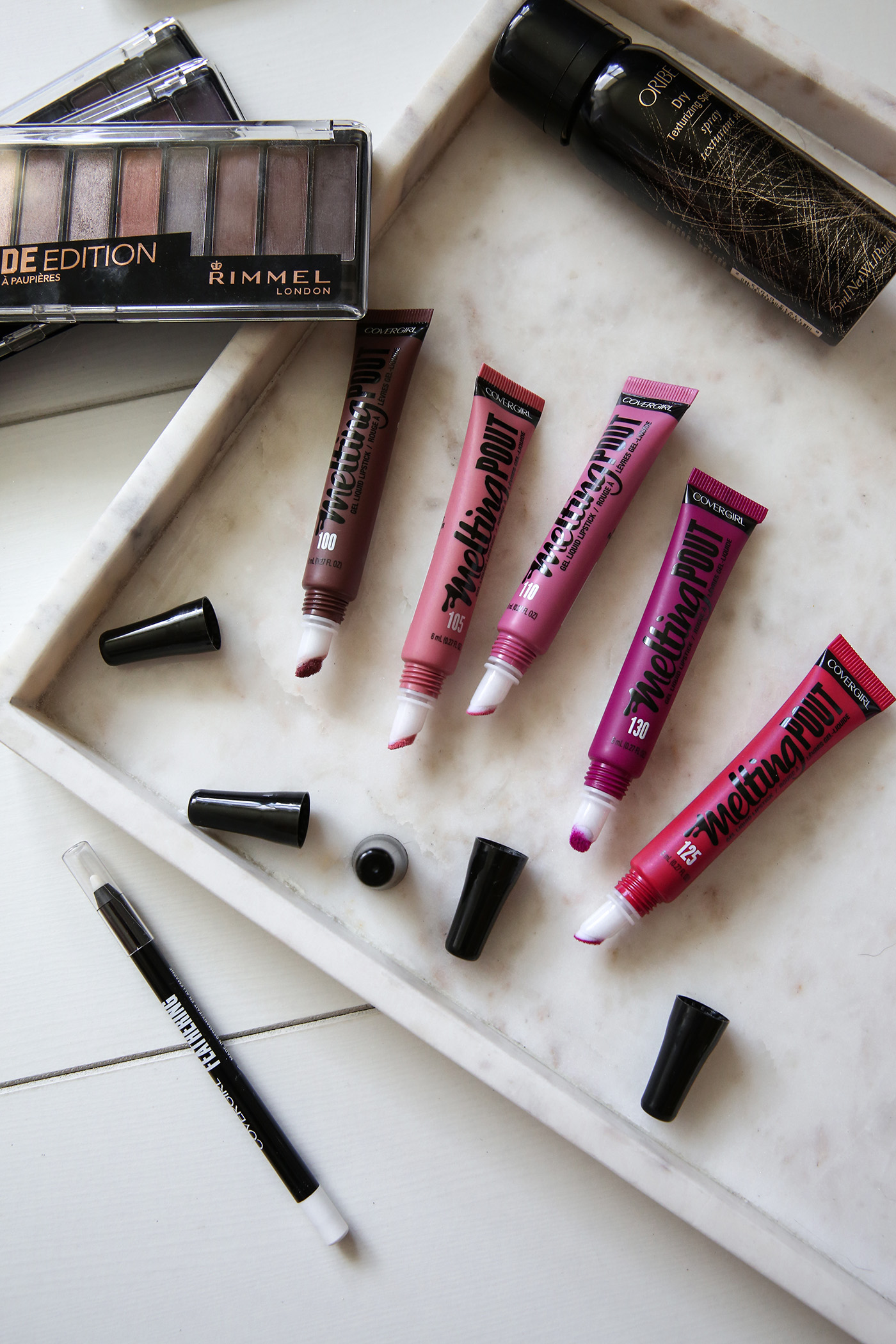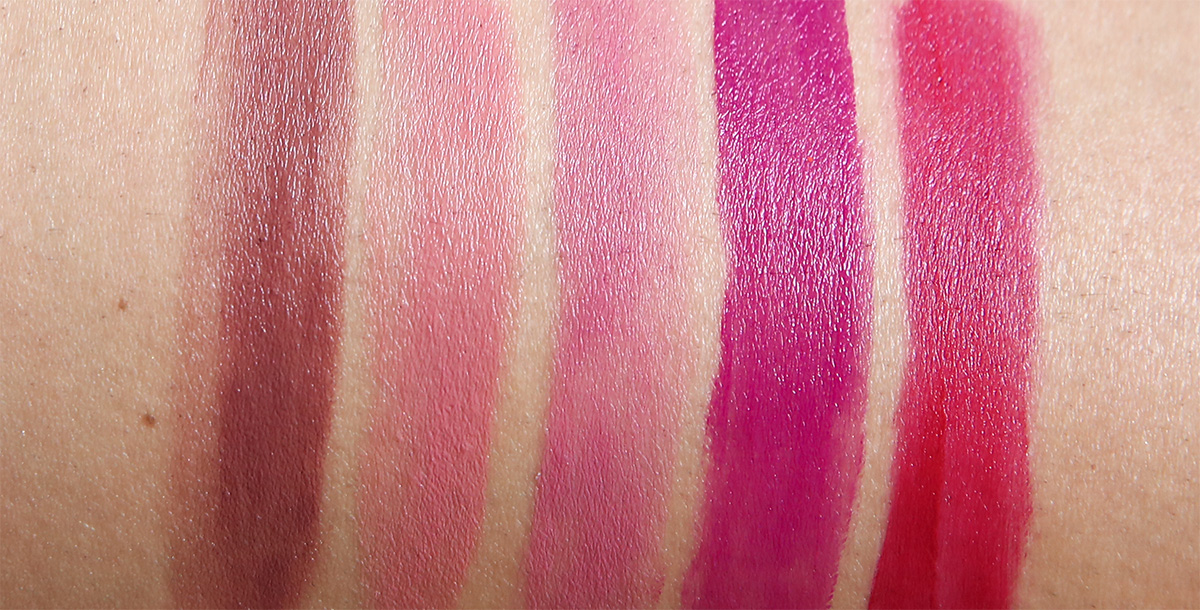 Covergirl Melting Pout Liquid Lipstick
I'm a sucker for a good lipstick, so I was pretty thrilled to get to try the new Melting Pout Gel Lipsticks from Covergirl. I have a small selection from the range, which from left to right, the shades are: 100 Gelebrity, 105 Gel-ful, 110 Evan-gel-ical, 130 – Don't be Gelly, and 125 – Gell Yes. The product comes in a squeeze tube with a soft slanted sponge applicator, that applies slightly sheer – you need to swipe the product across your lips multiple times to build up the colour. This is something I personally really like, as sometimes all I'm after is a nice wash over my lips, but for the more pigmented red and berry shades, you'll need to have a bit more precision with your application to ensure the pigment is spread evenly across your lips. These have a comfortable moisturising feel on the lips, and come across as a bit of a lip gloss and liquid lipstick hybrid – they had that slight stickiness that typically goes hand in hand with lip glosses. I did find that this does tend to feather and bleed into the skin around your lips, so it's definitely one that you'll want to apply after lining your lips first.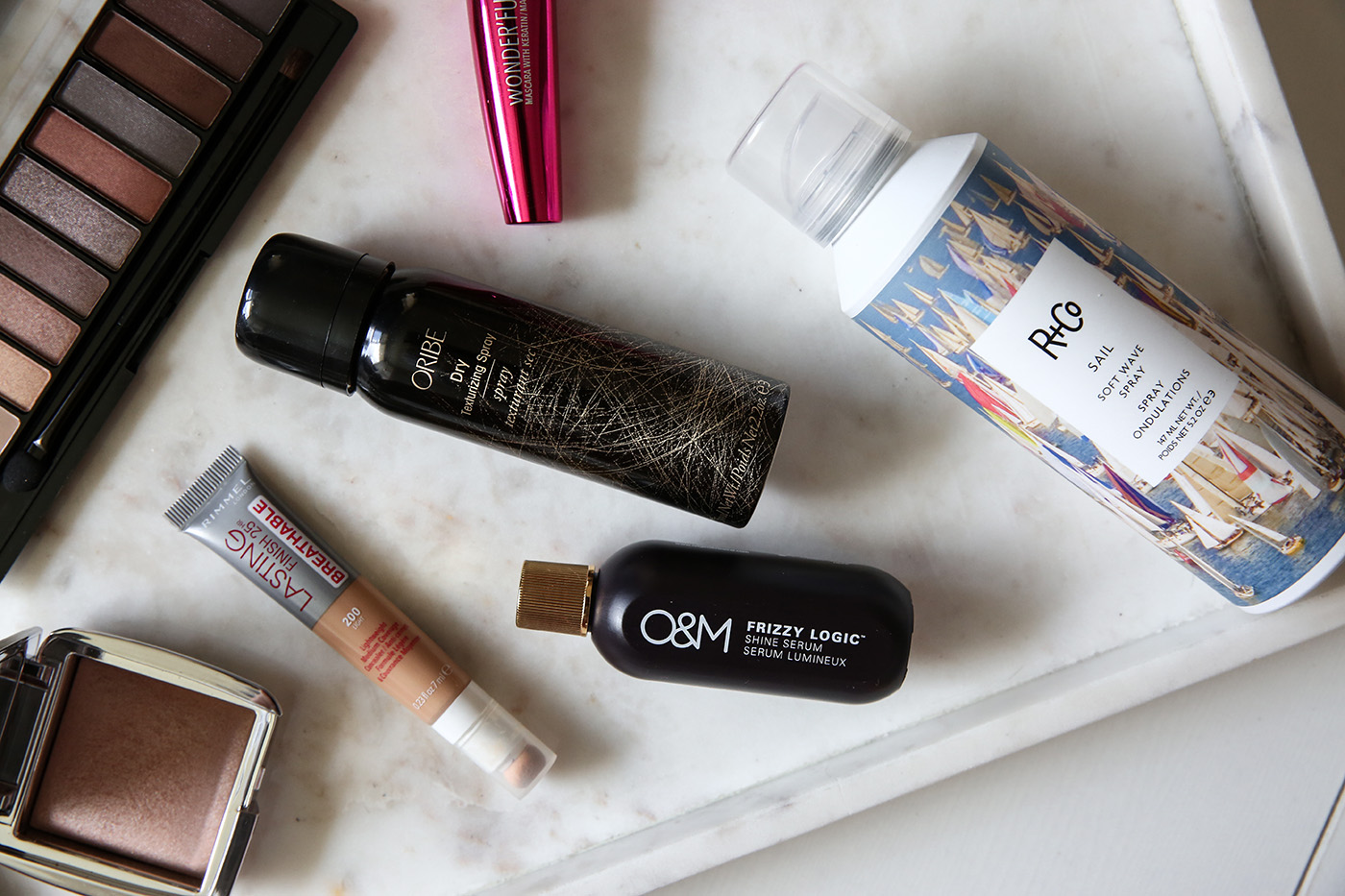 Oribe Dry Texturising Spray
This is a product I feel like I've heard a lot about from the beauty community, but with a rather steep price tag, it's taken me until now to snap up a bottle (and a travel size bottle at that!). I don't tend to do a lot with my hair, I consider it to be relatively low maintenance, so this was a bit of a splurge, but I was so curious to find out if it really did live up to the hype, or if it was just a glorified dry shampoo.
I spray this onto my ends after I've styled my hair, and I find that it gives it a gritty texture that makes my hair appear 'piece-y'. While I don't love the way this this feels in my hair, I do love the way that it looks, and it's definitely changed up the way that I do my hair every day. Verdict? It lives up to the hype, but given how splurge-worthy this is, I'll be using it as sparingly as possible.
O&M Frizzy Logic Shine Serum
You might see a little bit of a theme here, but I went on a real hair care binge recently, and this was one of the products that really caught my eye. Being half-Greek, I definitely inherited my mum's hair, which even at the best of times, can be pretty frizzy so anything that will combat that is gold in my books. This is a really lightweight serum that's best applied when your hair damp or been towel dried. I run a generous amount through the ends and smooth it across my my roots where my hair tends to be the frizziest.
This definitely isn't a cure all for my frizz, but I do find that it adds a healthy looking shine to my hair, in addition to smoothing it out a bit – plus it helps that no matter how much serum I apply (to wet or dry hair!) it never looks greasy.
R+Co Soft Wave Spray
This was something that I bought as a bit of an alternative to the Oribe Dry Texturising Spray. It still cost a pretty penny, but I've heard so much about R+Co of late, that I wanted to give something from the brand a try. I've used this a few times now and honestly, I'm not really sure where it fits into my hair care routine. I don't like to blow dry my hair as it adds far too much fluffy volume (that I can't get rid of!), so spraying this onto towel-dried hair is a bit of a no go for me. I tried it – albeit only once – and my hair had a sticky grit to it that I couldn't shake, and I couldn't style it at all. Essentially, it was a huge fail. I have sprayed this onto my ends a few times when my hair has been dry, and scrunched it up a little to mimic 'beach' waves, and while it doesn't have the same effect as salty air-dried hair, it's my preferred way of using this product. Not one I think I'll be repurchasing.