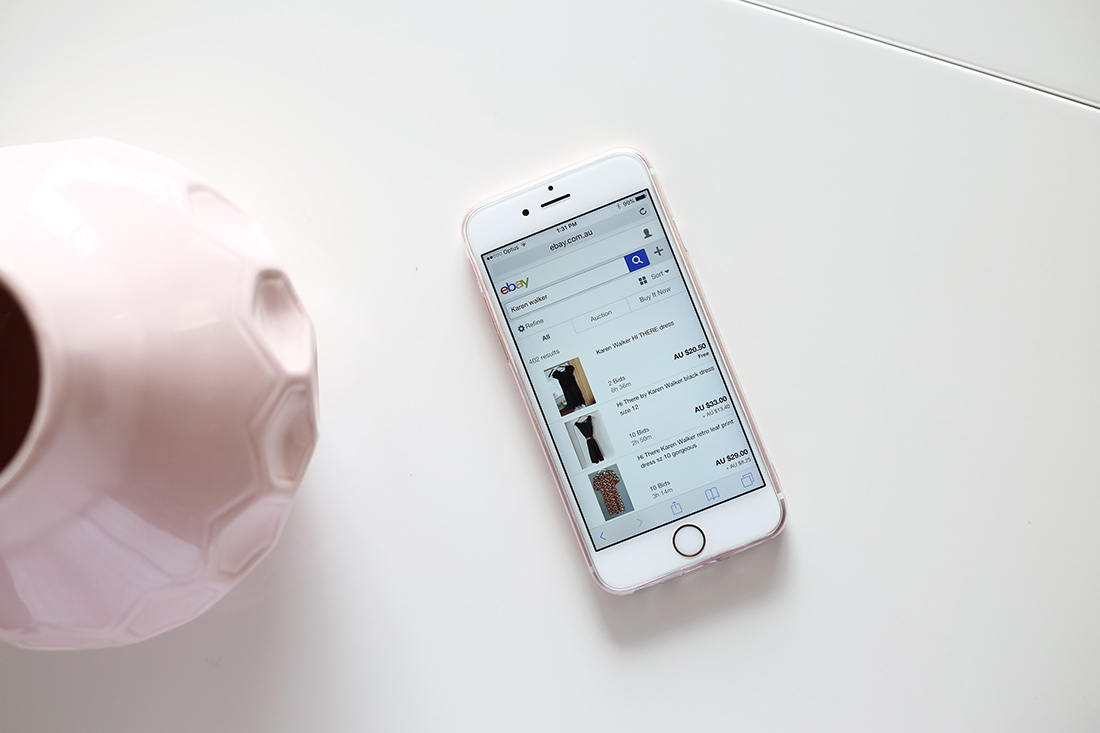 It's no secret that I have a soft spot for a fancy pair of shoes, or the odd piece from Karen Walker; but something I don't believe I've often shared, is that I don't always pay full retail price.
To say that I've had an eBay (or Trade Me for those in New Zealand) addiction in the past is probably a bit of an understatement. There were times that seldom a week went past without me receiving something in the mail – as much as it embarrasses me to admit it!
My experiences were undoubtedly a mixed bag; from the pieces I managed to pick up in as new condition (less than 10% the RRP) to the ones with unstated wear and tear or damage, it wasn't always the winning situation that I'd hoped for.
These days, while I spend a lot less time on eBay, I've nailed down my approach to the point that I find that I'm happy with what I've purchased at least 90% of the time. So if you're keep to find out my key tips and tricks for shopping eBay and secondhand, then keep on reading…
KNOW WHAT YOU ARE LOOKING FOR
One of my biggest downfalls in the past, was doing a generic designer or brand name search, and adding e-v-e-r-y-t-h-i-n-g I liked to my watchlist. Needless to say, it got a little out of control, and often I'd find myself bidding on things just because it was a reasonable price, or because I'd seen it on someone online and casually liked how it looked.
These days, I'm a girl on a mission. I'm either looking for a particular style of clothing, or a very particular piece (right now it's a floral silk playsuit from Zimmermann and a pair of braided heeled sandals from Chloe). eBay is such a large marketplace, so keeping a narrow focus is key in making sure that you only track down – and bid on – the pieces you want to add to your wardrobe or home.
LOCAL VS. INTERNATIONAL
Whether or not you're new to eBay, it's worth considering the pro's and con's of buying from a locally-based seller or from one based internationally. Personally, I usually open up my searches internationally as my searches are generally for European or US designers, which are more widely sold outside of Australia. Generally this means that I can track down those tricky or difficult to find pieces from previous collections that I wouldn't be able to find within Australia alone, otherwise.
One thing to bear in mind is the cost of shipping generally jumps up considerably when purchasing from an internationally-based seller so you could be looking at paying double, if not triple what you would usually pay for local shipping. Estimated delivery times are also a bit longer, and resolving any potential issues which you may have with the seller are generally more difficult – especially where a return is involved.
You'll also have to take into consideration the possibility of paying customs on your purchases, which trust me, can be a huge debbie downer on the whole experience. When I was living in New Zealand, the upper limit for clothing and accessories was approximately $220 (NZD) which can be quite limiting if you have a taste for expensive shoes… Depending on where you live, this charge can add up to an additional 40% to your purchase so make sure that you have an understanding of customs and duties import rules.
ASK QUESTIONS
Most item listings are often relatively vague, so to ensure that you know what you are getting, it's important to ask the seller questions. Don't be afraid to ask for more photos – which are key in being able to visualise the piece and any possible wear and tear – or for item measurements.
CHECK THE USER FEEDBACK
While you will find most sellers out there have a pretty good track record, you will come across the odd one which is littered with negative feedback. There's usually two sides to every story so it's worth checking what feedback was left for the buyer in those instances; take it with a grain of salt and make a measured judgement on whether it's worth moving forward and bidding on their auction.
I'm also pretty cautious when it comes to new sellers, or those without any feedback at all. While there is Paypal and eBay protection for buyers, it can often been a painful process to go through – trust me! – so I generally tend to play it pretty safe these days.
HOW DO I KNOW IF IT'S AUTHENTIC?
Shopping from a private seller can be a little scary when doing it for the first time, but it's even more nerve-wracking when you're parting with some big bucks for a designer handbag or pair of shoes. I personally tend to steer clear just for that reason alone (I know you've got to risk it to get the biscuit but girl…); but I wanted to share some tips on how to recognise if an item is legitimate or not.
There are some incredibly real looking fakes out there, so sometimes they can be hard to spot! The first step, should be to compare the sellers images with the legitimate product images of the handbag (or shoes). Check all the measurements; do these stack up? Did that style of bag come in a range of hardware colours or not? Are the logo's inside the bag where they should be? Does the lining look a little off?
When it comes to shoes, you'll find that the discrepancies are a little more obvious – and not to mention that typically the sizing runs at least one size small – a pretty big tell if there ever was one. The other thing to check is the shoe box; these are never anywhere near as grand or luxurious looking as the real thing, and often the logo is completely off.
This alone isn't going to give you complete piece of mind, and while a fake pair of designers shoes are relatively easy to spot, a fake designer handbag… not so much. My advice? Ask the incredibly helpful ladies over at the Purse Forum who absolutely know their stuff – they can spot a high quality fake a mile off!
As a fail-safe, eBay and Paypal both offer buyer protection services, so if you do decide to take the plunge and find it isn't what you thought you'd bargained for, make sure to open a claim and get your money back!
SET A BUDGET
I'm not sure what it is about auctions, but I've always found that they so easily incite competitiveness. As a general rule, I think it's important to decide first up what you are willing to pay for the item, and stick to your guns. I generally bid in the final moments of an auction which means that I have little opportunity to increase my bid, even if I really wanted to.
Receiving an item that is damaged is upsetting, but receiving an item that you don't feel is worth the money you paid for it is just really disappointing.
SOME FINAL TIPS
Any auction that has 'brand new with (or without) tags' scattered somewhere throughout the description is hands down my favourite; particularly if you can manage to nab the piece while it's still in season. Case in point; my Acne Studios jensen boots. I managed to snag these from an international seller while the AU dollar wasn't suffering quite so much, and saved myself a good 30-40% off the original retail price.
But, while an auction may say new without tags, it really may have been worn once (or lightly worn). Keeping that in mind, make sure that you check that what you have received meets the item description and the photos displayed with the listing.
There's also a number of other options if you're looking to shop secondhand; most notably, shopping consignment. My current favourite has to be TheRealReal.com – it's where I've picked up a few (almost) new pairs of shoes, and it's got a pretty good selection of archive Isabel Marant pieces, which if I'm being honest, is what I'm hunting for 87% of the time.
Another that I like, but haven't yet shopped from, is Vestiare Collective. It's the European counterpart of TheRealReal, and while it is a little bit on the more expensive side, I've seen some incredibly covetable pieces crop up on there from time to time which I've never been quite quick enough to nab.
The most important thing to keep in mind, is that you shop smart; the 78,362 things on your lust list can surely wait…