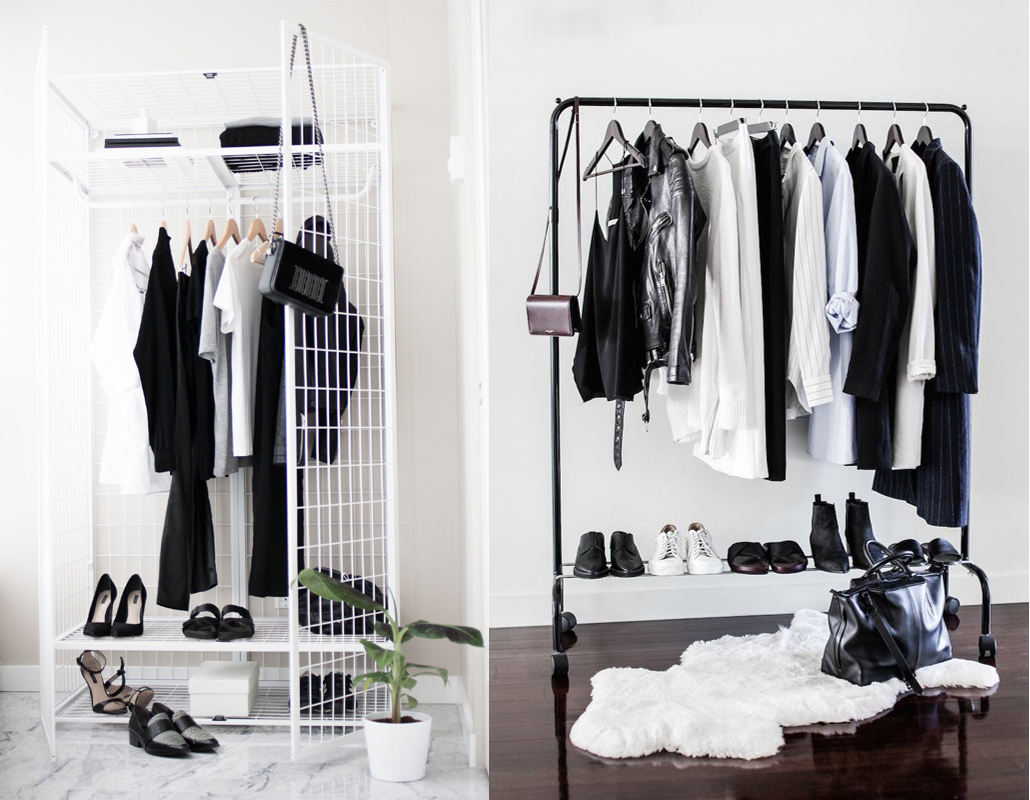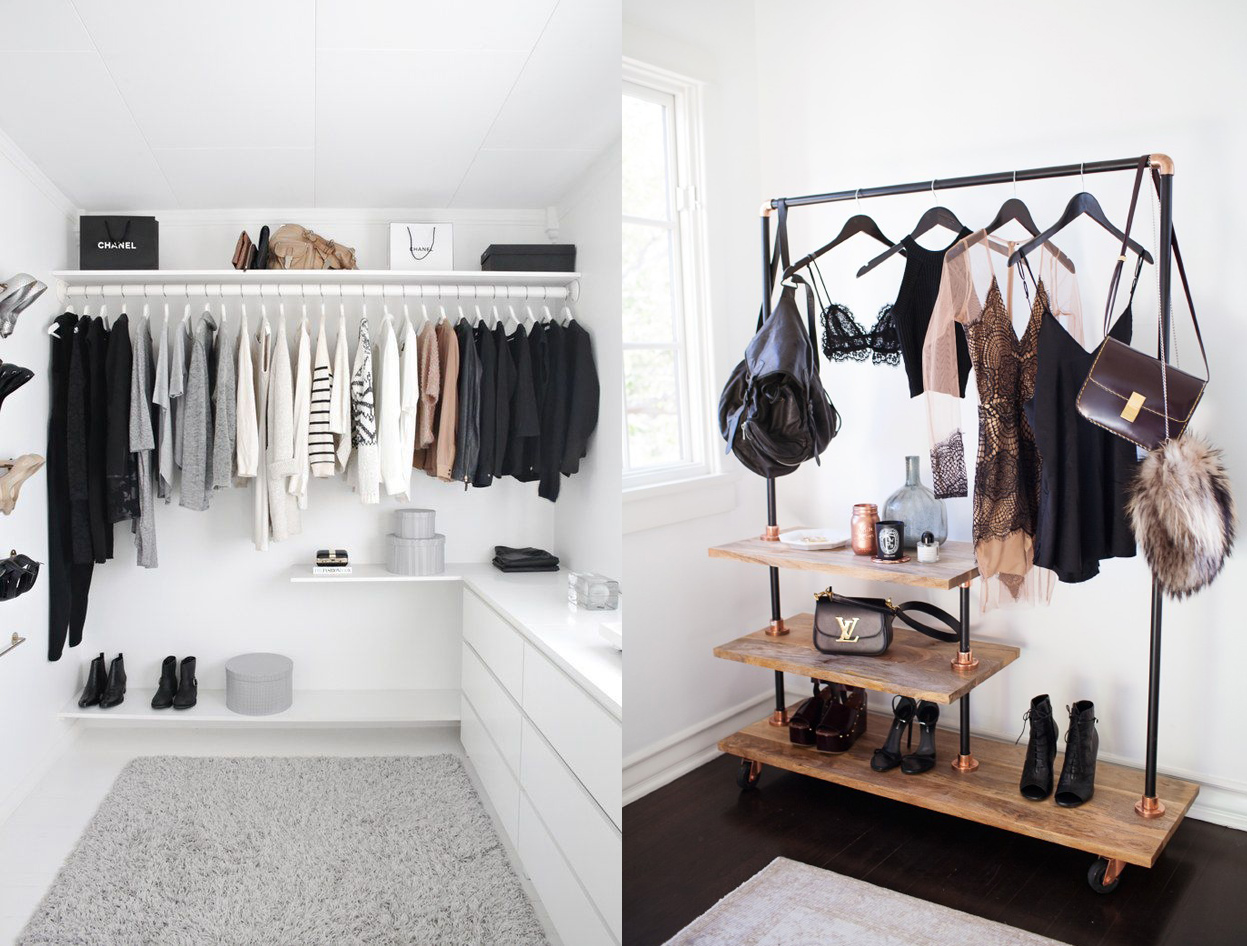 I'm no stranger to the wardrobe cull – I've pared back my wardrobe more times than I can count, only to go back several months later and find that I'm not 100% happy with what I see in my closet. If I'm feeling particularly ruthless, I'll work my way through my wardrobe with a fine-tooth comb at least once a week, just to make sure that I'm not hoarding anything that I know I'm unlikely to wear. For most, I'd recommend doing a quick audit of your wardrobe at the start of each season (every three or six months – whichever works best for you), to identify what you are and aren't wearing, and spot any gaps in your wardrobe that need to be filled.
I generally find the process to be quite cathartic, as your wardrobe morphs from an overflowing mess (yes, on occasion it does get a little out of hand) to a carefully edited selection of wardrobe favourites. It also assists in wardrobe planning at the start of each season, in identifying what you might be missing, and what you definitely don't need to buy any more of.
I know that there are plenty of wardrobe culling guides out there (and Anuschka of Into Mind does it incredibly well), but I wanted to give you all a little bit of insight into my process – just keep in mind what works for me might not work for you.
Step 1: Empty your wardrobe
And I mean everything. Pull everything out of wardrobe and pile it onto the bed. I know what you're thinking – and yes, It might look daunting – but think of it as a fresh start to the season ahead. If you're like me and have a pretty good handle on what is in your wardrobe (and what you do and don't wear), I'd recommend just pulling out everything that hasn't been worn in a while, or that you're just not sure about.
Step 2: Try everything on
Be critical. If something doesn't fit right, or you don't like the way it makes you feel, then don't keep it. There's no point in having a wardrobe full of clothing that you don't feel comfortable in or don't enjoy wearing. I like to keep the following things in the back of my mind as I'm trying on each piece:
Does this get regular wear?
Is it in good condition?
Is it flattering? Does it make me feel good to wear it? (this is usually the main reason why I'll decide to get rid of something)
Does it fit my overall style?
Is it versatile?
If you find yourself answering no to any of thsese questions, then you need to ask yourself why you are keeping it. It could be for sentimental reasons, it could be that you are still waiting for an occasion to wear it, or it could be that you paid a lot of money for it.
I generally only keep the pieces which I enjoy wearing, am comfortable in, and that are in good condition. If it hasn't been worn in the last six to twelve months, then I'm usually happy to let it go.
Step 3: Sort your items into keep, maybe, donate, and sell
Anything that you definitely want to keep, put back into your wardrobe. This is also the perfect opportunity to re-organise your wardrobe space so that you can find the pieces you love easily.
If there is anything that you weren't sure about, put it back in your wardrobe and turn the hangers back to front, only turning them the right way if you've worn the item. General rule of thumb is that if after six months you haven't worn it, it's probably time to let go – although bear in mind that you may want to give more time to seasonal items, or special occasion pieces which you might wear once a year, if that.
The last two piles are the items that you don't want. It might be that they no longer fit, aren't worth altering, or are no longer your style. Depending on the brand of the item and the quality that it is in, you should decide whether you want to donate the items to the Salvation Army/Vinnies or whether it's worth selling them on eBay. I generally tend to choose to eBay most of the pieces I no longer love to make a little bit of extra money to go towards any new purchases. This can often be a truly laborious experience, so I'll only make the effort if I think that I'll be able to get a return of least $20. It all adds up pretty quickly if you're selling a big chunk of items. Keep in mind that if anything is beyond repair and is extremely worn, it's best to throw it in the bin. I always get a little bit sad when something is completely beyond repair and is so worn that you can't remember whether it truly has seen better days, and honestly, it's these pieces that I find the hardest to let go – there's a reason that they get so worn out.
Step 4: Identify any gaps in your wardrobe
Now that you've pared back your wardrobe, you should be able to spot the pieces that you're missing, or have identified anything that is worn out and needs to be replaced. For example, perhaps you've decided that you're missing a light jacket that you can wear when the weather is a little cool, or you've realized that you don't have any sandals or denim shorts for the upcoming summer (true story!). These are the pieces which you should add to your shopping list.
Be fussy. Don't settle for the first thing that you try on – there's no point in taking something home if you aren't going to love it and wear it as often as you can. If it's too small, don't buy it. If it doesn't fit right, don't buy it unless it's something you would either alter yourself, or take to the tailor.
Buy the best quality that you can afford, whether this means your budget is $50, $200, or $500 (or more); just bear in mind that price doesn't always reflect the quality that you receive. Check the thickness of the fabric in the light, judge the feel of the material; ensure that the seams are solid and straight. I tend to favour natural fabrics, like merino wool, cotton, silk, and cashmere, or should I opt for man-made, I tend to prefer a polyester crepe as it is hard wearing and drapes nicely. I like to buy my basics from Glassons (they have some great cotton tanks), Everlane, Country Road and T by Alexander Wang (primarily the supima cotton or the linen/silk/cotton blends), but there are just as many other high street (or luxury) labels which will do the job just as well.
And the most important thing? Have fun with it. You don't have to buy the perfect anything the first time around. Instead, you want to piece together a wardrobe that is versatile, speaks to your lifestyle, and that you enjoy wearing. If a black pencil skirt doesn't fit into your lifestyle (or suit your body shape), then don't buy it; you know you probably aren't going to wear it anyway!
I've put together a short video on wardrobe culling over on my channel if you'd like to check it out (it talks through most of the points mentioned here!). Are there any special tips or tricks that you use to cull your wardrobe? I'd love to hear them in the comments below x