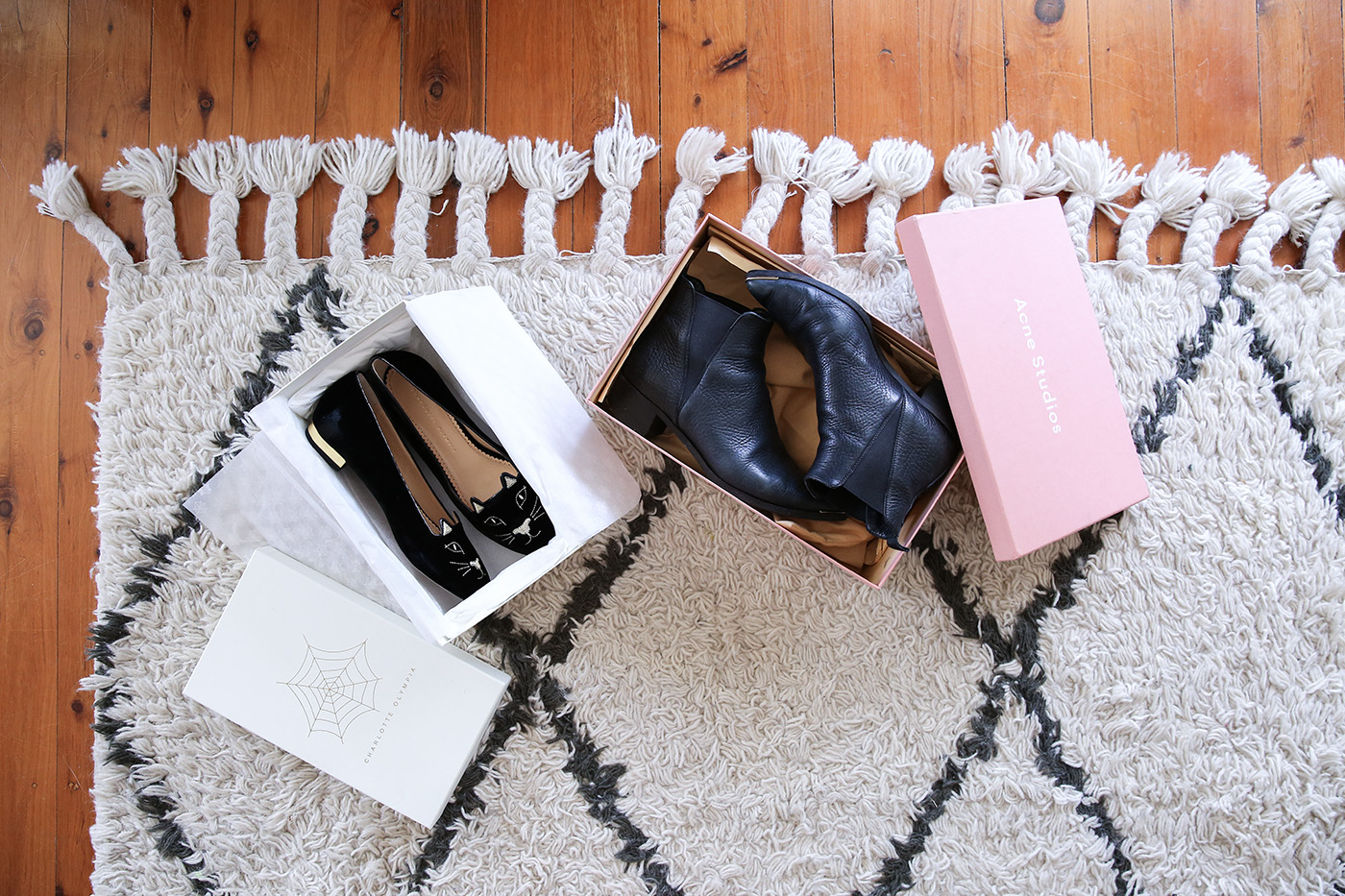 Charlotte Olympia kitty flats (also here) & Acne Studios jensen boots (affordable option here)
Today I wanted to touch on two of my favourite pairs of shoes; the Charlotte Olympia kitty flat and the jensen boot from Acne Studios. I'm a firm believer in investing in your wardrobe (for the most part, more on this in another post!) – especially when it comes to shoes. There aren't many shoes out there which I've quite literally worn into the ground, but these two take the cake.
I bought my first pair of kitty flats from Charlotte Olympia five years ago now; I'd been waiting for them to come back in stock (Alexa Chung has a way of making things sell out…) and pounced the minute I got the email. Given we were travelling to London later that year, I opted to have them delivered to the store, just to avoid paying the taxes and duties – these were a lot pricier back then, sitting around the $800 mark. I don't think I've ever been quite so excited to pick up a pair of shoes, and judging by the amount that I wore them, that excitement was warranted. After four and a bit years, I came to the conclusion that they'd done their dash, and started plotting to buy a replacement. Luke beat me to the punch, gifting me the pair you see above for Christmas. While these haven't gotten as much wear time as the original pair, I'm still not even close to being 'over' this shoe.
The jensen boots on the other hand, weren't exactly love at first sight. In all honesty, I couldn't really quite figure out what all the hype was about. But, after spotting the grain leather pair on Instagram, I figured that these would make a great addition to my wardrobe, which at the time, was wholly focused on the capsule wardrobe. I managed to snag mine for almost half the price on eBay, and these have turned out to be one of the best purchases that I've made in the last couple of years. They've been long wearing, the grain leather doesn't really show a scuff (which I'm prone to getting), and every time I take them to the cobbler for a spruce up or a new heel/sole, they come out looking basically brand new. When it comes to these boots though, if spending upwards of $500 on a pair of shoes doesn't quite sit right for you (it is a bit of a blow to the bank account!), then I would highly highly recommend checking out these Marc Fisher dupes; at a fraction of the price, you can get the look, and based on my experience, I've found the quality to be exceptional.
What are your favourite pairs of shoes? x