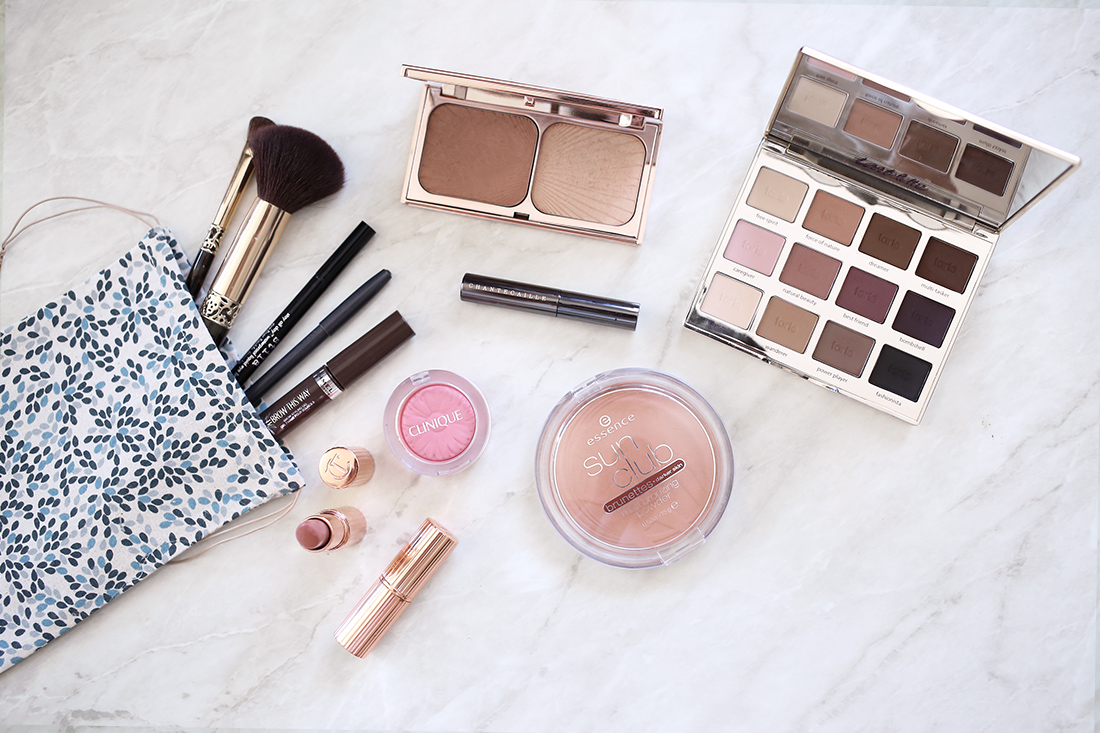 With most days seeing the barometer hit the low thirties (which is nothing to scoff at – trust me!) I've taken to stripping my daily beauty routine back a notch.
Tropical weather and humidity aren't exactly kind, and aside from wondering what a good hair day actually looks like, I've been dialing down the number of cream and liquid-based products I use. Any kind of base has gone out the window – I opt for a more fresh-faced look, as my foundations are unlikely to last past morning tea. Instead, I've been starting with a small amount of bronzer brushed around the frame of my face, focusing on the temples just to give me a bit of glow. I'm yet to find a new matte bronzer that I like so I mainly switch it up between the Essence Matte Bronzing Powder (in brunette) and the contour shade from Charlotte Tilbury's Filmstar Bronze and Glow. Occasionally, I'll tap a little of the highlight shade on the tops of my cheekbones to add a bit of glow and dimension – too many mattifying products on the skin can make you look a little bit flat!
For the cheeks, I'm loving a subtle pink flush, and have been reaching for Clinique's Cheek Pop in 'Pink Pop' most days. It's a sheer formula that needs to be built up, making it perfect for beginners, or those who are trying to avoid going overboard.
My go to eyeshadow palette has been the Tarte Tartelette palette. Twelve matte shadows ranging from peach to beige to plum to chocolate, it's an all-rounder that can take you from day to night. The shadows are quite pigmented, and build up really nicely on the skin – my favourite way to wear it is with Supermom dusted all over the lid, and Natural Beauty and Best Friend in the outer corner to create a bit of shadow and definition to the socket.
I've been switching between liquid and pencil liner, although my favourite is still hands down the Stila Stay All Day Liquid Liner. This stuff does not budge, and is a cinch to apply. For lashes, I've been trying out a deluxe sample from Chantecaille, and have been loving it so much that I'm probably going to nab the full size once it runs out. It's the Faux Cils mascara; it really lengthens and separates your lashes (no clumping, at all!) and dries down incredibly quickly. I'm usually a one coat kind of girl but I put on a second coat of the Faux Cils, to add a little bit of extra length.
I am still yet to pick up a new Brow Wiz from Anastasia Beverley Hills, so I've been making do with either my Eye Pencil from MAC in 'Coffee' to fill them in lightly, or Rimmel's Brow This Way in 'Medium Brown' for a more subtle take.
Lipstick hasn't been one of my top priorities, to tell the truth, instead I've been opting for a swipe of Nuxe Reve De Miel before I head out the door. On the days where I've decided to make a little bit of extra effort, I'll throw Charlotte Tilbury in 'Penelope Pink' or Stoned Rose in my bag to apply on the go.