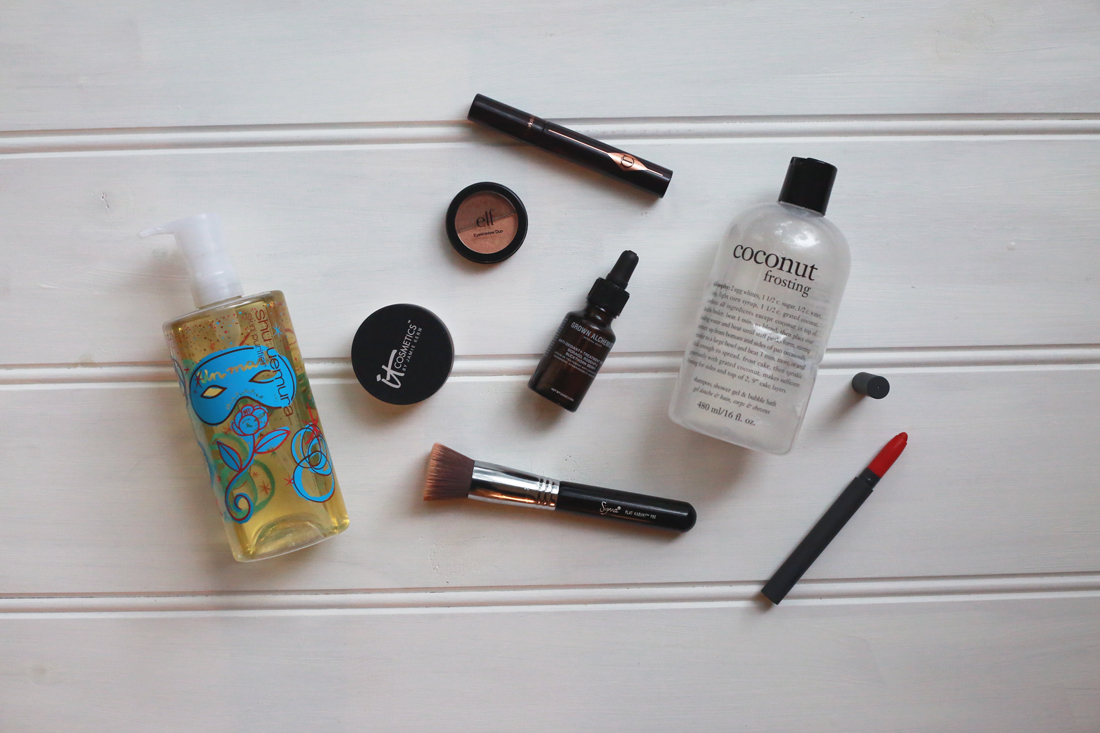 How is it almost February already? I mean, it feels like this month was over in the blink of an eye. I'm always left feeling a little surprised and a little perplexed when we reach the end of the month; when did the days creep up on me so suddenly? What have I spent the last four weeks doing?
Well, I know in part that I've spent the last month loving the above products. I've been changing up my beauty and skincare routine, and discovering a few new favourites along the way – some surprising, some not at all, and of course I couldn't help but throw in a few old faithfuls that I've started to gravitate towards again.
I've really started to branch out when it comes to skincare; the Shu Uemura cleansing oil – which I never thought I would love – has been incredible for removing all of my makeup so effortlessly, while making my skin feel smooth and moisturized. In the evening, I've been generously applying the Grown Alchemist Facial serum to my face, with particular focus around the eyes, and it's been doing wonders for my skin (and for my eczema/dry patches!). When it comes to the shower, I generally pick up a bottle of something sweet smelling from the supermarket, but back in November I decided to splurge on a body wash from Philosophy. It's coconut scented, so as you can imagine, it is ridiculously delicious smelling, and judging by how little is left in the bottle, I'm going to have to pick up a new one p-r-e-t-t-y soon.
Towards the end of 2014, I decided to invest in some new brushes for applying my makeup, mostly because I was pretty brush-poor to begin with. I opted for Sigma, and Sigma's flat top kabuki brush has become my go-to for applying foundation in the morning. It makes the entire process so quick and easy, and I can't stress just how natural it makes your skin look. The word I'd probably use? 'Airbushed'.
My makeup collection has really grown in the last few months and I've been discovering some new favourites – although no surprises there. The it. Cosmetics Bye Bye Pores HD powder has been a lifesaver on a hot day. It truly helps to mattify my skin and eliminate much of the 'greasiness' that you get at the end of a long, sun-soaked day. I've absolutely been loving the E.L.F eyeshadow duo, and I have this in the shade 'butter pecan'. It's such a natural combination, it is very pigmented, and I know it is going to be great for travel. I know I've talked about this before, but for my lashes I have been reaching for the Full Fat Lashes mascara from Charlotte Tilbury. I'd almost go so far as to say it is my Holy Grail mascara – when I wear it, it almost looks like I have falsies on, that is how incredible the effect is. For lips, it's a new brand (to me at least), the Bite Beauty crème matte lip balm in the shade 'fraise'. It's a pinky-raspberry hue and it smells just like a field of strawberries. Not to mention the fact that it is SO incredibly creamy and easy to wear.
I tried to keep it pretty short and sweet this month, although it's hard not to go on and on when you find so many products you love, all at the same time. I'd love to know what your favourites have been this month, so let me know in the comments below! x
Shop the post: