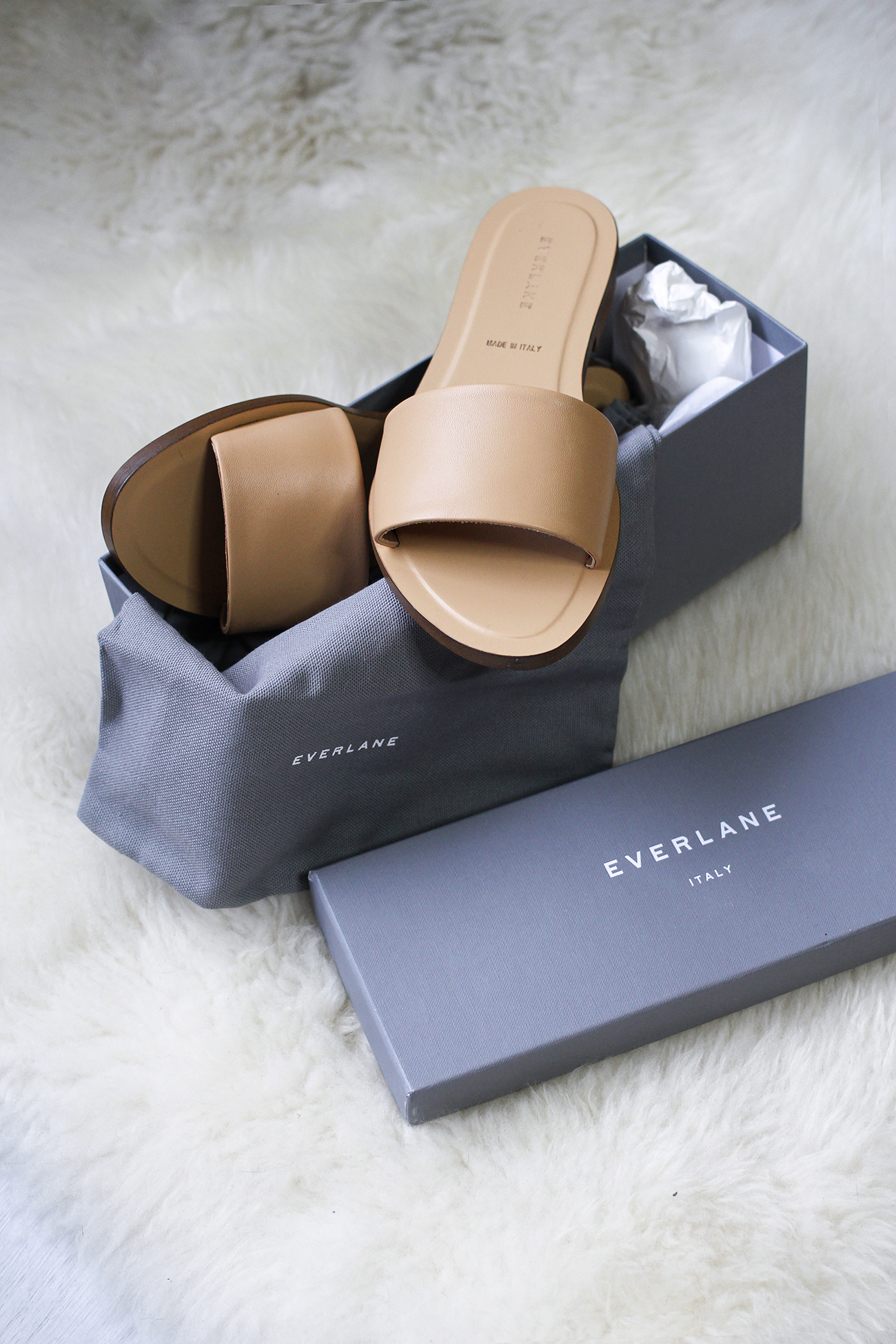 If there's one thing that I can't help but buy in spades, it's a great pair of shoes. Some girls love their bags, others love to see a closet bursting full of clothing, but me, I'm alllll about that fancy footwork. So, you can imagine how thrilled I was when Everlane sent me a few pairs of shoes from their #ElevateSummer range to test out and review, and of course I wasn't going to let the fact that it's actually winter here in Australia stop me from literally taking these shoes to the streets.
If you're keen to actually see the aforementioned shoes in motion, I have filmed a review and lookbook video which you can watch on my YouTube channel here. Alternatively, read on down below for my thoughts and sizing guidelines!
THE SUMMER SLIDE*
These summer slides were love at first sight. From the warm butterscotch hue of the leather, right down to the minimal design and quality leather, they were everything I had anticipated, and then some. Perfect for summer, they're easy to slip on with a sweet sun dress or some denim, and as subtle as this little detail may be, I find that the low heel helps to elevate even the simplest of outfits.
Sizing wise, these fit true to size. I'm an EU40 and opted for the US9. When it comes to wearing them in however, take. your. time. I made the mistake of wearing these during my 1.5 hour trek to and from work, and came home with blisters that were on the verge of bleeding. In a way, the leather reminds me of Everlane's modern loafer, which took a good six wears or so to properly break in, keeping in mind that I have a relatively wide foot. If you have more patience than I clearly do, I'd recommend popping on a couple pairs of thick socks and wearing them around the house to help stretch out the leather. Your feet will thank me for it!
THE STREET SANDAL*
In contrast to the slide sandal, the street sandals were comfortable right off the bat; it's the kind of shoe you could buy last minute for an upcoming summer holiday, and come away without a blister in sight.
Unlike most sandals of this type that I've seen lately, the street sandal has a pointed toe, and a contrasting white sole which feels a little like walking on a cloud (or leaping across giant marshmallows…!). An elasticated band wraps around the back of the ankle, keeping your feet firmly in place. Personally, I love the juxtaposition of wearing these with a feminine dress, although they also look cute with other summer staples like a good pair of denim shorts. Perhaps my only complaints about these sandals is that the leather strap which crosses the foot (closest to your leg) doesn't lie flat against the skin and the leather can be a little delicate, so you just need to watch for scratches.
If you're looking to pick up a pair, these run true to size; the US9 is best for those whose insoles typically measures 26cm long.
THE STREET SHOE*
I'd be surprised if you weren't familiar with Everlane's street shoe by now; it's a deliciously luxurious take on your typical slide sneaker, with a modern edge. As with the street sandal, it features a contrasting lightweight sole which is a dream to walk on, and a slightly pointed toe. I'd best describe the leather as shiny matte in appearance – unlike anything I've ever come across before.
These are incredibly easy to slip on, and are the type of shoe that effortlessly go with anything in your wardrobe. Perhaps the narrowest pair of the lot, I'd say size up half a size, and wear some thick socks to stretch the leather out a little. I received mine in size US9, and they're a little on the tight side, though I'm hoping with a bit of perseverance that I'll be able to make them work.
THE MODERN BABO*
To give it to you straigh, this was the one pair that I was the least certain about. Being so unlike anything that I would normally reach for, I didn't even know where to begin when it came to styling these, and wasn't sure that they would work with my closet. But I'm all for experimenting, and the concept of being able to wear the shoe one of two ways really appealed to me (plus they're in a similar vein to Acne Studio's amina slipper, which was reason enough).
Of all four pairs of shoes, the Babo has the softest leather – it's buttery and smooth, and has a lot of give. You can either wear it with the heel tucked under the foot, or pulled up like a boot, essentially giving you two different looks for the price of one. I haven't experimented with these as much as I'd like to, but I like the idea of wearing them as a boot with tights for the office during the cooler months.
The Babo are a wider fit that any of the other shoes from Everlane that I've tried, though they do fit true to size (again, I went with the EU40). The sole is quite slippery, so if you're planning on wearing these on a rainy day (like I will be), I'd highly recommend considering getting them resoled (or TOPY soled) to give the shoe a little bit of extra grip. Oh, and be prepared to have a couple plasters handy as I found that I got some very mild blisters at the base of the toe, where the leather creases as you walk.
While it probably goes without saying, each pair has the hallmarks of great quality, something that I really look for in a new pair of shoes; they need to be able to go the distance, and still look good at the end of it. One thing that is clearly evident is how much care and detail has gone into the development of each style, and while the price isn't quite as easy to swallow as a $18 loose fitting tee, Everlane's shoes are definitely worth the investment.
Which pair are your favourite?