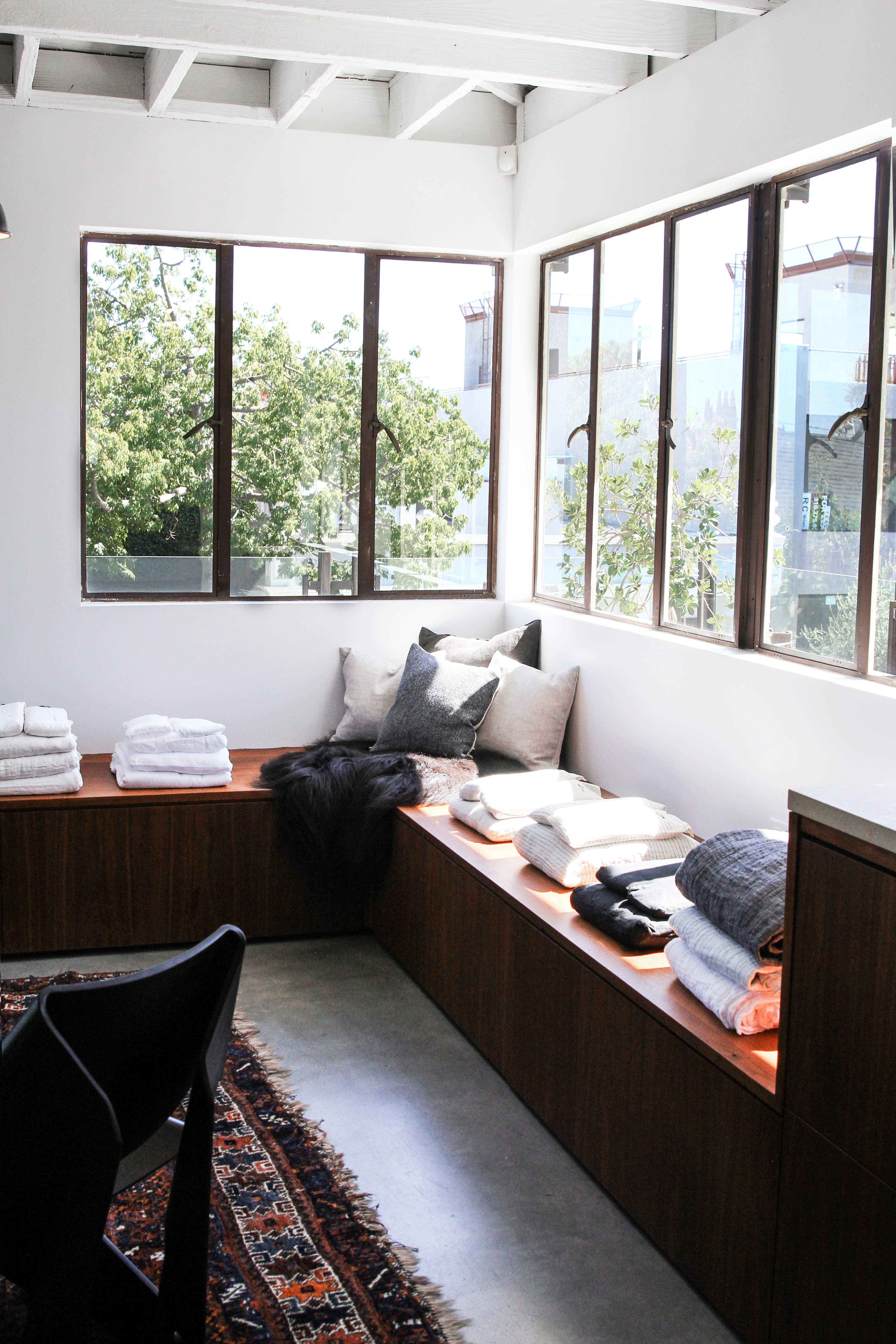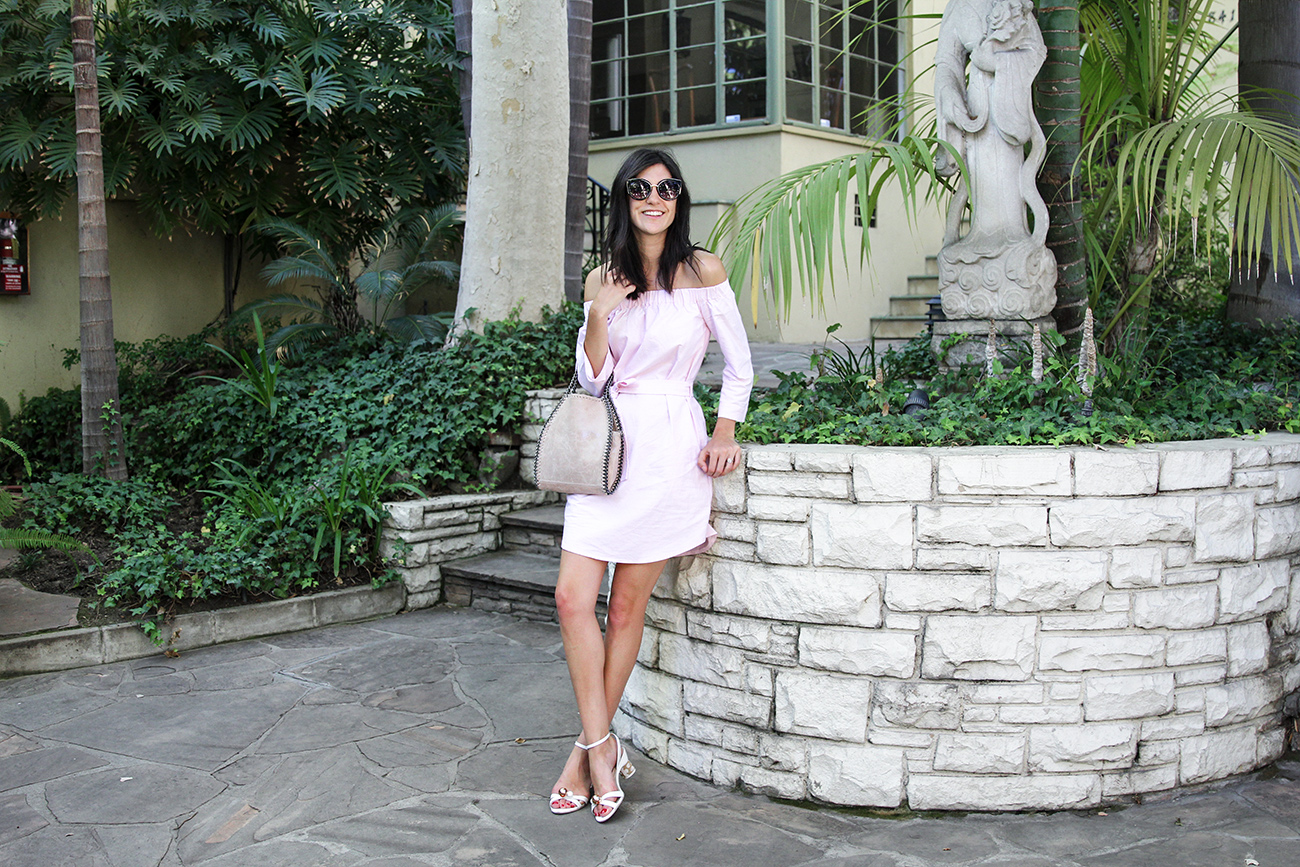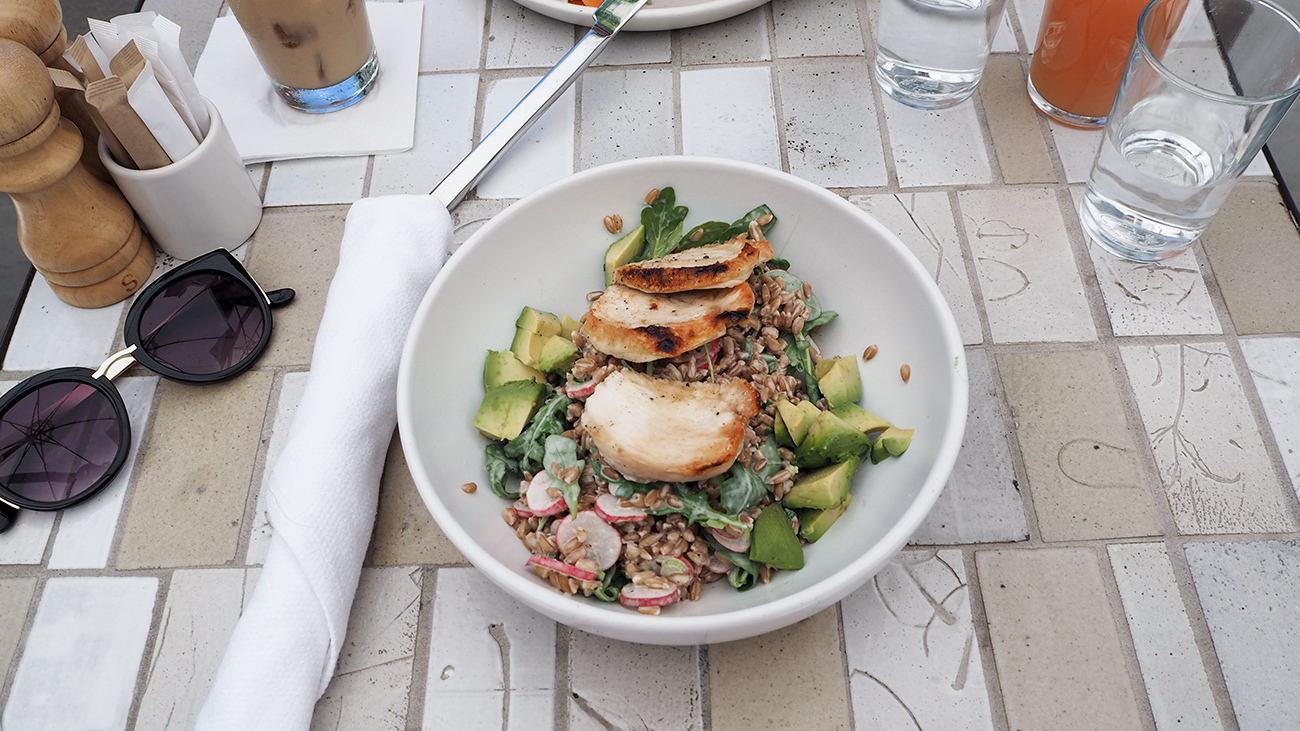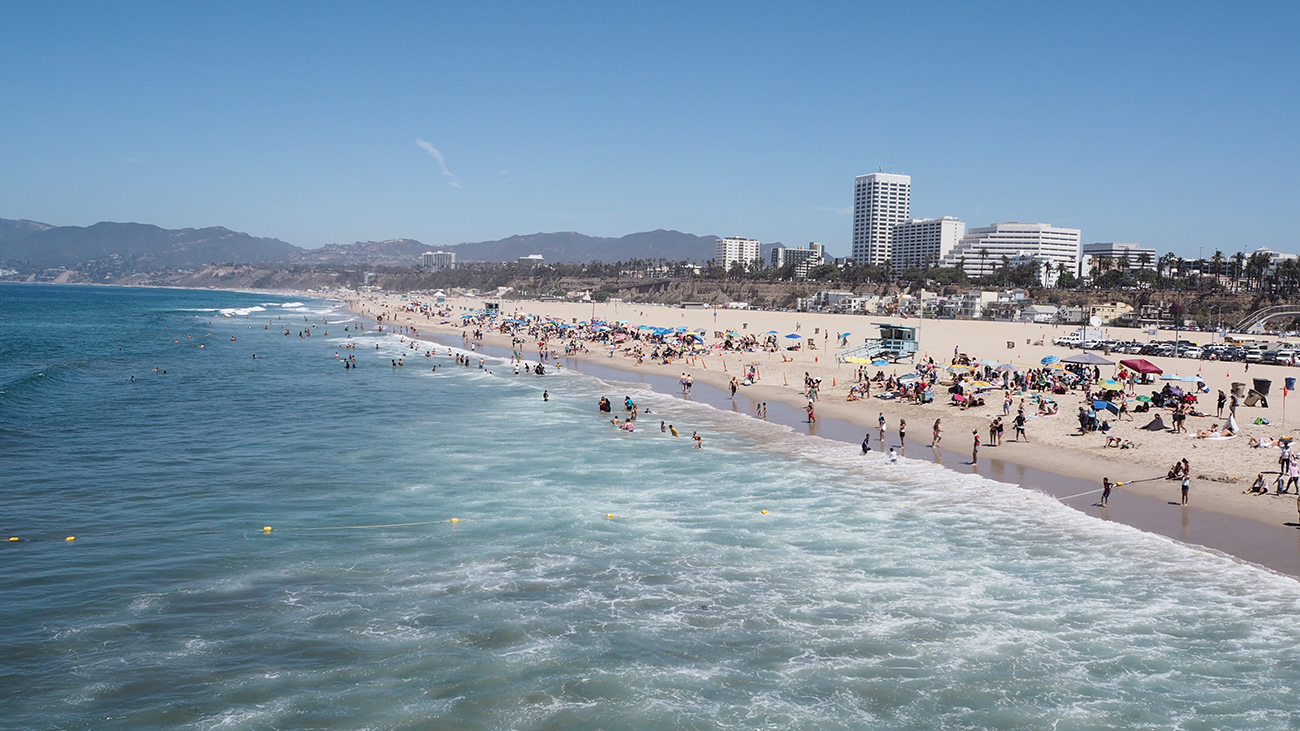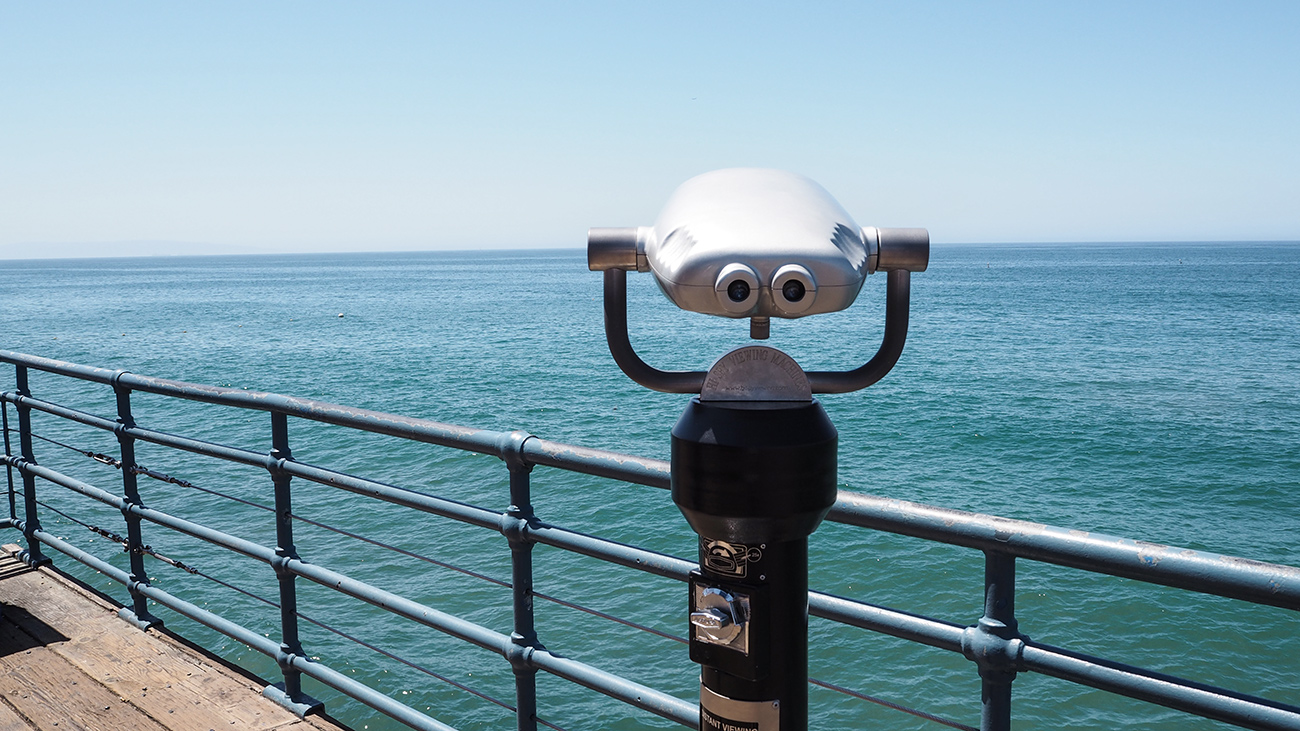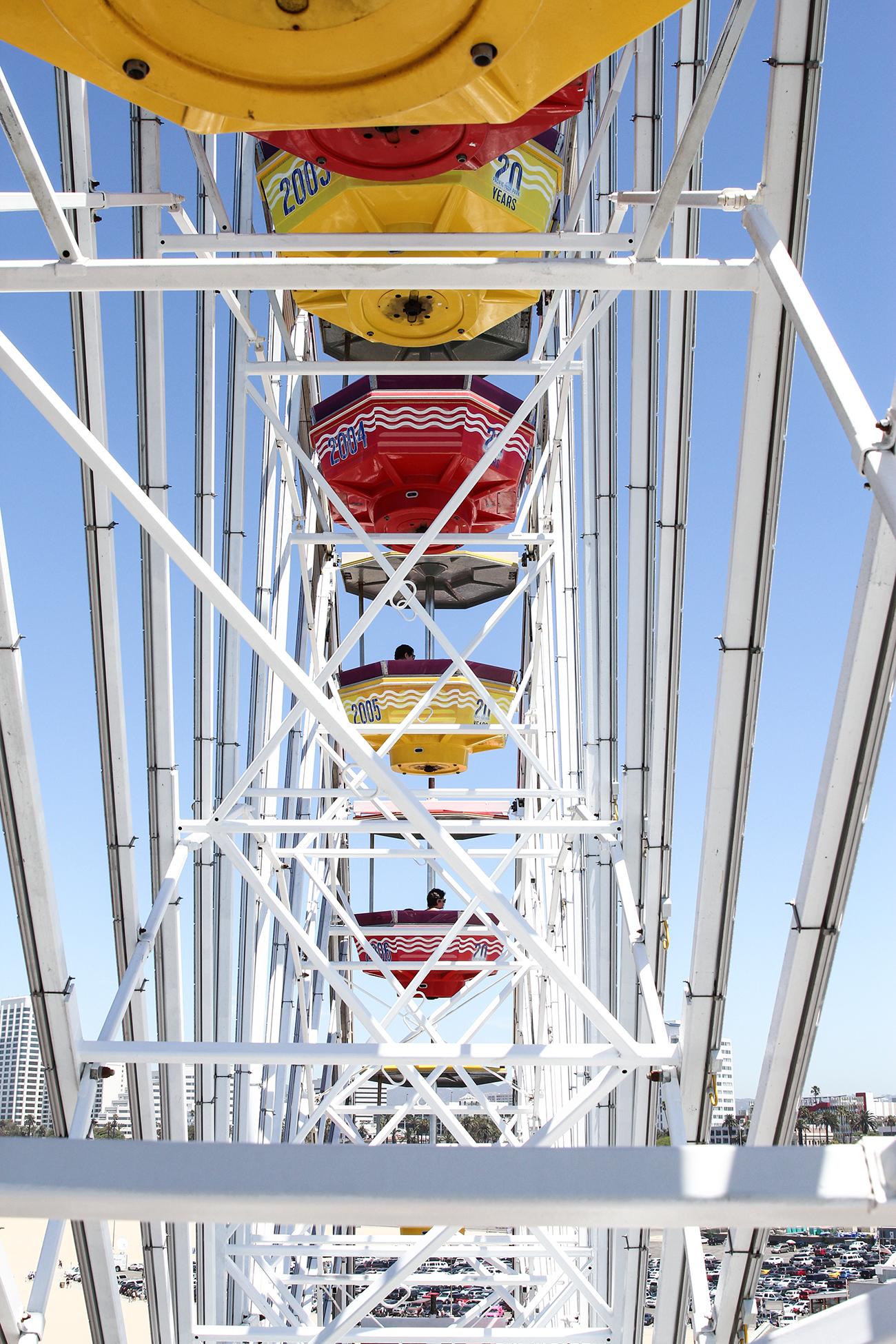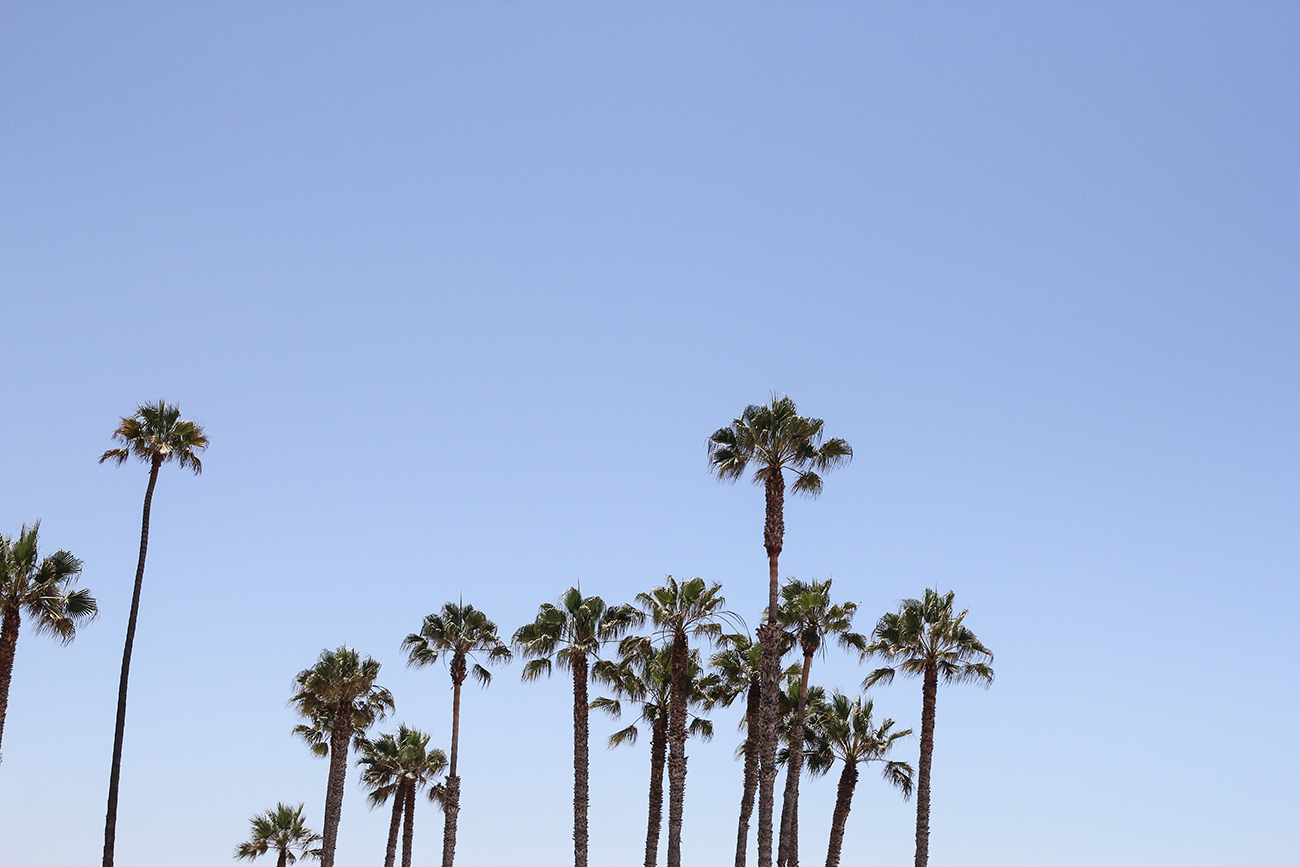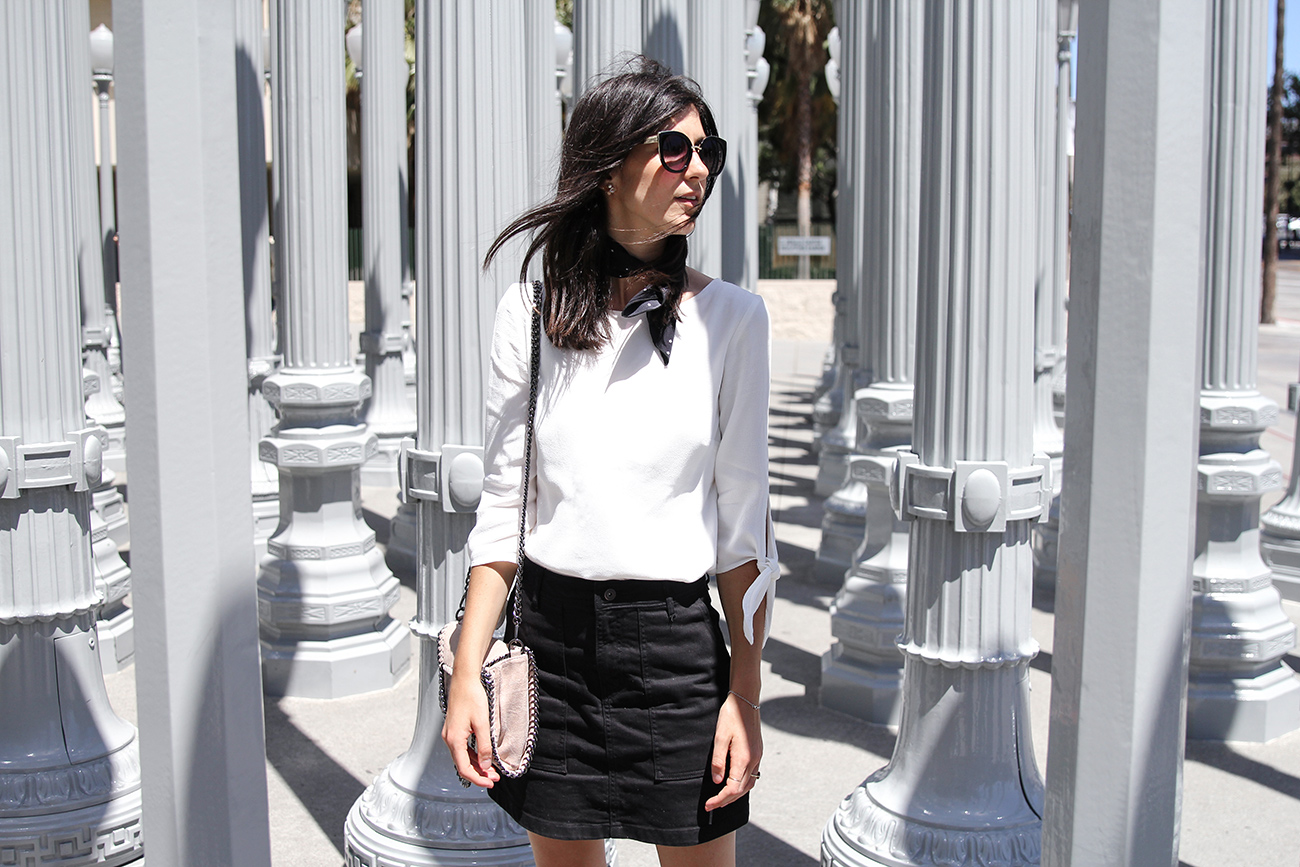 outfit 1: RUBY off the shoulder dress (similar here & I also love this one), Sophia Webster sandals, ASOS sunglasses, Falabella chain bag
outfit 2: RUBY harmony bow blouse, RUBY Zeitgeist scarf, Country Road black mini skirt, Sophia Webster sandals, ASOS sunglasses, Falabella chain bag
The last stop on our trip was the city of angels, Los Angeles. For most people I meet, I've found that L.A. is a place you either love, or hate – given that this was my third (!!) time in L.A., I'm pretty sure you can guess which camp I sit very firmly in.
Ending our trip with a bang, we hired a convertible Mustang in Vegas and drove up to L.A; while I think there's no arguing that the drive from SF to LA along the Pacific Coast Highway is far more scenic, it was an experience in itself to drive through what seemed like endless desert that stretched on for miles and miles.
E A T & D R I N K
Dinette | 1606 Sunset Blvd, Los Angeles, CA 90026
While we didn't make it to Dinette, this little breakfast and lunch spot in Echo Park is a must – particularly if avocado and toast is a daily staple for you (guilty!!).
Winsome | 1115 Sunset Blvd, Los Angeles, CA 90012
Our first port of call upon arriving in LA was Winsome, which felt like a little slice of home in the US. The space screams modern American diner, in the best possible way, and the menu will have you wanting to come back for more. The servings are pretty generous too – I grabbed the chicken, barley and avocado salad and only managed to scarf down about half of it! Be sure to order one of their aqua frescas as well; it's the ideal thirst quencher on a scorching L.A day.
Commissary | 3515 Wilshire Blvd, Los Angeles, CA 90010
Worth coming to just for the decor alone, Commissary is an all-glass greenhouse tucked away in the Line Hotel in Koreatown. You'll find all your usual brunch favourites here, along with a few surprises that have a real Korean twist to them.
Gracias Madre | 8905 Melrose Ave, West Hollywood, CA 90069
We dropped into Gracias Madre for dinner (though I believe they're also open for lunch), an all-vegan Mexican restaurant. If it sounds familiar, that's because I stumbled across the SF outpost a few days prior, and it was good enough to have me wanting to go back. Aside from looking completely and utterly magical (the entire restaurant is decked out with fairy lights and leafy trees), the food is so good that it's easy to forget that you're eating vegan. My personal favourite on the menu had to be their strawberry and kale salad; it sounds like an odd combination but it. just. works.
Joans on Third | 8350 West Third Street, Los Angeles, CA 90048
This was a lucky find the first time I was in LA; it's a great stop for a tasty but pretty simple lunch. The sweets and pastries are next level if you're on the run, otherwise you can't go wrong with one of their sandwiches.
Alfred Tea Room | 705 N Alfred St, Los Angeles, CA 90069
Perhaps satisfying a love of all things pink, Alfred Tea Room is the perfect stop for that early morning coffee, or a mid-afternoon shopping break. Aside from stocking a large range of rare and artisanal teas, you can grab matcha lattes, or a (strong) iced coffee. Did I mention everything there is PINK?!!!
S E E & D O
Hike up Runyon Canyon
For a jaw-dropping view of LA, get away from the hustle and bustle of the city and hike your way up to the Runyon Canyon lookout. Trust me when I say you will have no regrets.
Embrace your inner child at the Santa Monica Pier
I love a good fairground as much as the next girl, and the Santa Monica Pier is the epitome of childhood nostalgia. You can either pick up a day pass (worth it if you're going on three or more rides) or alternatively, you can buy single ride passes. The ferris wheel is a must – the queues don't tend to be more than a fifteen minute wait, and the views at the top across the beach are breathtaking.
Ride bikes along Venice Beach
After exploring the Santa Monica Pier, hire a bike at one of the stands you find at the beginning of the beach. Bike hire will set you back about $20 per person, though it's a great way to cruise down Venice, while stopping for a couple of margaritas along the way…
Spend an afternoon taking in the art and culture at LACMA
A mix of contemporary art and ancient pieces, LACMA's collection spans across more than 150,000 works, which is reason enough to drop by. If you're looking for the iconic powder grey lamp post installation, it's located on the grounds (you don't need to pay the access fee to see it) and definitely a must see, before spending a few hours wandering through the exhibitions. When we visited there was a huge collection of Picasso and Monet works on display – basically the dream!
S T A Y
The Mondrian | 8440 Sunset Blvd, West Hollywood, CA 90069
Nestled between West Hollywood and Beverley Hills, the Mondrian Hotel seemed like the perfect location to get the most out of the city during our short stay. We booked a one-bedroom suite – that I swear was larger than our first Sydney apartment – which was the perfect way to end our stay. If you're planning a day by the pool, get down there early as the poolside loungers tend to fill up quick!
The Line Hotel | 3515 Wilshire Blvd, Los Angeles, CA 90010
This contemporary hotel was my other choice for our trip; located in the heart of K-Town, meaning that there's plenty of spots for a good bite right on your doorstep.
S H O P
The Apartment by the Line | 2nd Floor, 8463 Melrose Pl, Los Angeles, CA 90069
The sister store to the Line's NYC offering, the LA outpost is a little more laid-back, but every bit as lust-worthy. Split across two large show-"rooms", the space is completely sun drenched and home to a couple of the most beautiful fiddle leaf trees I've ever spied. It's in good company too; downstairs you'll find Frame, Rag & Bone, and Zimmermann just across the street.
Isabel Marant | 8454 Melrose Pl, Los Angeles, CA 90069
Aside from the fact that Isabel Marant's Melrose boutique is tucked away in a beautiful white cottage, it's worth dropping in if you're after a little sliver of Parisian nonchalance.
Opening Ceremony | 451 N La Cienega Blvd, West Hollywood, CA 90048
Just like their New York store, it's easy to get lost in the incredibly varied selection that their LA boutique has to offer. Be sure to pop into their jewellery boutique (which is on the right hand side of the building) too!
And just like that, our holiday is done and dusted! x