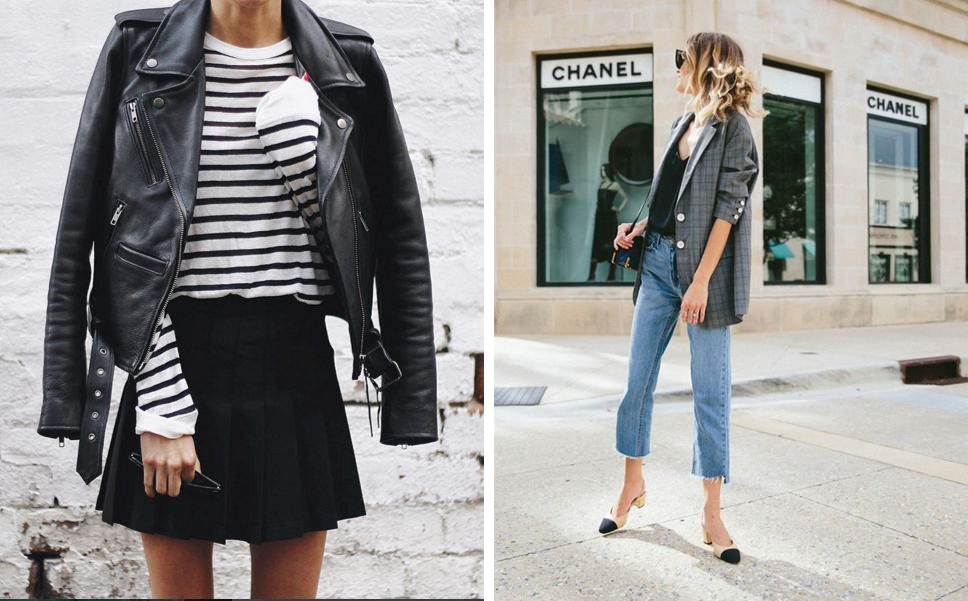 I always look forward to Shopbop's bi-annual spend and save as a great opportunity to get a little spendy on some classic wardrobe basics – I figure if you're going to invest in your wardrobe, you might as well do it while there's a sale on. So today I'm sharing five of my top transitional wardrobe staples that are investment-worthy, and deserving of a spot in your closet.
A leather jacket
Since selling my Acne Studios leather jacket, I've been on the lookout for a solid replacement that really reflects my style. I've had my eye on a few from Shopbop, including this one from Madewell which I've heard only good things about, and I'm also pretty partial to this classic biker style from Makage. Truth be told, I've been holding out for this particular sale, as the only thing that makes adding something like that to your closet even better, is the promise of up to 25% off your purchase. If there's one thing I've learnt from living in Sydney,

Polka dots
This is a trend that doesn't seem to be going anywhere any time soon, and given how quickly polka dots have spread through my own wardrobe, I'm definitely not complaining. As far as I'm concerned, it's one of those prints that doesn't date, plus it's a quick and easy way to inject some additional personality into your closet. This tiered midi dress is the perfect transitional piece, that would work well whether you're heading into autumn or spring. For cooler weather, layer it with a little black or charcoal grey skivvy underneath, some ankle boots and a leather jacket, and for warmer weather, pair it with some simple strappy sandals and a hip length blazer. For something a little more extra, this top is pretty spectacular and packs a lot of punch!

A classic pair of loafers
My love of loafers is back and in full swing, and it's definitely one of those key pieces I know will be reaching for daily as we transition into autumn. Not too long ago I picked up this gorgeous pair which are a dead ringer for the Gucci loafers, and I've been absolutely loving incorporating these into my outfits. The leather is incredibly soft and malleable, and they're a classic style which works well with the rest of my wardrobe. For something a little more playful, I really adore this slip on pair with fringe detail at the toe, that would jazz up any minimal outfit.

Some great denim
If there's one thing I'm planning on stocking up on during the sale, it's denim. It's one of the few areas of my wardrobe that has never really received a lot of love – something that I have a feeling is about to change this year. I've had my eye on these cropped jeans from Agolde for a few months now, so this seems as good a time as any to get a jump on adding them to my wardrobe ahead of autumn, and I'd also love to pick up some denim from AG (I've heard good things about this style in particular). These are one of those 'all-year-round' wardrobe staples which you can never really go wrong with, and being able to snap up a pair at a discount is a good excuse to splurge on something a little bit more expensive than your old faithfuls.

An investment bag
I probably don't need another excuse to splurge on an investment-worthy bag (I have enough as it is!), but when there's the promise of up to 25% off, I'll usually keep a lookout for anything that catches my eye. I absolutely adore this half moon bag from A.P.C, and this geometric patterned leather camera bag looks like one of those good classic staples that will go with absolutely everything. You can also snap up one of Cult Gaia's iconic ark bags at a discount, and the detail on this croc-embossed bag from Ganni is pretty stunning.

---
Use the code GOBIG18 for
15% off orders over $200
20% off orders over $500
25% off orders over $800
---
Will you be taking advantage of the sale to splurge on any transitional wardrobe staples? x
images via pinterest