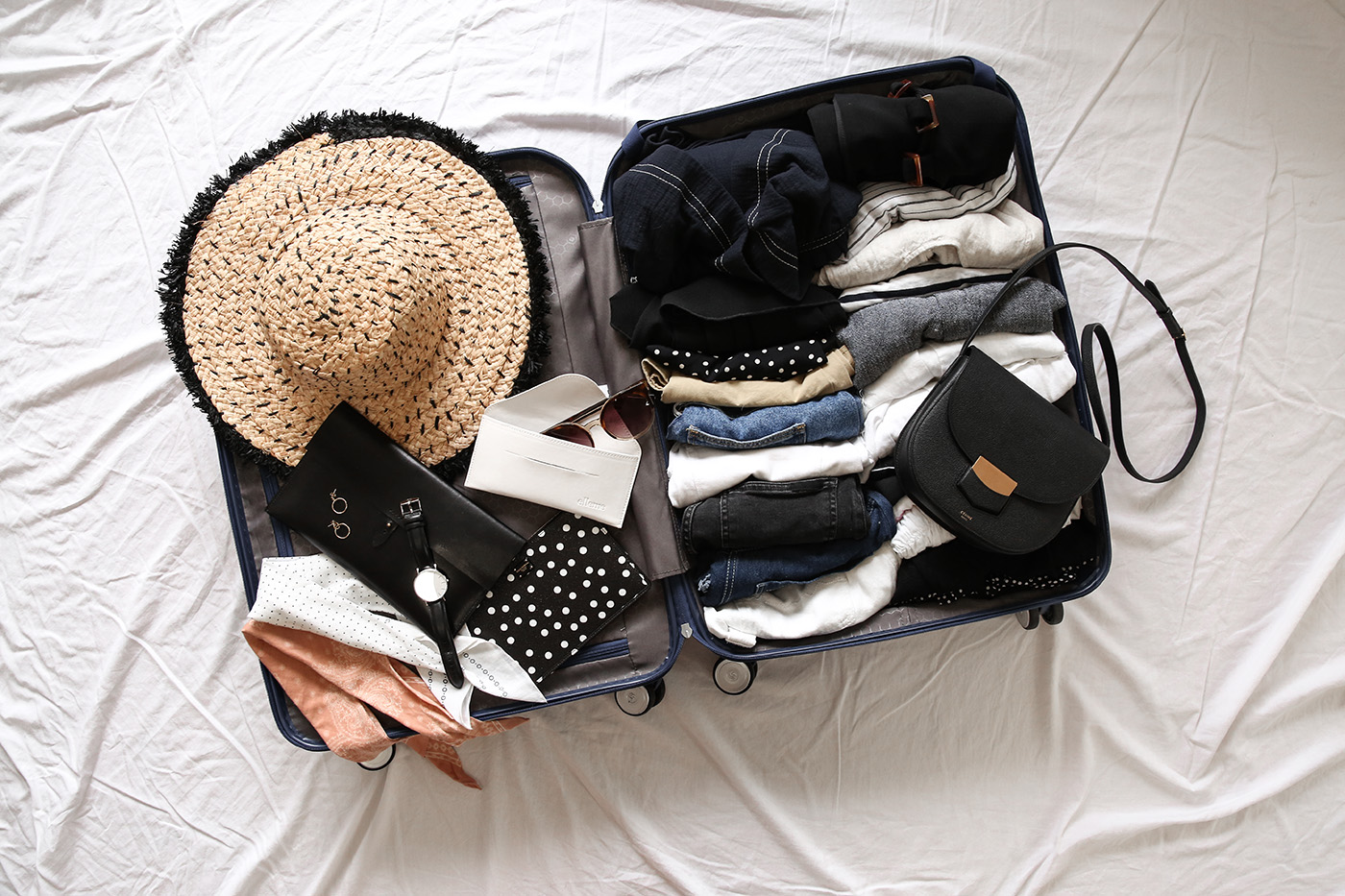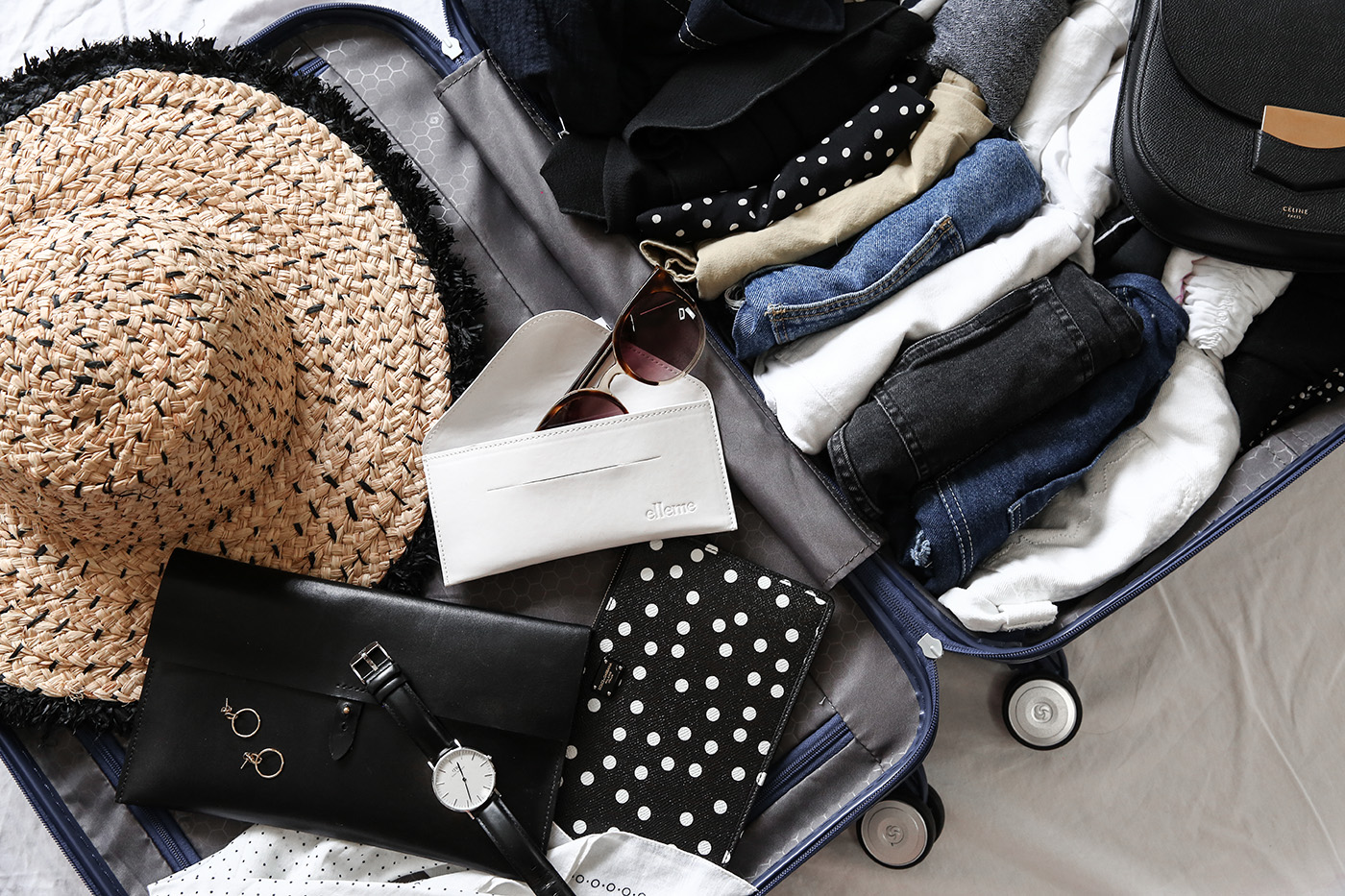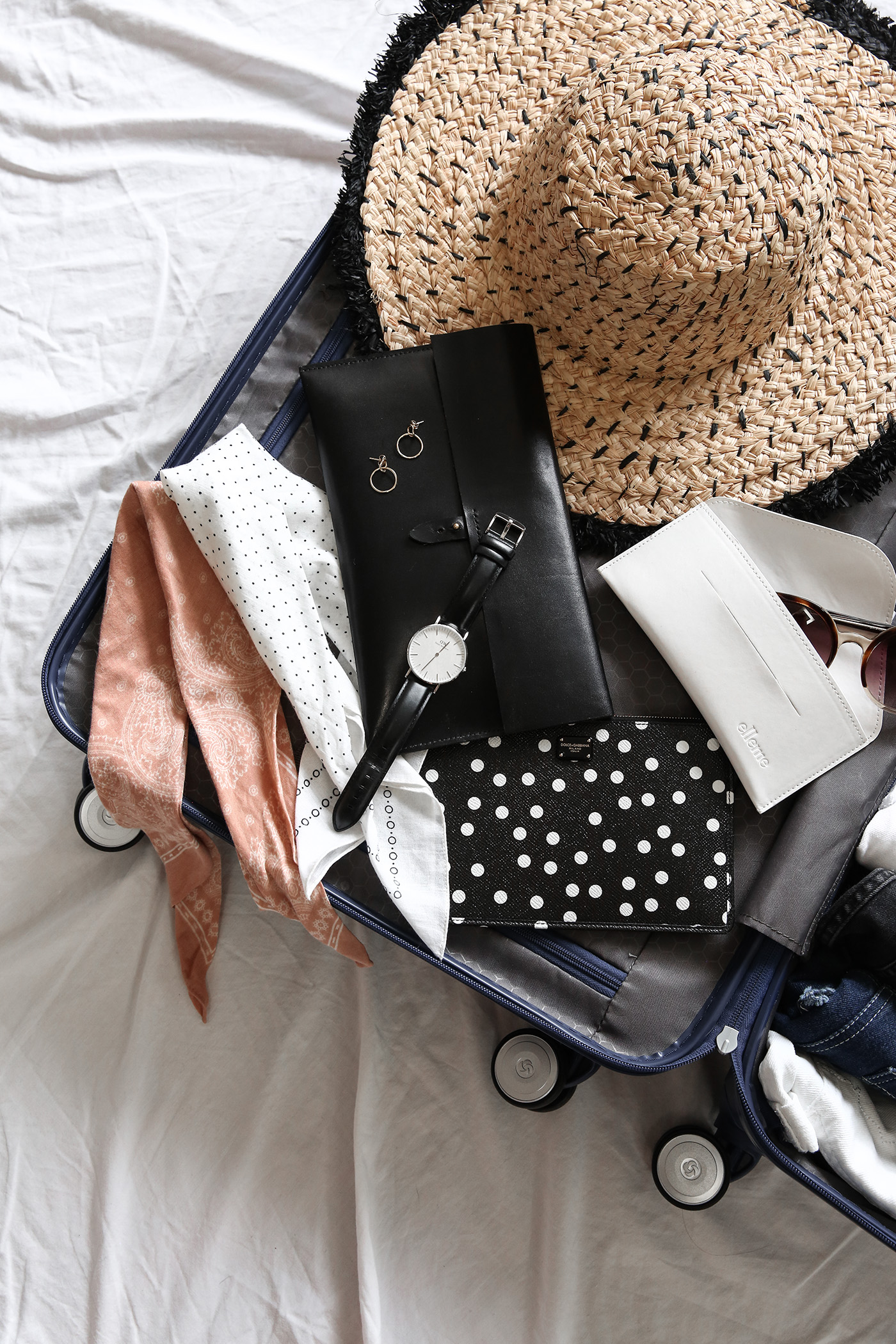 I love a good packing post, so today, on the eve of our (much belated) honeymoon, I thought I'd share what I'm packing for the Maldives. I usually tend to take a 'minimalist' approach to holidays, and packing in general. I start by planning out my holiday wardrobe months in advance, so that I can narrow it down to the bare essentials; a selection of core pieces which mix and match really well. For this trip, I threw that approach directly out the window. Not only are we away for ten days, but it's our honeymoon – the last thing I want to be doing is thinking about laundering any of the items I've brought with me. So, I took a more 'maximalist' approach to packing – something for every occasion. Keep reading below to see what I'm packing for the Maldives…
WEATHER
The weather during our trip in the Maldives is going to be hovering around the 27-31 deg C mark, with thunderstorms anticipated, which by my best estimation means that we can expect it to be sticky and hot – nothing we aren't used to during a Sydney summer. It's a little cooler in Hong Kong, around 25 deg C, and while it will be humid, I don't believe we'll be struck by rain during our trip.
TOPS
I went for a mix of fitted crops, loose tees, and slinky silk tops with a little bit of personality. I know it's going to be hot, so I wanted to pack things which I knew would be easy to throw on with a little denim mini, or my favourite pair of shorts. My favourite has to be this recent addition from J Crew – it adds a much needed burst of colour to my rather 'chromatic' holiday wardrobe (and it's on sale!).
SKIRTS & SHORTS
Summer vacation is all about the denim for me; I packed my two go-to denim skirts, in addition to my favourite white denim shorts (which are a no-brainer come summer). I also opted to add in a polka dot midi skirt, and this absolutely s-t-u-n-n-i-n-g accordion pleat tiered skirt from Stella Jean (on loan – I wish this had a permanent spot in my wardrobe!).
DRESSES
I tend to try and keep the number of dresses I pack for a holiday to a minimum – they might be a whole outfit, but they limit your options, and your valuable luggage space. I opted to take four with me; two are light and airy linen dresses – one from Grana and one from Stelen – a polka dot midi length dress as a more dressy option, as well as a classic LBD (my favourite is from Bec and Bridge).
OUTERWEAR
This is the one area that I'm keeping to a minimum – it's warm in Sydney, and it's going to be warm in both locations we're headed, so I don't want to burden myself with anything too cumbersome, if I don't need to (I've already got a backpack stuffed with a drone and two cameras that's doing that job for me!). I'm just taking one faux leather jacket as a throw on piece, and depending how I feel when we're headed off tomorrow morning, I might also take a lightweight cardigan – nothing fancy, just in case it gets cool in the evening.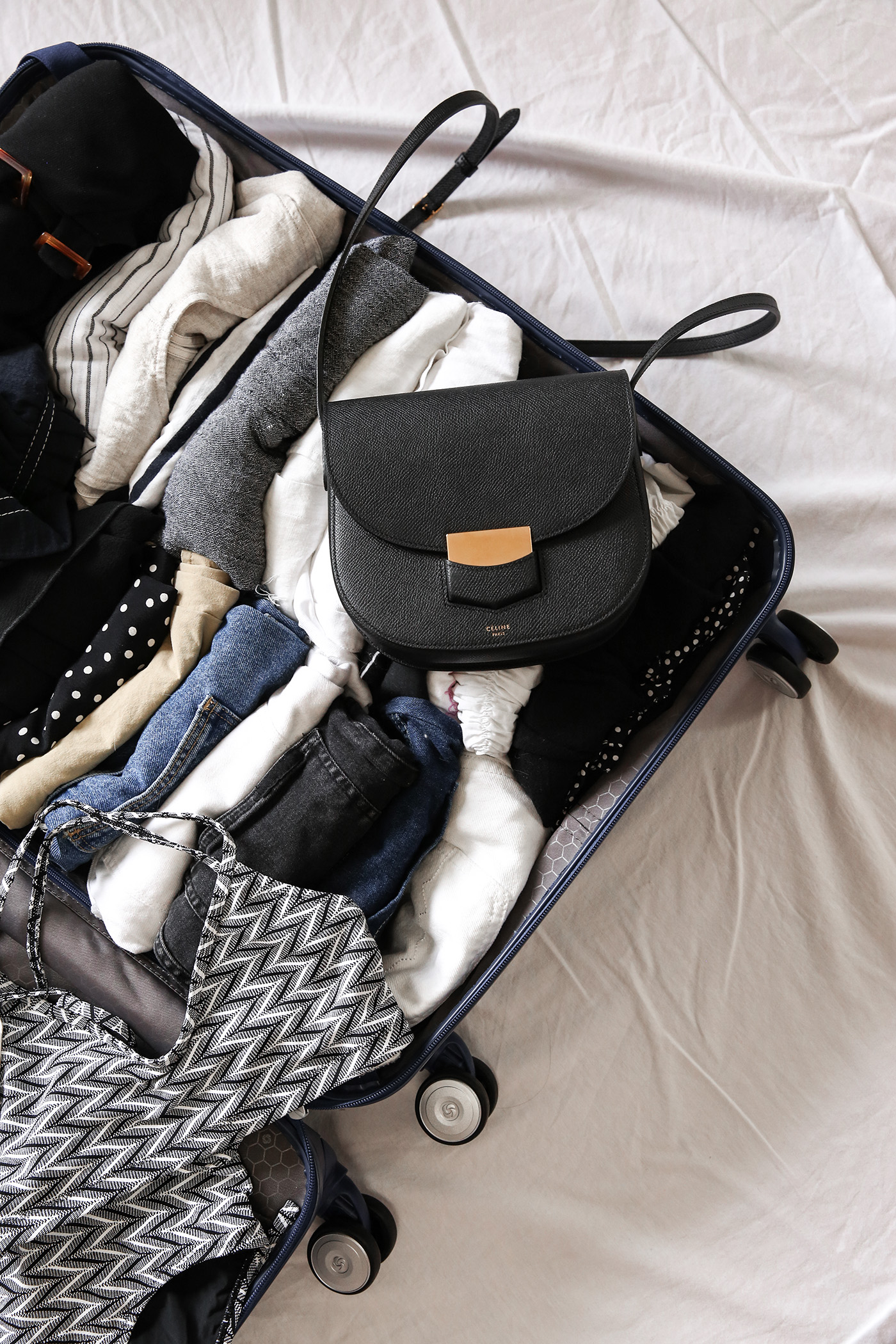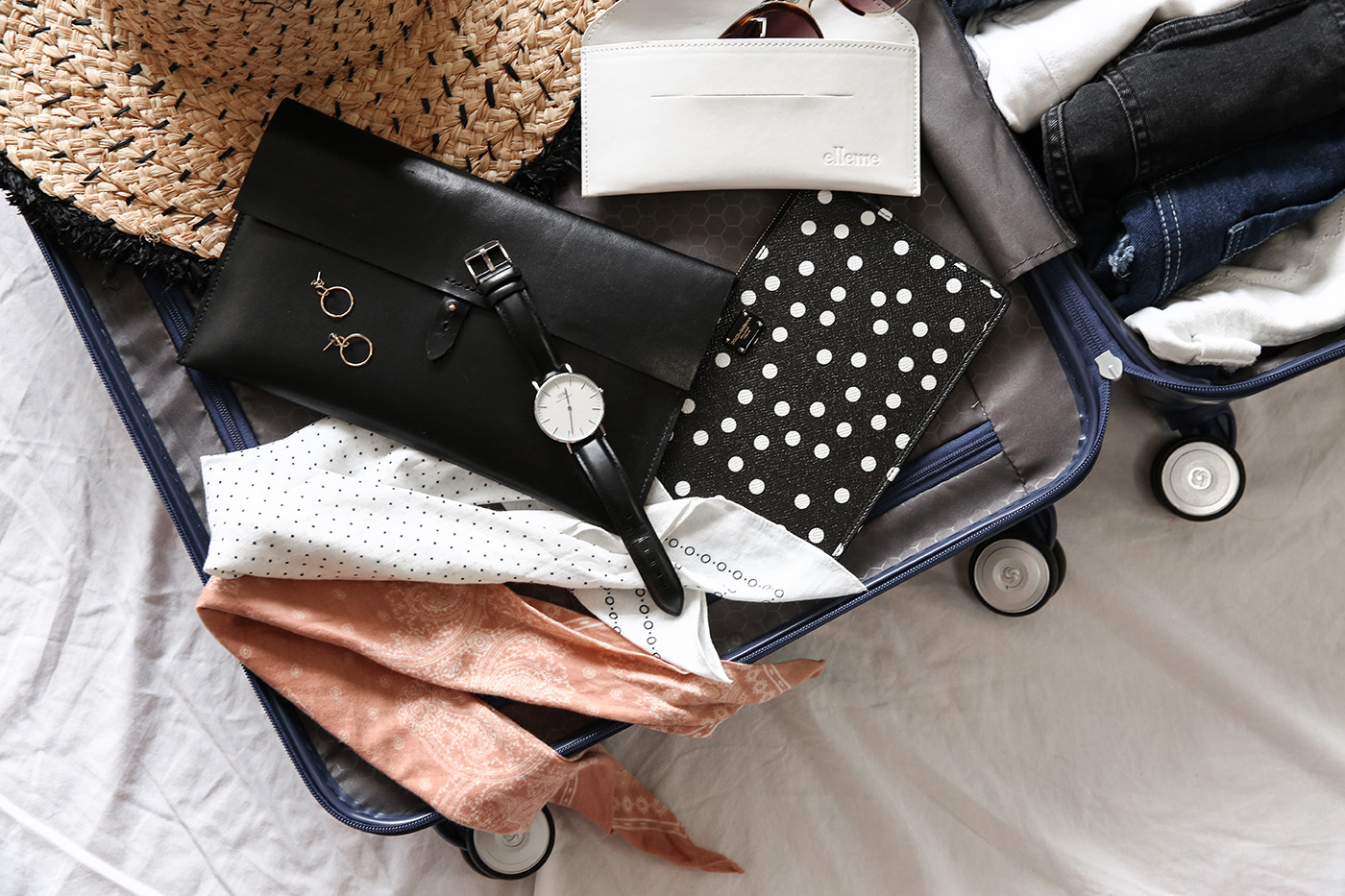 SWIMSUITS, SHOES, BAGS & ACCESSORIES
I went a little swimsuit mad, though as these take up the least amount of space out of everything in my suitcase, I figured this wasn't such a bad thing. In addition to four bikinis, I also packed a one-piece swimsuit which I thought would be ideal for when we go snorkelling, or do any other more intensive water activities.
For shoes, I decided to go with four pairs; a pair of flat sandals, some black heeled mules, a pair of high heeled strappy sandals, and some simple white converse sneakers.
My final accessories that I decided to pack include a couple of different clutch options for the evening, a nice straw hat, a couple of bandanas and one pair of oversized sunglasses.
As usual, I did share a whole video featuring what I'm packing for the Maldives on my YouTube Channel, however I have rejigged things a little bit. I've added some workout clothes and a pair of sneakers into the mix, dropped a few things including a pair of sandals, a linen shirt and a maxi skirt, and switched out the dress I'm intending to wear while in Hong Kong. I figured it was worth taking a page out of Coco Chanel's book, and instead of removing something I'm wearing before leaving the house, I removed a few things I planned to wear from my suitcase.