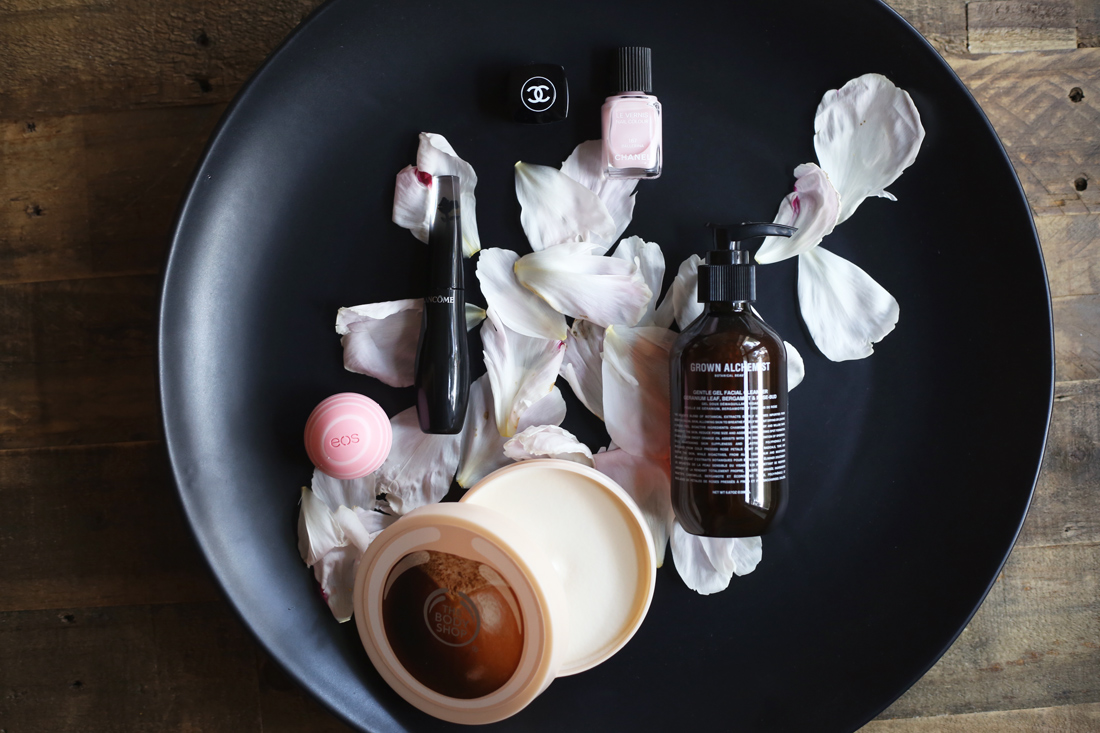 It's not often that I'll find most of my beauty products need replacing around the same time. But, it's given me the opportunity to try out a few new products I've been itching to purchase, as well as pick up some trustworthy staples.
After a few months of daily use, I've finally run out of the PureTAN coconut body creme. While I absolutely adore the scent (it seriously smells good enough to eat!), I thought I'd try the Body Shop's body butter for a bit of a change. In the past I had never been able to justify the price (which at $23.99, I'm not really sure what the problem was – probably less money for shoes!), but after hearing so many good things about their body butters (from Youtube, where else?), it seemed like an easy choice.
I've been almost exclusively using the Clinique high lengths mascara (in black), and though I hate to say it, I've been rather disappointed with this on the whole. While I loved this mascara in the dark brown iteration, I found that the black one clumped my eyelashes together, which made for some very frustrating application in the mornings. I'm not sure if this is down to a change in formula, or if there's a difference between the colours (or maybe I just got a bad tube of mascara!), but what I do like was the fine comb-like brush for application. I'll probably look to repurchase the dark brown at some point in the future, but I thought it was time to go back to an old favourite – Lancome. I've been using Lancome's 'virtuose' and 'doll eyes' mascara's interchangeably over the last few years, and have found them to be some of the better mascara's I've used. I thought I would pick up their new grandiose mascara, and give that a whirl; the ombre-effect tube and swivel wand sold me on it alone.
When I was in the US three and a half years ago (how time flies!), I bought a melon lip balm from EOS on a whim while waiting a little too long at the Target checkout. It took me a really long time, but I finally finished it recently, and thought I should probably look to replace it. The best thing about the EOS lip balms is how easy the application is. There's no twisting of tubes, no using your finger, you just open the lid and glide the product over your lips. This time, I decided to go for 'coconut milk', which is sweet smelling and creamy.
I've flirted with a few different facial cleansers this year, although there's really just been one which has stood out; Grown Alchemist's gentle gel facial cleanser. I finished my last bottle just before I moved to Sydney, and replaced it with a carefully selected cleanser from Aesop (the fabulous face cleanser, if you're wondering), which seemed like the natural choice in Australia. Unfortunately, this wasn't really for me, but I figured I would stick it out to the end anyway (while trying a few other cleansers along the way for good measure). I recently used up the last drop, and was pretty quick to revert back to Grown Alchemist. A little tip for those new to this brand – I absolutely adore the Grown Alchemist range (I even wrote about it here), however, I find that the toner is quite astringent, even though it is alcohol free. I've been using the B&Tea balancing Toner from Aesop (which is considerably more mild and hydrating) combined with the Grown cleanser; and so far, so good.
Last but not least, I picked up a new nail polish from Chanel. I'd been looking for a pale pink nail polish for some time but nothing I picked up seemed to quite hit the mark. I found the formulas from OPI and Essie just a little too thick (and opaque) for my liking, whereas I find that with Chanel, the polish glides on slightly sheer, so you can build up the opacity to suit your own preferences. I bought the shade 'Ballerina', and it truly is the perfect soft ballerina pink tone. For those looking to pick this up, you need about three coats with this one – so it definitely requires a little bit of patience. Aside from the beautiful packaging, Chanel always seem to have their colour range so en pointe – if only it lasted on my nails for more than a day or two!
PS. If you're feeling a little voyeuristic, I've done a beauty haul over on my Youtube channel which you can view here x