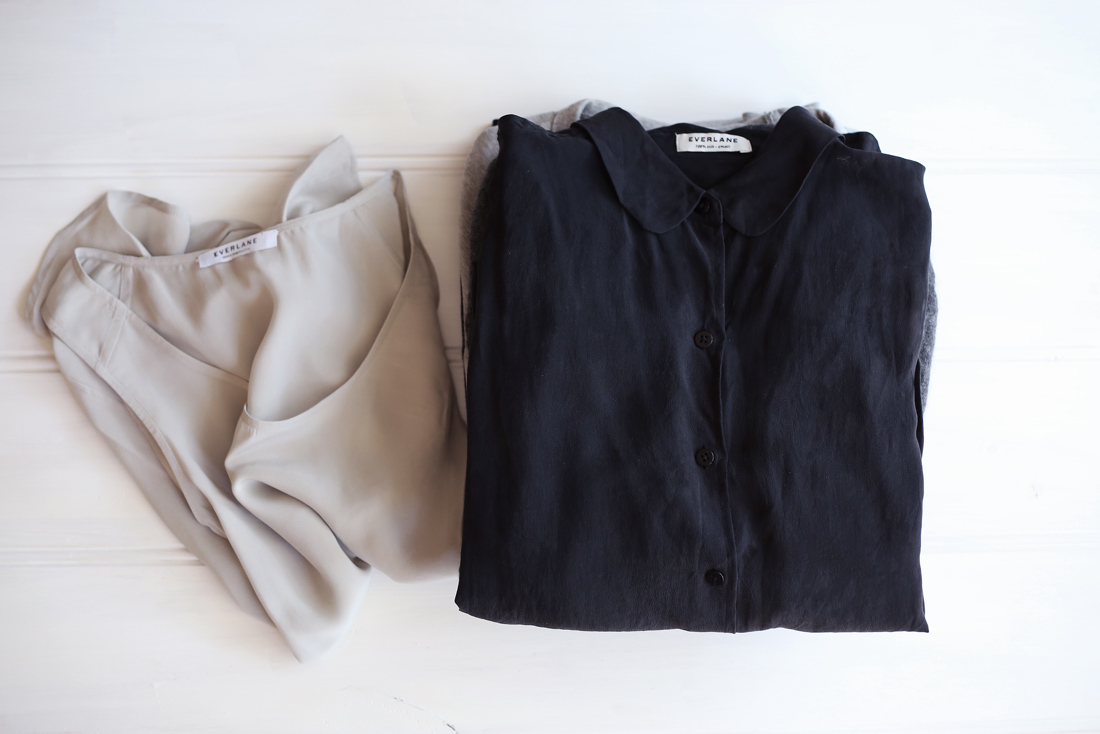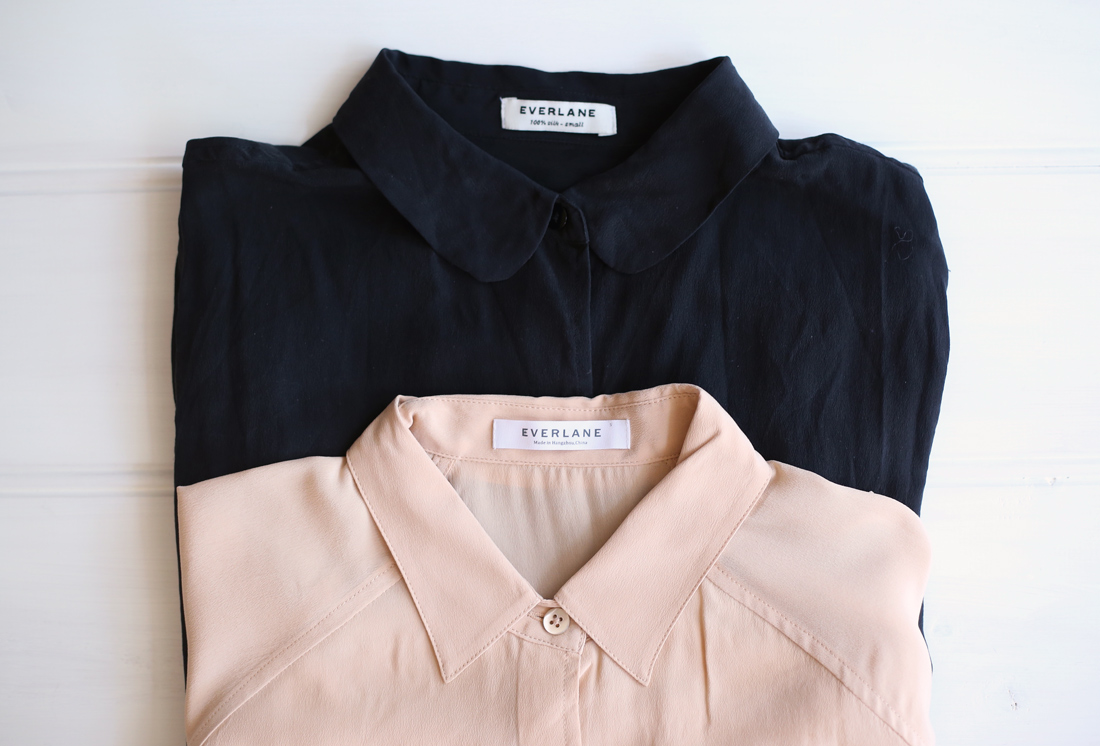 Having heard so many good things about Everlane, it seemed almost irresponsible not to place an order for some of their much hyped cashmere sweaters and delicate silk blouses.
I placed my order through a third-party mail forwarding service, Shipito, which provides you with a mailbox for use when ordering from the United States (and is good for purchases from Zara, Cos, and the like). I've used Shipito approximately 20 times over the last two years and haven't had a single issue – an email alert is received when a package arrives in your mailbox, and you're given multiple shipping options from which you can select. I generally opt for DHL, as it's fast, comes with a tracking number, and is generally well-priced; especially if you are consolidating shipments (note – you will need to upgrade your account for that feature). On average, I've found that my parcels are received from Everlane within 3 days of placing the order.
My Everlane orders have included the round collar silk blouse, the pointed collar silk blouse, sleeveless silk tank, pocket silk blouse, cashmere sweater and the boyfriend sweatshirt.
The main drawcard for me when placing my initial order, were the many reviews which likened Everlane's blouses to those from Equipment; yet at a fraction of the cost. In truth, while there are similarities, there are just as many differences.
> The silk button up blouse
The fit: Everlane's silk blouses are a loose, slim fit, and generally true to size. I'm a small AU 8 (US 4) and I purchased mine in the size S, which was the perfect fit for me. Loose through the body, and just so through the sleeves, it is comfortable and doesn't feel as though there is too much fabric – oft an issue with the sizing of the Equipment silk blouses. If you're wondering about sizing, the size small measures 47cm underarm to underarm and is 65cm long.
The cut: Personally, I prefer a pointed collar as opposed to a rounded one, however I've warmed up to the rounded collar considerably since receiving it, as it looks sweet (but not overly so) peeking out over the collar of a loose knit sweater. The sleeves finish just at the wrist, and the cut through the shoulders isn't too narrow or too wide. My only gripe is the length. I wish that the blouse was cut just a little longer, as I find that it doesn't tuck well (for me) into mid-rise jeans, and I'd like the option to be able wear it loose, too.
The quality: For the price ($78 USD), the quality is excellent. A beautiful washed silk, which is supple and soft to the touch, and washes just as well (for reference, I popped mine in a delicates bag and washed it on a cold cycle with like colours). While the black is solid in colour, and doesn't give 'anything' away, I found the blush silk to be not quite so thick – there is a sheerness to it; which is important to consider when choosing which colour to buy.
Equipment or Everlane? Honestly? Both. I think a lot of it comes down to what you're looking for. The Equipment silk blouses are much more accessible (in terms of shipping, not price) and are of a higher quality than those from Everlane, however not everyone has a couple hundred spare for what is essentially a basic silk blouse. Then there's also the question of pockets (or not), length, colour, and cut. If you're looking for an entry level blouse, which is good quality, then go for Everlane. If you want something a little more luxe, then go for Equipment. My own wardrobe has a combination of both, as I've found Equipment's pale coloured silk blouses to be less sheer than those from Everlane, and there's also a much wider selection.
> The sleeveless silk tank
The fit: Cut close at the shoulder, yet loose and billowy through the body. I opted for the size S, which translates pretty well to an AU 8 (or US4). If you're in between sizes, you could safely go down a size. The size small measures 44cm underarm to underarm, 57cm long in the front and 67cm long in the back.
The cut: A round neckline which is modest (but not overly so), and wide shoulder straps make it office-appropriate when worn under a cardigan or a blazer. I wear mine mostly tucked into skirts for work, however as it is slightly longer in the back, it's a perfectly suitable length to wear loose with a pair of mid-rise jeans for the weekend.
The quality: As with the silk blouse, the quality is excellent for the price. The washed silk is lovely, and feels like suede on the skin. As with the long sleeved silk blouses, I find that even a nude bra shows through slightly with the lighter colours (the blush and dove grey), so keep that in mind when ordering.
> The cashmere sweater
The fit: The cashmere sweaters are cut true to size – I opted for the size S and wouldn't choose to go any smaller. The sleeves are quite narrow for this style and while the cashmere has some stretch to it, there wouldn't be much point in sizing down. The size small measures 50cm underarm to underarm and is 60cm long.
The cut: Very slim through the sleeves, and a slim yet loose fit through the body. Mine is slightly fitted around the bust area, but not overly or uncomfortably so. The sleeves are cut to the wrist, and the length falls to just above the hipbone.
The quality: The quality is pretty good, although like most knitwear, mine has pilled over time with wear. However, this is easily removed if you have a de-pilling device (I purchased mine from Spotlight – these are indispensible!). The cashmere is soft has a reasonable weight to it, which makes it perfect worn on its own through the Spring or the Fall, or over a silk blouse in the winter. High quality cashmere is harder and harder to come by these days, and often comes at an equally high price. Considering that a very light cashmere sweater can set you back over $250, these are an absolute steal. I'm hoping that with winter on its way in the Northern Hemisphere, that there may be a few more colours to choose from.
> The boyfriend sweatshirt
The fit: This sweater is exactly as described, like something you would steal from your boyfriends wardrobe. I took a bit of a gamble with the sizing, as I didn't want a sweatshirt that was too loose, so I opted for the XS. The gamble paid off; it's a slim fit, however there's a bit of room to move through the body and the arms. Mine measures 47cm underarm to underarm and is 64cm long.
The cut: The sweater has a crew neckline, and is loose through the body with narrowly cut sleeves. Personally, I really like this style, as it looks smart with a silk or cotton shirt worn underneath, and is ideal for layering. The ribbing of the sleeves just overlaps my wrist, and the length hits me on the hip, which I find to be incredibly flattering.
The quality: I've purchased this sweater in both the black and the heather grey, and found both to be of an incredibly high standard. Before purchasing these, I'd spent some months looking for a loose fitting cotton sweater but had yet to find anything which quite fit the bill. These are cotton with a terry toweling backing, they're soft yet sturdy, and wash extremely well. I've purchased designer sweatshirts at quadruple the price (or more even..) but I think that these are better quality, and certainly better value.
> The silk camisole
Of everything I've bought from Everlane so far, the silk cami was the one piece which I took the longest to warm up to. It didn't help that on the hanger, it didn't look like much – but it is a simple silk cami, so I'm not too sure what I was really expecting. It does run on the larger side, so it was much looser fitting than I'd anticipated. However, it's quite quickly become a summer staple, and I'm toying with the idea of picking it up in ivory white or the washed black.
The fit: Like some of the other Everlane products, the cami seems to have been cut on the larger side. I purchased mine in a size small, and it's that little bit too big (although I do love a loose cami, so it's not all bad!). It measures 47cm underarm to underarm and is 64cm long. I'd say if you can, size down. You won't regret it.
The cut: There's only one thing I don't like about the cut, and I get the feeling that I can put this largely down to the fact that it's slightly large on me; it's the excess fabric which sits just under the arms. There's just too much of it. Aside from that, I love the fact that the straps are both dainty and adjustable, and they are long enough to be worn loose with a pair of jeans, or tucked into a pair of work trousers or a smart skirt – if you can get away with it of course.
The quality: As with all of Everlane's other silk garments, the quality of the silk cami is impeccable, and far higher than what you would expect for $55 USD. It's a very heavy silk, and the top section is double lined to ensure modesty.
Will I be buying more from Everlane? Undoubtedly, yes. I admire their ethos, their values, and their transparency; there aren't many companies out there which make such a big commitment to ensuring their customers know where and how their garments were produced. The craftsmanship is of a high standard, and you can see that a lot of thought has gone into the design process to produce a product which that is as elaborate as it is simple.
I'm hoping to edit and expand this post over time as I add more Everlane items to my wardrobe – the next contenders looking to be a pair of the leather loafers and the swing trench. For those of you intending to make a purchase from Everlane, I hope that you've found this post useful, and please feel free to leave any further questions you have in the comments section below.
Have you purchased anything from Everlane before? What has your experience been like?