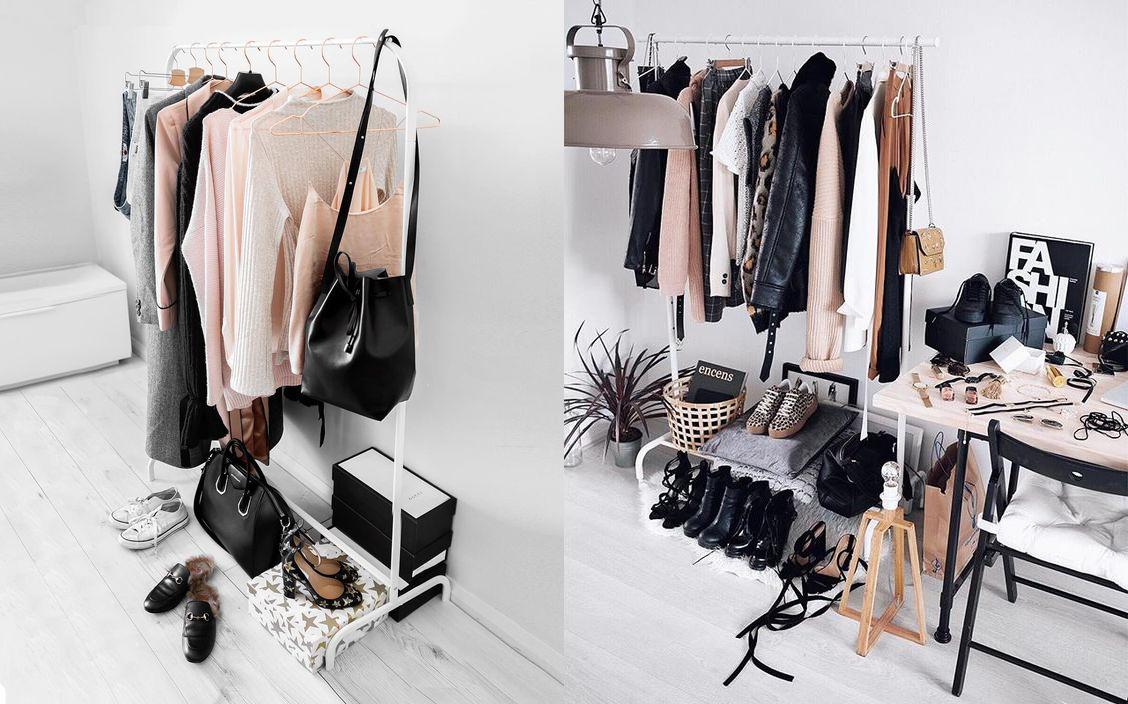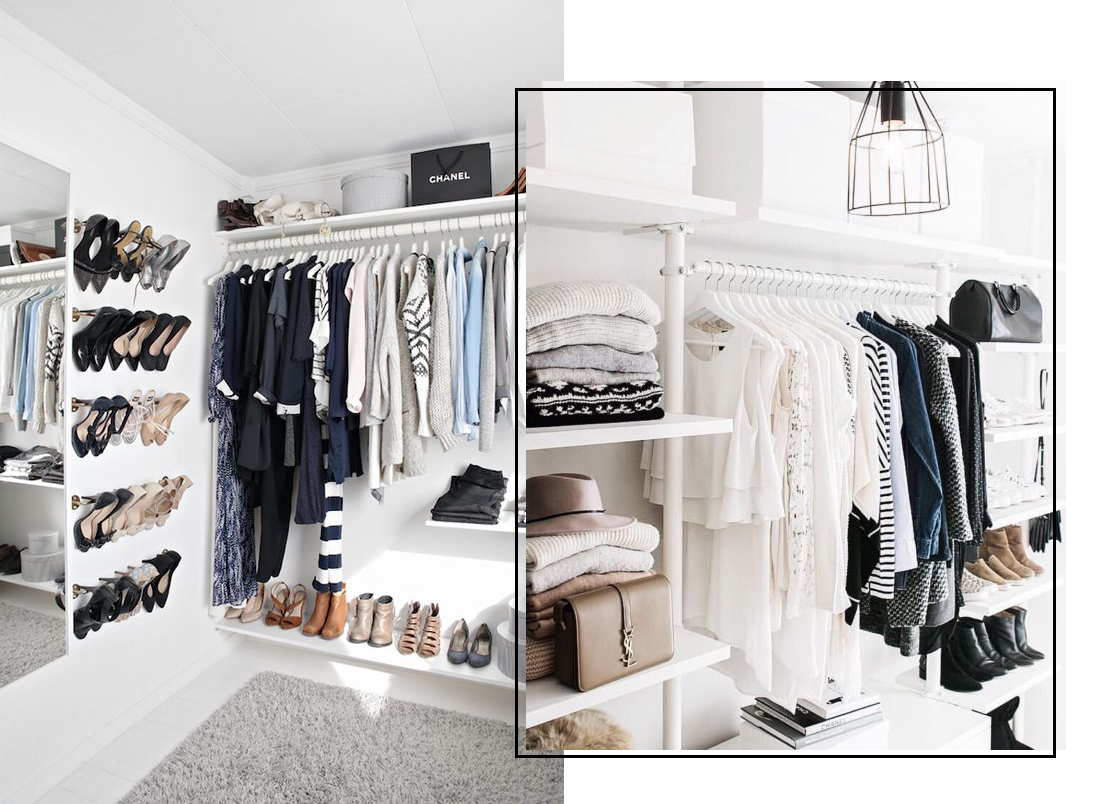 What is a normal sized wardrobe? It's one of those questions I've found myself wondering, typically on par with my seasonal wardrobe culls, yet the question remains; how much is too much?
And I think, what I've truly found, is that there's no right answer; it's all relative. It's the kind of subjective number that depends on your needs, your lifestyle, and ultimately, what you want our of your wardrobe.
For some, a minimal wardrobe of 30 items is more than enough, yet for others, choice is paramount and the number of items they choose to have at their disposal can stretch out to 200 garments or more. For me, it's been about finding an amount I'm comfortable with; a selected edit that suits my lifestyle, with enough variety to keep me from shopping mindlessly. My wardrobe hovers around the 100 items mark (though if I'm truly honest, is more like 100-150…), excluding gym gear, sleepwear, intimates and shoes which I've found to be goldilocks-level perfect – for me at least.
If you managed to see my recent wardrobe cull, you'd probably argue that it's still a lot (my closet did appear to be busting at the seams), but I find that it pales in comparison to the 300-plus pieces I had weighing down my wardrobe just a few short years ago. Shoes are ultimately my weakness – it's the one thing I consistently look to invest in every sale season; that one piece that can make or break an outfit for me, but I figure we all have our indulgences (mine just happens to see me get a little spend-y every once in a while).
So, how do you actually determine what a normal sized wardrobe is? Well, there's a few things you need to look at…
CLIMATE
Do you live in a city that experiences seasonal extremes, or is the weather generally pretty consistent all year round (a la Los Angeles)? Is there much cross over between seasons? Can you add pieces to your wardrobe that transition between summer to autumn, or from winter to spring?
For me, I live in Sydney, where the weather tends to run from one extreme to the next. Summer is typically around the 35-40 degree C mark (often with high levels of humidity). Autumn and spring sit around the 18-30 degree C mark, and finally our winters seem to sit on the milder side, with temperatures hovering around the 5-15 degree mark (though this year looks to be colder than previous years!).
Given this, I focus on having those core pieces from summer and winter – whether that is a silk cami and denim shorts, or a huge oversized sweater and a coat to match – interspersed with more transitional pieces which can see me through the variances in temperature, and weather.
LIFESTYLE
Next I suggest taking a look at your lifestyle. What does a typical week look like for you, and how would you break this down across your wardrobe? For most, I would assume that this would be split among workwear, loungewear (if you aren't like me and don't hop into your pjs the minute you get home!), evening wear, day-to-day casual wear, workout gear and anything you need for miscellaneous hobbies. I tend to have a 50/30/20 split across my closet – 50% work wear, 30% pieces that work for play or for the office, and 20% weekend casual wear.
While we don't tend to go out as much as we used to, I do have a few dresses hanging up in my wardrobe, so that I have a go to look should a special occasion pop up – so much easier than having to find an outfit last minute, or hiring a dress.
FREQUENCY OF WEAR
Finally, how often do you actually want to be wearing your clothes? If you're a serial outfit repeater, then you've probably got no qualms with wearing the same outfit twice (or more) in a week – which would drastically reduce the number of things you would want to keep in your closet.
So what I would recommend, is considering how many times – approximately – that you want to wear each item in your closet over the year, on average. Obviously this is bound to vary per piece, if you have a singular coat for winter, it's going to be worn every day. Think about how often you outfit repeat, and whether you have an interchangeable 'uniform' or look.
SOME FINAL THOUGHTS
I'm not a minimalist per se, nor do I aspire to be, however there's no denying that there are many aspects of minimalism that resonate strongly with me – quality over quantity for one. This means less high street buys, more investment pieces. Which, if we're being completely true to ourselves, these are generally the only purchases that manage to stand the test of time; well, in my wardrobe at least.
I'm fortunate in a sense that the majority of my wardrobe does double duty, transitioning effortlessly from work to play – however this may not ring true for everyone. It means I've got a lot to play with, even if I do reach for the same favourites on a weekly basis. Additionally, defining my style and colour palette has allowed me to be more specific and selective when shopping – while I've made some attempts to step out of my comfort zone over the last year, the fact of the matter is that I am truly a creature of habit. It makes dressing easy which is key when you cut your wardrobe down as much as I have. Keeping stock of the basics helps too – off the shoulder, gingham and sports luxe mind be the current staples of the moment, but there's a new fashion season – and new barrage of trends just waiting around the corner.
So I guess to reiterate my point, when it comes to trying to determine what a normal sized wardrobe actually is, it's all relative. There is no one answer, no right number of garments to have in your wardrobe. Your lifestyle, tastes, and even the seasons (or lack thereof) will all play a role in defining what works for you.
I'd love to hear your thoughts on what you think a normal sized wardrobe is in the comments below! x
images sourced via pinterest