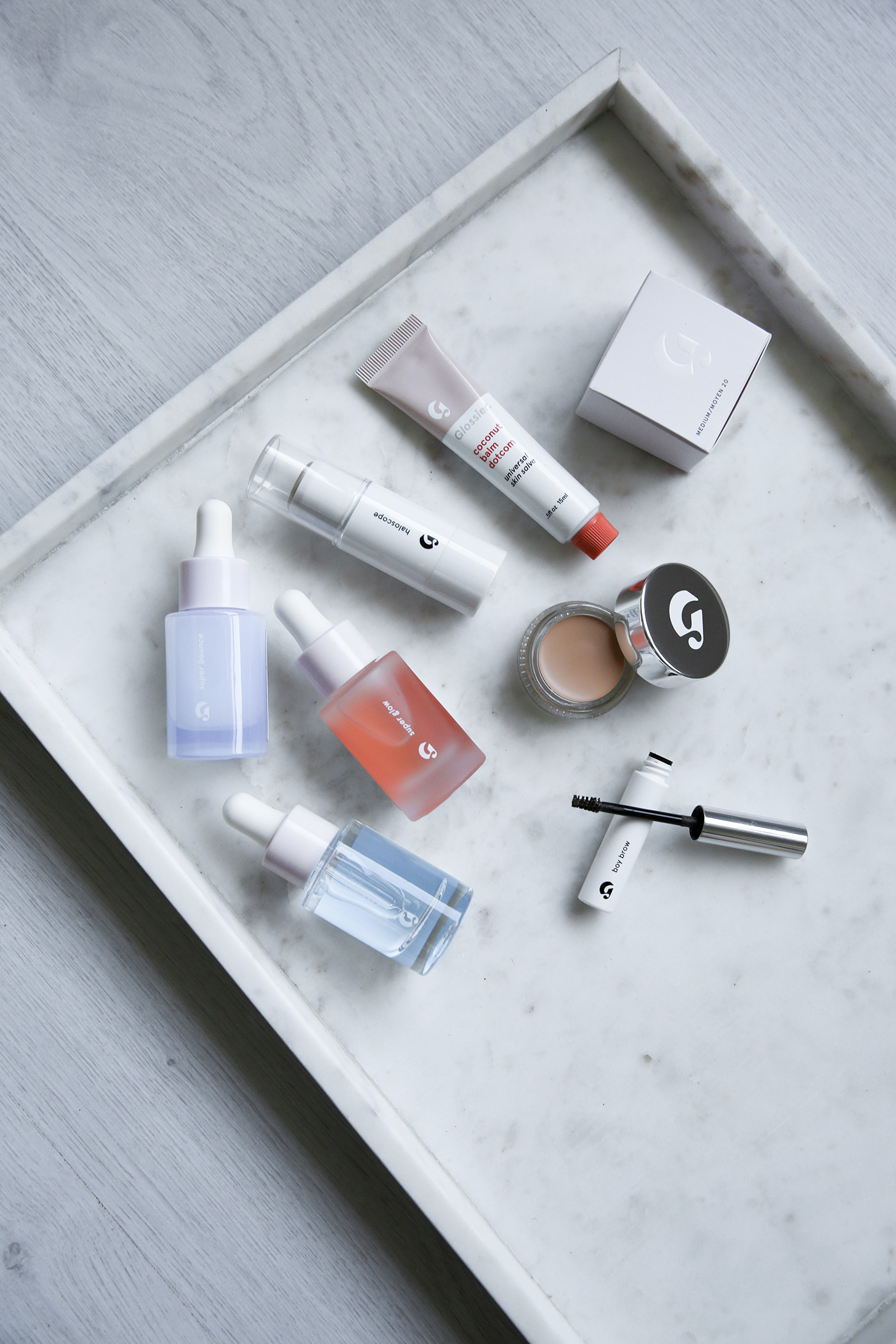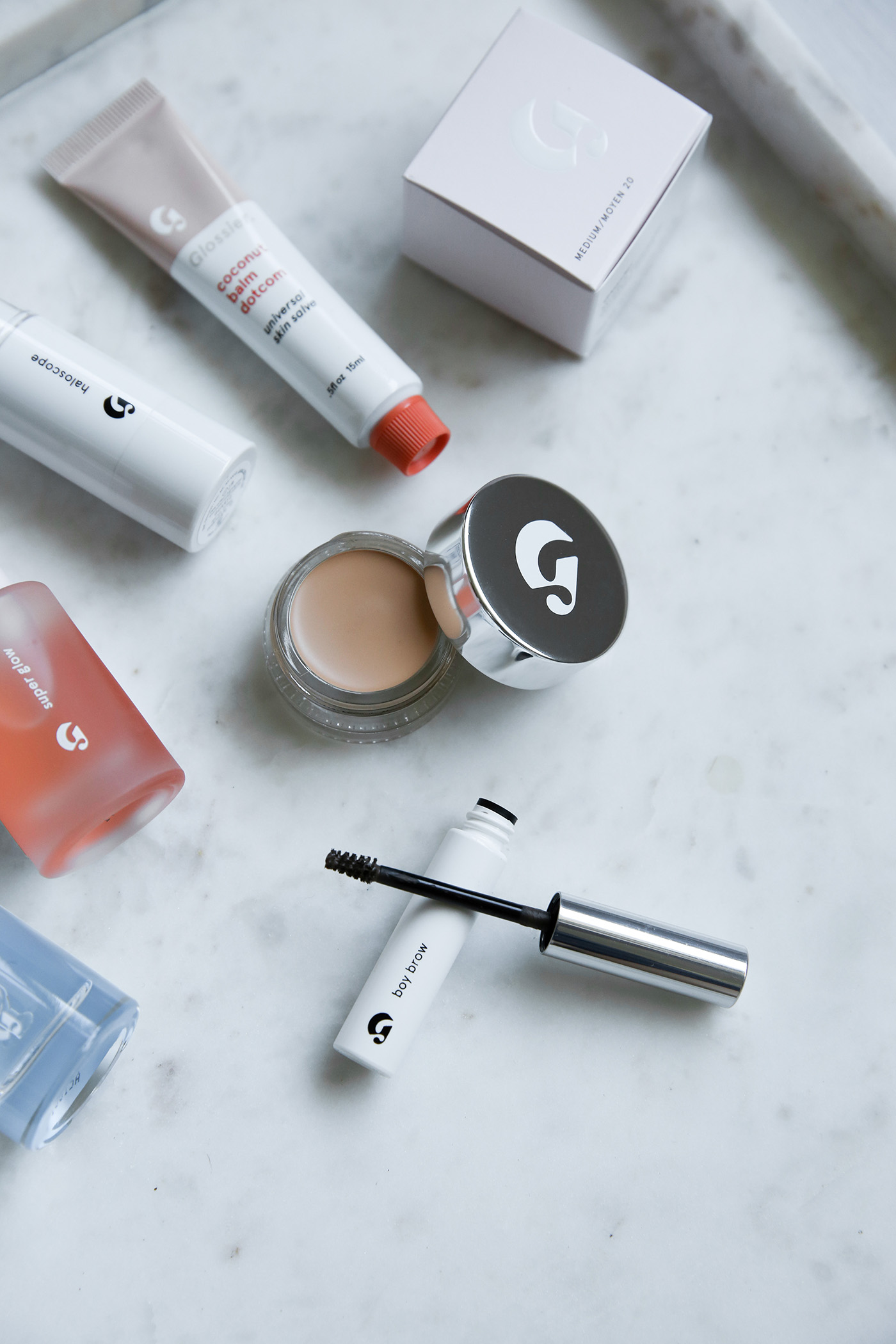 When it comes to beauty, I like to stick with my tried and tested – there aren't many things that manage to blow my usual makeup routine completely out of the water. But, after hearing so many good things about Glossier across the board I had to know for sure, was it really worth the hype?
As Glossier don't ship to Australia – yet – I used a third party mail assist and parcel forwarding service to place it for me.
I opted for some of their most hyped products – the balm dotcom, stretch concealer and boy brow – as well as a couple of their newer launches I'd found intriguing; the haloscope and the supers, as I figured this would give me a reasonably good sense of the brand across beauty and skincare (though I wouldn't mind trying the milk jelly cleanser, too).
Since my order arrived about a month ago, it has been completely without hesitation that I've incorporated every. single. thing into daily rotation. And while I definitely have my favourites, I've been pretty impressed across the board, not to mention absolutely smitten with Glossier's minimal yet effective packaging. So as I've been putting these to the test over the last month, I wanted to share some of my thoughts on whether it was worth going the extra mile just to get my hands on a little bit of Glossier.
the balm dotcom in coconut; one of Glossier's initial launch products, this has been touted as a jack-of-all-trades salve. You can use it to moisturise your lips, to soften cuticles, on raw or dry elbows, or to combat mosquito bites – this is one of those products that has been designed to be multi-purpose. There's a few different 'scents' available, so I opted for the coconut as I was hoping that this would make me feel a little like I was on a tropical holiday every time I used it, but unfortunately, I've found the scent to be rather cloying and quite artificial, which has had me wishing I'd gone with my gut on this and chosen the original classic, rose. This reminds me a lot of the Lucas PawPaw Ointment which is a cult classic in Australia, although generally something I tend to avoid using as it's largely petroleum based. This probably won't be of popular opinion, but I've found that because of those similarities, this hasn't been overly moisturising on my lips at all. In saying that, I have been really loving using this as a bit of an at-home luxury nail treatment, massaged into my cuticles.
the stretch concealer in medium; this is perhaps one of the strongest products of the lot, a product that has lived up to hype and then some. I apply this straight from the tub to my undereyes and areas where I get redness, and it just melts into the skin leaving your skin looking glowy and fresh. I've yet to find another concealer which looks this natural, and it's become the only one I even consider reaching for on a daily basis. I will admit, that I was a little worried that the medium (the second lightest shade) was going to be too dark for me when I opened the tub, but I've found it to be the perfect colour match for a natural rather than highlighted look. This isn't full coverage, but it's not meant to be, however I've found that the creamy consistency makes this incredibly buildable, if you're going for a more perfected base. I typically like my skin to look like just that, skin, and this really does just enhance the way that it looks. This is hands down one of my favourites of the lot.
the boy brow in brown; I have a bit of a love-hate relationship with my brows, although I think it's safe to say that I'm not the only one. I try to get through my beauty routine in 10 minutes or less every morning, and most of the time, I don't want to sit there for 10 minutes with a pencil trying to fill in the perfect brow. Glossier's boy brow does pretty much all the hard work for you. It fluffs up my brows, and fills in any gaps, and has been the answer to having the appearance of 'perfectly' groomed eyebrows, without putting in the effort, and it stands up to Sydney's humidity which is always a plus in my books. Appearance-wise, the brush looks very similar to Benefit's Gimme Brow, and a little bit of product will go a long way. Since cracking this open I've used it exclusively, and I've been starting to think that I may need to place a second Glossier order to get a couple of back ups for when this dries out completely.
the haloscope in quartz; I've never really been able to get on board with powder highlight – I find it sits on the skin rather than giving that beautiful glow from within (which I think without question is what we're all after!). So when I spotted that Glossier were coming out with a cream highlighting stick, it's safe to say that I was pretty excited. Tom Ford's Shade & Illuminate is my absolute favourite cream highlight for a dewy, natural looking highlight, but Glossier's take comes a close second. Quartz is a cool toned pale pink highlight, which leaves a subtle shimmer and a natural sheen on the face when applied. I tend to swipe this across my face and blend out with my fingers; what I really love most about this is how the solid oil core gives such a beautiful soft glow and dewy finish to the complexion.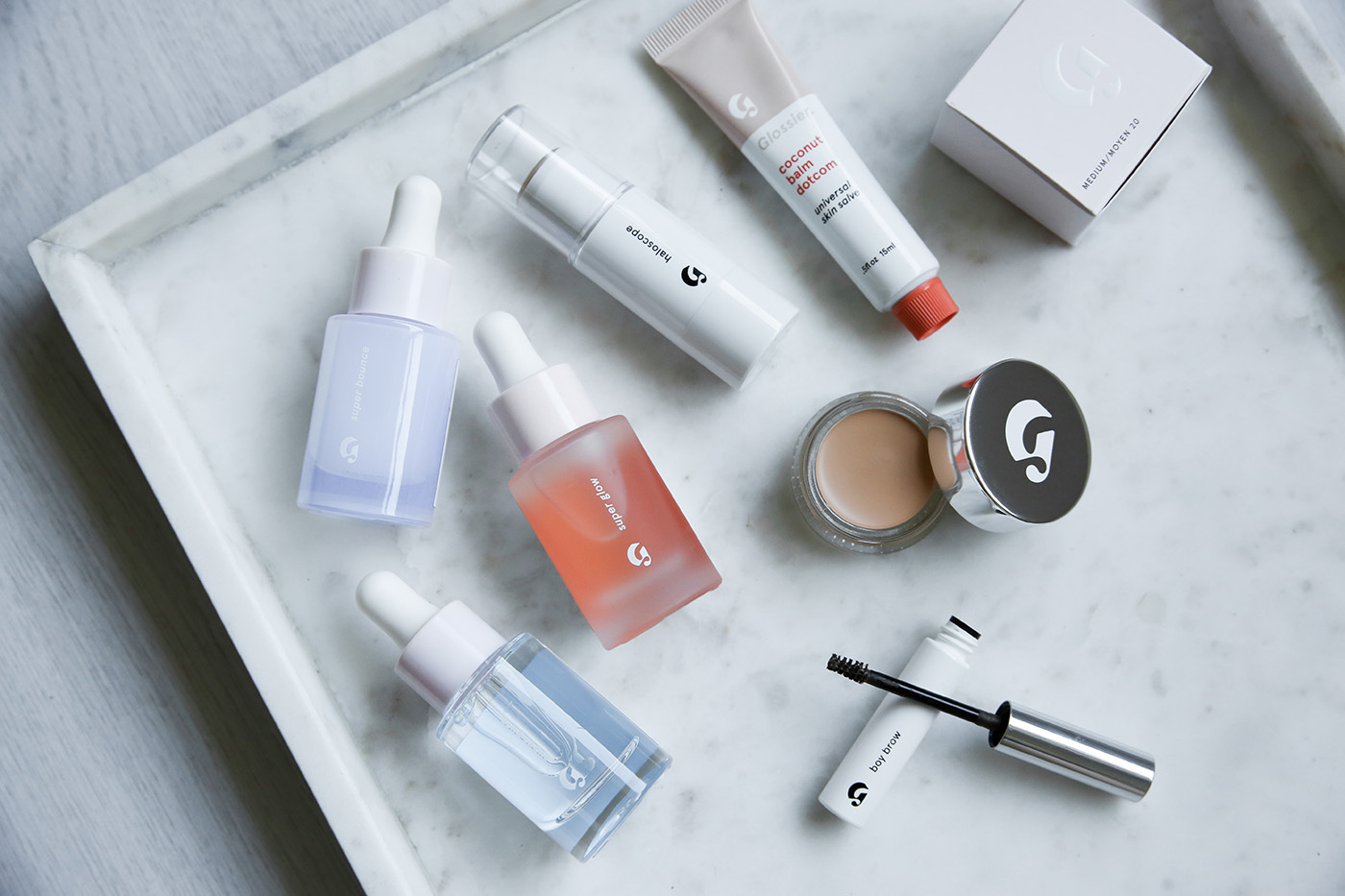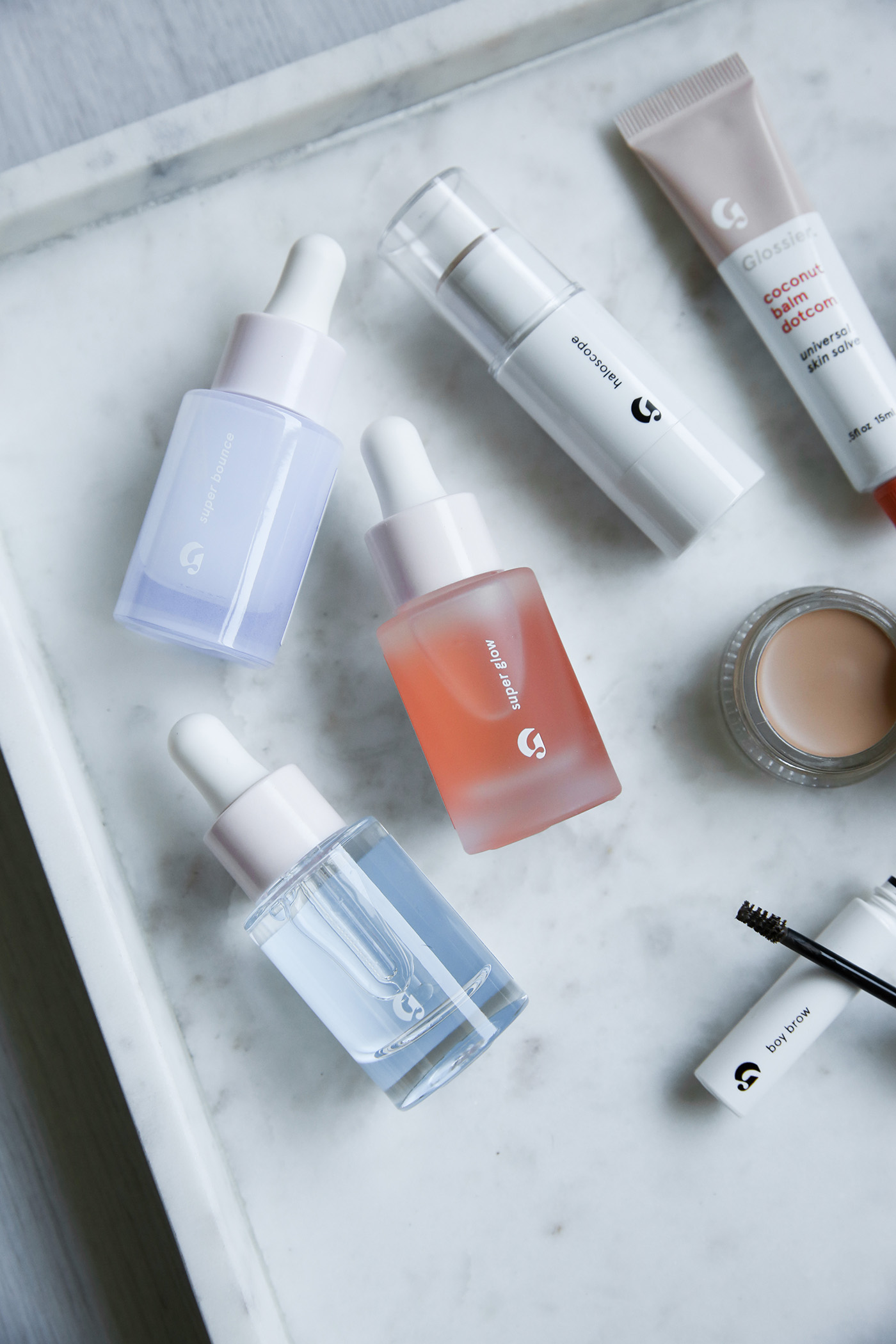 the glossier super pack; I held off placing my order for about a month, just because I wanted to wait for the supers 'trio' to come back in stock. The pack comes with all three of Glossier's super-concentrated serums, each which address a different skincare need. Super Glow is perfect for when your skin is feeling dull, and needs a bit of a pick me up – it's packed full of brightening Vitamin C. Super Bounce is one I see myself using the most this winter; it's perfect for when your face is in need of some serious hydration – the hyaluronic acid helps to give some of that bounce back to your skin. And finally, Super Pure is perfect for skin that is breaking out or red – the combination of niacinamide and zinc help to soothe stressed out skin and flush out any impurities. I've really been loving the addition of these to my daily skincare regime. I use these following toner and just before moisturising, and tend to reach for Super Glow the most, just as I feel like my skin can sometimes use a little re-energising.
It's pretty safe to say that Glossier has exceeded my expectations and then some. I have a hard time narrowing it down to just one favourite, but I think if you have the chance to try one thing, make it the stretch concealer or the boy brow – you won't regret it.