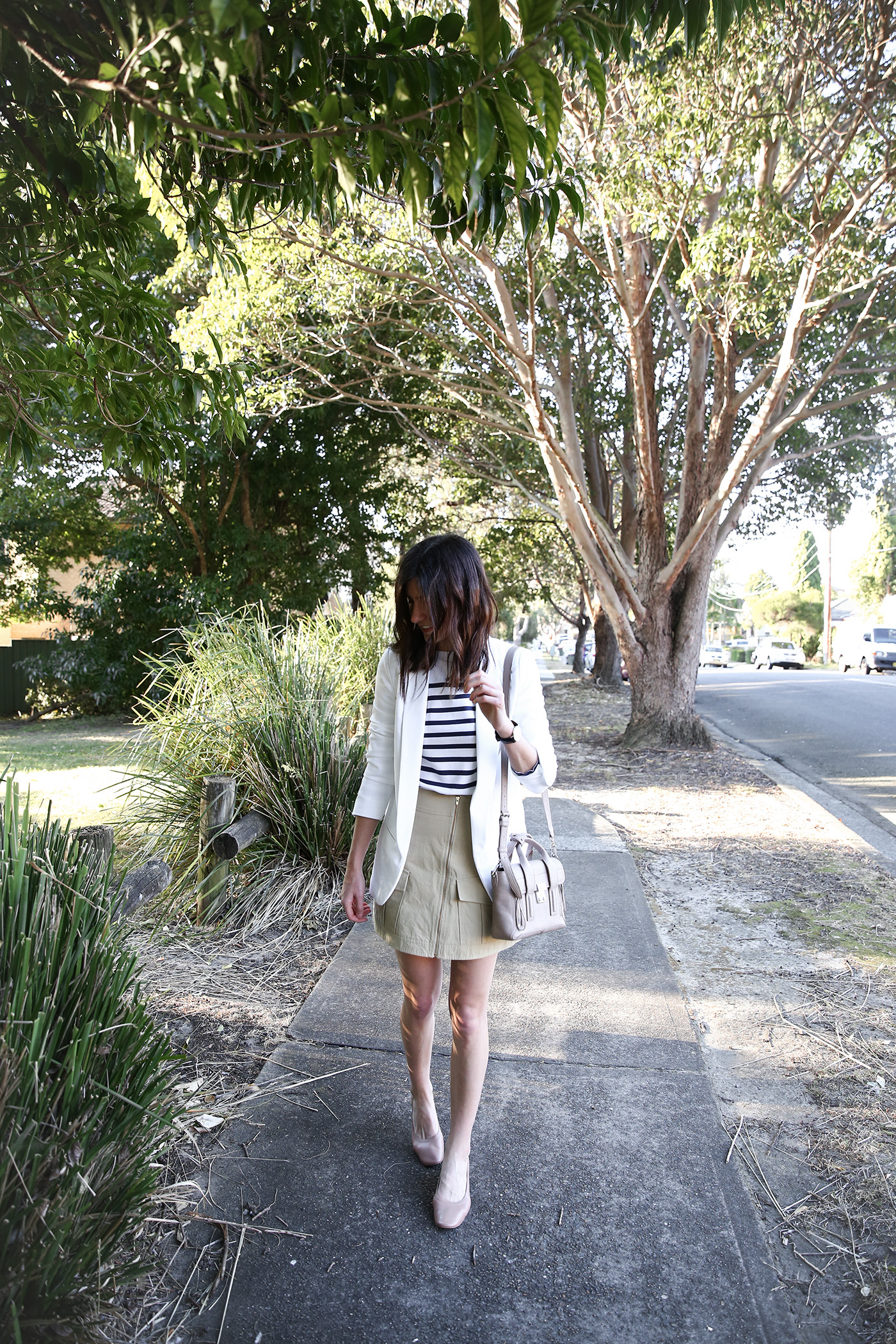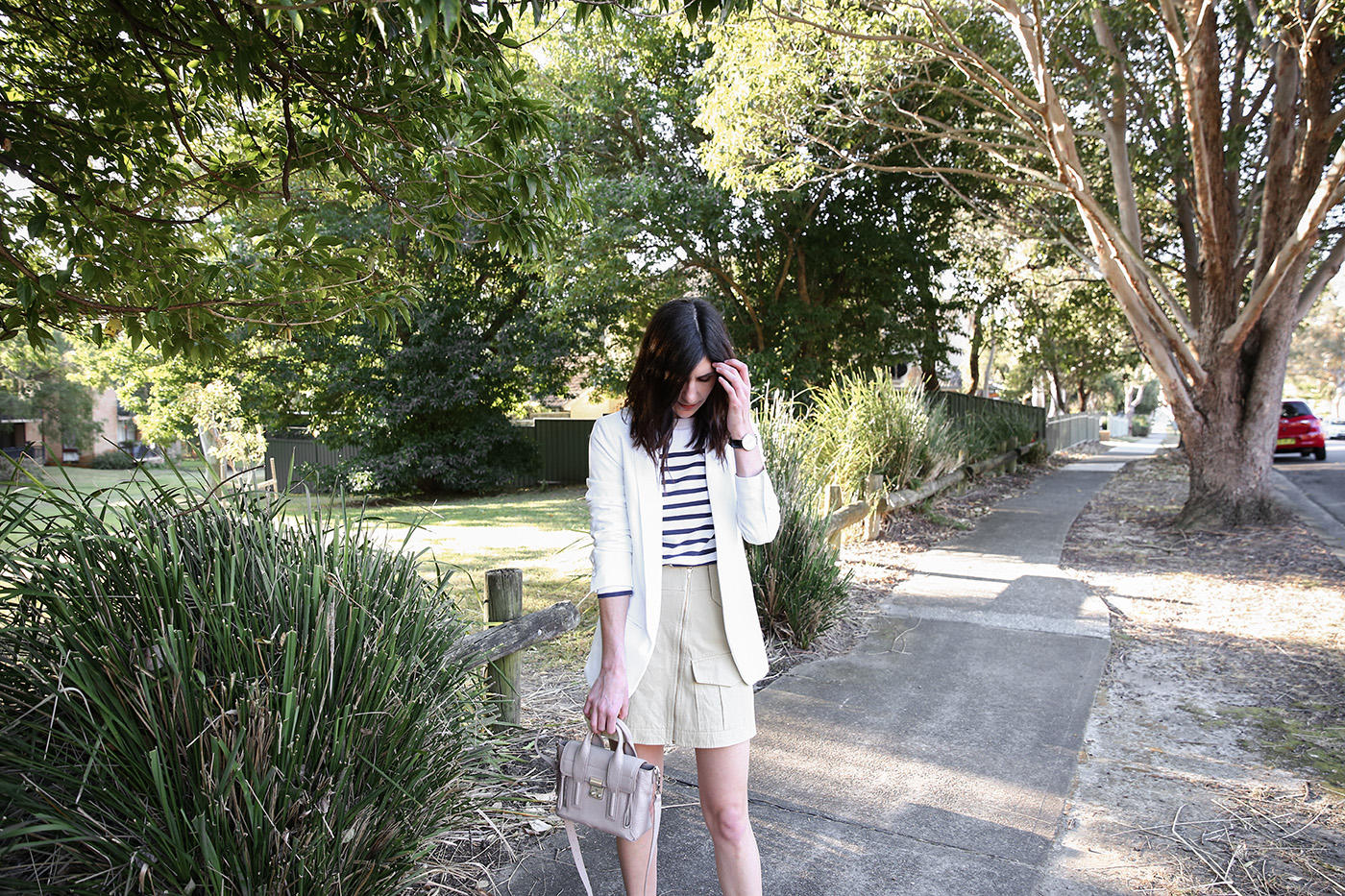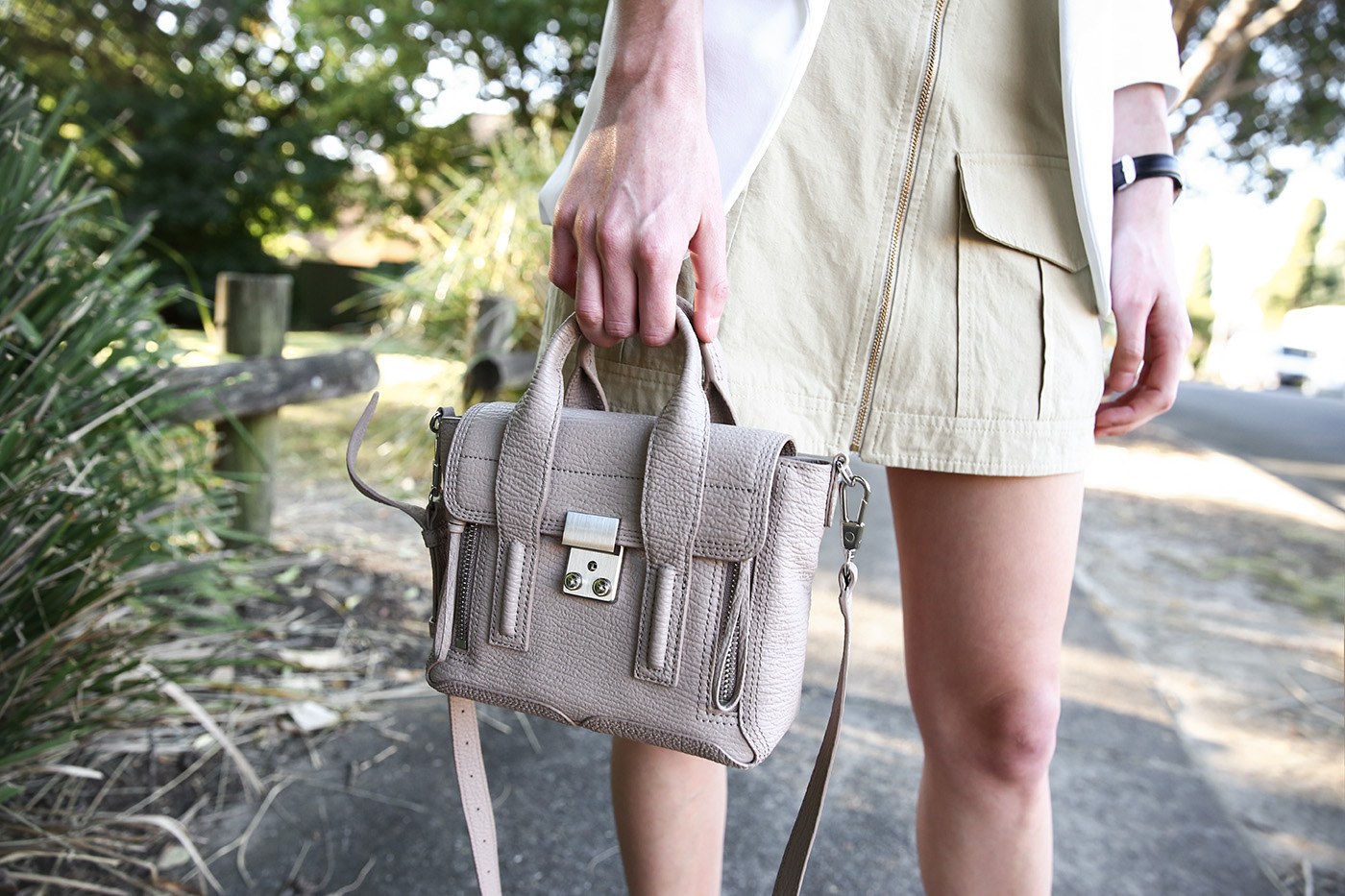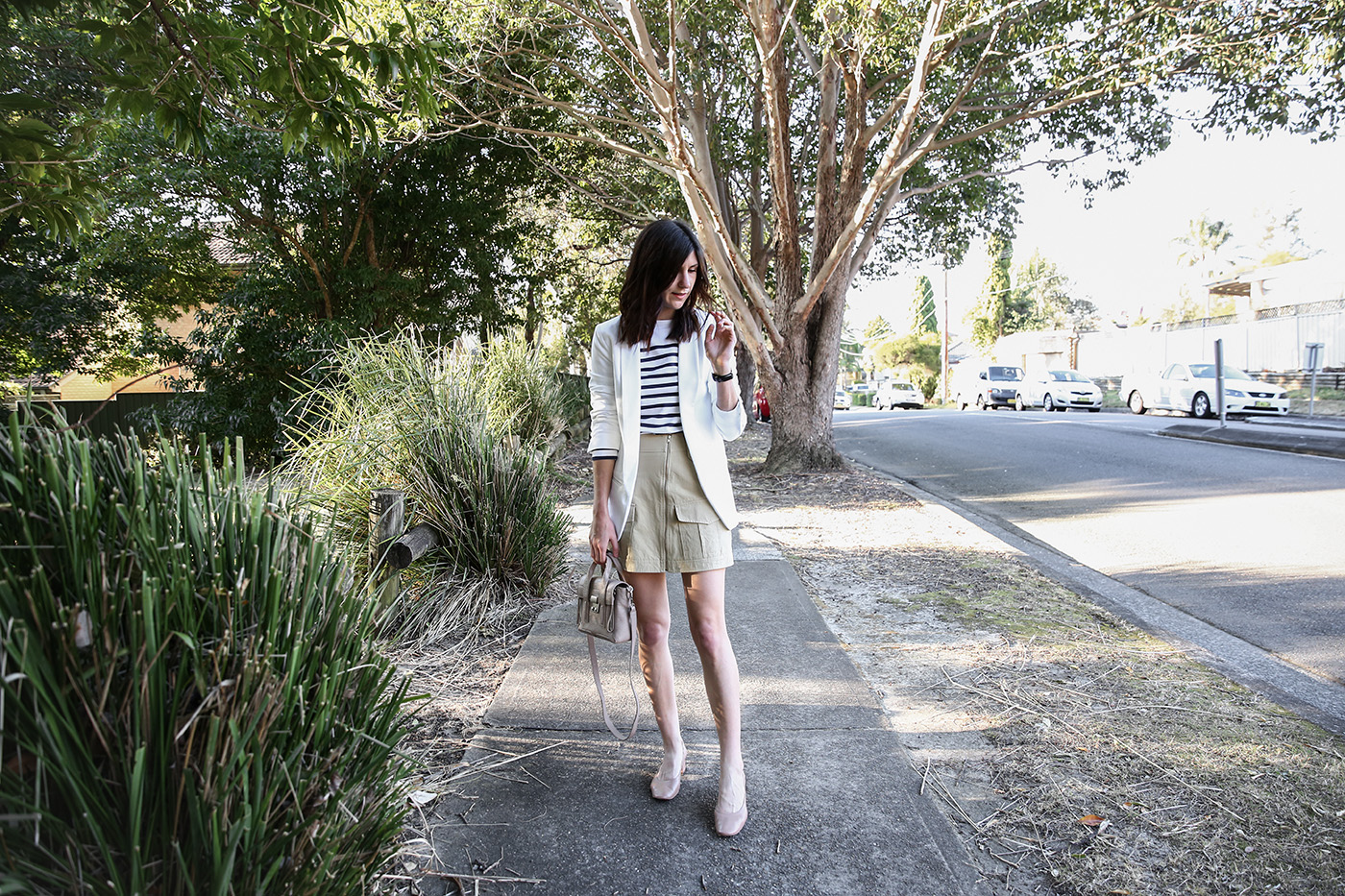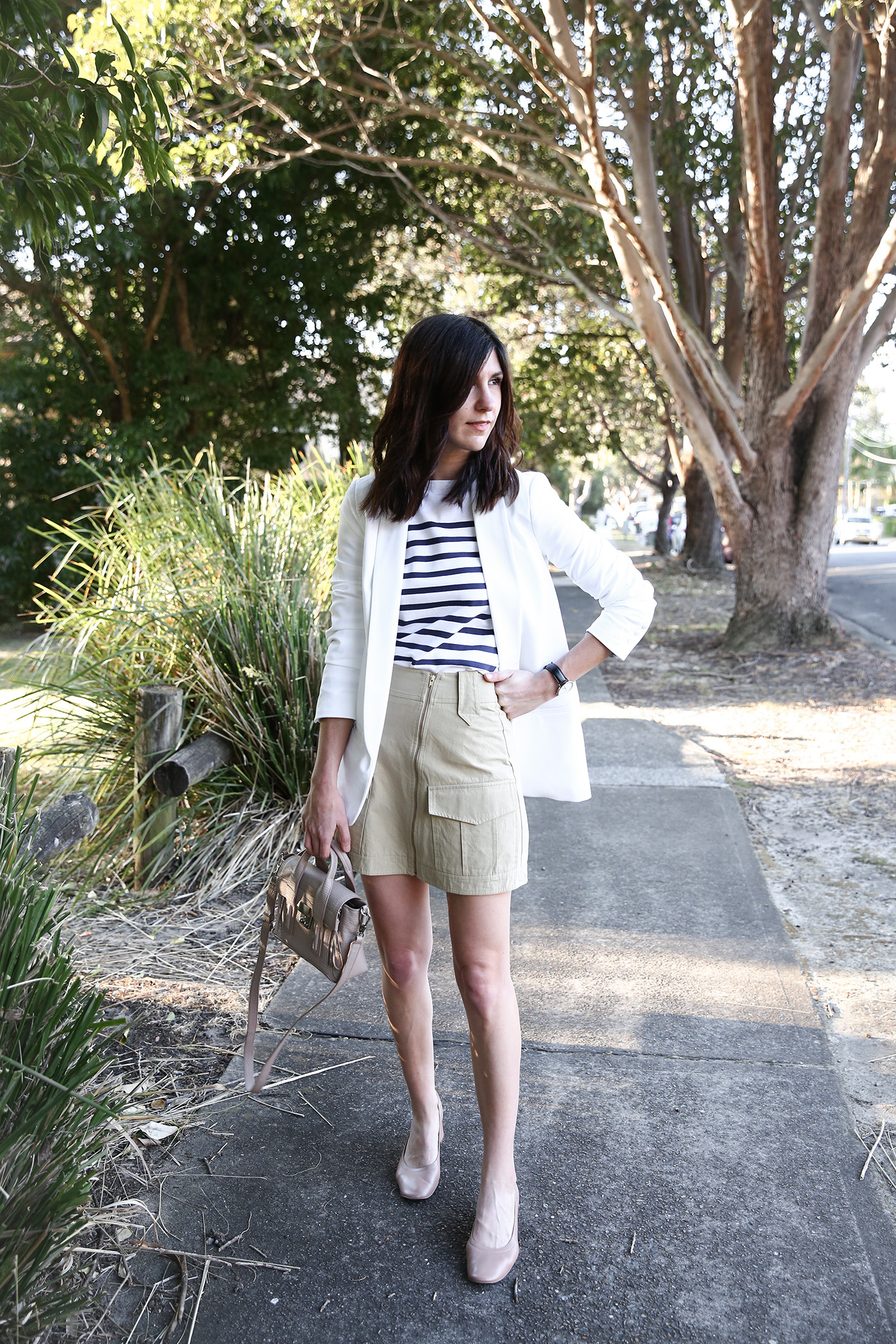 Orcival stripe top, Pimkie blazer (love this alternative), RUBY skirt (love this indigo skirt or else this is a cute affordable option), Everlane day heels, Phillip Lim pashli bag (also here), Daniel Wellington watch
This outfit from the other week combines a few of my favourite things; stripes, a-line skirts, the day heels from Everlane (seriously do I wear anything else?!), a mini bag and a blazer. In some ways, it's a little bit of a throwback to the kinds of outfits I was wearing a few years ago, when blazers were my ultimate jam, paired with basically everything and a killer heel to match. These days, the heels might be a little lower, and the rest of the outfit a touch more classic than I used to wear, but the bones of the style 'recipe' are still there.
The key piece that I've found myself reaching for a lot more frequently as of late has been a classic blazer. After shifting from a corporate industry to a more creative environment with a much more relaxed dress code, I've had less of a reason to wear a blazer to the office, and given I spend most weekends pottering about at home, even less to wear them during my days off. But, I've been feeling a little bit inspired to start throwing them on with little mini dresses and denim shorts, as I love the juxtaposition between the tailored suiting and effortlessly casual vibes. I've been on the lookout for a couple of more oversized or double breasted blazers which I think will be good to have in the mix, for a balmy summer soiree or even as a jacket option for 2018, once we start heading back into autumn. Can you tell I plan ahead?
What I love most about this outfit is the fact that it can do double duty. I've probably said this about a million times now, but I work in a pretty relaxed environment, which means a simple combo like this with a pair of heels is the perfect number to whip out during the working week. That said, it's also the kind of thing that can work for an 'off-duty' or weekend look, perhaps with a pair of ballet flats switched in for running around in.