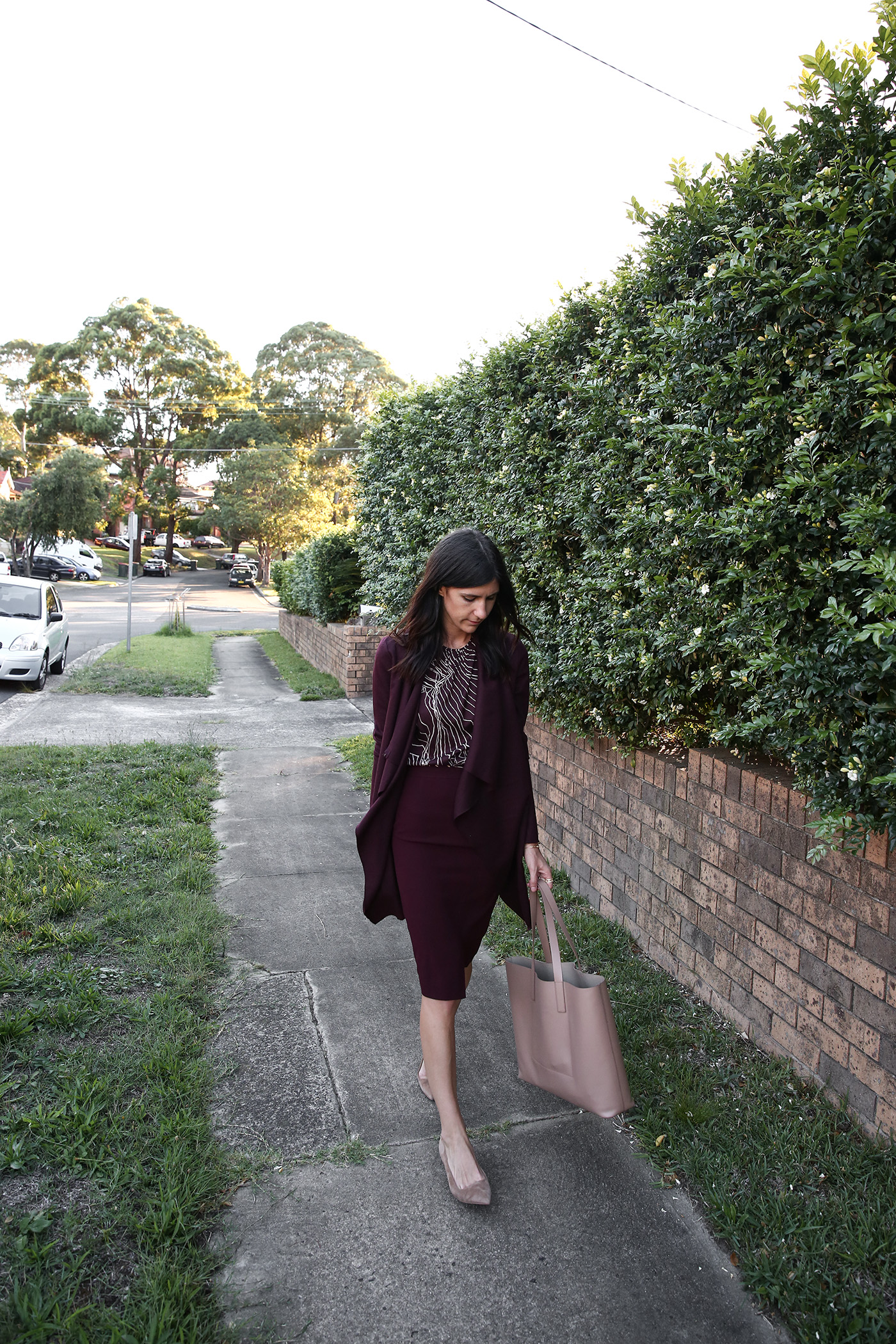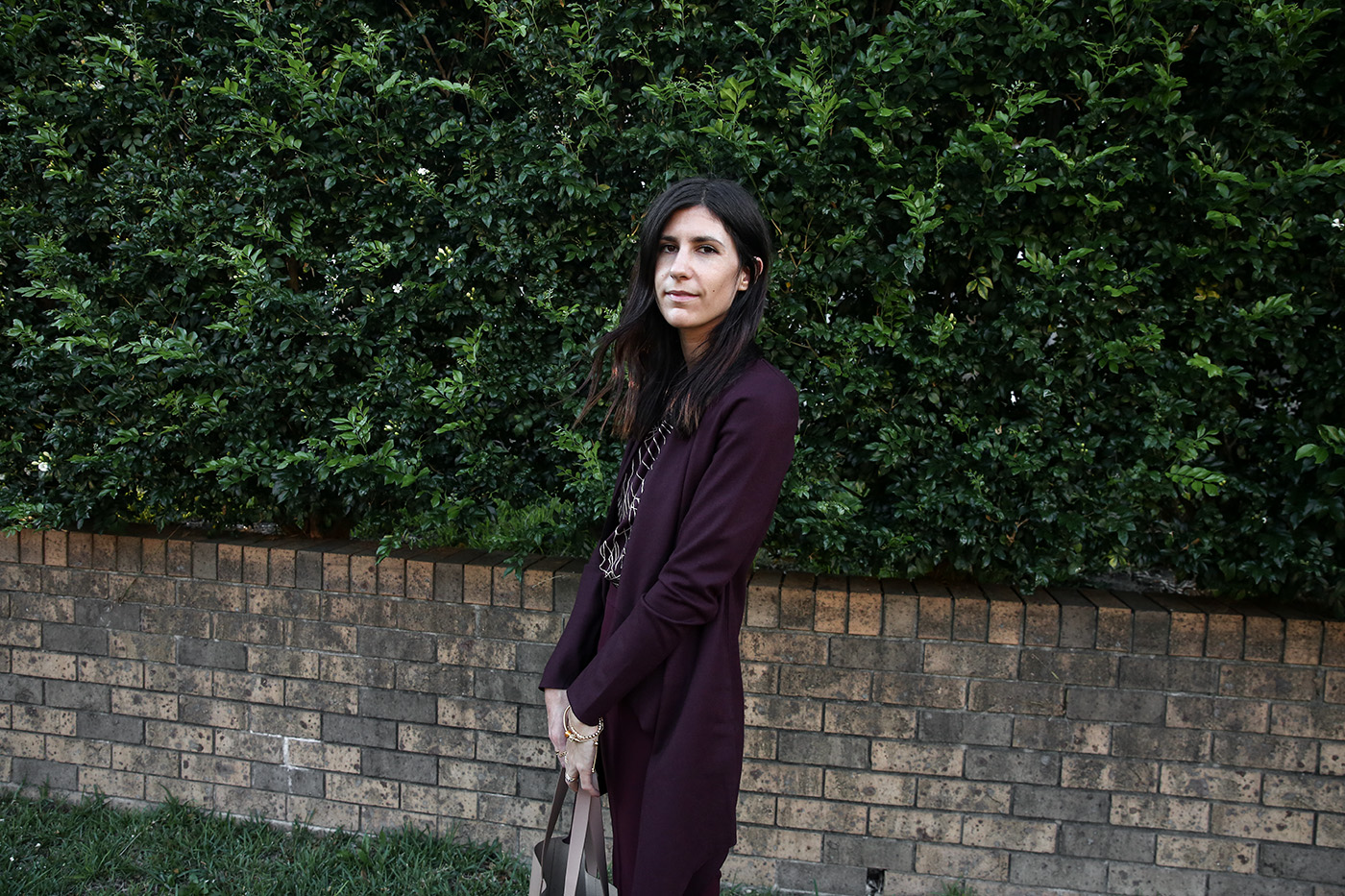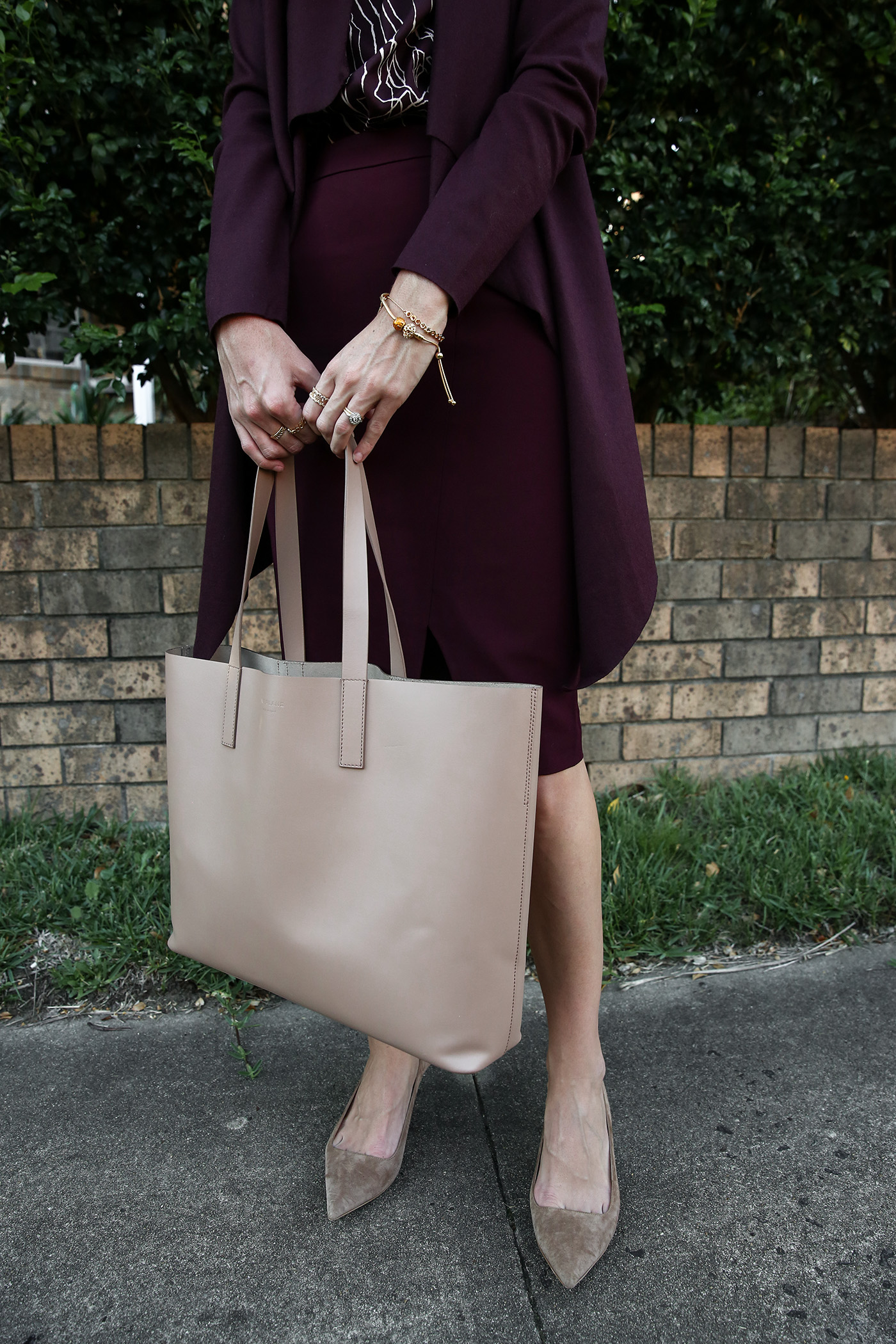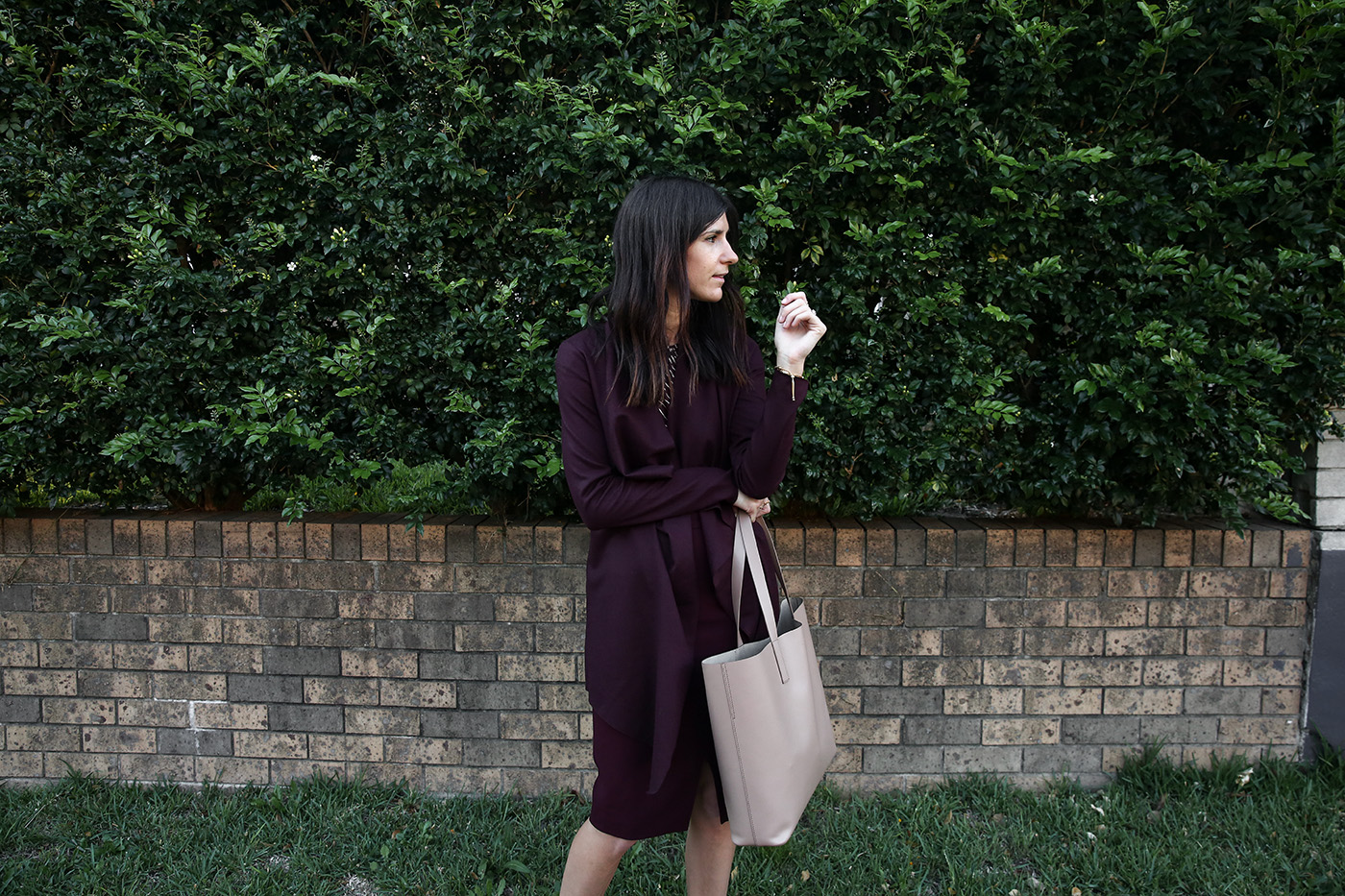 I've been sitting on these photos for a little while now – ever since my corporate workwear look book – as I've been somewhat optimistically waiting for the weather to cool down in Sydney, but this to me is such a perfect outfit for the office for the autumn season. For a start, I'm all about the burgundy colour palette. Full tonal looks are something I've always gravitated towards (can I use this as an excuse for why I wear so much black…?!), as I love how little elements like a subtle print, some interesting texture, or a different silhouette can really take the outfit to the next level.
Wearing SABA printed top (I adore this option), SABA waterfall cardigan (also here), SABA pencil skirt, Everlane editor heels (similar style), Everlane market tote (this is also lovely), Pandora bracelets & rings
I'll admit, this is a lot more corporate than what I would wear for a day in the office. Working in television, our dress code is a lot more relaxed, so it's not unusual for me to reach for a pair of jeans and a silk blouse and call it a day. While I do love that this means that a huge proportion of my wardrobe is going the extra mile and doing double duty across work and play, I love any old excuse to dress up a little, and experiment with my wardrobe.
What I like most about this outfit is that it's a fresh take on a classic workwear combination. Instead of a blazer, I've opted for a waterfall cardigan, which is such a classic style for autumn. It's the kind of piece that can make an outfit look a lot more 'relaxed', so this was all about balance; the blouse and pencil skirt combo, worn with a classic pointed toe heel work well to keep this outfit looking professional.
The other thing I love about this look is that there are a number of elements which could effortlessly transition from work to weekend: the printed blouse, the waterfall cardigan, and the chic leather tote bag.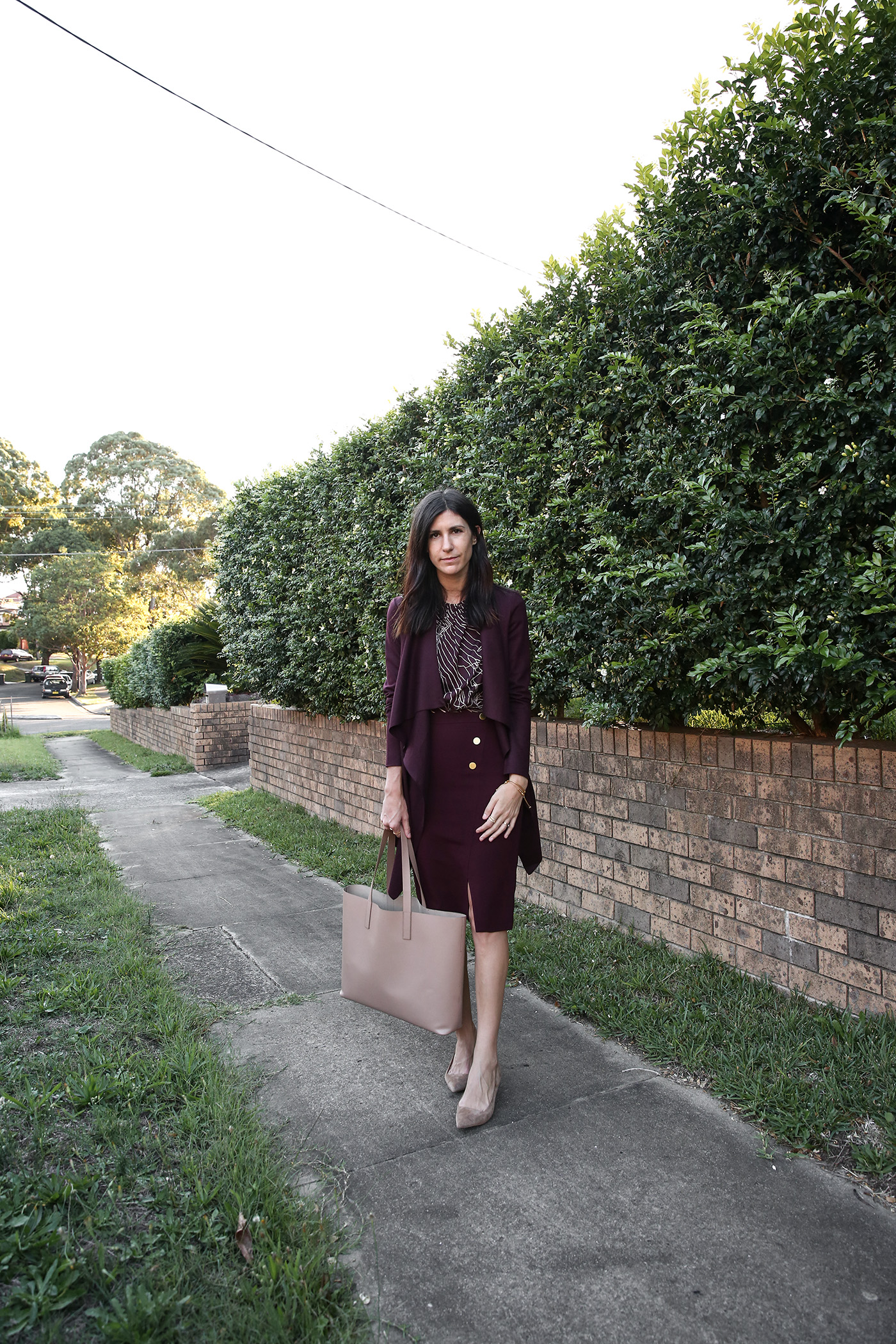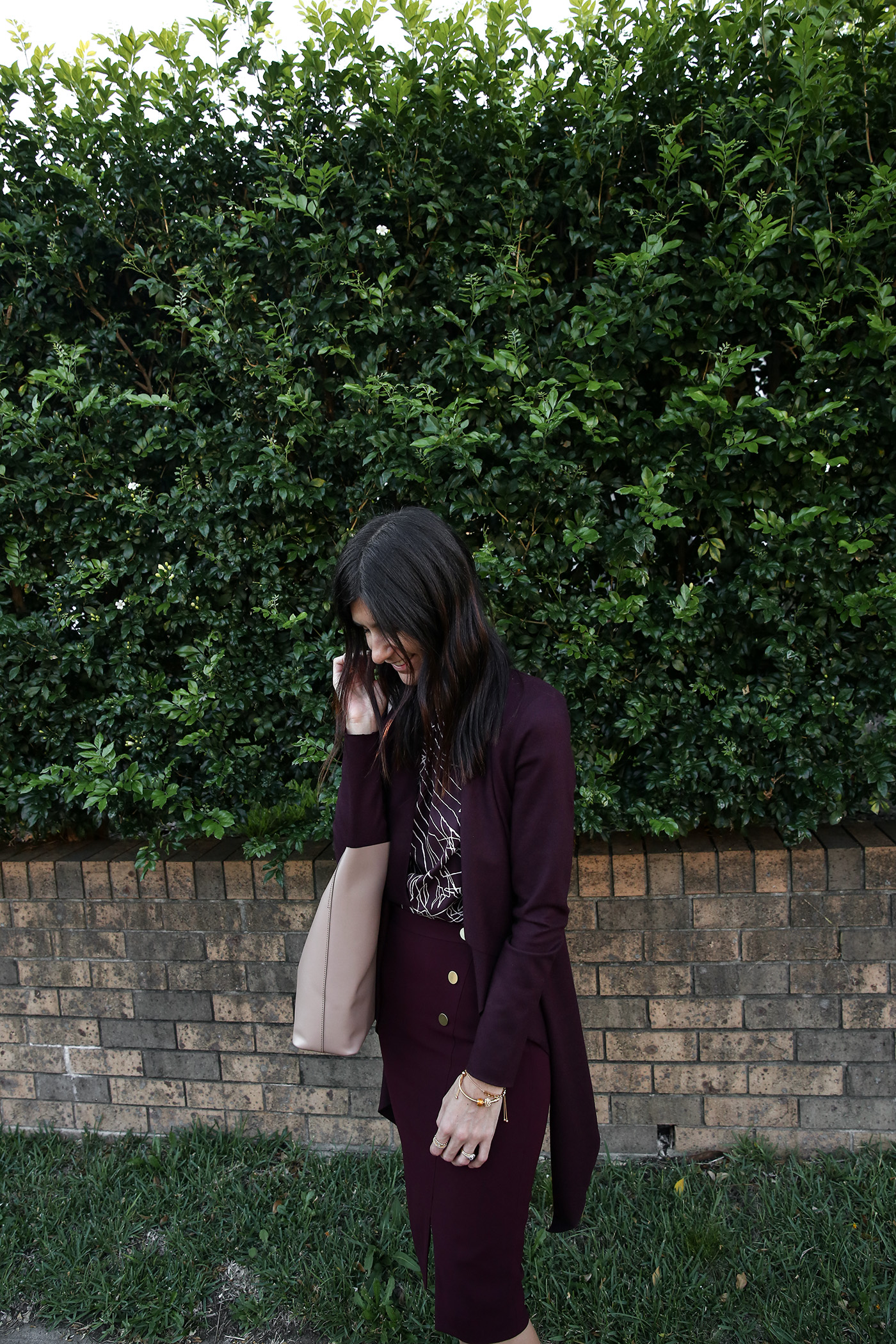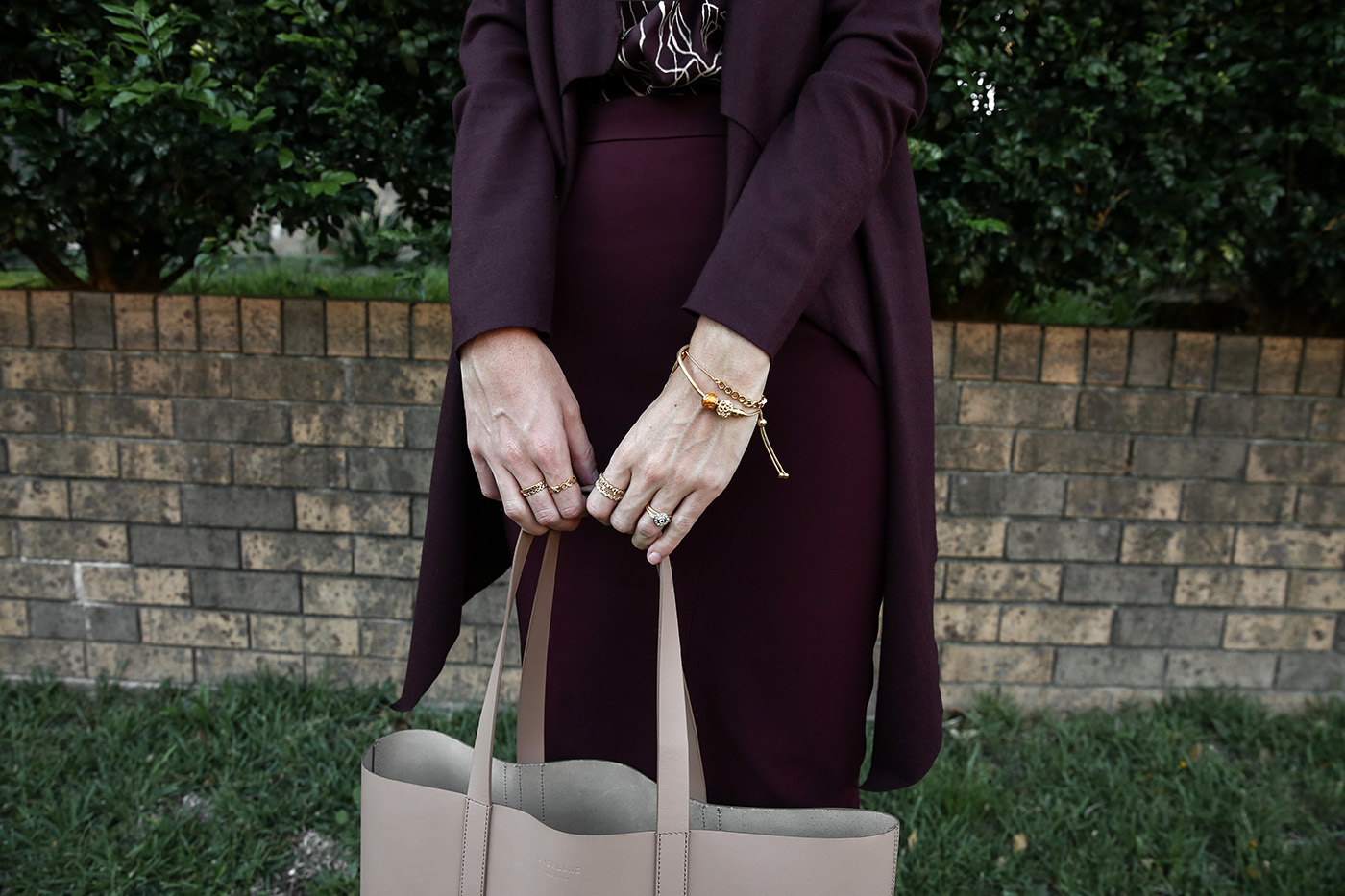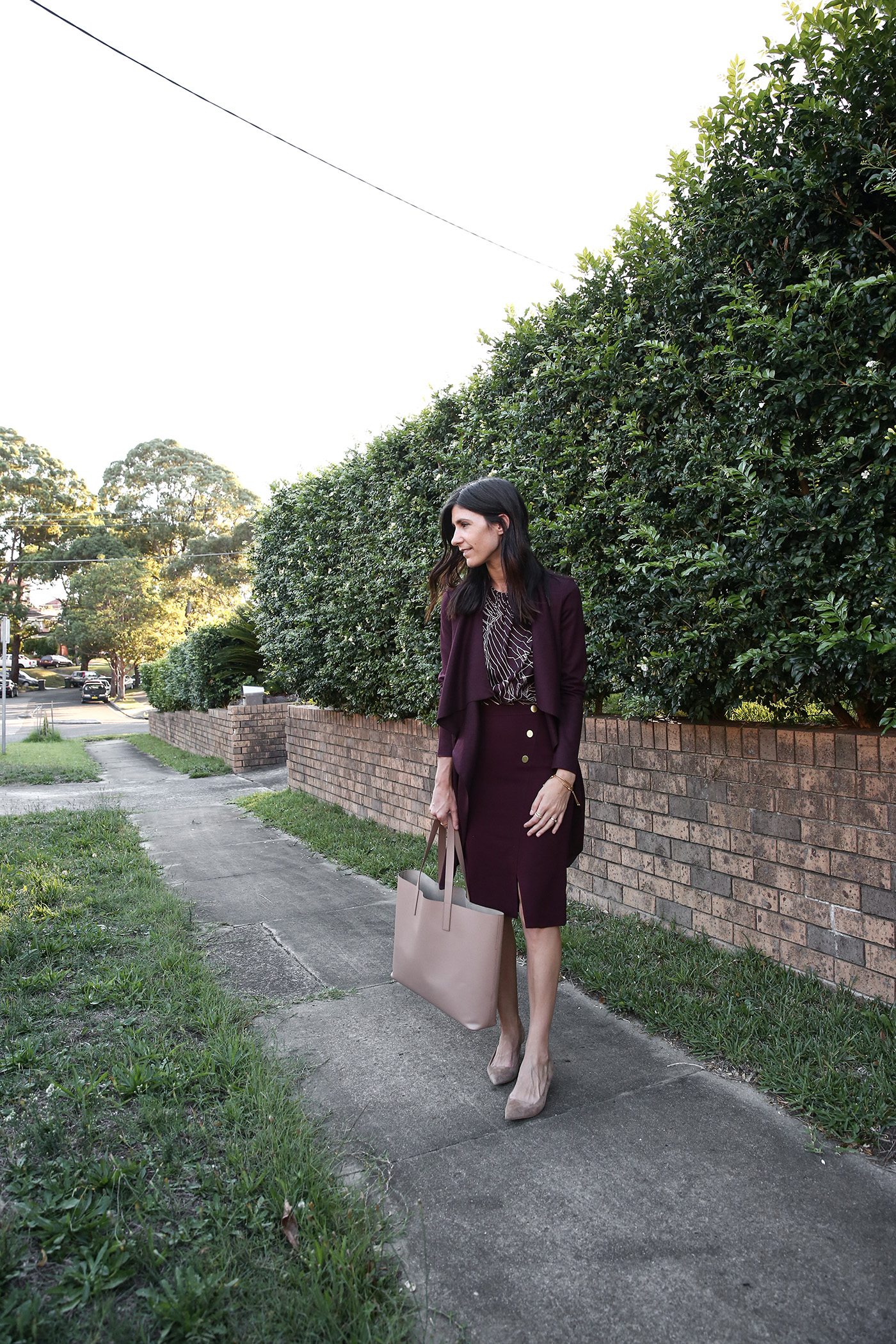 Styling notes
01 | All burgundy: My favourite part of this whole outfit is without a doubt the deep burgundy hues. The cardigan has a slight plummy undertone, whereas the skirt leans a little more crimson, and I love that the pairing just works. I've been replicating this theme across a few of my outfits lately, using the simple method of pairing items within the same colour family. All navy looks great too!
02 | Pointed toe pumps: One of those key wardrobe staples for any work wardrobe – in my opinion – is a pointed toe pump, and I've had my fair share of pairs cycle through my closet over the years. While I don't think you need a particularly high heel, my Everlane editor heels are a case in point, I just feel like they add a little bit of polish to your overall outfit. I've opted for a camel suede pair, which adds more complexity to the outfit, while keeping within that earthy colour palette.
03 | A big leather tote: Leather tote bags have long been my bag of choice for work – they're practical, look professional, and there are plenty of options out there to choose from. The one I'm wearing above is the market tote from Everlane and it is one of those everything plus the kitchen sink kind of bags. It has a good amount of structure to it – perfect for the office, I try to avoid anything too slouchy – and it's roomy enough to fit in your laptop, notebook, water bottle and a container with your lunch in it. I have this in the blush shade and it's such a gorgeous complement to this outfit, don't you think?
I don't share too many workwear outfits like this on the blog, so I'd love to know if this is something you'd like to see more often. Let me know in the comments below x