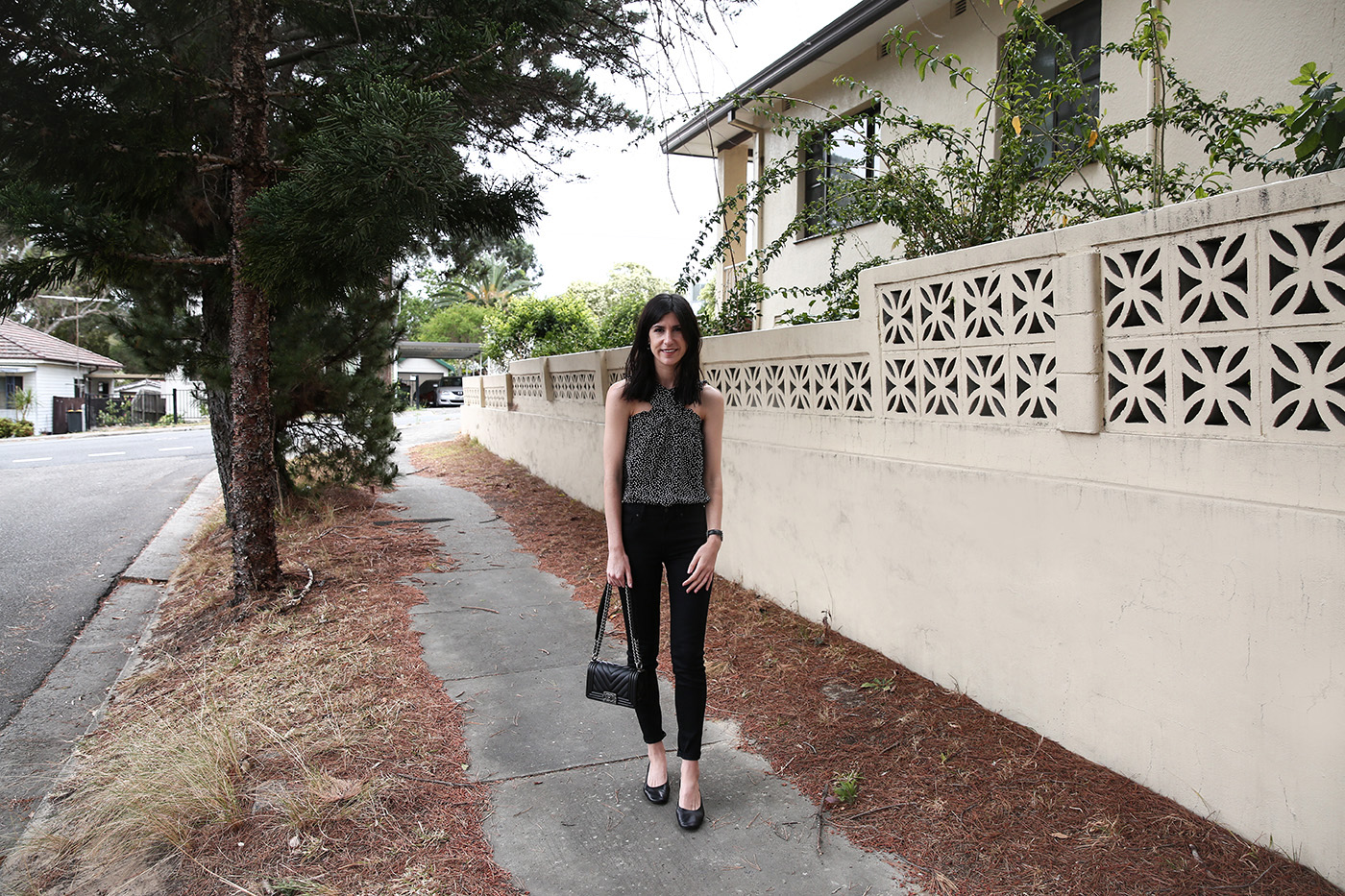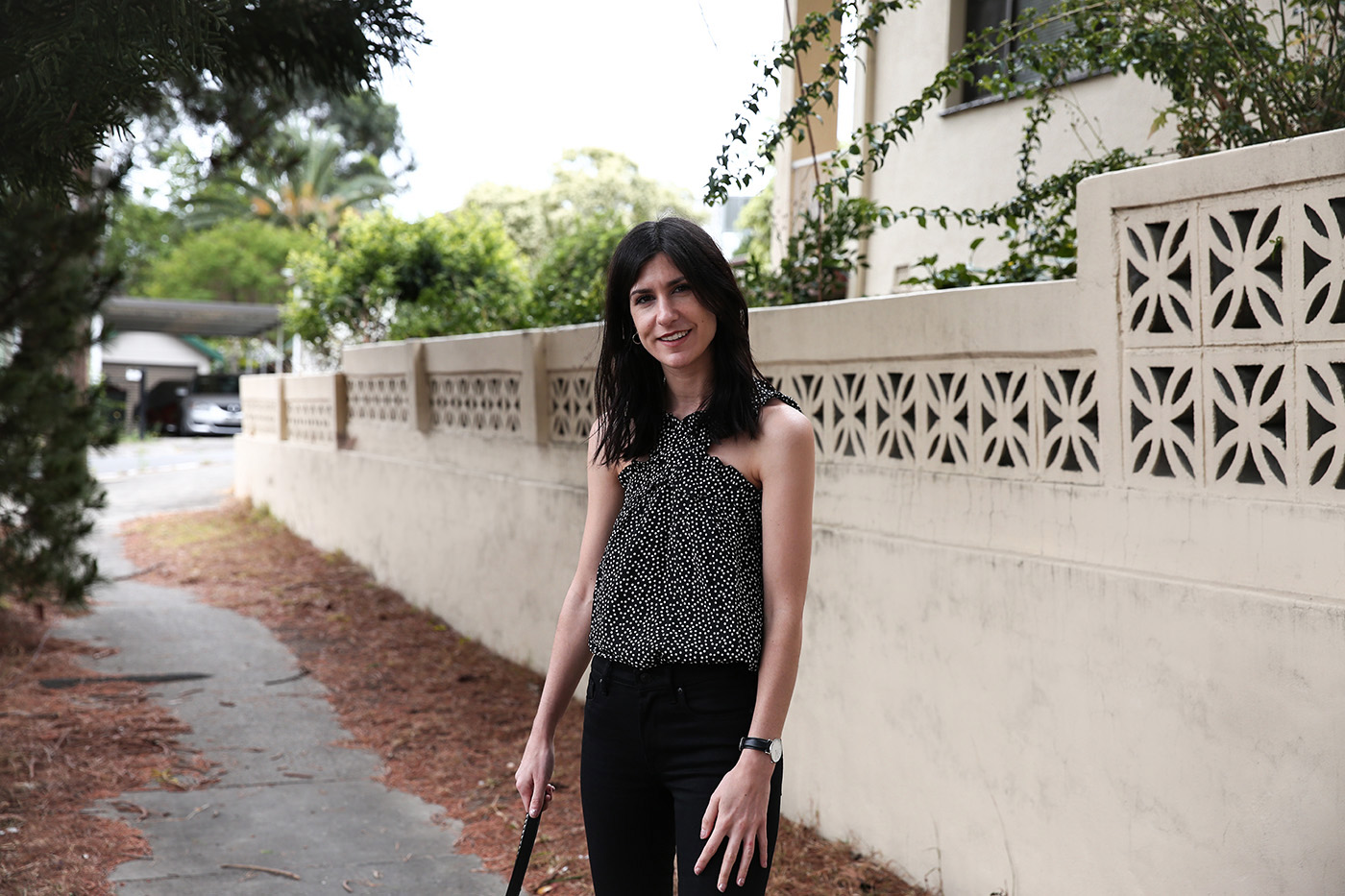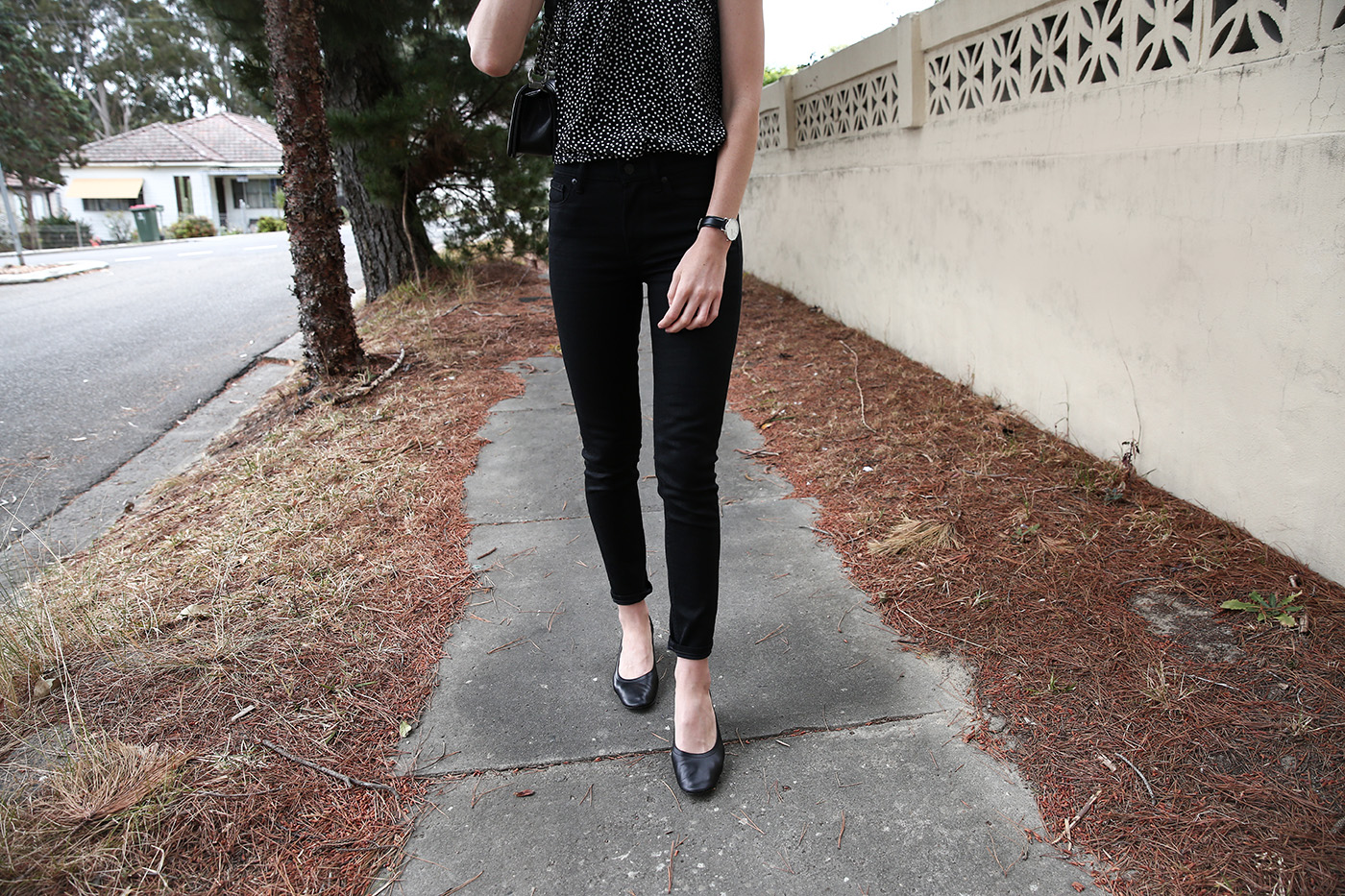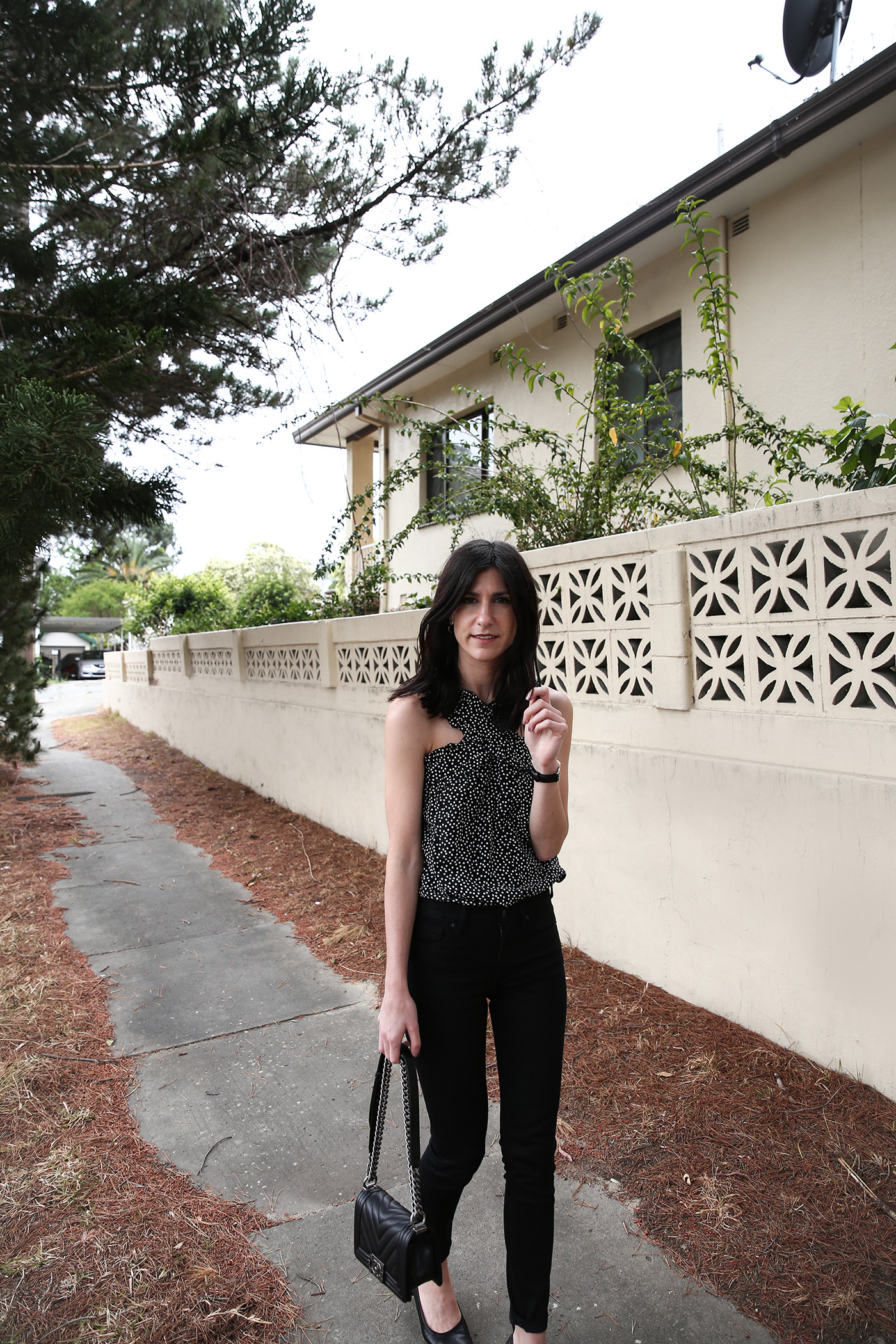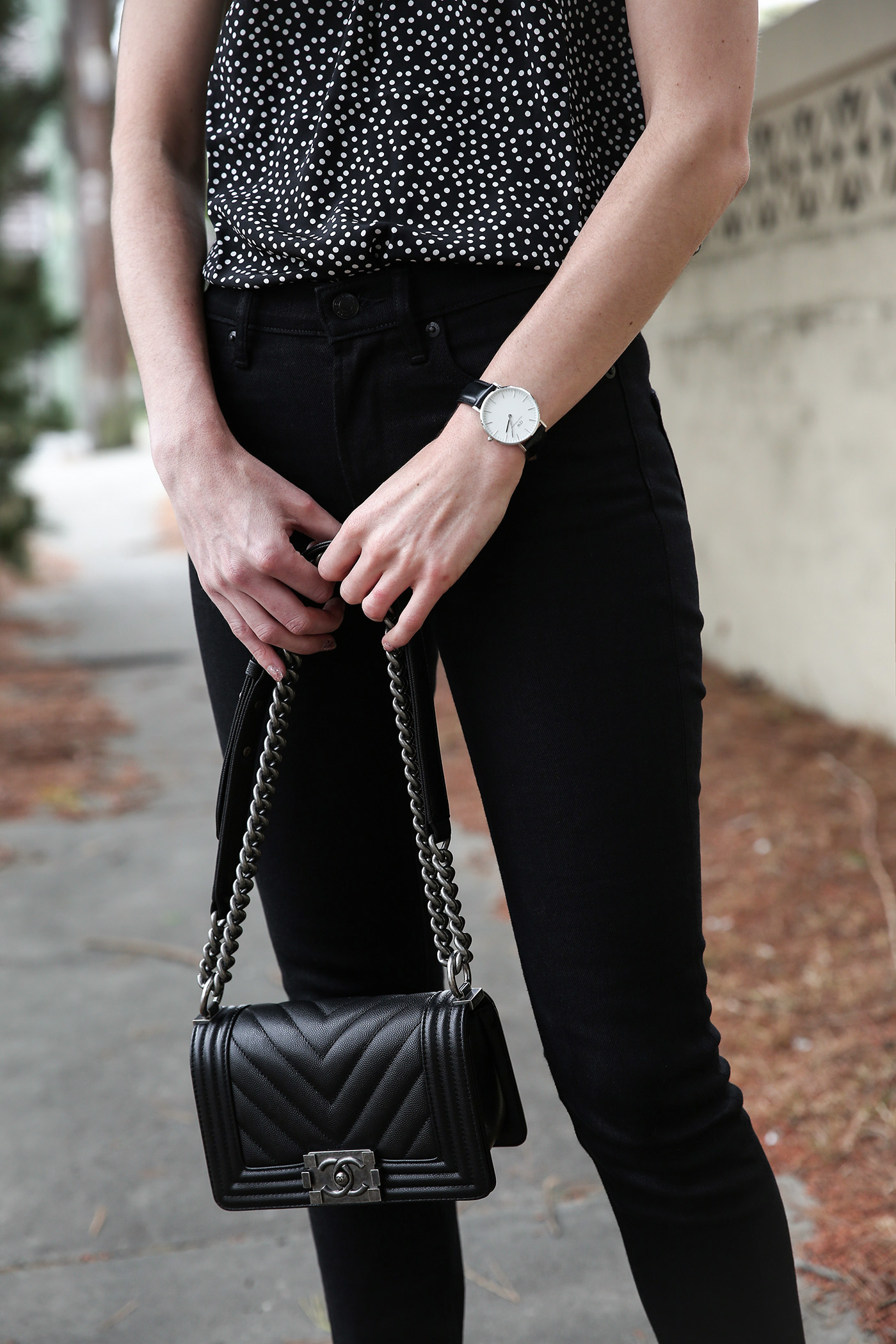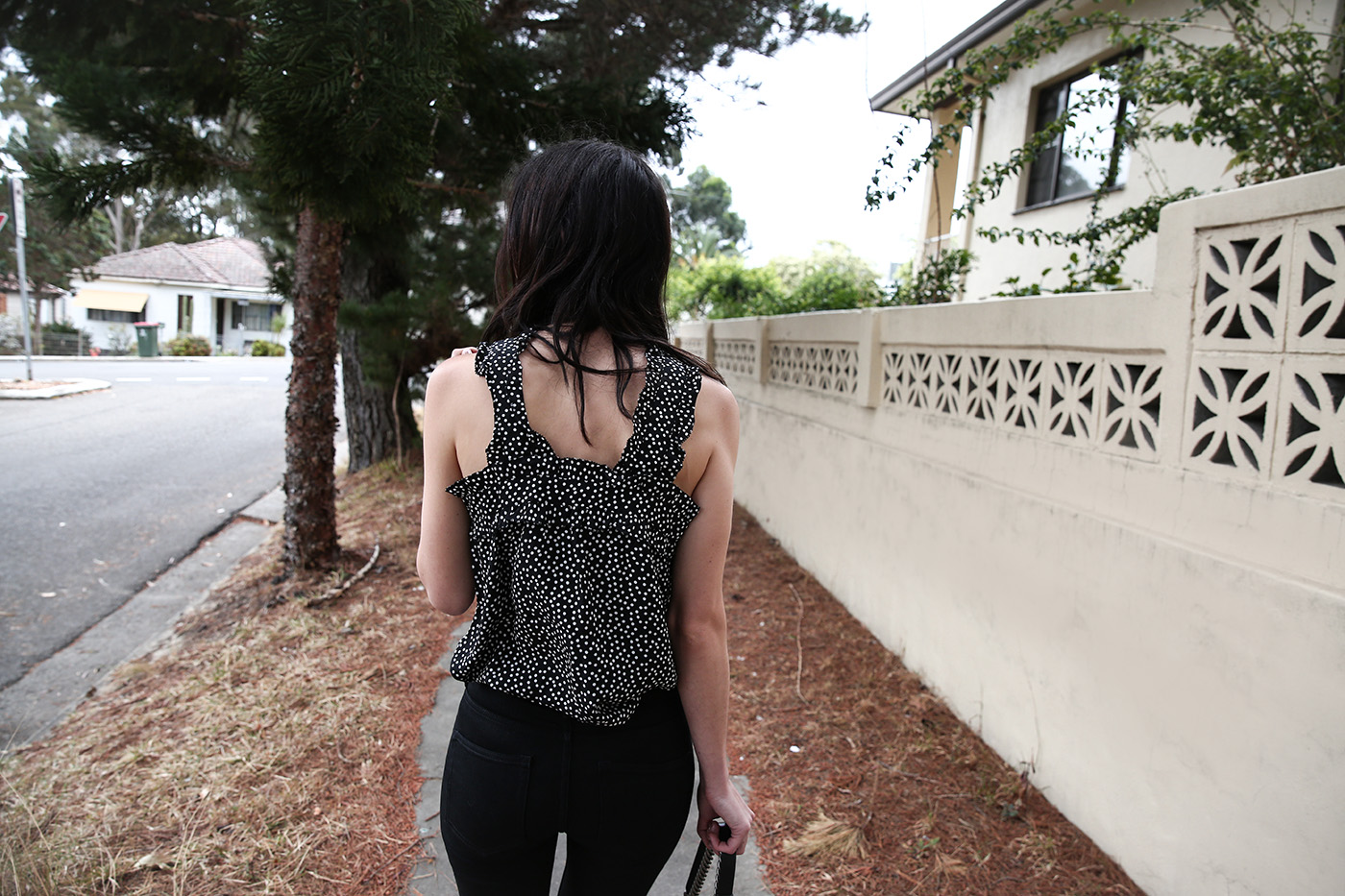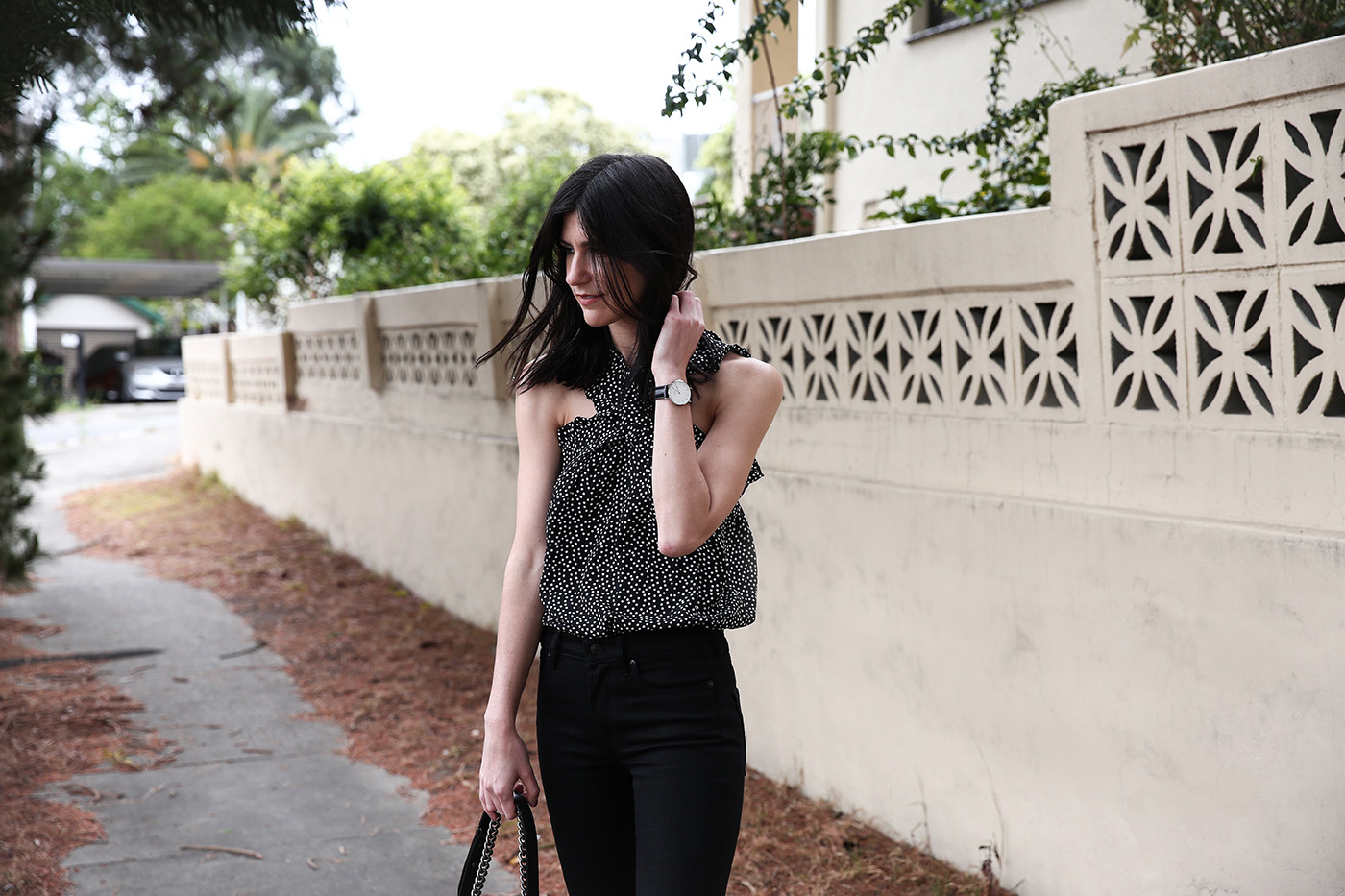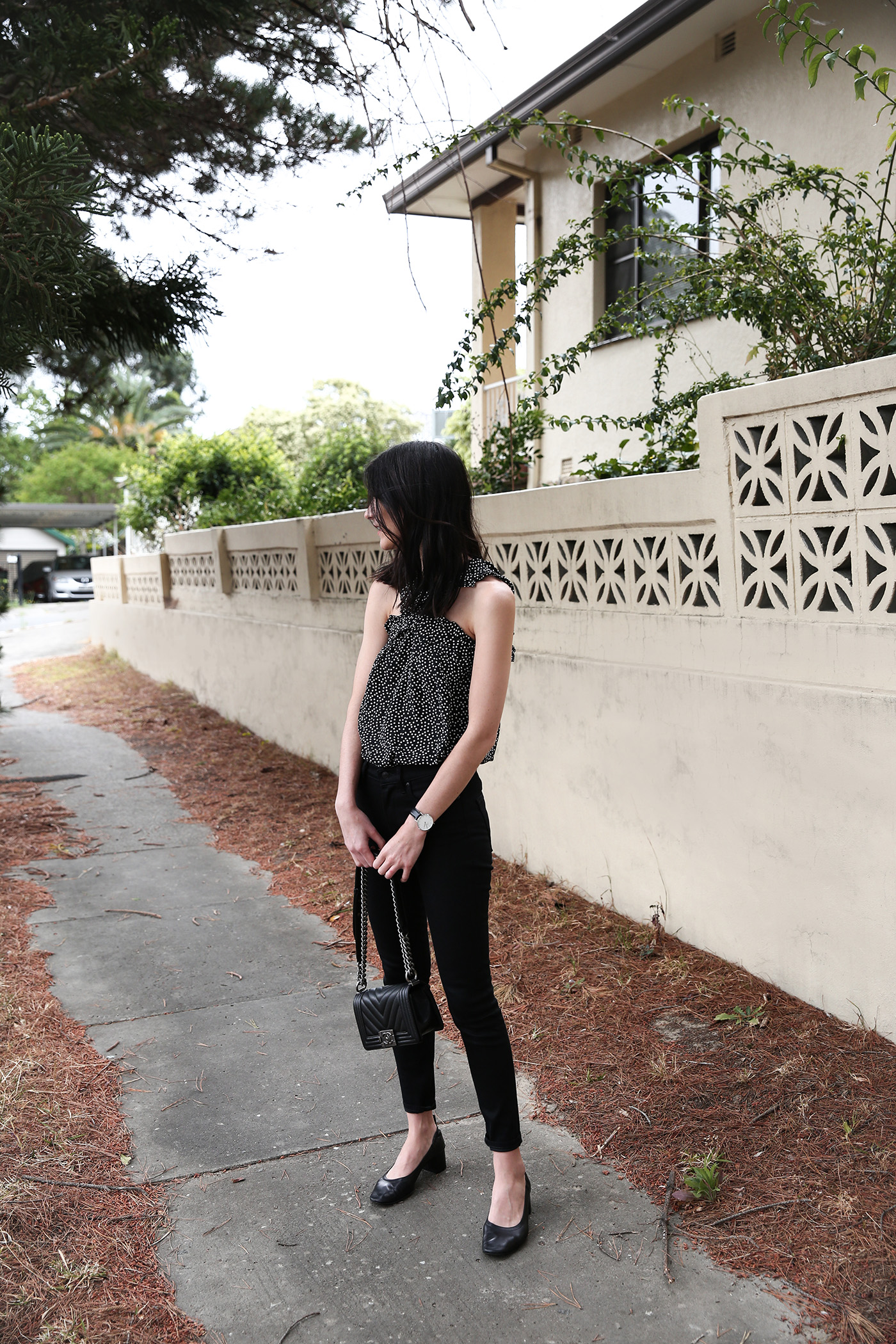 J Crew polka dot tank (this one's cute too!), Everlane mid rise ankle skinny jeans (also here), Everlane day heels, Chanel boy bag (affordable dupe), Daniel Wellington watch, Mademoiselle X Mejuri earrings
Everlane's #DamnGoodDenim has been a long time in the making – six years in fact – as founder Michael Preysman was set on doing it right, and ensuring that the manufacturing processes lived up to their ethical standards; now that's something I can get behind.
While denim forms the backbone of so many wardrobes (there is a reason it's a wardrobe staple), the manufacturing process is incredibly water intensive, and it's an industry whose processes can have some harmful effects on the environment. Taking on the challenge to source a factory that can produce denim in a clean and efficient way, Everlane's denim is produced in a Vietnamese factory that recycles 98% of its water, and air dries its denim.
SIZING
After reading a few of the reviews on the site, I actually bought myself a pair of the mid rise ankle skinny jean in a size 26, before very kindly receiving the size 25 from Everlane the very next day, which was incredibly helpful as it allowed me to gauge which of the two sizes was a better fit. For reference, I generally wear a size 25 denim, and as my widest point is my hips and I have quite a narrow waist, I tend to favour denim which has at least a little bit of stretch to it. Everlane's denim line by contrast has a rigidity to it that I haven't encountered in years – it's solid, sturdy denim that isn't going anywhere. Of the two, I preferred the fit of the size 25, which you can see my wearing above. The size 26 slipped on pretty easily with breathing room in the legs, though I found on me they were loose at the waist, whereas the fit of the size 25 was a little more snug (something I think is a must for a slim fitting jean) and fit me perfectly at the waist. It's worth noting that while the denim will relax slightly with wear, these aren't jeans with any stretch so if in doubt, you're probably best to size up. The other thing I think worth noting is that I do find that the fabric bunches up a little around my knees which does remove the aesthetics of having a streamlined silhouette.
Given my height (5'8″ or 172cm) my legs aren't even what I would call deceptively short. I have a longer torso so often find myself opting for a shorter leg length when I comes to trousers or denim. Keeping this in mind, I decided to go for the ankle length in the mid-rise skinny style, which I actually prefer rolled up once to show a little bit of skin just above the ankle. This is a great length for me, however I know there's a lot of petite girls out there who might find the leg length a little on the long side, so if you aren't up for either cuffing or hemming your jeans, then these probably aren't for you. The other thing I've found is that The ankle opening on the size 25 is a little narrow (particularly for my size EU40 feet) – not a deal breaker by any means but it can make getting them off at the end of a long day a little bit of a challenge.
QUALITY
As with most things I've purchased from Everlane, the quality is there. The denim might not be to everyone's liking (I do love my denim to come with a nice side of elastane…), but it's thick, sturdy, and doesn't pull at the seams. When pulling the jeans on, I don't feel like the belt loops are about to pull off (trust me when I say this has happened to me many times before), and they have enough give in the fabric to sit down comfortably without feeling like the waistband is digging in to you. I can be a little fussy when it comes to blue wash denim especially when trying to judge the colour online, so I went for 'stay black', which comes off as a true black hue – something which is worth noting can be incredibly hard to pull off.
FINAL THOUGHTS
As excited as I was (and still am!) about this launch, my overall thoughts are that while I do like these jeans, I don't love them, which I think can be make or break if you're considering buying some new denim. The things I do love? Everlane's commitment to producing denim in a clean and ethical manner, something I wish we'd see more of, and the focus on just a few key styles, of which I do think that there's something for everyone. Speaking to the quality of the denim, these are jeans that feel like they're going to last y-e-a-r-s, and while I can't see them loosening up like my favourite pair of ASOS mom jeans after a couple of wears, I do anticipate that the fabric will soften over time and wear. I guess what I'm saying is that I'd liken it a little bit to raw denim.
I may have had my fair share of black skinnies in my time, but since moving to Sydney it's been one of the areas in my wardrobe where there's been a bit of a gap. Safe to say, that I'll be reaching for these a bit, especially once Autumn comes back around in 2018, as they're such an effortless piece that pairs well not only with a jazzy polka dot top like above, but with crisp white shirts, silk cami's, or a simple breton and classic trench combo. And, if you're still on the fence, but in dire need of some autumn/winter wardrobe essentials, then make sure you check out Everlane's $100 cashmere – almost four years on and it's still the number one item that I recommend to anyone thinking of investing a little in their closet.
Now of course, I do actually have a second pair of Everlane denim to share with you in the coming weeks; the modern boyfriend jean in bone. Unlike the jet black skinny, these have a little more give to them, and are more relaxed in fit (as you'd expect from a boyfriend jean), so keep your eyes out in the coming weeks for my thoughts on these… xx