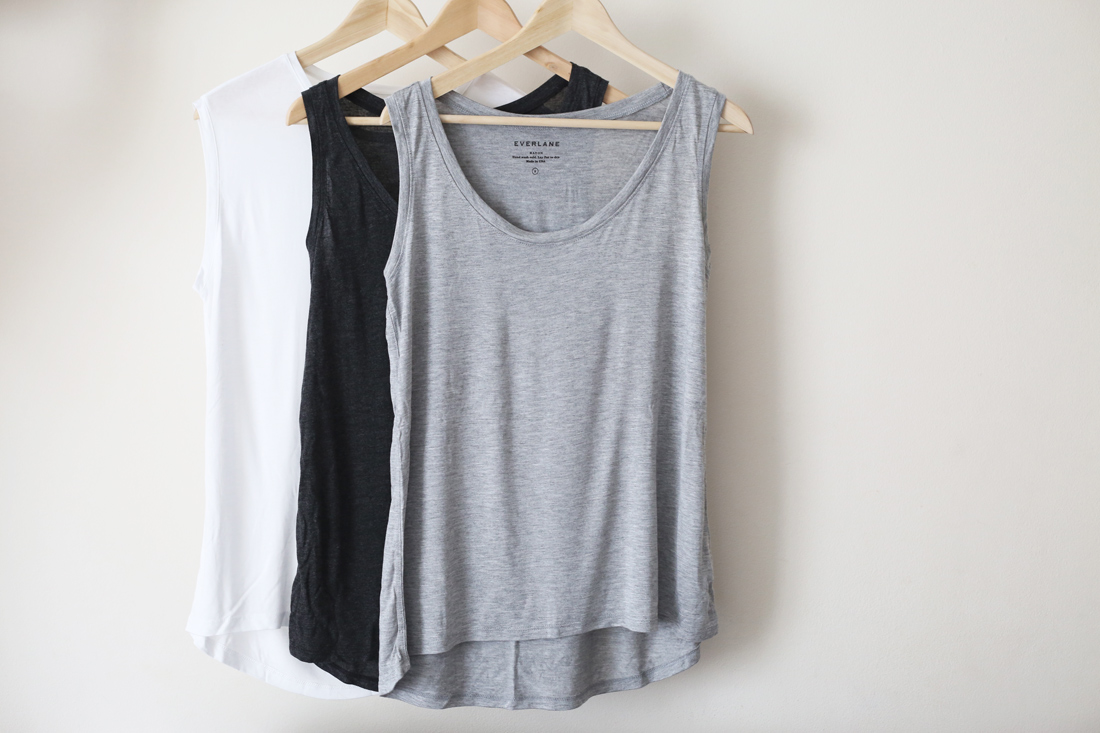 Word on the street is that the barometer hit 44 degrees (Celsius, that is) in Perth just the other week. And we've still got another two months of summer to enjoy (or endure – depending on how you look at it).
As a bit of a precursor to the hot summer days, I picked up a few of Everlane's 'Ryan' tanks after coming up short on my hunt in Sydney. I wasn't asking for much; a modest neckline, lightweight fabric, loose fit through the body and armholes which weren't oversized – basically a tank which was relatively office friendly. The Ryan tank seemed to fit the bill, and so I did what any girl with a wardrobe lacking in summer basics would do; I ordered multiple in varying colours.
I ended up with the muscle tank in white, and the slouchy ryan tank in marle grey and charcoal; the latter two of which have been in regular rotation since they arrived in my PO Box. So let's get down to the nitty gritty.
> The slouchy ryan tank
The fit: I've gotta warn you guys, these tanks are incredibly oversized – much more than I'd anticipated. I'm generally an AU 8 so opted for the size S and regretted not downsizing to an XS once they arrived. It's quite a bit looser than what I was after however at $20 USD I'm not complaining – and given how much I've worn these tanks since receiving them, it's not the be-all-end-all. The S measures 50cm underarm to underarm, and bear in mind that the fabric is light and has a bit of stretch to it. Moral of the story? Size down if you're planning on picking up one of these tanks for a loose, streamlined fit.
The cut: One of the things I love most about these tanks is the cut. They're modest, but not overly so, with a rounded neckline which is not too low (you won't have much – if any – cleavage showing), the armholes are comfortably loose yet conceal any bra straps underneath, and it is cut straight down through the body, ending at the hips.
The quality: The quality was everything I expected, and then some. Incredibly soft, and they wash so well. The fabric is thick enough that it is opaque yet lightweight enough that you can comfortably withstand the Sydney heat. I'll definitely be buying back-ups.
> The muscle tank
The fit: Again, just like with the slouchy tank, this is an oversized fit. If you're looking for something loose, but not overly so, then you are going to want to size down.
The cut: This fits just like a muscle tank; it has a high neck, and is a boxy cut across the shoulders. I personally like this particular style however if you have quite broad shoulders this might not be the most flattering tank for you.
The quality: Honestly? I was most disappointed with this tank out of the three I ordered. The fabric is incredibly sheer (a nude bra is glaringly obvious when you have this tank on) which has made it very difficult to wear. It's certainly more of a weekend top and I get the feeling it would look quite good with a black lace bralette worn underneath (because, why not?). In saying that, the fabric is incredibly soft and feels lovely against the skin. I haven't washed this one yet so I'm hoping that when I do, that it fares well in the wash as I didn't have much luck when I used the steamer on it (so cold water only with this one I think!).
For those of you thinking of placing an Everlane order, I've done a much more detailed review which you can view here. I've given it a bit of an update to include measurements for those not too sure about sizing.
I'm already thinking about what to order next (the box cut poplin shirt is pretty tempting!) what with the release of their Breton stripe tops scheduled for the very near future. What's on your Everlane wishlist?