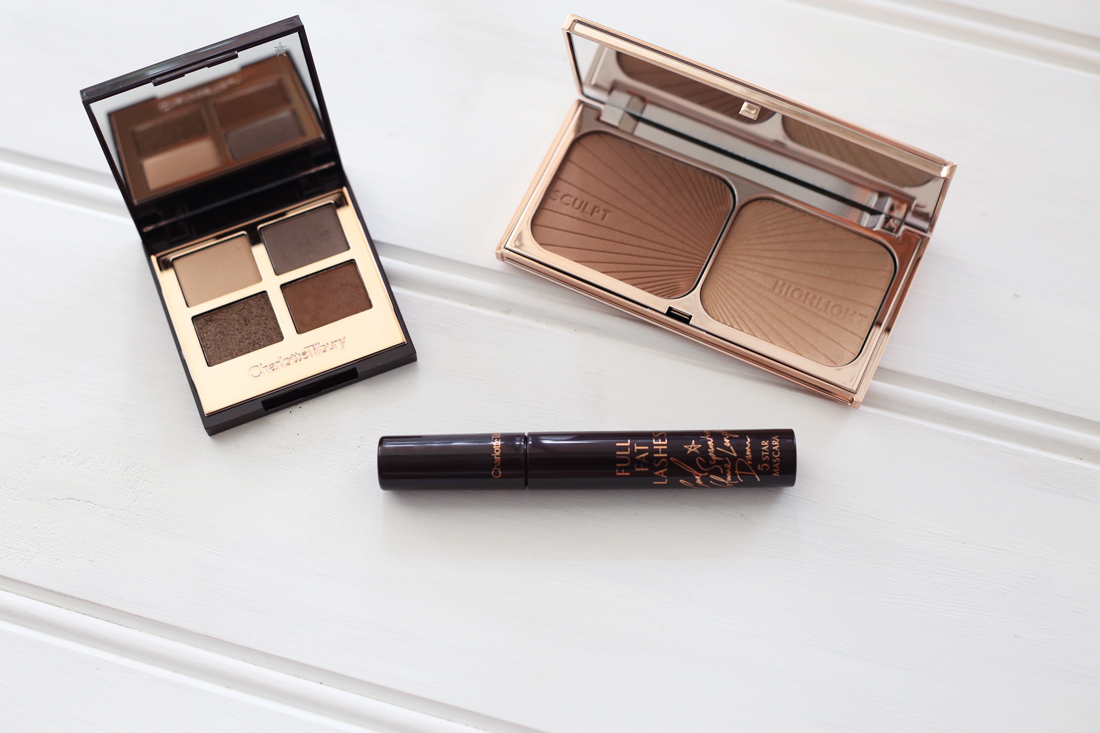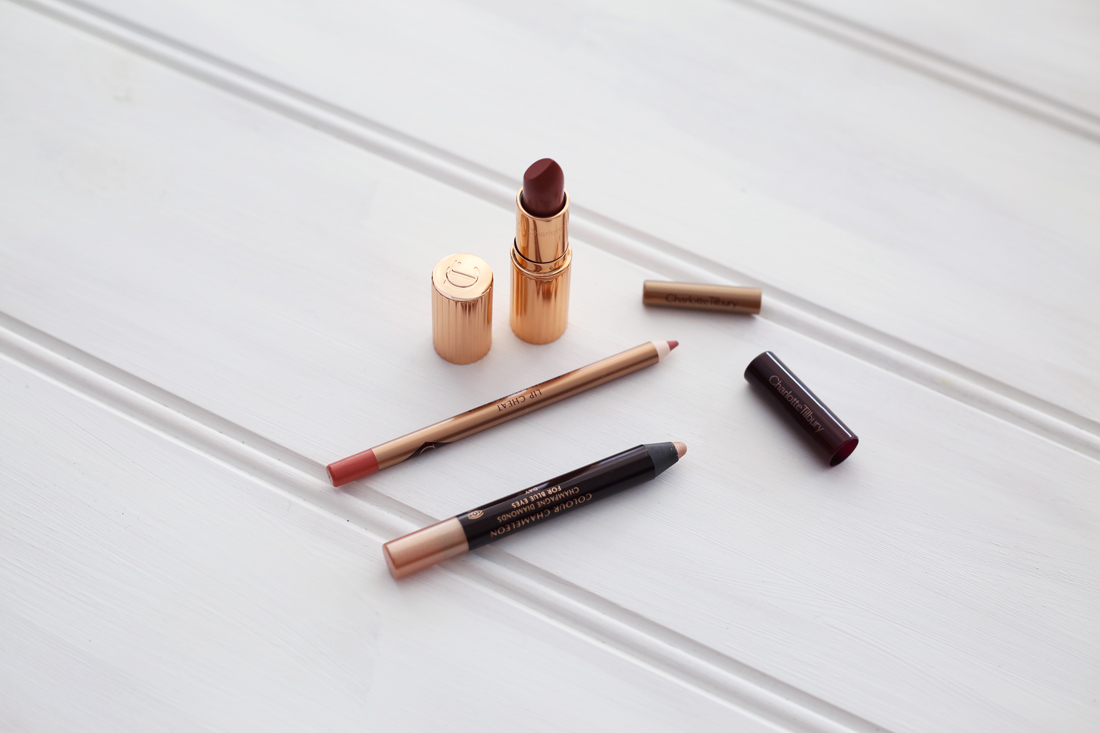 So unless you've been hiding under a rock, you'll probably already know that Charlotte Tilbury everything has been getting a lot of love on the internet recently. Since hearing so many good things, I couldn't resist picking up a few bits and pieces for myself.
Like with any make up that you buy online, it can definitely be a bit 'hit-or-miss', especially if you have no way of swatching or testing the product before purchase. Thankfully my order(s) were more hit than miss, but I'll get into the details in a minute. For those of you wondering where you can get your hands on a little bit of Charlotte Tilbury, I ordered mine from Net-a-Porter and Beautylish. Of the two sites, Net-a-Porter has a wider selection (like the Matte Revolution Lipsticks – yes please!) however Beautylish has a much lower minimum spend for free shipping (and they currently have a promotion running for $25 off a $150 order…) and the parcel comes with a sweet handwritten note – I truly am a sucker for the details!
Lip Cheat in Pink Venus $22 USD – I have heard this absolutely raved about on so many YouTube channels, that it seemed like a no-brainer to add to my cart. Pillowtalk wasn't available (sadly), so I opted for Pink Venus instead, a slightly pinkish nude colour. But unfortunately, it's probably one of the products I'm most disappointed with. The colour is lovely, mind you, but I find that the formula of these 'Lip Cheats' is a little too drying on the lips. A bit of a sharpen ensures that the pencil draws on smoothly (although it's stiffer than some of the other 'pencils' I have), although it's the matte finish which doesn't sit well with me. I know that an increasing number of people having been wearing the 'Lip Cheat' on its own for a more natural or subtle lip look; I tried this, and I looked ridiculous – so maybe it's the colour, maybe it's my lips, or maybe it's just the lip pencil. Personally, I'd rather spend the money on a lip pencil from MAC; they're creamier, you get a lot more product, and the colour payoff is so much better.
K.I.S.S.I.N.G Lipstick in Stoned Rose $32 USD – I have to start off by saying how much I love the formula of this lipstick. It's creamy (but not too creamy), yet dries down to an almost matte finish without feeling drying on the lips. It's long-lasting enough to survive more than five hours sans lipliner underneath, through drinks and a meal, and it's just so easy to reapply. It's also worth noting that the packaging is gorgeous – I mean, who doesn't want rose gold everything?
Colour Chameleon in Champagne Diamonds & Dark Pearl $27 USD – Charlotte Tilbury's Colour Chameleon sticks are essentially a creamy eyeshadow stick in pencil form; incredibly easy to apply that will not budge once they have set. Oh, and they're also waterproof. I'd heard so much hype about these eyeshadow crayons, so it goes without saying that I was more than excited to try these, but they definitely have not lived up to expectations. There are 8 Colour Chameleon eyeshadow sticks available, split into day or night shades for blue eyes, hazel eyes and so on. I've worn 'Champagne Diamonds' all over the lid with a transition shade in the crease, and the result can be quite natural looking. I've also used it as a highlight or inner corner shade just to brighten up my eyes a little. I prefer 'Dark Pearl' more for the outer V and in the crease for a little bit of subtle smokiness for everyday.
These have such an incredible colour payoff and are blendable, although you have to work fast as the formula sets quite quickly. Once set, these can feel slightly leathery on the skin without that silkiness to the touch that you get with most powder eyeshadows, although I believe this is mostly down to the formulation of the colour. 'Dark Pearl', for instance, is seriously a dream to wear, and quite quickly becoming a part of my everyday make up routine.
If you can't tell, I have mixed feelings towards these cream eyeshadow sticks. I first purchased 'Champagne Diamonds' last year, and wasn't really 'feeling' it. More recently, I decided to give 'Dark Pearl' a go (I am all in favor of a bit of purple splashed across the eyelid), and I've really fallen in love with it. I guess the moral is, that these cream eyeshadow sticks are not created equal, so make sure that you test these out if you can!
I have to warn you all, 'Champagne Diamonds' contains a LOT of glitter. I can't wear it without resembling a human disco ball; you get a lot of fallout with these, and it is gradual over the course of the day. I just want to quickly mention that I have a feeling that there can be inconsistencies within each product; a friend of mine also has one in 'Champagne Diamonds' and hers had a lot less 'loose' glitter meaning she didn't suffer the same problem that I have. Personally, the fallout all over my cheeks has been a bit of a dealbreaker for me when it comes to this shade, as pretty as it is. It's probably more suited for an evening look, or worn liberally applied all over the eyelid during the silly season when wearing a bit (or a lot) of glitter is completely acceptable.
'Dark Pearl' on the other hand has a slight sheen to it which is very subtle. It looks absolutely gorgeous when drawn all over the lid and blended out to really soften up the edges. I will definitely be repurchasing this once it's been sharpened down to a little nib!
If you're not too keen on risking getting glitter fall out all over your cheeks, I'd recommend spending a little bit more cash on something like the By Terry Ombre Blackstar which are incredibly creamy (and super easy to blend), have a larger colour range, and are more lustre than straight glitter.
Luxury Eyeshadow Palette in The Golden Goddess $52 USD – One thing I really like about the selection of eyeshadow palettes is without a doubt, the range of colours. Each palette is carefully considered, and includes a Prime shade, Enhance shade, Smoke shade, and a Pop shade to achieve a natural everyday look or give you the option to vamp it up for an evening out. These eyeshadows are slightly creamy, and slightly powdery to the touch (for those wondering); they are incredibly pigmented and give you a great colour payoff.
I've been wearing the sand-toned Prime shade all over the lid with a little of the ash-toned Enhance shade in the crease for a simple everyday look (just add a slick of eyeliner); for a night out, I've added the chocolate Smoke shade to the outer V, and pressed a little of the glitter Pop shade to the centre of the lid. The simplicity of the palette makes it practically foolproof to use (even for a beginner), and the complete look is so easy to replicate. I've been reaching for this palette a lot in the morning while getting ready for work as it is so fast, and the product is incredibly easy to work with.
Full Fat Lashes Mascara $29 USD – I'm not usually one to buy new mascaras; I've been a pretty staunch Lancome loyalist for years. But, when I saw this mascara applied, I knew that I just had to have it. The product really delivers on the promise of full, fat, lashes; the first coat adds length and a little volume to the roots, and a second coat really amps up the effect giving you really full on lashes, no fakes required.
The mascara has a fibre bristle brush (a bonus for those who aren't fond of plastic mascara wands), and I'm a big fan of the formula. It doesn't clump on my lashes nor does it flake off or smudge onto my brow bone like some mascaras do. This is something I will definitely be repurchasing when it dries out.
Filmstar Bronze & Glow $68 USD – Of all the pieces I picked up, I think the Bronze & Glow palette is probably my favourite, for so many reasons; I really did save the best for last. I'd been on the lookout for a bronzer which wasn't a terracotta shade, and would give a nice, natural looking sunkissed glow to my face. And wow, does Charlotte Tilbury deliver.
The palette itself is incredibly luxurious, a gold engraved case with a mirror, and two large pans of product inside. Both the bronzer and the highlight are incredibly pigmented – a lot goes a long way – and the bronzer has a slightly ashy tone to it, and it creates the most beautiful and natural looking shadow on the face. The highlighter is very luminous, and you have to be careful not to use too much (as happened with me the first time I tried it!). If there is a downside, it is probably only the fact that there is a bit of shimmer/glitter in both products – I usually tend to avoid powders with any sort of glitter in them, but I've made an exception for Charlotte Tilbury; if you try it, you'll understand why.
So, I guess there you have it – a few new favourites (hello full fat lashes…), and a few things that didn't terribly excite me, but I think that's partly down to all of the hype (and gosh has there been h-y-p-e), and partly down to personal preference. I have to say, my experience with Charlotte Tilbury products has been overwhelmingly positive so far, and I will definitely be looking to add a few new items to my collection (namely more of the eyeshadow palettes, eyeliner pen, the foundation and the lipsticks). There is such a careful attention to detail in every aspect of the products, from the design of the packaging (which looks and is luxurious) to the quality of the make-up, and the simple how-to instructions peppered on the backs of the products. I also absolutely adore the mini video tutorials that accompany each product so that you can see it in action before purchase, and learn how to use it to its full potential.
I would love to know whether you have tried anything from Charlotte Tilbury (or if you're considering it), and if it lived up to your expectations. For those of you still on the fence (these aren't exactly on the cheap end of the beauty scale) or wanting to see these products in action, I've put together a mini review video over on my YouTube channel which you can check out here.