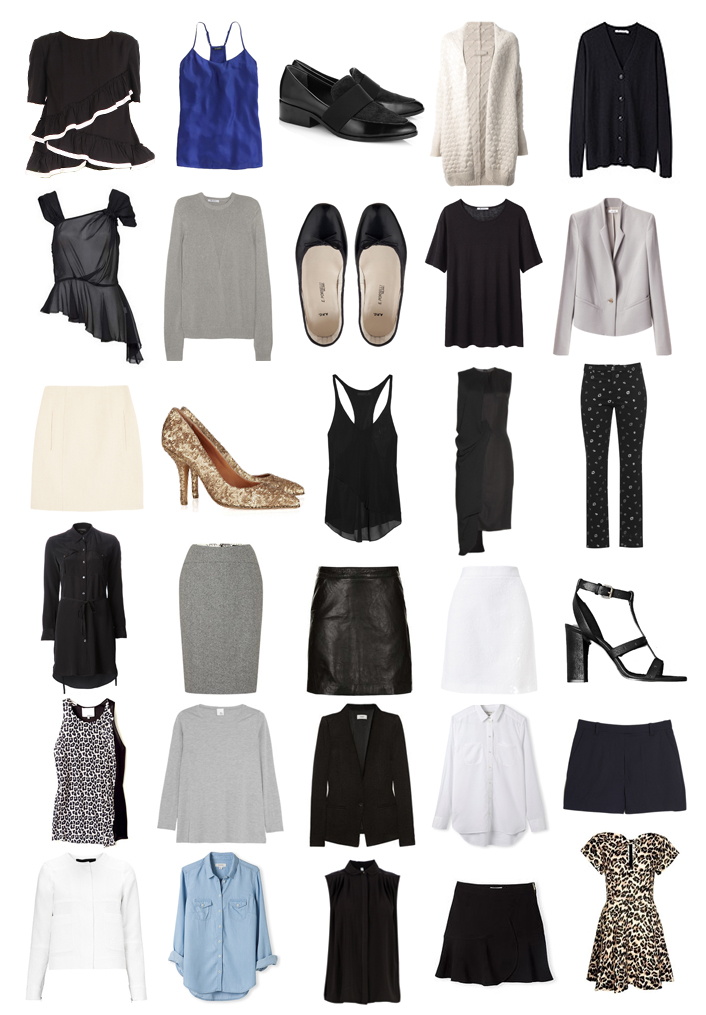 I took on a second 30×30 challenge midway through November with mixed feelings of trepidation and optimism. The silly season and its accompanying sales draw me in every year without fail, as emails announcing 50% off storewide, or 70% off shoes trickle into my inbox. With more than my fair share of purchases already made in 2013, I decided to approach the sale season with a half-hearted shopping ban, accompanied by a wardrobe challenge.
I can say with surety that the shopping ban was most definitely half-hearted, as I jumped at the chance to make more than a few purchases; because who can say no to Porselli's at 30% off? One thing I did stick to, was the wardrobe challenge. My final thirty pieces are a far cry from the thirty I'd initially set out to wear, a combination of including anticipatory purchases, incorrect weather forecasting, and the need to TOPY all four pairs of shoes within the first three days. My 'slightly' improvised list of thirty is below:
Tops
Karen walker slanting frill t-shirt
Equipment black sleeveless blouse
J Crew sapphire blue tank
Kate Sylvester black silk jean bodice
Alexander Wang black chiffon singlet
T by Alexander Wang white linen t-shirt
Karen Walker cream shadow blouse
Country Road white shirt
Country Road chambray shirt
3.1 by Phillip Lim leopard silk tank
T by Alexander Wang black linen t-shirt
F21 grey jersey
Knitwear/Jackets/Coats
J Crew 3/4 grey polka dot sweater
Solo black cotton/cashmere jumper
T by Alexander Wang black cardigan
Acne white shore zip up tunic
Helmut Lang black blazer
Karen Walker stone cropped blazer
ASOS ovoid stripe coat
T by Alexander Wang grey jumper
Zara ivory jacket
Dresses
Karen Walker ecru jerkin dress
KJ by Kirrily Johnston black rib drape dress
Lover leopard malibu dress
Lover black ritual pintuck dress (l/s)
Skirts/Shorts/Denim
Country Road black fluted hem skirt
Karen Walker beige simplest skirt
Girl by Band of Outsiders white skirt
Vintage black leather skirt
by Johnny musk/blue pencil skirt
Gillian Tennant navy silk shorts
RUBY charlie animal jeans
Karen Walker grey flannel skirt
Shoes
Charlotte Olympia black kitty flats
Seed Heritage black mesh espadrilles
Alexander Wang anjelika heels
Marni blush two-tone heels
Porselli black ballet flats
3.1 Phillip Lim loafers
Givenchy gold sequin heels
Yvonne Kone gladiator sandals
With a ten day beach holiday less than a week away, the challenge perhaps could not have been better timed. Taking the full contents of my wardrobe to the beach is not an option, and while I consider myself a good (read: sparse) packer, the challenge really seemed to stress the need to pack carefully and precisely when travelling. Unlike those anticipated journeys to discover Europe's hidden gems, or weekends away in metropolitan cities (both of which have been few and far between this year), there will be no supplementing my travel wardrobe with high street purchases. With a notebook and pencil not too far off, I have little doubt as to what those spare pockets of time will be filled with this weekend.
Shop the look here: