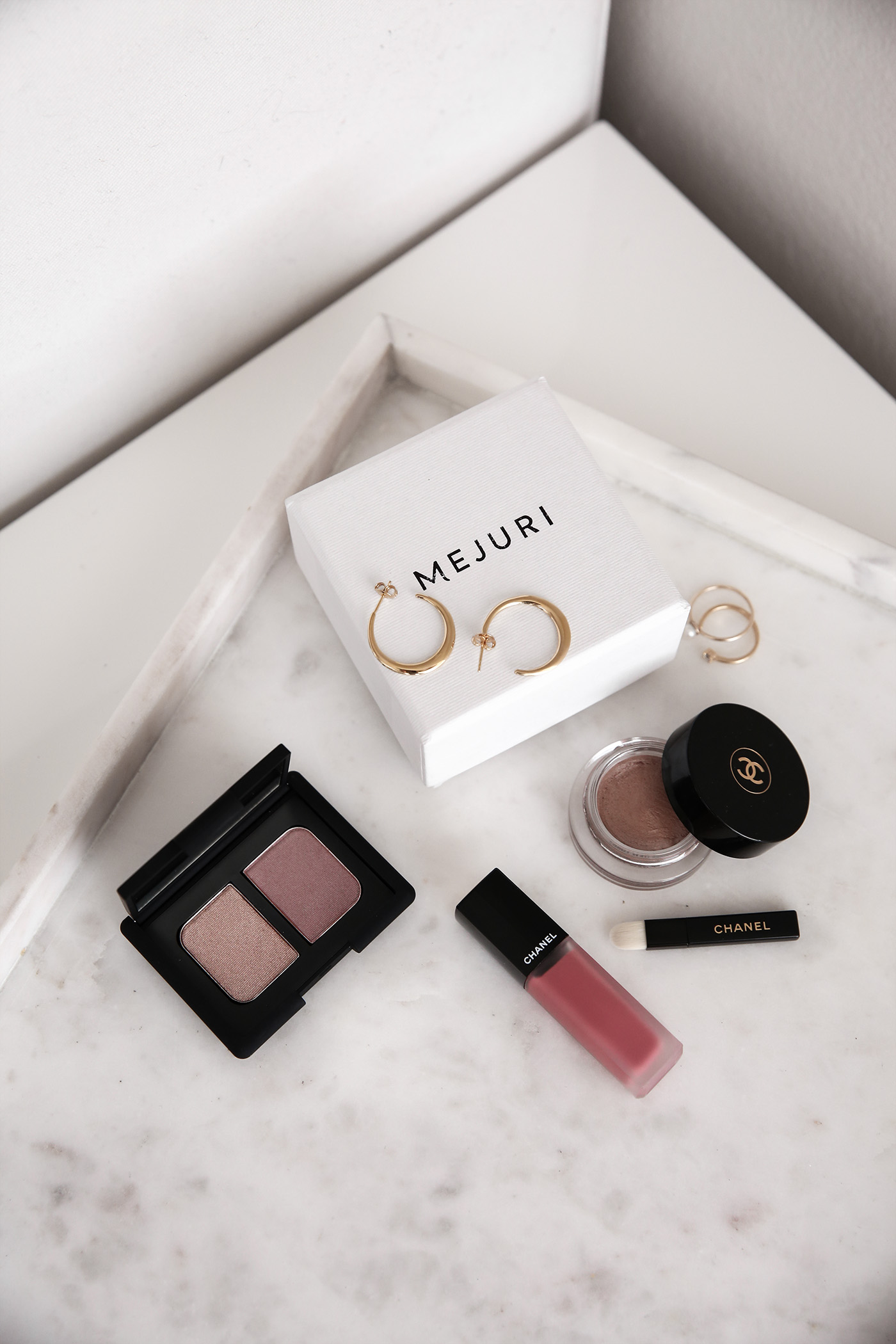 I don't often tend to shop duty free for much of anything, except to browse through Fendi and Gucci on our way out of Sydney, however I decided to take advantage during our recent trip home, and pick up a few bits from Chanel and NARS that I'd had my eye on, as well as pick up a back up of an old favourite. I've only been using these products for a couple of weeks now, but I wanted to share some of my first impressions.
The first thing I made a beeline for was the Chanel counter; I've heard a lot about their cream eyeshadows, and wanted to add something neutral and classic to my vanity which I could reach for on a daily basis. In the end, I settled on 'undertone', one of Chanel's Ombre Premiere Cream Eyeshadows. This is a very true taupe-based brown, with slightly cool undertones, and a faint dash of glitter running through the product. This has basically become a go-to, as it's such a simple and easy one wash wonder that I find adds depth to the contours of the eye. I've been applying this with a brush for even application, however you could also apply it directly with your finger; the formula is robust but creamy, and blends out seamlessly when applied.
The second thing I picked up from Chanel was the Rouge Allure Ink Matte Liquid Lip Colour in the shade '140 amoreux'. I'd heard a lot of hype about these liquid lipsticks from YouTube, and wanted to give it a go for myself – I'm a sucker for a lipstick as it is so that was really enough to tip me over the edge. I wouldn't call this a traditional liquid lipstick, as the formula is a lot thinner than others that I've tried. It applies slightly sheer, so I found myself re-applying to ensure that I had an even finish, however once it was on the lips it felt incredibly comfortable, which is probably down to the jojoba oil, which works to smooth and nourish lips. I like that this doesn't dry down completely matte, as I prefer my lips to look more three-dimensional (as they should!), but I think I'm still on the fence with this one. Worth noting that the colour is absolutely gorgeous too; a beautiful mid-pink with a slight peach undertone.
Finally, I also dropped by the NARS counter to purchase one of their iconic Eyeshadow Duo compacts, in the shade 'Kalahari'. The colour combination features a burnished bronze shimmer, and a brown-toned burgundy, which together are a really beautiful pairing. These blend out like a dream. The burnished bronze is incredibly pigmented and washes across the eye in one swipe, yet I've found the burgundy requires a little more work to build up colour – something I tend to prefer when it comes to working with darker shades. Possibly also worth mentioning that the compact comes with a mirror, making this a great option for travel.
I also thought I would give a quick shout out to these gorgeous, minimally designed hoops from Mejuri. Not too big, not too small, these are 'Goldilocks'-perfection in a hoop, and all I've been reaching for on a daily basis.