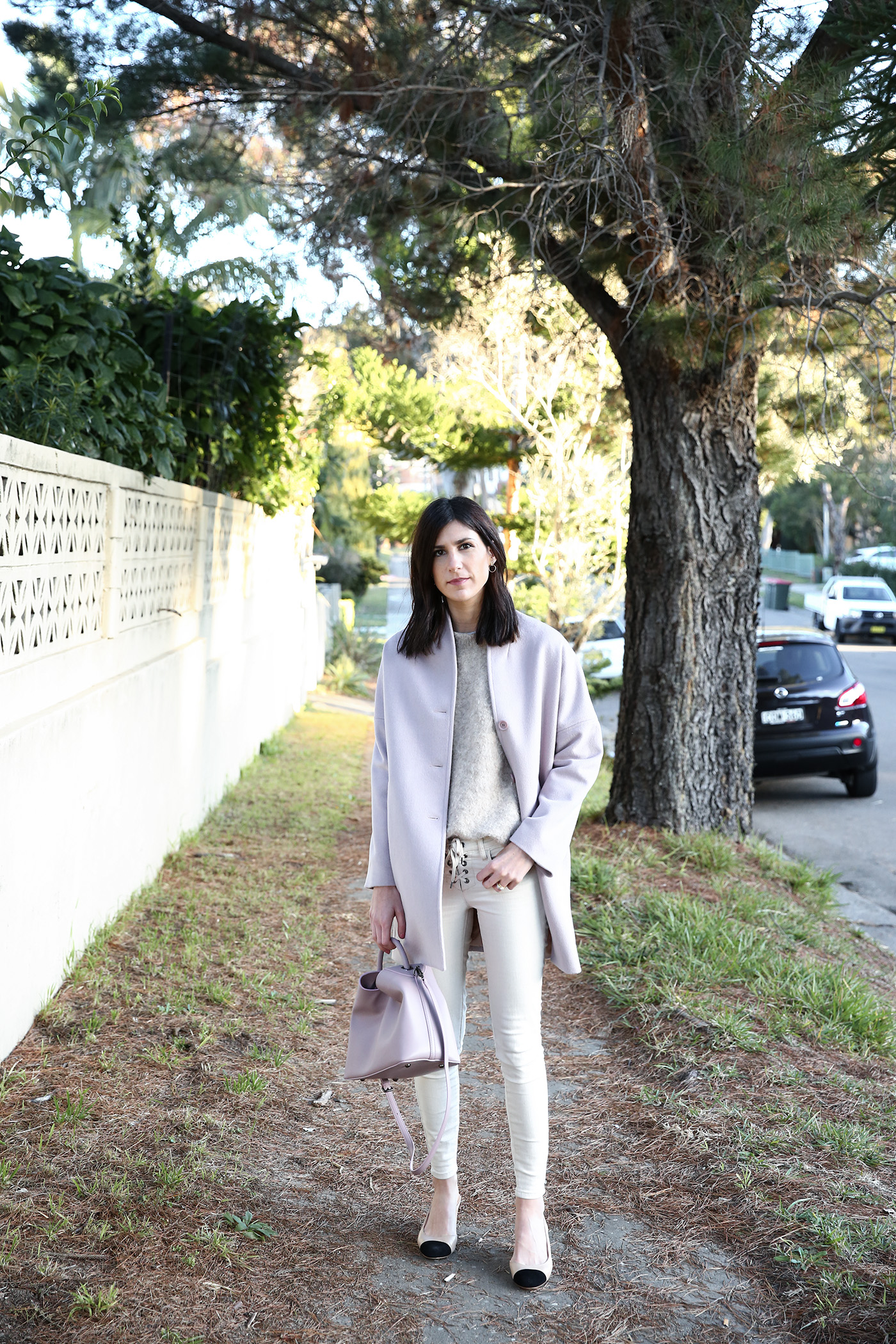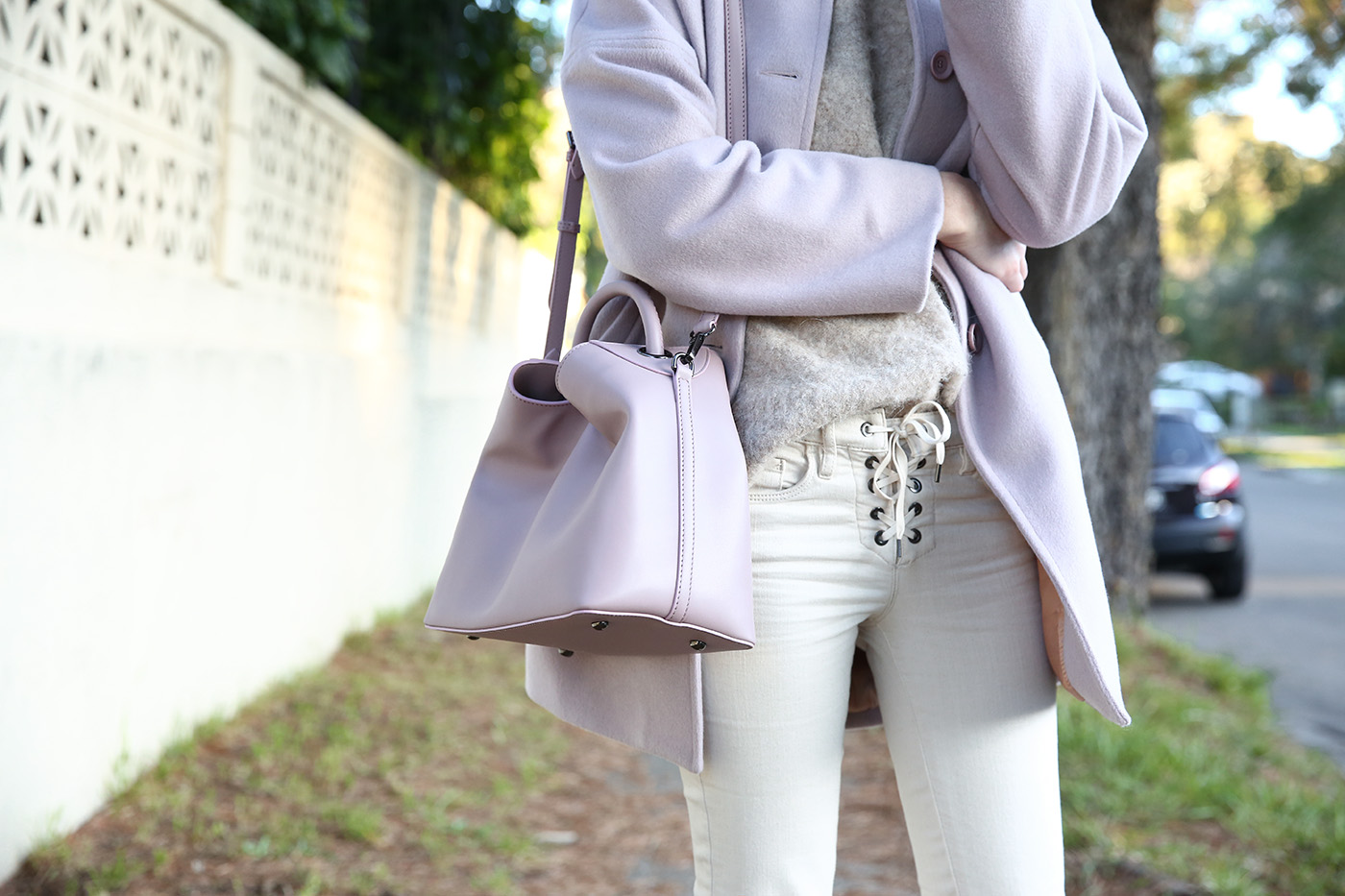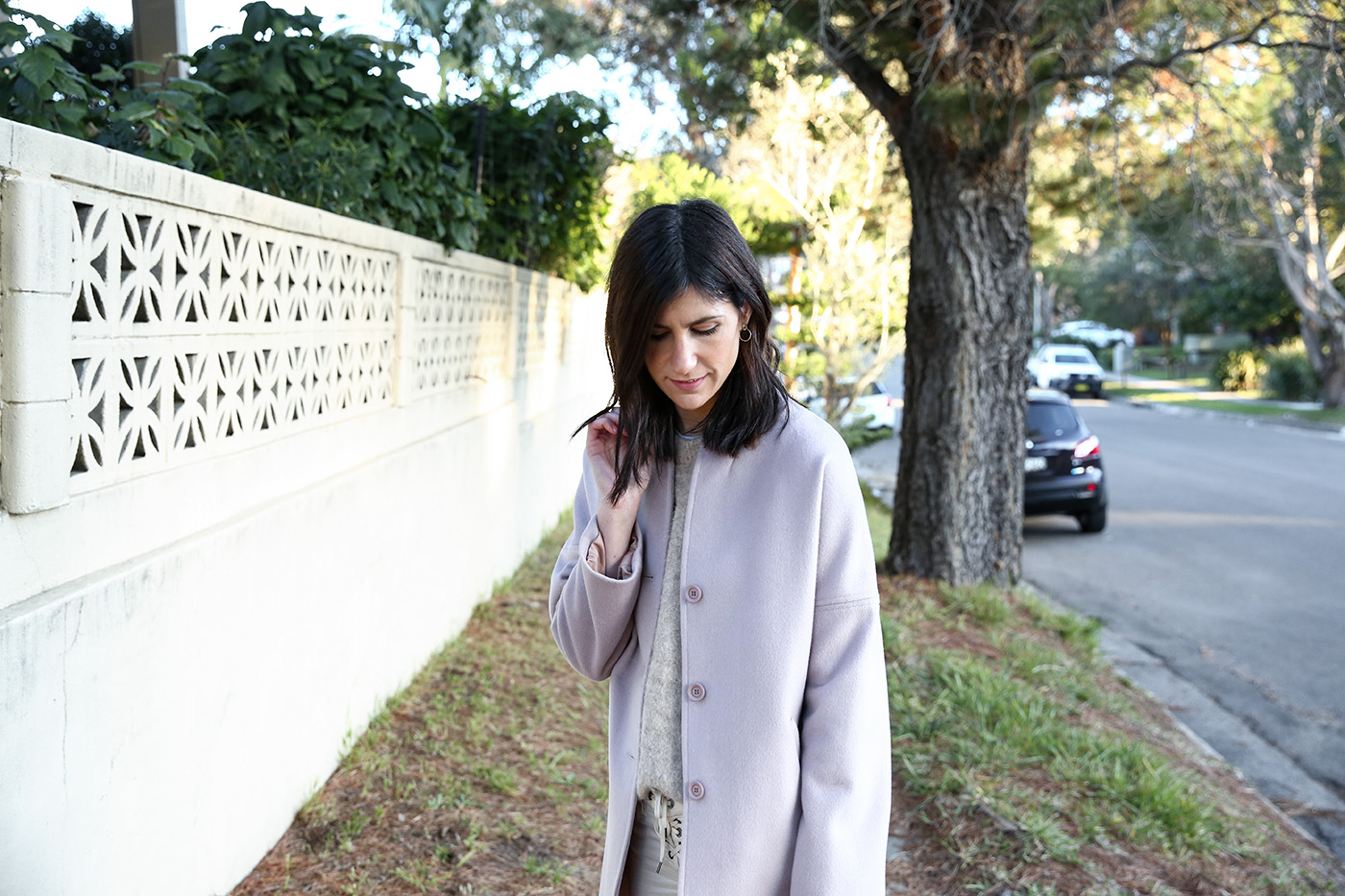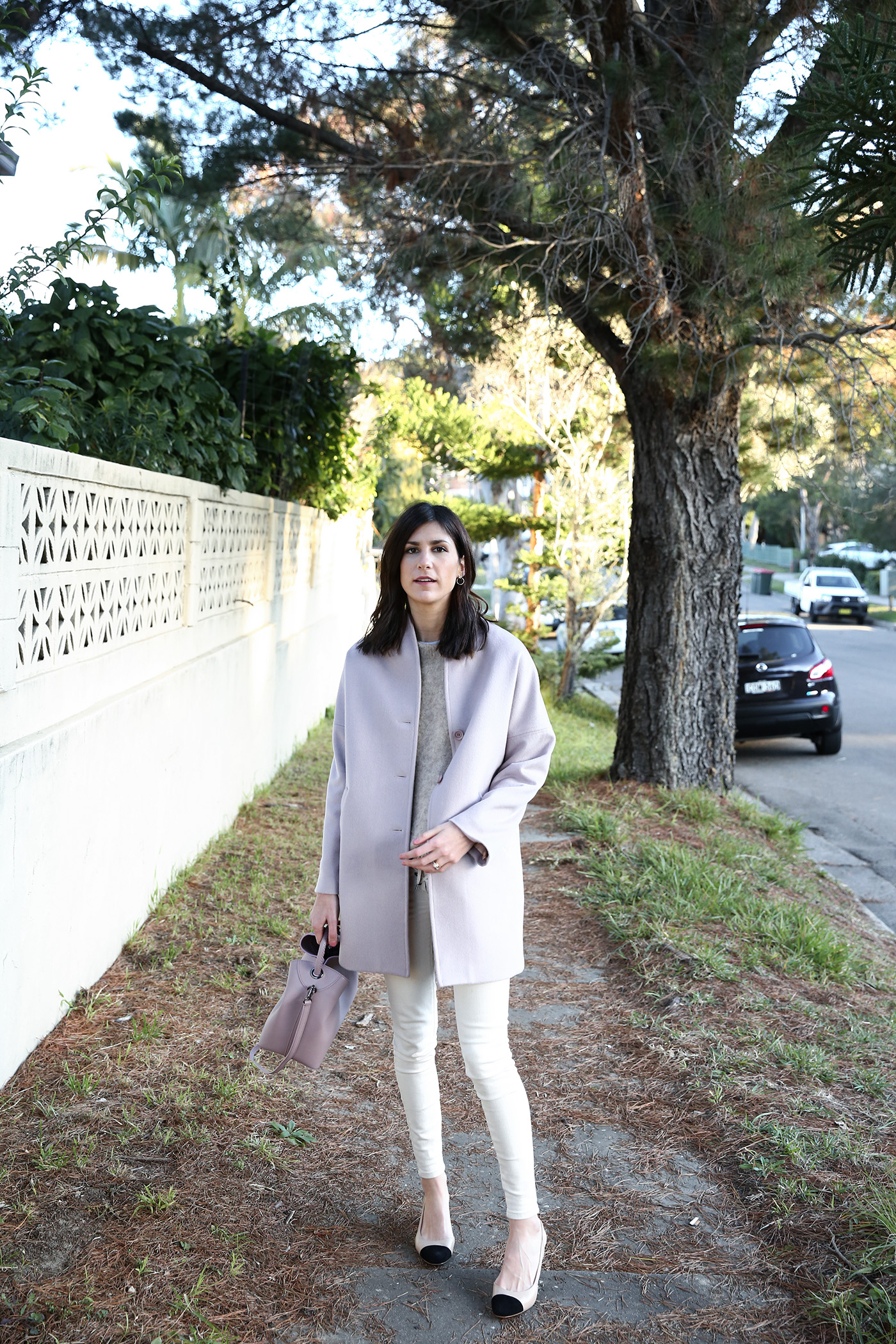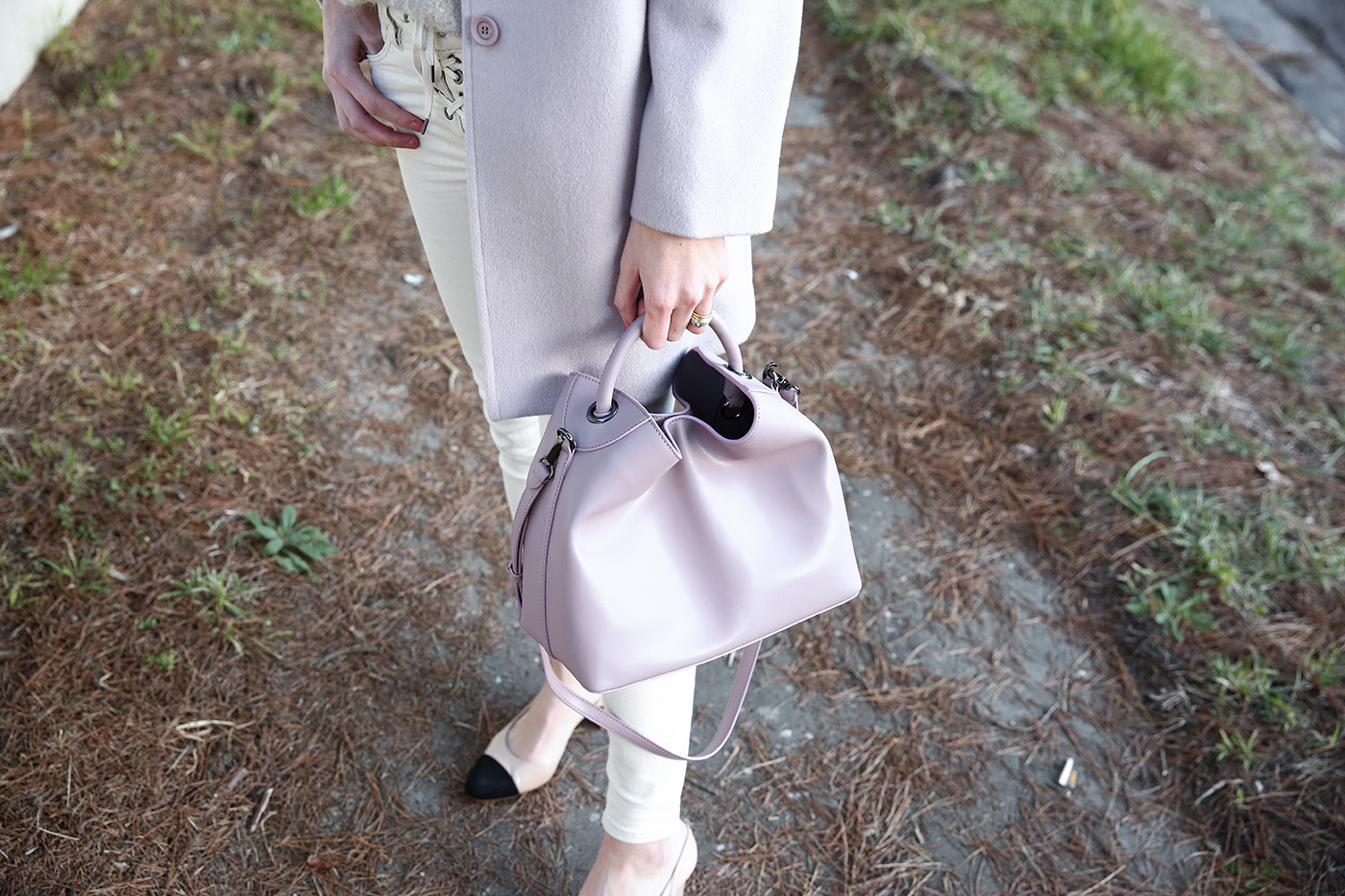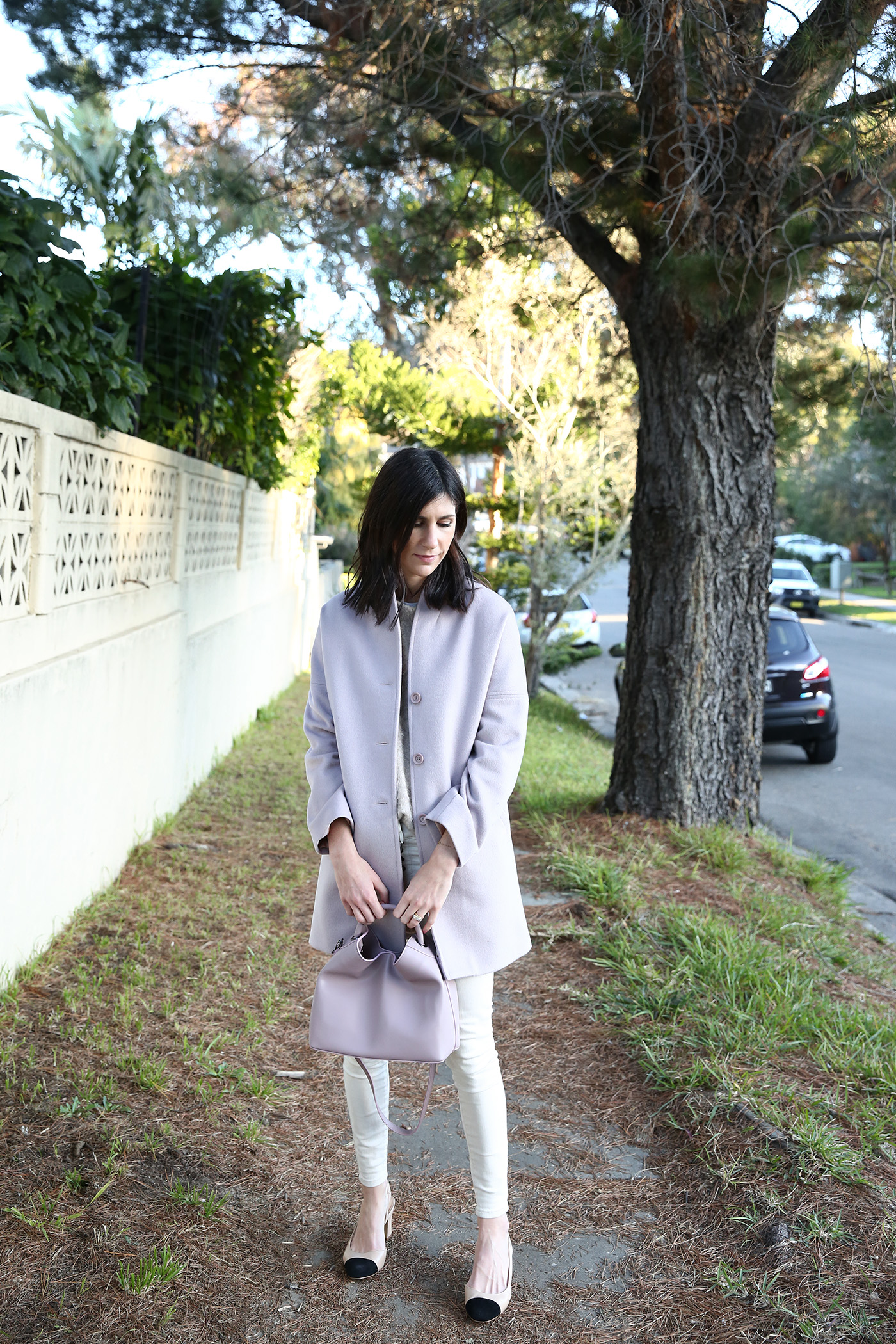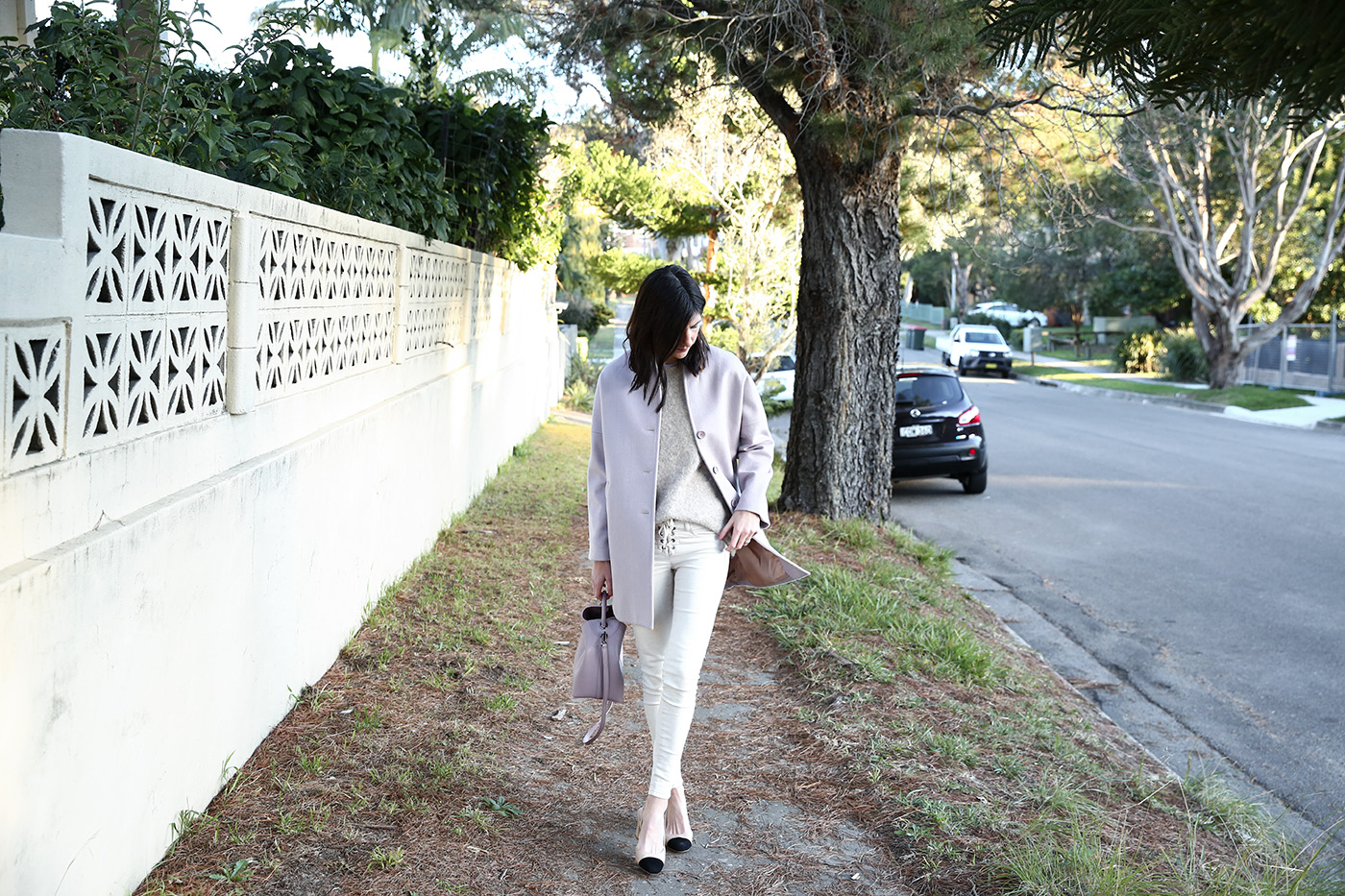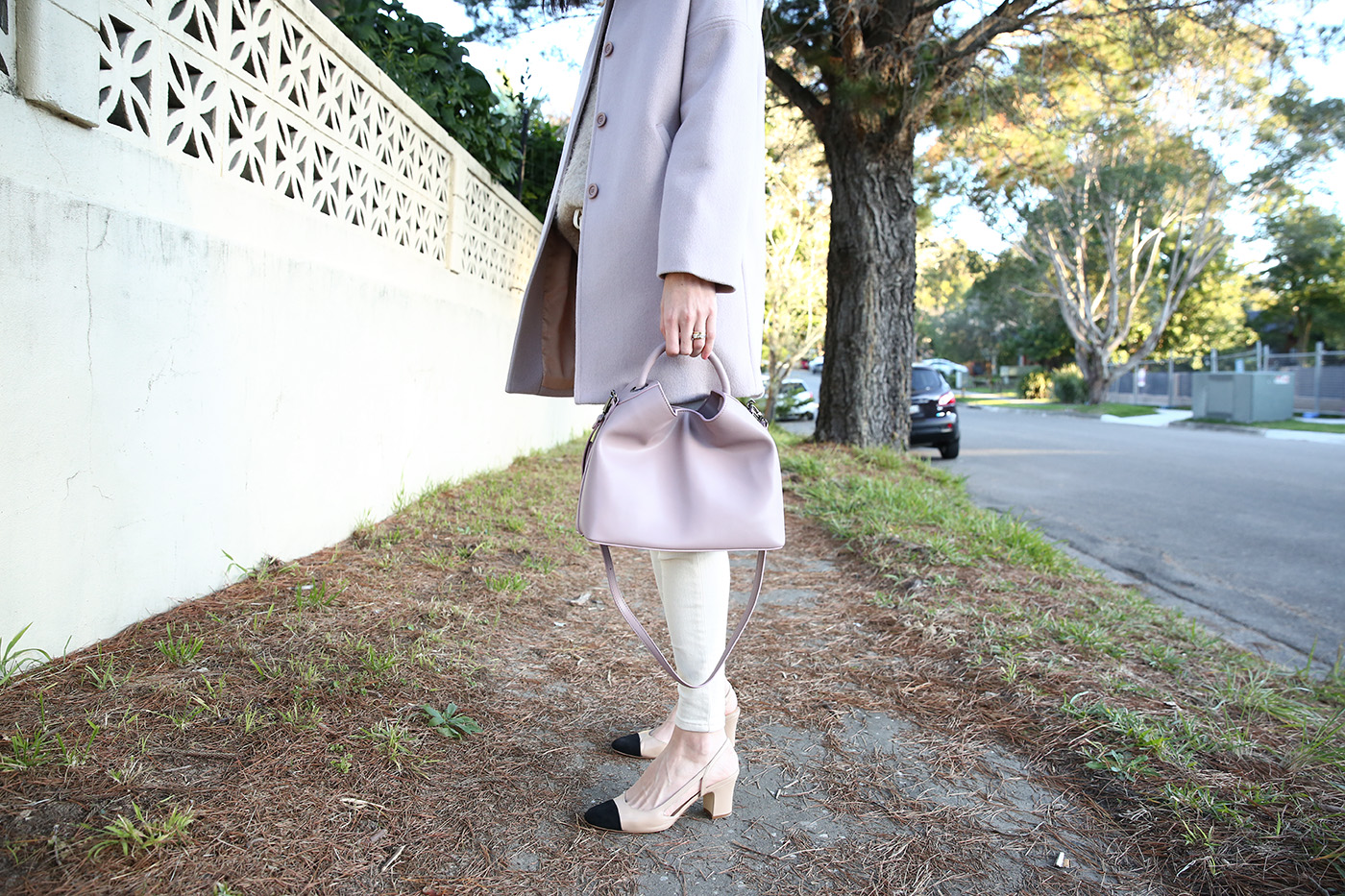 J Crew sweater, Blank NYC skinny jeans (also here), Wilson Trollope coat, Two tone pumps (I also love these), Elleme raisin bag in vieux rose*, Mademoiselle X Mejuri loop earrings
It's no secret that winter is my least favourite season – I'd rather be soaking up some sunshine than wrapping up in layers to battle (arctic) gusts of wind. So in an ode to my spring/summer preferences, I've been trying to soften up my winter wardrobe's colour palette, with a few key pieces.
Let's start with my coat; I wore this in a recent blog post where I was brave enough to venture out with bare legs, and it's been a favourite ever since. Personally I love the dropped shoulders, standing collar, and cocoon-like silhouette. It's much more lightweight than some of the other coats I currently have on rotation, so I'm looking forward to when it starts to warm up a little more as I have a feeling it's going to be a fantastic transitional piece.
The sweater I'm wearing is an old J Crew number I purchased the first year we moved to Sydney. Summer was on the horizon yet I couldn't help be drawn to it, and I'm glad I pulled the trigger as it's one of my go to's when I don't know what to wear.
Heading to the other end of the spectrum are these jeans from Blank NYC, which are undeniably a newer addition to my closet. The lace up fly and creamy hue were giving me major Isabel Marant vibes circa 2013. They've well exceeded my expectations, and for a light washed denim, are incredibly easy to style.
Of course we can't forget the accessories… I've been wearing a pair of two tone pumps basically on repeat the last few months (when I haven't had these glued to my feet), and I'll take any glimpse of sunshine to whip them out – it's a good thing Sydney winters are notoriously mild.
And when it comes to the bag; Elleme kindly sent me one of their 'raisin' bags to road test, so I jumped at the opportunity to stray outside my comfort zone in both silhouette and colour. While black might have been a safer bet, the vieux rose shines when paired with milky, creamy hues. Aptly named, the raisin bag feels a little like a sculptural take on the bucket bag, which has been making strides as a wardrobe staple since the style's resurgence in 2012.
The bag is crafted from a smooth cowhide leather which cinches in at the opening with a hidden metallic clasp. The opening itself isn't huge (I can't see my lunch box squeezing in there..), but the interior is incredibly roomy – enough to fit all my handbag essentials and then some. What surprised me most was the luxurious suede lined interior; while the bag may only be comprised of one large compartment, there's three inner pockets which you can use to store any essentials you need to access easily. Plus it's worth mentioning that the bag retains its structure incredibly well, and while the first reaction might be to carry the top handle (with whipstitch detail) in your hand, I love the fact that there's the option to wear this cross body, as who doesn't love being able to go hands free?! It's definitely a little more architectural (read: fashion forward) than I'm used to, the kind of bag that I could envision the likes of Tamara et al. rocking on the streets of Paris – I'd love to know what your thoughts are on the style.
Finally, while they might not be a focus of this overall look, I was also wearing the earrings I co-designed with Mejuri the day we snapped these photos. It's been a good few months since the prototype pair arrived, and I'm still reaching for them on repeat. If that's not a sign of a wardrobe staple (or a wardrobe classic…), then I don't know what is!