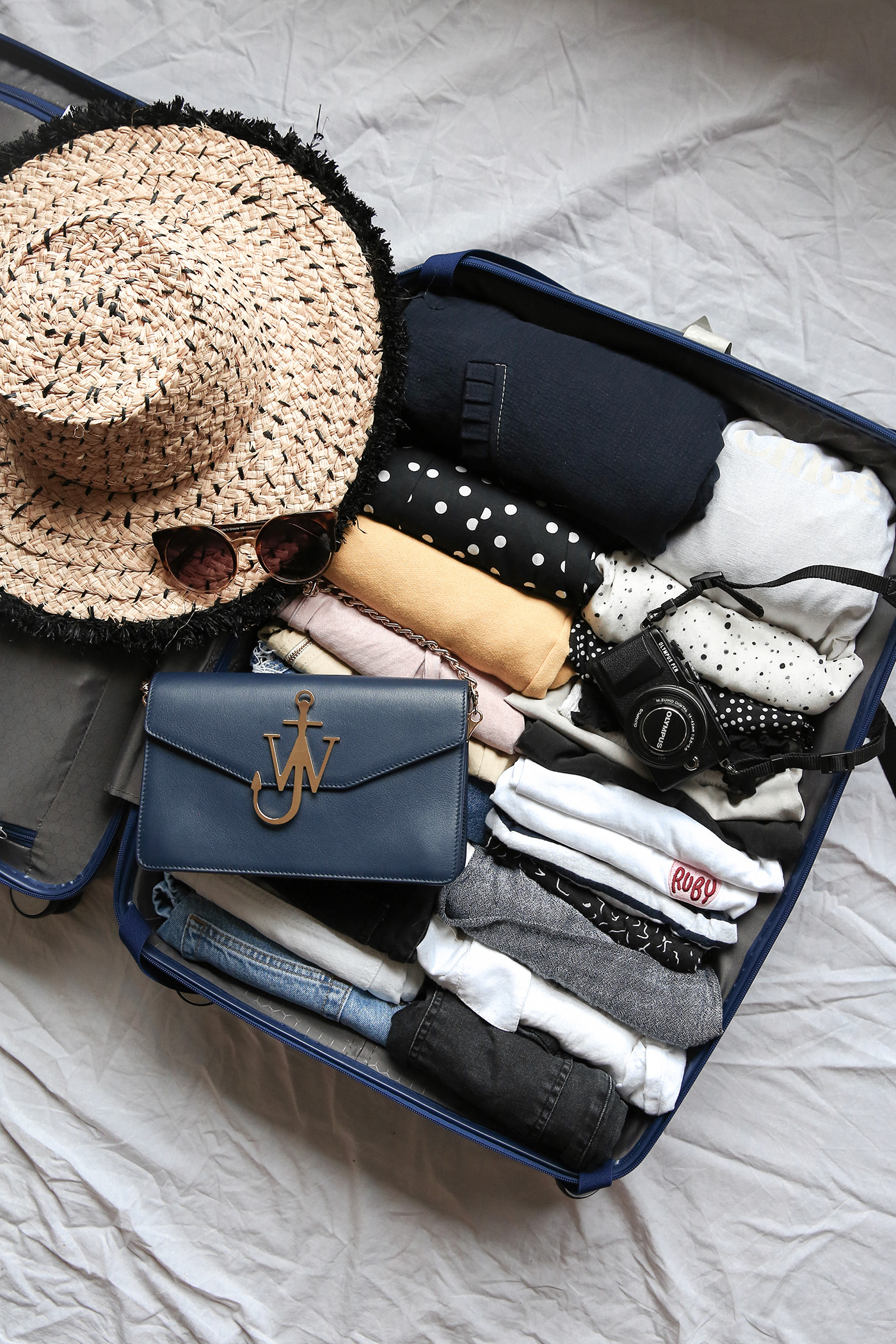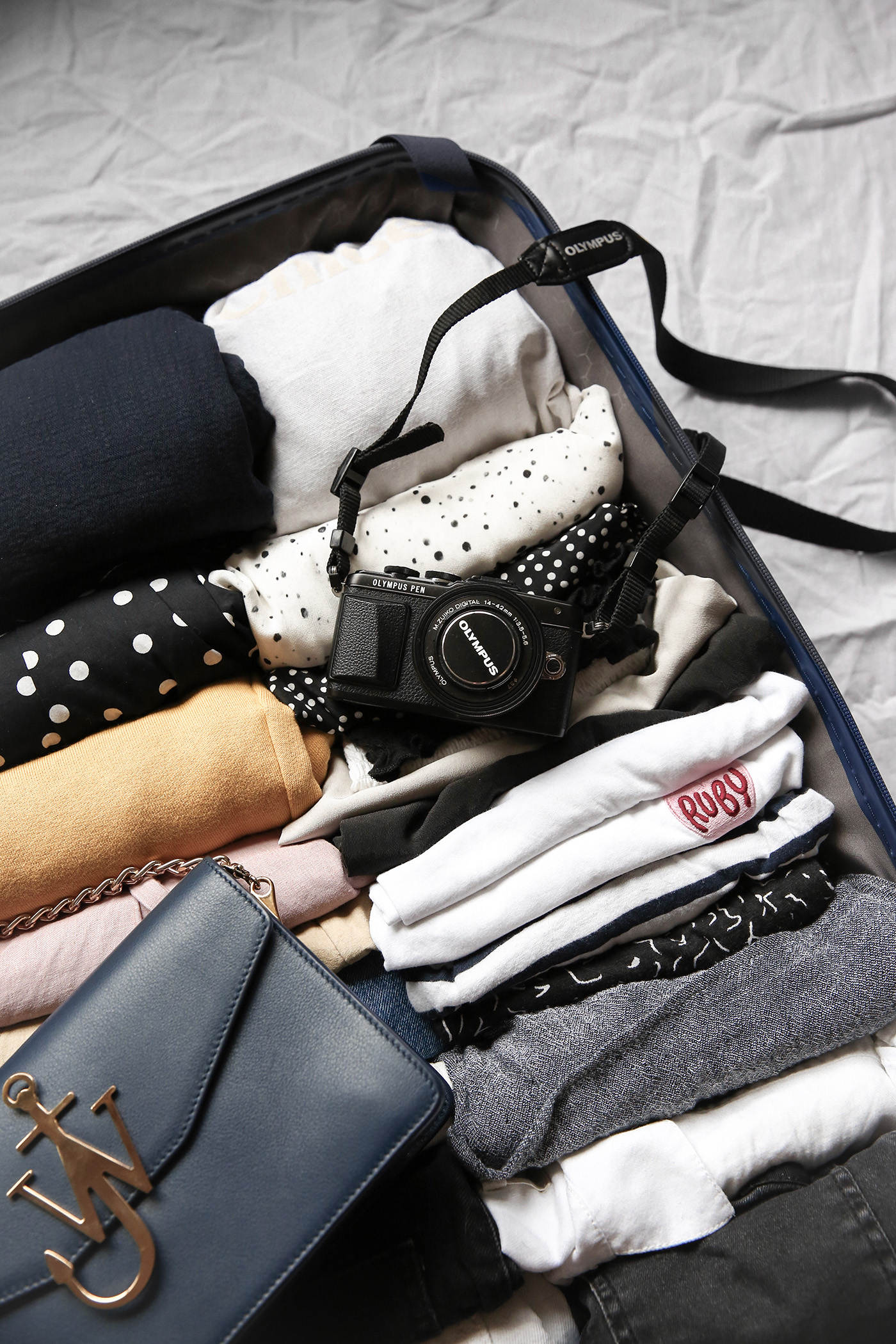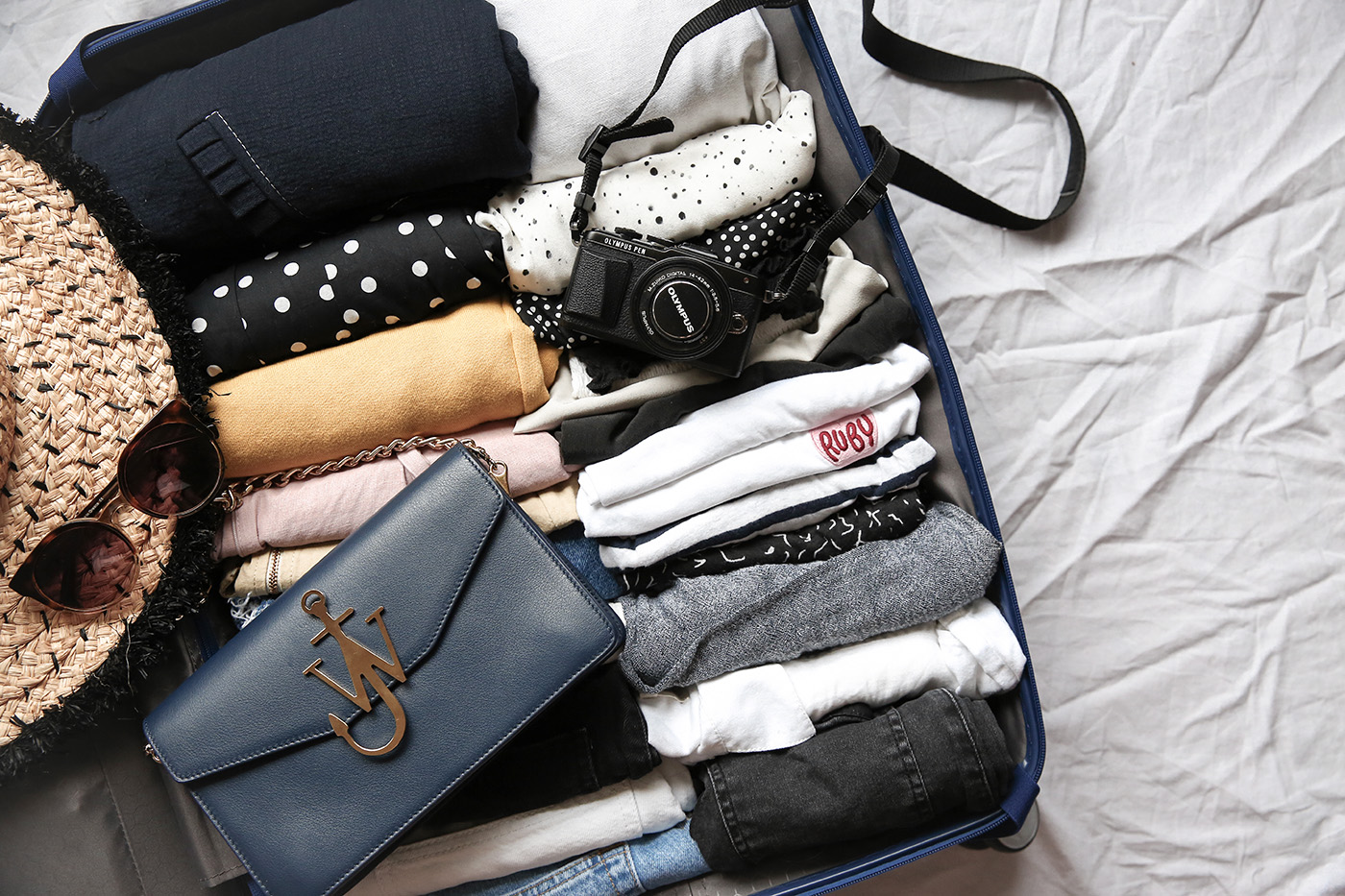 When it comes to any trip (not including our recent stay in the Maldives), I usually try to 'pack light'. As a teen travelling to Canberra for a week, I'd fill up a suitcase with clothing, only to find on my return to Wellington seven days later, half the items I brought along with me were unworn. But it's when you're travelling for two weeks or more that things can start to get a little… tricky.
But I do love a good challenge, and our first Christmas home since moving to Sydney four years ago made for the perfect excuse to sit down and plan out my vacation wardrobe, keeping it to one suitcase. My strategy is pretty simple; stick to a neutral colour palette, and pick pieces that can be worn in a variety of ways, as the two combined tend to be real space savers, particularly if you tend to find it difficult to narrow down your shoe selection, like I do.
We are spending just shy of three weeks in New Zealand for our summer break, split across Wellington, Auckland and Waipu (a small coastal town north of Auckland), and judging by the ten day weather forecast, we'll be getting a mixture of sunshine, cloudy days, and a little bit of rain, with temperatures sitting around 19-25 degrees C; not too shabby! So I've focused primarily on sticking to some of my summer wardrobe favourites, with a few long sleeved tops and a pair of skinny jeans thrown in for good measure. If you've ever spent time in Wellington, then you'll understand wanting to have a few items you can reach for just in case the weather turns.
Above is a little bit of a sneak peek into my suitcase, which includes a lot of the usual suspects that you may have seen featured in my packing list ahead of our trip to the Maldives, in addition to a couple of wild cards (read: something that isn't black, white or grey). Not pictured? The five pairs of shoes neatly packed into the zipped-up compartment, and the three sets of workout gear I've brought along with me so I can nip out for a quick run, or squeeze in a HIIT workout.
TOPS
J Crew b/w polka dot wrap top
Everlane silk camisole in black and dove grey
RUBY white t-shirt
Grana white pocket tee
Madewell white short-sleeved shirt
Karen Walker indigo linen shirt (similar)
T by Alexander Wang blue/white long-sleeved stripe top
Proenza Schouler b/w graphic print long-sleeved top (similar)
Uniqlo mustard oversized sweater
For the last few weeks I've heard from my grandparents about how warm Wellington has been, but honestly after years of growing up in the windy city, I don't think you can blame me for being a total skeptic. I decided to opt for a mix of short sleeved and long sleeved tops (which I figured I could wear rolled up when it was warm) to create a little bit of balance, so that I wouldn't be caught out if the weather turned. We're three days in and already I can tell I've made a pretty good judgement – today was incredibly windy so having a snuggly jumper to hand certainly came in handy.
As usual, my preferred colour palette is comprised mostly of black and white, but I think this mustard sweater from Uniqlo helps to break things up a little bit, plus I love the way that this pairs with white in particular.
JACKETS
I'm the type of packer that likes to have a back up plan – particularly when it comes to my travel wardrobe – so I brought along a light weight faux leather jacket. There's a few cold days due to be coming our way so I figured this would be an easy option to throw on, plus it goes with everything.
SHORTS, TROUSERS & SKIRTS
Topshop white denim mini skirt
Wrangler blue denim mini skirt
ASOS black denim skirt
RUBY khaki a-line skirt (similar)
Dr Denim blue denim shorts
Vintage white denim shorts (similar)
ASOS pink linen culottes
Dr Denim faded black skinny jeans
If you can't tell from the above list, I seem to be having a little bit of a denim moment. Denim skirts in black, white and blue, two pairs of denim shorts, and a pair of skinny jeans were at the top of my packing list. What I have been loving about denim is how easy it is to throw on, and the fact that it works pretty well for a casual day catching up with friends, or even for some cocktails in the evening (depending on how you dress it up, or down!). I also decided to bring along my favourite pink linen culottes – which I still can't get enough of – as I figured they would work well in the Wellington wind!
DRESSES
Karen Walker navy ruffle dress
Stylekeepers b/w polka dot dress (also here)
Iro white splatter print silk dress
My usual principle for vacation packing is to always stash a little black dress as the bottom of your suitcase. Rather than go for something classic, I opted to take this black and white spotted number, which can be worn a couple of different ways. I also stashed away a great navy ruffle shift dress which I've had for a while now from Karen Walker, and a newer silk dress I managed to pick up pre-loved from The Real Real to have a couple options for a nice meal out in town.
BAGS, SHOES & ACCESSORIES
JW Anderson blue signature logo bag
Celine black trotteur bag
Sportscraft straw hat (similar)
Spurr black mules
Everlane black day heels
Sam Edelman black loafers
Sportscraft sandals
Converse sneakers
Finally, let's talk accessories. The one thing I seem to have an issue with narrowing down – every, single, time – are shoes. I actually ending up packing many of the same shoes I took with me to the Maldives; a pair of mules, a pair of black enclosed heels, a black of loafers, some slip on sandals, and a throw around pair of lace up sneakers. The second half of our trip, we're planning to spend a little bit of time at the beach up near Whangarei, so I decided to bring along my straw hat, which I nabbed on sale last Christmas – this has been one of those impulsive purchases that has turned out to be a really great addition to my wardrobe, and perfect for protecting my face from the sun. The last thing on my packing list was a couple of mini bags; these are my bag size of choice when it comes to travelling. I decided to bring along a classic option in black, and then something of a wild card… a new bag I nabbed from JW Anderson during the Black Friday sales in a rich cobalt navy blue. Unfortunately as luck would have it I've sent the JW Anderson bag back (it arrived without the leather strap), but my Celine has been a serious workhorse when it comes to weekend wear or more casual outfits, making it the perfect travel companion.
I'm thinking of doing a little wrap up on my YouTube Channel in the new year when we're back, to talk about what worked for the trip and what didn't, given we are away for just under three weeks, so let me know in the comments if that's something you would be interested in seeing! x