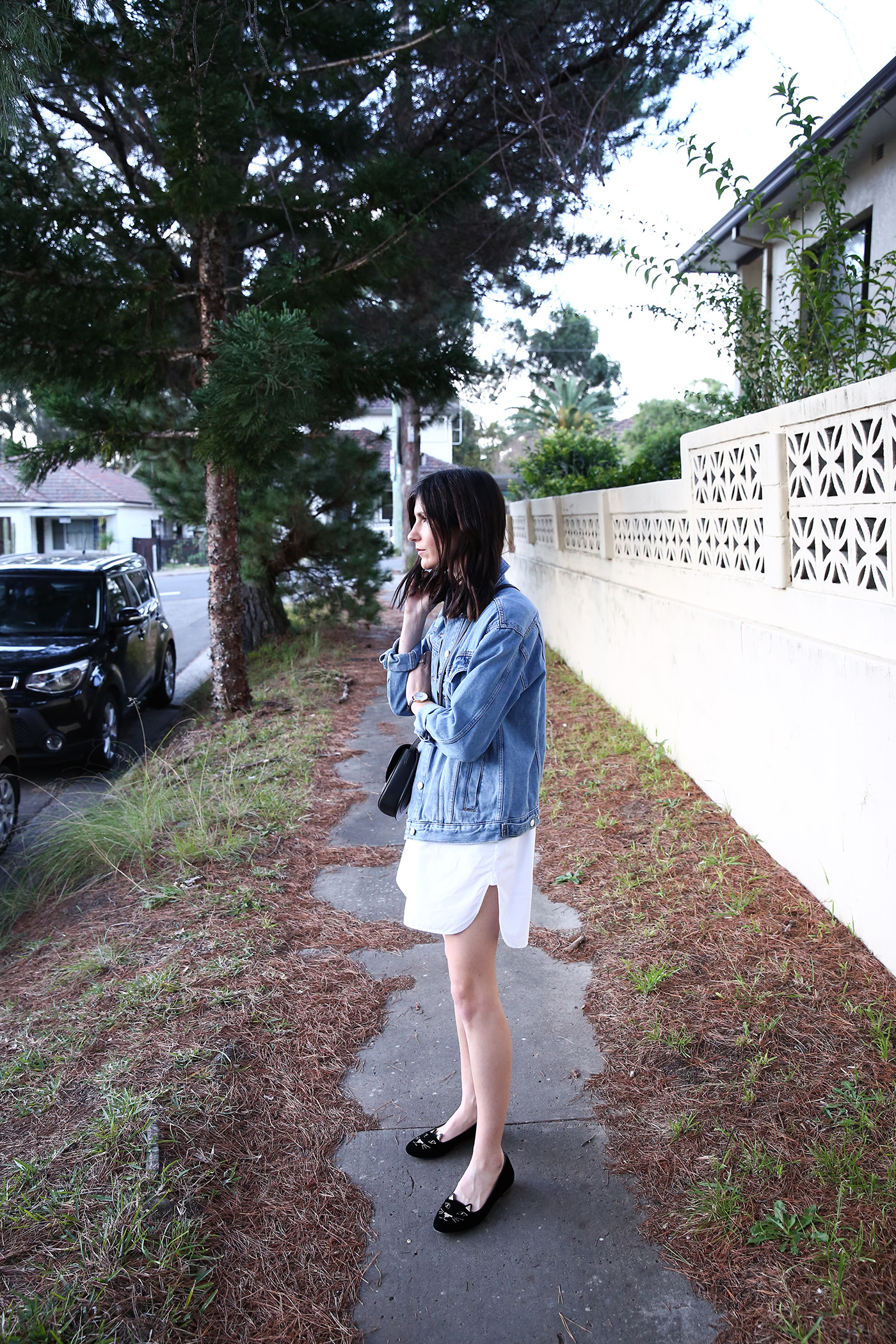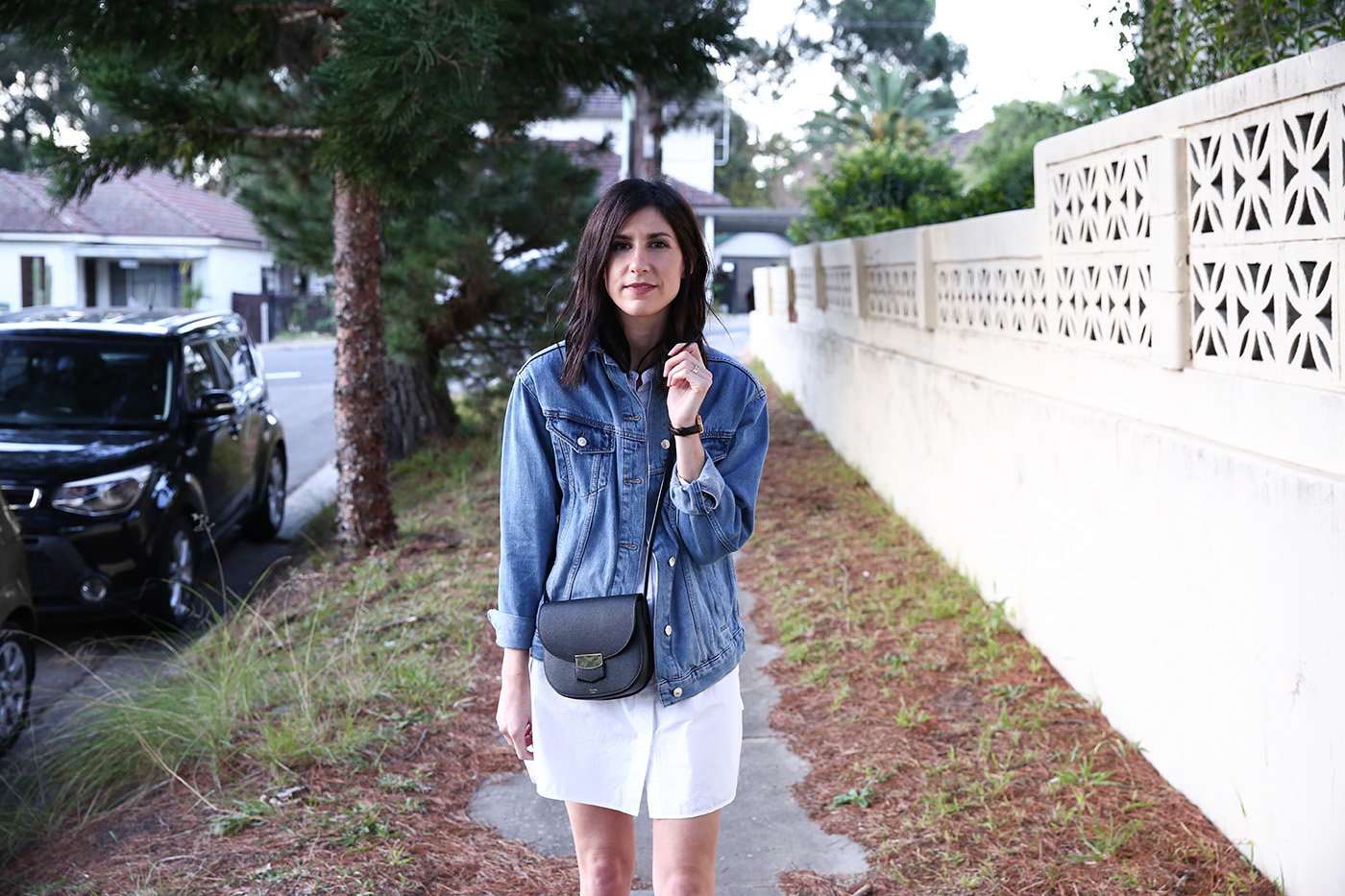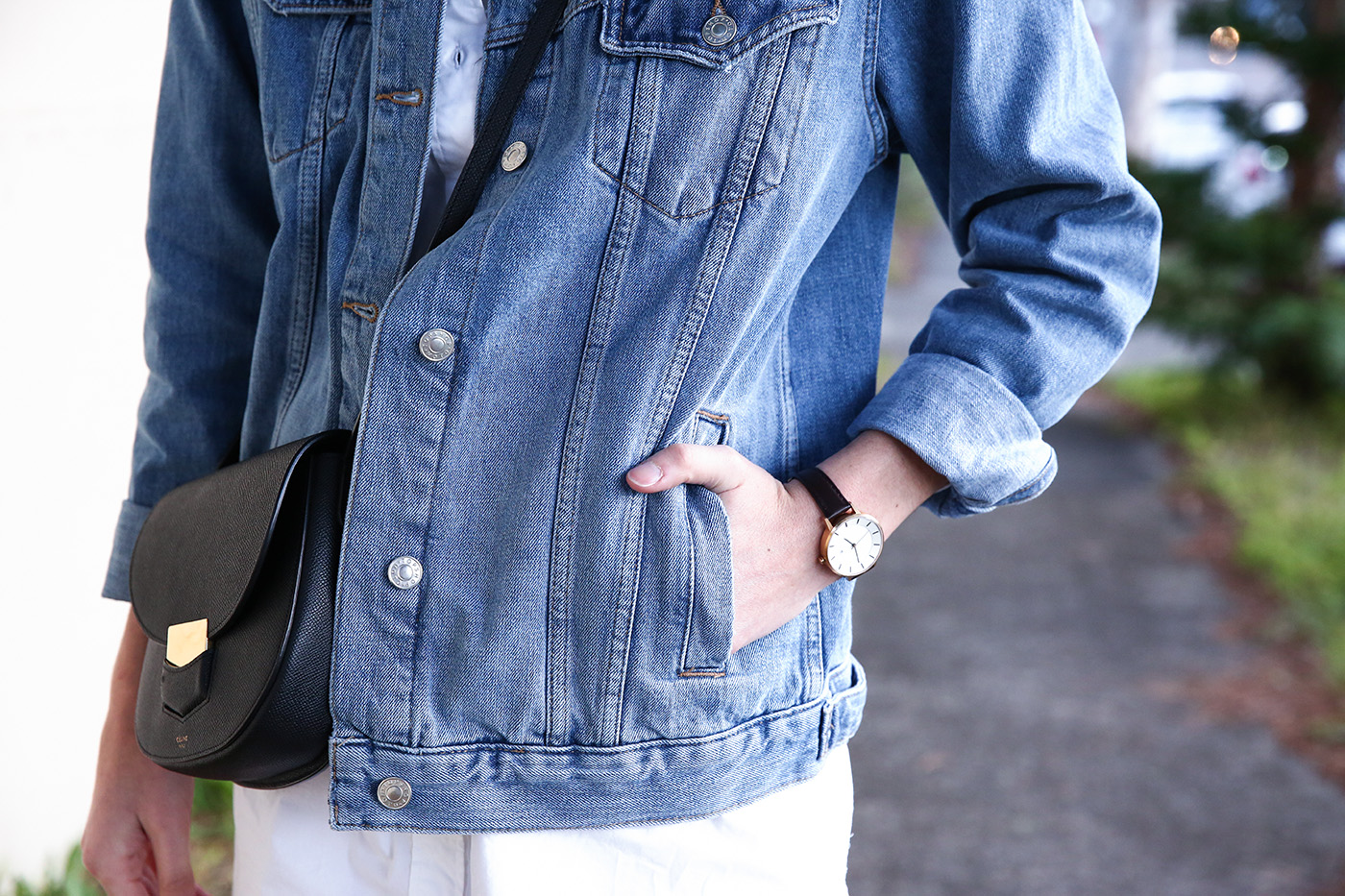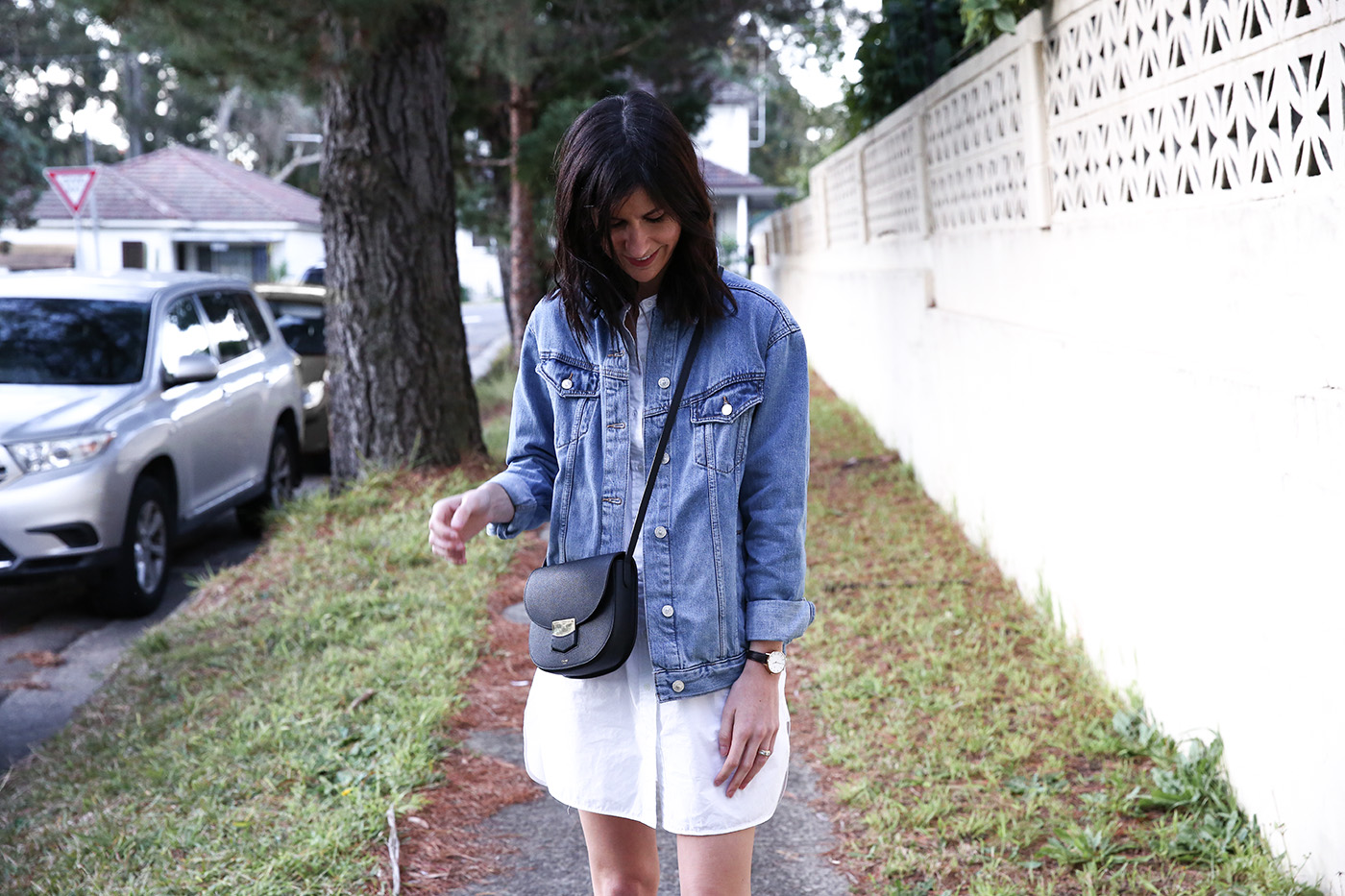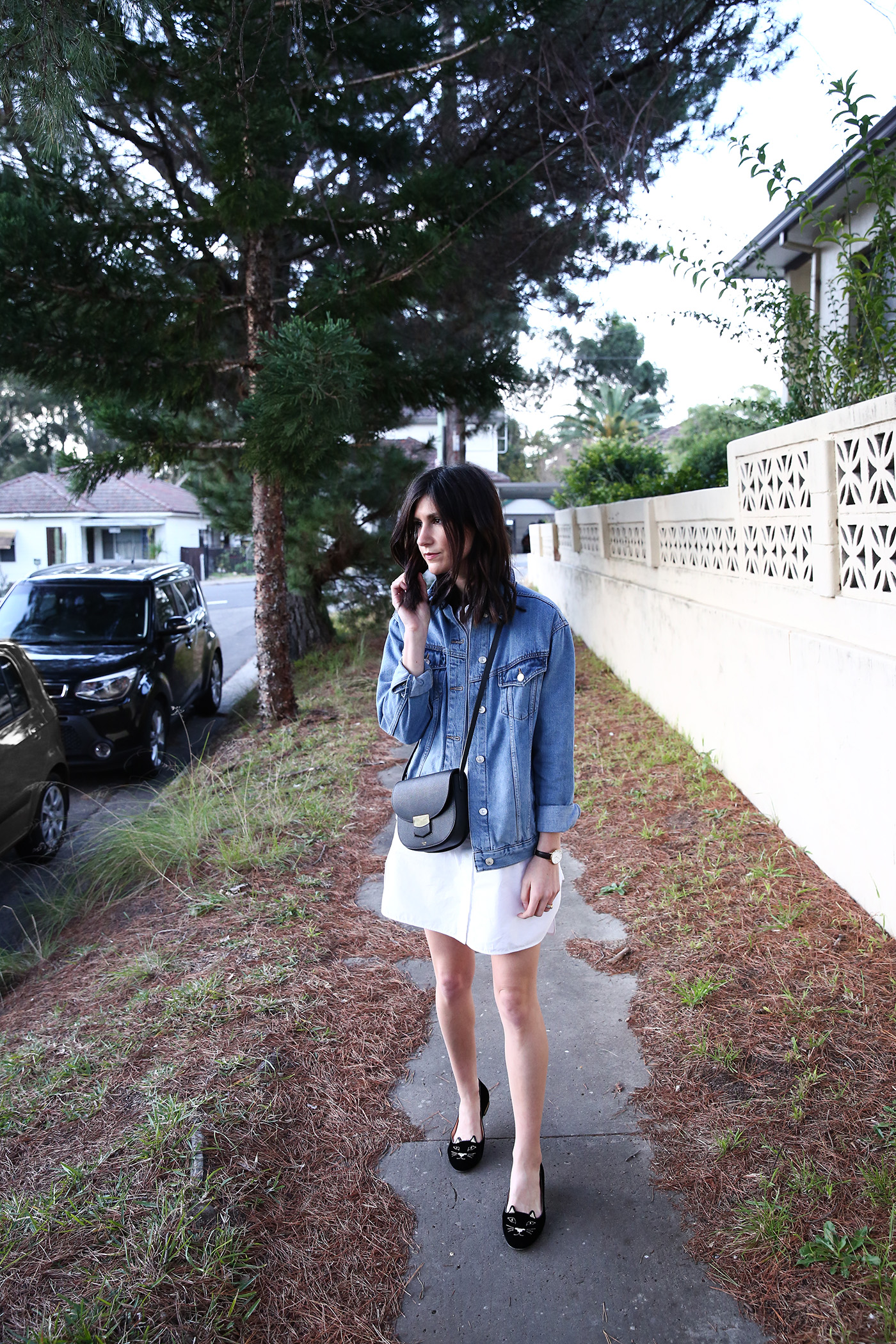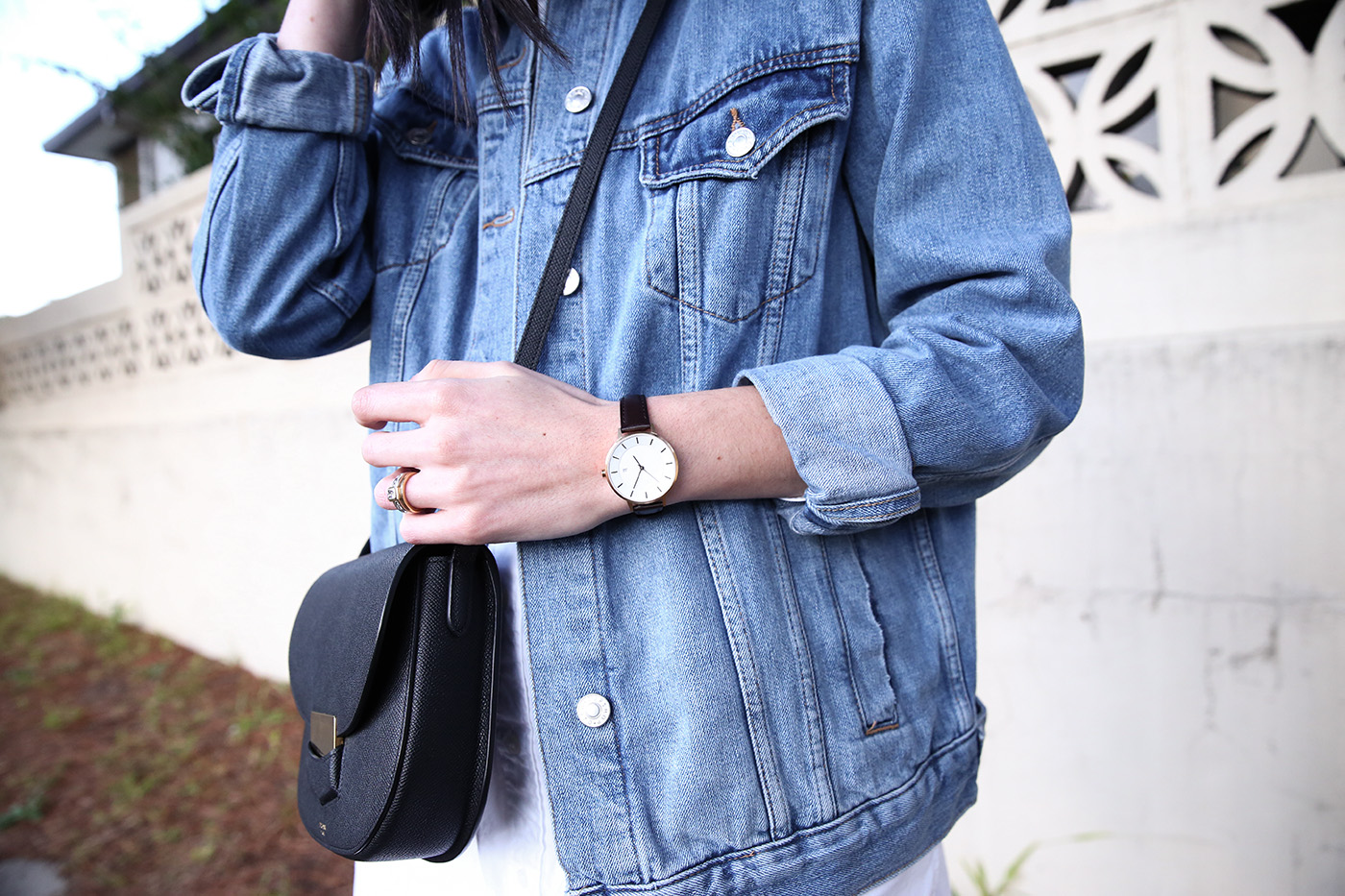 Everlane oversized poplin dress (I love this ladylike option too!), Topshp denim jacket, Charlotte Olympia kitty flats (affordable option here), Celine trotteur bag (similar more affordable style), Linjer watch
It's not quite Spring yet, but that hasn't stopped me from thinking about the key pieces I'll be putting into regular rotation as soon as the weather warms up. Given we've been seeing the temperatures creep up into the 20s, I figured now was as good a time as any to start thinking about those spring wardrobe essentials.
I've been sticking to my no shopping diet (for the most part – I do have a rather spendy purchase to share with you all but more on that in an upcoming post… So instead of looking to inject some new spring-worthy items to refresh my closet, my plans are to remix what I already own, a thought which brings me a welcome comfort in knowing that I'll get to pull out some of my favourite warmer wear workhorses.
My first spring wardrobe essential? A trusty denim jacket. The one I'm wearing above is a boyfriend style from Topshop which is the perfect mid-wash blue, with just the right amount of slouchiness, and I have a lighter wash cropped option from Atmos&Here which pairs well with fitted dresses and just about anything high waisted. Personally I love having those two options to choose from, depending on the kind of look I'm going for, though if blue washed denim isn't your preference, I think a black denim jacket (like this one or also this one) makes for a great alternative.
One of my favourite ways to wear a denim jacket is simply with a white shirt dress – the one I'm wearing is from Everlane. It's incredibly boxy, and has 3/4 length sleeves which look cute rolled up too. For the shoes, I opted for my trusty kitty flats from Charlotte Olympia (these are an excellent affordable dupe!!). I often fall back on these for relaxed weekend outfits as I know I can rely on them to not only look cute, but be super comfortable too. My bag is the trotteur bag from Celine; this is a relatively new addition to my wardrobe (I did an unboxing for it here), and it's been perfect for weekends – I often tend to reach for this over all other options. Finally, my watch is the 'classic' from Linjer (I did a review on it here), which I adore for it's inherent simplicity and lack of obvious branding, plus it's a much daintier option than the other watches I own.
Is a denim jacket one of your spring wardrobe essentials, and how do you like to wear it? x