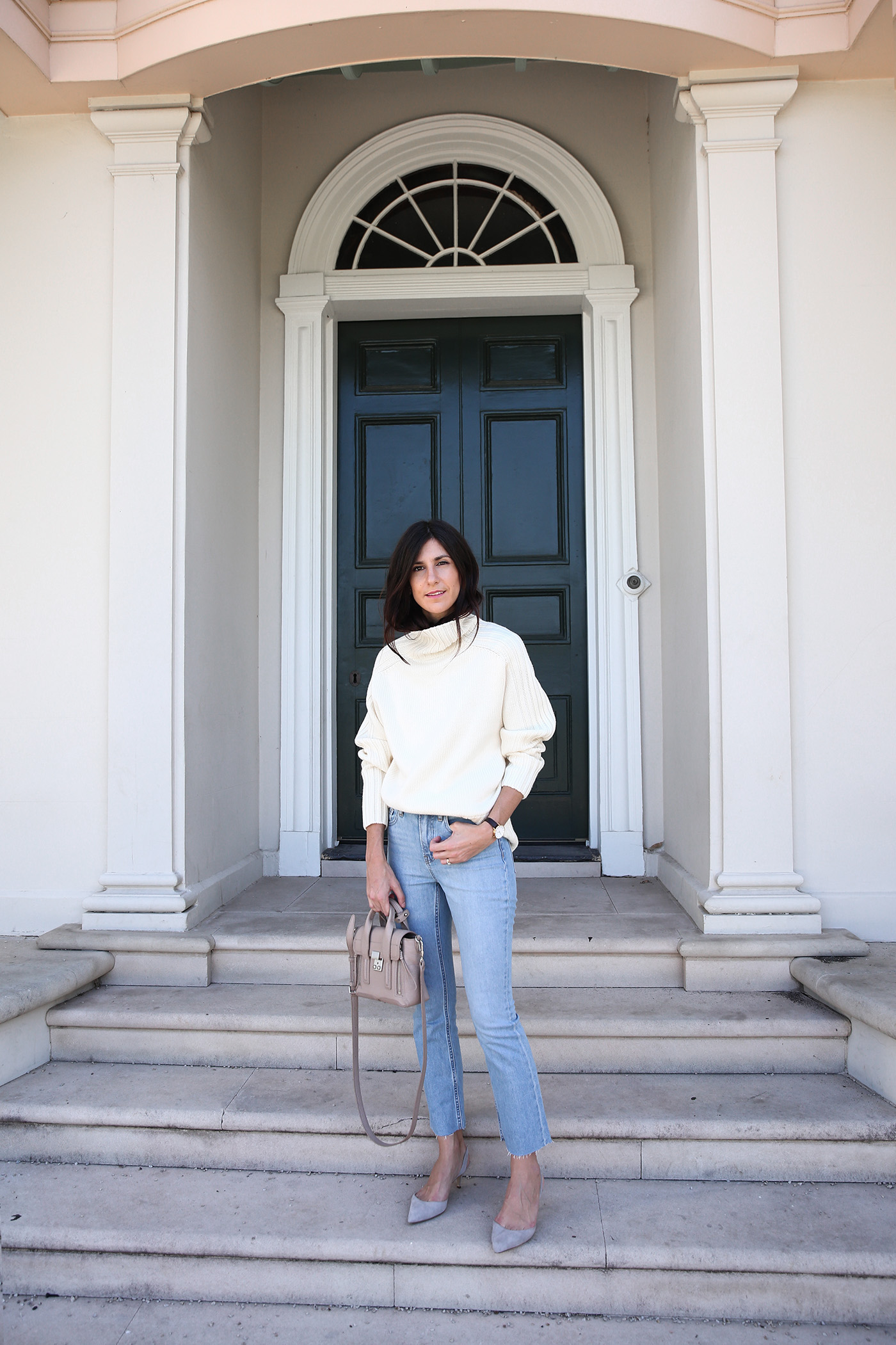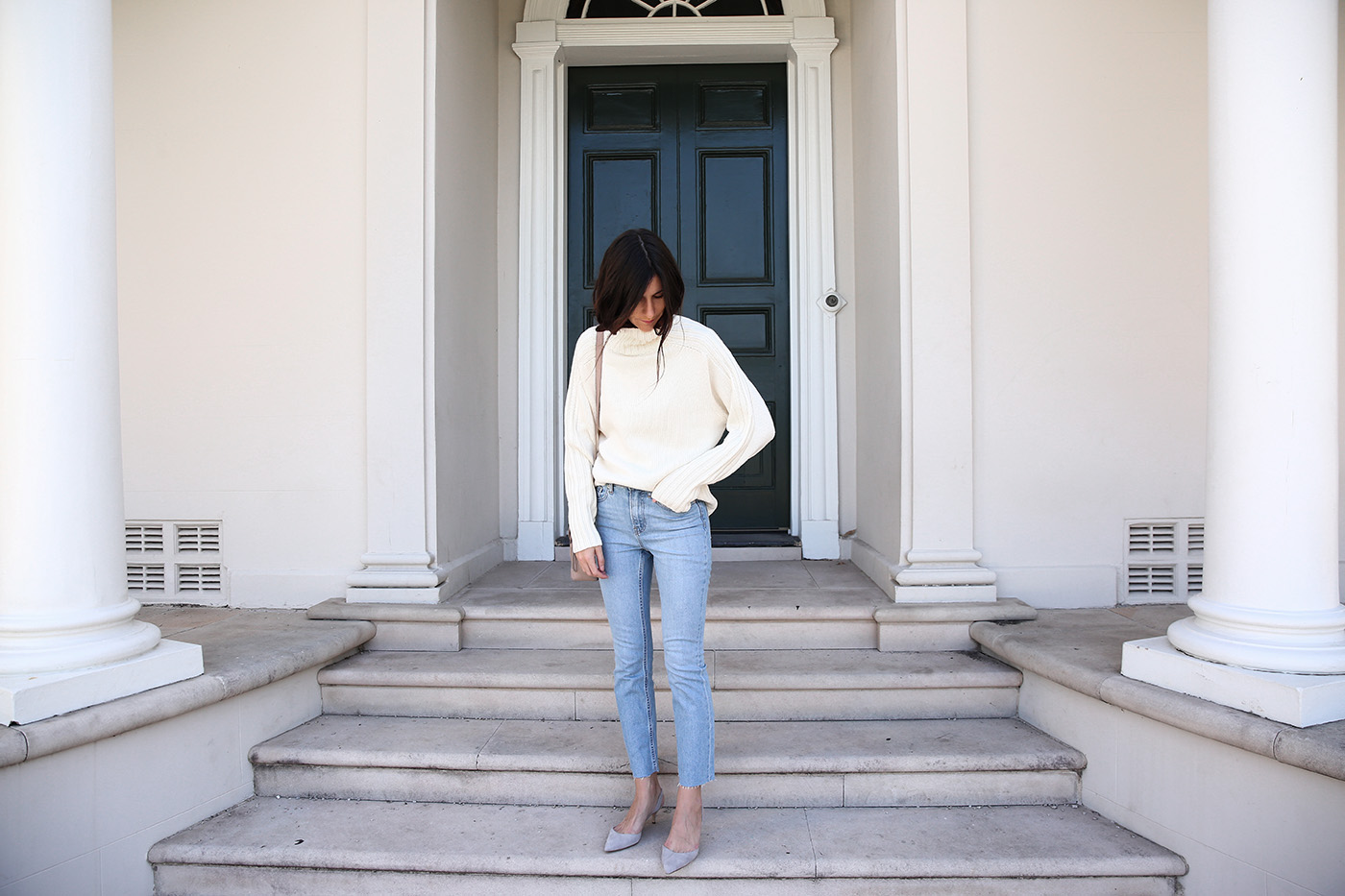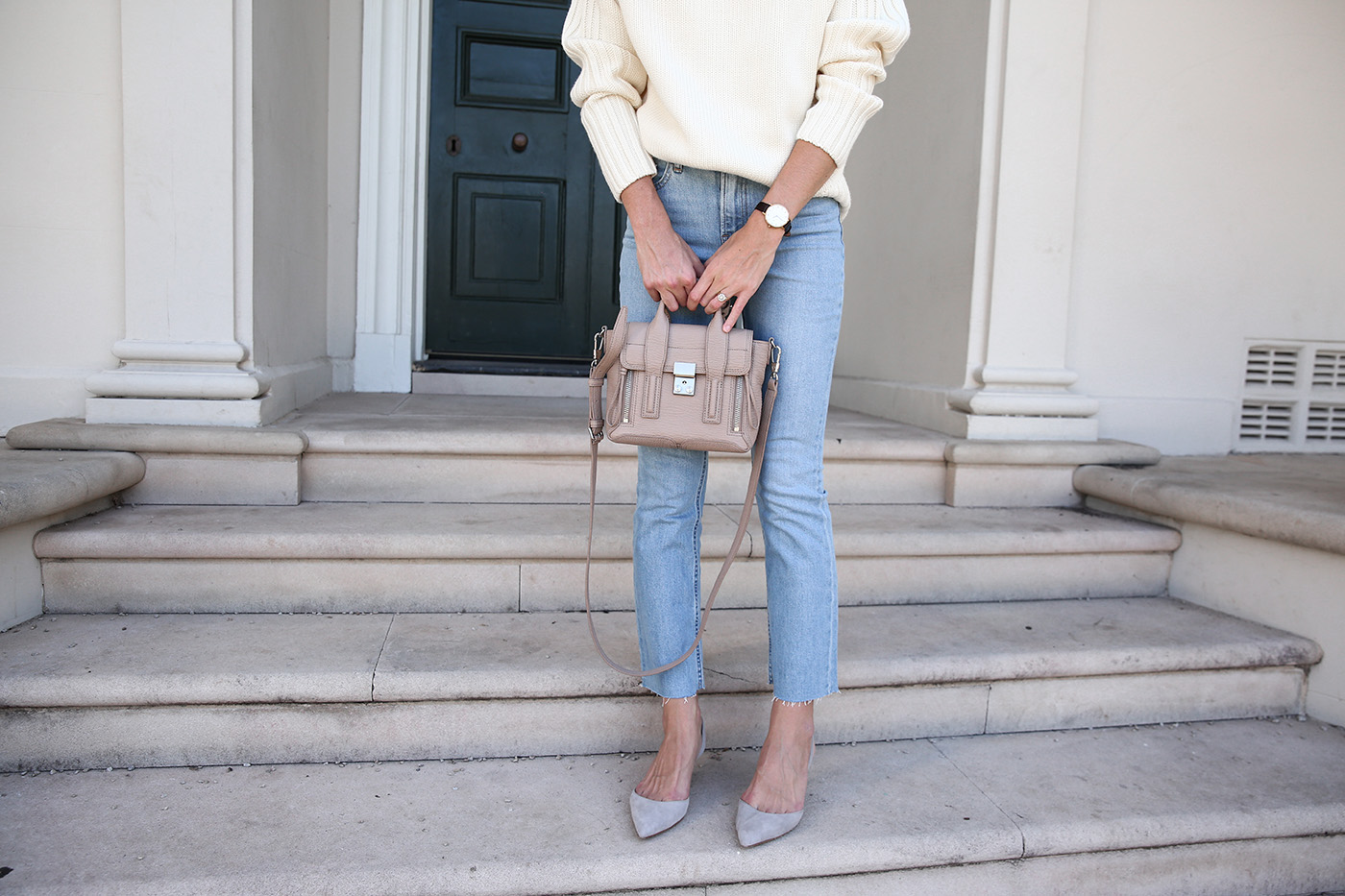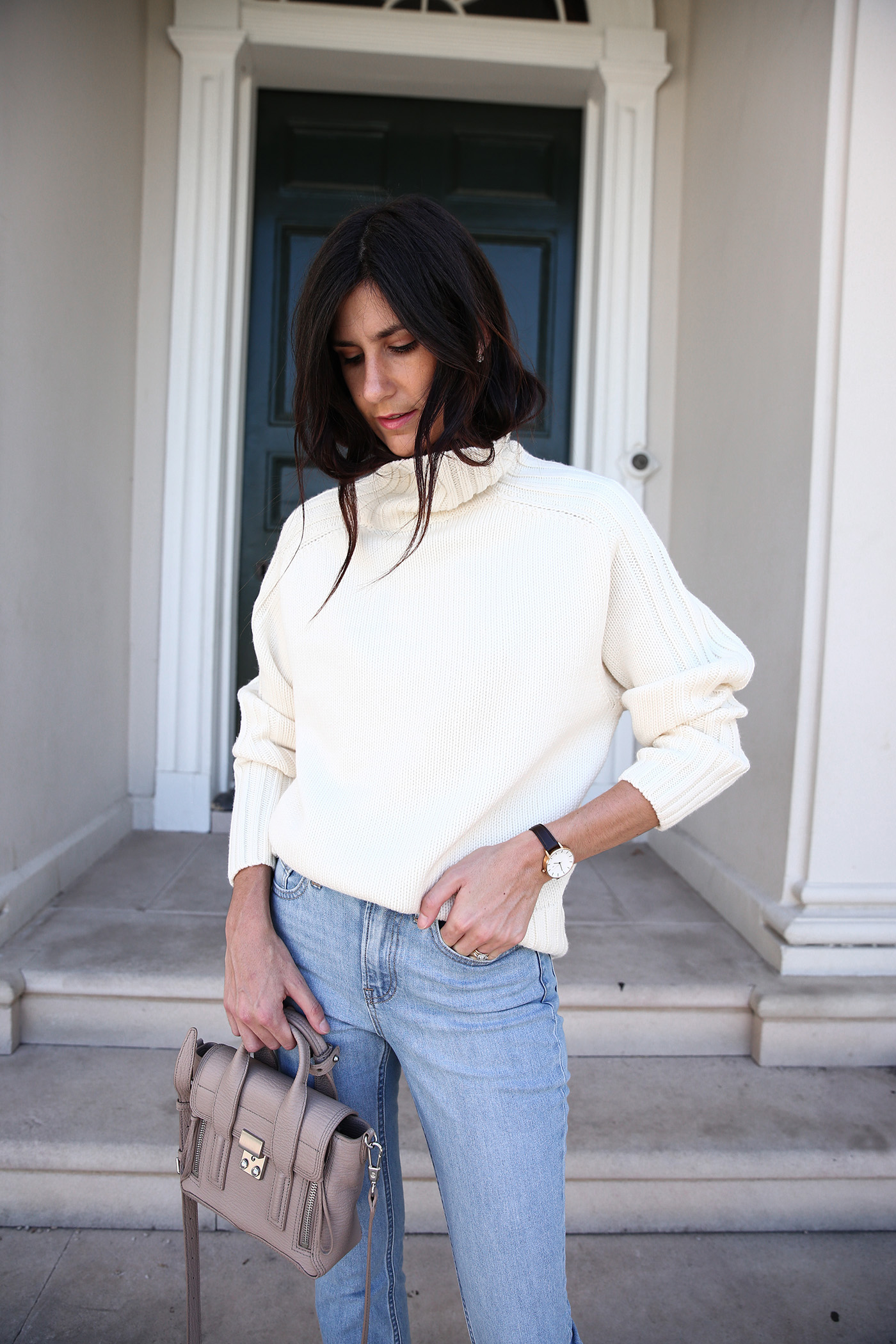 I'm currently in the midst of prepping my wardrobe for autumn, and while I think I'm pretty much sorted when it comes to cosy knits, ankle boots and blanket scarves, I've been wanting to put a bit of a focus on denim, as a key foundation piece for many of my transitional season looks. So, I decided to try something a little different; I pulled the trigger on the Everlane Kick Crop Jean in the light blue wash. Truth be told, I was incredibly curious about these jeans. I was drawn to their leg lengthening promise (who doesn't want that?!), and I was interested to see how the subtle kick flare at the ankle would work with my usual go-to denim looks.
Joseph knit sweater (also love this one, and this is gorgeous from the brand too), Everlane Kick Crop Jean, Paul Andrew slingback heels, 3.1 by Phillip Lim pashli bag, Linjer watch, Pandora earrings
After reviewing the different colour options online, I decided to opt for the light blue wash. This is arguably much more geared towards a spring wardrobe, but in my efforts to really brighten up my autumn/winter style, I thought it was a happy medium, given I already have a few pairs of jeans in an ivory/bone shade. I also liked that the colour felt a bit like a throwback to my 16-year-old closet, when a pair of light wash denim reigned supreme. Call me nostalgic, but I was definitely digging those vibes, paired with the slight kick flare at the ankle.
QUICK FACTS
Price: $78USD
Available in four colours: Light Blue Wash, Black, Bone and Dark Blue Wash
Made in: Bien Hoa, Vietnam, at the world's cleanest denim factory
Fabric: 98% Cotton and 2% Elastane
Care: Machine wash cold, tumble dry low
SIZE & FIT
SIZE: I opted for my usual denim size, which is a 25. I have a narrow waist, and wider hips – sometimes it can be a little difficult to find a mid or high rise pair of jeans that fit me perfectly, without being too snug at the waistband. After a little trial and error from their initial denim launch late last year (which you can read my review on here), I discovered that this was my true size in Everlane denim. In my experience, unlike the rest of their offering, the denim selection is on par with standard denim sizing for other brands. If you aren't sure on sizing, Everlane's sizing is incredibly spot on, and worth referring to before pulling the trigger on your purchase.
FIT: As anticipated, these fit me perfectly. They weren't difficult to pull up over my legs, and didn't cut in at the waist. I like the fact that the fabric skims over the contours of my body, and it lies flat across the crotch (unlike the modern boyfriend). I carry a lot of my height in my torso, so I found that the rise was much more of a mid-rise on me, as opposed to a true high rise. The button sits just around my belly button. As for the length, I'm 5'8" and these came up about 2cm above my ankle so I'd probably need to hack off a little extra off the hem, for these to really elongate my legs.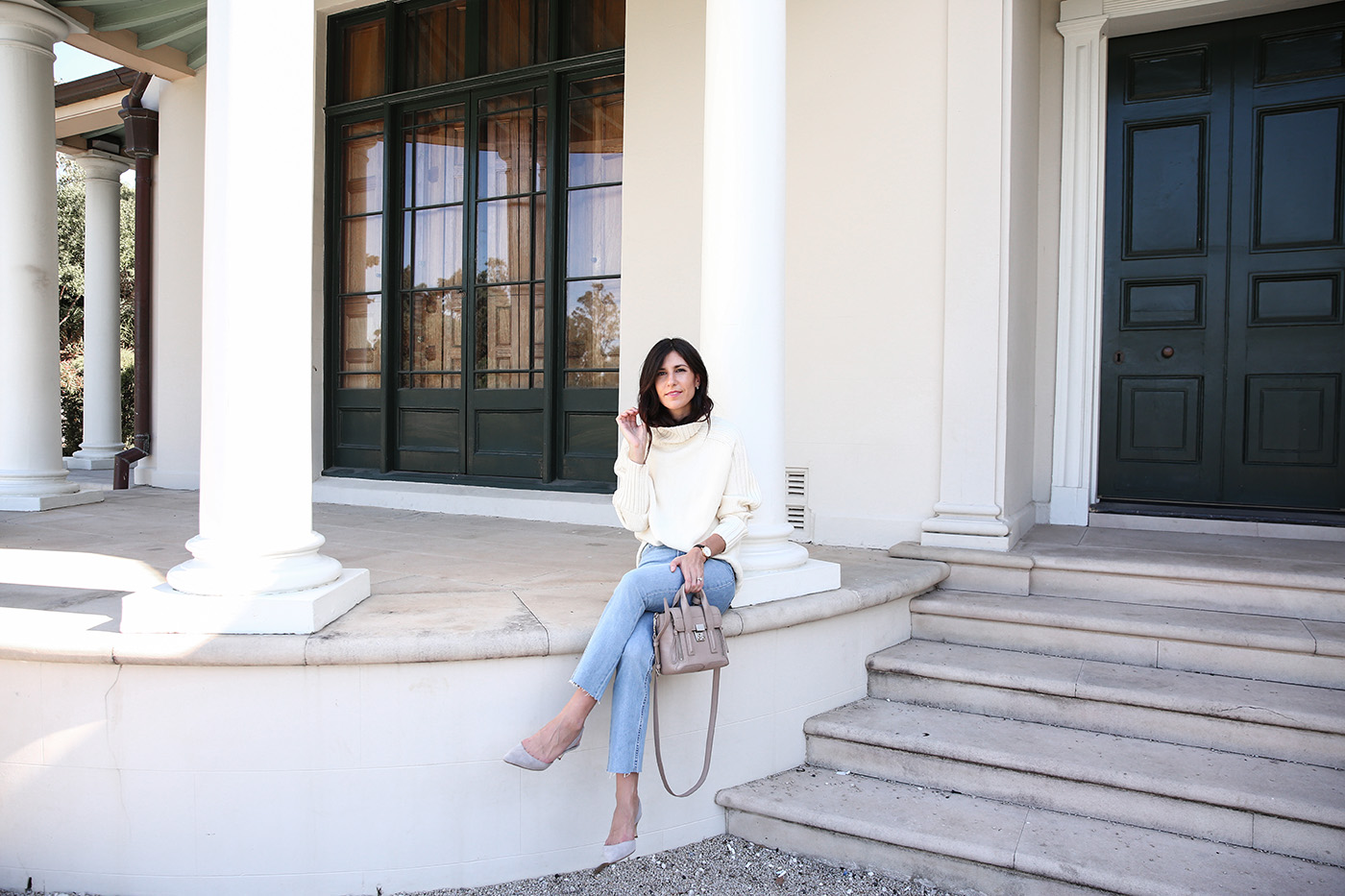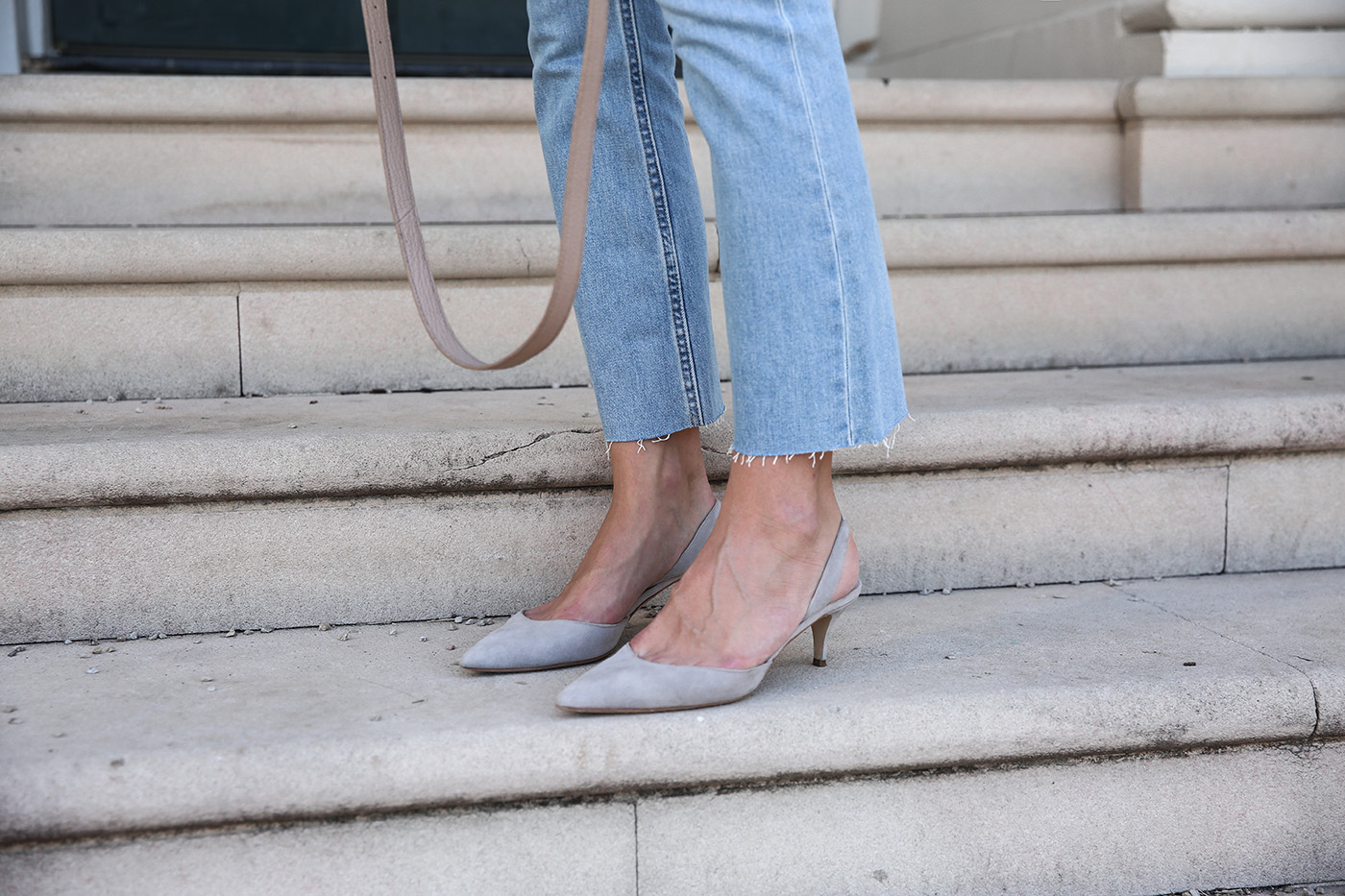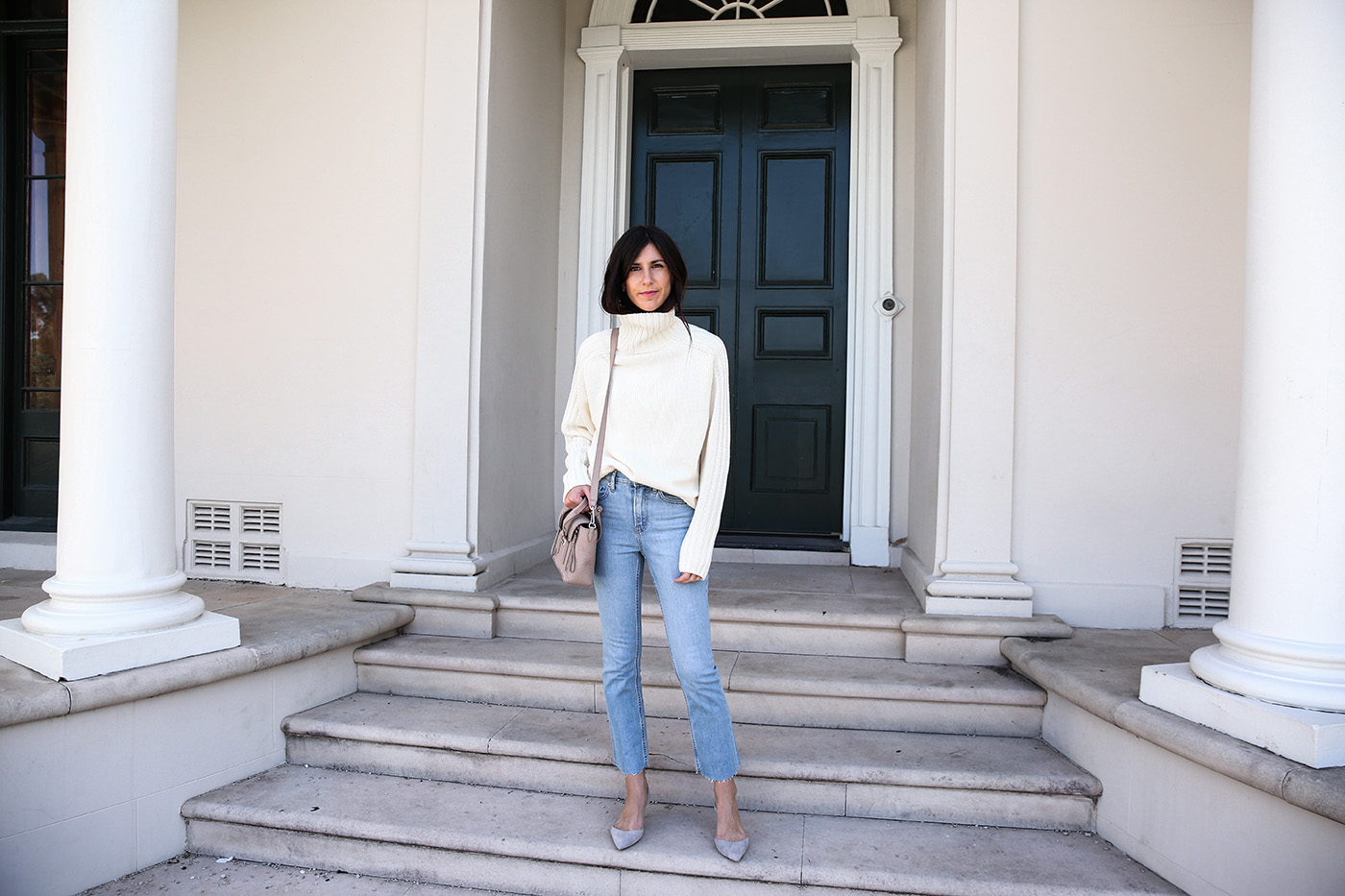 QUALITY
FABRIC COMPOSITION: The Everlane kick crop jean are made of a Japanese denim, comprised of 98% cotton and 2% elastane. I like the small touch of elastane, as it gives the denim a bit of stretch and makes them comfortable to wear, plus, the fabric is very soft. I'd probably class these as a mid-weight denim – perfect for all year round.
DETAILS: The light wash denim is contrasted with golden yellow stitching, and matte silver buttons and rivets on the front. The kick crop jean has a raw edged hem, that is designed to be cut to your desired length. My order arrived with a simple set of instructions that outline how to cut them to achieve the perfect length. I tend to err on the side of caution so I've left mine as is, as I think it's pretty easy for a DIY crop to go incredibly wrong. What I do like about this though, is that they've made it simple for this style to suit all heights – especially those of you who might be petite. The only thing to consider? You might lose a little bit of that kick flare magic if you cut them up too short.
STYLING TIPS
Balance: I like to balance out the proportions in most of my looks, so my favourite way to style these was with an oversized baggy sweater (as worn above), tucked in at the waistband. I loved the slouchy and relaxed feel of this outfit, which was elevated with a pair of heels, and I feel like the voluminous sweater helped to make my hips and legs look visually more narrow!
Pointed toe flats: While I think that 99% of outfits look better with a heel, if I want to pair a cropped jean with a pair of flats, I'll always opt for something with a pointed toe. Not only does this give the illusion of a longer leg (especially if the shoes are nude!), but it draws attention to the narrowest part of your leg: your ankle.
Keep it simple: These jeans are just begging to be the focal point of your outfit, and I think the key to making them really shine is to keep the rest of your outfit simple, both in colour palette and style. I love how these look paired with a simple t-shirt and my Everlane day heels, and the look equally great with a silk cami tucked in at the waist, and a blazer thrown over your shoulders.
FINAL VERDICT
Overall, I think there's a lot to like about the Everlane kick crop jean. I love the positioning of the pockets at the rear, which are incredibly flattering, and I adore the DIY nature of the hemline – you can really make them your own. The fabric is a nice weight, perfect for autumn and spring, or winter if you live in a milder climate, and I really like how comfortable they are. Styling wise, these are a tricky one for me. I found that black is too harsh a contrast against the colour I chose, and the kick flare is an interesting silhouette – it's incredibly cool girl, and I'm not quite sure I 'fit the mould', so to speak. I did find that the mid-blue wash looked a little darker in real life, than it appeared on the website, so this is something to keep in mind if the exact hue of your denim is a deal breaker.
Will you be trying the Everlane kick crop jean? And how would you style them?