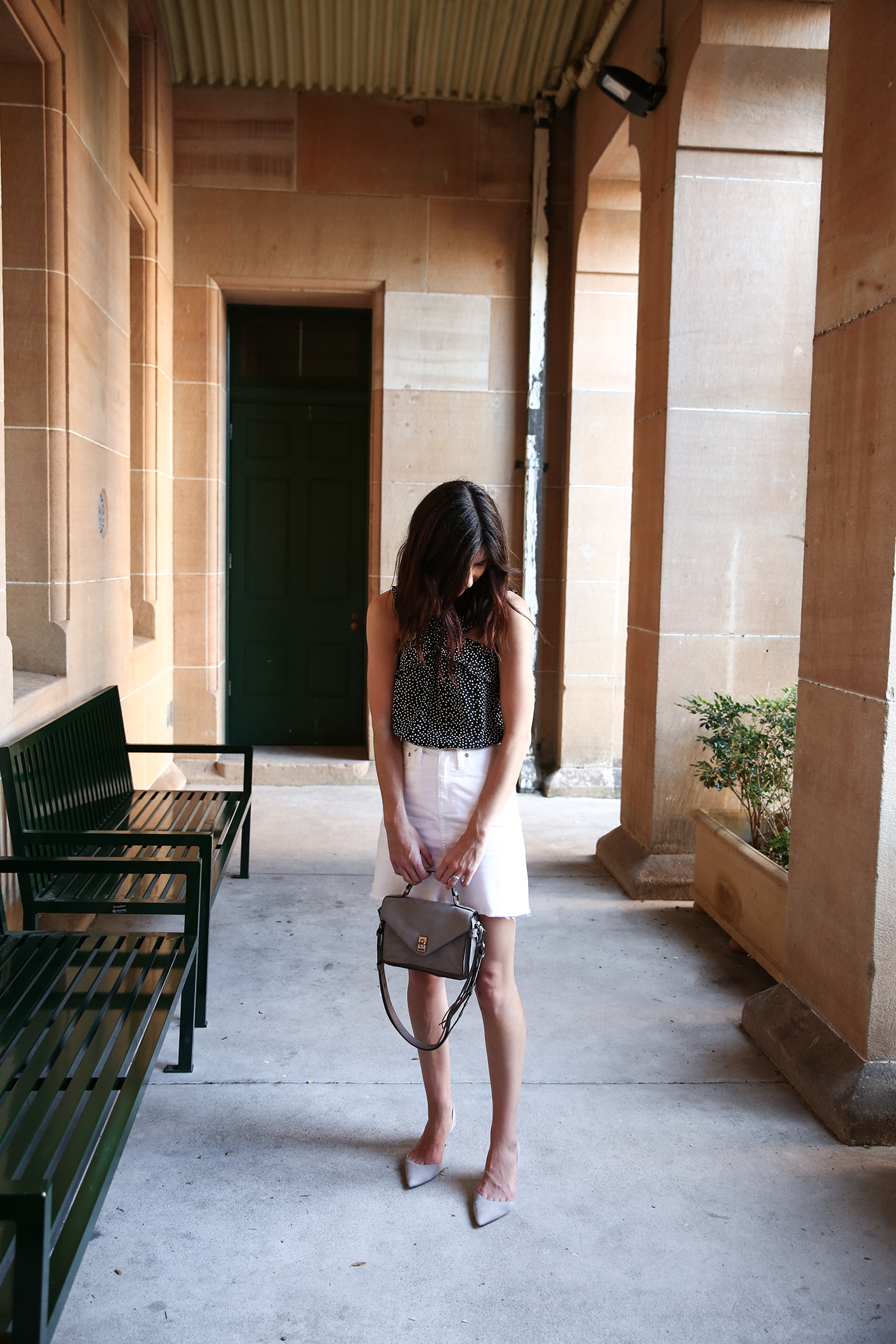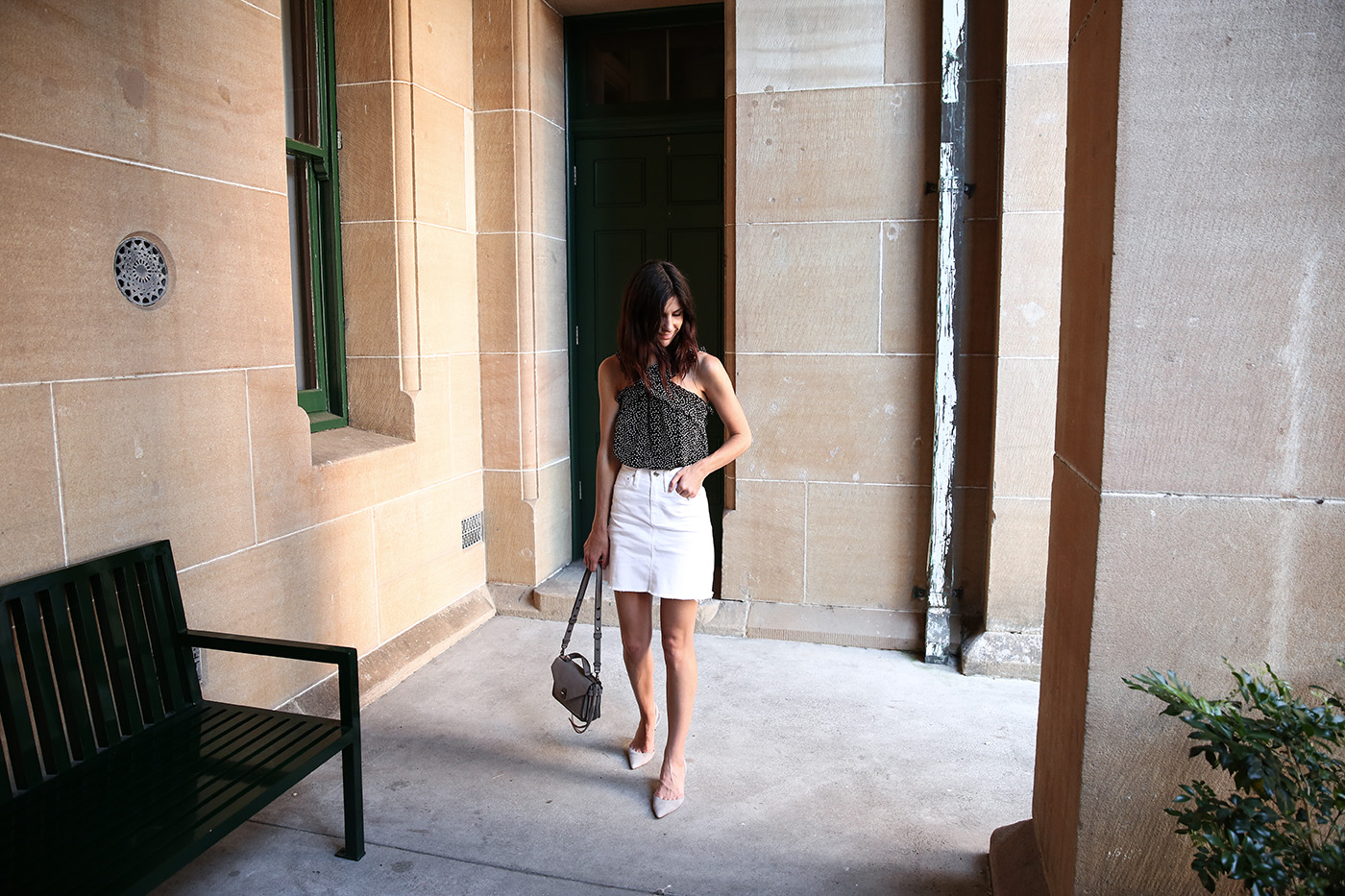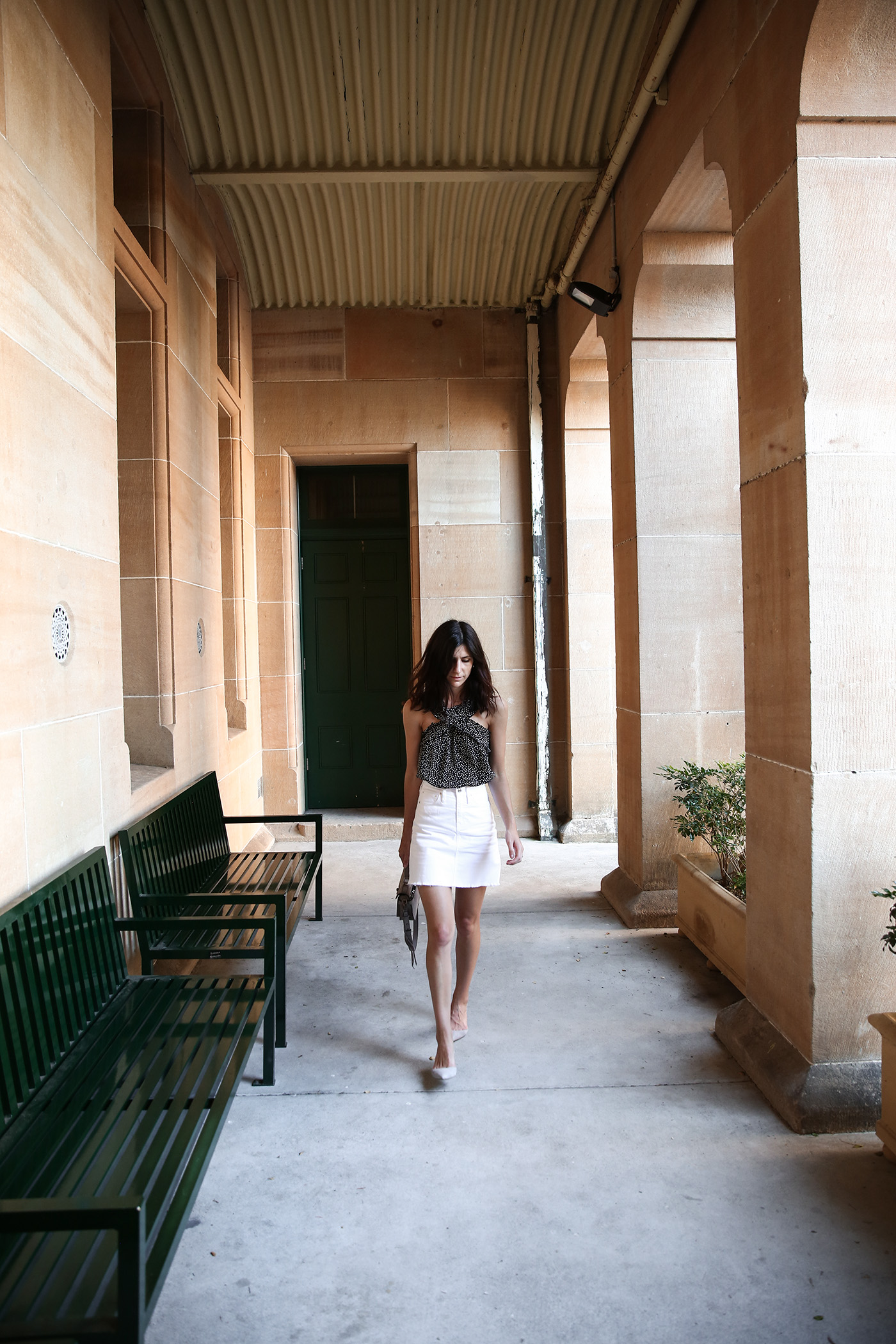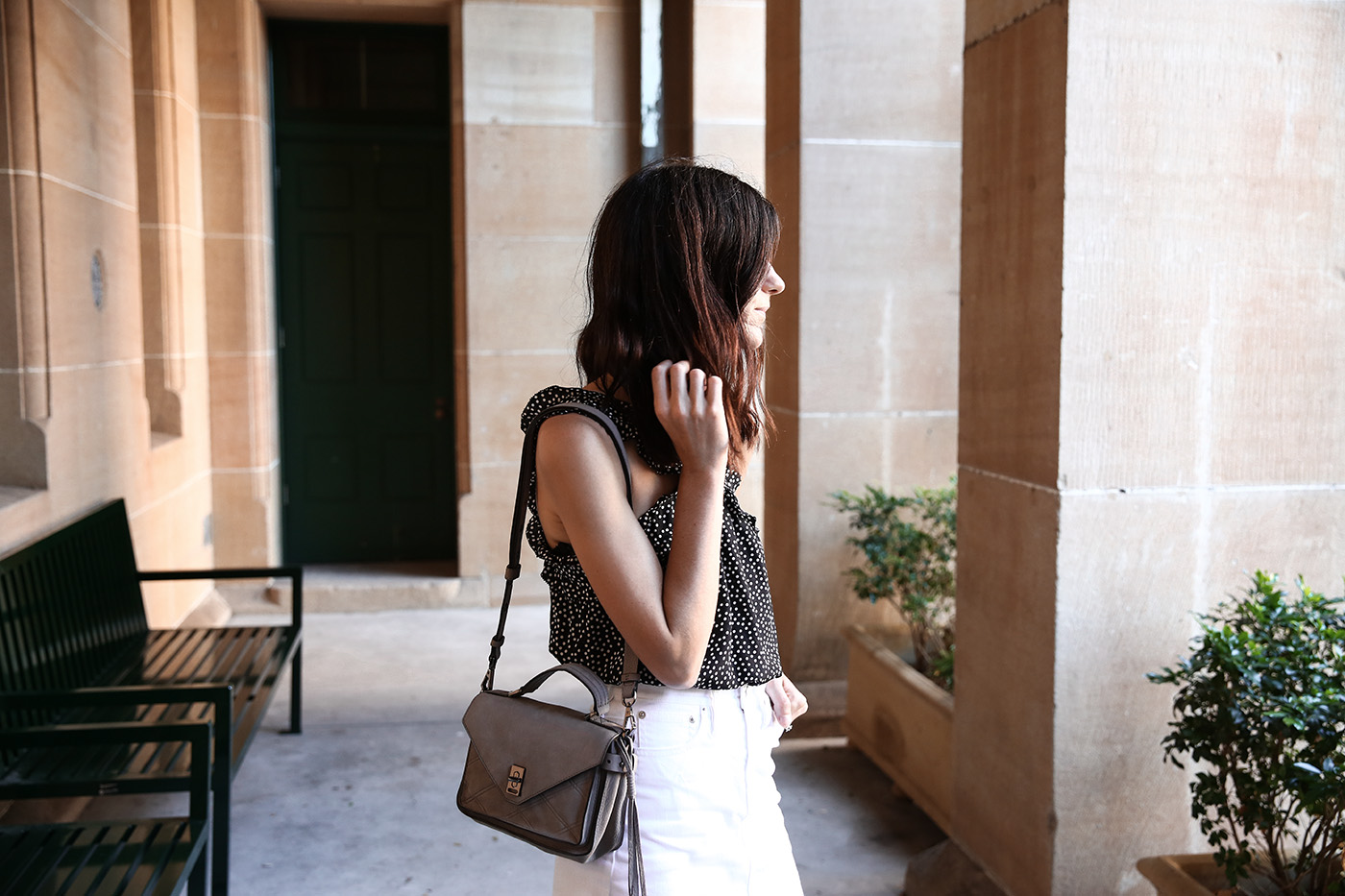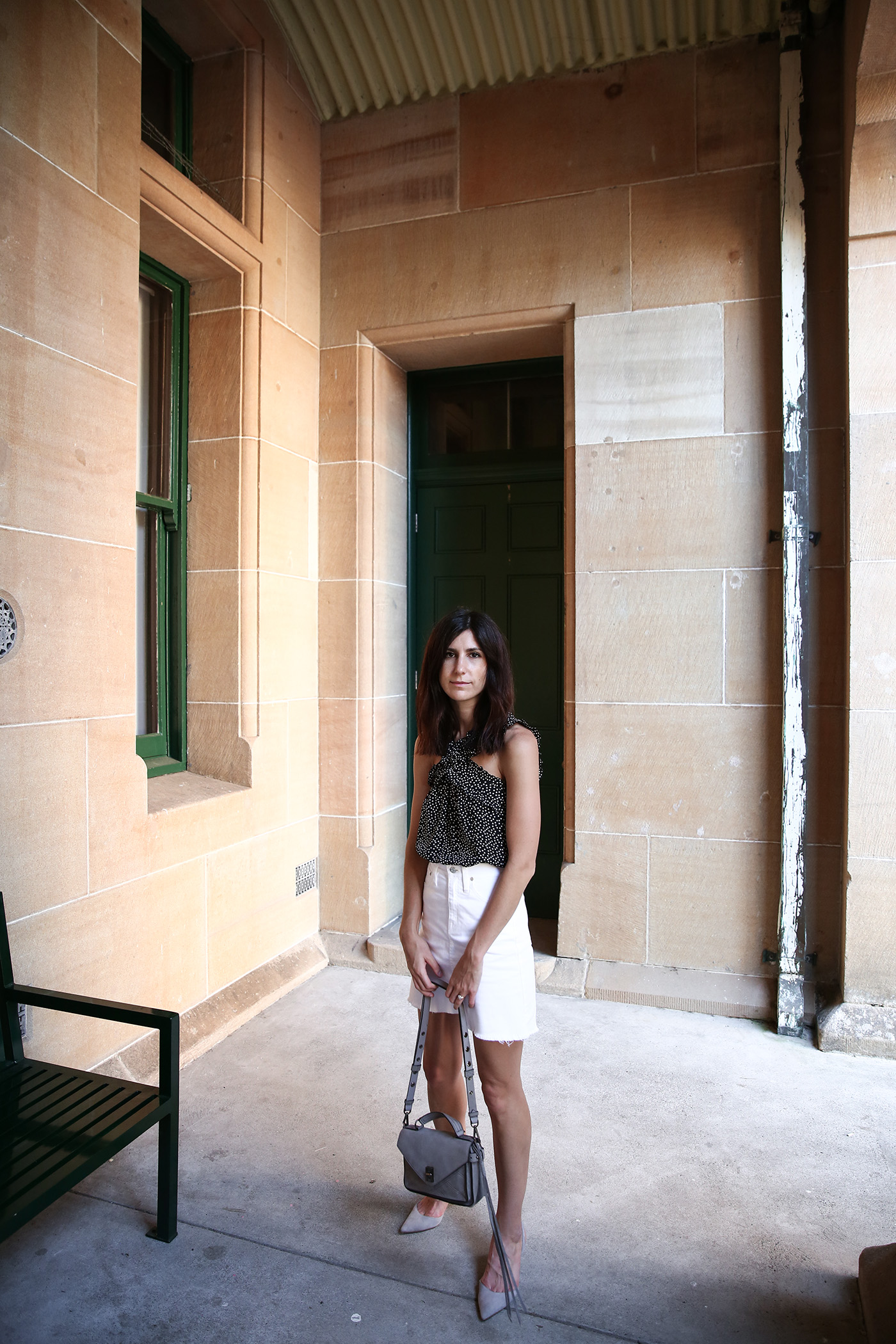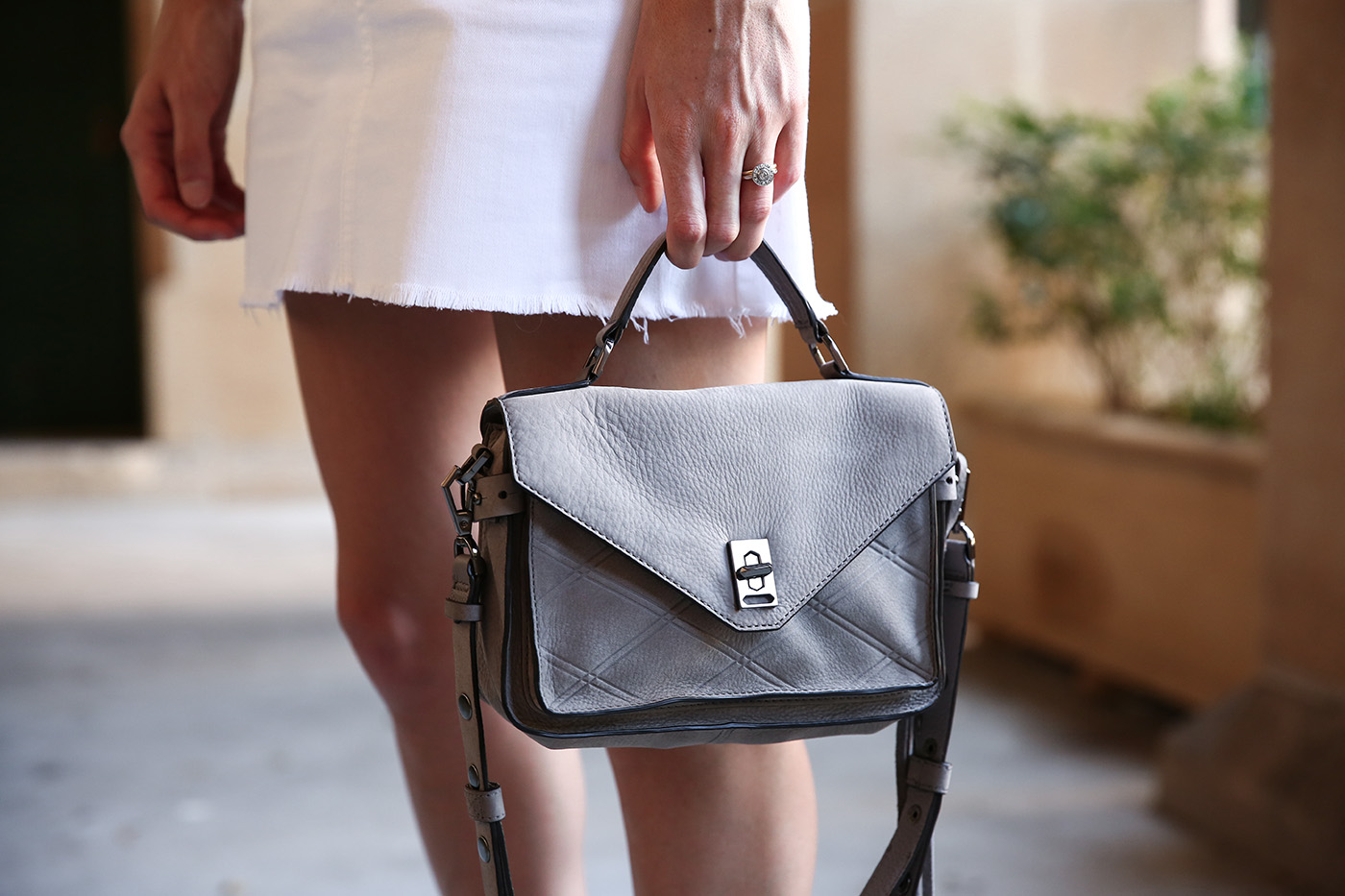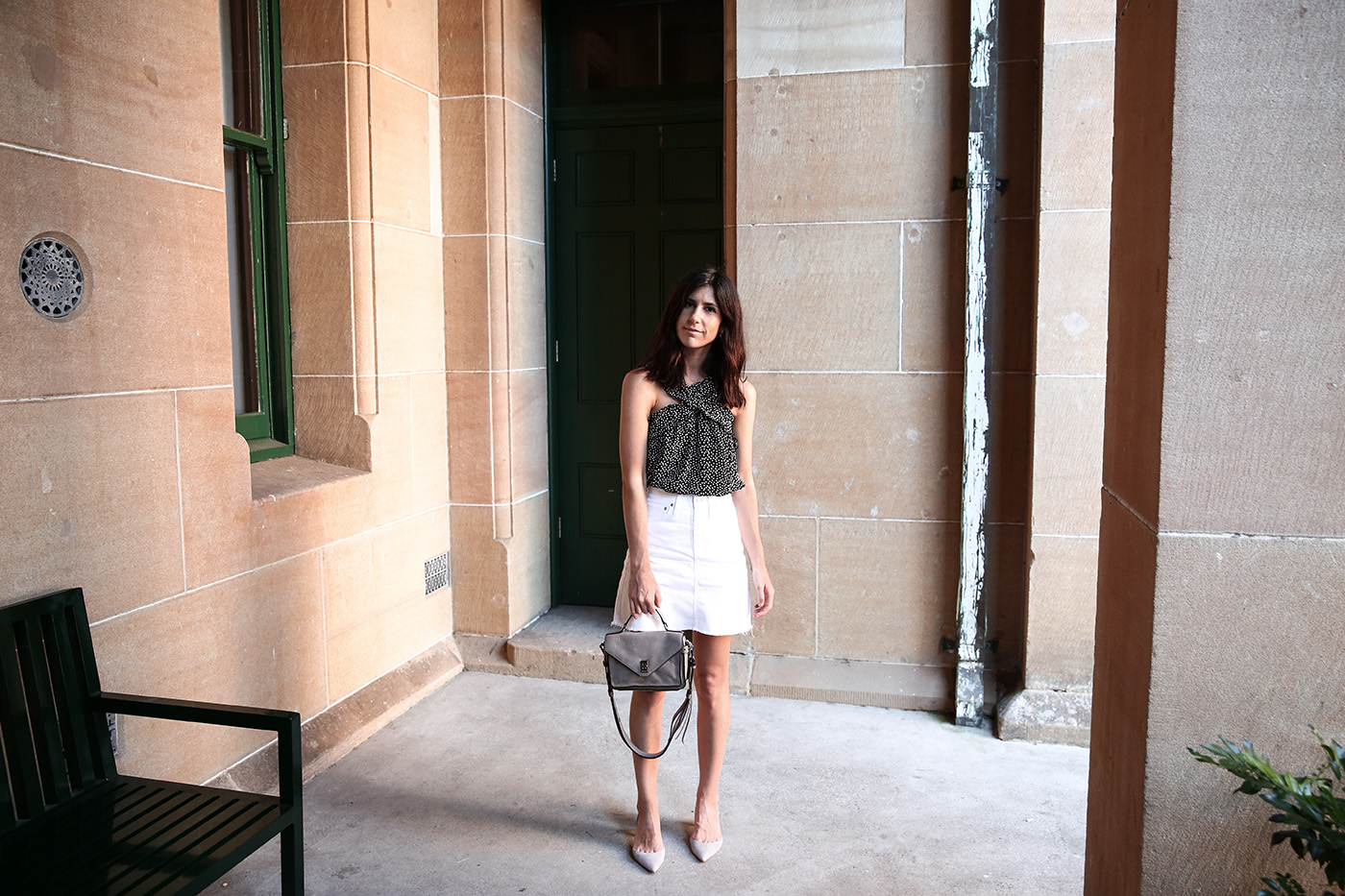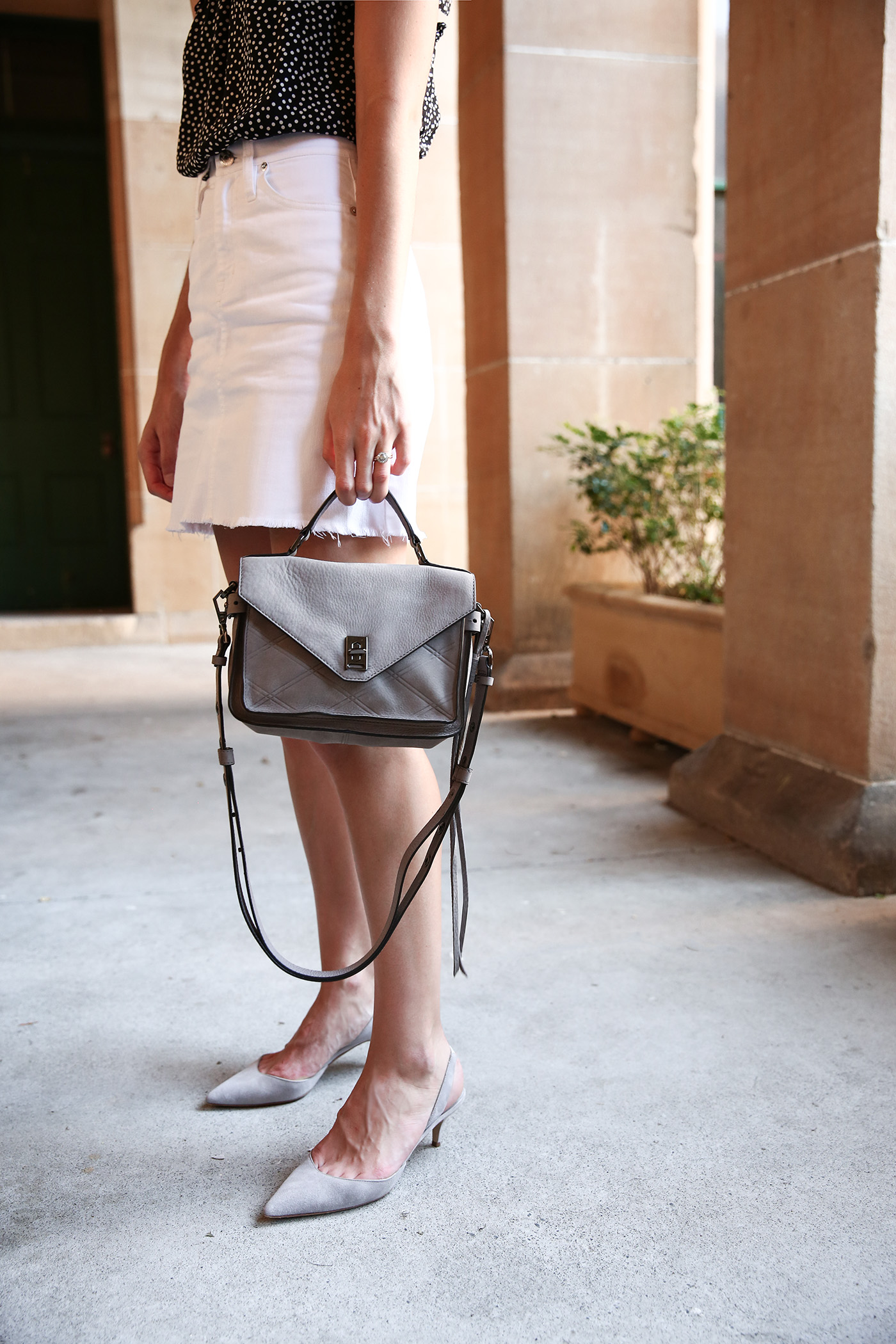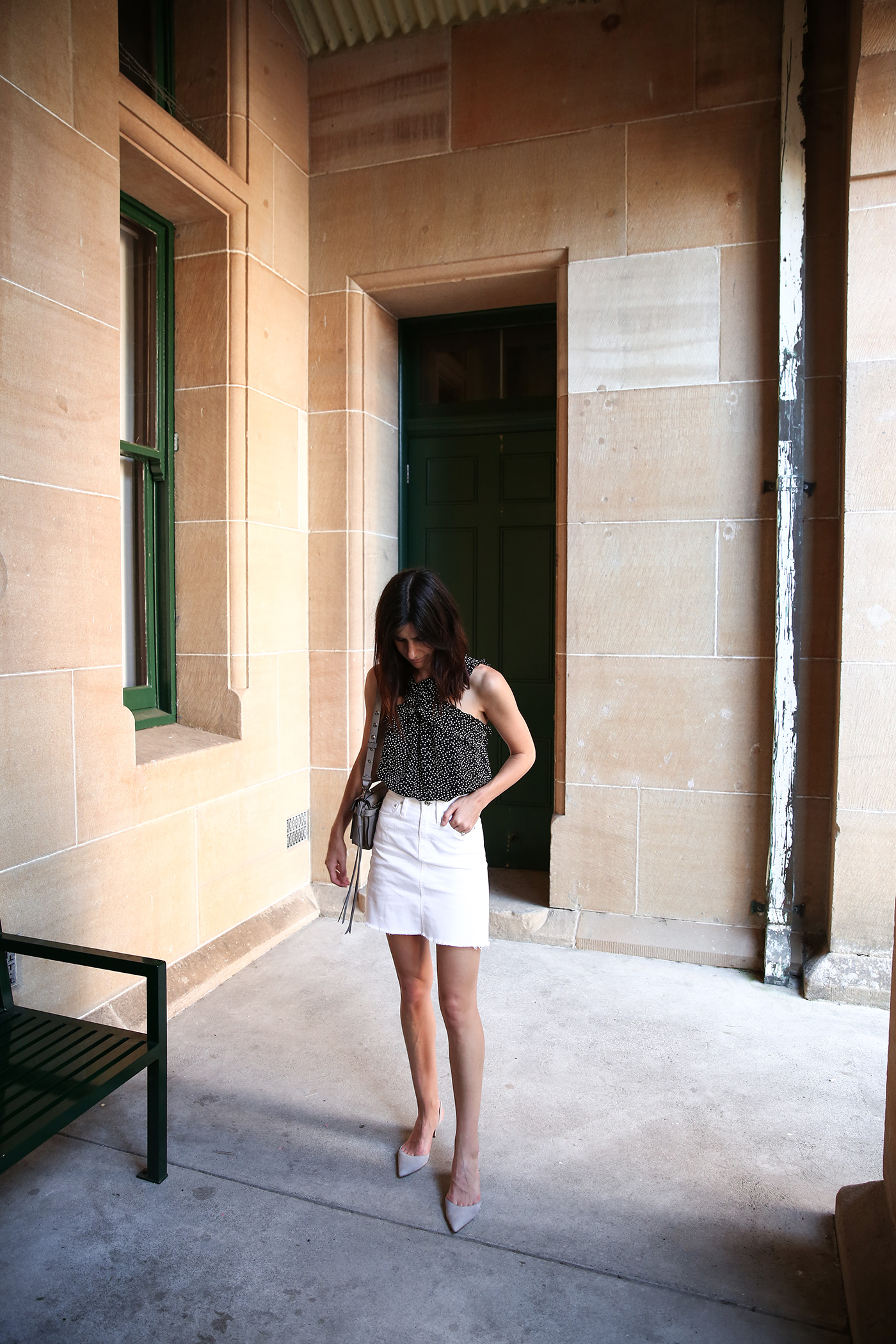 J Crew polka dot wrap front top (this is a cute long sleeved option), J Crew white denim skirt (very similar here and also love this one), Paul Andrew rhea slingbacks, c/o Rebecca Minkoff darren messenger bag
Since embarking on a style journey that led me to first, paring back my wardrobe, to capsule wardrobes and beyond, there's been one constant that I've been continually chasing: effortless style that makes getting ready each morning a breeze. I might continuously joke that I have two full-time jobs, but the reality is, that juggling the responsibilities of my traditional 9 to 5 with the hours I spend creating content to share online means that I'm often rushing out the door each morning, as I try to keep up. And this is where uniforms, or style recipes as I've frequently referred to them as over the last few months, come into play.
I've shared a lot about uniforms in the past; those combinations of outfits that make you feel and look like a million dollars, but to me, the concept of the style recipe goes a little beyond that. It's a combination of 'ingredients' which when mixed together, aren't so much of a uniform as it is more of a reflection of your personal style. I've waxed lyrical over the years of my longing to look and dress just like a French girl, but in the last few months have come to the conclusion that I'd rather have a look that is my own, than continuously trying to chase something that in all honesty, isn't *quite* me (though if I magicked up a 'French girl' wardrobe overnight, I probably wouldn't complain!). As I inch closer and closer to 30, I've found a few things just slowly falling into place, in addition to the realisation that a number of my new wardrobe additions over the year had the right intentions, even if they were misplaced on the wrong kinds of items. I'm planning to share a little bit more about this in the coming months so for now, I thought I'd quickly talk you through this summer wardrobe style recipe that I've been reaching for a lot recently.
It all started with this white denim skirt from J Crew. I was looking for a replacement for a Lover denim skirt I owned, which fit a little bit on me and this felt like a fresh take; high waisted, with a close cut to the body and a raw edged hem. What started out as a rather impulsive 'holiday' buy, turned out to be one of the best wardrobe additions I've made this year to date – I've worn it so frequently for work, for weekends, and on vacation – and I've got nothing but love for this piece. As someone who has a narrow waist but wider hips, I was on the lookout for a skirt that wasn't too a-line or bell-shaped, but that wasn't overly figure hugging either, and this ticked all the boxes, in addition to helping me realise that this is my preferred style of skirt to wear. It's classic, yet the denim fabric and the raw edge hem add a youthful and fresh element to the style, which I really adore.
Next comes the top. I'm a lover of polka dots through and through, and if polka dots could be a 'key piece' in my wardrobe, they undoubtedly would be ranked somewhere at the top. I don't tend to go for too much colour (though that seems to be changing a little at the moment…), so a spotted top adds some interest to my outfit, and helps to break up my typically monochromatic looks. What I love the most about this top in particular – and it's probably worth noting that in summer, I'm usually in something sleeveless – is the wrap front and ruffle detail. It's smart enough to be worn dressed up with a pair of tailored trousers, but I think it looks equally as good worn as above, with my favourite denim.
For shoes, I'm always on the lookout for a nice pair of low-to-mid heels. They're my poison of choice, and I think are a much more practical option over a stiletto, especially if you work in a more relaxed office like I do. In today's outfit I'm wearing a pair from Paul Andrew; these are in a gorgeous suede with a slingback, and I find the grey hue goes with absolutely everything, plus it feels like one of those classic items that I probably would have seen my mum wearing too.
The final item in this style recipe is a bag, and today I'm wearing a small messenger satchel from Rebecca Minkoff. While I usually take a tote bag to work on week days, my weekends are spent toting about something a little more compact, and this bag is definitely my preferred size. It's enough to fit in all my weekend essentials, yet small enough not to get in the way, and the adjustable shoulder strap makes switching from a shoulder bag to a cross body really easy. Unlike all my other bags which are leather, I nabbed this in a soft grey suede, which I feel gives the classic bag silhouette more of a modern update.