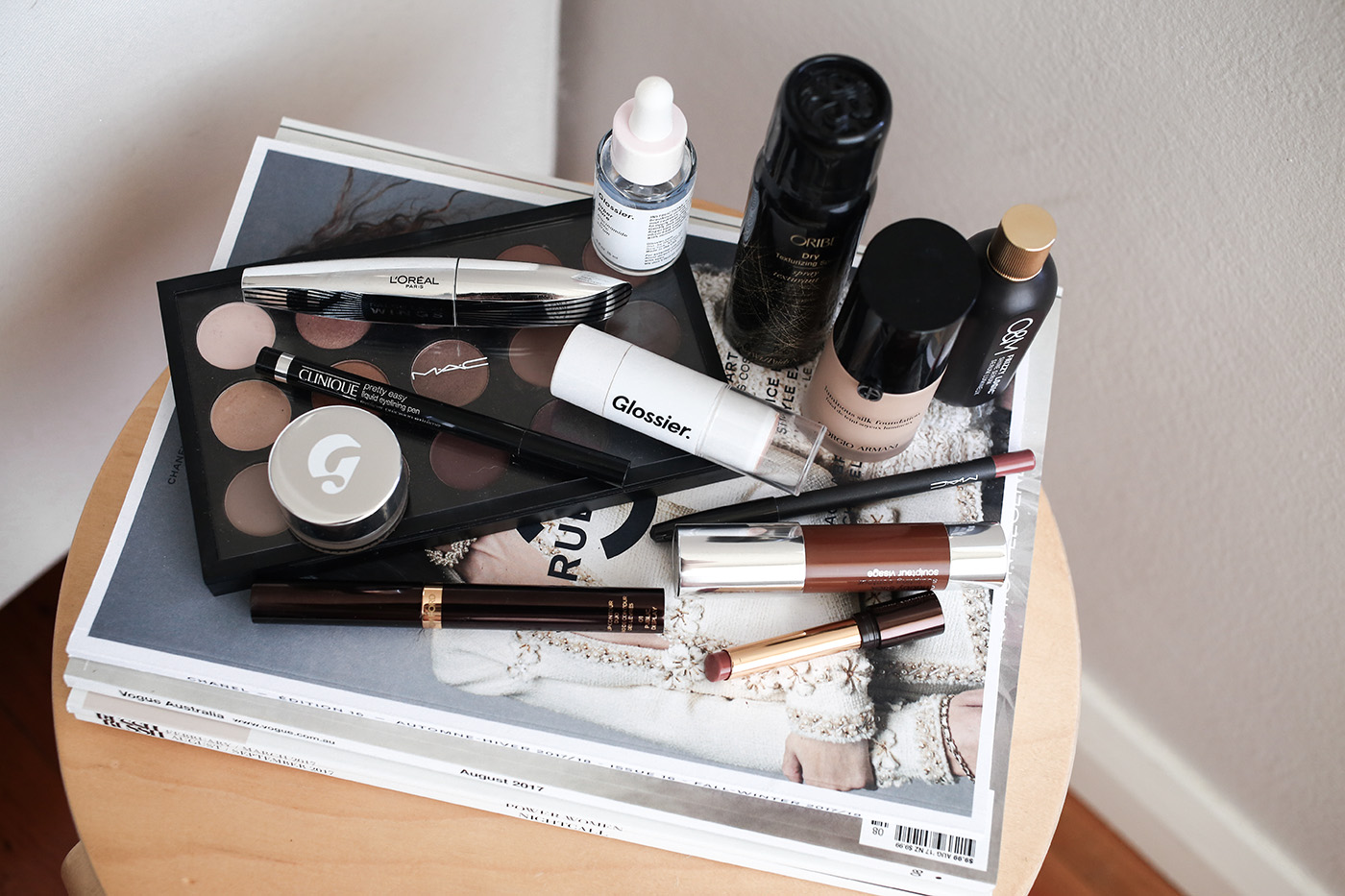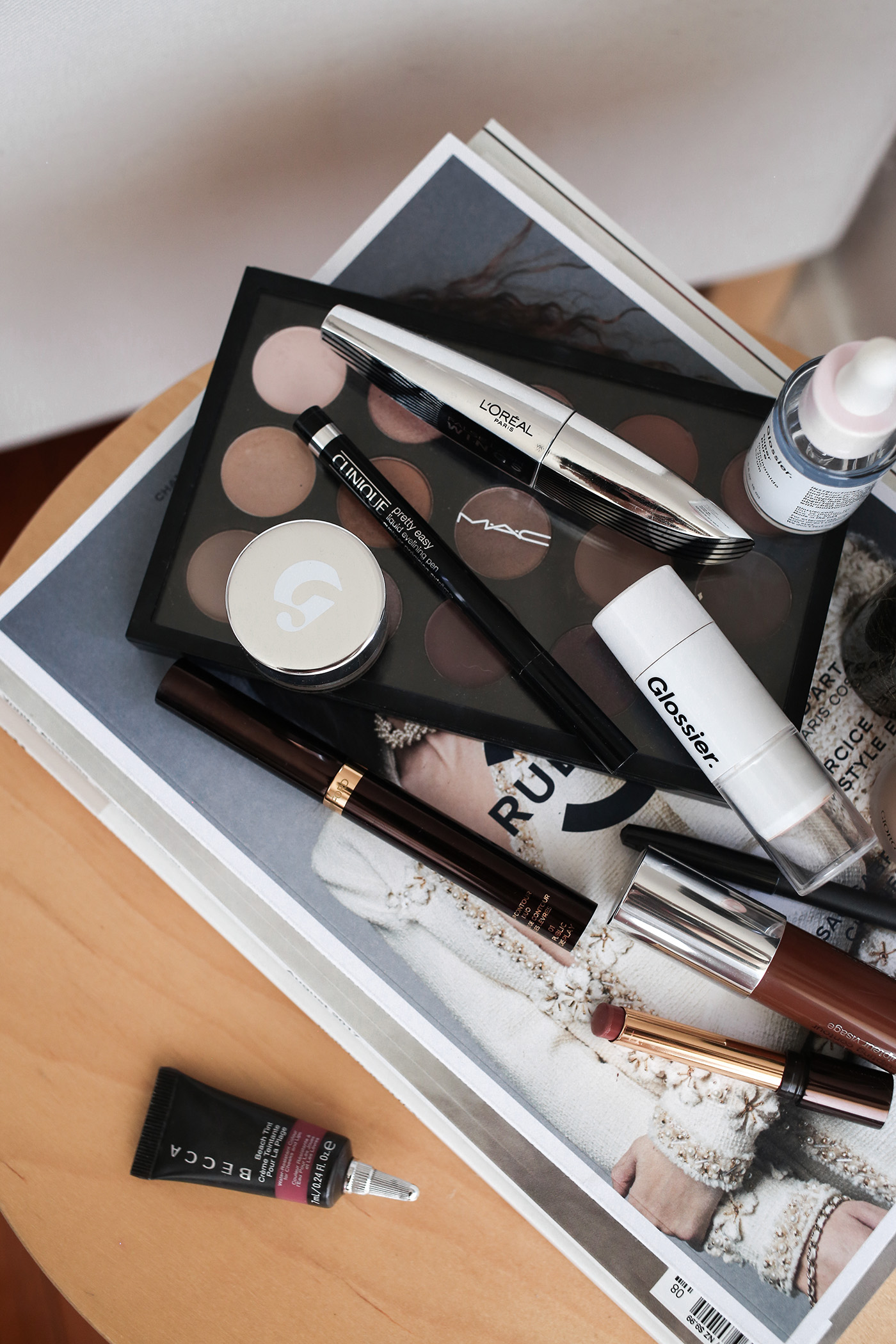 Following on from my post last week which featured my favourite style and fashion favourites of 2017, I also wanted to take a quick moment to reflect on some of my beauty favourites of the year. I have also shared a full video featuring these favourites on my YouTube channel which also includes my holy grail skincare and haircare products; if you'd like to have a watch you can preview the video here or via the embedded video below. I'll be talking through my favourite products across each different category, starting with…
My favourite foundation of 2017 has to be the Giorgio Armani Luminous Silk Foundation. I bought this in the lead up to our wedding in 2016, as I'd heard so many good things, and it hasn't disappointed. It's a buildable medium to full coverage foundation, with a satin-matte finish. I like that I can apply a small amount of this on my face for an absolutely flawless finish, and this doesn't settle into any fine lines or wrinkles (that I've noticed!), plus I find it's a good base for days when I'm applying a number of cream products. My preferred method of application is using the Sigma F80 Flat Top Kabuki Brush, which is really densely packed and makes buffing this into my skin a breeze.
I haven't tried out many new concealers this year – truth be told I try to avoid putting too many products on my skin if I can – though from experience I've found that this isn't something you need to go high end on; the drug store does it very well. But, if I had to pick a favourite concealer, it'd have to be the Glossier Stretch Concealer. I bought this early on in the year, and I was really taken aback by how different the formula is to other concealers I've tried. It has a slick, almost oily texture, and literally melts into your skin upon application. This is the one concealer that I reach for if I want to cover up any redness or soften the appearance of a spot if I'm having a break out. Because of it's incredibly creamy texture, you do need to powder after applying as otherwise it does tend to crease and settle into any fine lines.
My favourite powder of the year is a new launch from Rimmel; it's the Insta Fix and Matte Powder. As much as I adore the finish of a loose powder, pressed powders are so much more practical, especially when traveling. The shade I have is translucent, however if you over-apply it can look white on your skin so I'm always conscious of ensuring that I haven't gone too heavy on this product. I like that it looks matte on the skin but not as though it's sucked all the moisture from your complexion – essentially it's perfect for applying on those points of your face which tend to get a little shiny as the day wears on.
Given I don't tend to wear foundation or concealer on a daily basis, I really rely on my bronzer to help warm up my skin and make me look a little more lively. My favourite bronzer is one that I've been using daily for the last three months; it's the Clinique Sculpting Contour Stick. As the name would suggest, this is intended to be used as a contour, however I find that the warm red-toned brown is much more suited as a cream bronzer. I apply this straight to my face around my temples, the sides of my nose, the high points of my cheeks and a little on my neck, and blend out with either my fingers or a tightly packed brush. I love that this is such an easy product to use, it's super blendable and also builds up colour really nicely, making it a great product for someone who wants to try out a cream bronzer, but isn't sure where to start.
I'll always go for a cream-based face product over a powder any day, just as I find that they look a lot more natural on the skin, and where possible, I love a product that does double duty and my favourite blush does just that. Of all the blushes I currently have on rotation, the one I find gives me the most bang for my buck is the Becca Beach Tint. I have this in the shade watermelon, which is a punchy coral-based pink, that can be worn on the cheeks and also on the lips. The application is pretty nifty – I like that I can squeeze a small amount and apply directly using my finger tips. This is very well-pigmented but it blends out to a soft sheer finish; great for adding a flush to the cheeks.
For years my favourite highlighter has been the Shade and Illuminate Contour Duo from Tom Ford, but this year I discovered Glossier's Haloscope, and I haven't really looked back since. This is a beautiful cream highlight which has a moisturising halo in the centre, and looks glossy or almost 'wet' on the cheekbones. I love the twist up stick applicator, which I'll either apply directly to my skin if I'm not wearing a base (I've found it can shift around your foundation if you're wearing any), or swipe liberally onto my fingertips to press onto the tops of my cheekbones and down the bridge of my nose.
I'm definitely a creature of habit when it comes to my eye look; I reach for pretty much the same products day in and day out. The one eyeshadow palette that has gotten some serious use this year has been my 15-pan eyeshadow palettes from MAC. I have two of these; one that I built myself during my last trip to New York, and the other that I bought from Nordstrom as I loved the shade combo, and neither one has disappointed me yet.
My favourite eyeliner is a little bit of a newer addition to my beauty routine, but so far it's topped any other eyeliner that I've tried, and it's the Pretty Easy Liquid Eyelining Pen from Clinique. Perhaps the only downside is that it's not as jet black as some of the other liquid eyeliners I've used, however it wears all day long without budging an inch, and as the name would suggest, it's very easy to use and get that precise cat eye flick.
My favourite mascara on the other hand is one that I've repurchased many times; it's the L'Oreal False Lash Wings Butterfly Effects Fibre Mascara. I love it because it delivers super full fluttery lashes, and has a really robust formula which doesn't smudge onto my brow bone. I also love the wand – it's synthetic, with angled bristles which makes coating all your lashes absolutely effortless.
Unless I'm wearing a red lipstick, I don't usually reach for a lip liner, but my favourite has to be the MAC Pro Longwear Lip Pencil. I have a few of these lip pencils stashed away in my vanity, and I just adore the way they glide on (the formula is super creamy), and dry down with a matte finish. It makes a really good base for a lip stick and helps to stop my lipsticks from bleeding.
Finally, it wouldn't be a round up of my beauty favourites without a lipstick mention, and because I couldn't narrow my favourite lipstick to just one, I thought I'd share two; a nude and a red. My pick for the perfect brown-based nude is the Tom Ford Lip Contour Duo in Public Display. This has a twist up lip liner at one end and the lipstick at the other, though it's really the lipstick half of this product that has me swooning. It has a satin finish and a creamy formula that doesn't drag on your lips, and I love how comfortable this feels to wear. Picking a favourite red is always a little tricky given that I seem to have a whole 'lipstick wardrobe' dedicated to reds, but the one that never seems to let me down is the Charlotte Tilbury K.I.S.S.I.N.G Lipstick in the shade Love Bite. This is a true red, super bold and vibrant, again in a creamy satin finish formula.
So there you have it, all my beauty favourites for 2017. Are there any beauty products that have absolutely blown you away this past year? x